The Top 5 Best Low-FODMAP Cookbooks, Resources and Guides for IBS Patients
October 24, 2020
Printer Friendly Version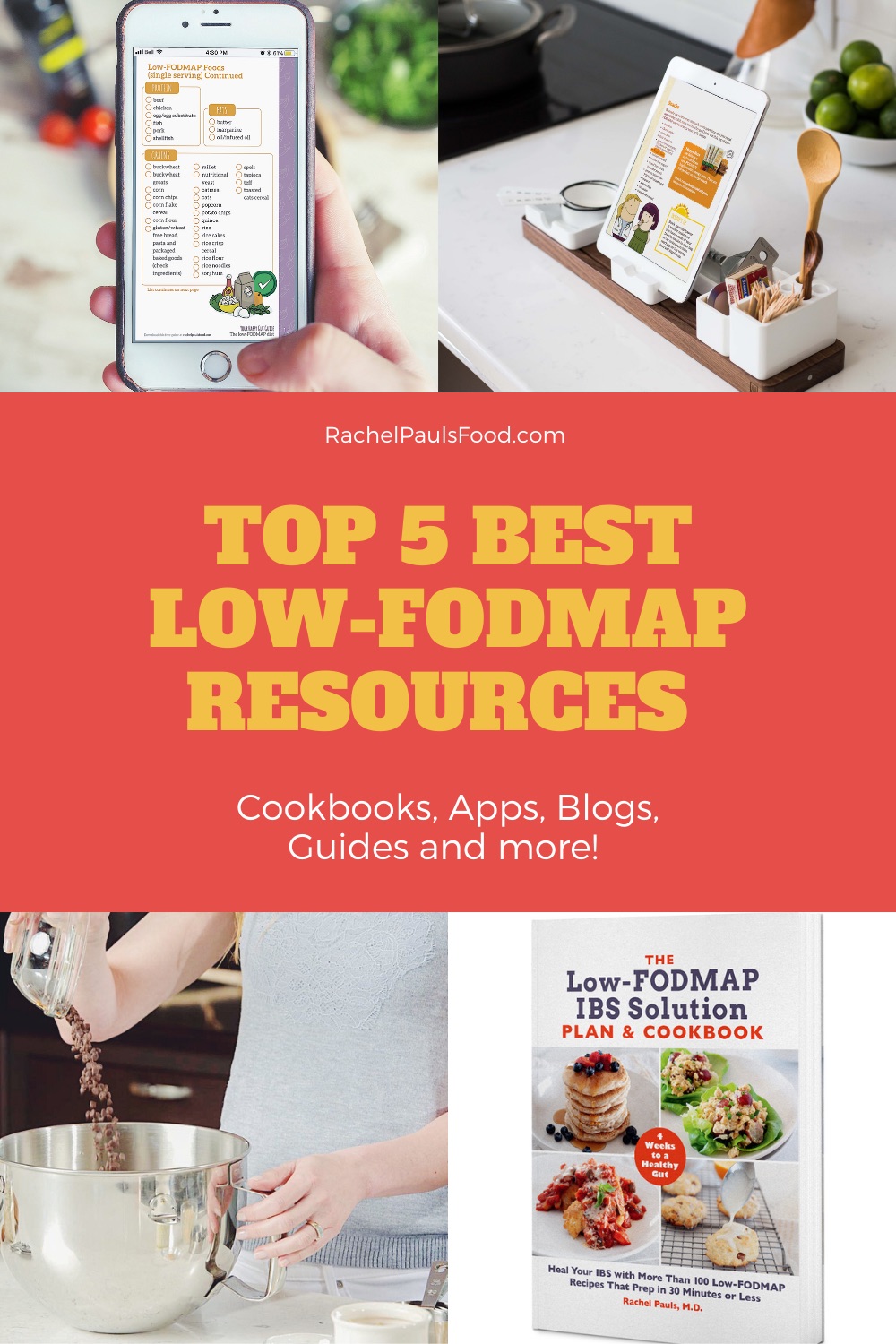 Just what the doctor ordered!
Navigating the low-FODMAP diet using 'doctor-Google' can be pretty tricky.  I decided that, since I've been doing this for a while (following the low-FODMAP diet for 8 years), I could lend a helping hand by sharing my FAVORITE books, guides and more.
When I began the low-FODMAP diet, things were a bit simpler (but not easier).  There were some books, cookbooks and blogs available, but not nearly as many as there are today!  The amount of foods that were tested at that time was far less, and the diet was much more restrictive.
As FODMAP awareness has grown and evolved, so has FODMAP education.  However, there is still a ton of inaccurate information out there, and ineffective ways to spend your money.
The following are my Top 5 BEST low-FODMAP resources to capture the different needs of those of us beginning, or living on a low-FODMAP diet.
---
The Top 5 Best Low-FODMAP Cookbooks, Resources and Guides for IBS Patients
Best Low-FODMAP Cookbook: The Low-FODMAP IBS Solution Plan & Cookbook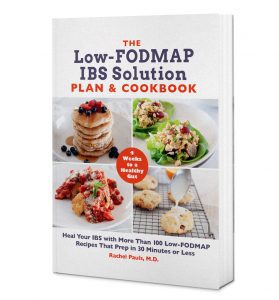 Over the years I have purchased at least 10 low-FODMAP cookbooks, and read every recipe blog out there.  Many cookbooks are written by people without nutritional degrees or medical backgrounds, and they lack a personal connection to IBS and the low-FODMAP diet.
None of the books are written by a Medical Doctor that also suffers from IBS.
Maybe it seems biased, but I am certain that The Low-FODMAP IBS Solution Plan & Cookbook is the BEST available.  I put every bit of knowledge in there, medical savvy, grocery shopping tips, a four-week meal plan and more than 100 recipes that are straightforward, with typical ingredients, and prep in 30 minutes or less.  It is an ideal cookbook for ANYONE on the low-FODMAP diet.  Check out how to order your copy here!
And guess what??!  I now have a second book with even more FODMAP know-how!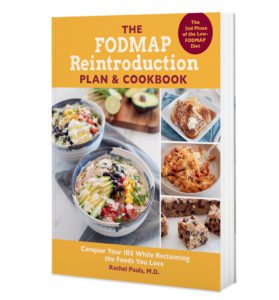 This book is for the second phase of the low-FODMAP diet, 'reintroduction' or the FODMAP 'challenge' phase.  It includes 60 new recipes, a detailed plan to guide you through reintroducing all FODMAP categories and many more tips and know-how!
Plus a full chapter dedicated to integration and personalization (the final low-FODMAP phase).
Best Low-FODMAP Guide: Happy Gut Guide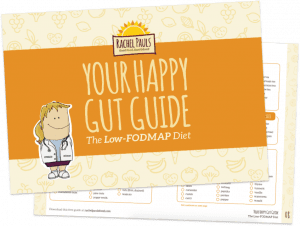 As part of our mission to educate about FODMAPs, my company decided to create the BEST FREE low-FODMAP Guide PDF.  We spent months writing, editing and designing the low-FODMAP Happy Gut Guide, and used the best team of illustrators around.  The result is an easy-to-read, visually appealing, medically accurate guide to beginning the low-FODMAP diet.  It is absolutely the BEST available and always FREE.  Download it to your phone!
Best Low-FODMAP App: Monash App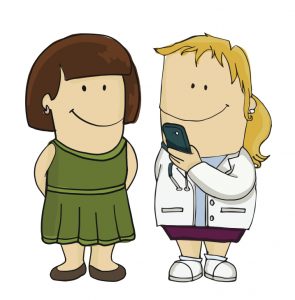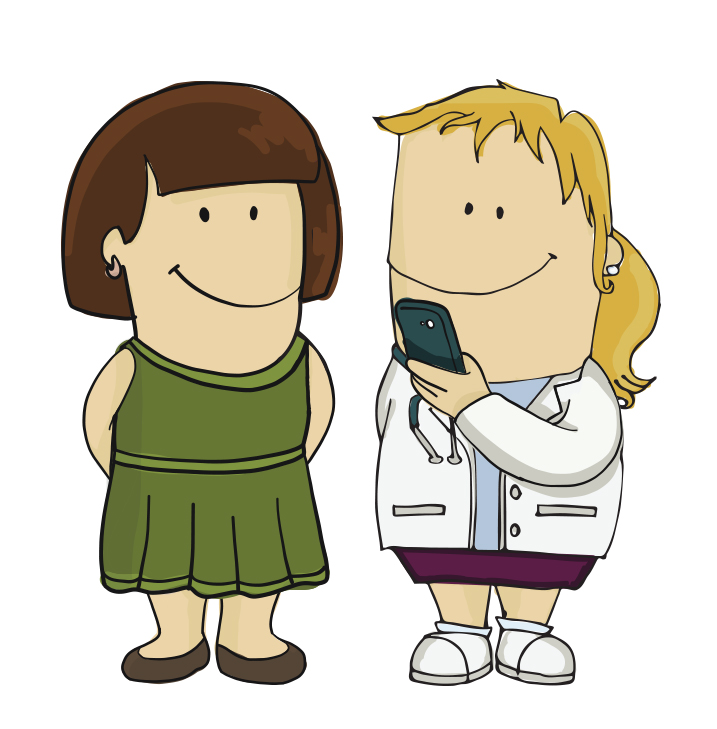 There is no comparison! Hands down the MONASH University App is the single most regarded, most extensive and scientifically accurate way to navigate the low-FODMAP Diet.  Everyone that is on the diet should have this on their phone.  It is indispensable.
Best IBS Book: "IBS-Free At Last", Patsy Catsos
Patsy Catsos MS, RDN, LD is a medical nutrition therapist, FODMAP expert, and author.  Her book, "IBS-Free at Last" was the inspiration for my FODMAP journey all those years ago.  I credit Patsy for my positive experiences with my IBS, and with beginning a lifelong plan of healthy and happy eating.
While the book noted above is not her most recent, it is an excellent read.  I also recommend her "IBS Elimination Diet, (2017)" for a highly scientific and thorough explanation of the low-FODMAP way of life.
Best Blog: Rachel Pauls Food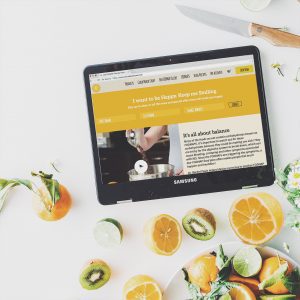 For the past four years, I have poured all my energy into creating the most varied selection of low-FODMAP recipes, that will suit your family (Best Collection of low-FODMAP Family Meals), that will please the gourmet in you, and that will be impressive on the holidays.  I have over500 low-FODMAP Recipes online now, and all are FREE.
Plus there are NO pop-ups, no hidden videos and NO 'COOKIES'.
I share all my tips on navigating grocery shopping, recipe swaps, fast food choices, low-FODMAP flour bake-off and ice cream taste-test, and SO MUCH MORE!
YOU WILL LOVE THIS BLOG!
Please let me know if you have any questions, comments or thoughts!  Follow us on social!
As always,
Be healthy and happy,
Rachel Pauls, MD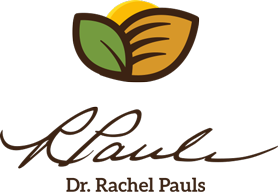 Printer Friendly Version
Comments Rating
( reviews)