The Moistest Low-FODMAP Zucchini Bread with Chocolate Chips; Gluten-free, Dairy-free
April 18, 2020
Printer Friendly Version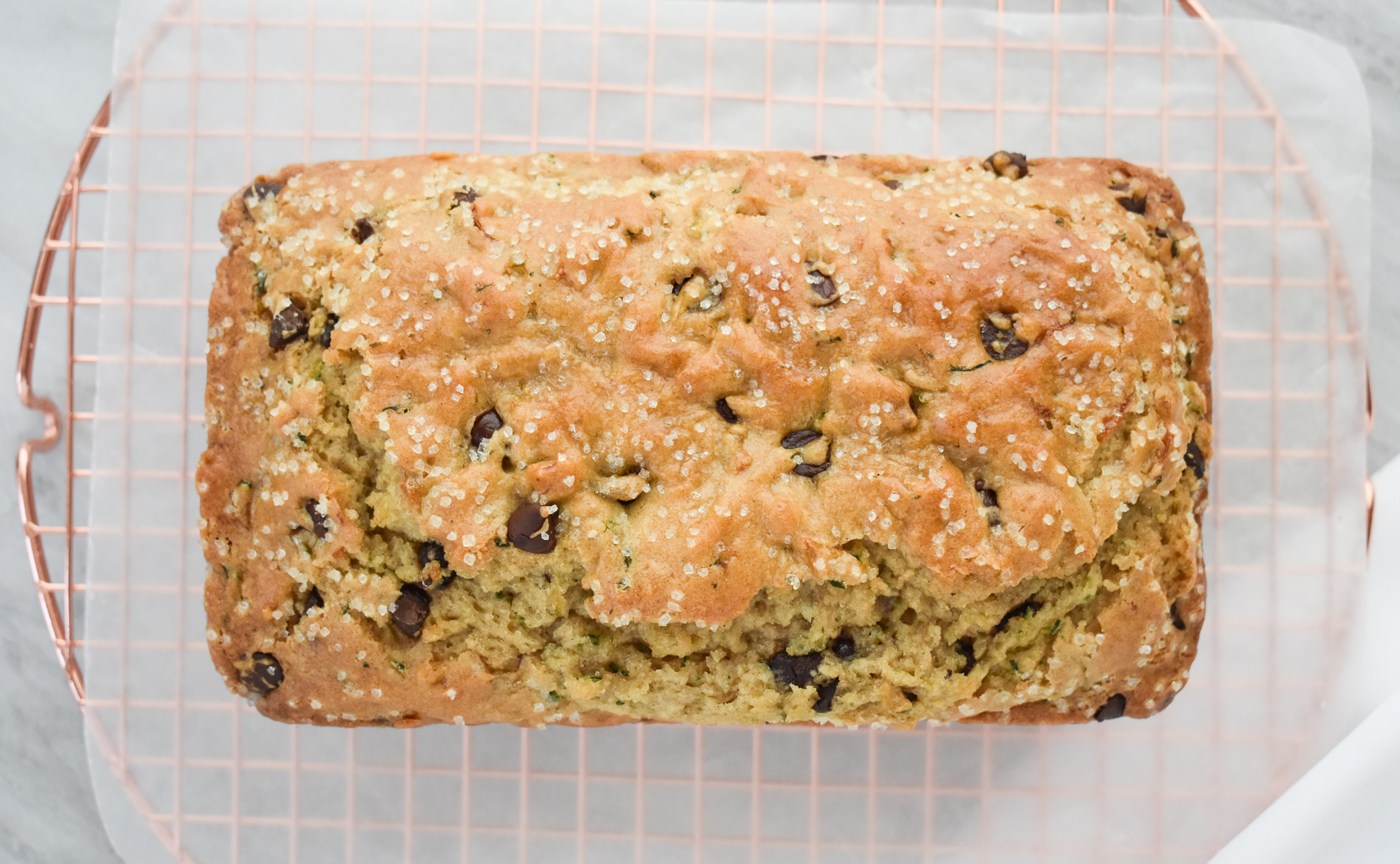 If you are looking for a delicious recipe for amazingly MOIST low-FODMAP Zucchini Bread, then you have come to the right place.
Light, soft and fresh tasting, my recipe for low-FODMAP Zucchini Bread is also so easy. No need to take out your electric  mixer!  Gluten-free and dairy-free.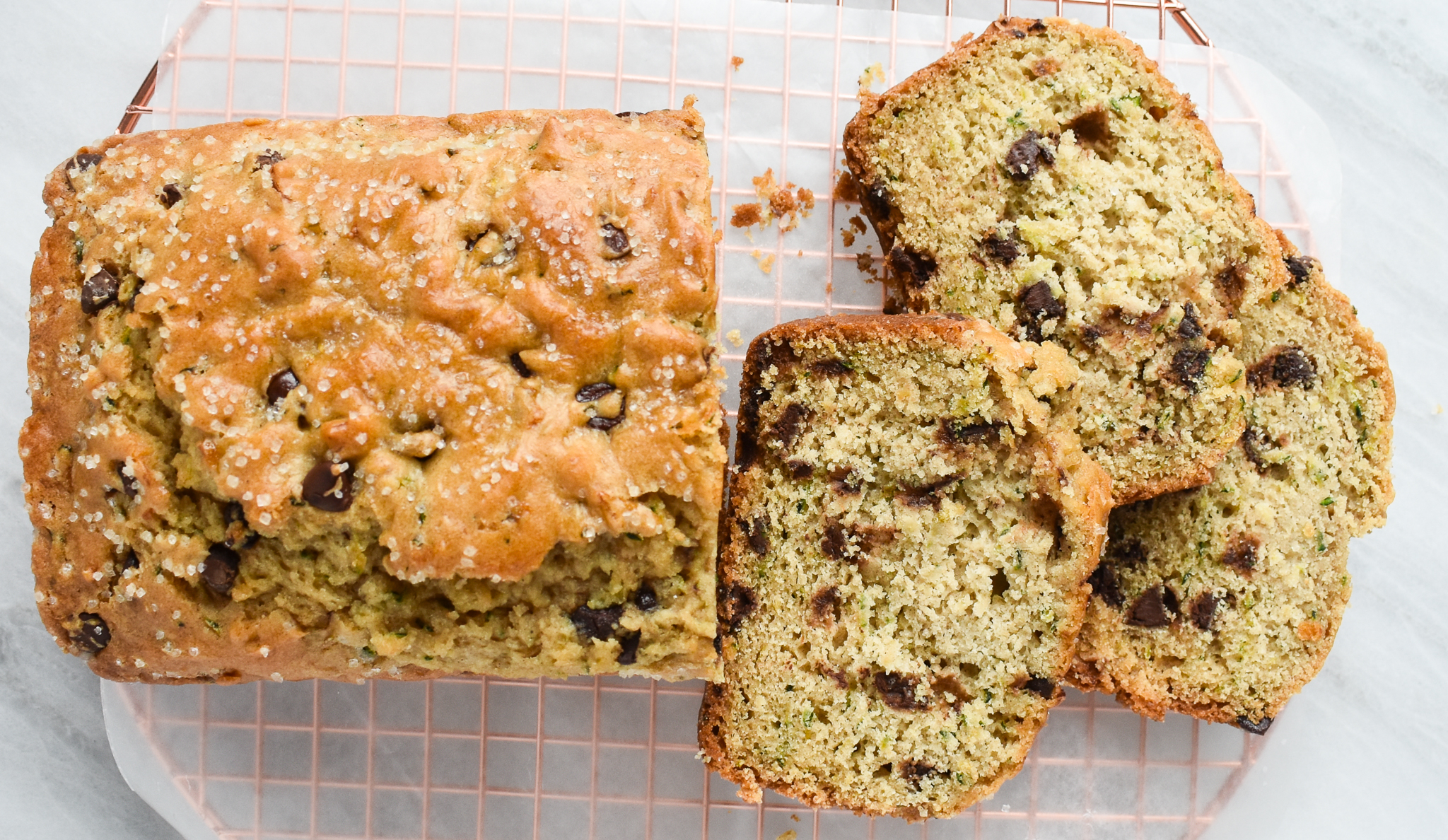 Zucchini is a magical ingredient in this low-FODMAP bread.  It provides superior moisture, with essentially no 'vegetable' flavor.  I think it works even better than carrots in a cake or muffin recipe.
Zucchini bread goes well with an array of stir-ins, not just chocolate chips.  I suggest toasted walnuts, but you can use sunflower seeds or pepitas, raisins, or dried cranberries.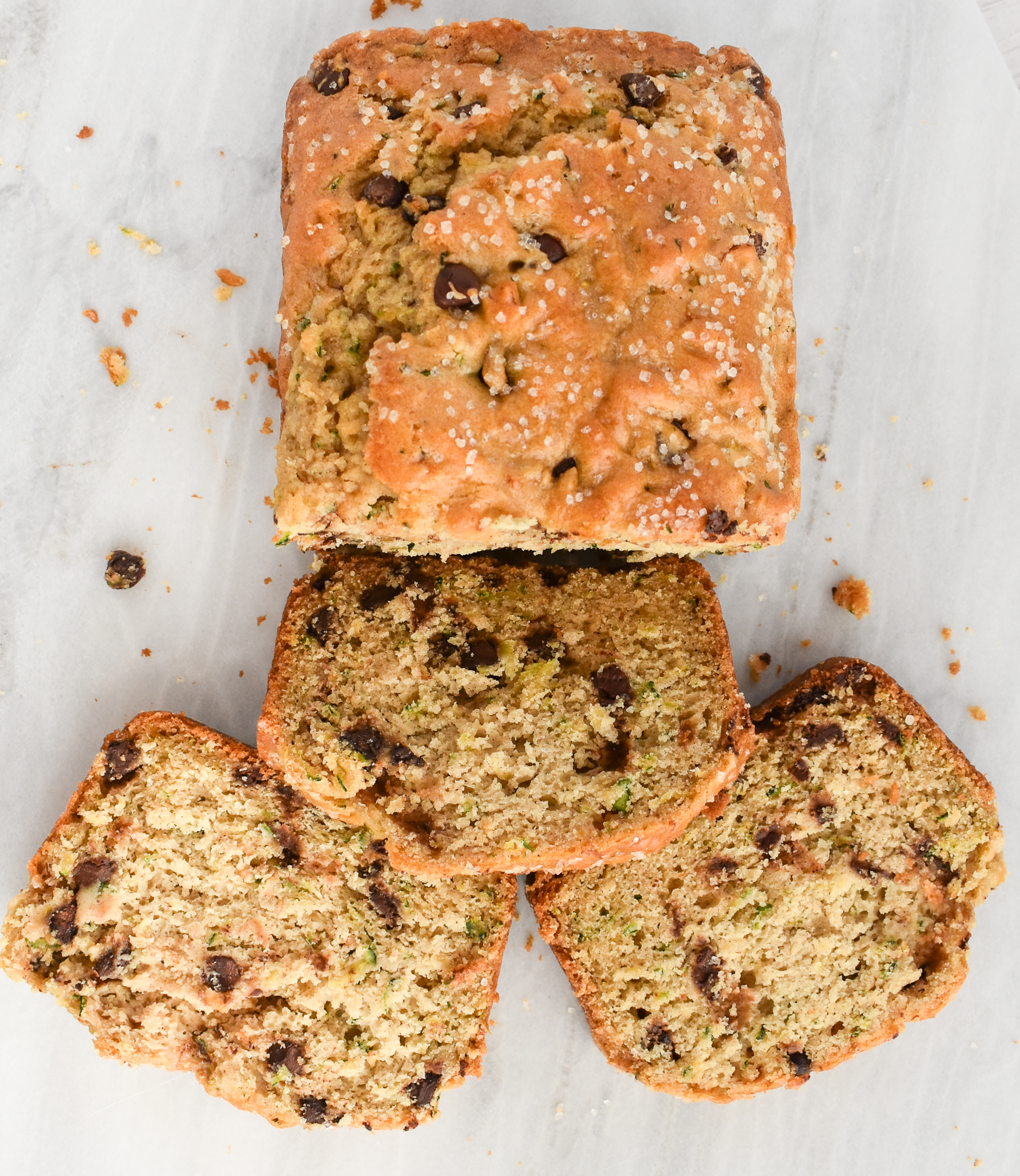 You can top my Moist Low-FODMAP Zucchini Bread with additional nuts or chocolate chips, or one of my delicious frostings (like low-FODMAP Lemon Cream Cheese Frosting, low-FODMAP Cream Cheese Frosting or low-FODMAP Orange Glaze).  It is also delicious perfectly plain.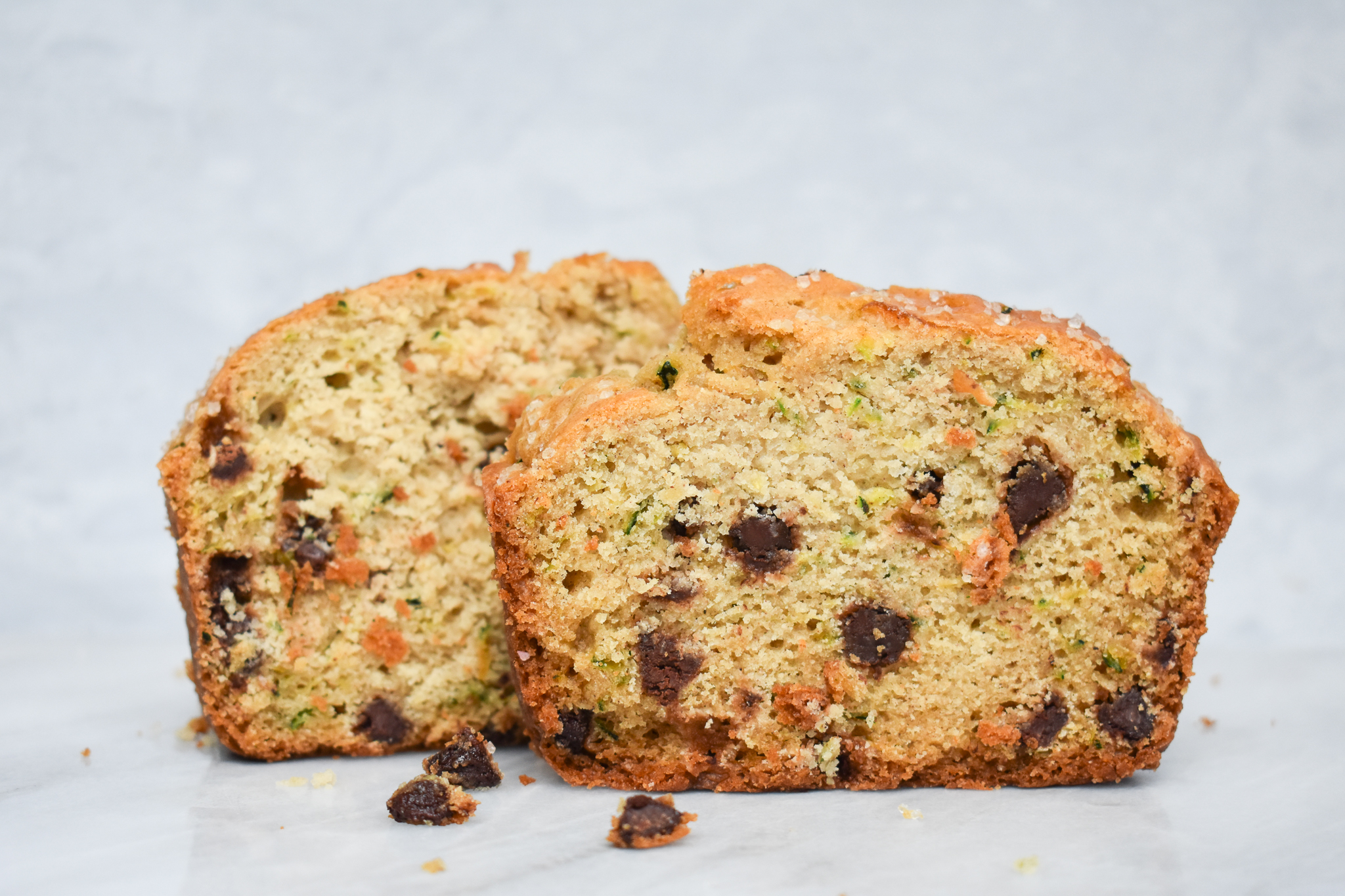 You may also love:
Or over 350 more low-FODMAP recipes on the blog!  IBS-friendly.
Be healthy and happy,
Rachel Pauls, MD
---
The MOISTEST Low-FODMAP Zucchini Bread with Walnuts or Chocolate Chips; Gluten-free, Dairy-free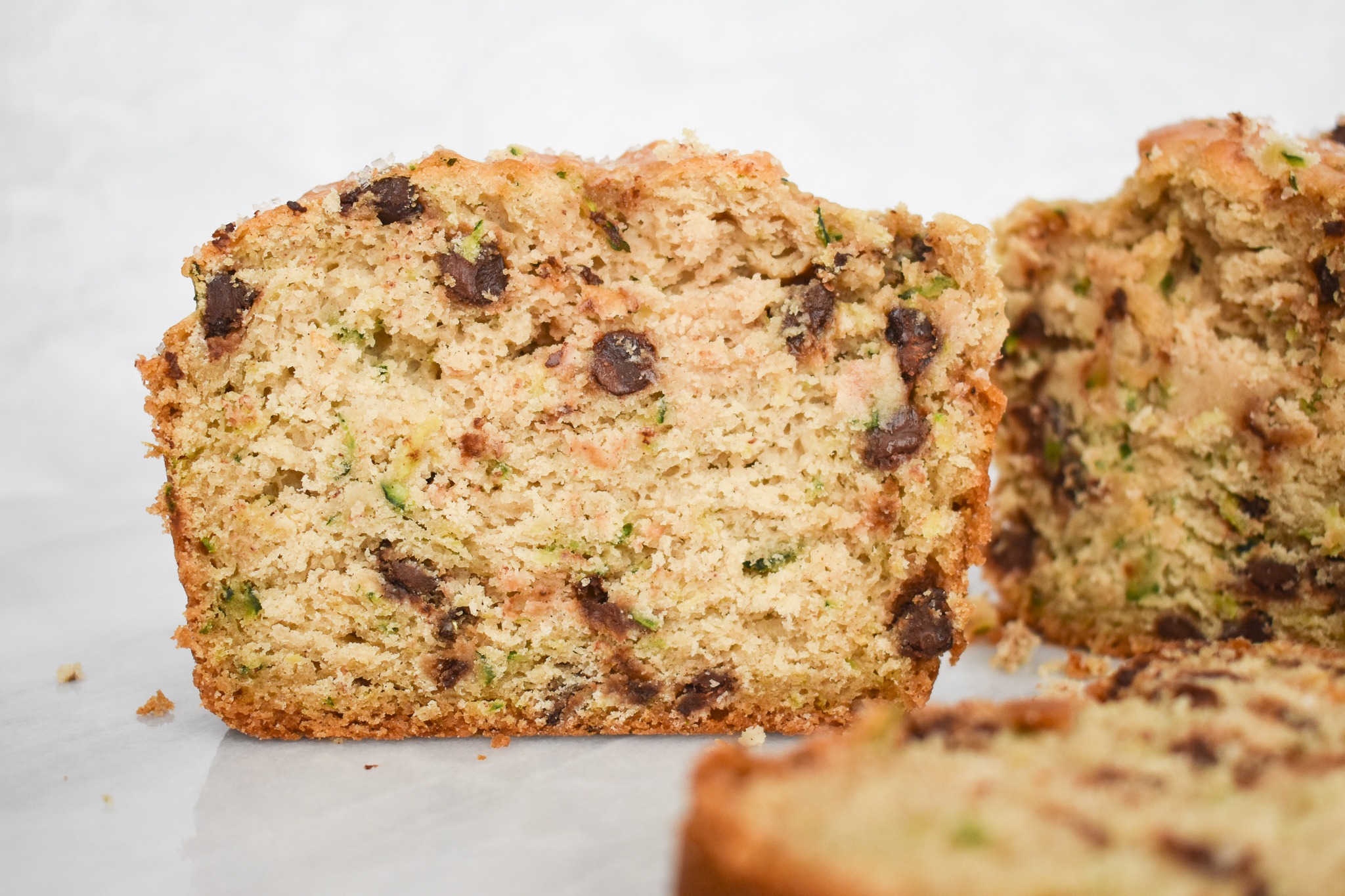 Although this recipe has not been tested, a single serving should be low-FODMAP based on the ingredients
Serves 12
Prep time: 15 min
Bake time: 55-65 min
Total time: 70-80 min
Equipment: 1 standard loaf pan
Bake: 350 degrees F
Modified from: "Gluten-free Baking Classics, The Heirloom Collection", Annalise G. Roberts
Ingredients
2 cups low-FODMAP, gluten-free flour (I love Authentic Foods GF Classical Blend- see my low-FODMAP bake off for the reason!)
3/4 cup granulated sugar

Since zucchini is not as sweet as banana, I amped up the sugar a bit for this loaf compared to my banana bread.  Feel free to use 2/3 cup if you like it less sweet.

1 tablespoon baking powder
1 teaspoon baking soda
3/4 teaspoon xanthan gum, if not added to your flour blend
1/4 teaspoon salt
1 teaspoon cinnamon
1/4 teaspoon ground nutmeg
1 & 1/2 cups (210 g) shredded zucchini, patted dry with paper towels

1/3 cup (65 g) is one low-FODMAP serving
This was one medium zucchini

1/2 – 3/4 cup finely chopped walnuts (toasted or untoasted, per your preference) or semisweet chocolate chips (dairy-free if necessary)

I used 3/4 cup chocolate chips

1/2 cup low-FODMAP milk (such as almond milk for dairy-free or lactose-free milk)
1/2 cup canola oil
2 large eggs
2 teaspoons pure vanilla extract
Coarse sugar, for sprinkling on top (optional)
Baking spray or vegetable shortening for greasing (I use my low-FODMAP Magical Cake Pan Release Paste)
Directions
Preheat oven to 350ºF and position rack in center of oven
Grease loaf pan, and line with parchment paper, leaving one inch overhang. Grease parchment
In a large bowl, combine low-FODMAP flour, sugar, baking powder, baking soda, xanthan gum (if using), salt, cinnamon and nutmeg
Stir in zucchini and walnuts or chocolate chips
In a second small bowl, combine low-FODMAP milk and oil
Whisk in eggs and vanilla
Pour the low-FODMAP milk mixture into the zucchini mixture and stir by hand until just blended
Pour batter into prepared pan and sprinkle top with coarse sugar, nuts or chips, if desired
Bake 55-65 minutes until light golden and toothpick comes out clean in center. As ovens vary, your oven may need more/less time
Cool for 10 minutes on a rack and then remove from pan using parchment overhang as handles
Cool completely before serving or wrapping for storage

I prefer to make it a day ahead 🙂

Can be wrapped in plastic wrap, followed by aluminum foil and frozen for up to 1 month. Lasts in refrigerator about 4 days
I love the end!  Even this part is light, soft and so moist 🙂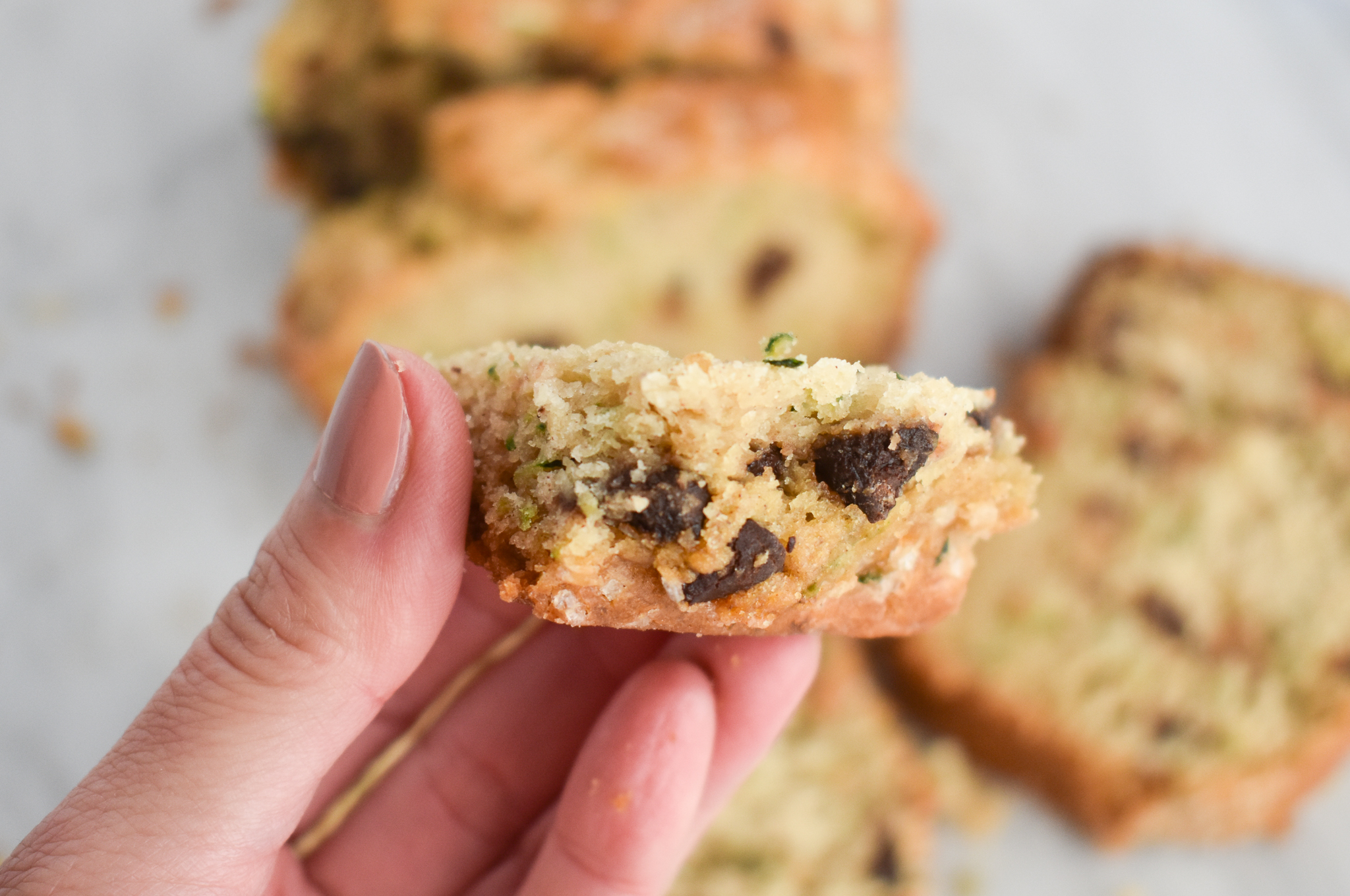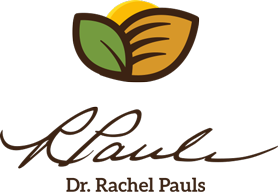 Printer Friendly Version
Comments Rating
( reviews)