The Best Low-FODMAP Swedish Meatballs; Gluten-free, Dairy-free
August 8, 2021
Printer Friendly Version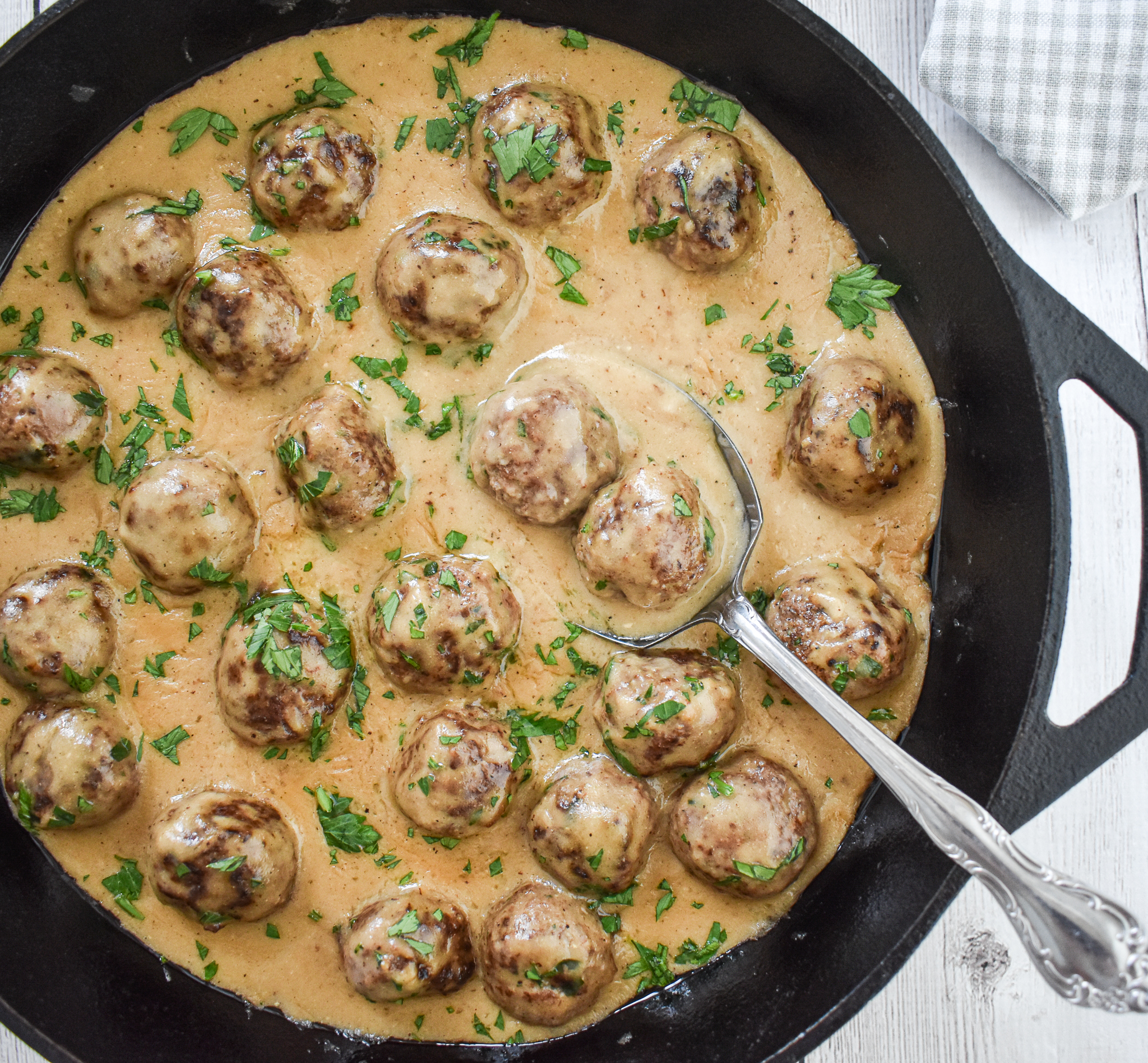 Low-FODMAP.
Swedish.
Meatballs.
#nokidding!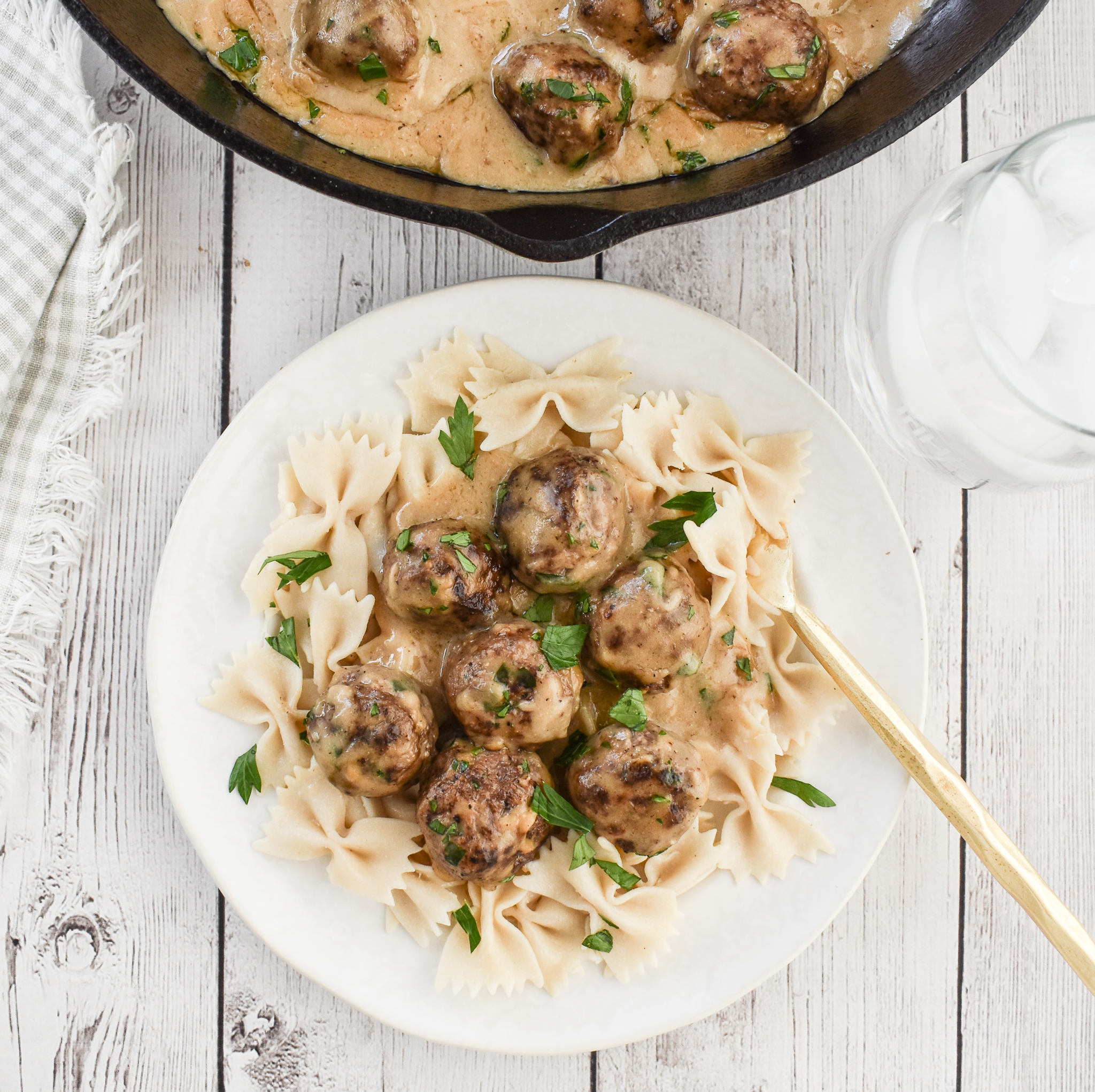 These are the BEST low-FODMAP Swedish Meatballs.  And so easy!  You will be thrilled to add this recipe to your 'favorites' box.
I won't admit that my favorite Swedish store may have inspired this recipe…you know the one 😉
Low-FODMAP Swedish Meatballs are amazing served over low-FODMAP, gluten-free pasta (see my low-FODMAP Grocery Shopping List for tips), low-FODMAP Mashed Potatoes or low-FODMAP Rice Quinoa Medley.  The gravy is to-die-for.
This low-FODMAP Swedish Meatball recipe can be modified for other types of meat such as ground turkey.  You could also do a classic combination of beef and pork. Whatever is your preference!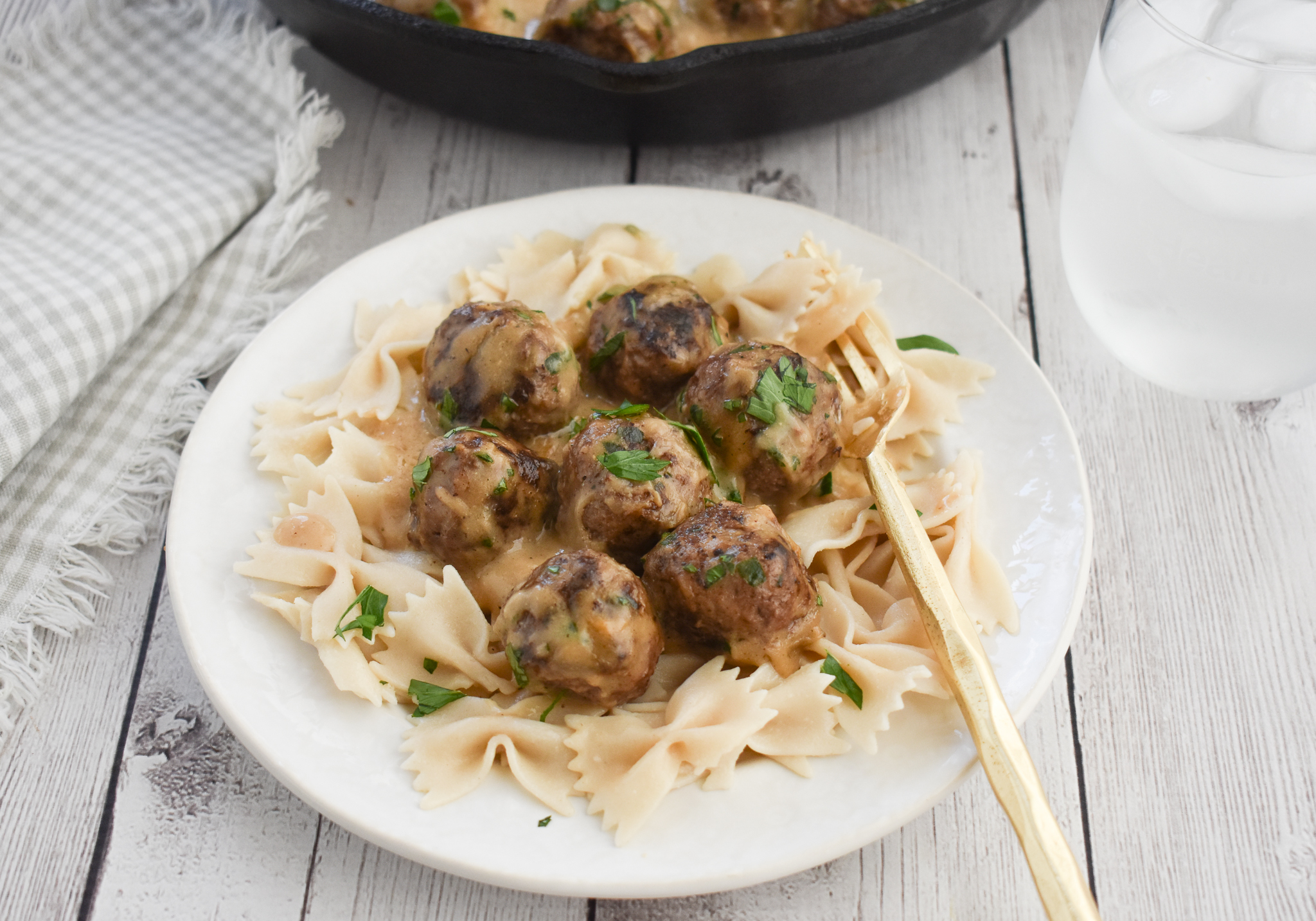 You may also love:
Or check out over 400 more low-FODMAP recipes on the blog.  IBS-friendly!
Be healthy and happy,
Rachel Pauls, MD
P.S.  Check out my new COOKBOOK for over 100 low-FODMAP recipes, low-FODMAP Meal Plan, FODMAP Tips and everything you need!!  It's the BEST!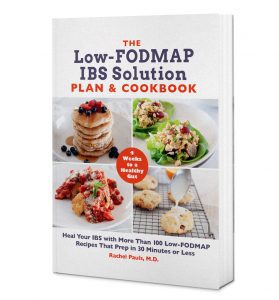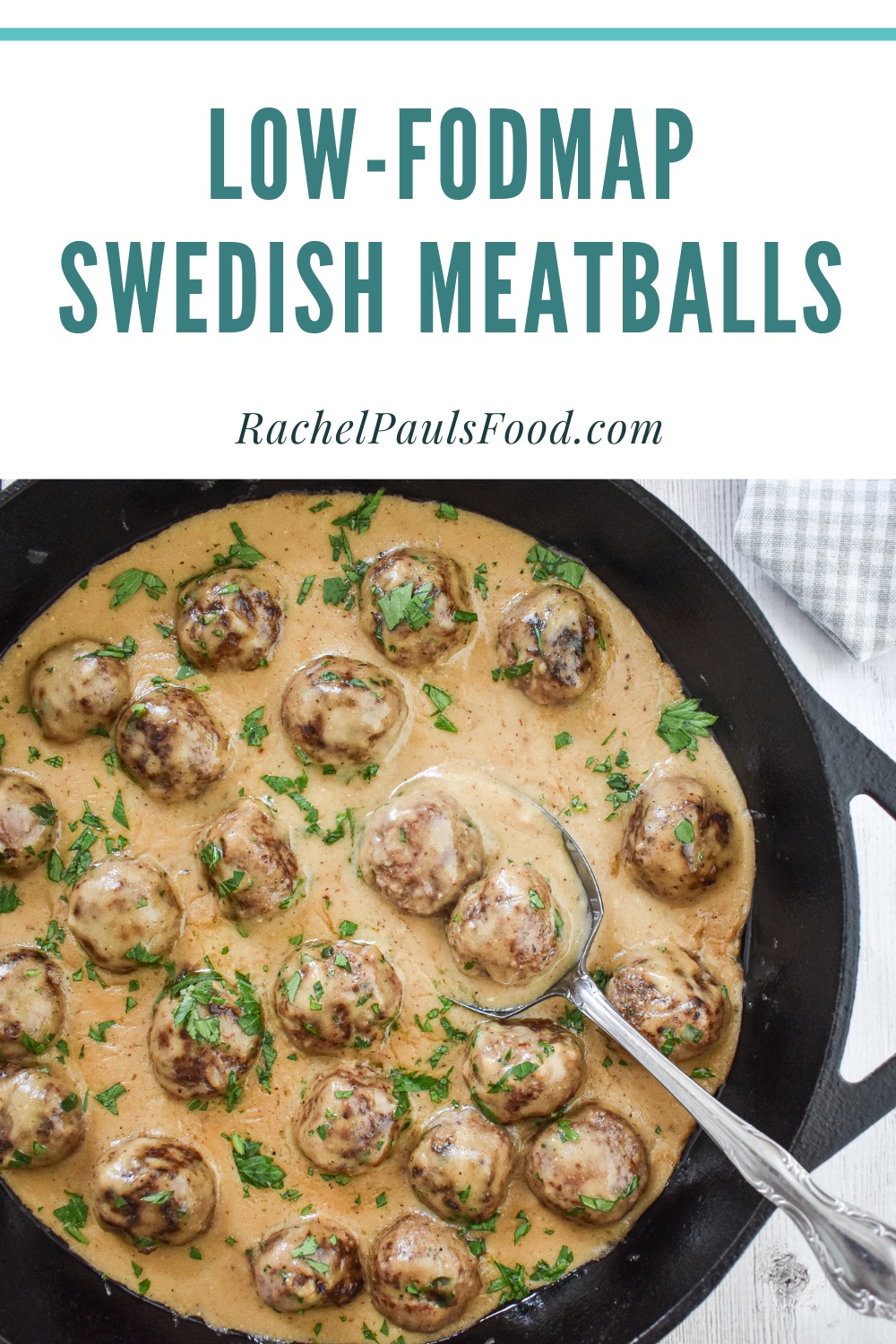 Although this recipe has not been tested, a single serving should be low-FODMAP based on the ingredients (using available data at time of posting)
Serves: 4-6
*This recipe is rather rich and high in fat content.  Adjust to personal tolerance if fat is a trigger for your IBS
Prep time: 20 mins (plus chilling 15-30 minutes)
Cook time: 20 mins
Total Time: 40 mins (plus chilling)
Ingredients
For meatballs:
1 pound uncooked ground beef (I like lean beef)
1/4 cup gluten-free, low-FODMAP bread crumbs (make your own!)

Check to ensure your brand contains low-FODMAP ingredients

1 tablespoon (2 g) fresh parsley, chopped

You can also use some extra as garnish

1/4 teaspoon ground allspice
1/4 teaspoon ground nutmeg
1/8 teaspoon pepper, plus to taste
1/2 teaspoon salt, plus to taste
1 large egg
2 tablespoons low-FODMAP milk (I like lactose-free whole milk, but for a dairy-free version use unsweetened almond milk or another low-FODMAP, dairy-free milk)
For sauce:
2 teaspoons garlic-infused olive oil; divided
2 teaspoons shallot or onion-infused olive oil; divided
3 tablespoons butter (for dairy-free, substitute olive oil)
3 tablespoons low-FODMAP, gluten-free flour

I select a brand without added Xanthan Gum, a plain rice flour also works well

2 cups low-FODMAP beef broth or stock

My low-FODMAP Certified Happy Soup is perfect for this recipe!

3/4 cup heavy cream

1/4 cup of heavy whipping cream is low-FODMAP,
For a dairy-free option use canned coconut cream (see my low-FODMAP grocery blog for brands and technique for using this.  It is NOT the same as 'cream of coconut' which is sweetened and also found in cans at the supermarket)

1/4 cup is one low-FODMAP serving

1 tablespoon Worcestershire sauce (gluten-free if necessary)

2 tablespoon is one low-FODMAP serving
Even though this product often contains onion and garlic, the amounts are so small that you can still use this for your cooking!
You can also use soy sauce as a substitute

2 teaspoons Dijon mustard
Directions
In a medium sized bowl mix ground beef, panko, parsley, allspice, nutmeg, pepper, salt, egg and low-FODMAP milk (I used my hands)
Scoop the meat mixture using a small cookie scoop or spoon, and using your hands, roll about 24 small meatballs.  Place them on a baking sheet or large plate

You want to roll these firmly so they don't break apart, but not so dense that they aren't moist and tender

If you have time, at this point I recommend chilling the formed meatballs in the fridge for 30 minutes, or freezer for 15 minutes to help them maintain shape during cooking
Once your meatballs are ready, in a large skillet heat 1 teaspoon each of the infused olive oils and 1 tablespoon butter over medium

I prefer cast iron or an enameled cast iron for this

Add the meatballs and brown on all sides, turning as needed (about 5-7 minutes)

Do not crowd the pan.  Shake them lightly, but do not turn excessively
You may need to work in batches

Transfer cooked meatballs to a plate and tent with foil to keep warm
Add remaining 2 tablespoons butter, and teaspoon each of infused oils to skillet

Adjust your heat as necessary to not burn this, you may want to shift to medium-low

Stir in low-FODMAP flour and whisk until brown
Slowly stir in low-FODMAP beef broth and heavy cream
Add Worchestershire sauce and Dijon mustard and bring to a simmer until sauce starts to thicken
Taste gravy, and add seasoning as needed
Once thick, add the meatballs back to the skillet and simmer for another 1-2 minutes

If you are concerned the meatballs aren't fully cooked, then simmer longer as needed

Serve over low-FODMAP, gluten-free egg noodles, GF farfalle pasta (I used Jovial brand), mashed potatoes or rice!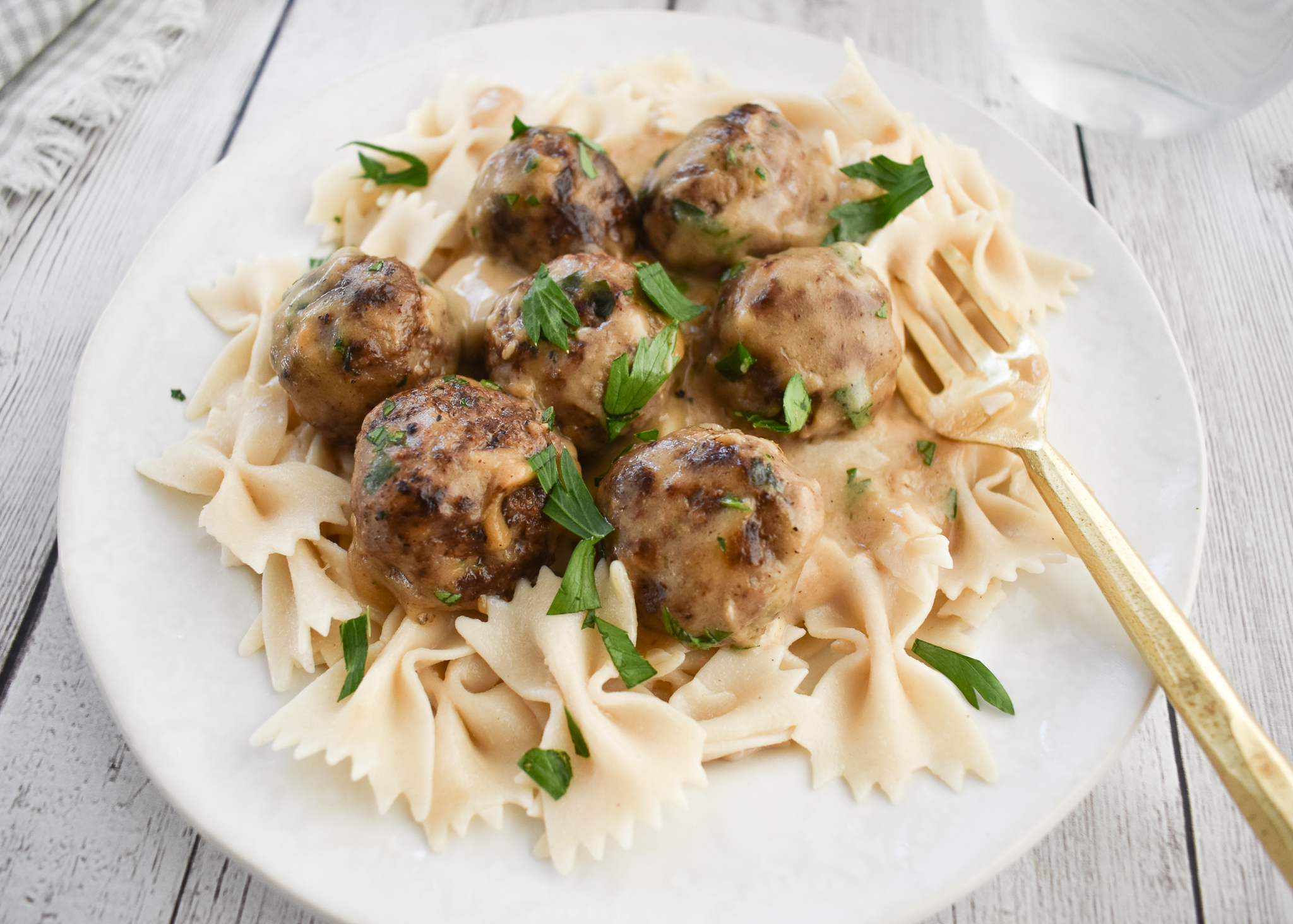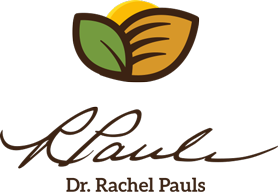 Printer Friendly Version
Comments Rating
( reviews)