The Best Low-FODMAP Rhubarb Jam Recipe; Gluten-free, Vegan
March 21, 2019
Printer Friendly Version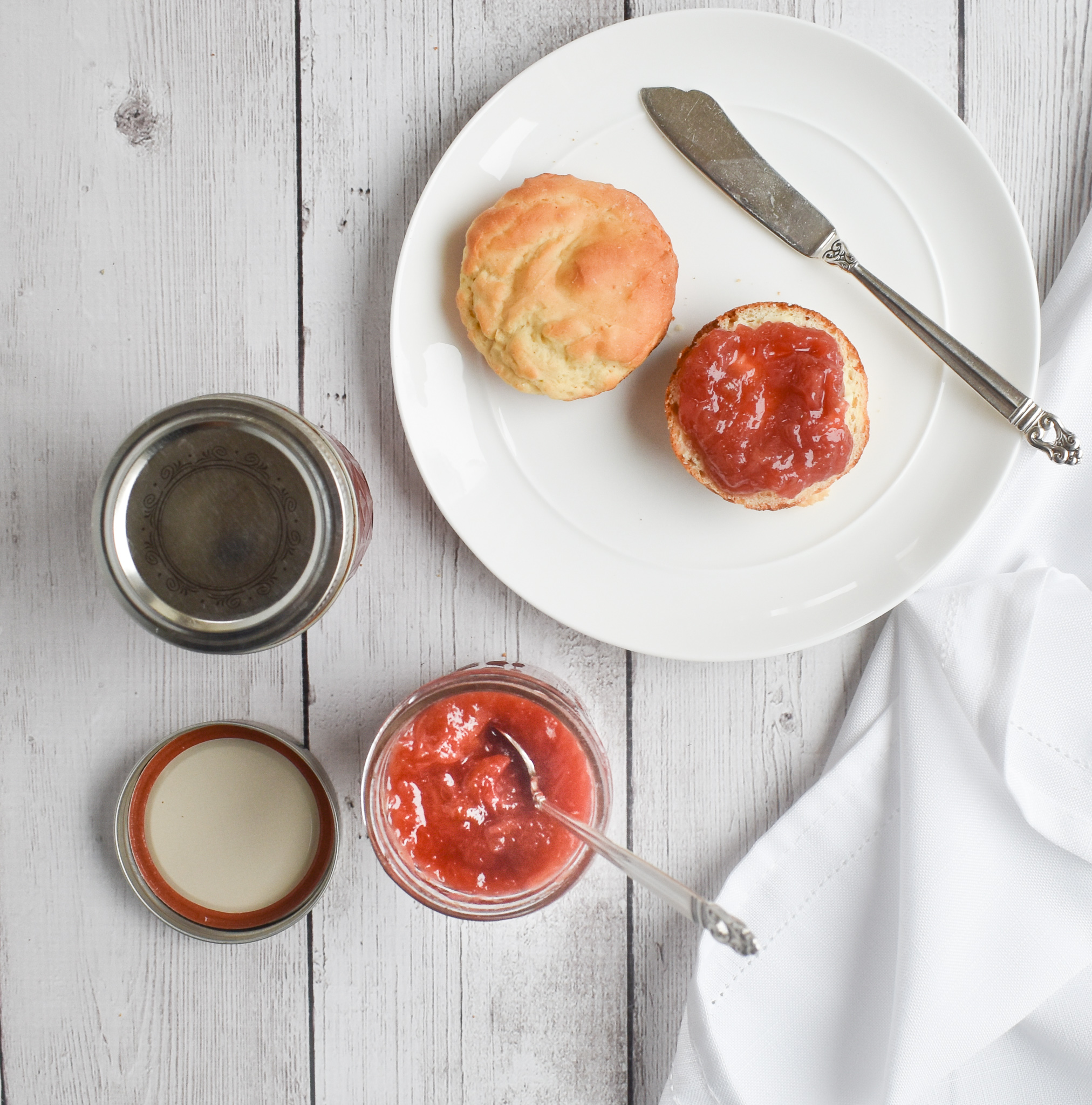 I'm not going to lie, this low-FODMAP Rhubarb Jam may be the best jam I have ever had.  EVER.  It tastes just like rhubarb pie, but without the crust.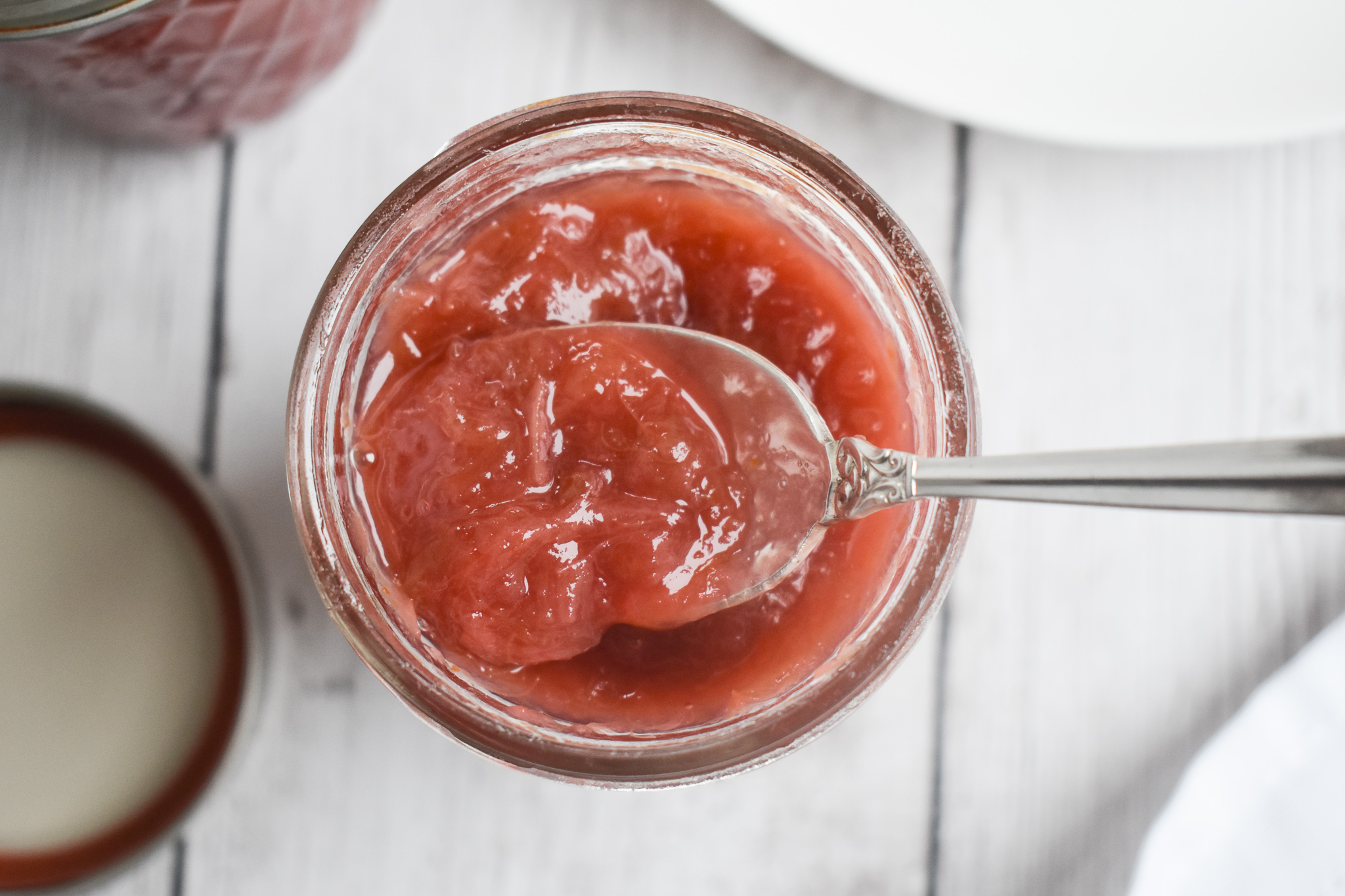 I hear you thinking- its jam.  What is the big deal?  I'll tell you the big deal.  When you take a spoonful of this low-FODMAP Rhubarb Jam it creates a silky, sweet, gorgeously tart flavor on your tongue that spreads over your whole mouth.  Your eyes widen.  Your lips form the letter "O".  You take another spoonful (larger this time), just to check again.  You call to your spouse or child- "Honey, you have got to taste this rhubarb jam!  It's incredible!  And I can eat it, since it is low-FODMAP!!"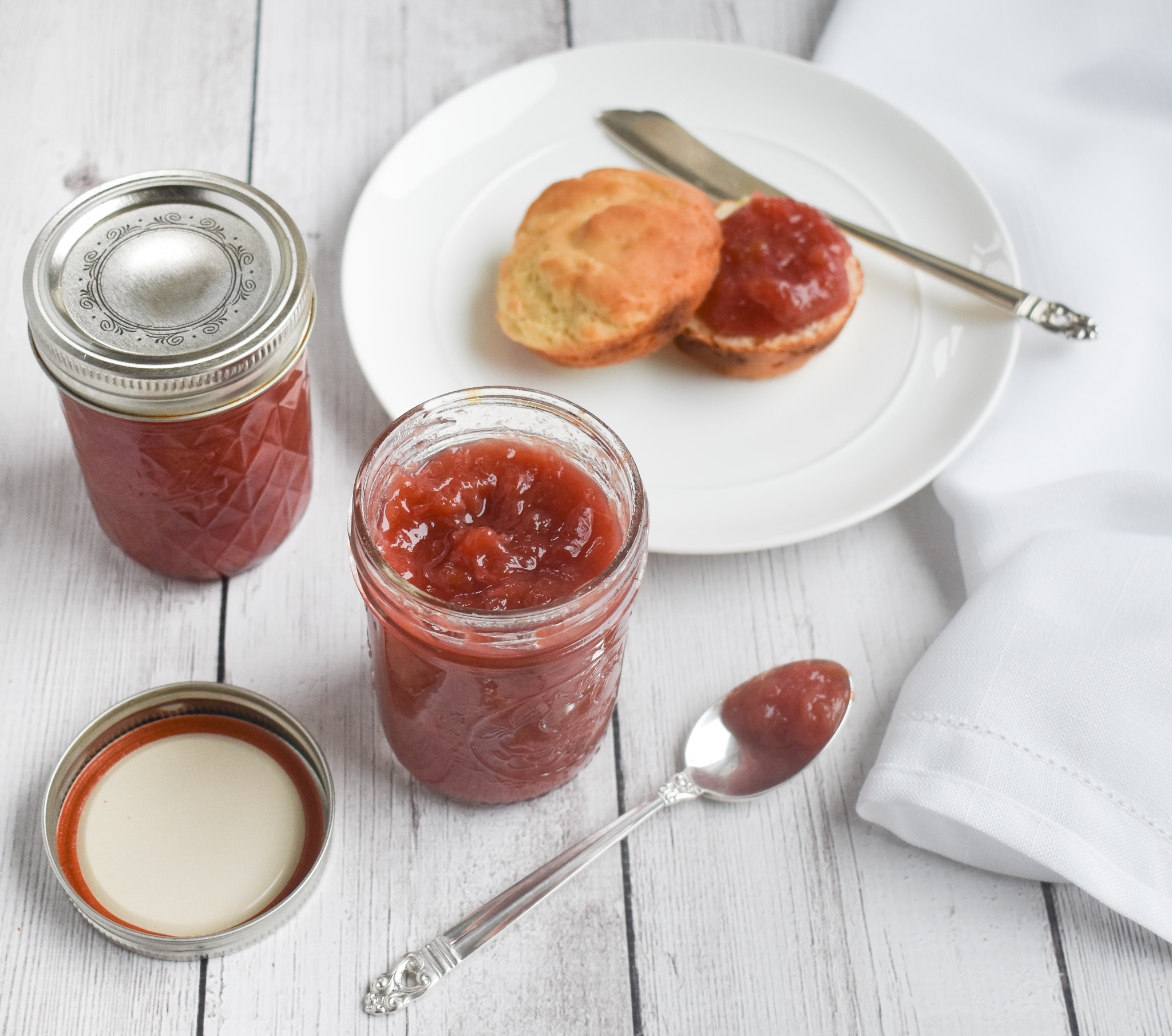 All true. Personal experience.
Not only that, this low-FODMAP Rhubarb Jam recipe is a snap.  Easy peasy.
You will love this low-FODMAP Jam even more on my low-FODMAP Dinner Rolls or low-FODMAP Potato Buns.
While rhubarb has a short season (spring), it is a delicious and healthy low-FODMAP fruit option.  Packed with anti-oxidants and other nutrients, rhubarb is naturally low-calorie as well.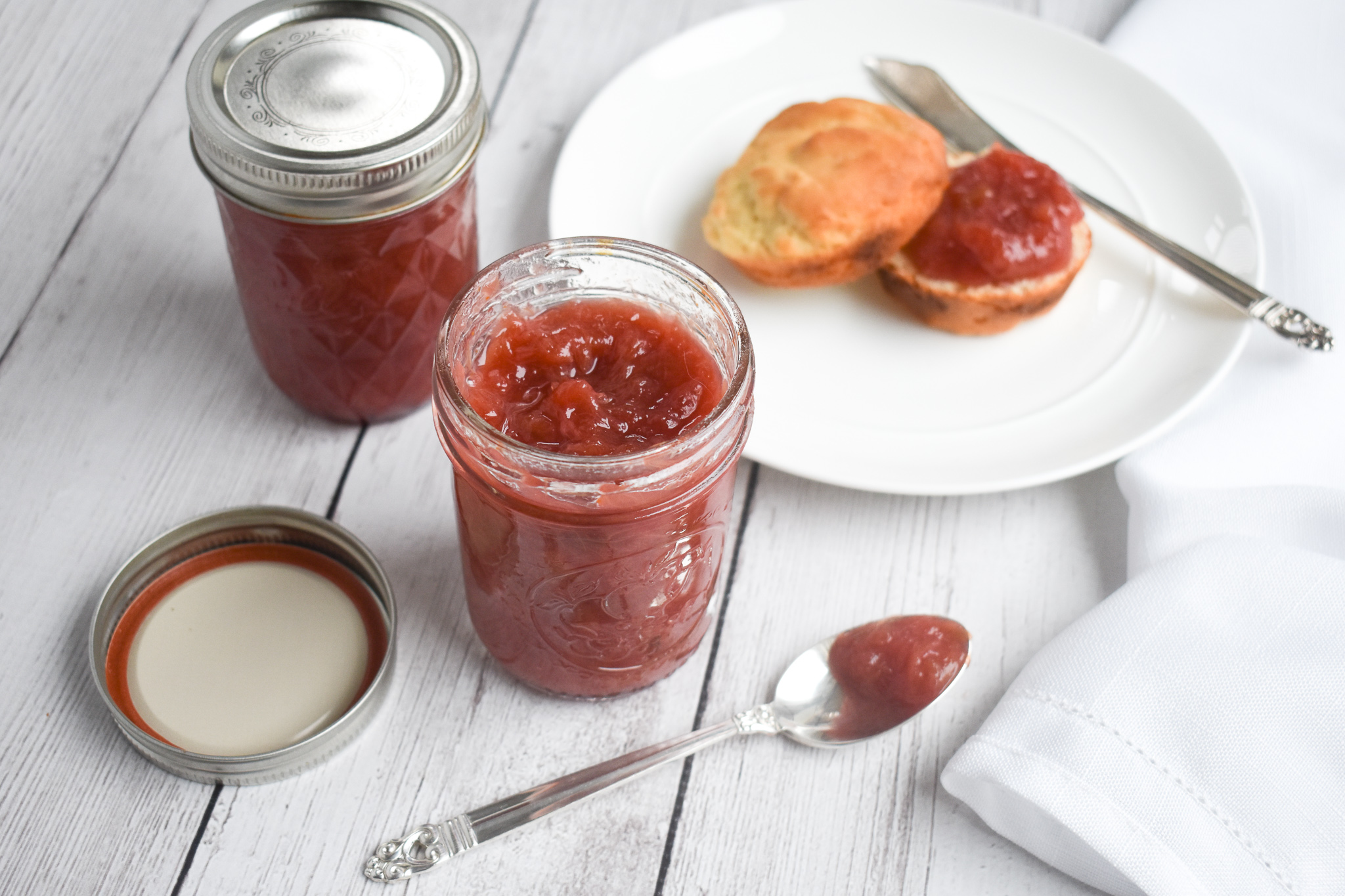 Enjoy it year-round with this low-FODMAP Rhubarb Jam recipe (you can make it with both frozen and fresh rhubarb)!
Check out my blog for low-FODMAP Strawberry Coulis and low-FODMAP Pumpkin Butter recipes, and my low-FODMAP Strawberry Rhubarb Crumb Pie.  Or peruse over 300 more low-FODMAP recipes on the blog.
Be healthy and happy,
Rachel Pauls, MD
---
The Best Low-FODMAP Rhubarb Jam; Gluten-free, Vegan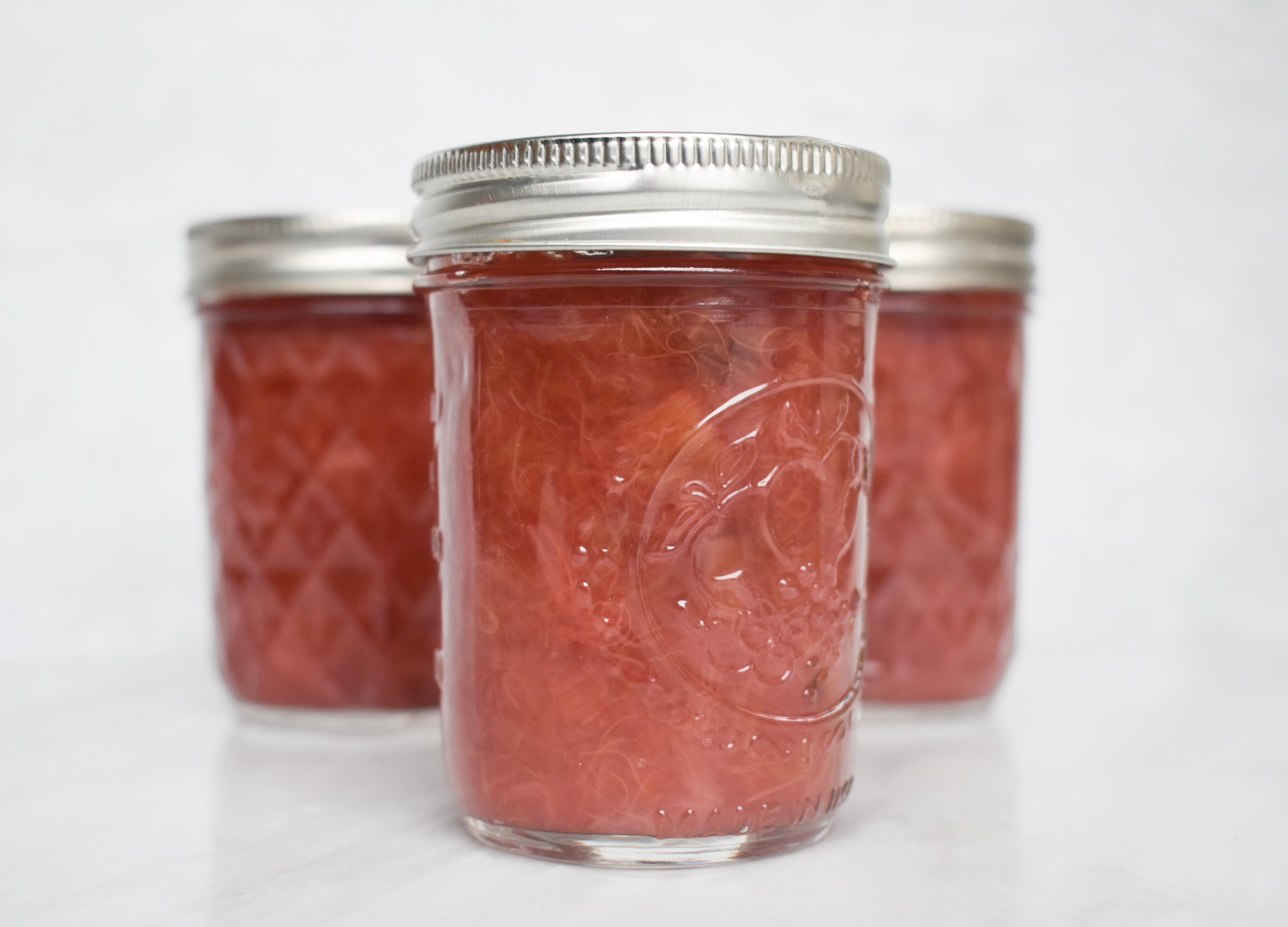 Although this recipe has not been tested, a single serving should be low-FODMAP based on the ingredients
Serves 32 (Yields about 24-30 ounces)
Prep time 25 min
Cook time 45 min
Total time 1 h 10 m
Ingredients
2 1/2 pounds (about 1200 g) fresh or frozen rhubarb, chopped

1 cup or 150 g is one low-FODMAP serving

2 cups white sugar
2 teaspoons grated orange zest
1/3 cup freshly squeezed orange juice (About 1/2 medium orange)
1/2 cup water (omit if using frozen rhubarb)
Directions
In a large saucepan, combine the rhubarb, sugar, orange zest, orange juice and water
Bring to a boil, then cook over medium-low heat for 45 minutes, stirring occasionally, or until thick

It will thicken more as it cools

In a slow cooker, or water bath heat sterile jars in boiling water with lids detached
Ladle boiled jam into hot sterile jars, and seal with lids and rings
Store jars in the refrigerator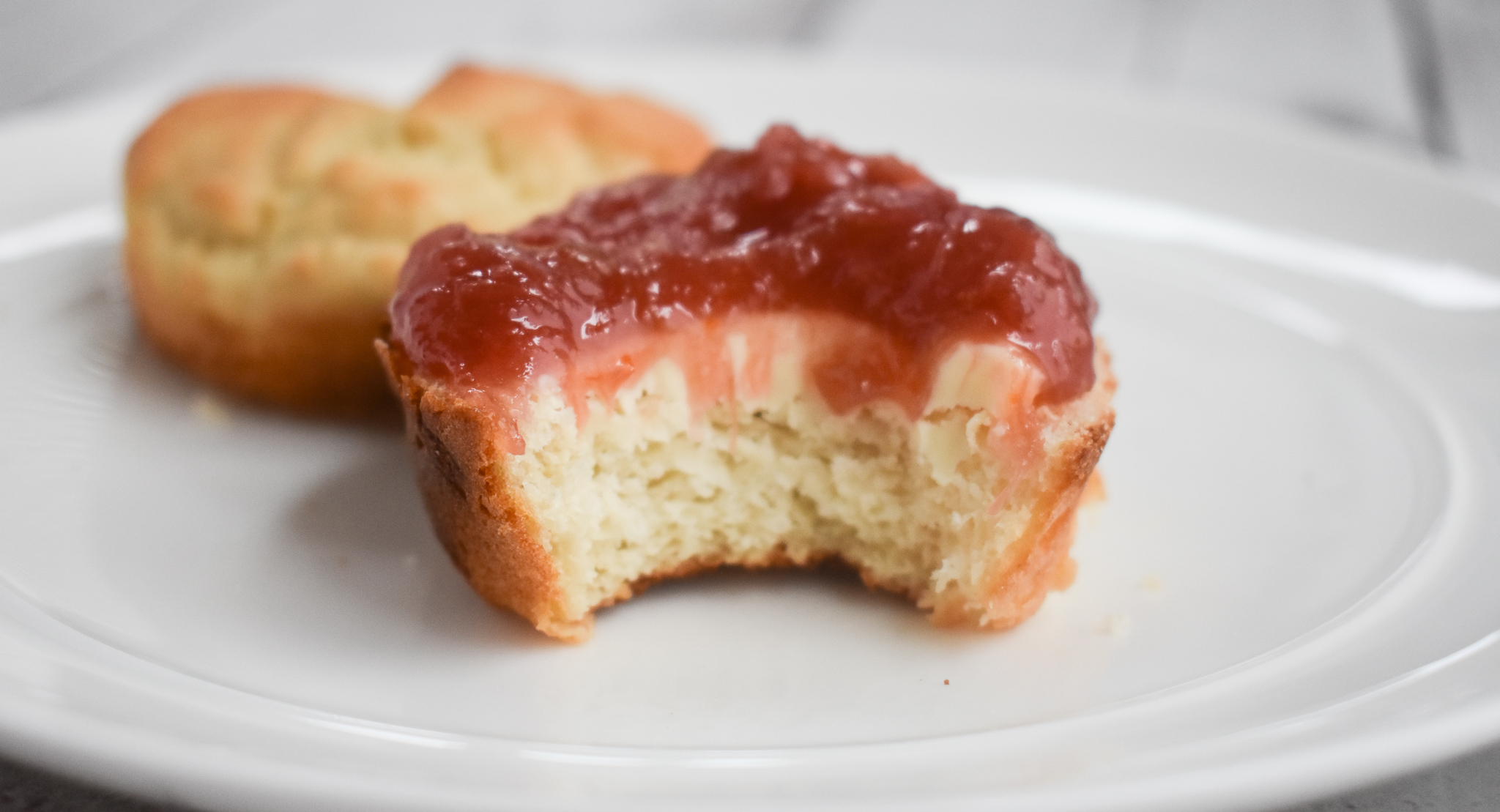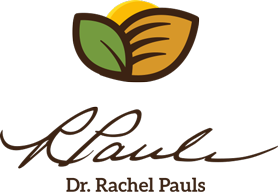 Printer Friendly Version
Comments Rating
( reviews)