The BEST Low-FODMAP German Chocolate Cake Recipe; Gluten-free, Dairy-free
November 23, 2019
Printer Friendly Version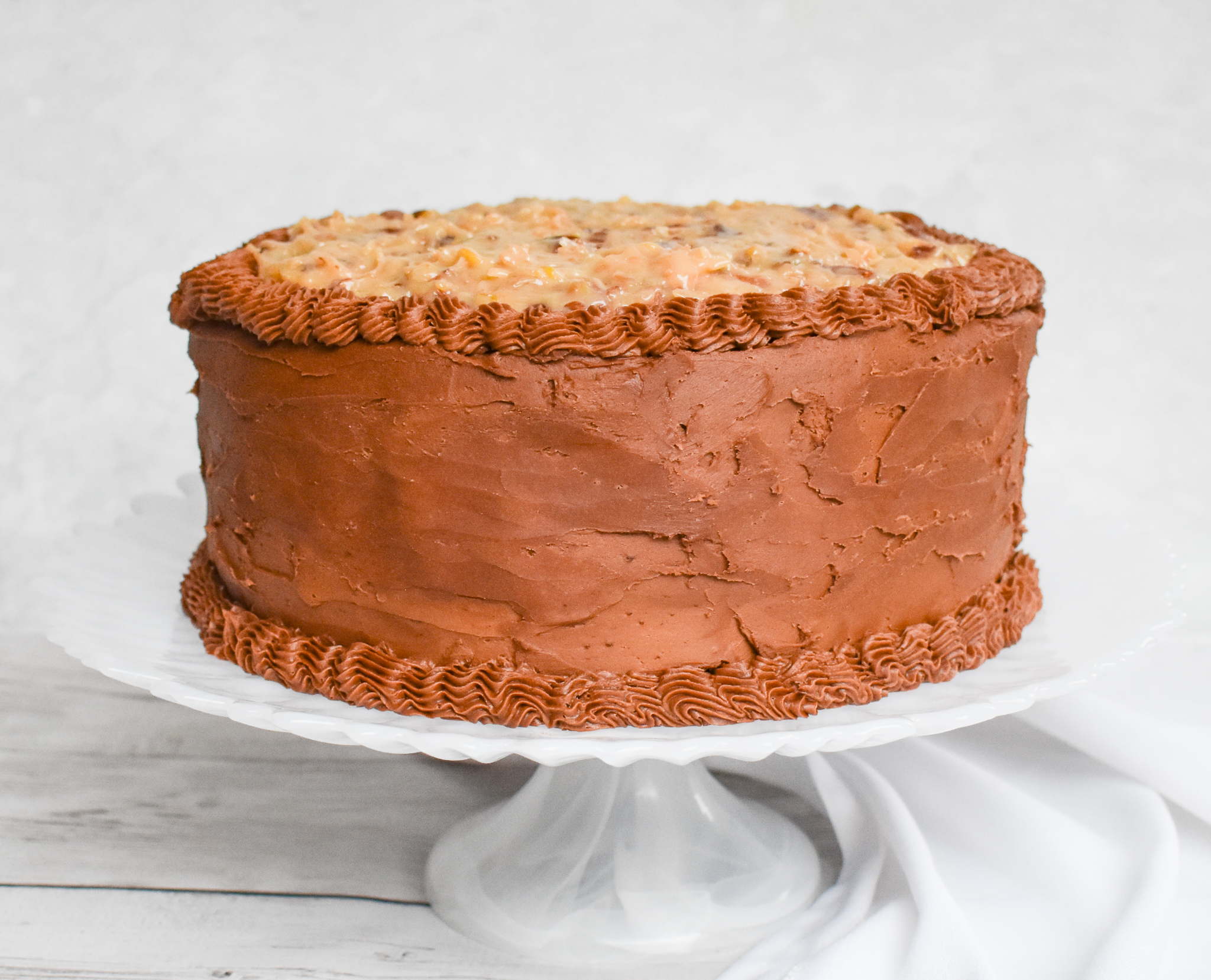 Did you know that German Chocolate Cake originated in the United States? It gets its name from the slightly sweeter chocolate used in the recipe (named 'German' chocolate after Samuel German who invented it for Baker's Chocolate Company in 1852). I had never attempted to bake one before, and this recipe absolutely blew me away.
You are going to be as thrilled as I was with this low-FODMAP German Chocolate Layer Cake recipe.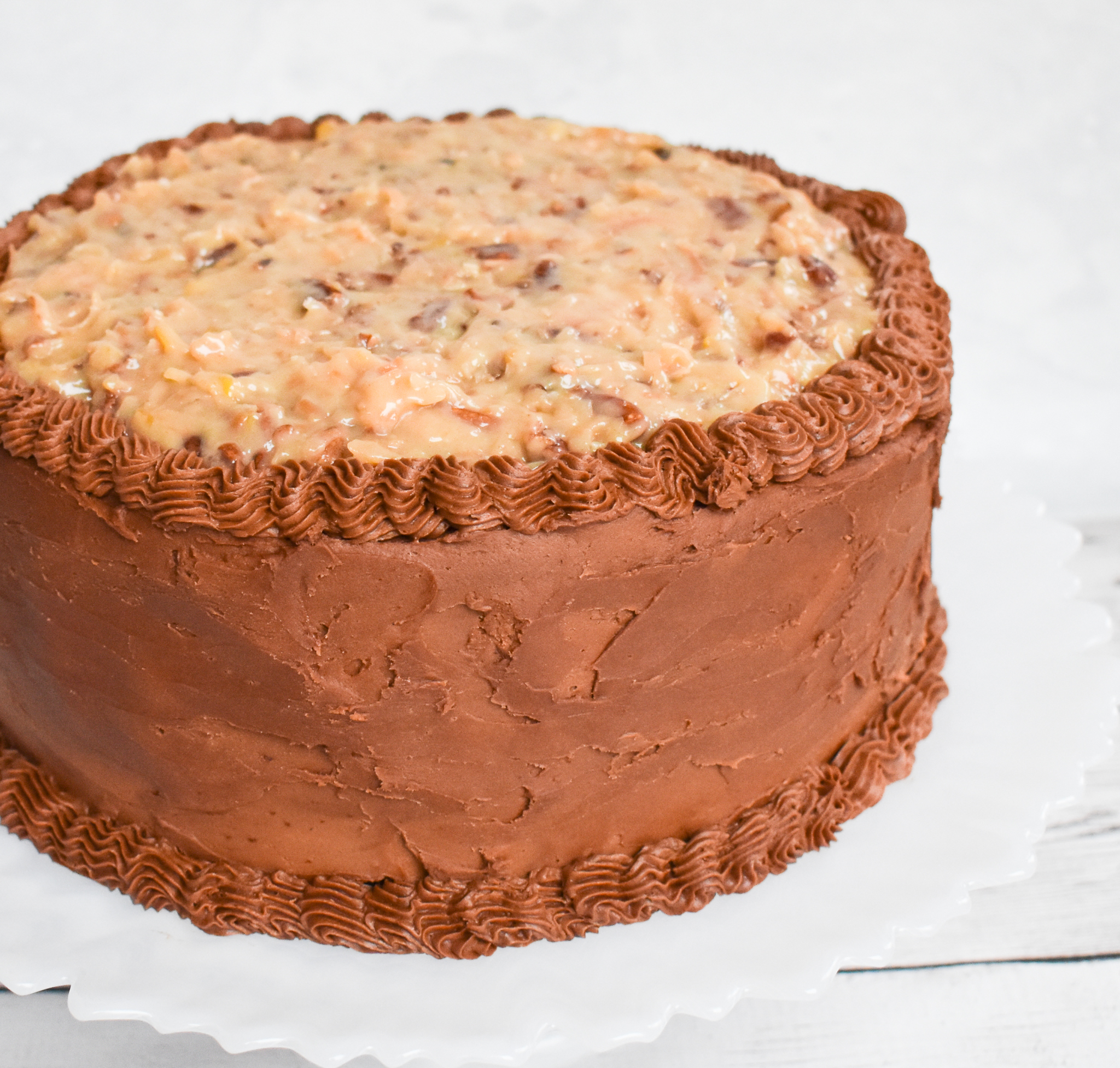 Low-FODMAP German Chocolate Cake combines a moist and light low-FODMAP chocolate cake with sweet low-FODMAP coconut/pecan creamy filling.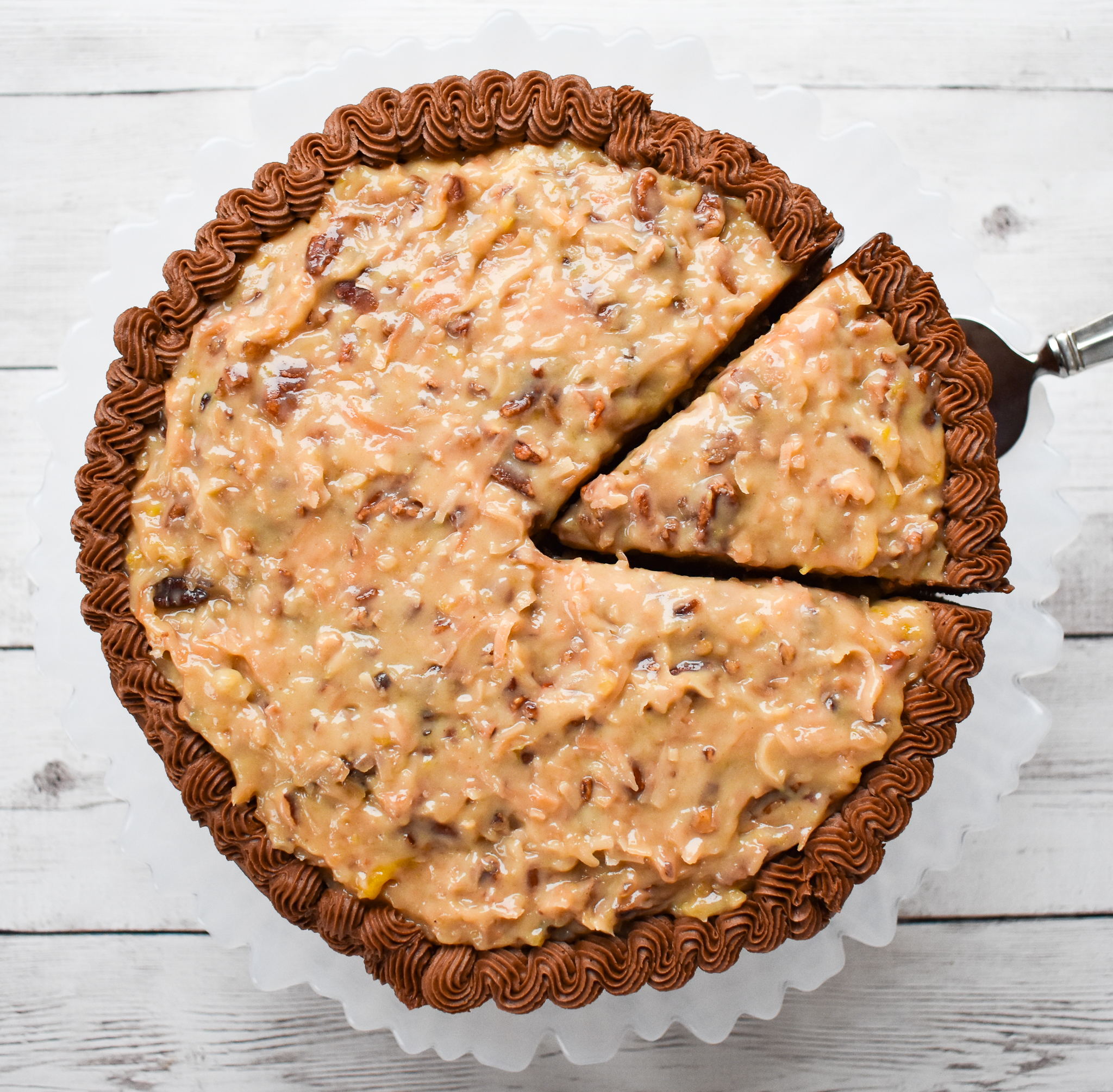 And that filling, when made from scratch, is to die for.  So fresh and delicious.  Like a butterscotch, coconut and pecan swirled heaven. All covered in a decadent low-FODMAP chocolate buttercream frosting.  SO GOOD.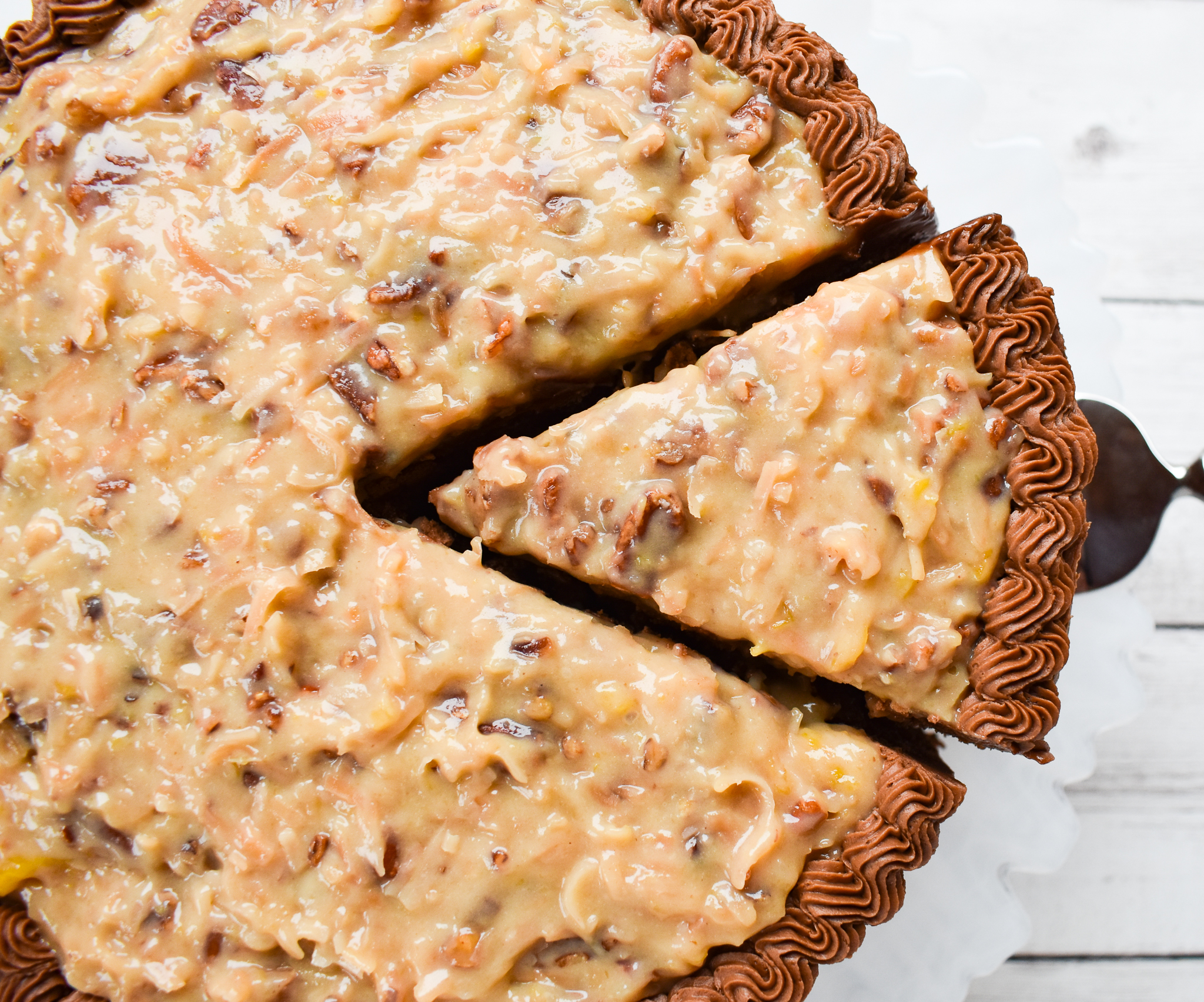 My low-FODMAP German Chocolate Cake recipe is wonderful for special birthdays, entertaining or any holiday.
This cake is guaranteed to impress… plus, nothing about it tastes low-FODMAP or gluten-free.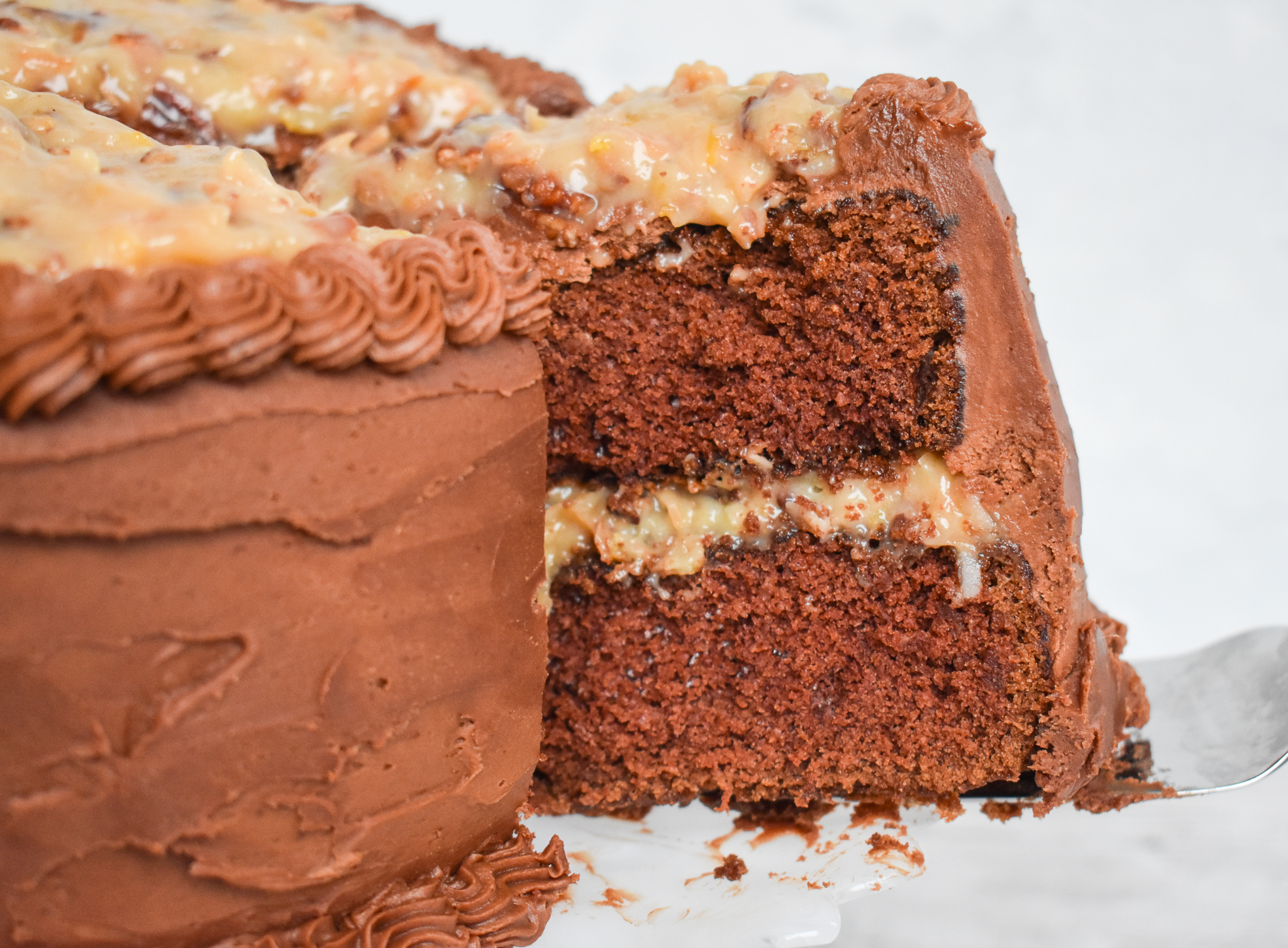 You may also love:
Or check out over 300 more low-FODMAP recipes on the blog.  IBS-friendly!
Be healthy and happy,
Rachel Pauls, MD
---
Low-FODMAP German Chocolate Layer Cake; Gluten-free, Dairy-free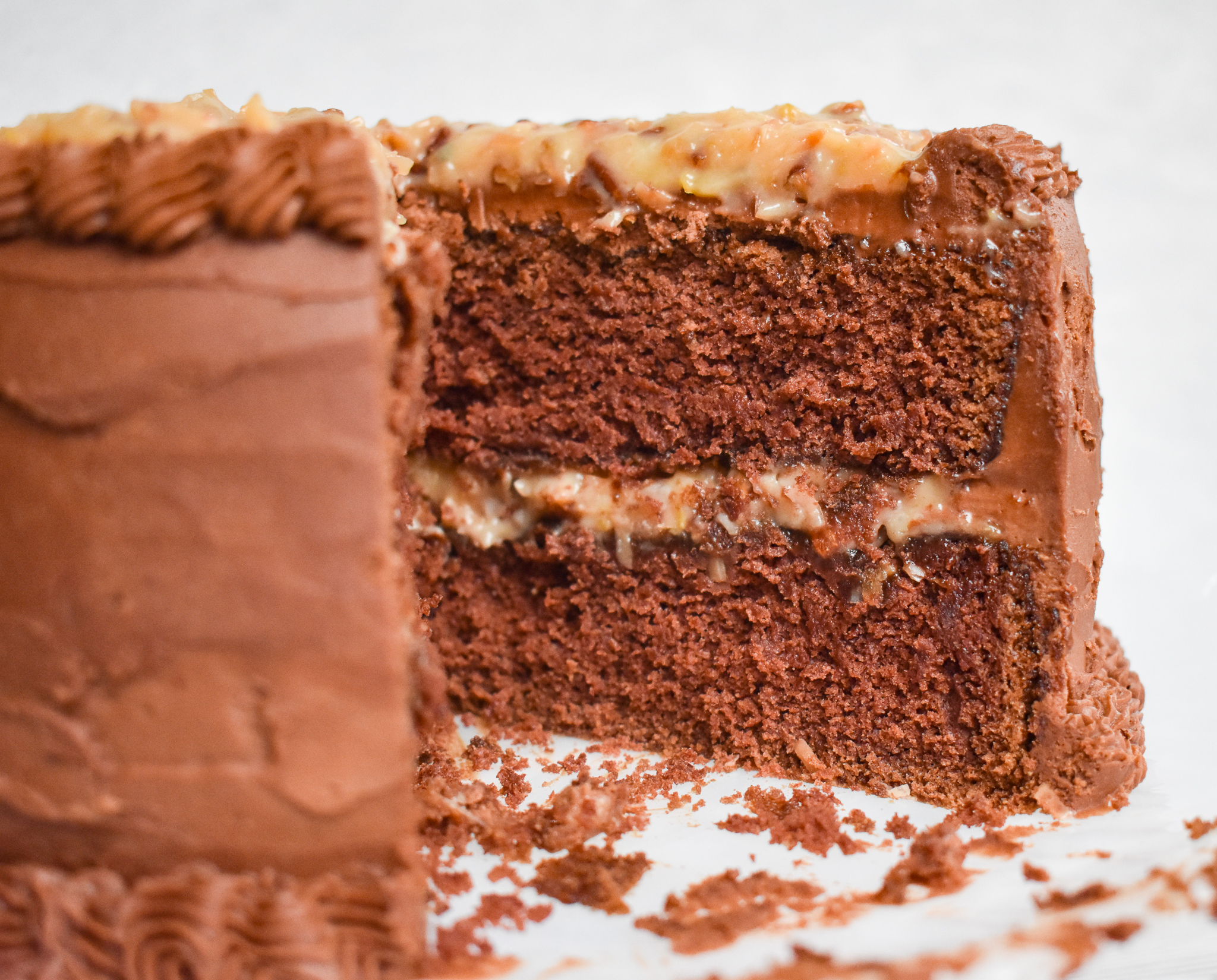 Although this recipe has not been tested a single serving should be low-FODMAP based on the ingredients
Modified from recipe by Analise G Roberts, "Gluten free Baking Classics, 2nd edition"
Serves 24
Prep time: 40 min
Assembly time: 20 min
Bake time: 40-45 min, plus cooling AS OVENS VARY, YOUR OVEN MAY TAKE MORE/LESS TIME
Total time: 1 hour 40 min, plus cooling
Ingredients
For low-FODMAP German Chocolate Cake:
6 ounces Baker's German sweet chocolate, chopped

Can substitute with 6 ounces semisweet chocolate and additional 3 tbsp of sugar

1/2 cup water
1 cup canola oil
2 cups granulated sugar
4 large eggs, separated into white and yolk
1 teaspoon vanilla extract
2 & 1/4 cups Authentic Foods GF Classical Blend flour (or your favorite low-FODMAP, GF flour). This is my preferred flour for its consistent baking results. See my low-FODMAP bake off blog for the reason why!
2 teaspoons baking soda
1 teaspoon xanthan gum, if not added to your low-FODMAP flour choice
¼ teaspoon salt
2 teaspoons vanilla extract
¾ cup plus 2 tbsp low-FODMAP milk (such as almond for dairy-free or lactose-free) mixed with 1 tbsp white vinegar or lemon juice (creates a low-FODMAP buttermilk)
1 tbsp sweetened toasted shredded coconut, for garnish if desired
1 tbsp toasted chopped pecans or pecan halves, for garnish if desired
For low-FODMAP German Coconut/Pecan Filling
1 & 1/2 cups sugar
1 & 1/2 cups low-FODMAP milk (such as lactose-free or almond for dairy-free), or canned coconut cream

Note: This is NOT the same as 'Cream of Coconut".  Canned coconut cream is unsweetened, and can be purchased as the cream, or if you buy full fat coconut milk and chill it, you can skim the creamy layer from the top of the can and use that in recipes.  See my low-FODMAP Coconut Whipped Cream Recipe for details!

3/4 cup butter or low-FODMAP vegan spread (for dairy-free)
3 tbsp cornstarch or potato starch
5 large egg yolks
2 cups sweetened shredded toasted coconut
1 & 1/2 cups chopped toasted pecans
1 & 1/2 teaspoons vanilla extract
1 tsp salt
Directions
If desired, prepare the coconut/pecan filling the night before so it has more time to chill
Line two 9 inch round baking pans with parchment paper, grease parchment
Preheat oven to 350 F, place rack in center of oven
In small saucepan, melt sweet german chocolate with ½ cup water over low heat; cool to lukewarm
In a large bowl of electric mixer with flat paddle, beat canola oil and sugar until light and fluffy
Beat in 4 egg yolks, one at a time, mixing well after each addition until mixture is pale yellow
Slowly add in melted chocolate and vanilla to temper eggs, on low speed
In a separate bowl combine low-FODMAP flour, xanthan gum, baking soda and salt
Add the dry mixture to the oil/egg mixture, alternating with the low-FODMAP buttermilk, beating well after each addition
In a second bowl, with clean beaters, beat the 4 egg whites until stiff peaks form (use whisk attachment)
Fold ¼ of the egg whites into creamed mixture; then fold in remaining whites, ¼ more at a time
Pour batter into prepared pans
Bake 40-45 minutes or until a toothpick inserted in center comes out clean (for 2 pans)

Adjust bake time if using 3 or more pans

Cool 5 minutes before removing from pans to wire racks to cool completely
Cool cakes on rack, or freeze until ready to decorate
You can prepare low-FODMAP German Chocolate filling while the cake is baking and chill at the same time as the cake
Directions for low-FODMAP German Coconut/Pecan Filling
If your pecans and coconut are not toasted, then put at 350 F for about 5-10 minutes and allow to cool

The coconut will toast faster, prepare separately or remove first and watch carefully

Place egg yolks in a large bowl; whisk to combine; set bowl aside
Combine sugar, cornstarch, and salt in a saucepan
Gradually whisk in low-FODMAP milk or cream and butter or vegan spread
Cook, stirring, over medium heat until mixture thickens and comes to a boil, 10 to 12 minutes
Remove from heat
Whisk a few tablespoons of the hot milk mixture into the reserved egg yolks to temper yolks
Slowly pour warm yolks into the saucepan, stirring constantly
Cook slowly, stirring, over medium-low heat, until mixture begins to bubble, about 5 to 6 minutes
Remove from heat
Stir in shredded coconut, pecans and vanilla
Transfer filling to a medium mixing bowl, and cover with plastic wrap touching the surface so a skin doesn't form
Chill until set, about 1-2 hours in refrigerator
When ready to frost and fill low-FODMAP German Chocolate Cake:
Place the bottom base layer on cake plate, and place the low-FODMAP German coconut/pecan filling on this layer, repeat as necessary, if doing a multi-layer cake

You will have enough filling for 2 generous layers

I had saved about half the coconut pecan filling to ensure I would have enough to decorate the top layer and still ended up with extra at the end.  Feel free to make your center layer thicker than the one I did, if you like!

Frost top and sides with low-FODMAP Chocolate Buttercream frosting,
Garnish with additional coconut filling, shredded toasted sweetened coconut, or chopped pecans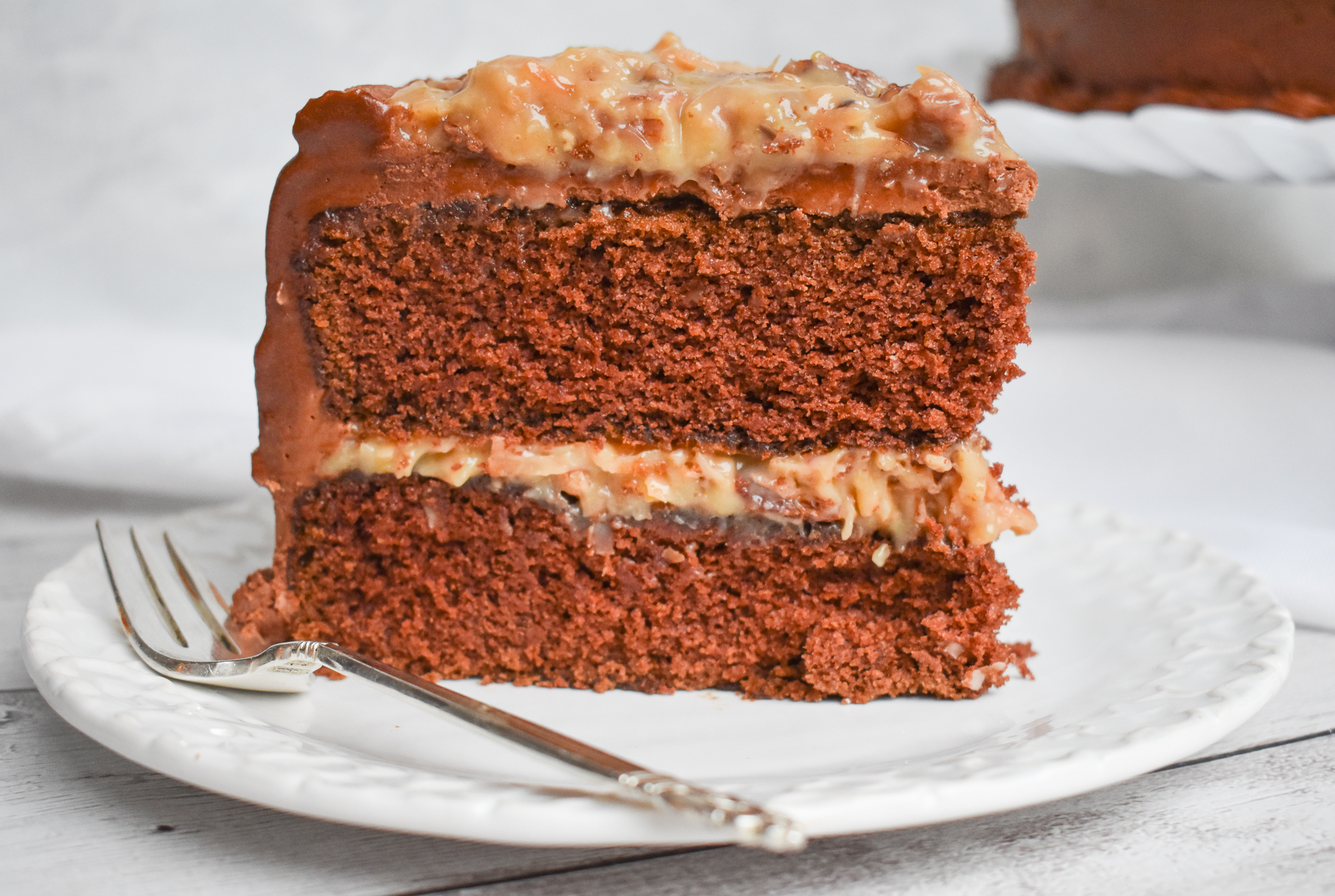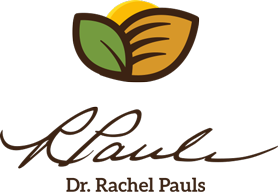 Printer Friendly Version
Comments Rating
( reviews)