The BEST Low-FODMAP Egg Salad Recipe; Gluten-free, Vegetarian, Dairy-free
March 7, 2020
Printer Friendly Version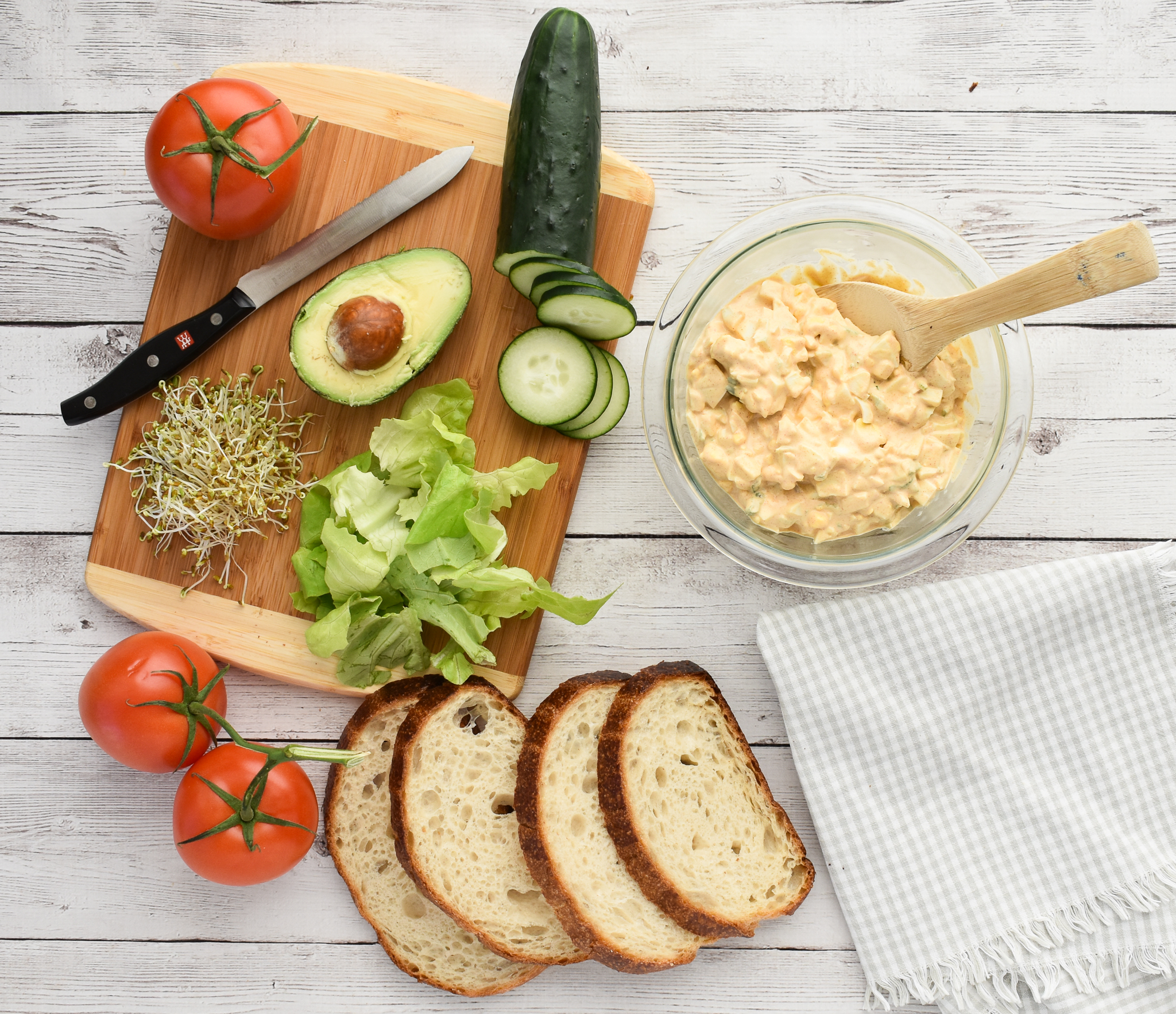 I make low-FODMAP egg salad every few weeks, and I love to experiment with pinches of this and that to improve the flavor.  I realized that I should share my favorite version with all my fellow FODMAPPERS.
Egg salad is one of those lunch foods that you enjoy as a child, but really appreciate as an adult. You just have to be willing to endure the recognizable aroma that accompanies it!
Low-FODMAP Egg Salad can be dressed up in fancy layer sandwiches for a party, or dipped with crackers while watching the game. You can serve it in lettuce cups, or layer it with tomatoes, cucumber, avocado and alfalfa.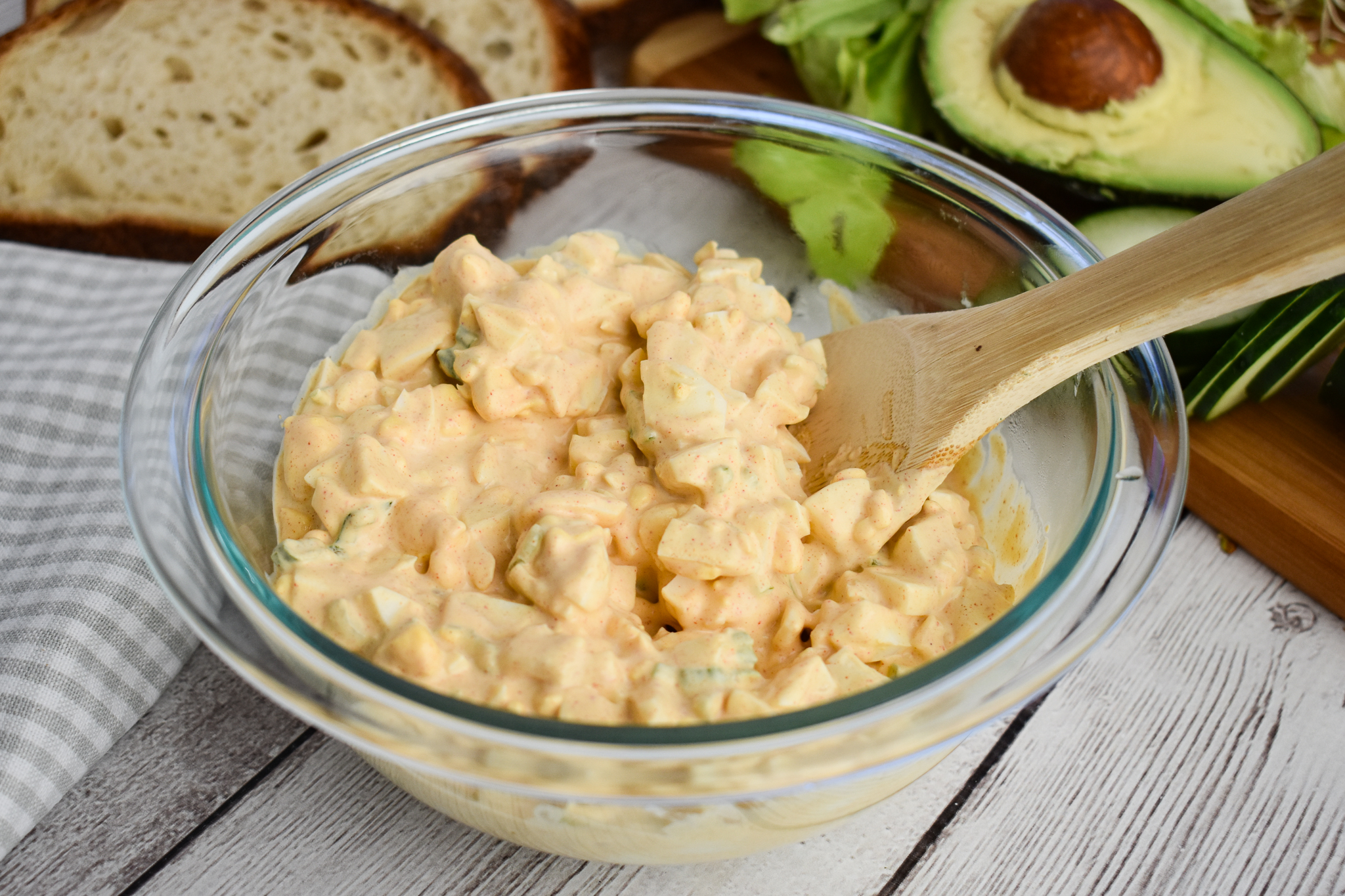 I LOVE low-FODMAP Egg Salad.
Not only is my low-FODMAP Egg Salad a tasty, healthy and filling lunch item, but your hands on time is under 30 minutes.  Easy peasy!
FODMAP fact: Sourdough bread may be consumed on the low-FODMAP diet, provided it is white wheat sourdough that has fermented about 12 hours (ask your baker).  The fermentation process can impact the wheat and remove the fructans (The FODMAPs in wheat that cause your tummy upset).  However, if you don't tolerate gluten, then stick to a low-FODMAP, gluten-free bagel or bun with your low-FODMAP egg salad.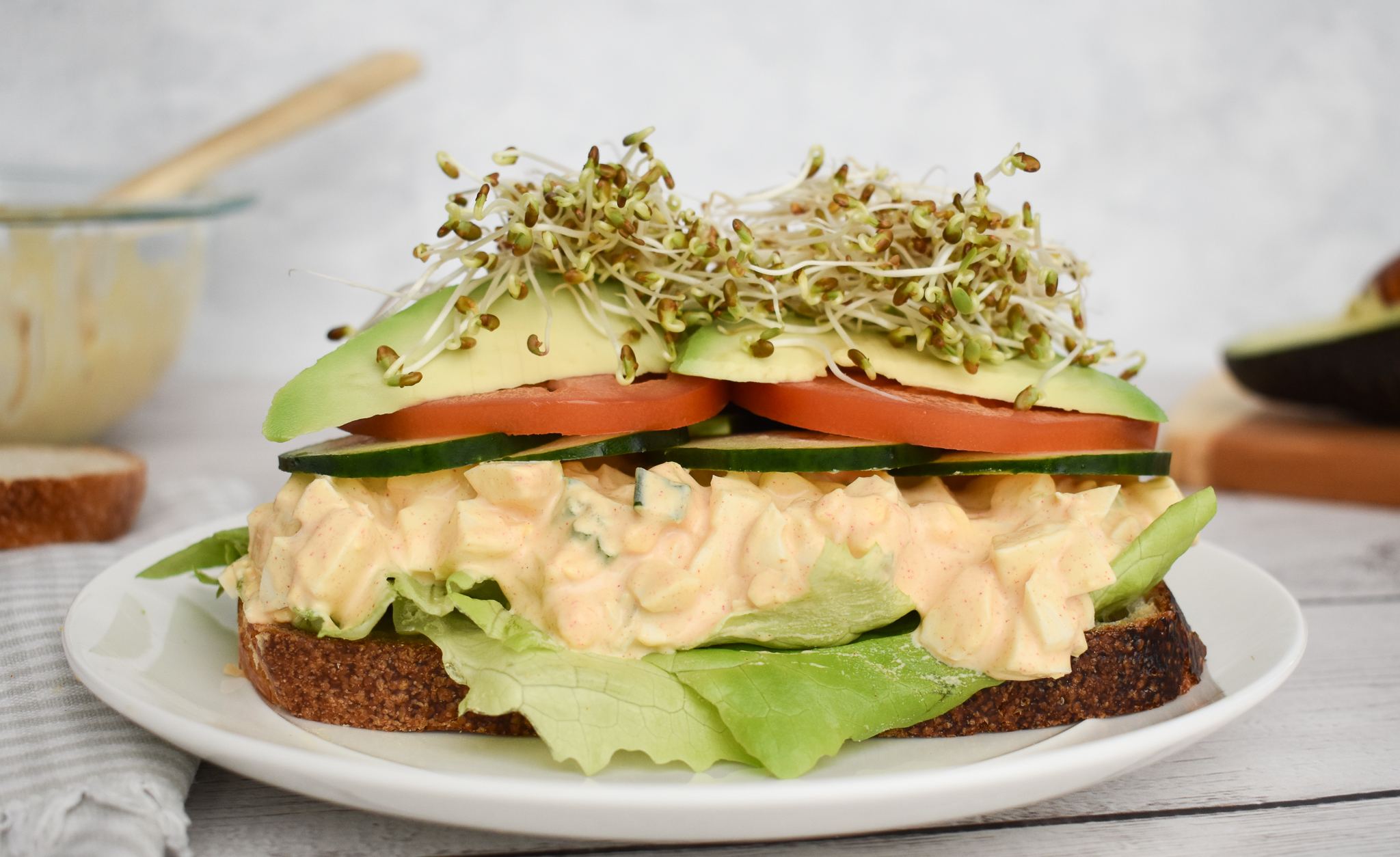 You may also love my:
Or check out over 350 more low-FODMAP recipes on the blog.  IBS-friendly!
Be healthy and happy,
Rachel Pauls, MD
---
The BEST Low-FODMAP Egg Salad Recipe; Gluten-free, Vegetarian, Dairy-free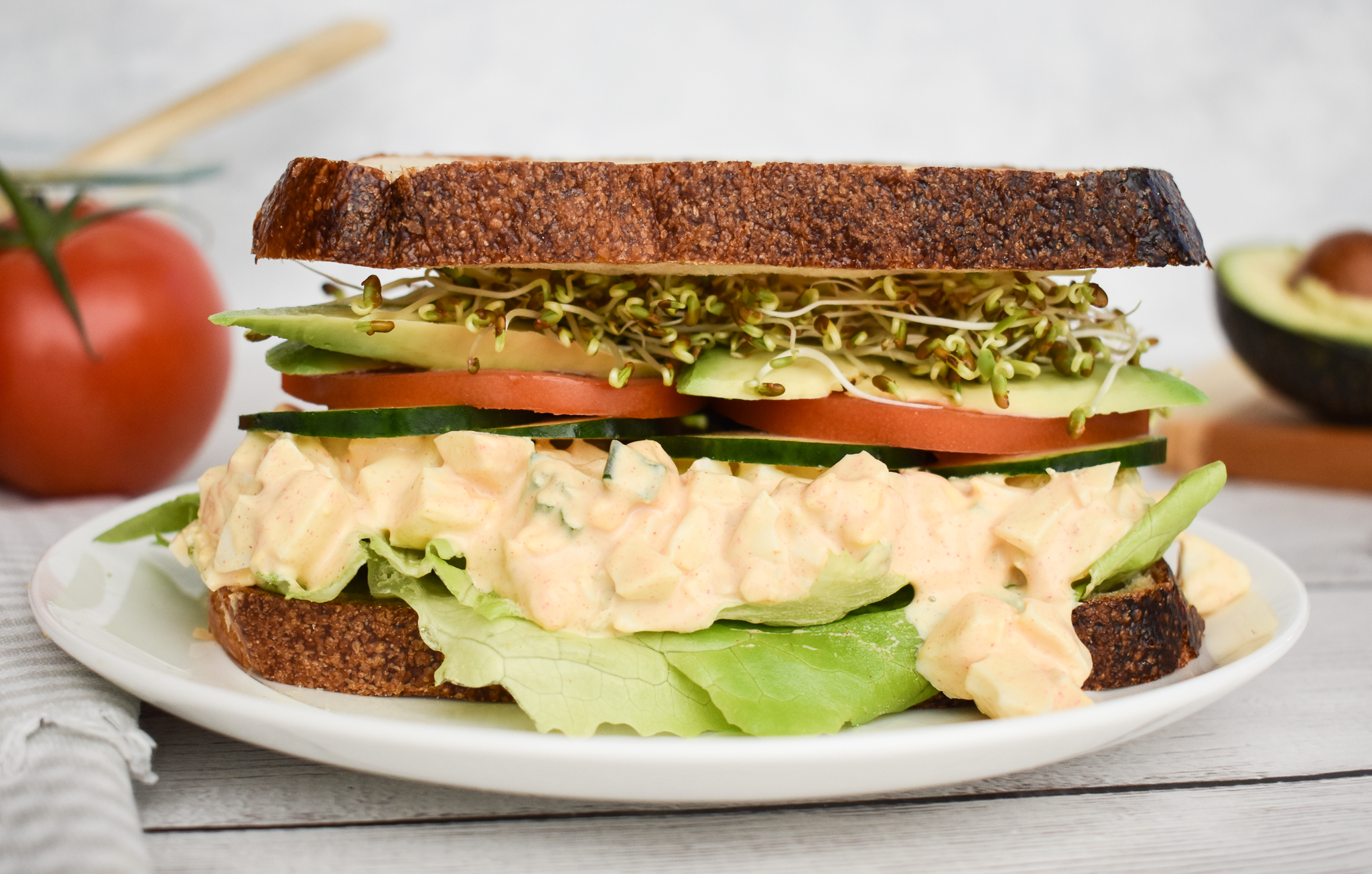 Although this recipe has not been tested, a single serving should be low-FODMAP based on the ingredients
Serves 3-4
Prep time: 20 minutes, plus 30M chilling (If using pre-boiled eggs, then you will require less time)
Cook time: 5 minutes
Total time: 25 minutes, plus 30M chilling
Ingredients
6 large eggs (hard boiled, or see directions below for boiling)
1/2 cup full fat mayonnaise (Hellman's is my favorite, check to ensure no high-fructose corn syrup in your brand)
1 teaspoon mustard powder
1 tablespoon chopped chives or green scallion tips (this food is free of FODMAPS, do not substitute the white portion of the scallion)
2 tablespoons (20 g) finely chopped celery (10 g is one low-FODMAP serving)
1 tablespoon red wine vinegar
1/2 teaspoon paprika
Optional: Hot Sauce (like Tabasco Original) 1-2 drops
Salt and pepper to taste
Low-FODMAP Bread: Sourdough bread* see note above or low-FODMAP, gluten-free toasted bagel halves
Garnish: Butter lettuce, torn, sliced tomatoes, avocado (1/8 avocado per serving), alfalfa sprouts (2 cups per serving), sliced cucumber, low-FODMAP Pickles
Directions
Put the 6 eggs in a medium pot and cover with water
Place pot over high heat and let it come to a boil (about 3-5 minutes)
Once it boils, take the pot off the heat, cover it, and let it stand for 10 minutes
Meanwhile, chop the chives and celery
In a small bowl or measuring cup, combine mayonnaise with the mustard powder and paprika, then add the chives and celery as well as red wine vinegar. Cover and place in fridge to allow the flavors to marinate together (if using pre-boiled eggs this is not a critical step)
Once the eggs have been in their hot bath for ten minutes, put them in a bowl with some ice and water until they are completely chilled about 30 minutes (can also put in fridge for later)

This step makes them easier to peel

Once well chilled, peel and coarsely chop the eggs, then place in a medium bowl, and fold the mayo mixture into them a little at a time (if you prefer a 'drier' egg salad then you may not use all the mayo mixture. Adjust to your preference)
Stir to combine well, taste, and add salt and pepper. Add more mayo or other spices or hot sauce as needed to consistency and desired taste
Serve with the lettuce and choice of garnishes on your low-FODMAP bread choice, or simply serve on the lettuce leaves for a low-carb version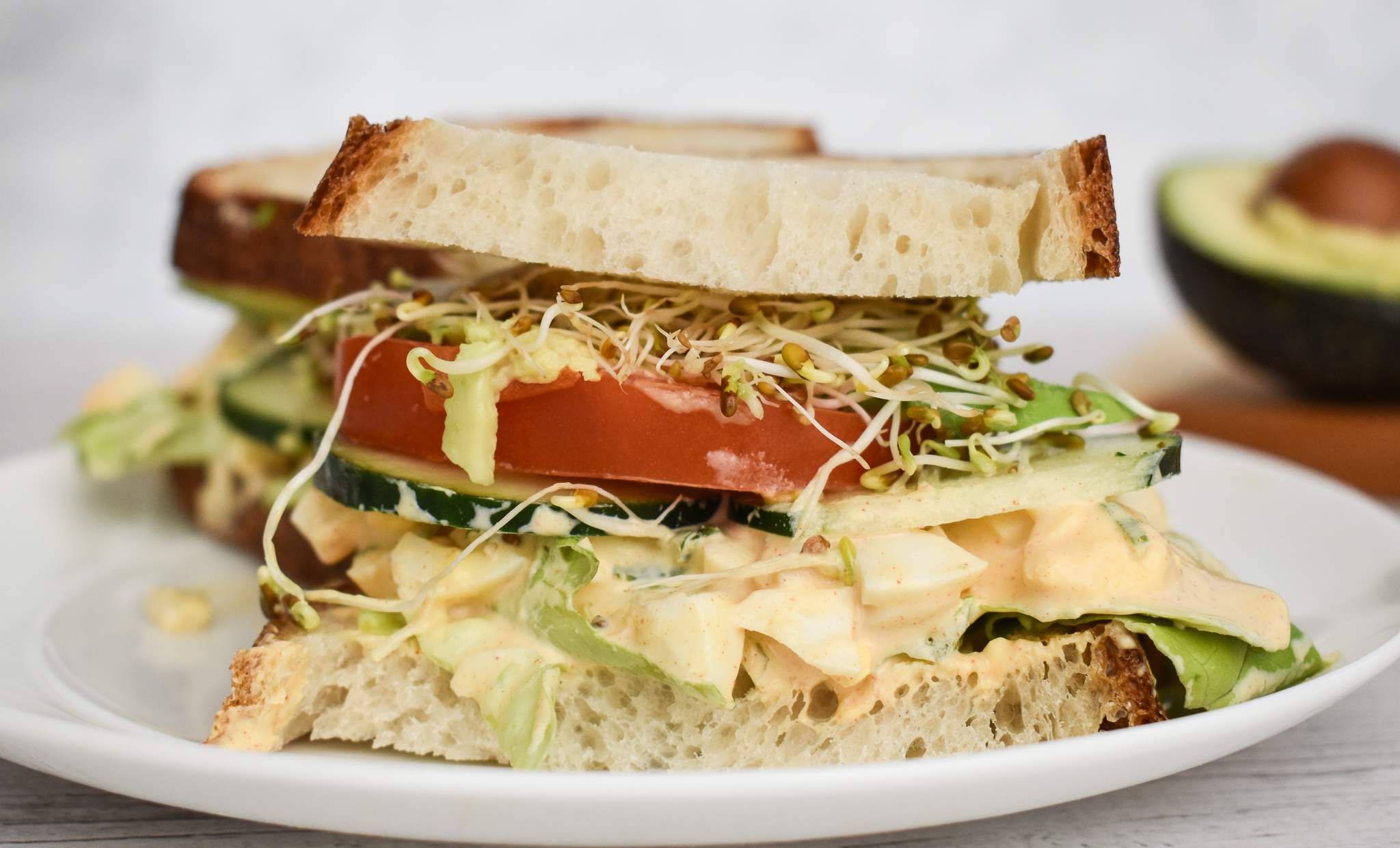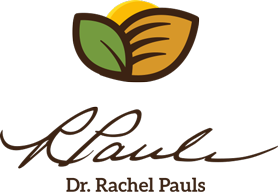 Printer Friendly Version
Comments Rating
( reviews)