The BEST Low-FODMAP Double Chocolate Ricotta Muffins; Gluten-free
April 28, 2020
Printer Friendly Version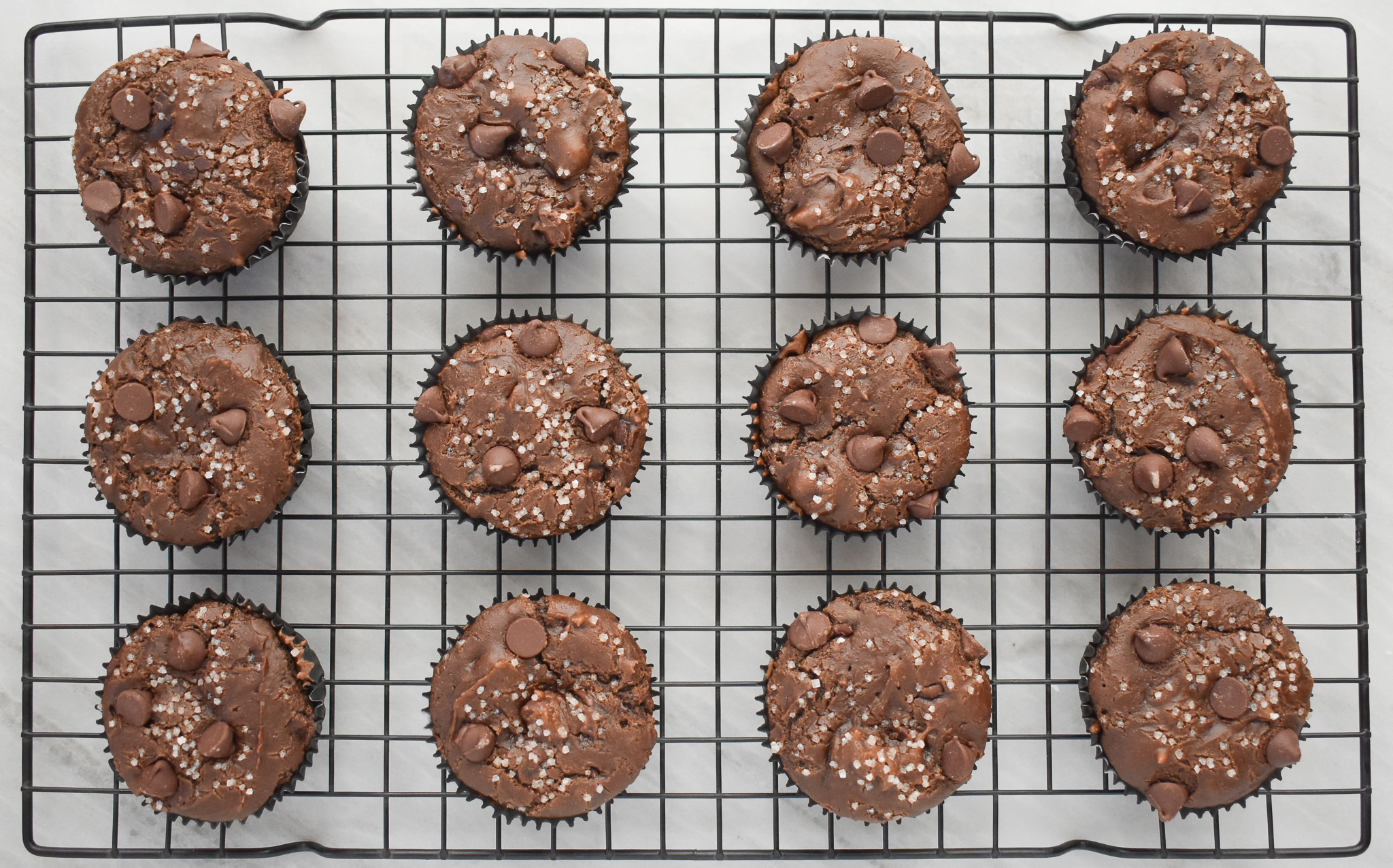 Recently one of my readers requested a recipe for chocolate muffins with chocolate chips.  Since I already have a low-FODMAP Double (or Triple) Copycat Starbucks Chocolate Loaf recipe, and a low-FODMAP Chocolate Chip/Chunk Muffin recipe, I realized that I should add a recipe for some amazing, moist, double chocolate-y muffins.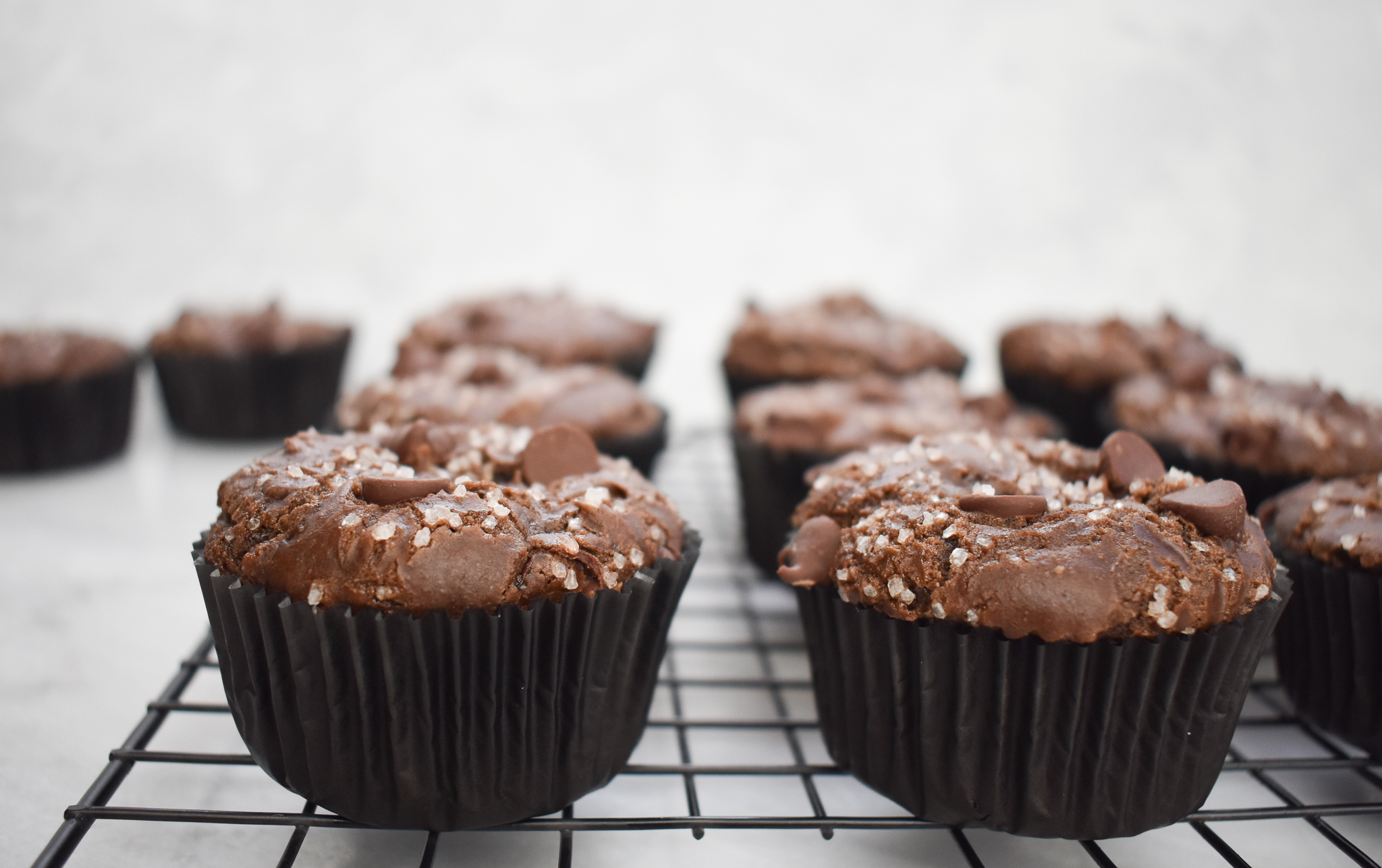 These low-FODMAP Double Chocolate Muffins have the addition of ricotta cheese, which adds a richness, and softness to the muffins.  Plus, you mix it all by hand!  Super simple and so good.  I adore this recipe 🙂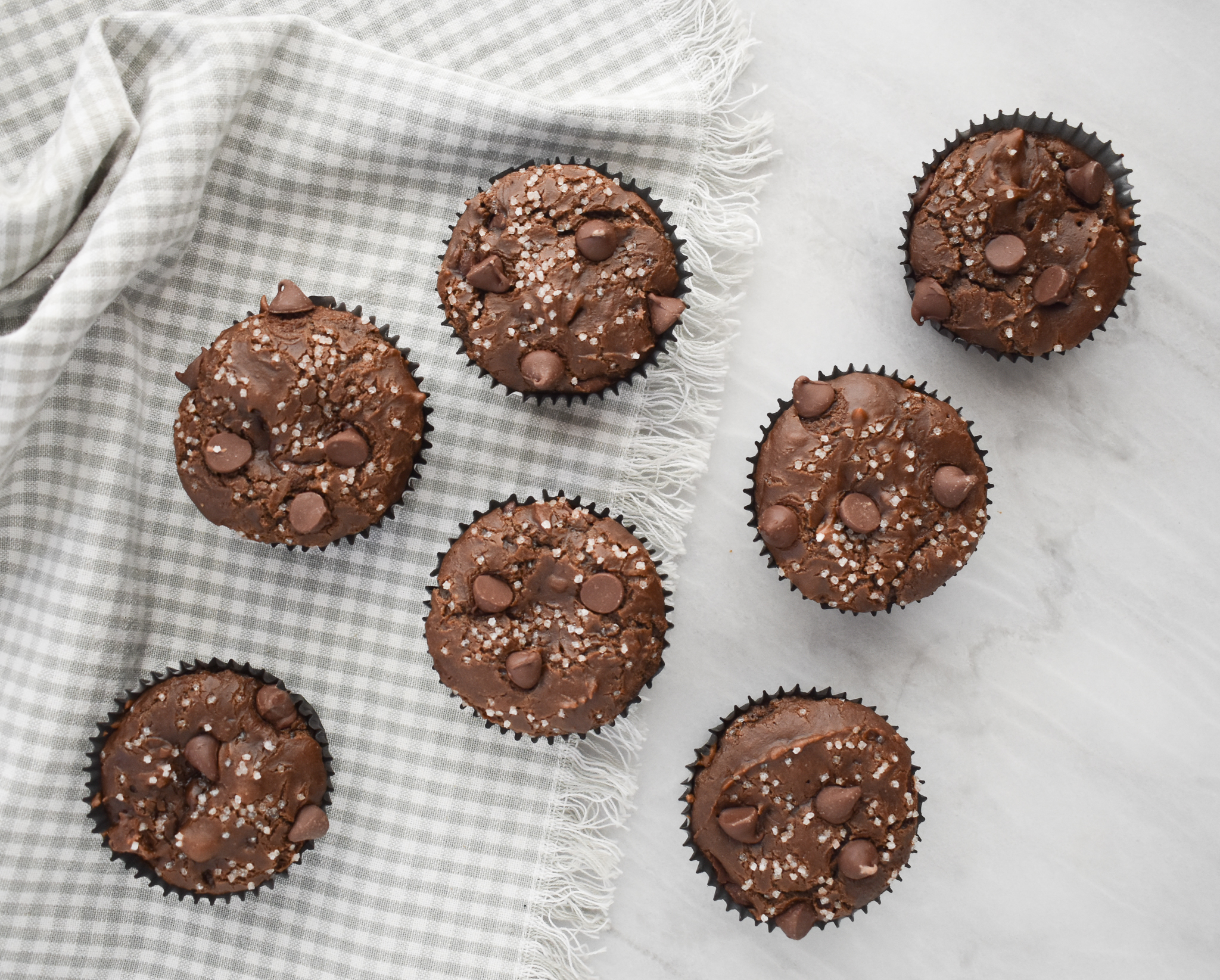 You may also love:
Or over 350 more low-FODMAP recipes on the blog!  IBS-friendly.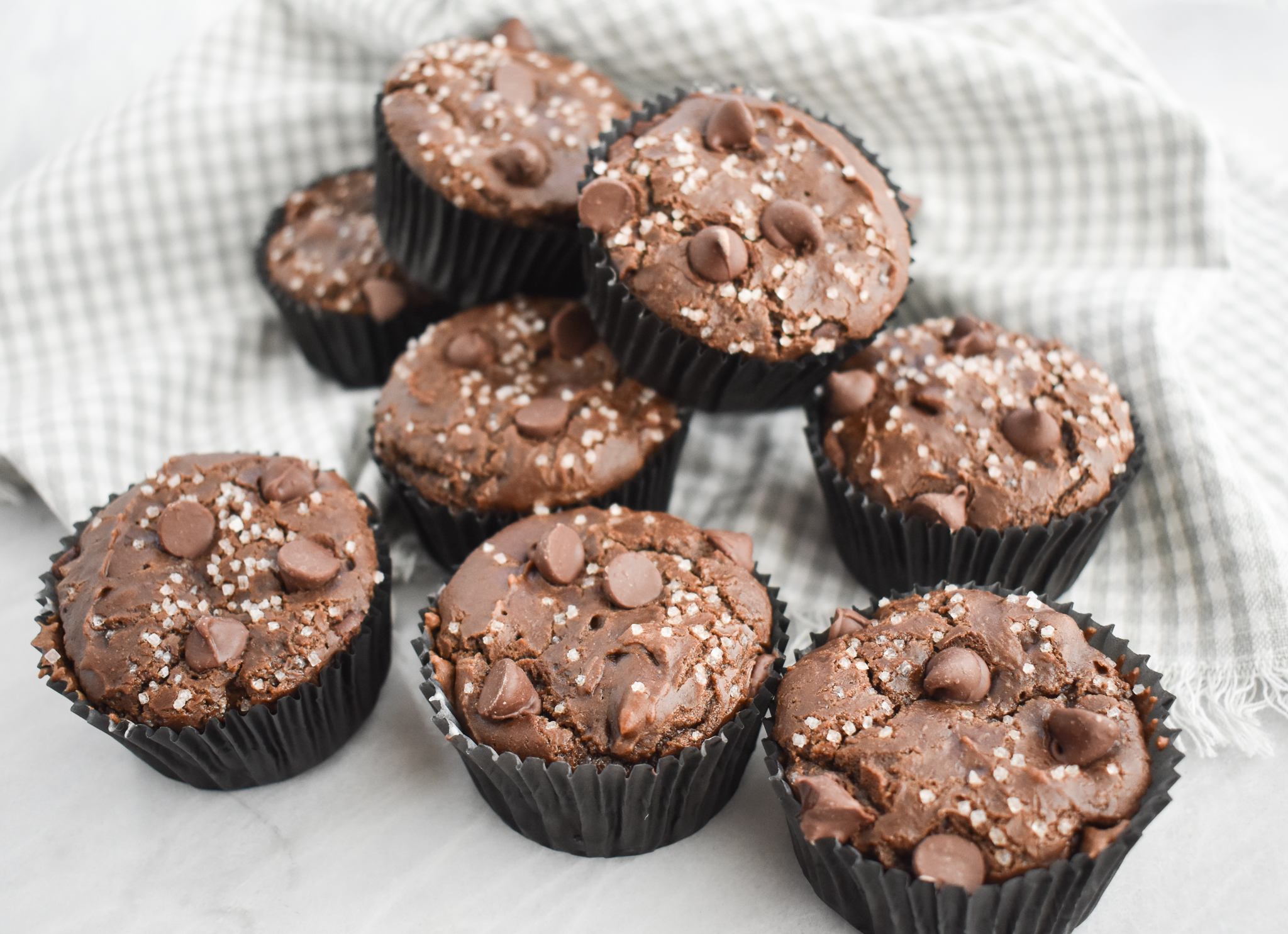 Be healthy and happy,
Rachel Pauls, MD
---
The Best Low-FODMAP Double Chocolate Ricotta Muffins; Gluten-free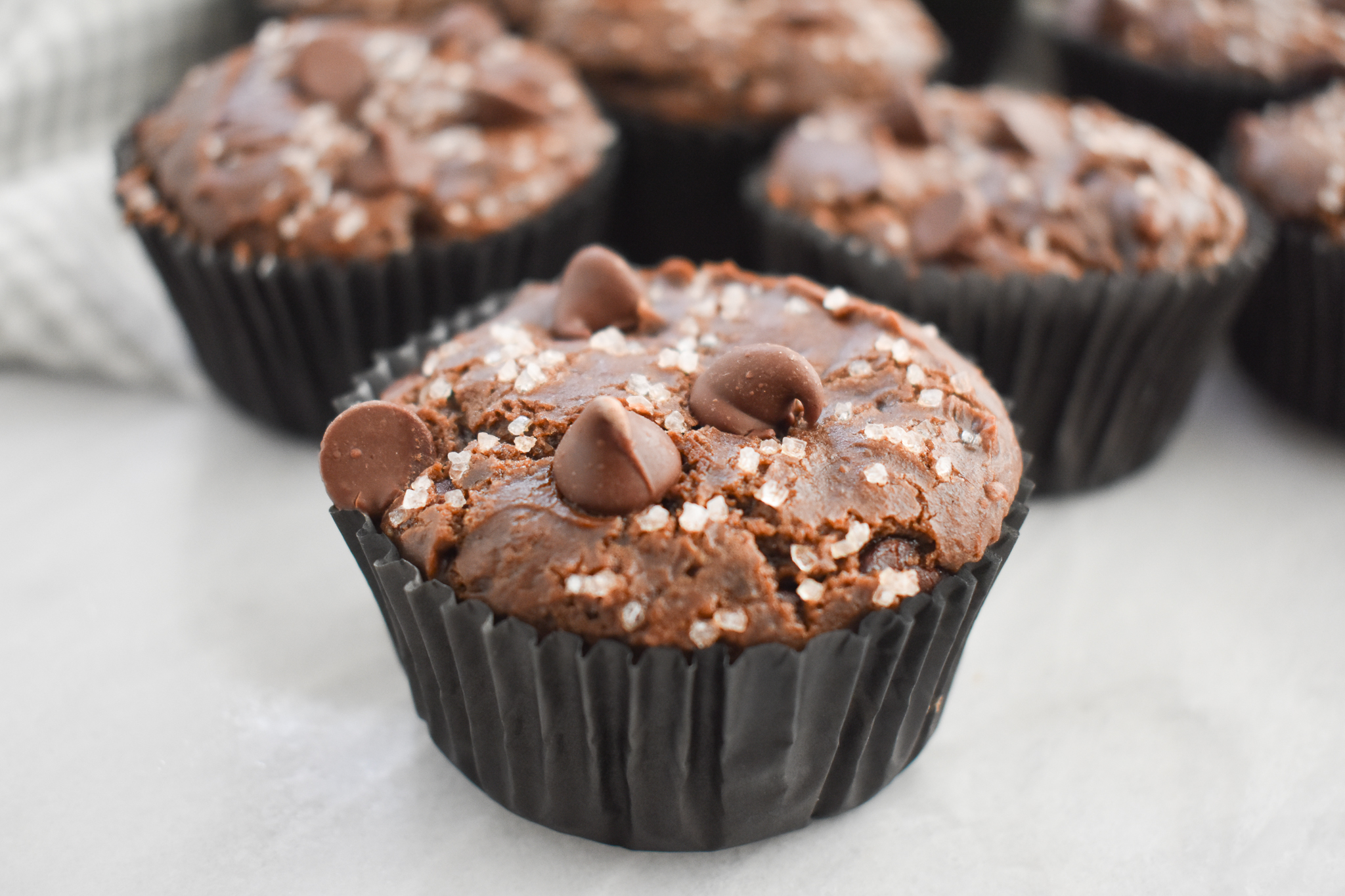 Although this recipe has not been tested, a single serving should be low-FODMAP based on the ingredients
Serves 12 muffins
Prep time: 10 min
Bake time: 15-20 min *since ovens vary, yours may take more/less time.  Check your doneness about 3 minutes prior to the end time to ensure they don't overbake
Total time: 25-30 min
Bake: 350 F
Modified from: "Gluten-Free Baking Classics", Annalise G. Roberts
Ingredients
1 & 1/4 cups all-purpose low-FODMAP, gluten-free flour (I use Authentic Foods GF Classical Blend for all my baking- check out my low-FODMAP bake off to see why!)
1/4 cup (24 g) unsweetened cocoa powder

8 g is one low-FODMAP serving

1/2 cup granulated sugar
1 & 1/2 teaspoons baking powder
1/2 teaspoon baking soda
1/4 teaspoon xanthan gum
1/4 teaspoon salt
3/4 cup (120 g) dairy-free, semisweet chocolate chips, plus extra for sprinkling, if desired

30 g is one low-FODMAP serving
We enjoy a LOT of chocolate chips in my house but feel free to use 1/2 cup if you prefer it less 'packed'

1 large egg
1/2 cup ricotta cheese (full fat or low fat)

2 tablespoons (40 g) is one low-FODMAP serving
I used full fat ricotta, but both should work well

2/3 cup low-FODMAP milk (ex: 2% lactose-free or unsweetened almond milk)
2 tablespoons canola oil
2 teaspoons pure vanilla extract
Coarse sugar, for sprinkling on top or extra chocolate chips (optional)
Baking spray and paper liners for muffin tin
Directions
Preheat oven to 350 degrees F and place rack in center of oven
Spray 12 well muffin pan with baking spray and line with paper liners
In a large mixing bowl, combine low-FODMAP flour, cocoa, sugar, baking powder, baking soda, xanthan gum and salt
Stir in chocolate chips
In a second medium mixing bowl, whisk egg, then stir in ricotta, low-FODMAP milk, oil, and vanilla together. Blend well by hand.
Pour the milk mixture into the low-FODMAP flour mixture and combine until well blended. Do not over mix.
Spoon batter evenly into the prepared muffin cups, then sprinkle with coarse sugar or extra chocolate chips, if desired
Bake for 15-20 minutes or until toothpick inserted in center of a muffin comes out clean and the surface springs back slightly. As ovens vary, yours may take more or less time
Let cool in pan 10 minutes, then remove from pan to cool on a wire rack
Muffins may be stored in a tightly sealed plastic container in the refrigerator, or can be wrapped in plastic then foil and stored in freezer for up to three weeks (if they last- they never do at my house!)
This is literally the first one I ate- look at those amazing chips and gorgeous texture!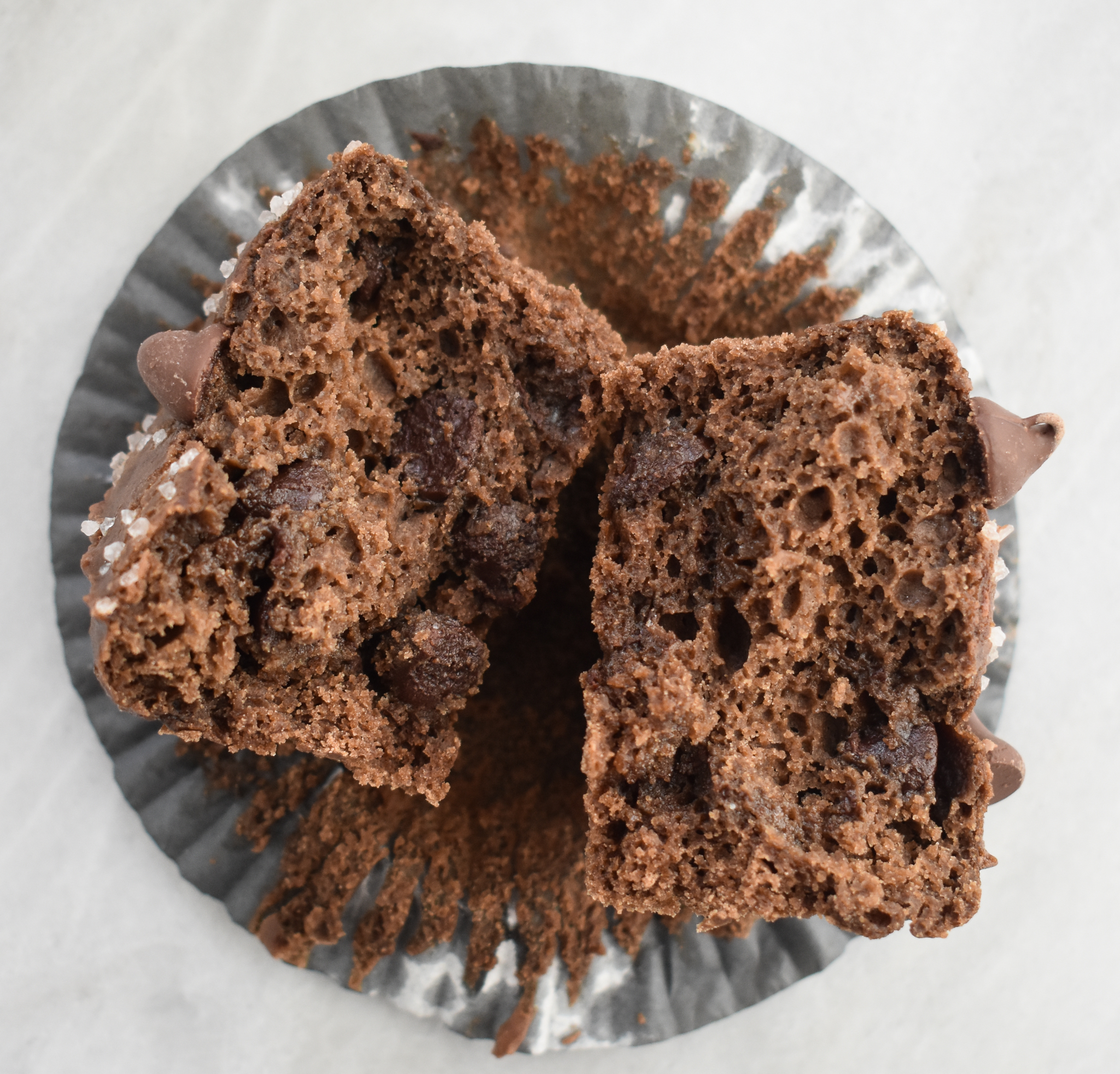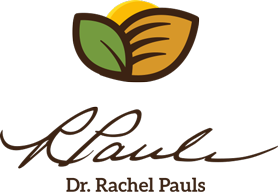 Printer Friendly Version
Comments Rating
( reviews)