Supreme Low-FODMAP Red Velvet Cupcakes / Red Velvet Layer Cake – Gluten-free, Dairy-free
November 11, 2017
Printer Friendly Version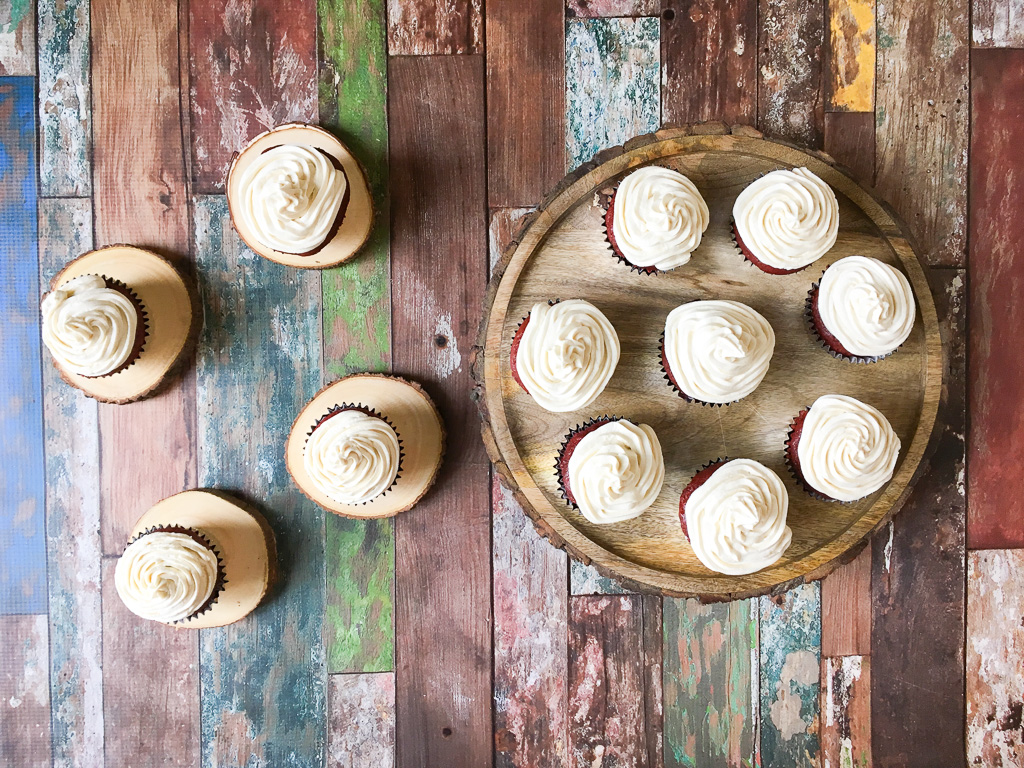 Low-FODMAP red velvet cupcakes are a gorgeous, delectable, sumptuous dessert.  Red velvet is a cocoa-infused yellow cake, which traditionally turned red due to the natural reaction between the cocoa and the vinegar/baking soda in the recipe.  Apparently, for the scientists out there, the reaction activated the red anthocyanin in cocoa and made the cake moist and light.
Nowadays this southern dessert is helped a bit by red food coloring.  Feel free to modify this low-FODMAP red velvet recipe to include the amount of food coloring you prefer. I know food coloring isn't completely 'natural', but for special occasions I am OK with it.
These low-FODMAP red velvet cupcakes are moist with just the right amount of sweetness.  Frost them with this low-FODMAP cream cheese frosting, low-FODMAP opera cream/ermine frosting or low-FODMAP vanilla buttercream!
This low-FODMAP red velvet recipe can also be made into 2 layer cakes.  Absolutely supreme…
Check out over 300 low-FODMAP recipes on my blog too.
Be healthy and happy,
Rachel Pauls, MD
---
Supreme Low-FODMAP Red Velvet Cupcakes- Gluten-free, Dairy-free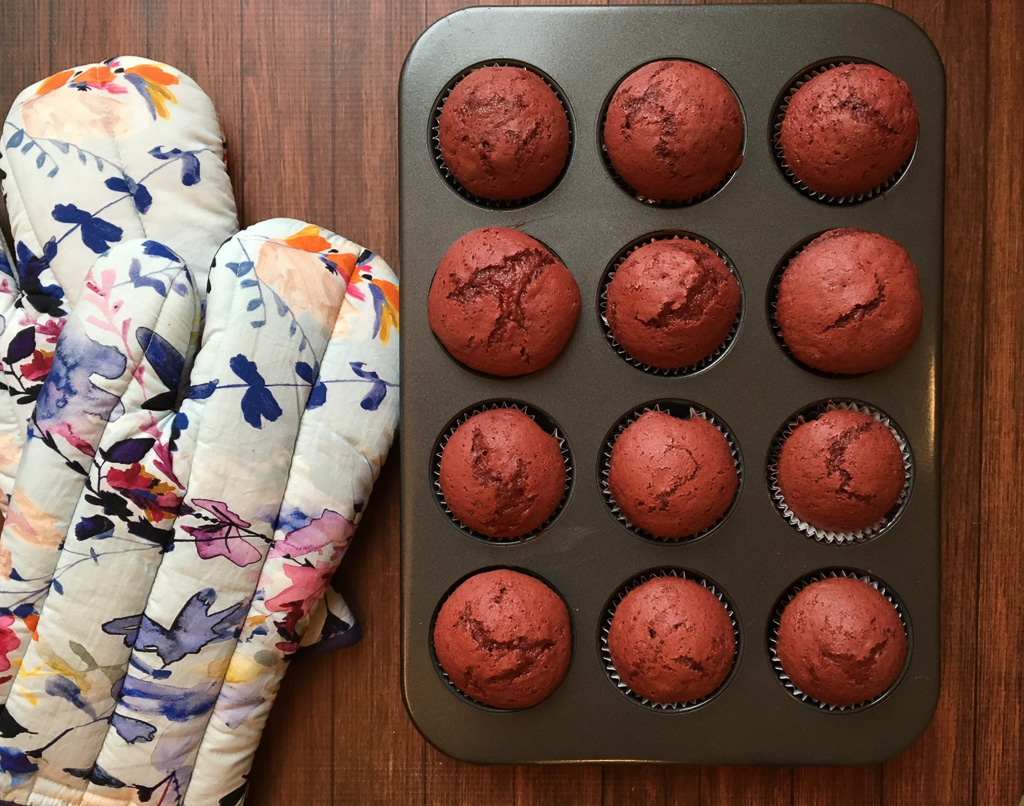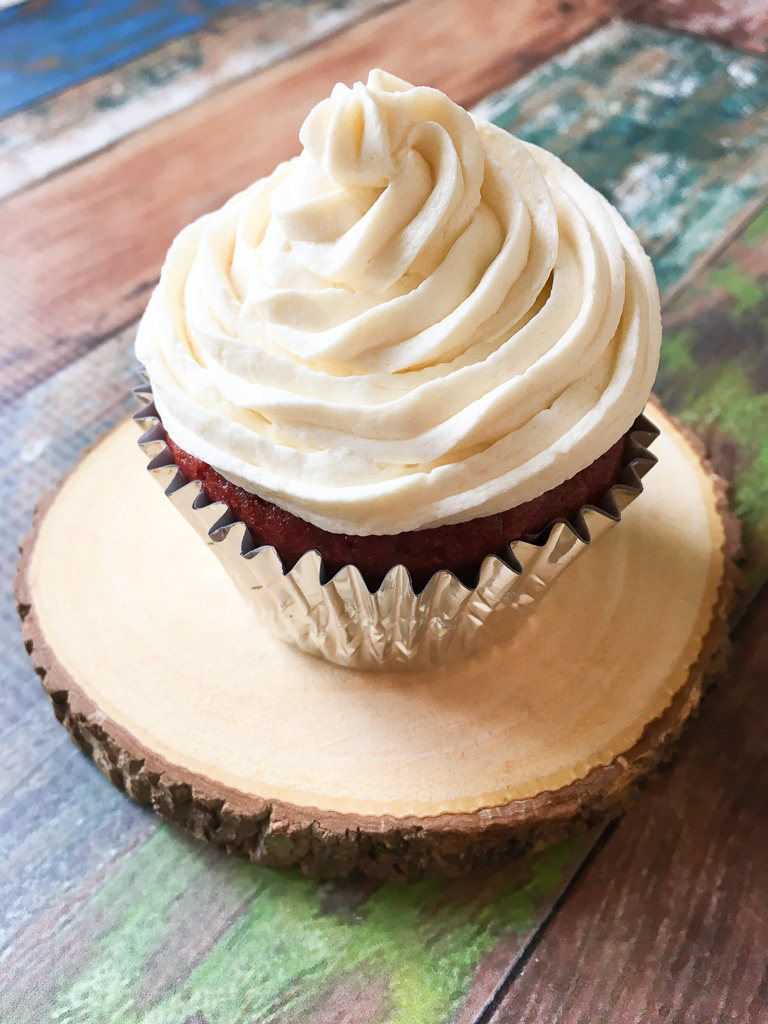 Although this recipe has note been tested, a single serving should be low-FODMAP based on the ingredients
Serves: 24 cupcakes or 2 round cakes
Prep time 25 min
Bake time:
20-25 minutes for cupcakes
25-30 minutes for one 8 inch round cake pan; 30-35 min for two 8 inch round pans
Bake 350 F
Ingredients
For the low-FODMAP cupcakes:
3/4 cup canola oil
1 1/2 cups granulated sugar
2 large eggs
2 tablespoons cocoa powder
About 1 ounce red food coloring of your choice
1 teaspoon vanilla
1/2 teaspoon salt
2 cups Authentic Foods GF Classical Blend flour (I prefer this flour for my baking due to my bake-off results)
1 tsp xanthan gum
1 tsp baking powder
1 tsp baking soda
1 tablespoon vinegar (or fresh lemon juice)
1 cup low-FODMAP milk (I used almond milk)
Vegetable shortening for greasing

Directions
Preheat your oven to 350 F
Grease cupcake tins well, or use paper liners

Or grease two 8-inch round cake pans (and add greased parchment rounds to bottom)

In a large mixing bowl, combine oil, sugar, and eggs; stir until combined
In a separate small bowl, stir together cocoa and food coloring, making a powdery paste, taking care to make sure there are no clumps of cocoa powder

It is likely only going to be a bit red at this point, and mine was not very wet (it turns red when it joins the liquid)

Add cocoa mixture and vanilla extract to oil/sugar mixture and stir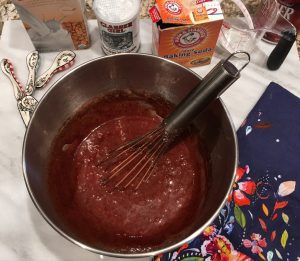 Combine vinegar and milk in a small bowl and stir; this is your dairy-free "buttermilk" or sour milk
Add the salt, baking powder and xanthan gum to your flour mixture
Whisk to blend
Then, add flour mixture and milk alternately to the sugar/oil mixture, stirring after each addition, beginning and ending with milk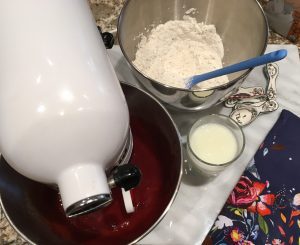 When you add the final milk, before stirring, sprinkle the baking soda over the batter
Stir quickly and pour batter into the cupcake cups in tins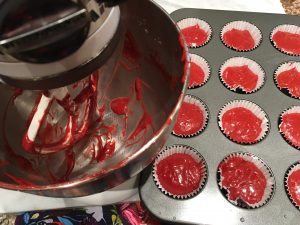 Bake watching carefully for doneness (the "toothpick test" works well; it should come out clean if your cake is done)

20-25 min for cupcakes
25-30 min for cakes in separate ovens
If baking 2 cakes in same oven, about 30-35 min
AS OVENS VARY, YOUR OVEN MAY TAKE MORE/LESS TIME

Remove the cakes from the oven and cool to room temperature in the pans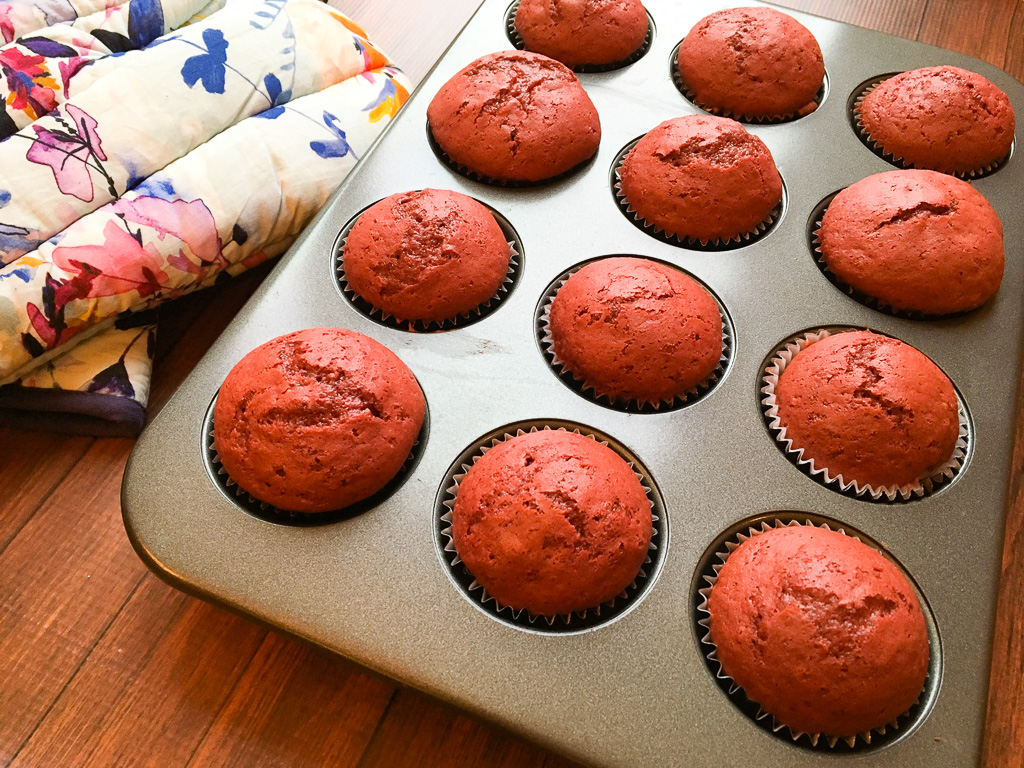 Remove from trays, then decorate!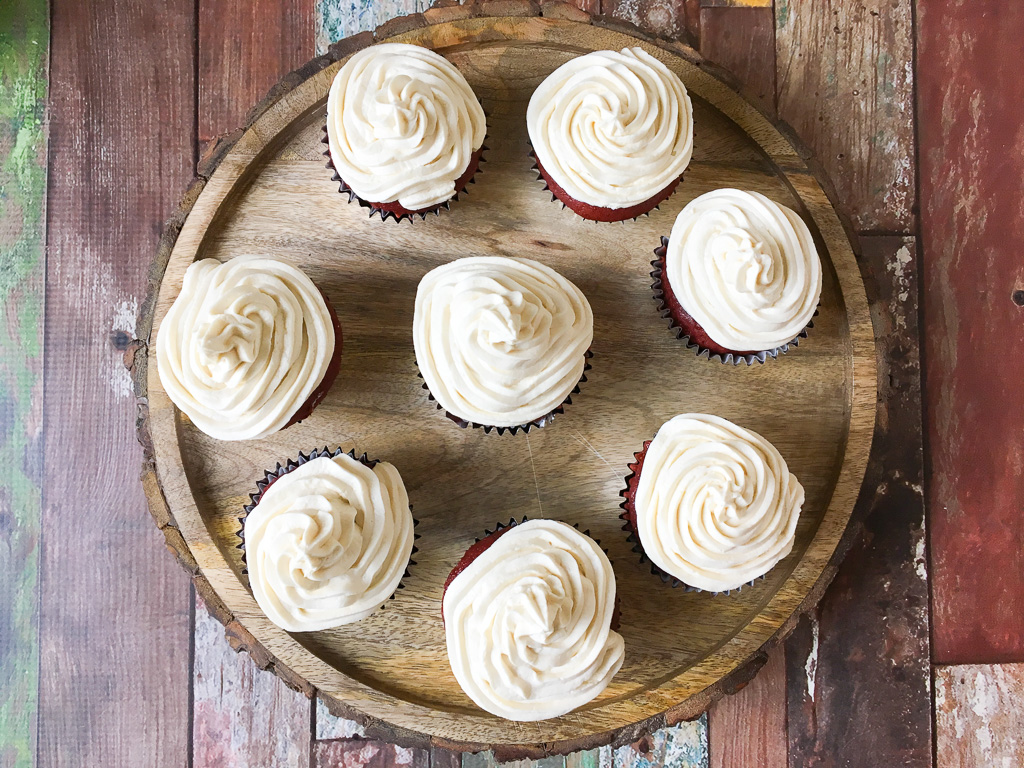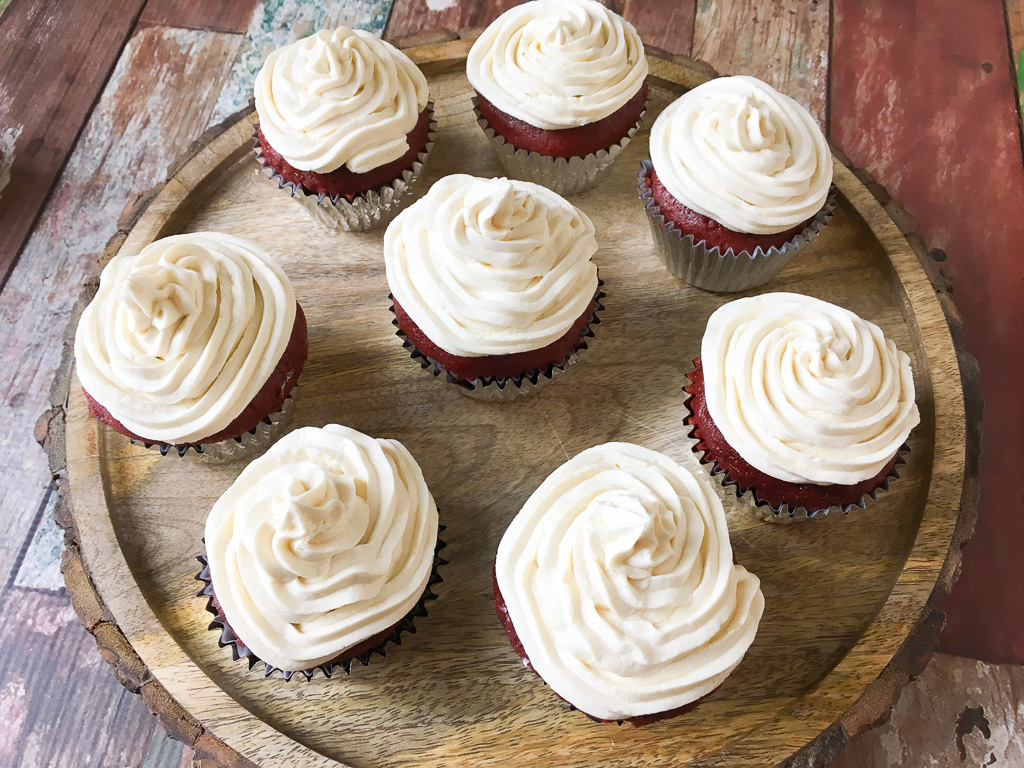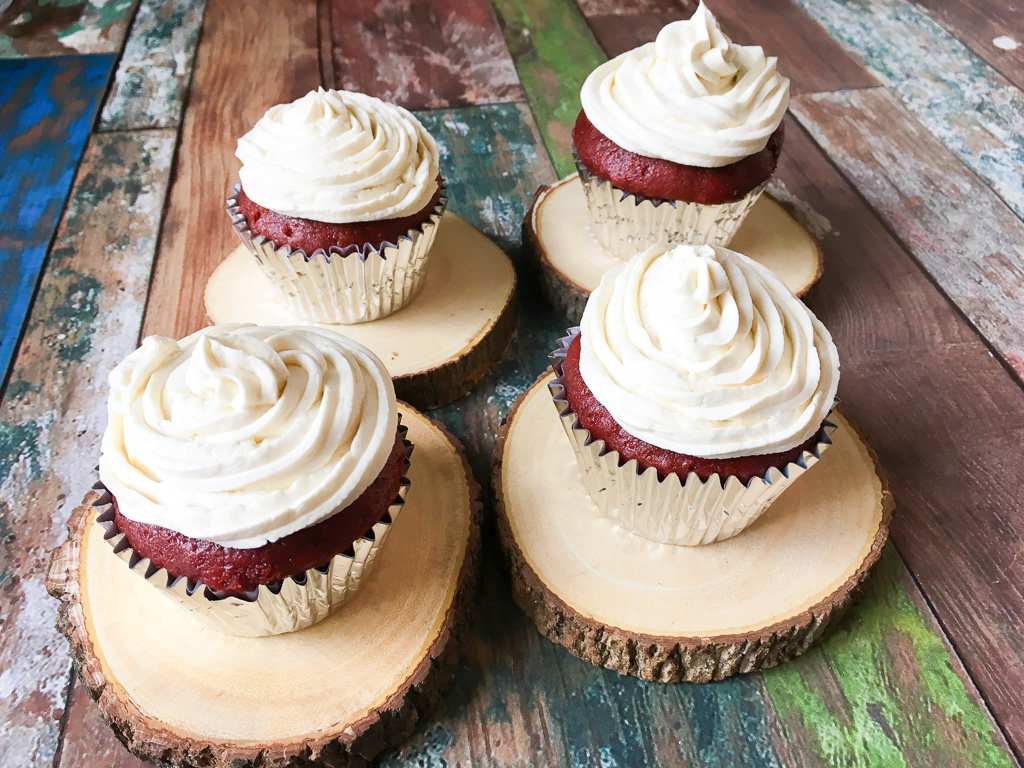 My goodness, this looks good…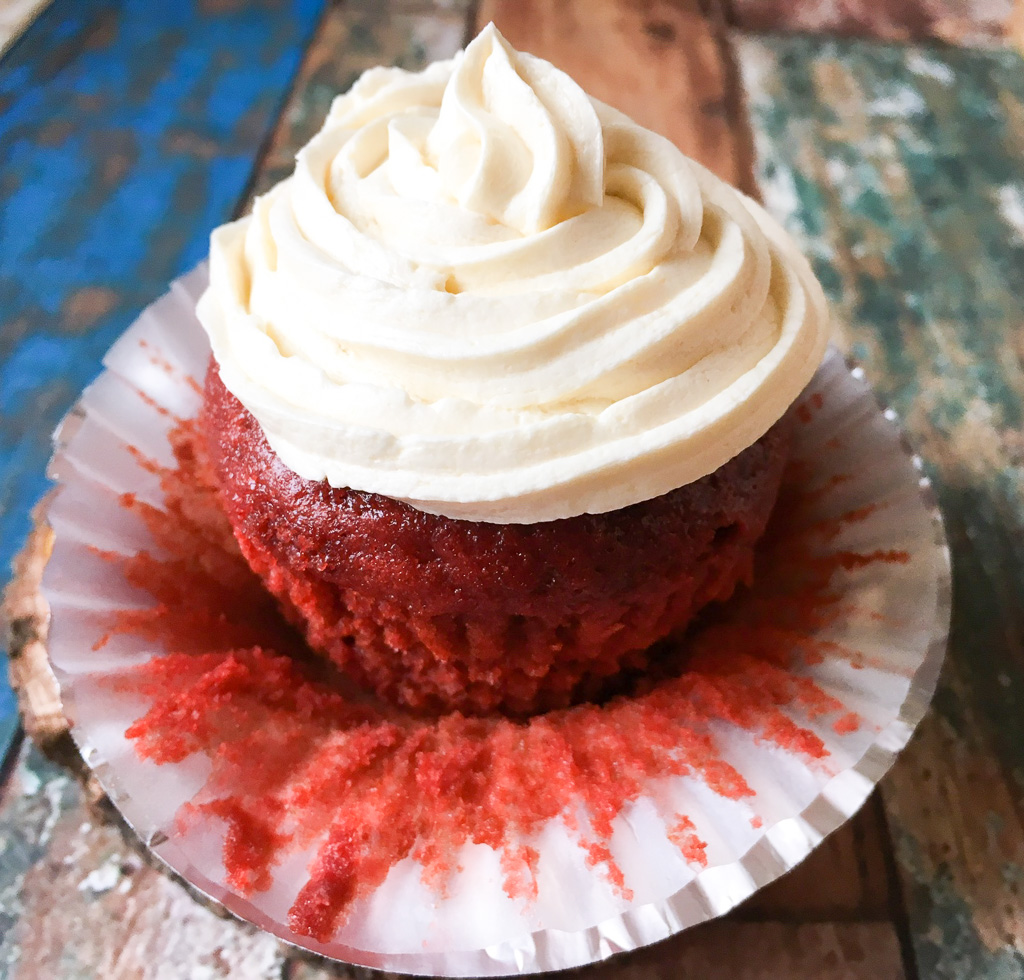 It doesn't disappoint! These are the best low-FODMAP red velvet cupcakes I have ever had!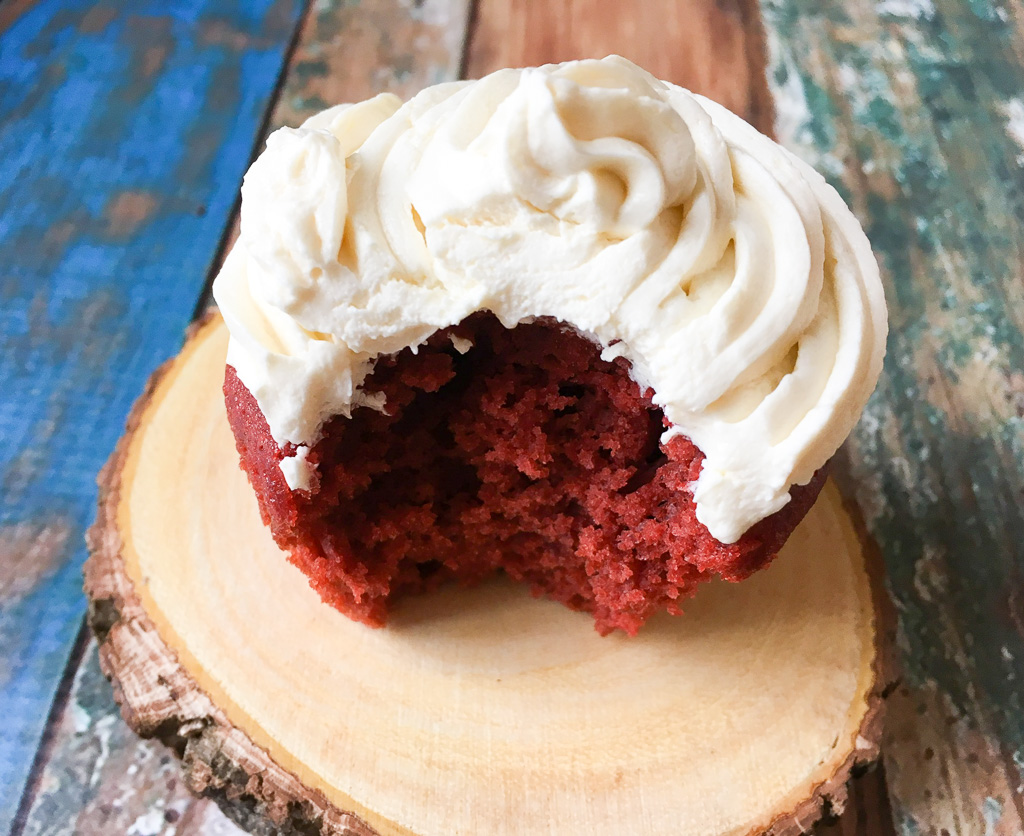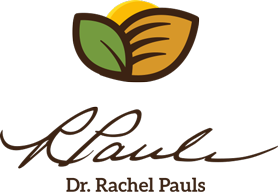 Printer Friendly Version
Comments Rating
( reviews)