'Southern Favorite' Low-FODMAP Corn Pudding Casserole; Gluten-free
October 13, 2021
Printer Friendly Version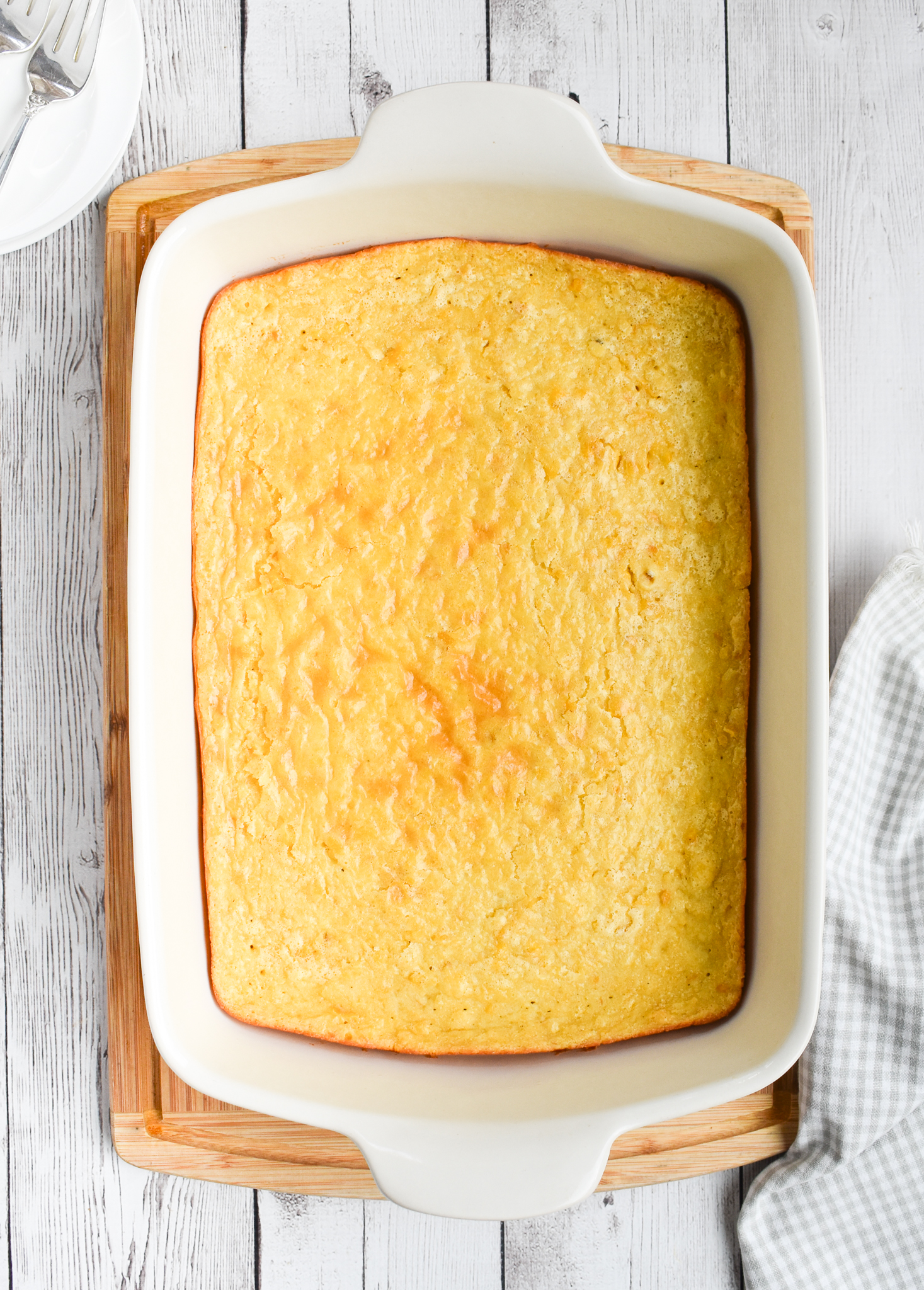 Thanksgiving is my absolute favorite holiday of the year.  The family, food, and warm vibe of the autumn season are just my style.
To help everyone enjoy the holiday as much as I do, I LOVE sharing my low-FODMAP versions of traditional recipes.
I have recipes for low-FODMAP Stuffing, low-FODMAP Sweet Potato Casserole, low-FODMAP Lemon and Herb Butter Roasted Turkey, low-FODMAP Gravy, low-FODMAP Green Bean Casserole and many more!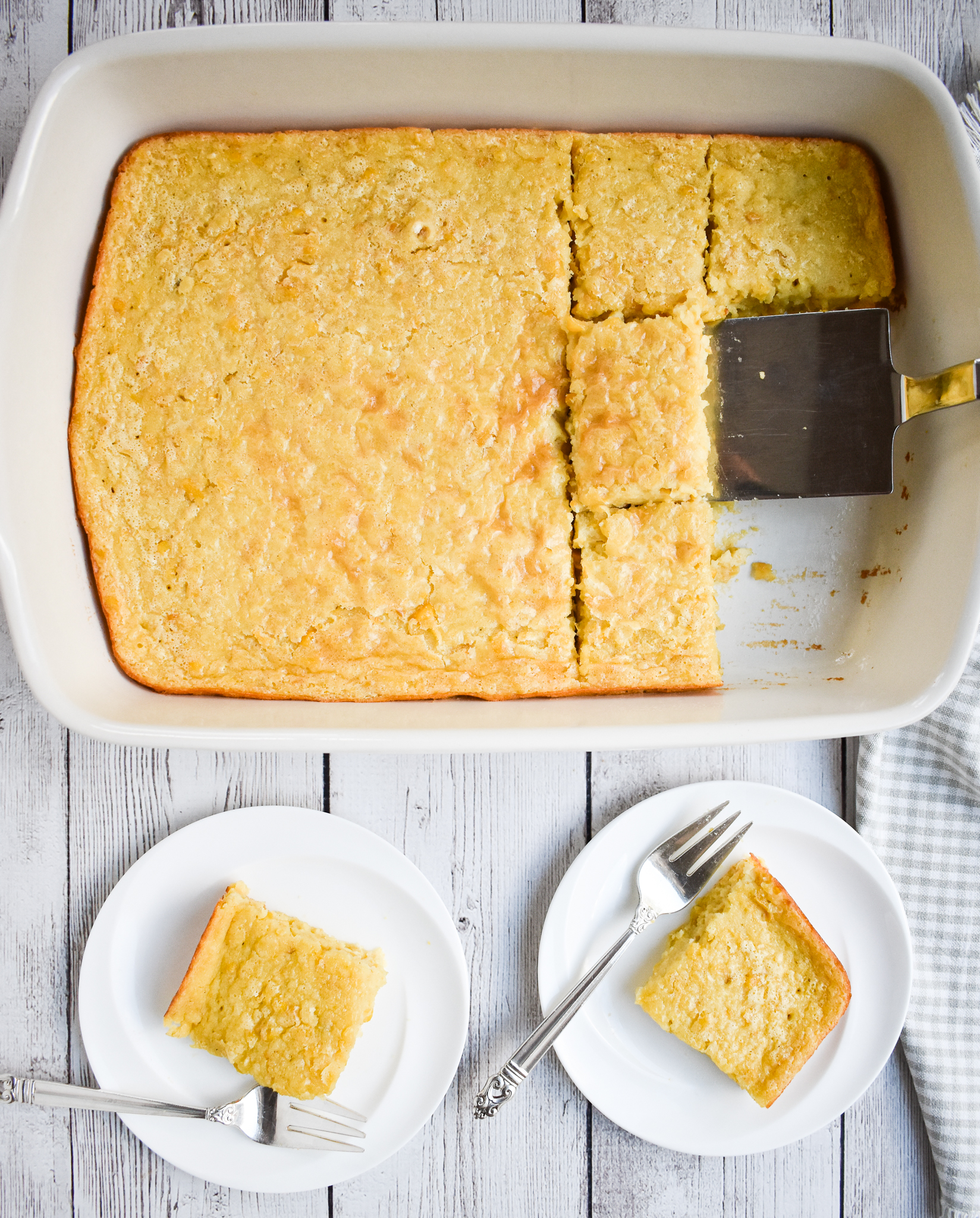 This recipe is for a Southern favorite: Low-FODMAP Corn Pudding Casserole. My corn pudding recipe is a sweet, rather than savory variety, with a soft, tender texture.  It is a bit like cornbread, and a bit like a soufflé.  You will love the pudding like consistency.  Absolutely perfect!
Important FODMAP fact: Not all corn is alike! Corn varies in FODMAP content, depending on the type of corn you consume.   Field corn (also known as Dent Corn) is typically used for corn flour and corn meal and is lower in FODMAPs than sweet corn-on-the-cob.  Popcorn is another variety of corn that is typically low-FODMAP in standard servings.  Finally, canning corn can help the FODMAPs to 'leach' away, and thus a canned product is often selected for my recipes.  Canned creamed corn is low-FODMAP in servings 60g of and canned sweet corn is low-FODMAP in servings of 75g.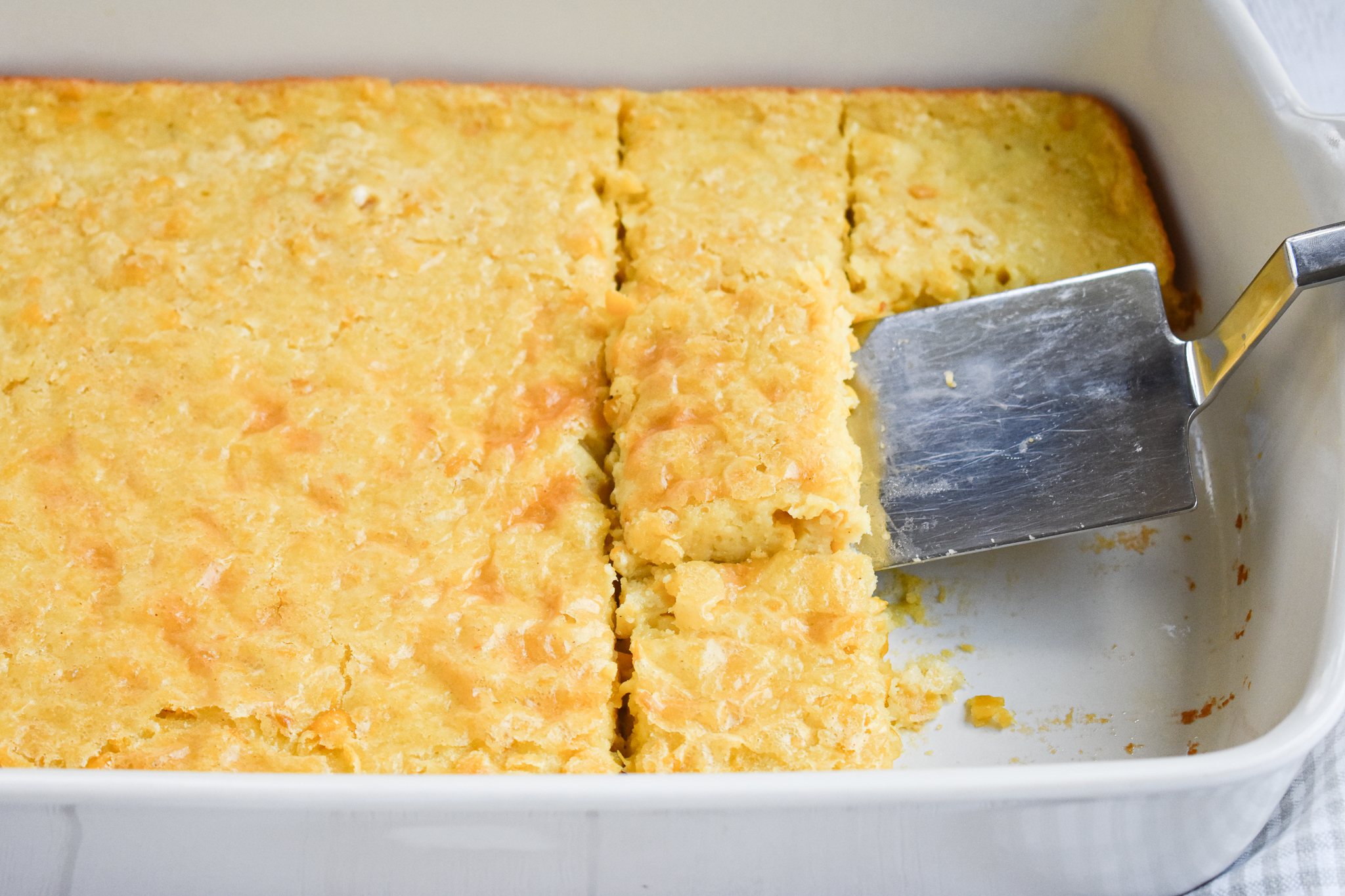 You may also love my:
Or check out over 400 more low-FODMAP recipes on the blog!  IBS-friendly.
Be healthy and happy,
Rachel Pauls, MD
P.S.  Check out my new COOKBOOK for over 100 low-FODMAP recipes, low-FODMAP Meal Plan, FODMAP Tips and everything you need!!  It's the BEST!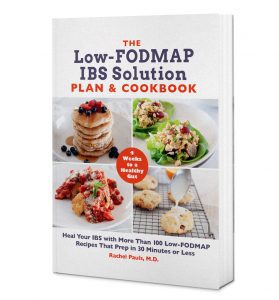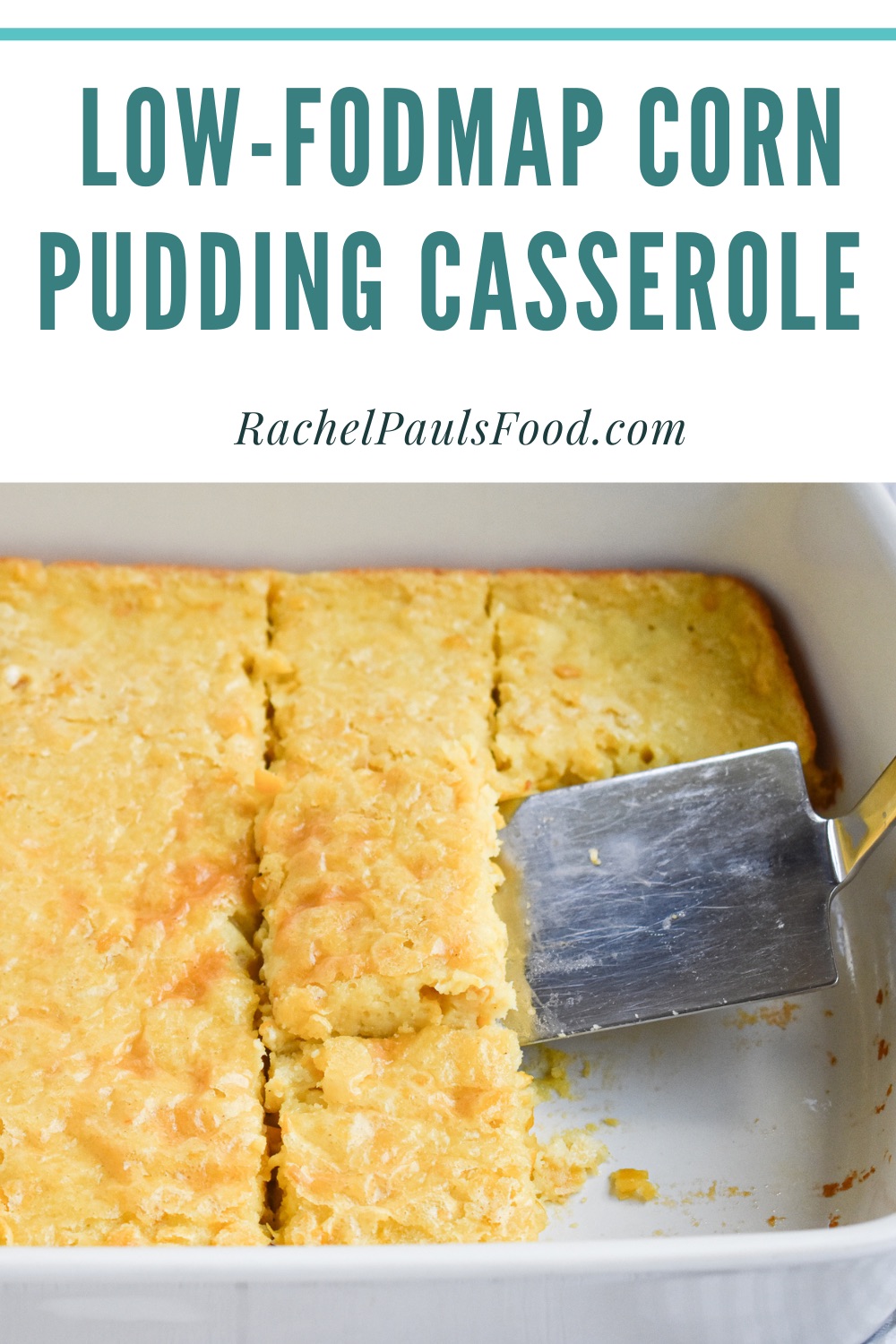 Although this recipe has not been tested, a single serving should be low-FODMAP based on the ingredients (based on available FODMAP data at time of posting)
Serves: 12-15
Prep time: 10 mins
Bake time: 40-45 mins
Total time: 50-55 min
Bake: 350 F
Equipment: 9 by 13 inch casserole dish
Ingredients
4 large eggs
1/2 cup granulated sugar

This is a quite sweet pudding, if you want less sweet, then reduce the sugar amount to your preference

1/2 cup full fat lactose-free sour cream

You can also substitute regular full fat sour cream, I used lactose-free

2 tablespoons is one low-FODMAP serving for regular sour cream, due to naturally low lactose levels

Two 14.5-ounce cans creamed corn

Canned creamed corn is low-FODMAP in 1/3 cup (2.6 ounce) servings, with a 'yellow' rating noted at a much larger serving of 13.4 ounces on the Monash app
Each can will yield roughly 5.5 servings, so a single serving of this casserole (which yields 12 or more portions) will be very reasonable to consume
I used 'Green Giant' Creamed Corn which contains: golden whole kernel corn, water, sugar, modified corn starch, salt

4 tablespoons unsalted butter or low-FODMAP vegan spread, melted but not hot

Butter is naturally low in lactose levels

1/2 cup and 2 tablespoons Authentic Foods GF Classical Blend Flour (does not contain added gums)

If you don't use this type of GF flour, then substitute:

1/2 cup brown rice flour
2 tablespoons potato starch

1/4 cup plus 2 tablespoons corn flour

I used 'Bob's Red Mill' corn flour, it is a finer grind than cornmeal, but cornmeal will also work

Be aware that for baking purposes:

Cornmeal is NOT the same as 'polenta' (corn grits)

Polenta is a coarser grind than cornmeal

Corn flour is NOT the same as cornstarch

Cornstarch is mainly the carbohydrate portion of the corn, while the flour will also contain protein, fiber, vitamins and minerals

The Monash app states cornflour/cornstarch are low-FODMAP in servings of 100g
The Monash app states cornmeal/polenta is low-FODMAP at servings of 1 cup cooked cornmeal (this is about 1/4 cup of uncooked cornmeal)
FODMAP fact: Cornmeal and corn flour are typically made from 'Dent Corn' which is a field corn. Field corn is different from sweet corn, thus FODMAP levels are lower in this product.  See more about corn and FODMAPS in my introduction above!

2 teaspoons baking powder
1/4 teaspoon kosher salt
Baking spray
Directions
Preheat the oven to 350 degrees F, place rack in center of oven. Grease a 9×13 baking dish with spray and set aside
In a medium bowl, whisk together the Authentic Foods GF flour (or the rice flour and potato starch), corn flour, baking powder and salt
In a large bowl, whisk together the eggs and the sugar and then add in the lactose-free sour cream or regular sour cream, followed by creamed corn, then butter or vegan spread, stirring between each addition
Add dry flour blend to the egg/corn/butter mixture
Stir until well combined
Pour into the prepared pan and bake for 40-45 minutes (as ovens vary, yours may need more or less time)

When the pudding is golden brown, and slightly firm, it is ready

Let cool at least ten minutes before serving
Scoop with a spoon or slice into squares to serve
This can also be served as leftovers, warm in a 200F oven until heated through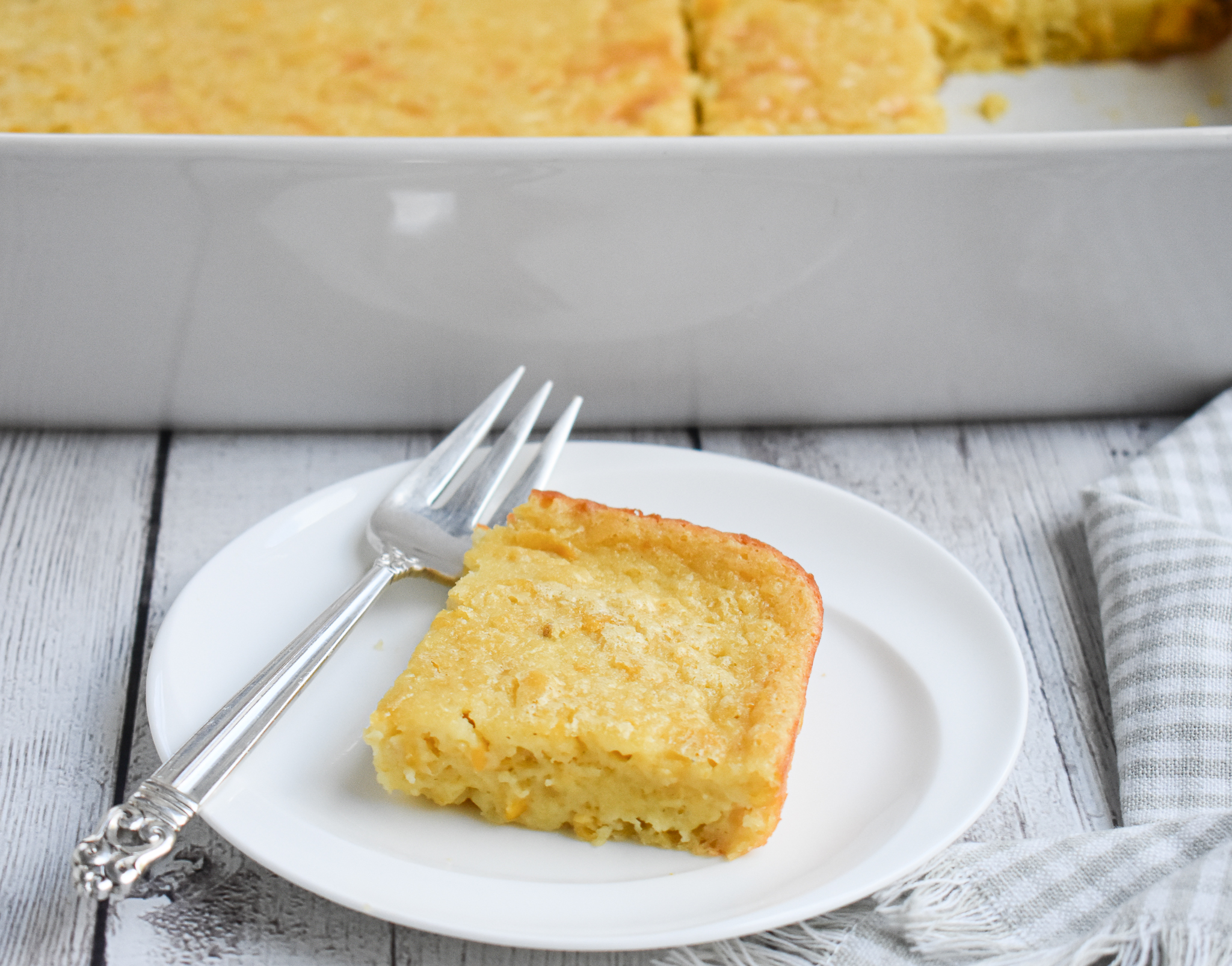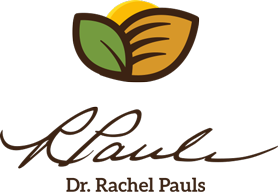 Printer Friendly Version
Comments Rating
( reviews)