Sensational Low-FODMAP Dream Bars; Gluten-free, Dairy-free
March 4, 2018
Printer Friendly Version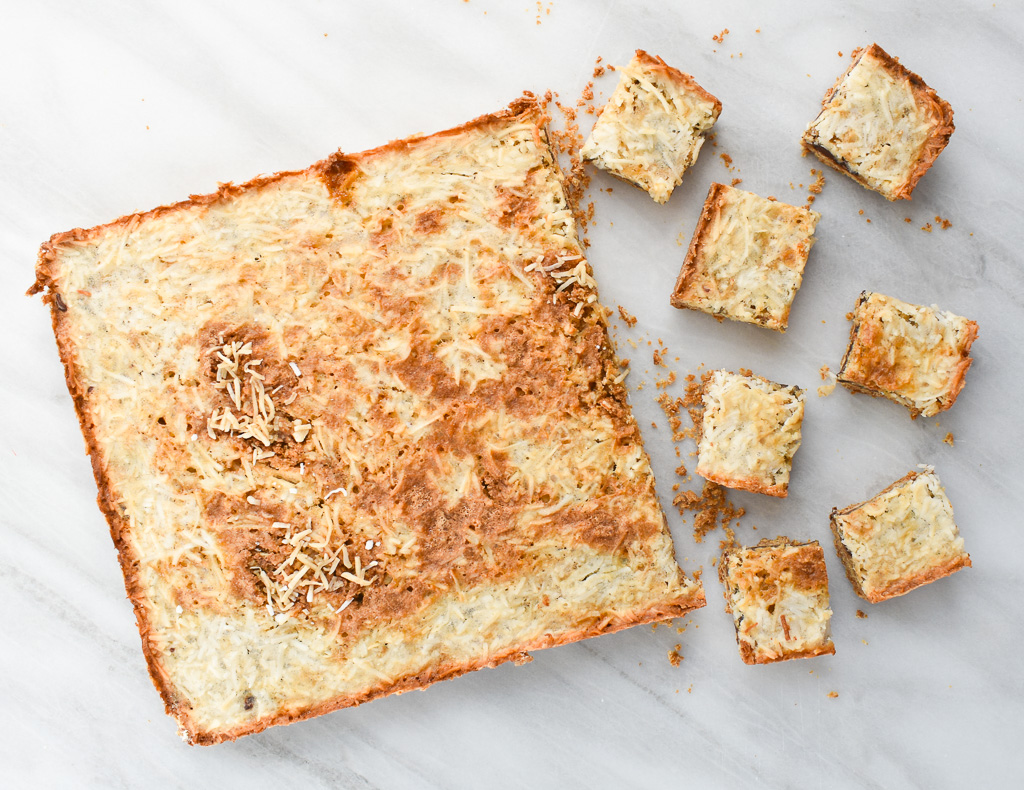 Who isn't a fan of Dream Bars? They are my favorite dessert squares served around the holidays, that I could never get enough of.
Buttery, chewy, brown sugary-and chocolatey. Yummy!
This low-FODMAP recipe for Dream Bars avoids the sweetened condensed milk often found in this confection. That way, it can also be dairy-free and low-FODMAP!
I love this low-FODMAP Dream Bar recipe, and I guarantee you and your friends will too. It is super easy, you just need a little patience with the 2 bake times. Of course, you can always pre-bake the bottom layer and freeze it if you want to make the low-FODMAP Dream Bar topping at later date.  Also feel free to mix it up- you can modify with butterscotch chips (check ingredients to make sure low-FODMAP), peanut-butter chips, any low-FODMAP nuts or your other favorite low-FODMAP stir-ins!
Check out over 300 more low-FODMAP recipes on my blog 🙂
You may also love:
Be healthy and happy,
Rachel Pauls, MD
---
Delicious Low-FODMAP Dream Bars; Gluten-free, Dairy-free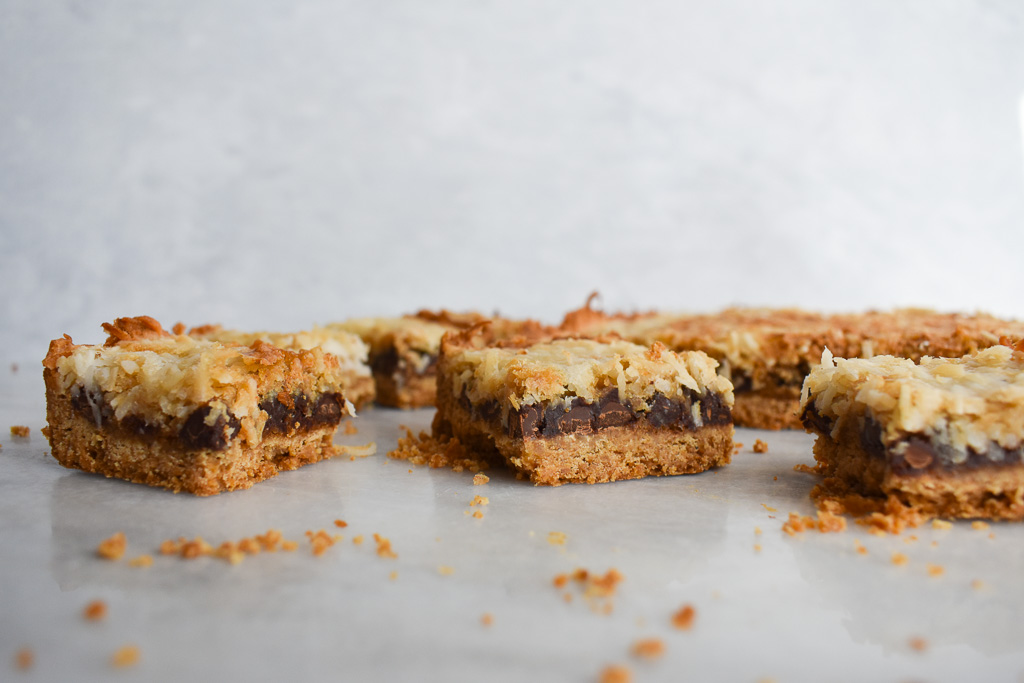 Although this recipe has not been tested, a single serving should be low-FODMAP based on the ingredients
Serves 24
Prep time: 30 min, plus 20 minutes cooling
Bake time: 20 minutes for bottom layer, 40 min for final version
Total time:1H 50M
Bake 350 F
Equipment: 13 by 9 inch baking pan
Ingredients:
For the low-FODMAP Dream Bars bottom
2 cups low-FODMAP, gluten-free flour (I used Authentic Foods GF Classical Blend, my favorite low-FODMAP flour)
3/4 cup packed dark brown sugar
1/2 cup chopped pecans
1/4 teaspoon salt
1 teaspoon xanthan gum if not added to your flour
10 tablespoons unsalted butter, or vegan margarine such as Earth Balance (for dairy-free version) chilled, cut into 1/2-inch pieces
vegetable shortening for greasing
For the low-FODMAP Dream Bars topping
1 & 1/2 cups finely shredded sweetened coconut (check ingredients to ensure no high-FODMAP additives)
1 cup canned coconut cream (either canned coconut cream or the cream layer from the top of canned coconut milk)
2 large eggs
3/4 cup packed dark brown sugar
2 tablespoons low-FODMAP, gluten-free flour
1 & 1/2 teaspoons baking powder
1 teaspoon vanilla extract
1/2 teaspoon salt
1 cup semisweet dairy-free chocolate chips
Directions:
Make the low-FODMAP Dream Bars bottom
Adjust an oven rack to the middle position and pre heat the oven to 350°F
Line your 13 by 9-inch baking pan with aluminum foil in 2 strips, allowing the excess foil to hang over the pan edges
Coat the foil lightly with vegetable shortening
Process the flour, sugar, pecans, and salt in a food processor with the steel blade until the pecans are coarsely ground, about 10 seconds
Add the butter or margarine and pulse until the mixture resembles coarse meal
Press the mixture firmly into the prepared baking pan

use the bottom of a glass to help with this

Bake until golden brown, about 20 minutes
Cool on a wire rack for 20 minutes
While this is baking/cooling make the low-FODMAP dream bars topping
Combine the coconut and coconut cream in a medium bowl
In another large bowl, whisk the eggs, sugar, flour, baking powder, vanilla, and salt until smooth, by hand or with a small mixer
Stir in the chocolate chips, then spread this mixture over the cooled crust
Take the coconut/coconut cream mixture and using a tablespoon, drop heaping scoops over the filling
Then spread the coconut mixture as evenly as possible over the bottom layer
Bake until the topping is a deep golden brown, 35 to 40 minutes
Cool on a wire rack, about 2 hours
Using the foil overhang, lift the dream bars from the pan and serve- so much easier to cut this way!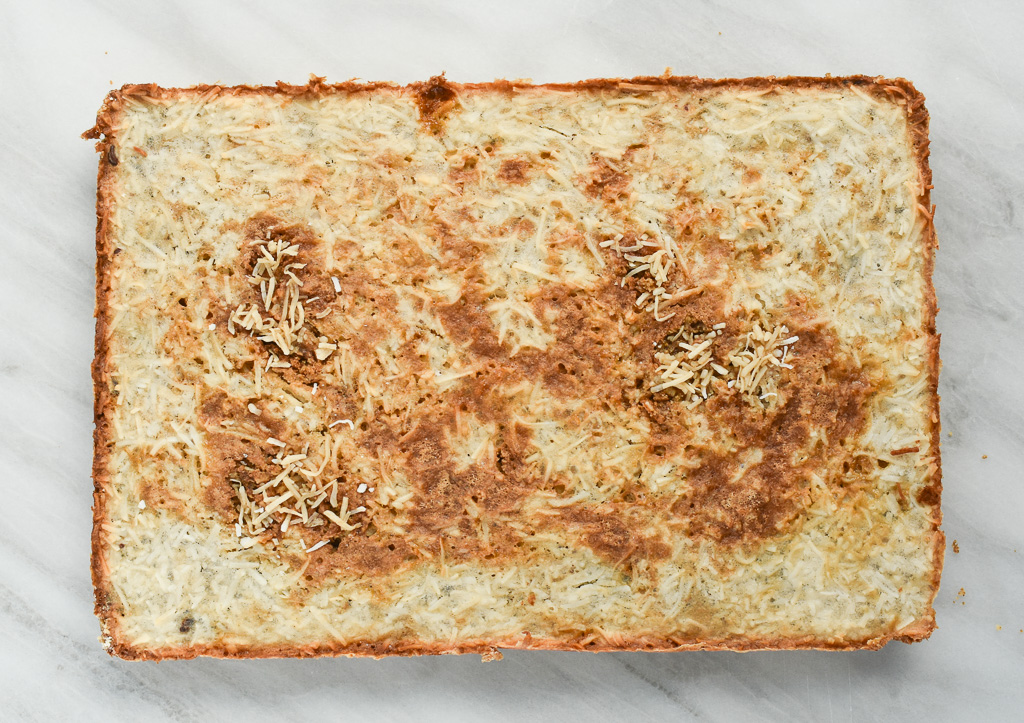 Refrigerate unused portions for about 1 week (as if they will last! Ha)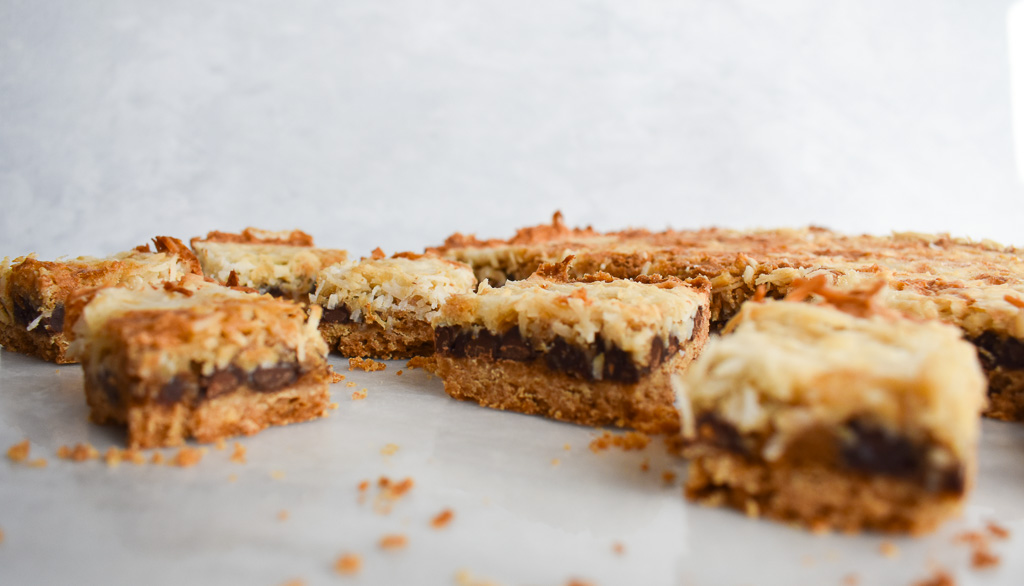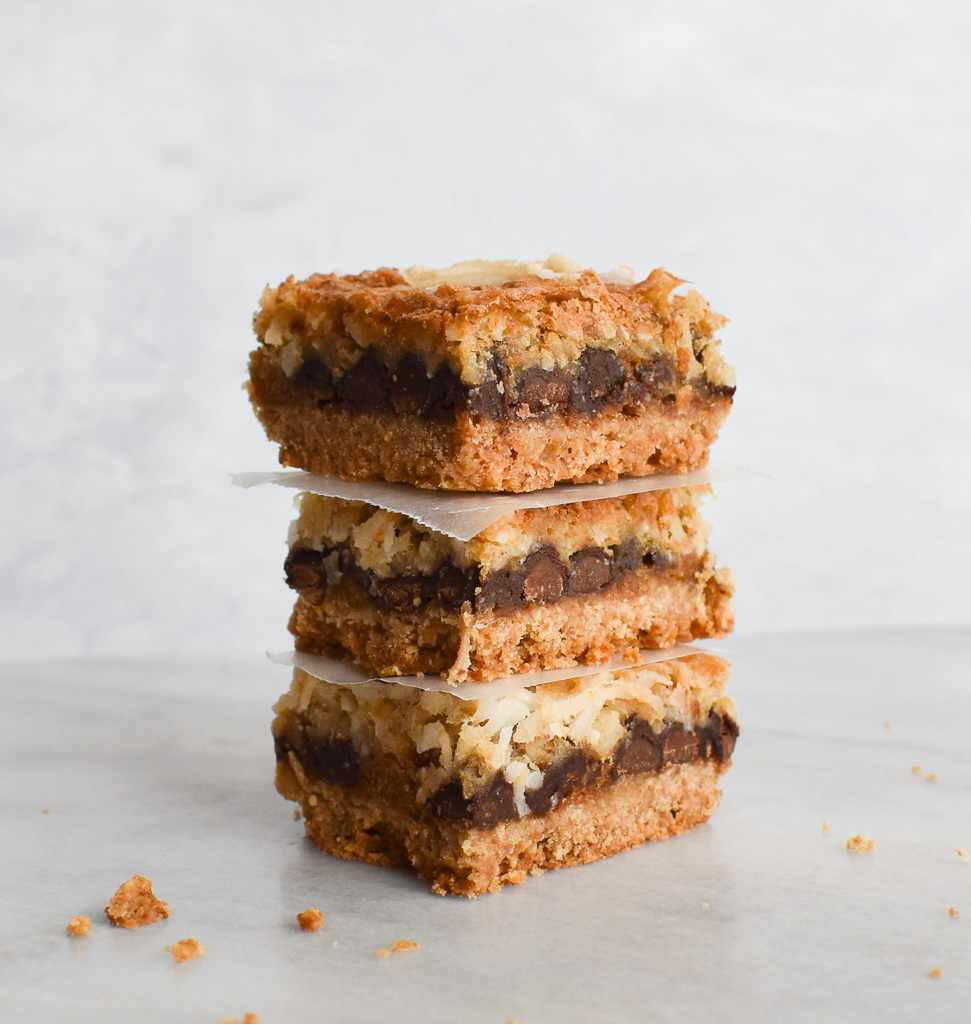 Look at that gorgeous topping!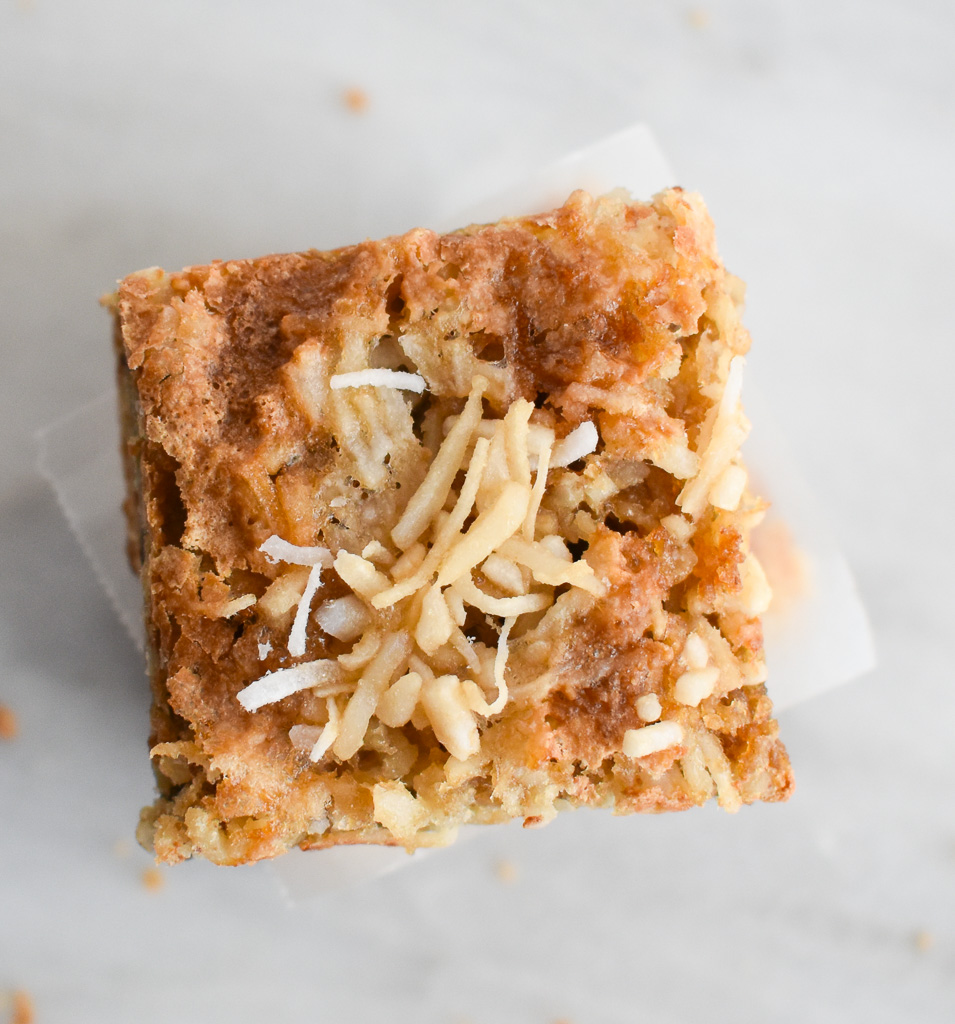 And that buttery-crunchy low-FODMAP bottom is soooo good…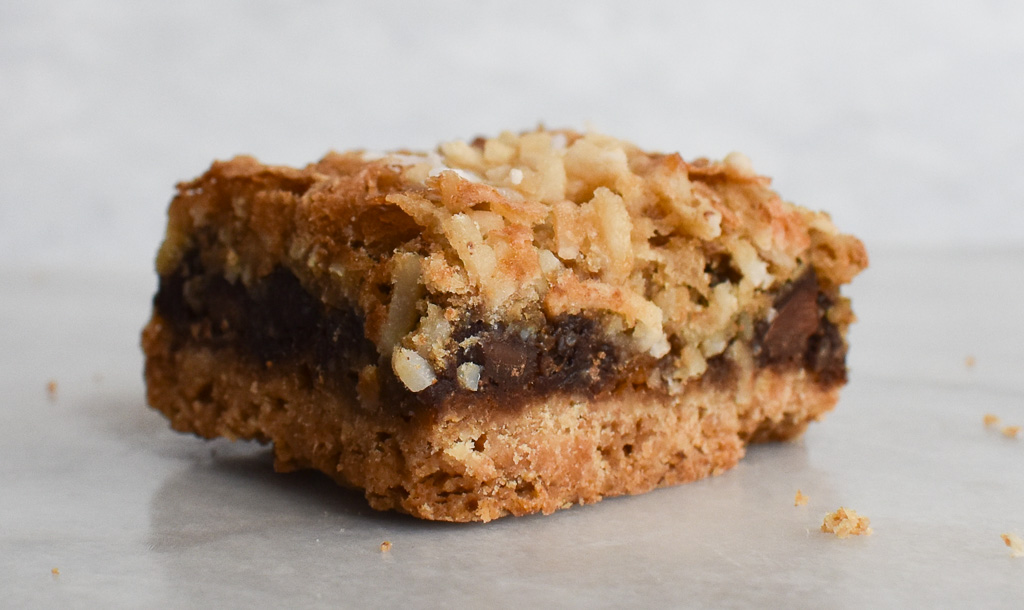 Here is one delicious bite!  Hope you love this low-FODMAP Dream Bar recipe as much as my family does!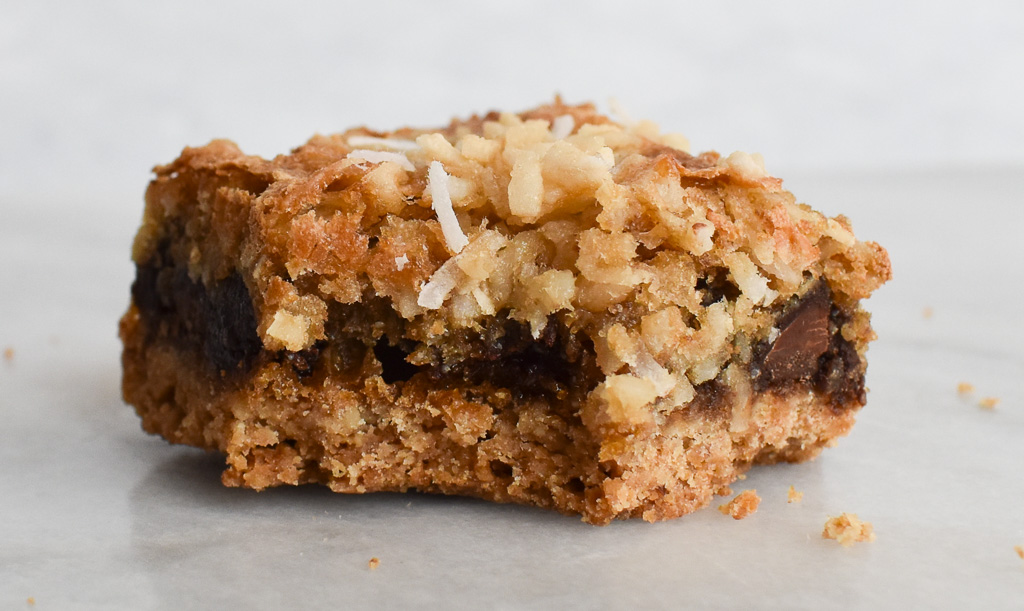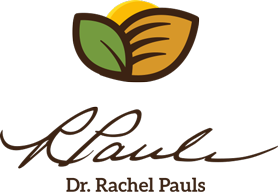 Printer Friendly Version
Comments Rating
( reviews)