Dr. Rachel's Best Low-FODMAP Spaghetti/ Low-FODMAP Marinara Sauce; Gluten-free, Vegan
February 10, 2019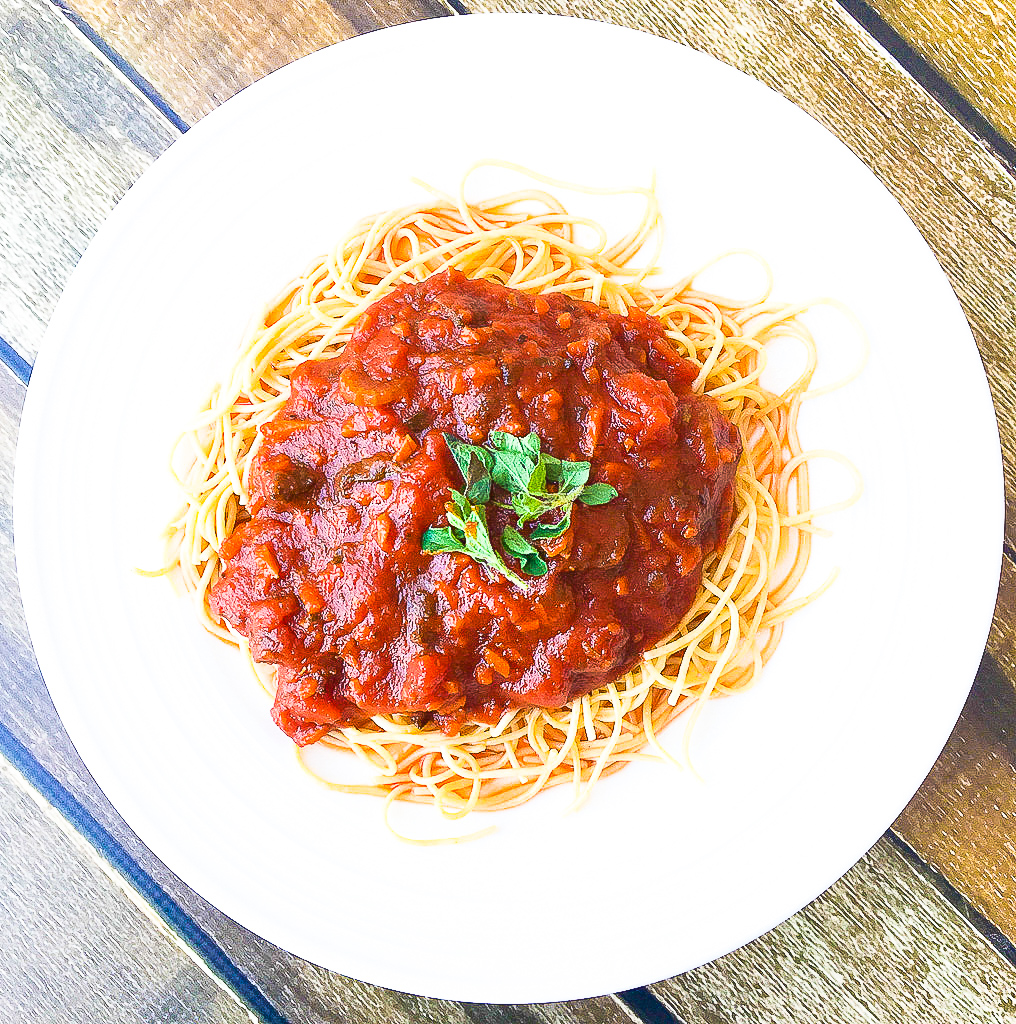 This is the absolute best low-FODMAP spaghetti sauce/low-FODMAP marinara sauce.  Its rich, luxurious and tangy, with a touch of sweetness and notes of red wine.  This low-FODMAP marinara sauce is packed with vegetables, making it super healthy as well as filling.
Low-FODMAP marinara/spaghetti sauce goes with everything! Use it to top low-FODMAP Italian Meatballs or to build low-FODMAP Lasagna and low-FODMAP Chicken Parmesan.  It even tastes great dunked with low-FODMAP bread or slathered on a low-FODMAP baked potato.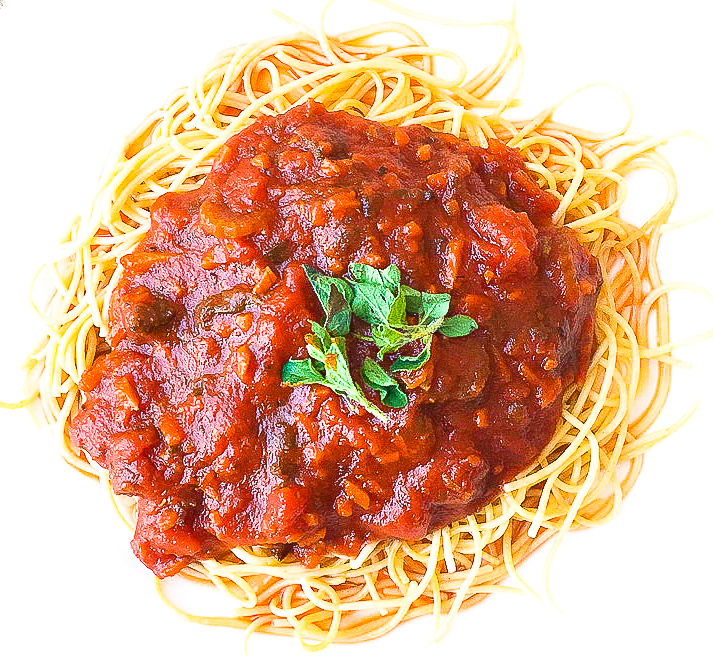 I love this easy, all-natural low-FODMAP spaghetti/marinara sauce, because it feels so much better making it from scratch than just buying it off-the-shelf. Plus my family and I are comforted knowing there is no hidden onion or garlic, and we can select all organic ingredients. Using my low-FODMAP Happy Spices Italian Seasoning means it is super easy to prep.
Try this low-FODMAP marinara with spaghetti squash for a low-carb low-FODMAP option too (See notes below for hints on preparation).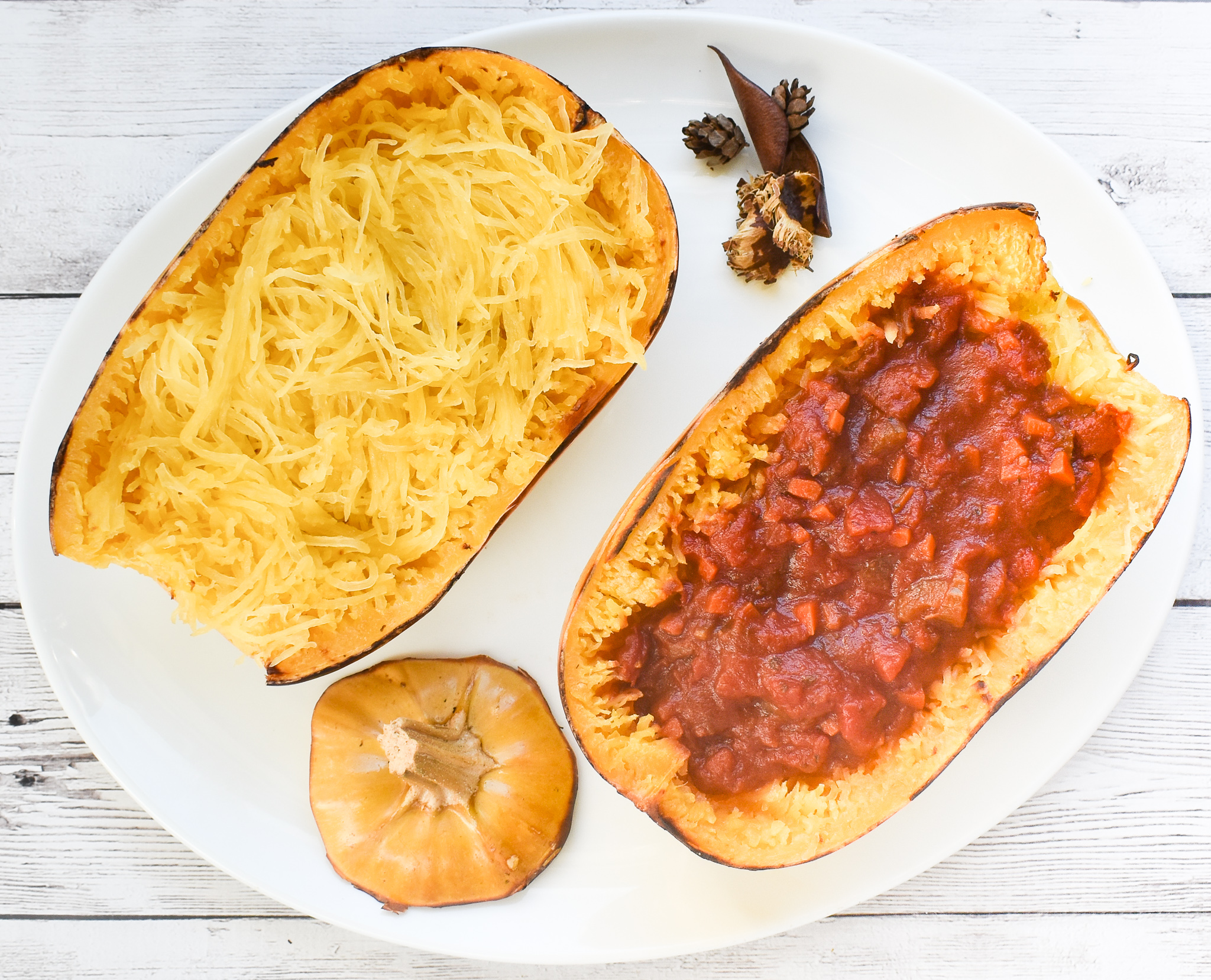 Browse my blog for over 200 more free low-FODMAP recipes.
Be healthy and happy,
Rachel Pauls, MD
---
Rachel's Best Low-FODMAP Spaghetti sauce; Gluten-free, Vegan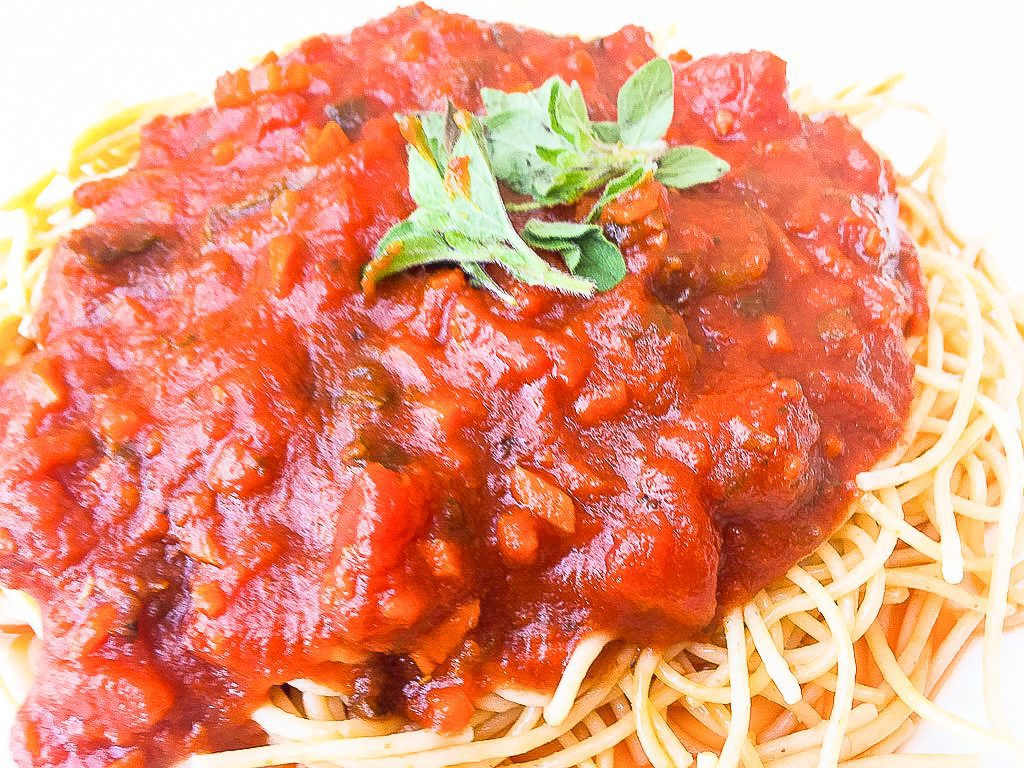 Although this recipe has not been tested, a single serving should be low-FODMAP based on the ingredients.  However, due to more than one serving of vegetables per person in this recipe, test for your personal tolerance.
Serves 8-10
Yield about 32-36 ounces
Prep 10 m
Cook 45 m
Ingredients:
1 TB garlic infused oil
1 TB onion infused oil
1/2 cup chopped fresh basil leaves
½ cup finely chopped carrots
2 tablespoons finely diced celery (optional, adds a nice texture)
½ cup diced zucchini
1 (15 ounce) can tomato sauce (no added spices)
1 (15 ounce) can diced tomatoes
½ can (3 ounce) tomato paste
3/4 cup Merlot or other red wine
2 teaspoons salt
2 teaspoons fresh or dried oregano or low-FODMAP Happy Spices Italian Seasoning
1/4 cup white sugar (use less for a less sweet sauce)
Directions:
Heat olive oils in a large saucepan over medium-low heat, and cook and stir the celery, and carrot until translucent but not browned, 6 to 7 minutes
Stir in the zucchini and basil, and cook and stir until the basil is wilted and the veggies are cooked through and have given up their juices, about 10 minutes
Pour in the diced tomatoes and bring the mixture to a boil, stirring often
Pour in the tomato sauce and bring to a simmer
Let the sauce simmer until slightly thickened and bubbling, stirring occasionally, about 15 minutes
Stir the tomato paste into the sauce, and fill the empty tomato paste can with Merlot wine, stirring to dissolve any remaining tomato paste in the can
Pour the Merlot wine into the sauce, and stir well to combine
Bring the sauce back to a simmer, and stir in the salt, pepper, dried oregano or Happy Spices Italian Seasoning, and sugar
Let the sauce simmer until the seasonings are blended and the sauce is heated through, about 3 more minutes
May be refrigerated in jar(s) for up to 1 month
Serve over low-FODMAP/gluten-free pasta or use a low-FODMAP spaghetti squash
Hint: To make a low-FODMAP spaghetti squash, wash your squash, then cut it in half and scoop out the seeds.  Rub outside and inside with olive oil and place face down on a lined baking sheet. Bake at 400 F for about 45 minutes depending on its size (squash inside should be tender).  Fluff the squash strands to create 'noodle' effect and serve topped with low-FODMAP marinara