Perfect Low-FODMAP Coconut Cake Recipe; Gluten-free, Dairy-free
April 20, 2019
Printer Friendly Version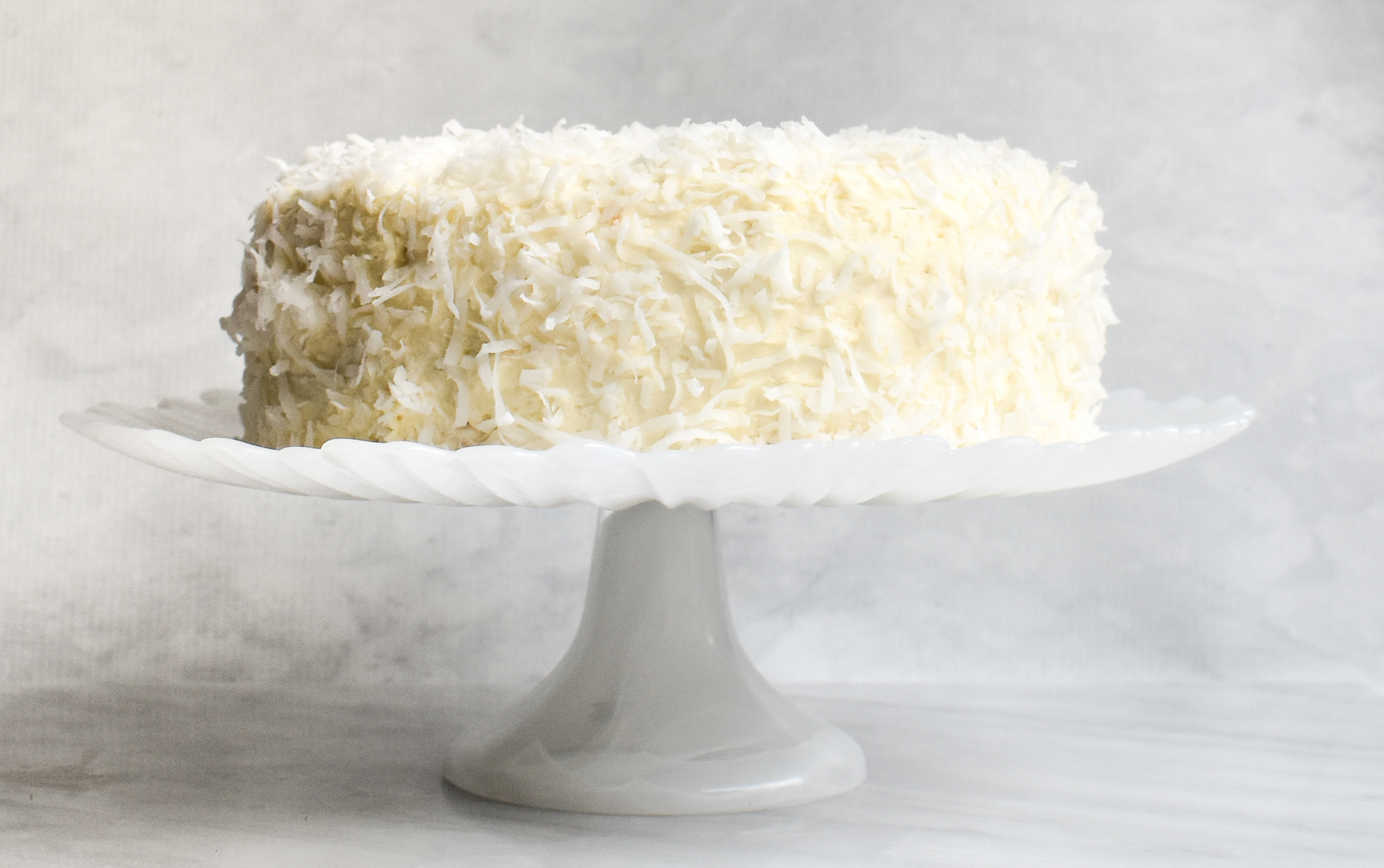 This low-FODMAP Coconut Cake is absolute perfection. It is exactly what a coconut cake should be.  Light, fluffy cake layers subtly yet expertly balanced with the sweetness of low-FODMAP coconut cream all covered by velvety low-FODMAP frosting. The coconut shavings give the frosting texture and make it beautiful and fun.  But just wait for the taste…melt in your mouth delicious!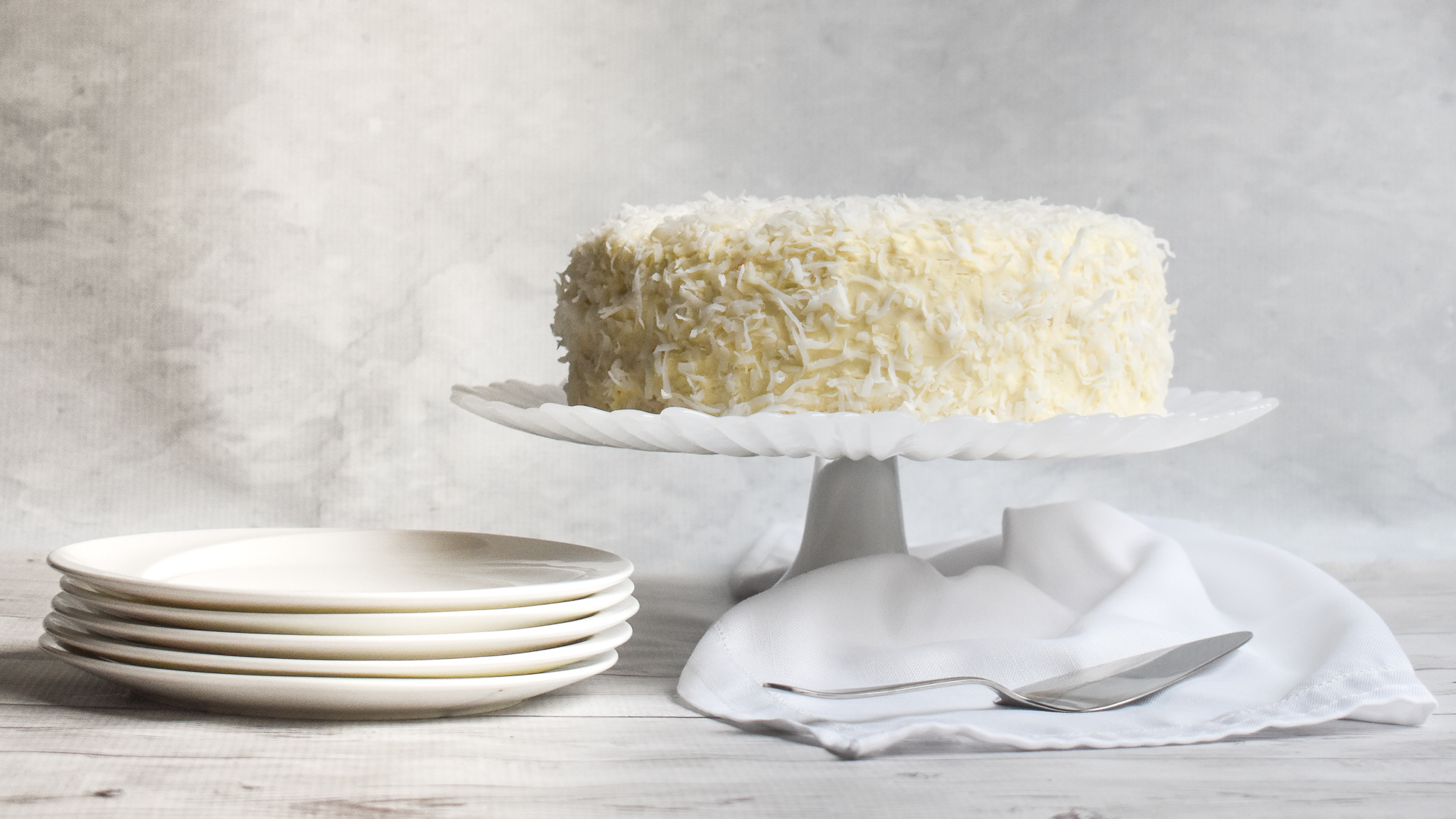 This low-FODMAP Coconut Cake recipe is the best you will ever enjoy.  It is moist, light and beautiful.  Plus, it incorporates real coconut milk in the cake, and plenty of shredded coconut in the layers, making it so natural and fresh tasting.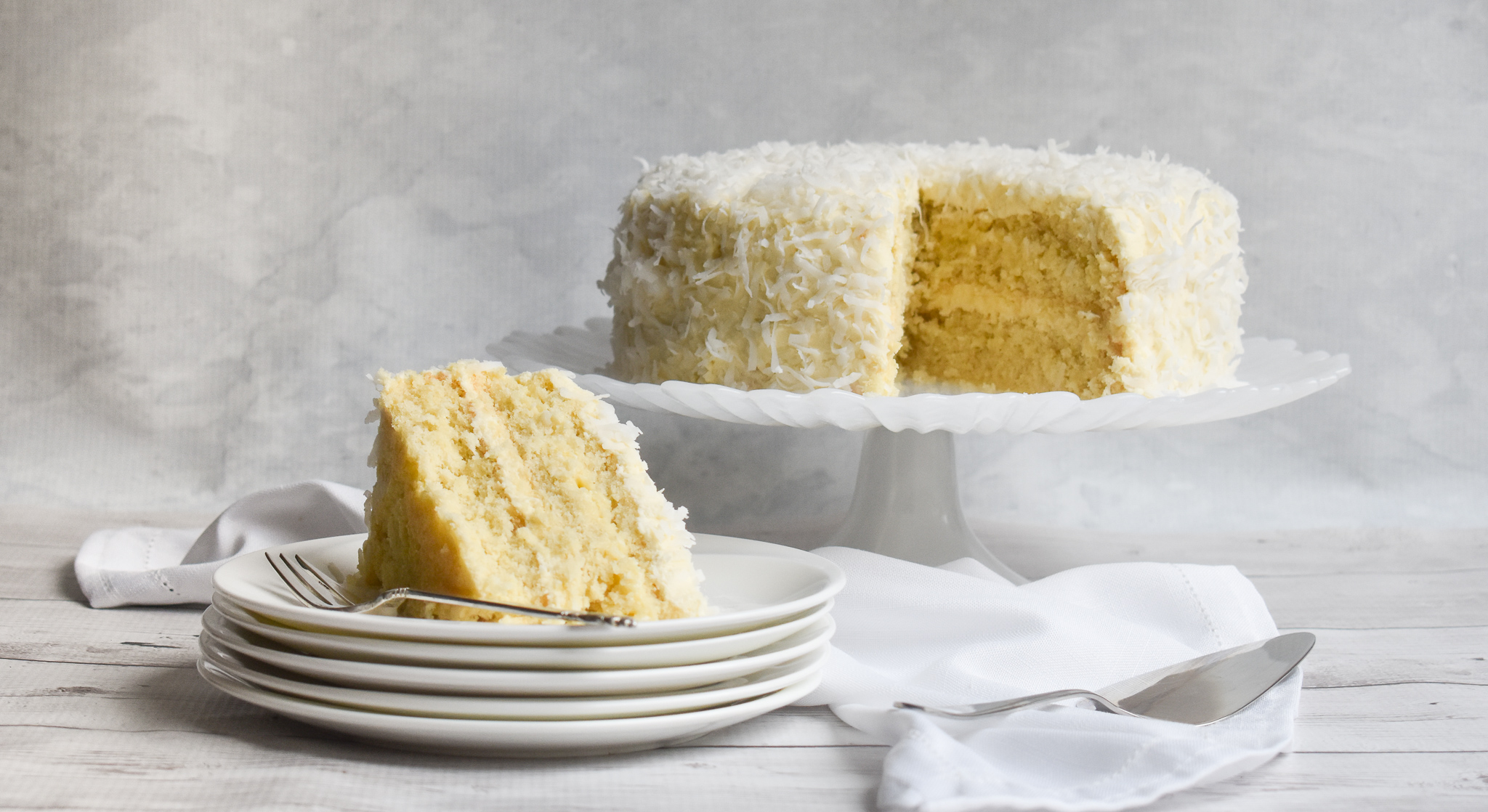 Your guests will never know this low-FODMAP Coconut Cake is gluten-free and IBS-friendly.  Top it with my low-FODMAP Cream Cheese frosting or low-FODMAP Ermine frosting (for dairy-free option).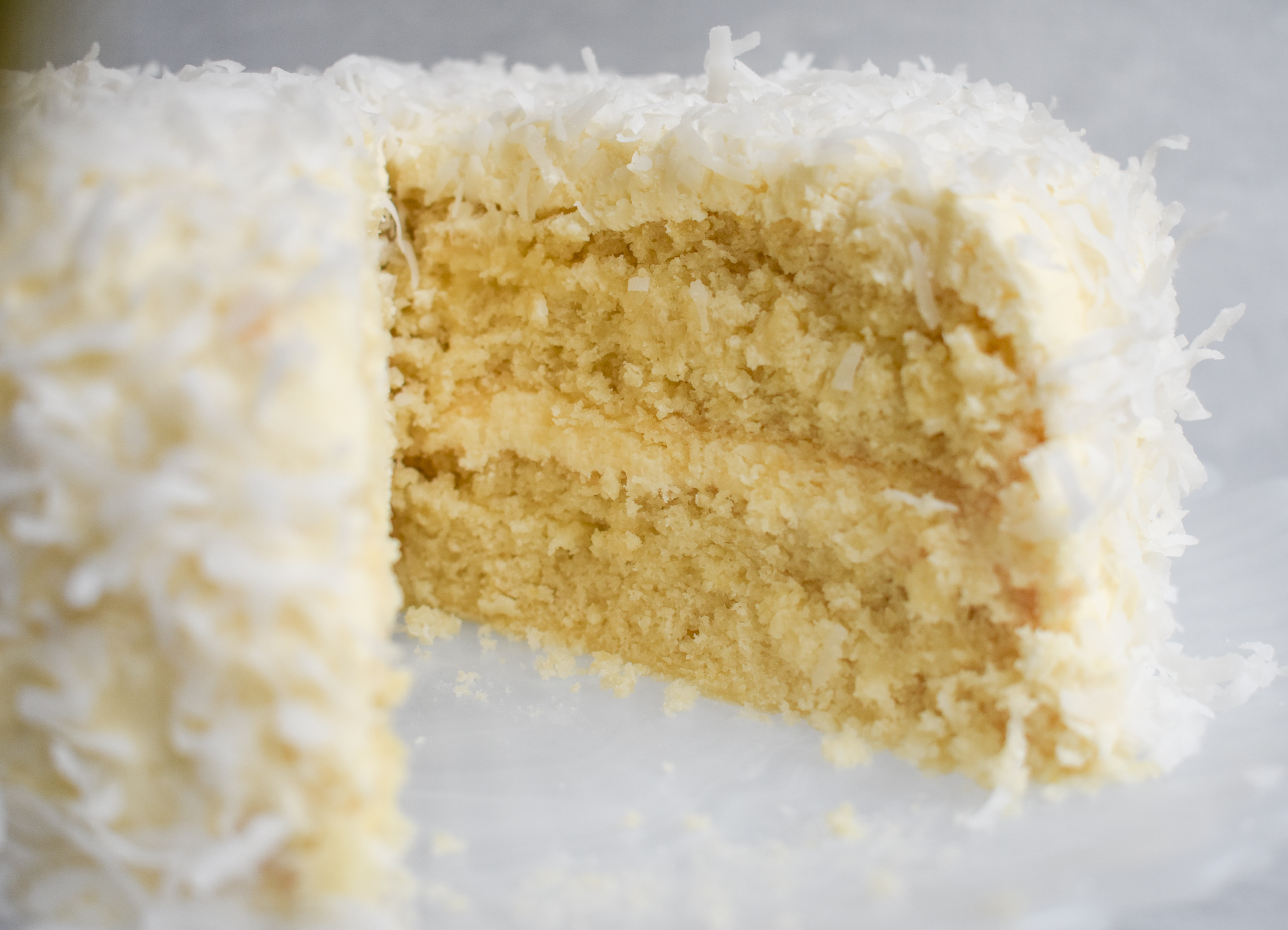 Check out my low-FODMAP Hummingbird Cake, low-FODMAP Red Velvet Cake and low-FODMAP Carrot Cake for other great recipe ideas.  Or peruse over 300 more low-FODMAP recipes on the blog, like my low-FODMAP Cake Collection.
Be healthy and happy,
Rachel Pauls
---
Perfect Low-FODMAP Coconut Cake Recipe; Gluten-free, Dairy-free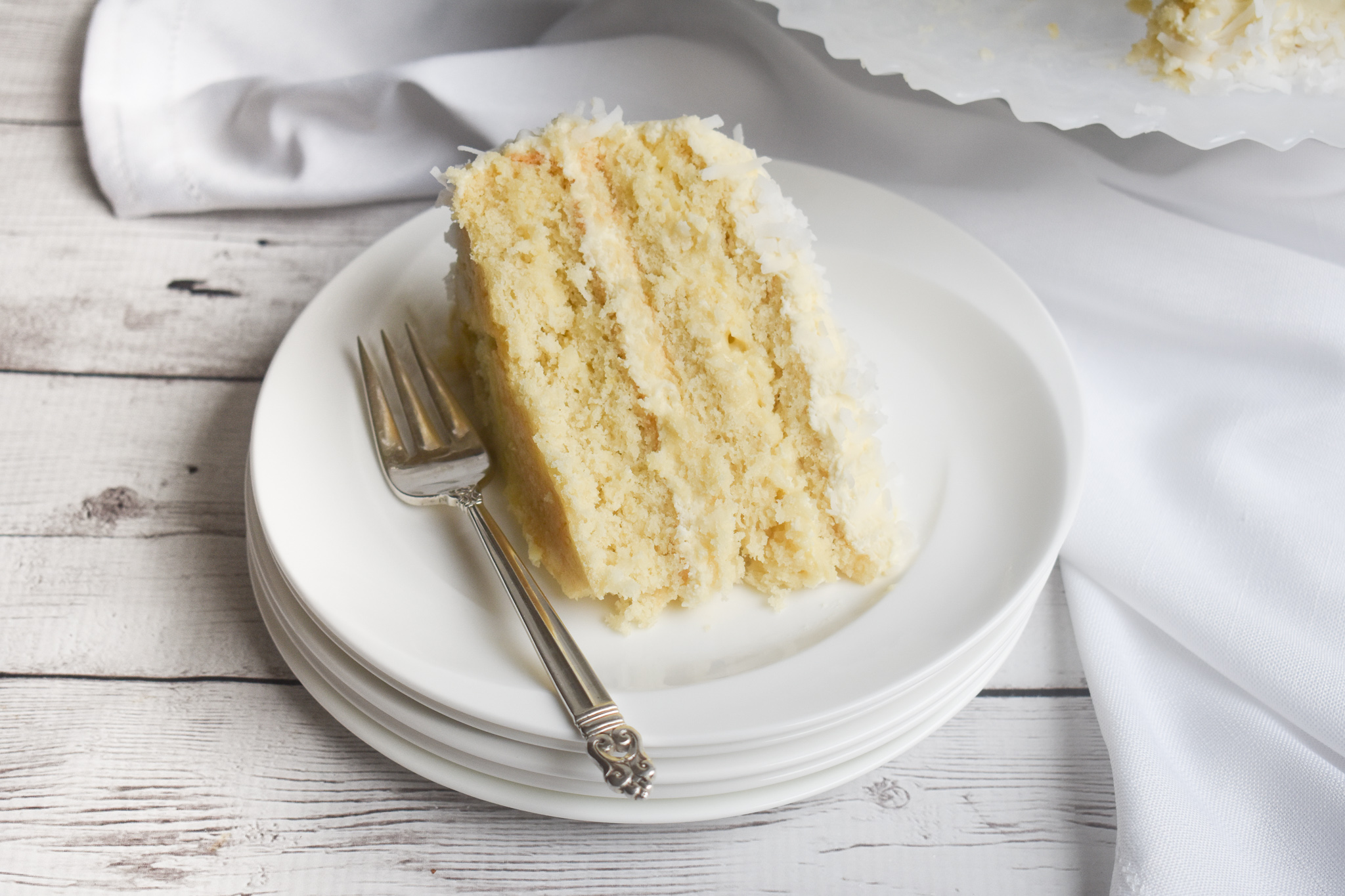 Although this recipe has not been tested, a single serving should be low-FODMAP based on the ingredients
Serves 24
Prep time: 30 min
Bake time: 35-40 min
Chilling time: 1-2 hours or overnight for low-FODMAP Coconut Cream Filling
Decorating time: 20 minutes
Bake 350 F
Ingredients
For low-FODMAP Coconut Layer Cake:
2 cups sugar
4 large eggs
2 & ½ cups Authentic Foods GF Classical Blend low-FODMAP Gluten-free flour, or your preferred gluten-free, low-FODMAP flour choice (I love this flour- consistent results every time.  See my low-FODMAP bake off blog!)
½ tsp salt
1 tbsp baking powder
1 tsp xanthan gum
1 cup canola oil
1 cup canned full-fat coconut milk

1/4 cup is one low-FODMAP serving

1 tsp vanilla extract
1 tsp coconut extract (adjust based on the potency of your extract)
Low-FODMAP Cream Cheese Frosting or low-FODMAP Opera Cream/Ermine frosting for dairy-free version

Add ½ tsp coconut extract to your choice of low-FODMAP frosting recipe
Double recipe for layer cake as per instructions

1-2 cups (1 cup is 80 g) sweetened or unsweetened shredded coconut, for garnish (toasted or untoasted)

2/3 cup or 64 g is one low-FODMAP serving for coconut
If decorating the entire cake need about 2 cups

Vegetable shortening, for greasing
For low-FODMAP Coconut Cream Filling:
3 large egg yolks
¼ cup plus 2 tablespoons sugar
3 tablespoons cornstarch or potato starch
1/8 teaspoon salt
1 and 1/2 cups low-FODMAP milk (such as almond milk for dairy-free or lactose-free milk)
3/4 cup sweetened shredded coconut
¾ teaspoon pure vanilla extract
Directions
Preheat oven to 350 F
Line 2 x 9 inch round cake pans with parchment and grease well
In large bowl of stand mixer with flat paddle, mix sugar and eggs on medium for 1 minute
In a second medium bowl, combine low-FODMAP flour, baking powder, and xanthan gum
In a large measuring cup, place oil, coconut milk, vanilla and coconut extracts and stir to combine
Add the flour mixture to the egg mixture on low-medium, alternating with the oil/coconut milk mixture until all are combined; do not overmix
Pour batter into the 2 pans
Place in center of oven and bake for about 35-40 min, until cake springs back from pan edges and center is springy when touched, tester in center should come out clean (ovens vary, so yours may take more/less time)
Cool cakes in pan for 5 minutes, then invert to a rack and cool completely
If desired- chill or freeze cakes prior to decorating; this step is recommended if you plan to cut your layers to create a 4 layer cake
Prepare your choice of low-FODMAP frosting; add coconut extract to frosting recipe if desired (see note above)
Prepare coconut cream filling while the cake is baking and chill at the same time as the cake
Directions for low-FODMAP Coconut Cream
Place egg yolks in a large bowl; whisk to combine; set bowl aside
Combine sugar, cornstarch, and salt in a saucepan
Gradually whisk in low-FODMAP milk
Cook, stirring, over medium heat until mixture thickens and comes to a boil, 10 to 12 minutes
Remove from heat
Whisk a few tablespoons of the hot milk mixture into the reserved egg yolks to temper yolks
Slowly pour warm yolks into the saucepan, stirring constantly
Cook slowly, stirring, over medium-low heat, until mixture begins to bubble, about 5 to 6 minutes
Remove from heat
Stir in shredded coconut and vanilla
Transfer filling to a medium mixing bowl, and cover with plastic wrap touching the surface so a skin doesn't form
Chill until set, about 1-2 hours in refrigerator
When ready to frost and fill low-FODMAP Coconut Cake, remove from refrigerator or freezer:
If making a 4 layer cake, cut both of the layers in half

I used a cake cutter as well as a long serrated knife.  This is tricky so take your time 😉

If making a 2 layer cake, skip this step
Place the bottom base layer on cake plate, and place half the low-FODMAP coconut cream on this layer

This will be a thin layer, just visible to the eye in the photos .  You don't want the low-FODMAP coconut cream to overpower the lightness of the cake
The low-FODMAP coconut cream blends beautifully with the cake and gives it a moist texture and wonderful flavor

Top with the second half of this cake and place the low-FODMAP Opera Cream/Ermine frosting or low-FODMAP Cream Cheese frosting as the middle

Don't forget to add some coconut extract to your choice of low-FODMAP frosting as per above ingredients
The middle layer will be slightly thicker than the other 2 layers

Repeat with the next cake layer and place the low-FODMAP Coconut Cream on this layer
If making a 2 layer cake, spread the low-FODMAP Coconut cream in the middle
Top with the top layer of the cake and frost top and sides with low-FODMAP Opera Cream/Ermine frosting or low-FODMAP Cream Cheese frosting
Garnish cake with the shredded coconut
Chill until serving
Moist, light and so delicious.  I think this may be my favorite low-FODMAP Cake Recipe ever!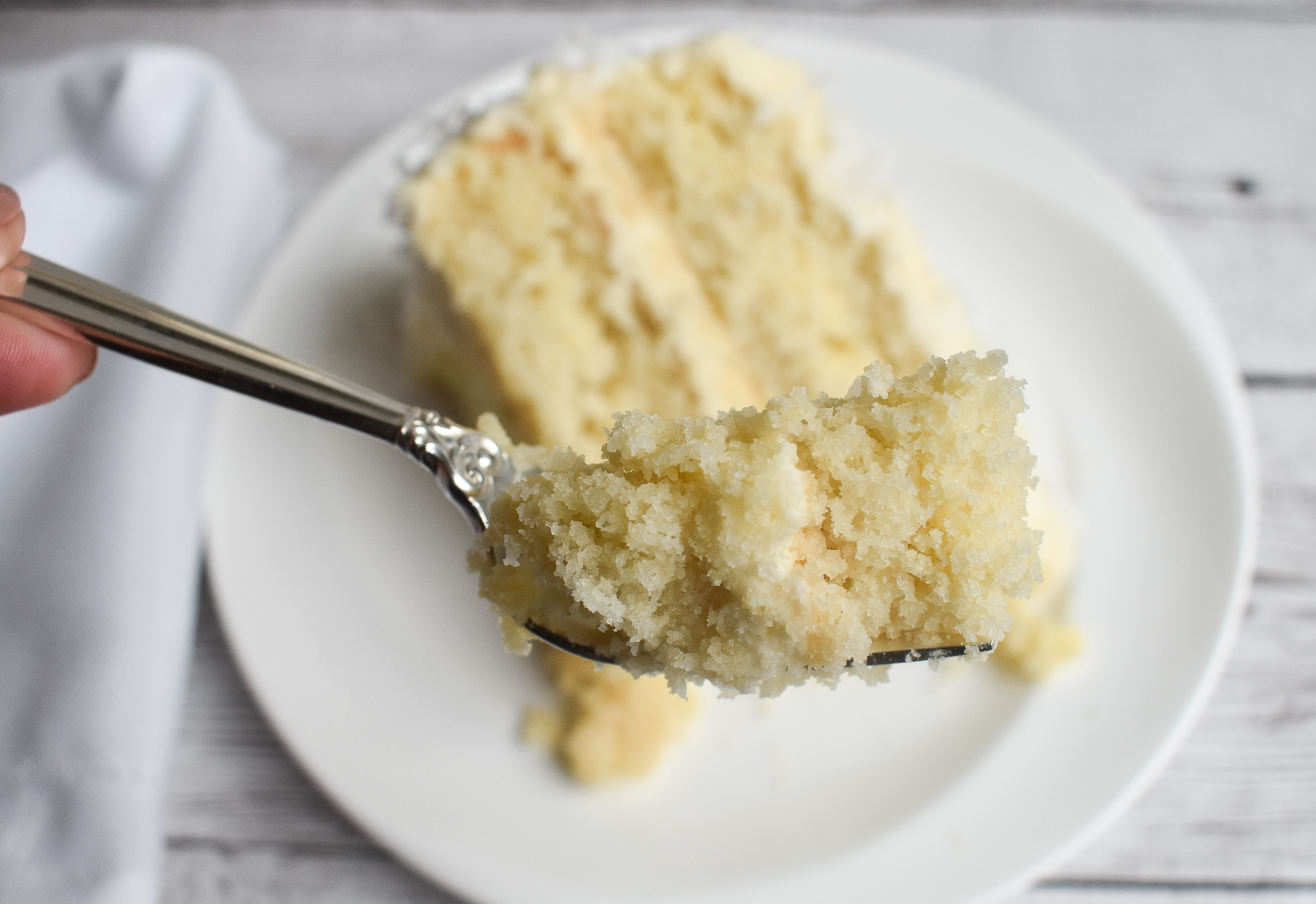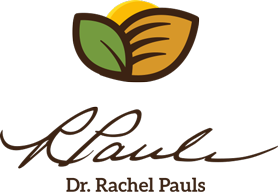 Printer Friendly Version
Comments Rating
( reviews)