One-Skillet Low-FODMAP Spinach, Sun-Dried Tomato & Feta Stuffed Chicken Breasts; Gluten-free
January 13, 2022
Printer Friendly Version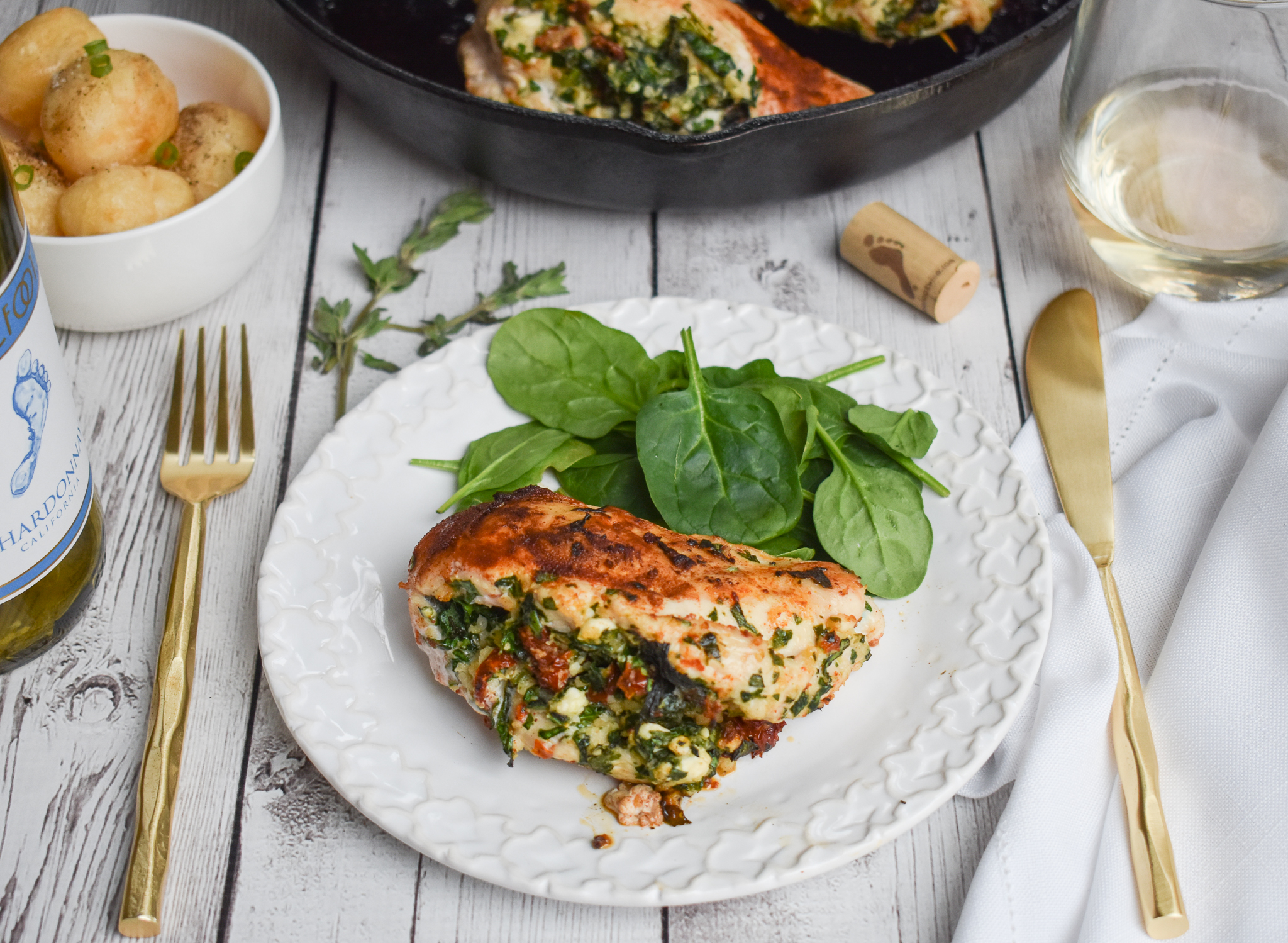 Low-FODMAP Spinach, Sun-Dried Tomato and Feta Stuffed Chicken Breasts are literally bursting with incredible flavors, in a light and healthy dinner recipe.  The chicken breasts are filleted then stuffed with fresh baby spinach, tangy sun-dried tomatoes, fresh herbs and feta cheese.  This recipe is a keeper!  Only one skillet needed!
A family favorite,  low-FODMAP Stuffed Chicken preps in under 15 minutes, but is so pretty, it can go on any gourmet table.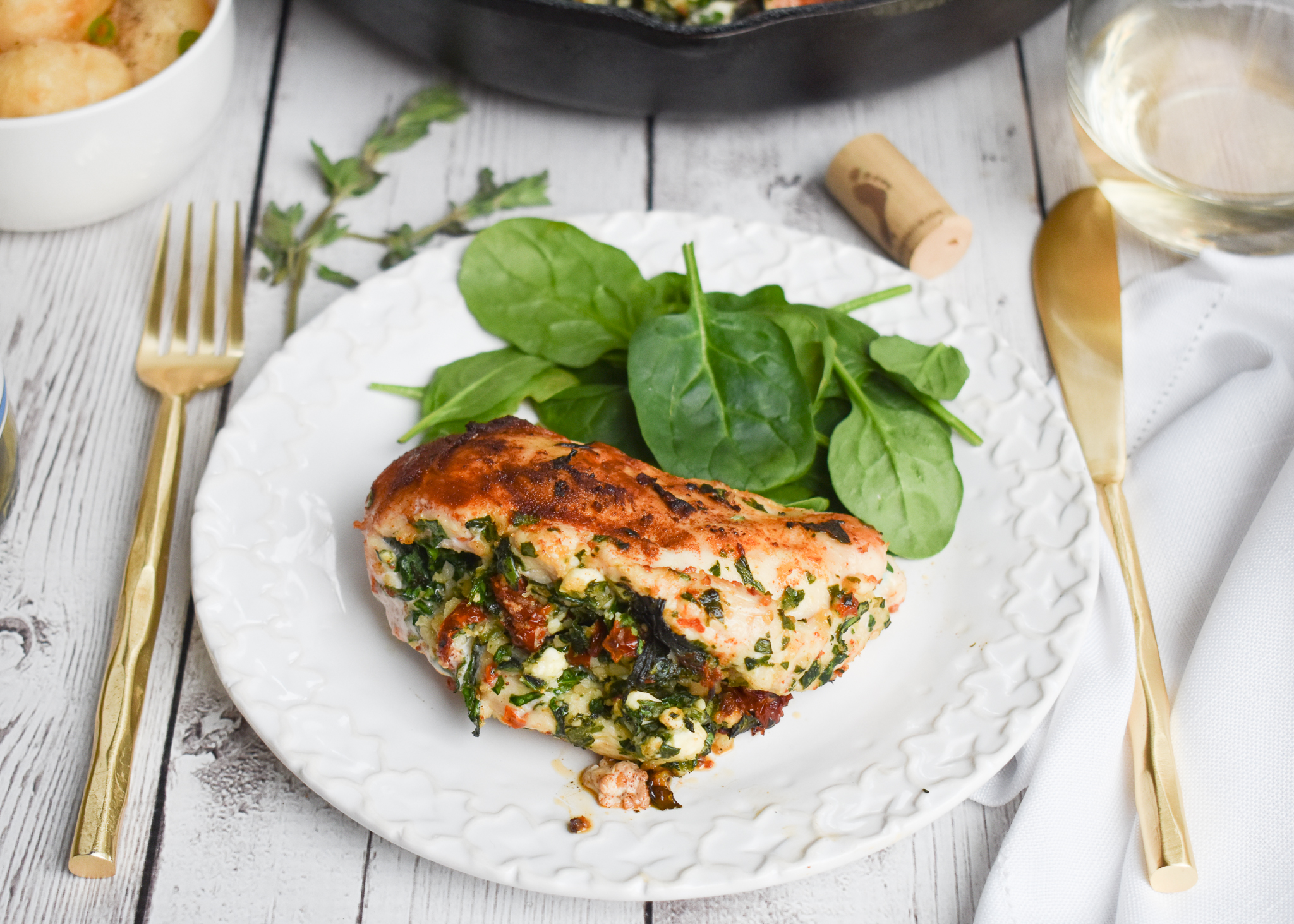 You may also love:
Or check out over 450 more low-FODMAP recipes on the blog.  IBS-friendly!
Be healthy and happy,
Rachel Pauls, MD
P.S.  Check out my new COOKBOOK for over 100 low-FODMAP recipes, low-FODMAP Meal Plan, FODMAP Tips and everything you need!!  It's the BEST!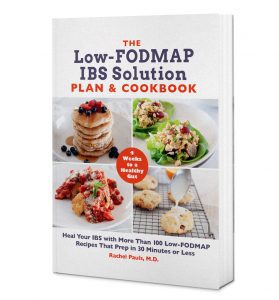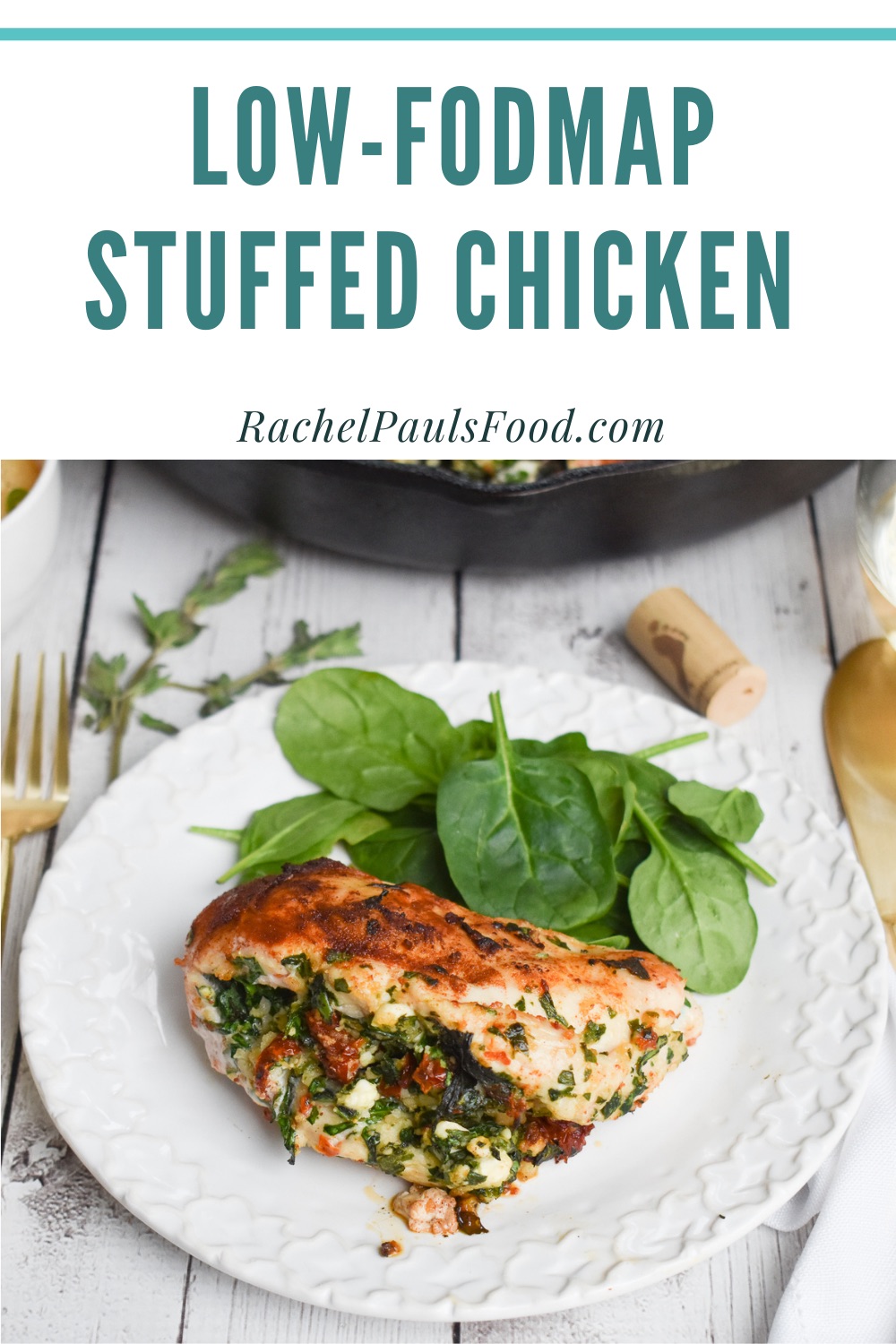 Although this recipe has not been lab tested, a single serving should be low-FODMAP based on the ingredients (using available FODMAP data at time of posting)
Serves: 4
Prep time: 15 mins
Cook and Bake time: 20 mins
Total time: 35 mins
Bake: 425 F
Equipment: Oven safe cast iron skillet or large saucepan, toothpicks
Ingredients
4 pieces (20-24 ounces) boneless, skinless chicken breasts
1/2 teaspoon kosher salt
3/4 teaspoon paprika
For filling:
1 cup (50g) chopped baby spinach

1 & 1/2 cups (75 g) is one low-FODMAP serving

1/2 cup (27 g) sundried tomatoes in oil, drained and chopped

8 grams of sun dried tomatoes is one low-FODMAP serving
Select a brand without onion and garlic added

2/3 cup crumbled feta cheese

Only trace amounts of FODMAPs are found in feta cheese

 1/4 cup (5 g) chopped fresh basil

This is about one standard package, once you remove the stems

2 tablespoons low-FODMAP, gluten-free breadcrumbs or panko

Select a brand without added onion and garlic

1 tablespoon (3 g) chopped fresh oregano
1 tablespoon green scallion tips or chives
1 tablespoon grated Parmesan cheese

I prefer to grate this fresh, rather than use the packaged variety for better flavor

1/4 teaspoon kosher salt
2 tablespoons and 2 teaspoons garlic-infused olive oil; divided

Infused oils are safe to consume on the low-FODMAP Diet, since FODMAPs are not soluble in oils.  See my low-FODMAP Top 11 Tips for other know-how!
Directions
Preheat oven to 425 degrees F
In a medium sized bowl, place the spinach, sun dried tomatoes, feta cheese, basil, LF breadcrumbs, oregano, scallion tips, parmesan cheese, salt and 2 teaspoons garlic-infused oil, and stir well to combine
Take out your chicken breasts, and using a sharp knife, carefully slice a 'pocket' into the sides of each chicken breast

You can't want to cut all the way in half, just enough to create a space for the spinach/feta mixture

Don't worry if its not perfect, you can also use toothpicks to correct any error in the cutting 🙂

I like to wear my 'knife-safe' gloves, to reduce the chance of cutting myself

Once they are all split with a nice pocket, place 1/4 of the spinach mixture into each chicken breast

You can use a small/medium cookie scoop to help with this part

Secure the breast with toothpicks

I prefer to do this on an angle so they don't stick out

Season both sides of each chicken breast with the additional salt and paprika

I rubbed this on with my hands to give the breasts a nice color

Heat a large, oven-safe skillet over medium heat (I used cast-iron)
Add the remaining garlic-infused oil to the skillet, and once hot, place the stuffed chicken gently on the skillet and sear the chicken breasts on each side for about 2 to 3 minutes, until browned

You want to leave them for about 2 minutes per side without turning to get them nicely colored

Once all the breasts are browned, transfer skillet to your preheated oven
Bake 12 to 14 minutes, until chicken reaches 165 degrees F internal temperature

As ovens vary, yours may need more or less time

Remove from oven, gently extract the toothpicks, then serve immediately!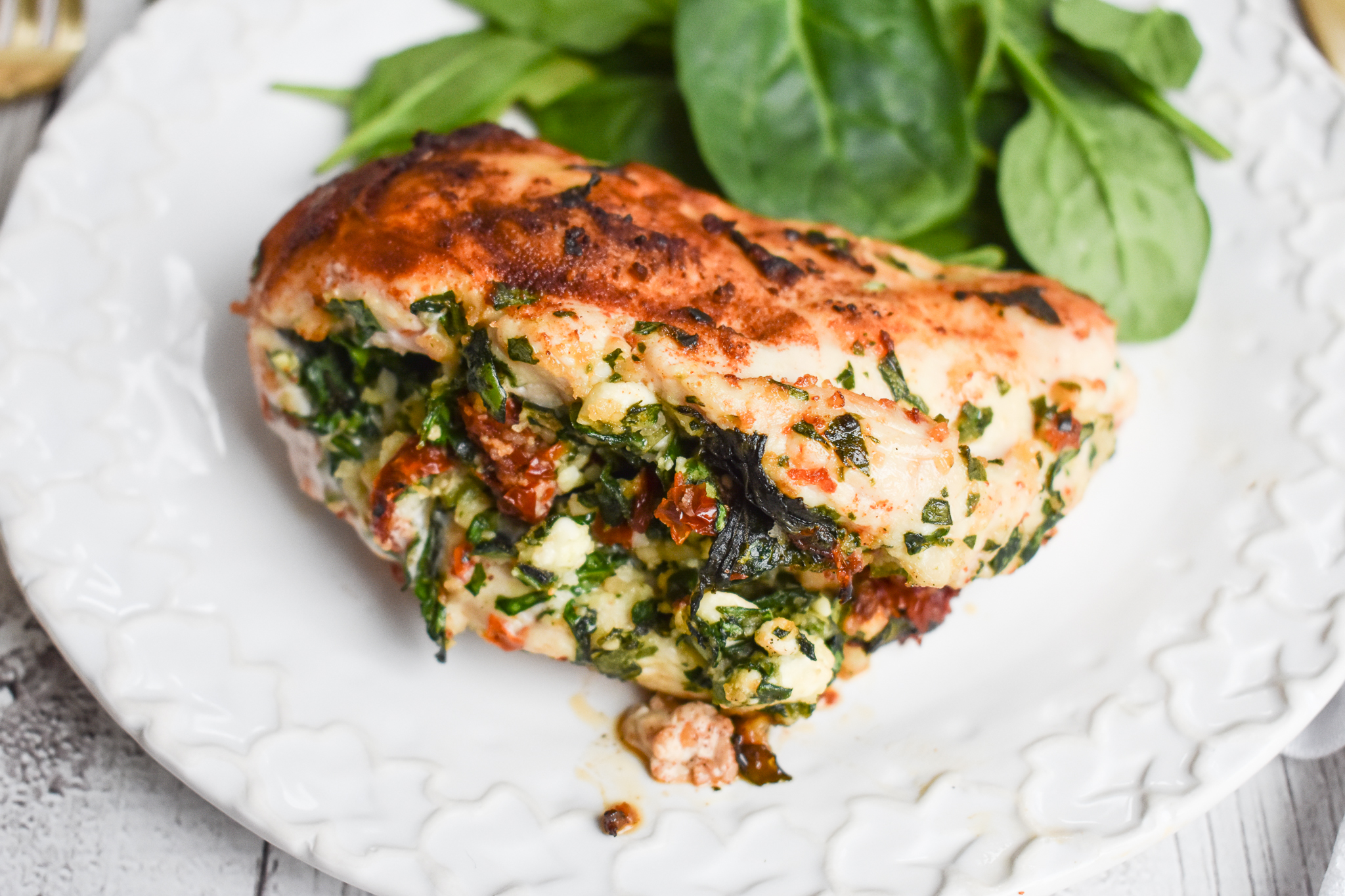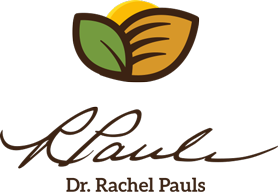 Printer Friendly Version
Comments Rating
( reviews)