One-Skillet Low-FODMAP 30-Minute Bacon, Maple and Mustard Chicken; Gluten-free, Dairy-free
April 14, 2020
Printer Friendly Version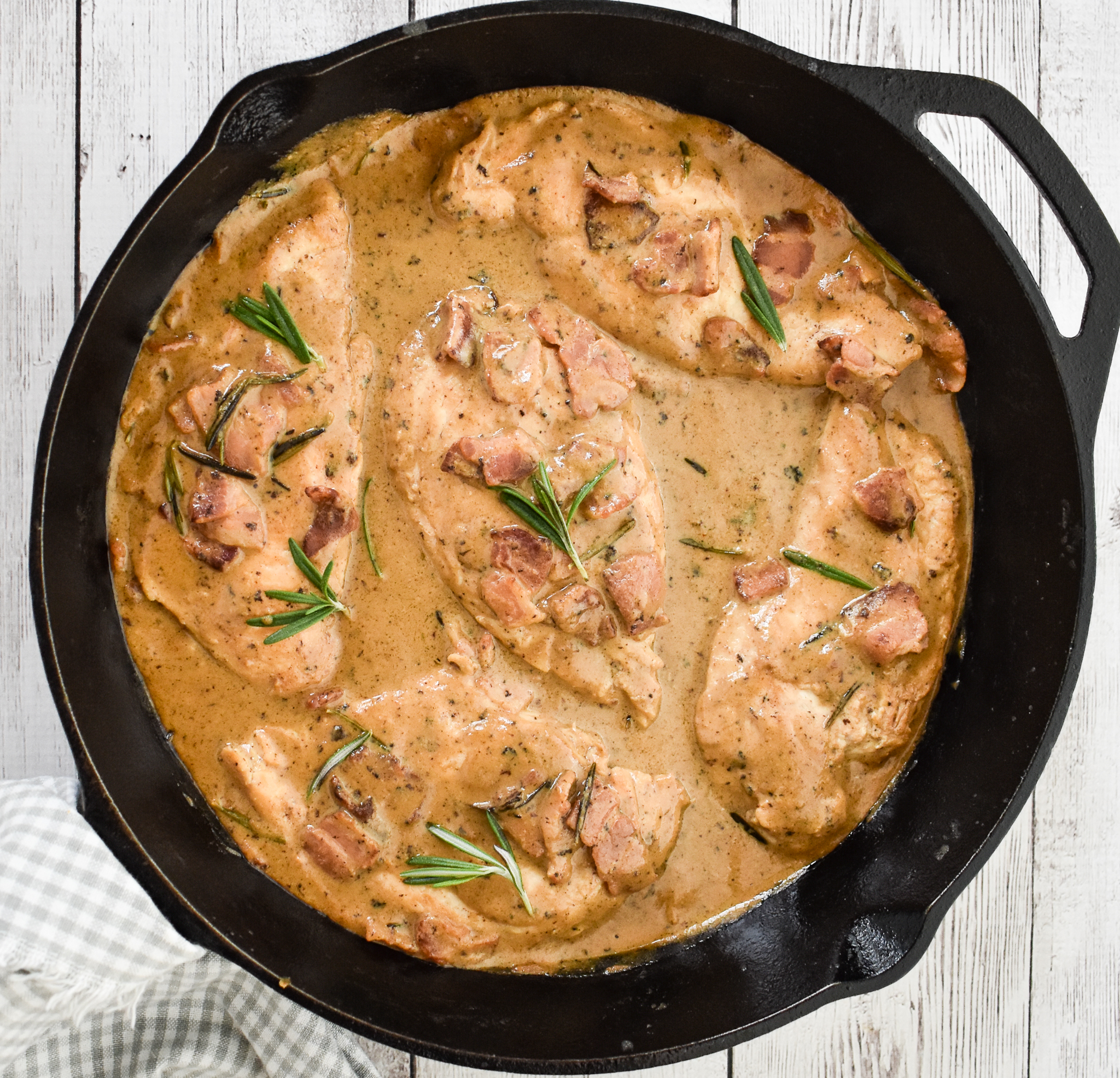 I was 'window shopping' on Pinterest the other day and I saw photos of this creamy looking, savory, super flavorful chicken dish. It was bacon, mustard and maple chicken.  I knew this would be amazing to modify to low-FODMAP. One Skillet, ready in 30 minutes.  Just right for a Tuesday night (and I have all the ingredients even with the coronavirus quarantine).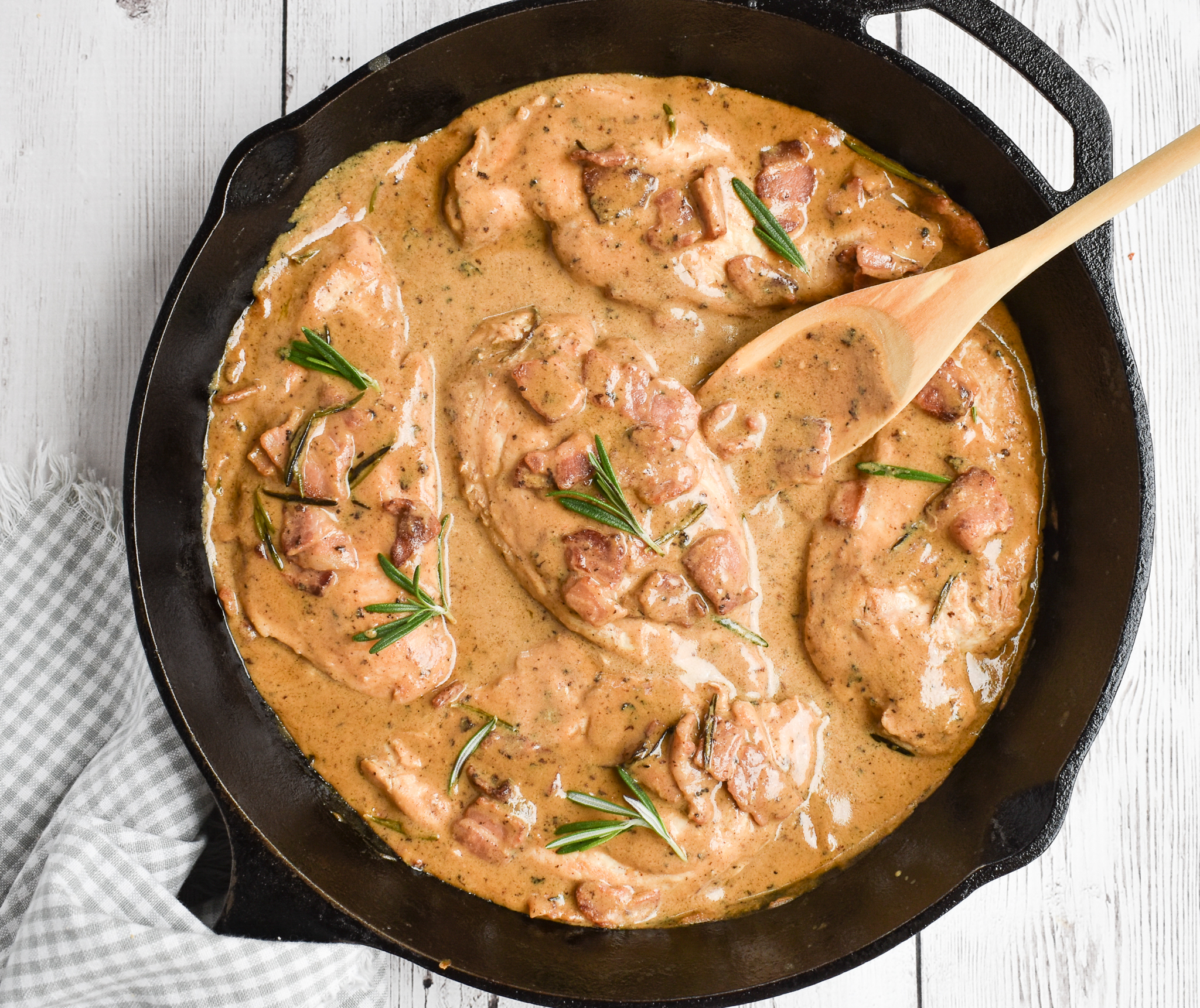 I am a huge fan of sweet and savory, and I'm not ashamed to admit that I dunk my pieces of bacon in maple syrup at brunch.  The notion of a Low-FODMAP Bacon Mustard Chicken meal with hints of maple syrup made my mouth water.
I prefer to make this low-FODMAP Bacon Maple and Mustard Chicken without added dairy, but if you want to finish the sauce with a little heavy cream, or a splash of white wine, then go ahead.  Those additions are also lovely for a fancier meal.
Serve this delicious low-FODMAP Bacon, Maple and Mustard Chicken with low-FODMAP, gluten free pasta (see my low-FODMAP grocery shopping blog for tips on these), low-FODMAP Creamy Thyme Mashed Potatoes, low-FODMAP Glazed Carrots, or low-FODMAP Sheet Pan Broccoli Rice & Cheese Casserole.  It is amazing.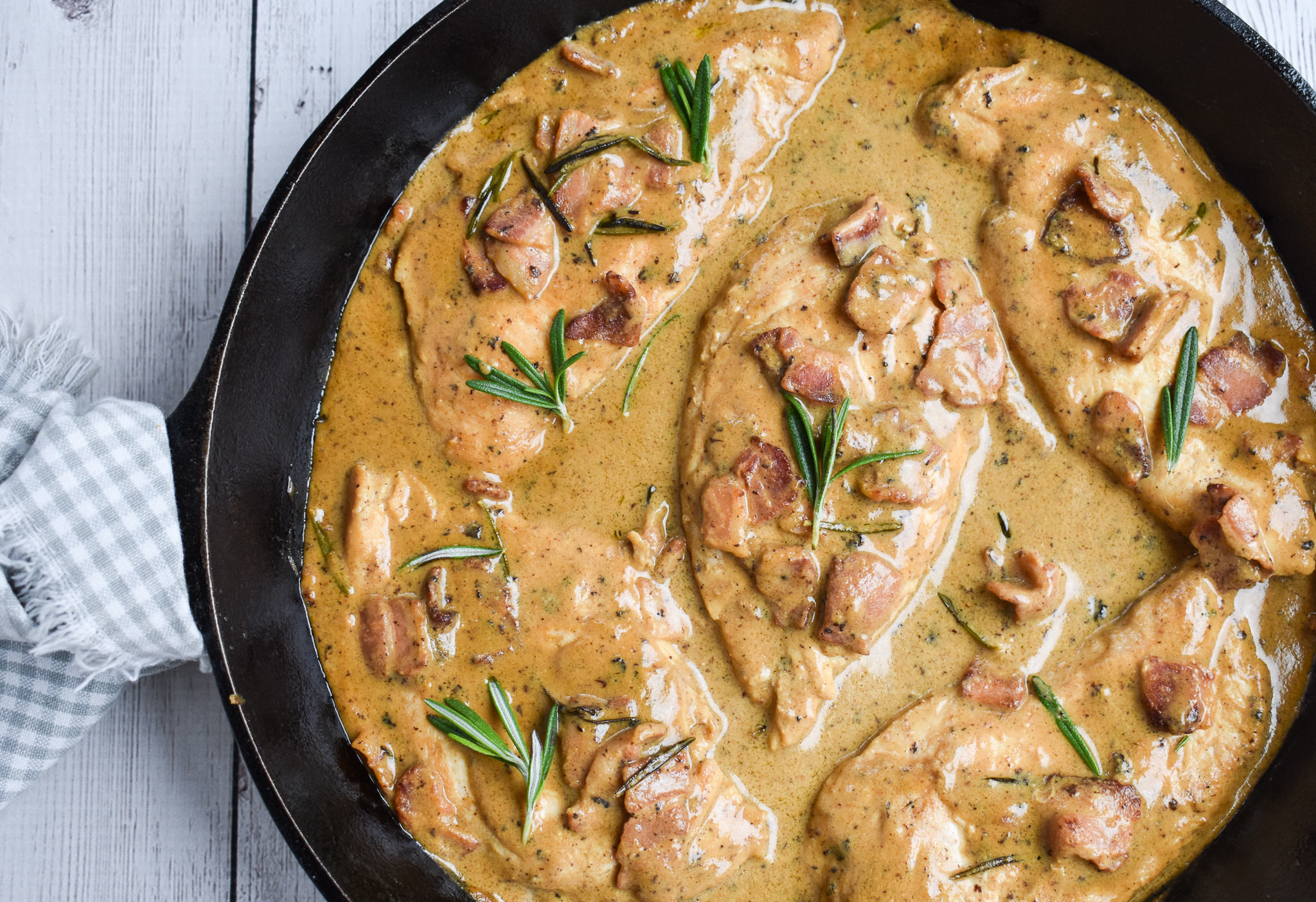 You may also love:
Or check out over 350 more low-FODMAP Recipes on the blog. IBS-friendly!
Be healthy and happy,
Rachel Pauls, MD
---
One-Skillet Low-FODMAP Bacon, Maple and Mustard Chicken; Gluten-free, Dairy-free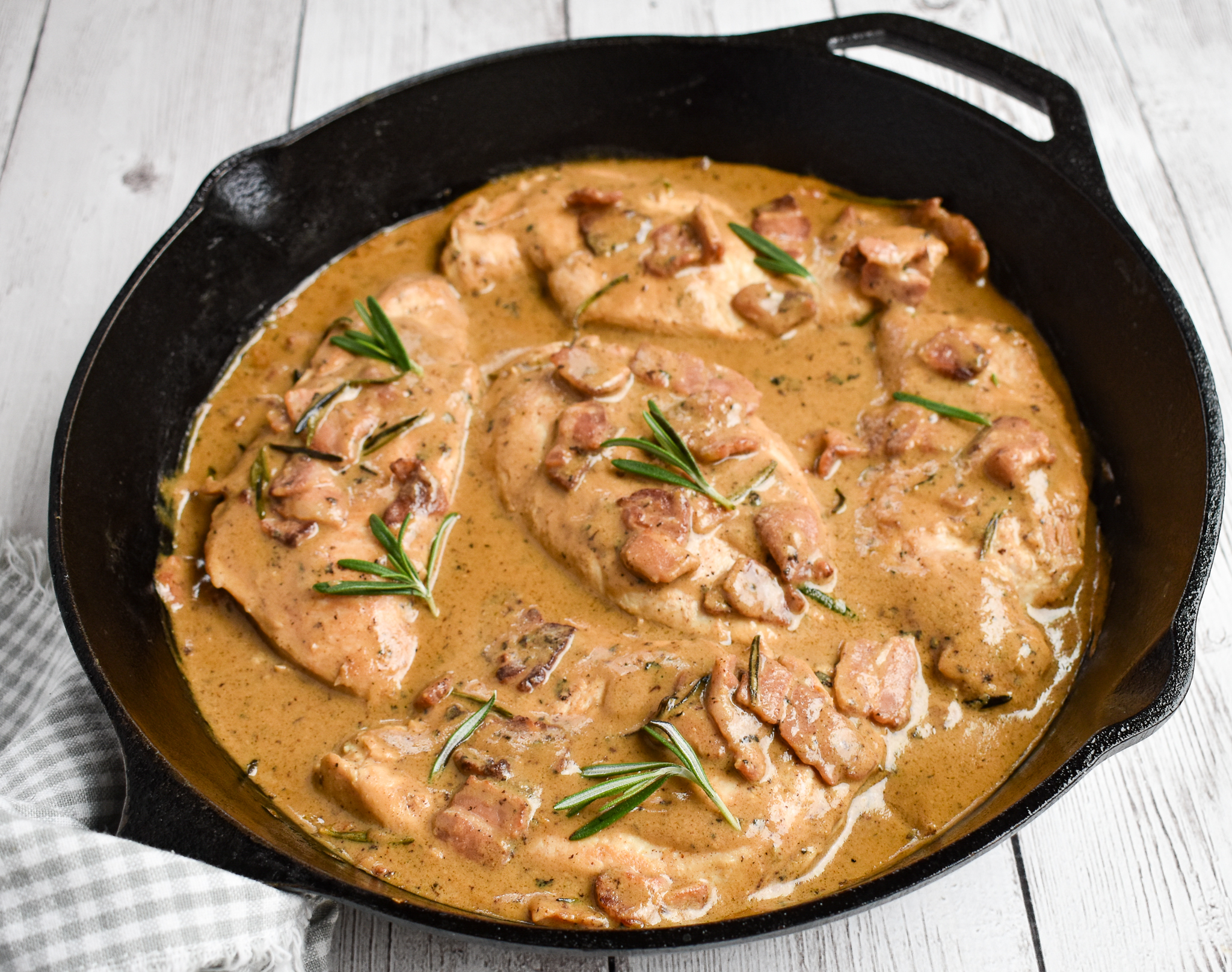 Although this recipe has not been tested, a single serving should be low-FODMAP based on the ingredients
Serves 8
Prep time: 5 mins
Cook time: 20-25 mins
Total time: 30 mins
Ingredients
1 & 1/2 cups low-FODMAP chicken broth/stock (try my low-FODMAP Happy Soup for an easy option)
2/3 cup Dijon mustard
1/4 teaspoon paprika
1/8 teaspoon black pepper
8 strips bacon uncooked, chopped

I suggest low-sodium bacon as there is a lot of salt flavor with the chicken stock already

2 pounds (32 ounces) boneless, skinless chicken breasts, of relatively similar thickness

If possible try to use eight 4 ounce breasts

1 tablespoon onion-infused olive oil (infused oils have all the flavor without the FODMAPS.  For tips on shopping for these oils, see my low-FODMAP Recipe swap blog)
3 sprigs fresh rosemary, plus additional for garnish
4 tablespoons pure maple syrup
Directions
In a small bowl or large cup, combine the 1 & 1/2 cups low-FODMAP chicken broth, mustard, paprika, and pepper.  Set aside
In a large skillet (I prefer cast iron), cook chopped bacon over medium-high heat just until it starts to brown (about 3 minutes)
Remove to a plate, leaving the bacon fat in the skillet
To the same skillet, add chicken breasts and brown well on both sides.  You don't need to cook them thoroughly at this point (About 2 minutes each side)
Remove to the same plate, with bacon to stay warm
Add 1 tablespoon infused olive oil to the hot skillet (there will still be bacon grease on it too, that is fine), adjusting heat to medium depending on your stovetop
Add the chicken broth mixture and stir to combine
Bring to boil, scraping the bottom of the pan as needed (all the lovely carmelized bacon bits will be on the bottom, this is why cast iron is such a good choice for this meal)
Add the cooked bacon and mix well
Replace the chicken breasts and add the rosemary sprigs.   Reduce the heat to medium-low and cook for about 10-15 minutes, turning chicken once, until chicken breast is fully cooked and no longer pink in the center (internal temperature of 165 F)

You may need more or less time, depending on the thickness of your chicken.  Do not overcook it, the breasts should still be very juicy and tender if done right

Remove the chicken to a covered dish to keep warm, leaving the bacon in the skillet
Finish the sauce by allowing to boil, stirring frequently, until reduced by half (about 5-7 minutes)
Remove large rosemary pieces if possible, and stir in the maple syrup
Taste and add salt and pepper as desired
Serve chicken with sauce spooned over top, garnished with additional fresh rosemary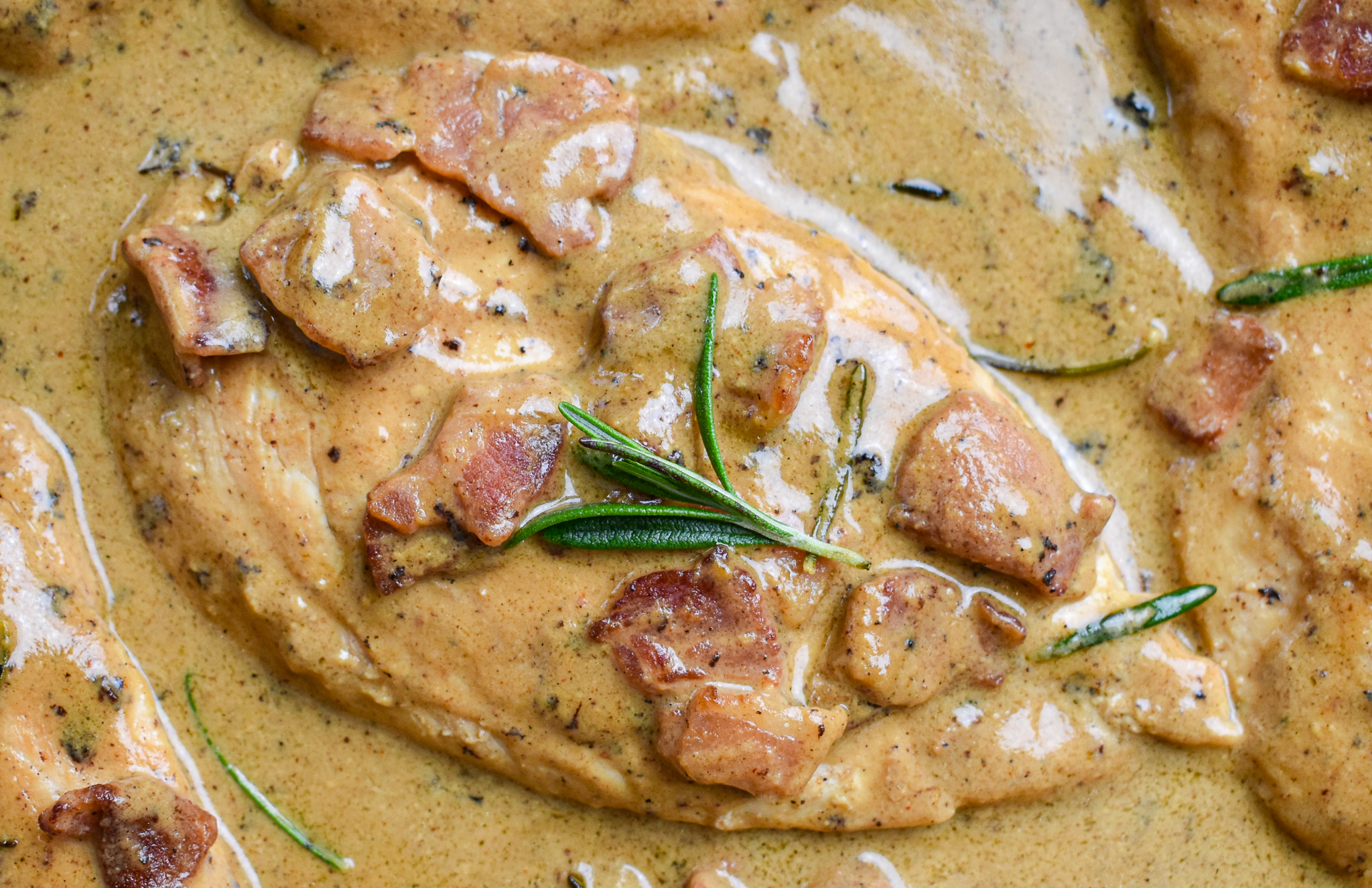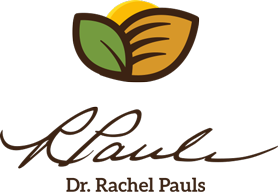 Printer Friendly Version
Comments Rating
( reviews)