Old-Fashioned 30-Minute Low-FODMAP Beef Stroganoff; Gluten-free
January 6, 2023
Printer Friendly Version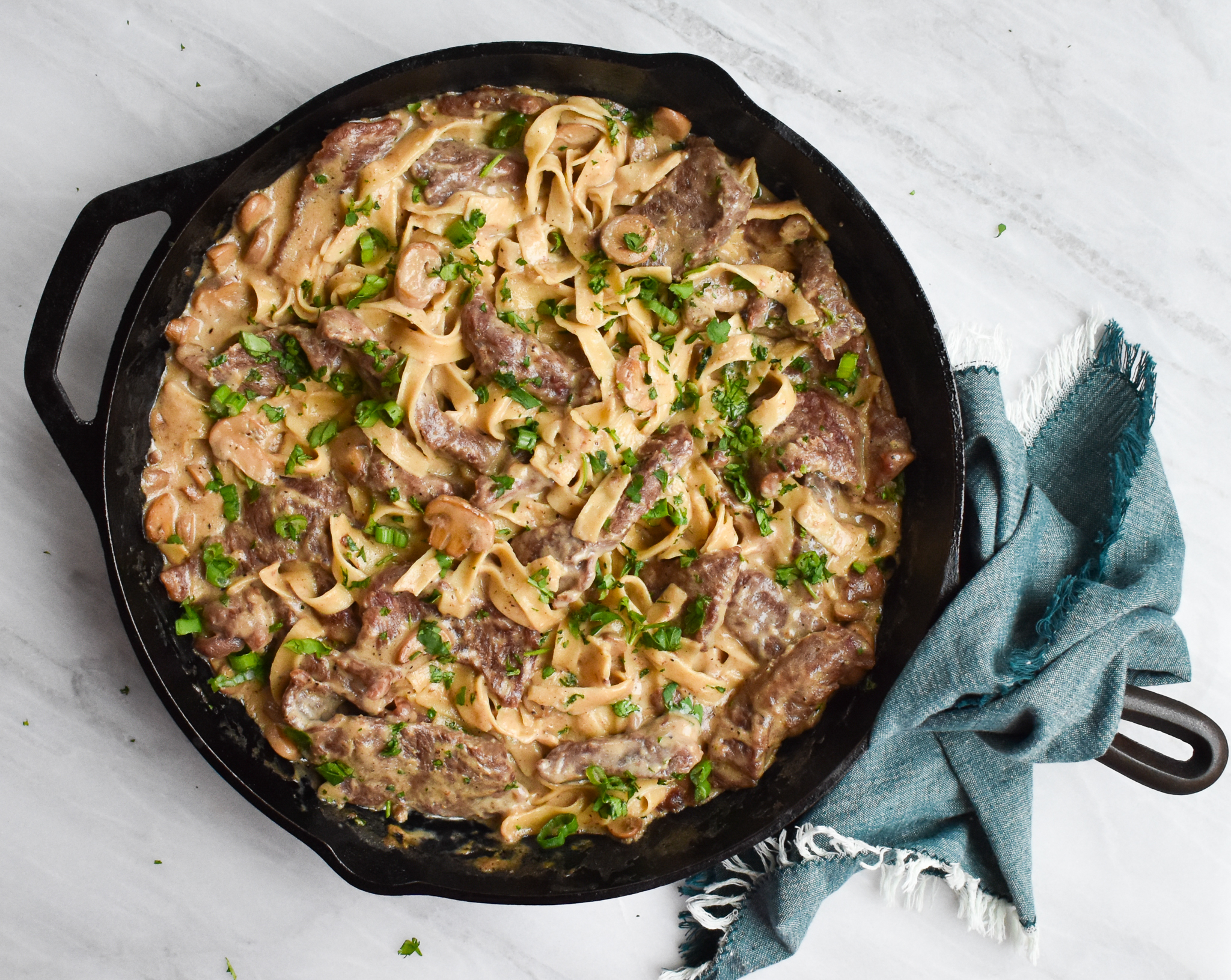 Hearty, tasty and super satisfying.  This is a classic, old-fashioned recipe for low-FODMAP Beef Stroganoff .
Picture this…juicy slices of beef, enrobed in a rich, creamy and savory mushroom gravy.   All on top of chewy, tender pasta.
A low-FODMAP supper that everyone will be excited to eat.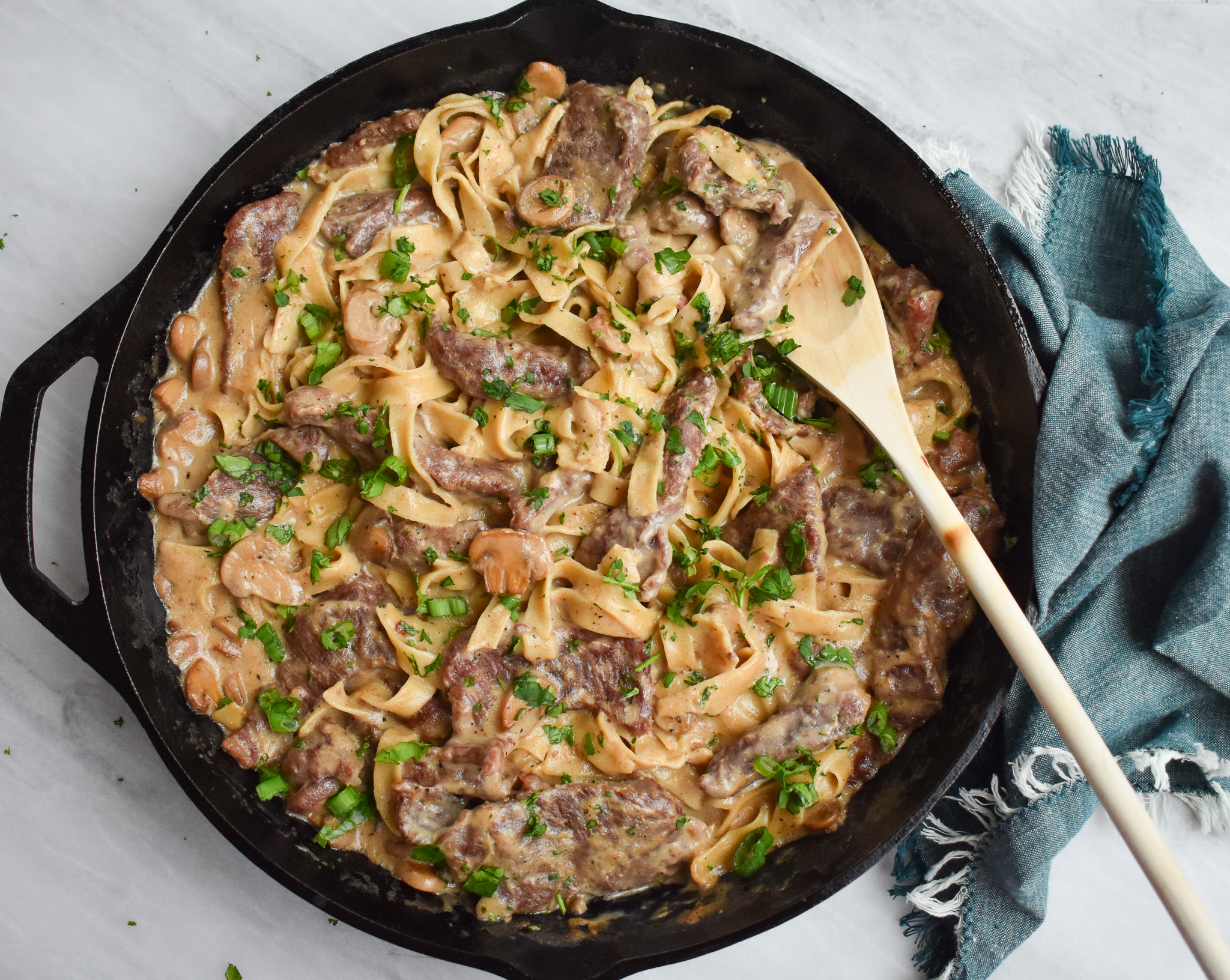 If you are looking for a recipe that will fill up your hungry teenagers but still be tummy friendly for IBS, then you have found it!  They will have seconds for sure, and you will have this on the table in less than an hour.
If you want more low-FODMAP beef recipes, see my full collection here.
You may also love:
Or check out over 450 more low-FODMAP recipes on the blog. IBS-friendly!
Be healthy and happy,
Rachel Pauls, MD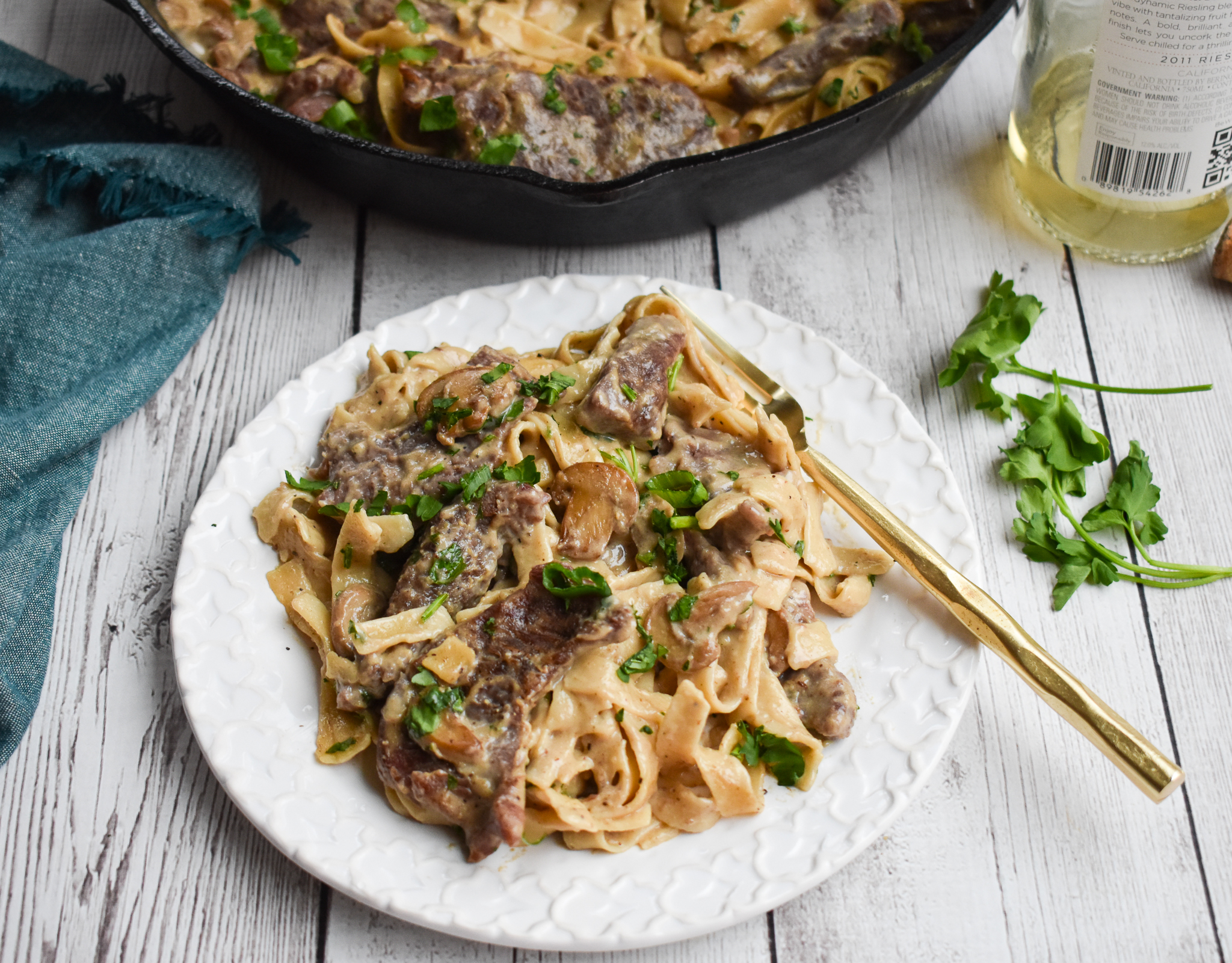 P.S.  Check out my new COOKBOOK for over 100 low-FODMAP recipes, low-FODMAP Meal Plan, FODMAP Tips and everything you need!!  It's the BEST!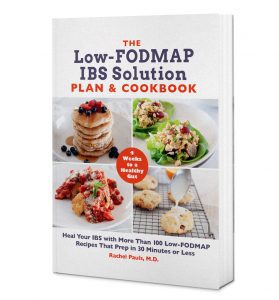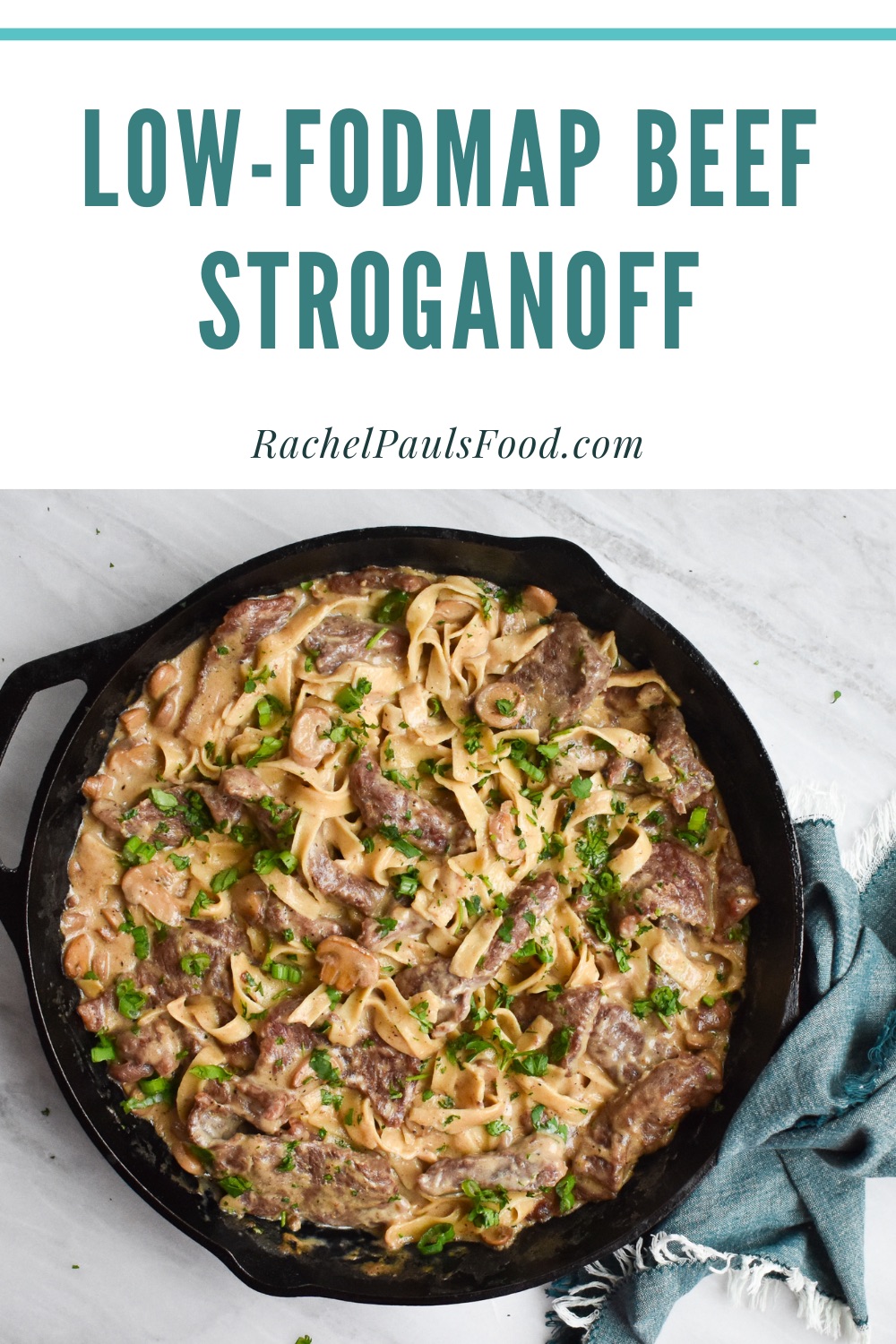 Although this recipe has not been lab tested, a single serving should be low-FODMAP based on the ingredients (using available FODMAP data at time of posting)
Serves: 4-6
Prep time: 10 mins
Cook time: 20 mins
Total time: 30 mins
Equipment: 11 or 12 inch cast iron skillet or ceramic deep saucepan, large saucepan/pot for boiling pasta
Ingredients
9 ounces (225g) low-FODMAP, gluten-free pasta (the best to use are wide egg noodles if you can find them)
24 ounces beef top sirloin steak or tenderloin, sliced into thin strips

It is easiest to slice it if you freeze it for about half an hour first! Then cut against the grain for maximal tenderness
If you have a less tender slice of beef, then you can use my tip on velveting the beef first, to make it juicy and delicious

1 tablespoon garlic infused oil; divided into 3 teaspoons
1 tablespoon onion or shallot infused oil; divided into 3 teaspoons

See above regarding infused oils

1/4 cup low-FODMAP, gluten-free rice flour or LF all purpose flour
5 ounces (127 g) sliced, canned mushrooms, rinsed and drained then pressed dry

Canned mushrooms are lower in FODMAPs than regular mushrooms as the canning process 'leaches' out the FODMAPS

3 tablespoons unsalted butter
2 cups low-FODMAP beef broth/stock, plus extra if needed for consistency
1 tablespoon Worcestershire sauce, gluten-free if necessary

2 tablespoons is one low-FODMAP serving

3 tablespoons dry white wine
1/2 teaspoon each of salt and pepper, plus to taste
1/3 cup lactose-free full fat sour cream
1 tablespoon Dijon mustard

1 tablespoon is one low-FODMAP serving

Garnish (optional)

Chopped fresh parsley
Chives or green scallion tips (optional)
Directions
If you haven't already, slice your beef against the grain into thin slices
Lightly toss with your low-FODMAP, GF rice flour to coat, then set aside for later
Boil your choice of low-FODMAP GF pasta in a pot with salted water according to package instructions (about 8 minutes). Do not overcook, al-dente is best
Drain and toss your pasta with 1 teaspoon each of the infused oils
While pasta is cooking, heat 1 teaspoon of each infused oil in a large skillet (I used 11 inch cast iron), over medium high heat
Place mushrooms in skillet and saute until lightly browned, a minute or two. Set aside in a bowl or plate for later
Melt butter in skillet and then brown your steak pieces on each side, about 4-5 minutes. Do not overcook.  You may need to work in batches
Toss your mushrooms back into skillet, then add the low-FODMAP beef broth, Worcestershire sauce, wine, and salt/pepper. Simmer until thickened, stirring occasionally, about 2 to 3 minutes
Stir in lactose-free sour cream and Dijon until incorporated. Add remaining teaspoon of each infused oil.  Taste sauce and add salt and pepper as desired (I added another 1/2 teaspoon of each)
Add cooked pasta to the sauce and stir to warm and coat. Serve immediately garnished with scallion tips or chives and fresh parsley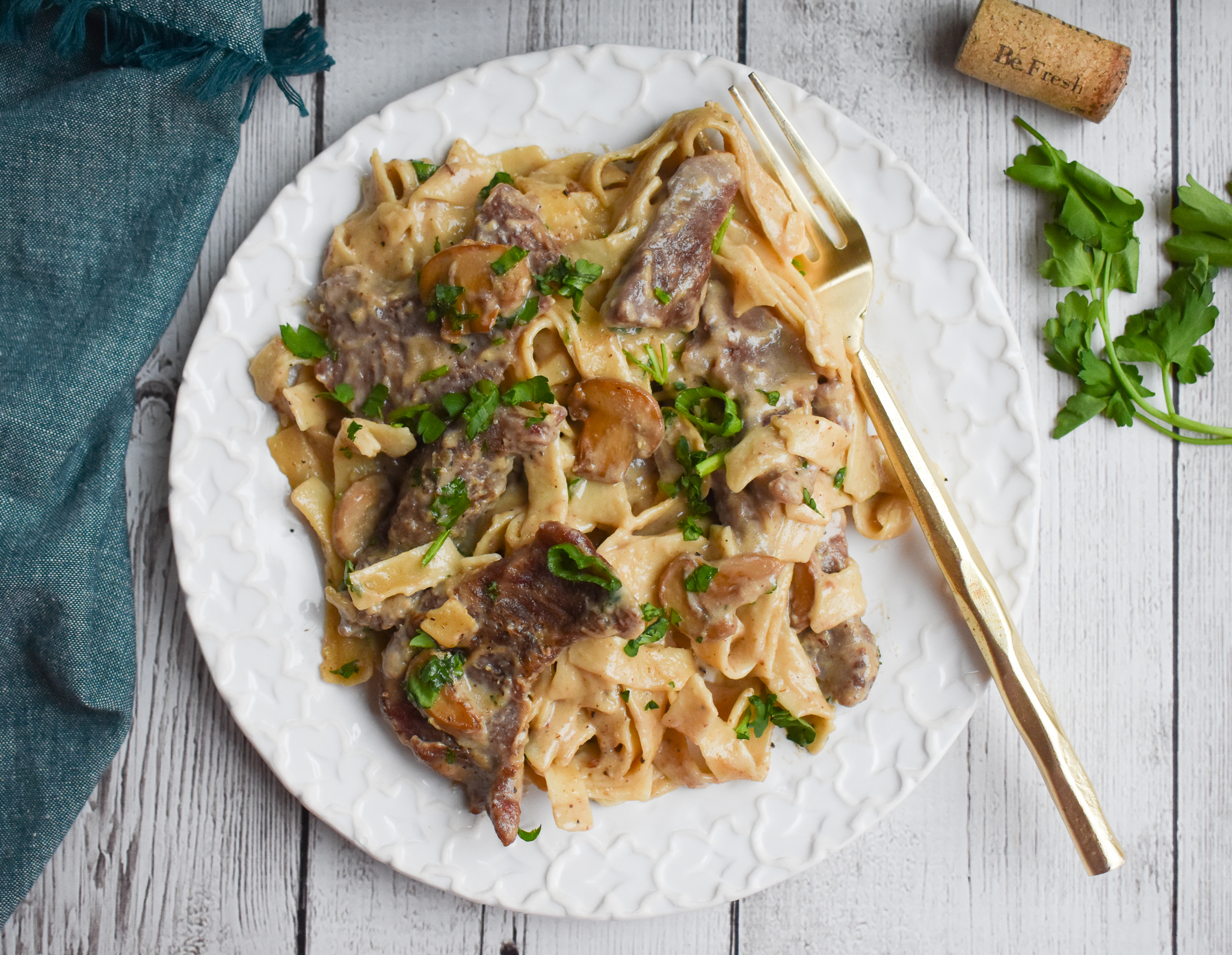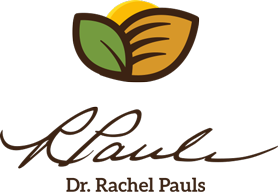 Printer Friendly Version
Comments Rating
( review)