My List of the Best Top 10 Low-FODMAP Food & Snacks by Dr Rachel Pauls
April 10, 2020
Printer Friendly Version
I have been following a modified low-FODMAP diet for over 6 years, and it completely alleviates my IBS.  I am so ecstatic about a low-FODMAP diet, that it inspired my blog, recipes and all my low-FODMAP food products.
On my modified low-FODMAP diet, there are certain things that I really enjoy. Here is my list of the best low-FODMAP food and snacks I absolutely could not live without.  These are MY personal top 10 low-FODMAP food choices to keep my tummy happy and my energy up.
While I often gravitate to similar food choices week after week,  the one area I try to mix it up is with my fruits, vegetables and grains.  That is the way I keep my gut aligned and my intestinal microbiome 'diverse'. Luckily, there are MANY options that are safe for a low-FODMAP diet.  See my low-FODMAP Happy Gut Guide for more details!
Check out my list of the Top 10 BEST Low-FODMAP Food and Snacks below, and for other ideas, peruse over 400 more low-FODMAP recipes on my blog or read my low-FODMAP 5 Day Meal Plan.  IBS-friendly.
Be healthy and happy,
Rachel Pauls, MD
P.S.  Check out my new COOKBOOK for over 100 low-FODMAP recipes, low-FODMAP Meal Plan, FODMAP Tips and everything you need!!  It's the BEST!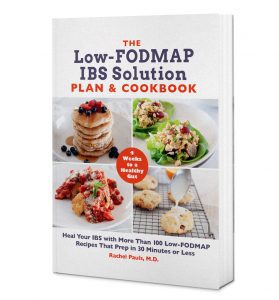 ---
The Best Top 10 List of Low-FODMAP Food (& Snacks) According to Dr Rachel Pauls
Protein: Chicken and Turkey
Happy Spices

Spice is the best part of eating.  My low-FODMAP Happy Spices make it simple to enjoy your favorite flavors without onion or garlic. Try my low-FODMAP Chili and you will see for yourself. Delish.

Carrots

While I love a lot of veggies, carrots are simple to have on hand and have NO FODMAPS. Winner!
For a sweeter twist, I opt for my low-FODMAP Glazed Carrots.

Happy Bars and Happy Jerky

No surprise, I live on my low-FODMAP Energy Bars and Beef Jerky.  They are tasty, healthy and filling.  My favorites are Peanut Chocolate Euphoria, Peanut Maple Pleasure, Banana Chocolate Glee, Chocolate Chip Delight and Tangy Jerky.
NO ONION AND NO GARLIC in the jerky!  You heard right!!

Strawberries

A beautiful, nutritious and superb fruit, that is also low-FODMAP in 150g servings.  I enjoy strawberries in my low-FODMAP Strawberry Smoothies every weekend!

Grains: Oats, Rice, Quinoa
Happy Soup

Want a simple way to enjoy Vegan, Beef and Chicken broth/stock/soup?  My low-FODMAP soup bases are the answer.

Canned and Fresh Fish
Potatoes
Happy Baking and Dark Chocolate (chips, squares or bars)
I could go on and on, but these above are really my Top 10 BEST Low-FODMAP Foods for meals, snacks, or any time of day.  What are your favorites? 🙂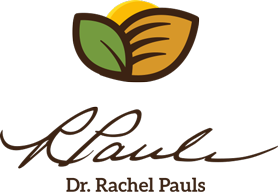 Printer Friendly Version
Comments Rating
( reviews)