Moist and Delicious Low-FODMAP Carrot Layer Cake; Gluten-free, Dairy-free
October 29, 2017
Printer Friendly Version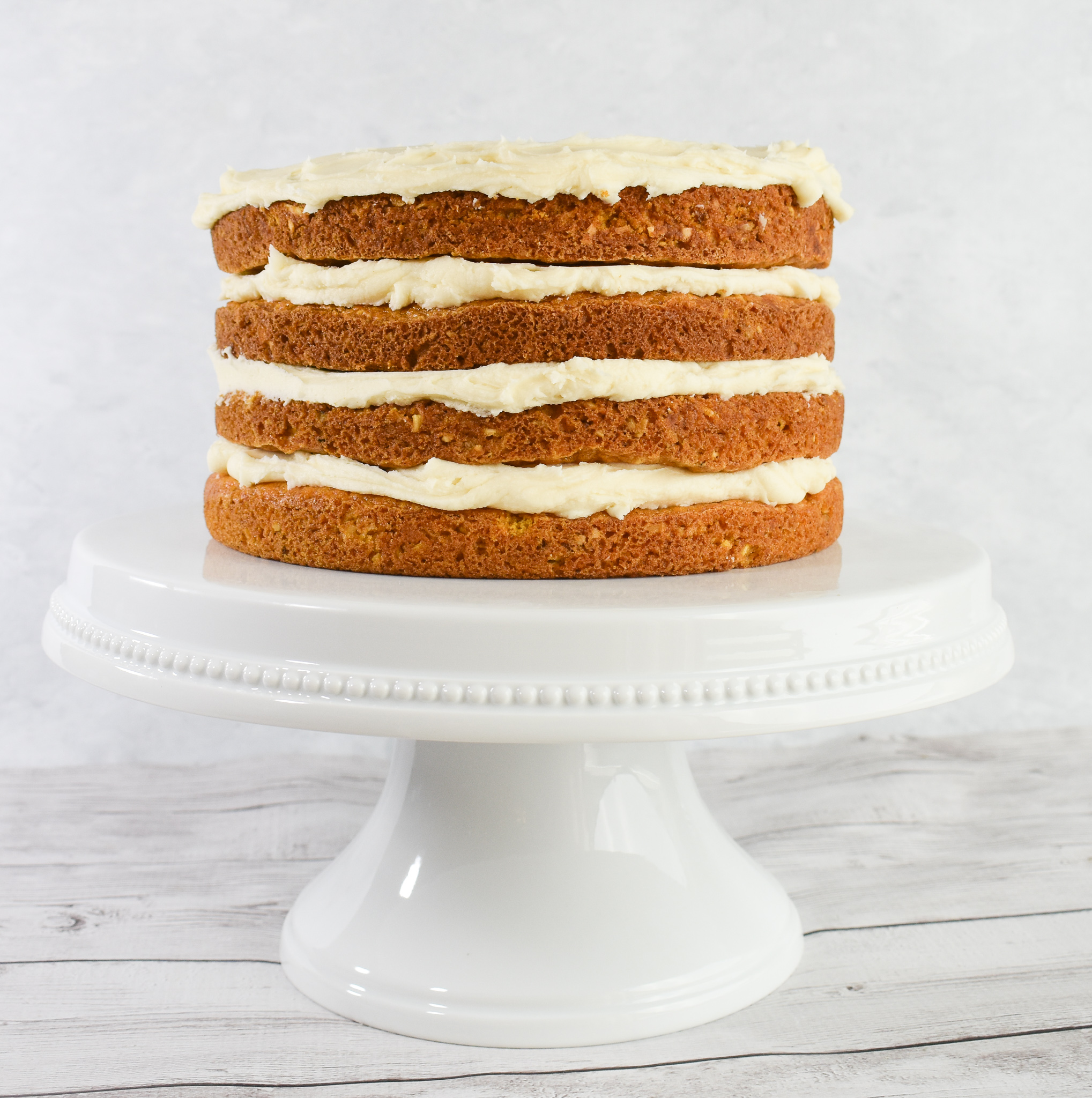 Did you know that carrot cake is consistently ranked in the top 10 most popular desserts in America?  I can see why…soft and moist cake layers with creamy frosting between.  The decadence of nuts or other stir-ins provide texture and flavor, and the gorgeous colors of carrot enhance the cake.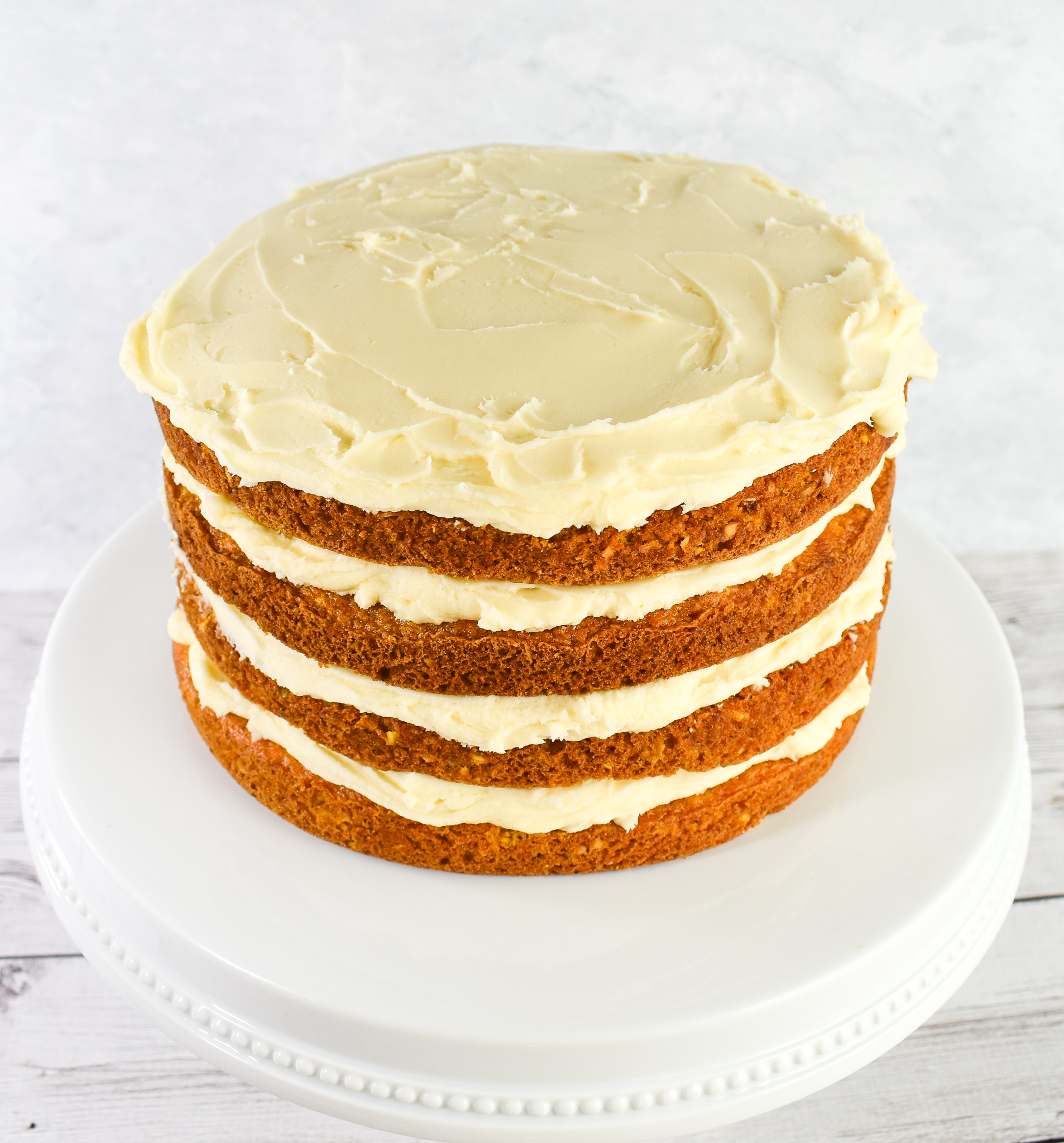 You and I both know that having an amazing low-FODMAP Carrot Cake recipe is essential for any recipe book. Look no further…this moist, delicious low-FODMAP carrot cake will be one of your favorite low-FODMAP recipes.  The best part is, it is a cinch to make, and will result in one of the moistest cakes you have ever had.
For this low-FODMAP carrot cake I used walnuts as well as seeds and coconut for added texture.  Feel free to personalize this to your own tastes and add other low-FODMAP stir-ins like raisins or chocolate chips.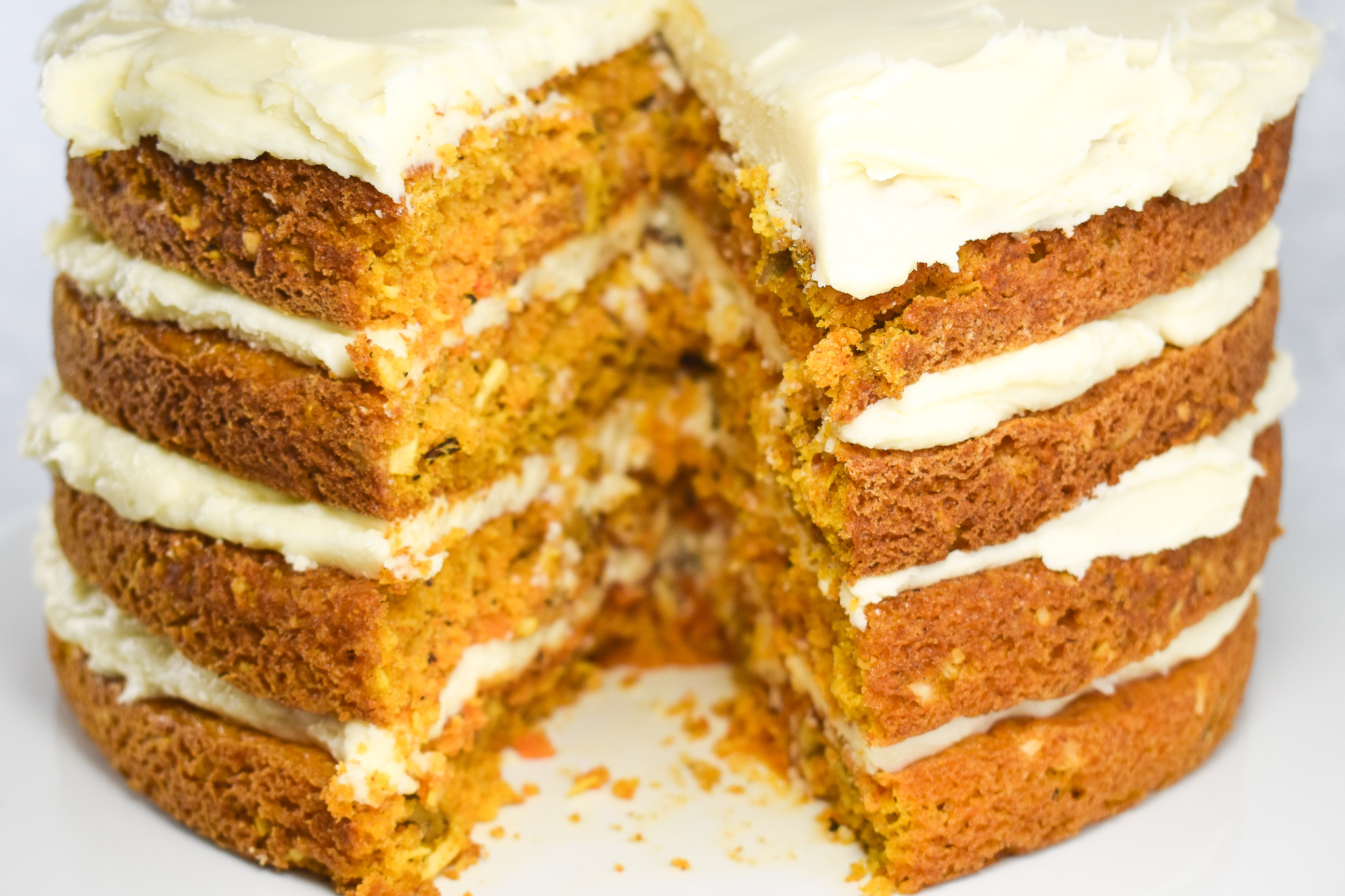 You can frost with low-FODMAP cream cheese frosting (like me), or make it completely dairy-free with my low-FODMAP vanilla 'butter'cream or my low-FODMAP opera cream/ermine/stove-top frosting.
This low-FODMAP carrot cake is rich, nutty, moist and provides the nutritional power of vegetables in every low-FODMAP bite.
You may also want to try:
Or check out over 300 more low-FODMAP recipes on the blog!
Be healthy and happy,
Rachel Pauls, MD
---
Moist and Delicious Low-FODMAP Carrot Cake; Gluten-free, Dairy-free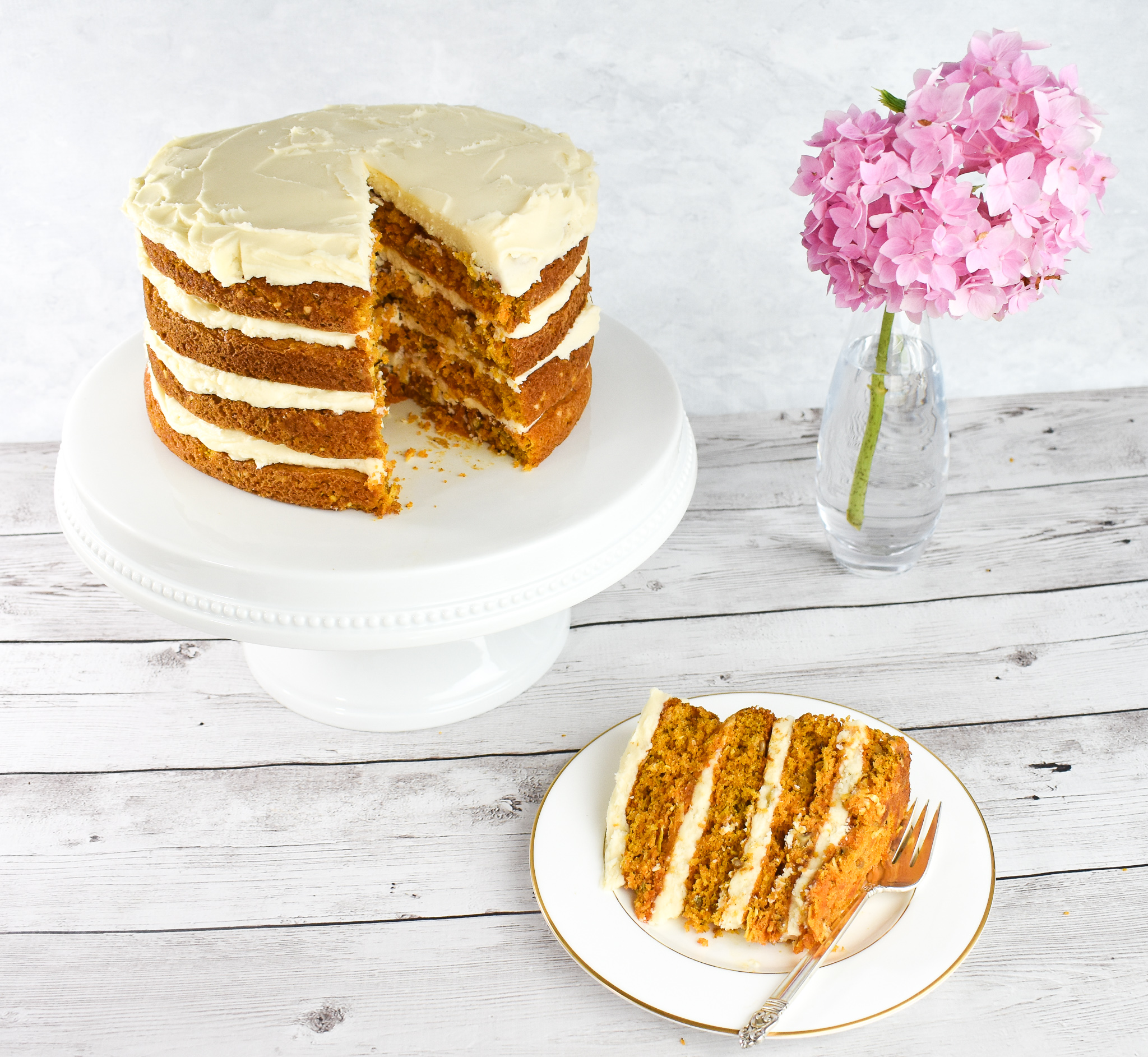 Although this recipe has not been tested, a single serving should be low-FODMAP based on the ingredients
Bake 350F
Prep time: 20 min
Bake time: 40 min
Serves 24
Equipment: 2 round cake pans (can also use 4 cake pans for 4 layer cake)
Ingredients
3 cups Authentic Foods GF Classic Blend (this is my favorite baking flour- see my bake-off blog for the reason!)
1 & 1/2 tsp xanthan gum
1 TB baking powder
2 tsp baking soda
1 tsp salt
2 tsp cinnamon
½ tsp nutmeg
2 cups sugar
1 & 1/2 cups canola oil
4 large eggs
2 tsp vanilla
2 cups grated, peeled carrots
About 2 cups of desired stir-ins:

I like up to 1 & 1/2 cup (150 g) chopped walnuts

I prefer to toast these first, to enhance the flavor (only takes about 5 minutes at 350 F)

1/4 cup (32 g) sunflower seeds, or pumpkin seeds
1/4 cup shredded unsweetened coconut
Can also use ½ cup raisins, or chocolate chips

Vegetable shortening, for greasing
Frosting: low-FODMAP cream cheese frosting, low-FODMAP vegan vanilla buttercream frosting or low-FODMAP Opera Cream/Ermine/Stove-top frosting.
Optional garnish: chopped toasted walnuts, or low-FODMAP sweet nuts/seeds
Directions
Preheat oven to 350F
Line 2 round cake pans with parchment and grease with vegetable shortening
Place flour, xanthan gum, baking soda, baking powder, salt, nutmeg, cinnamon in medium bowl and combine
In another bowl beat sugar, oil and eggs until smooth, about 1 min
Add vanilla and mix well
Add flour mixture into the mixing bowl and beat at medium for 1 minute
Fold in carrots, and other stir-ins (walnuts, seeds, etc)
Pour into 2 pans and bake for 40 minutes or until tester is clean (I advise beginning to check cakes 5 minutes prior to done time as ovens vary)

For a 4 layer cake you can either chill and slice the 2 halves into half or if you have 4 round cake layer pans then evenly distribute among the 4 pans and bake at the same temperature for about 20 minutes

Cool for 5 mins in pans, then invert and remove from pan
Cool completely on rack, can also freeze if desired (makes cutting and leveling easier)
Prior to decorating trim the tops if needed to level cakes, frost with desired frosting and garnish as desired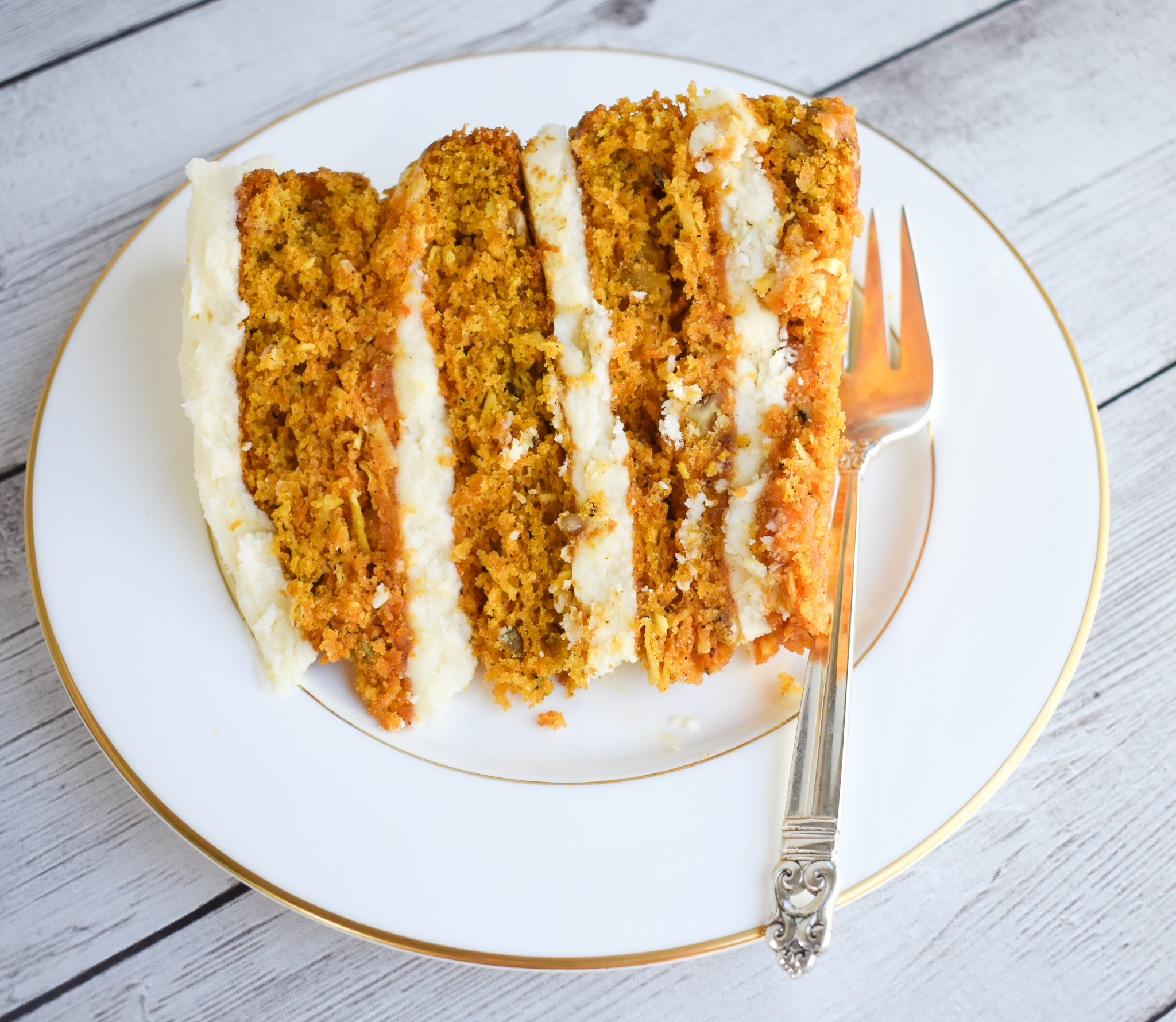 Absolutely moist and delicious low-FODMAP Carrot Cake…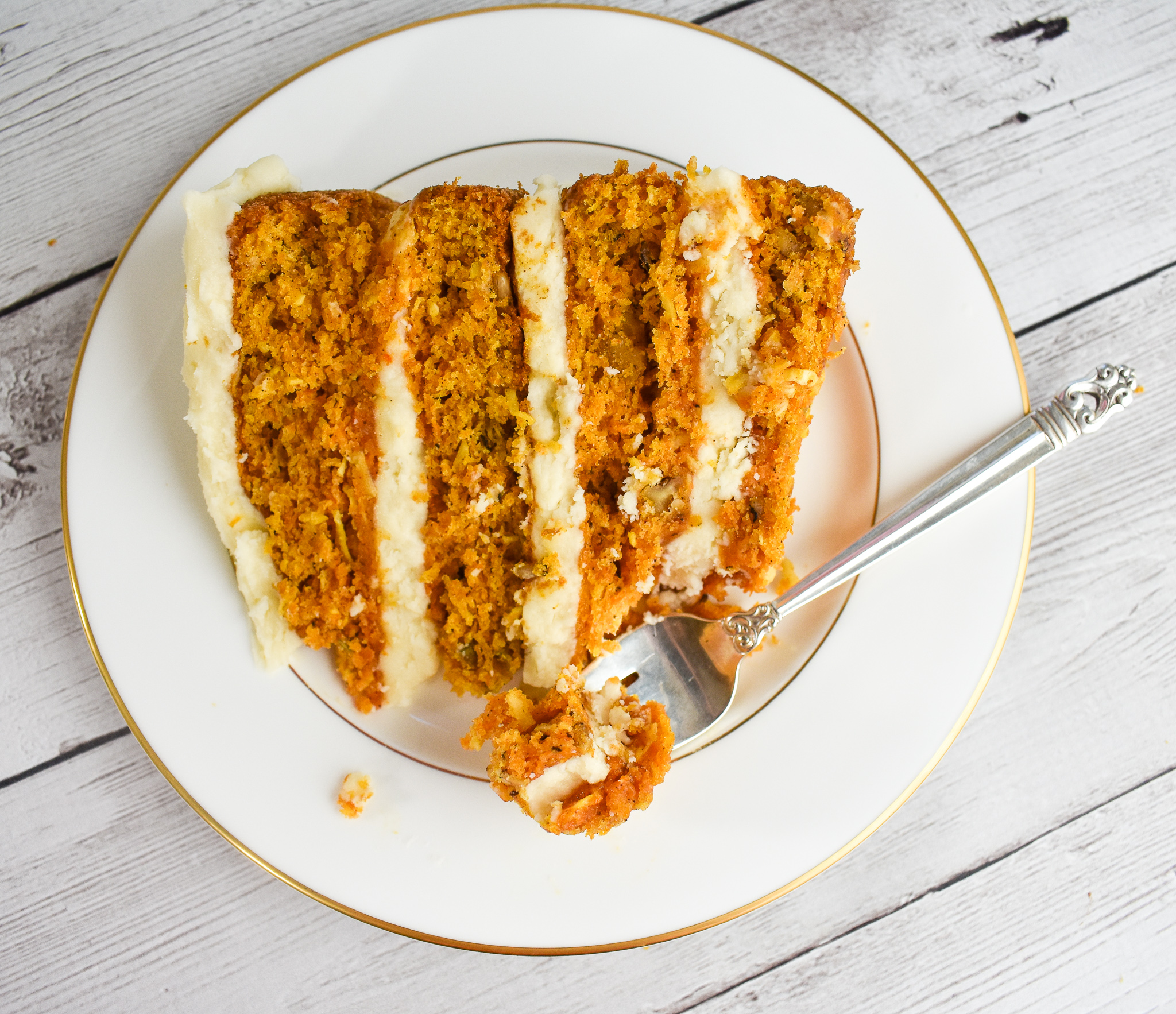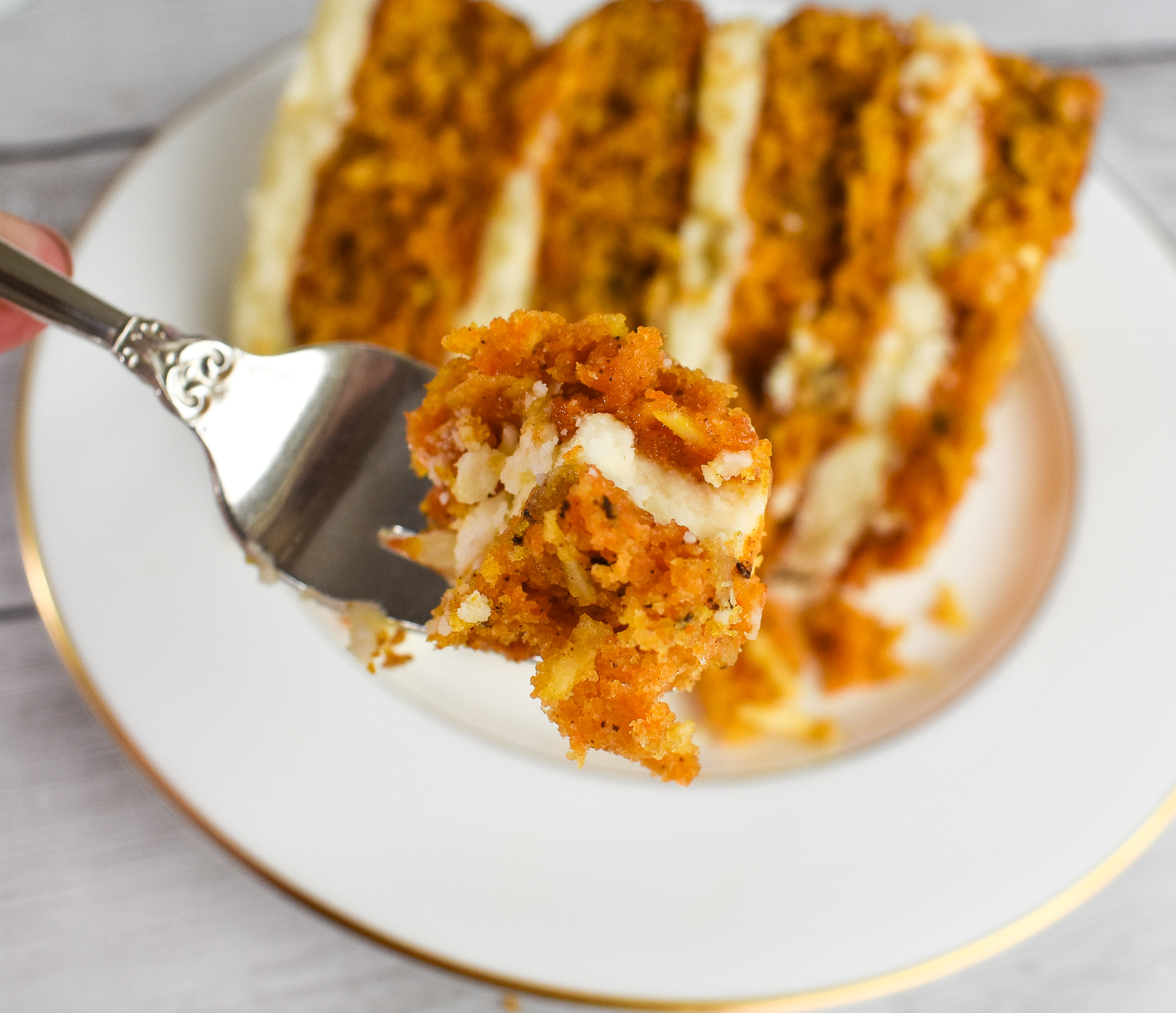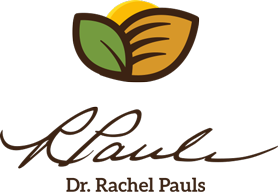 Printer Friendly Version
Comments Rating
( reviews)