Low-FODMAP Turkey Stuffed Bell Peppers; Gluten-free
October 21, 2021
Printer Friendly Version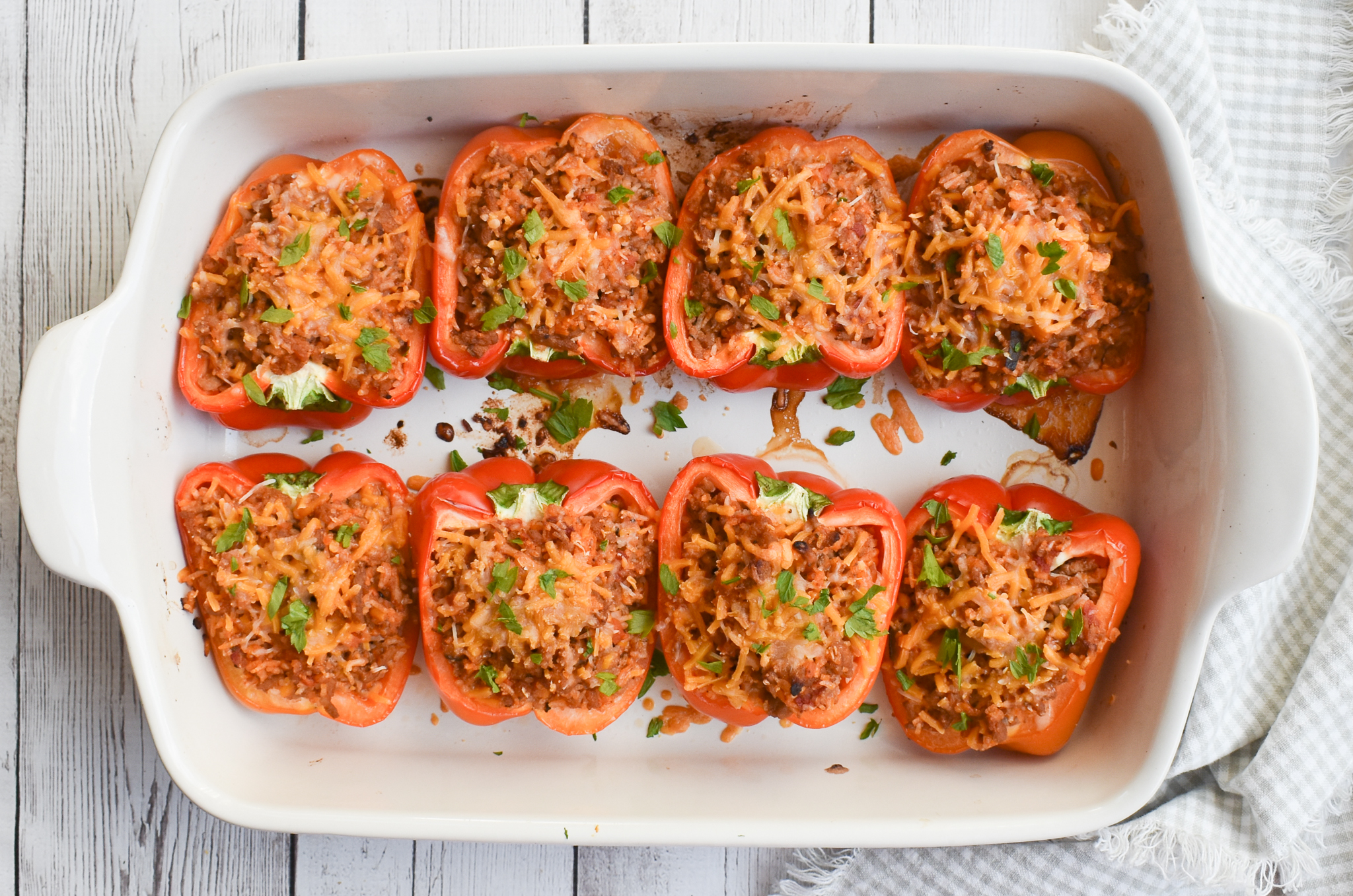 Simple.  Healthy.  Easy. Delicious.
Low-FODMAP Turkey Stuffed Bell Peppers check all the boxes!
Low-FODMAP Turkey Stuffed Peppers come together with simple ingredients you already have in your fridge or freezer (low-FODMAP marinara, check!  rice, check! cheese, check!), then bake to perfection in just 40 minutes.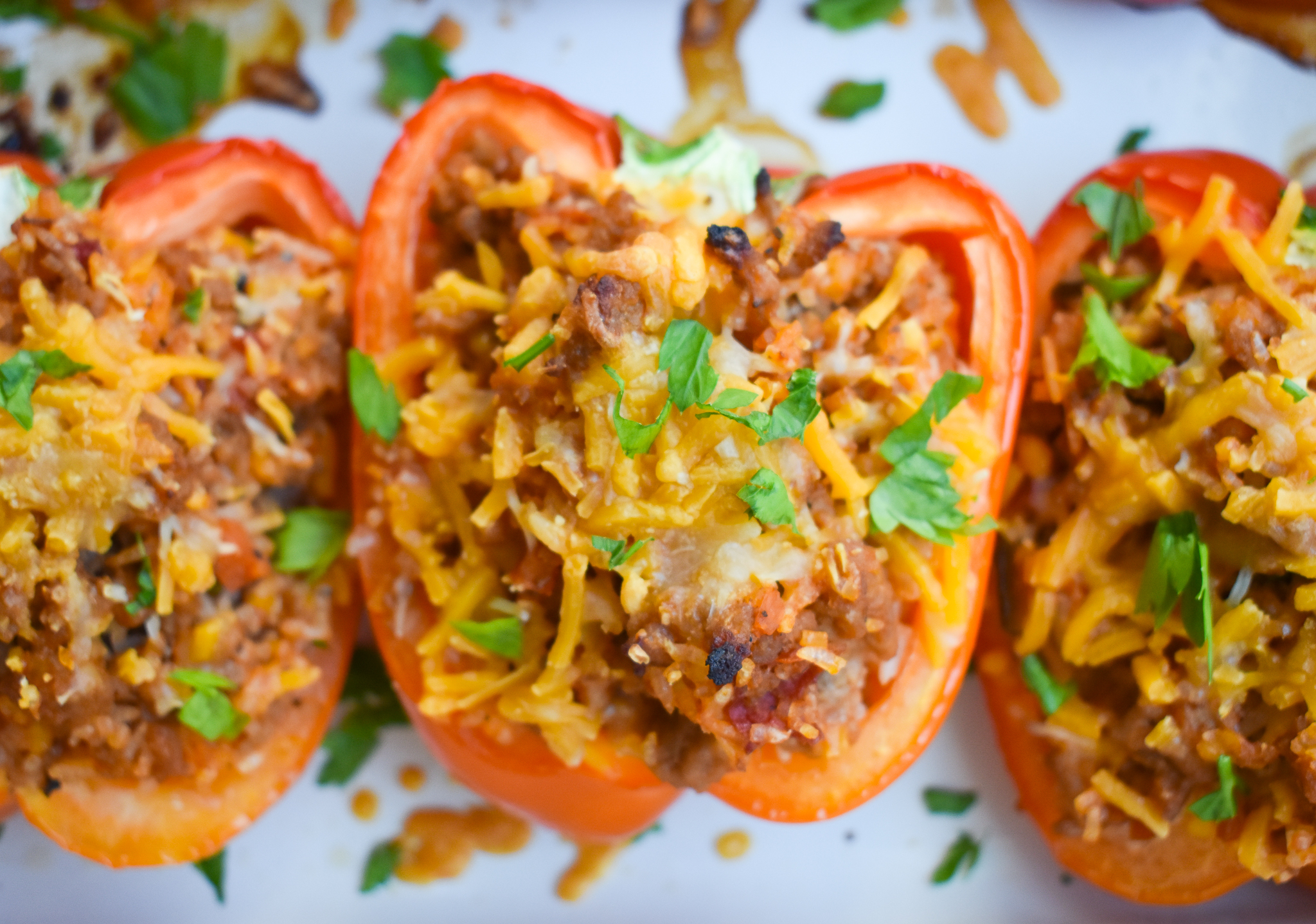 Turkey Stuffed Peppers are also low in calories and carbohydrates and a straightforward weeknight meal.  Get them in the oven while you are making your lunches for the next day…or folding laundry…or taking out the trash…or all of the above 😉
This low-FODMAP Turkey Stuffed Pepper recipe can be modified for other types of meat, rice or even use quinoa!
FODMAP fact: Red and green bell peppers have different levels of FODMAPs.  For years, Monash had reported that red bell peppers had only trace FODMAPs and green bell peppers were higher.  This CHANGED to indicate the opposite on March 16, 2022.  If you have consumed red bell peppers without any issue, then please don't fret about this change.  However, note that green bell peppers may actually be a better choice for this recipe, rather than the images shown.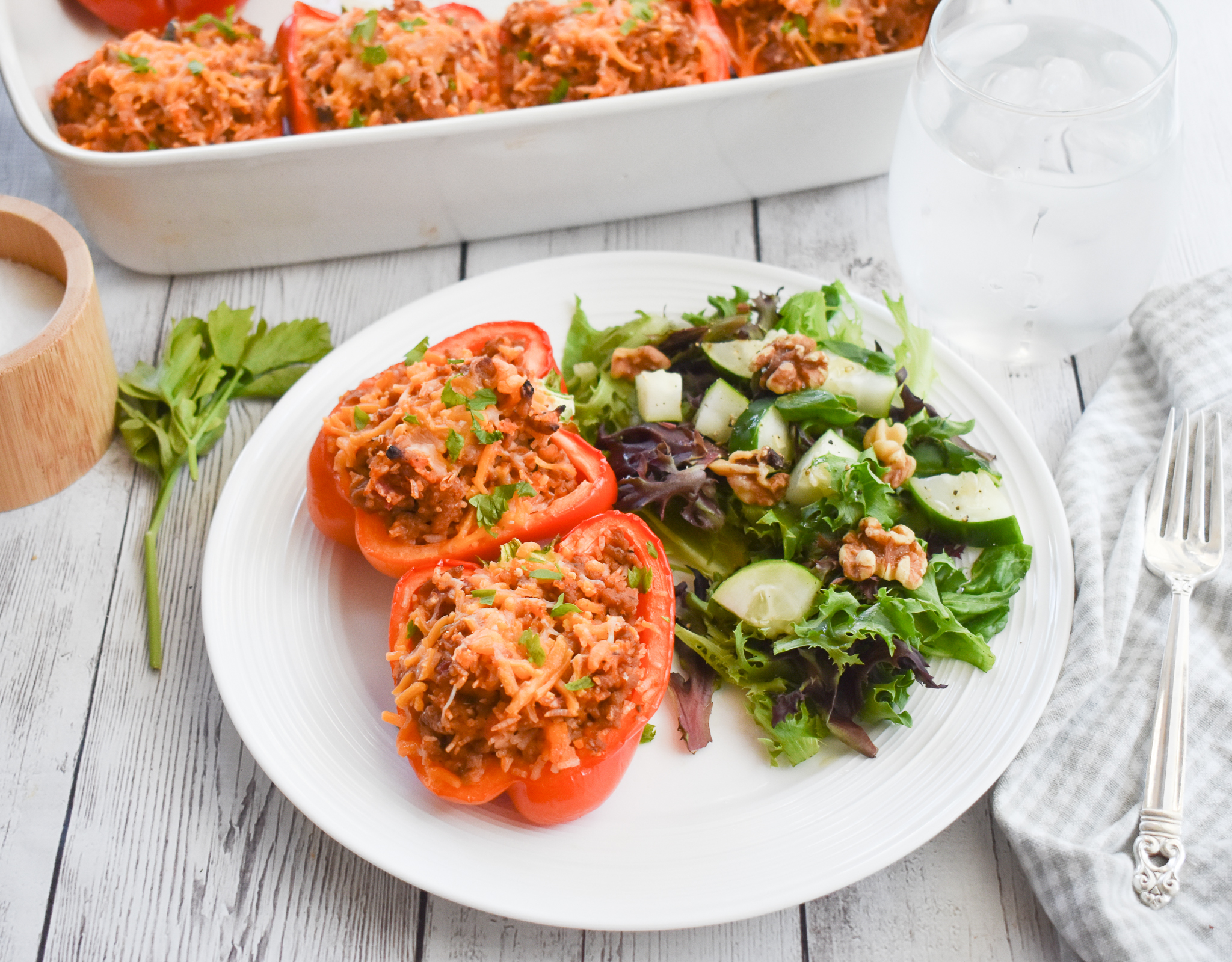 You may also love:
Or check out over 450 more low-FODMAP recipes on the blog!  IBS-friendly.
Be healthy and happy,
Rachel Pauls, MD
P.S.  Check out my new COOKBOOK for over 100 low-FODMAP recipes, low-FODMAP Meal Plan, FODMAP Tips and everything you need!!  It's the BEST!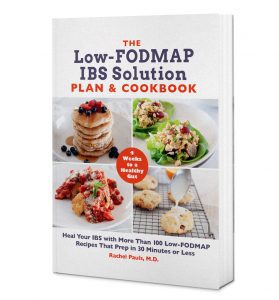 Although this recipe has not been tested, a single serving should be low-FODMAP based on the ingredients (using available FODMAP data at time of posting)  **NOTE: On March 16, 2022 the levels reported on Monash for red bell peppers changed drastically, THE IMAGES IN THIS POSTING DO NOT REFLECT THIS UPDATE.  See notes in the recipe to indicate the best selection for you.
Serves: 4
Prep time: 10 min
Cook + Bake time: 50 min (depending on the thickness of your peppers, the bake time may vary)
Total time: 1H
Bake: 375 F
Equipment: rimmed baking sheet or casserole dish
Ingredients
1 tablespoon garlic-infused oil

Infused oils are a safe way to add flavor of garlic to your meals without FODMAPs! Check out my low-FODMAP Top 11 Tips for the reason!

1 lb. (16 ounces) ground turkey, uncooked

You can also substitute ground beef

2 tablespoons scallion tips

The tips are free of FODMAPs, avoid the bulb of the scallion

1/2 teaspoon kosher salt, plus to taste
Black pepper, to taste
2 cups cooked Jasmine or Basmati rice, warm
10 ounces prepared low-FODMAP marinara sauce (or other low-FODMAP prepared spaghetti sauce)

I love my recipe, but you also can use one of the store brands that are low-FODMAP.  Prego's sensitive and Rao's sensitive are examples.  See my low-FODMAP Grocery Shopping blog for other tips
4 ounces is one low-FODMAP serving for most low-FODMAP marinara sauces
Depending on your marinara selection, the flavor will be different.  Feel free to modify to taste, or add additional spices as necessary!  (Try my low-FODMAP Italian Spice Blend)

1 & 1/2 cups shredded cheddar, mozzarella or pepper jack cheese; divided

Cheese is naturally low in lactose levels.  Low-FODMAP does NOT mean lactose-free!
Pepper jack contains small amount of jalapeños.  If you do not like spiced foods then use sharp cheddar cheese or mozzarella or a combination

I used a combination of white and sharp cheddar

4 bell peppers (each of mine weighed approx 250g prior to coring)

Red bell peppers were initially reported to contain only trace FODMAPs by Monash until March 16, 2022.  The current FODMAP serving is now 43g due to fructose.  Green bell peppers are low FODMAP per Monash up to 250g due to fructans; FODMAP Friendly lists a serving up to 750g as being acceptable. Yellow bell peppers have not been tested for FODMAP content by Monash, but FODMAP Friendly states only 24g for a low-FODMAP serving

**I now suggest using green bell peppers for this recipe instead of red bell peppers if you intend on consuming the entire shell

You can either core the peppers and hollow them out to stand upright ('traditional' style), or slice horizontally in half ('modern' style)
Bake time will be longer if you opt for the 'traditional' upright style

Fresh parsley for garnish, optional
Directions
Preheat oven to 375°F
Lay your cut peppers in your casserole dish (can also use a baking sheet, spray with baking spray)
In a large skillet over medium-high heat, heat infused oil
Add your scallion tips, and any remaining pepper tops (these will be available depending on how you sliced your peppers), and brown these in the oil for 1-2 minutes
Add your ground turkey or beef, and cook until browned through, about 5-7 minutes.  Season with your salt and pepper
While meat is browning, if you have not prepared your rice yet, then do so (either in microwave if using frozen rice, or your stovetop.  About 1 cup of uncooked rice will yield this quantity)

Tip: Trader Joe's sells frozen Jasmine rice in pouches of 2 cups ready for the microwave without any high-FODMAP additives!

Remove turkey mixture from heat and add your cooked rice, low-FODMAP marinara sauce and 1 cup of your shredded cheese.  Stir to combine well

If your skillet is large enough, you can do the mixing in the skillet, otherwise, transfer to a large bowl

Add salt and pepper to taste, then scoop your mixture evenly into the hollowed peppers
Top with the remaining 1/2 cup cheese
Place in preheated oven and bake until peppers are tender, and mixture warmed through, about 30-45 minutes

As ovens vary, yours may need more or less time

Remove from oven and serve immediately, garnished with fresh parsley
These go great with a low-FODMAP Tossed Salad or your other favorite low-FODMAP greens!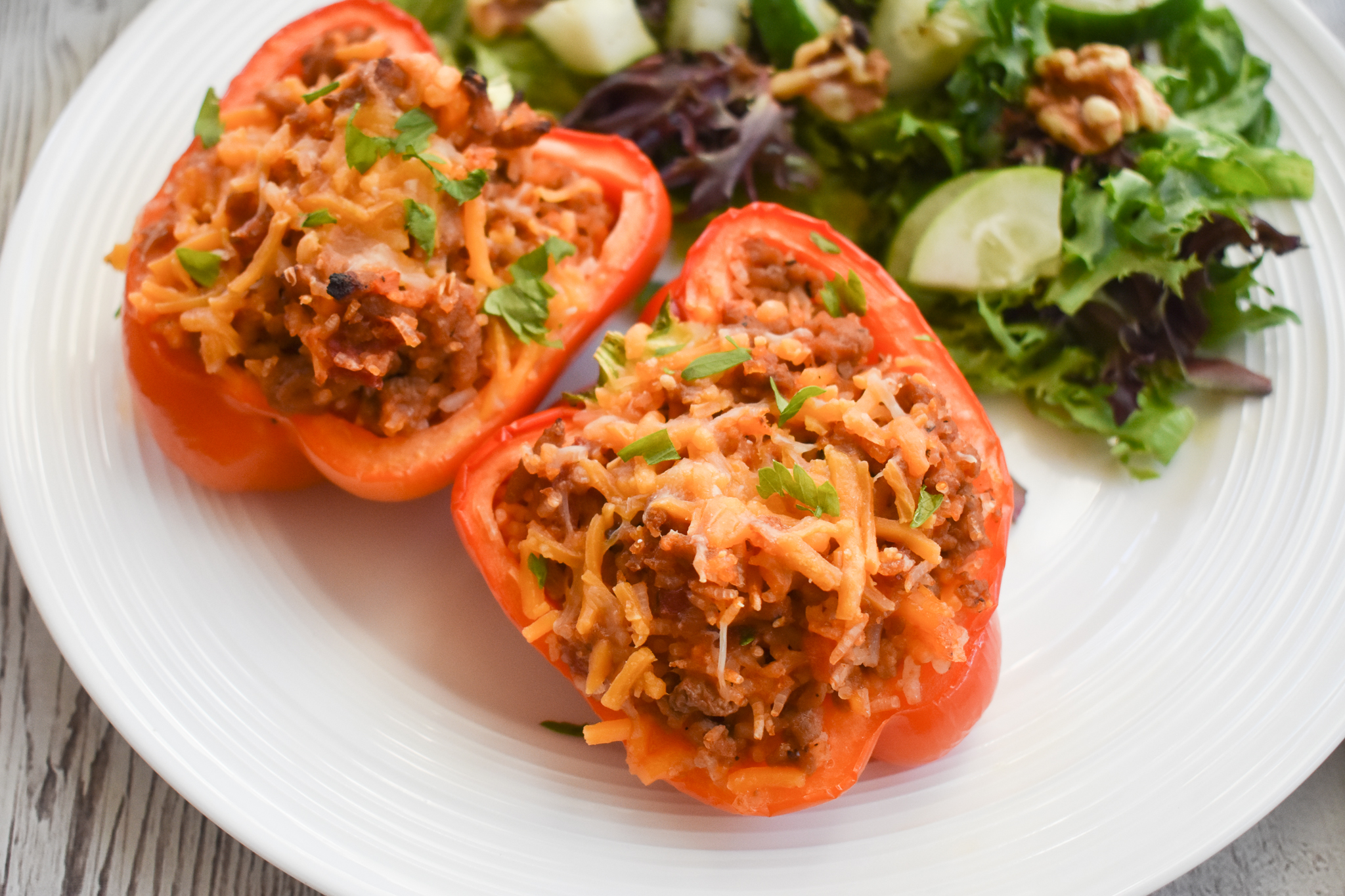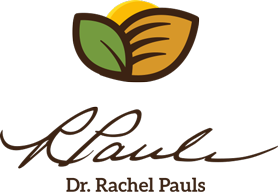 Printer Friendly Version
Comments Rating
( reviews)