Low-FODMAP Teriyaki Chicken Casserole; Gluten-free, Dairy-free
February 15, 2018
Printer Friendly Version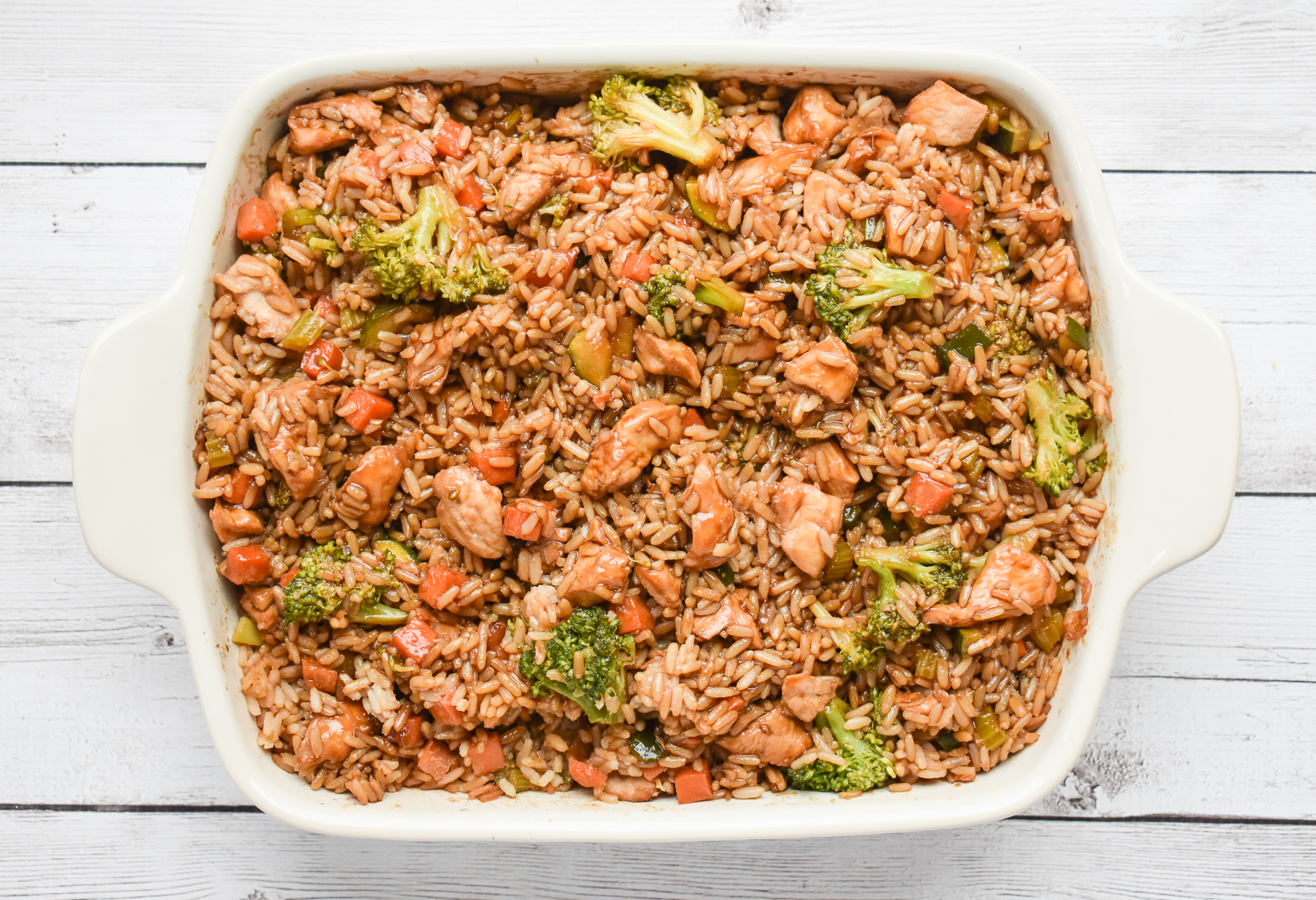 This low-FODMAP Teriyaki Chicken Casserole is the perfect family dinner.  It is easy, so delicious and has the wonderful combination of protein-rich chicken, nutritious vegetables, and energizing whole grains in the brown rice.  This low-FODMAP Teriyaki Chicken Casserole is hearty and warms you from the inside out.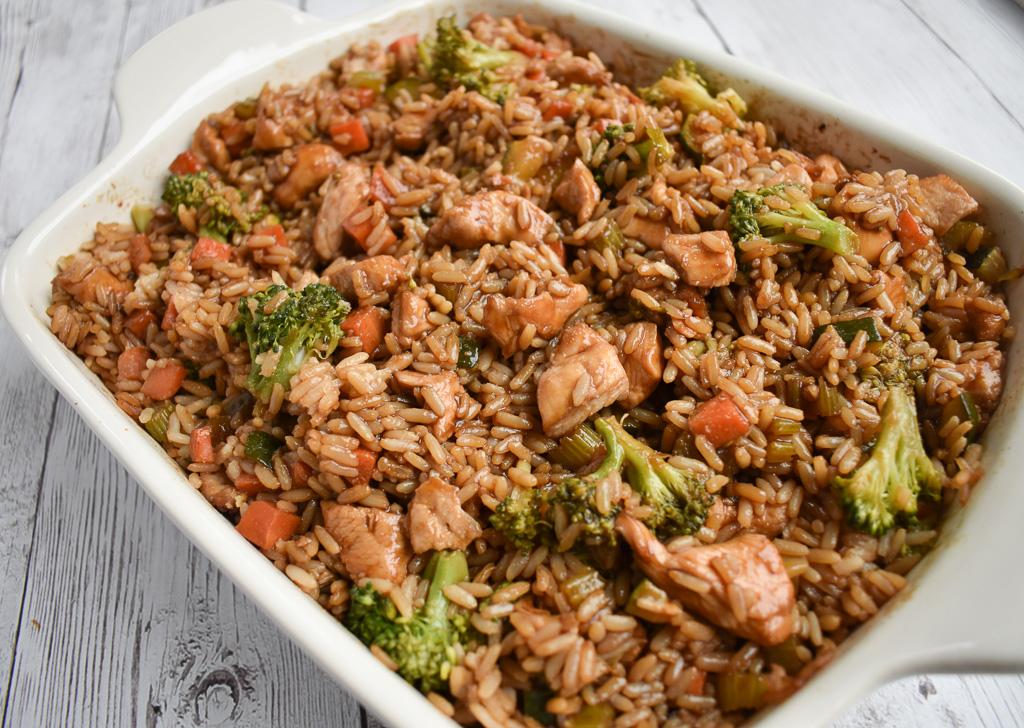 You can also use the low-FODMAP Teriyaki Sauce as a dipper for your other favorite finger foods, or over steamed rice. It is absolutely delicious.
Check out over 300 more low-FODMAP recipes on the blog.  You may also love my low-FODMAP Beef Lo-Mein and low-FODMAP General Tso's Chicken recipes too.
Be healthy and happy,
Rachel Pauls, MD
---
Low-FODMAP Teriyaki Chicken Casserole; Gluten-free, Dairy-free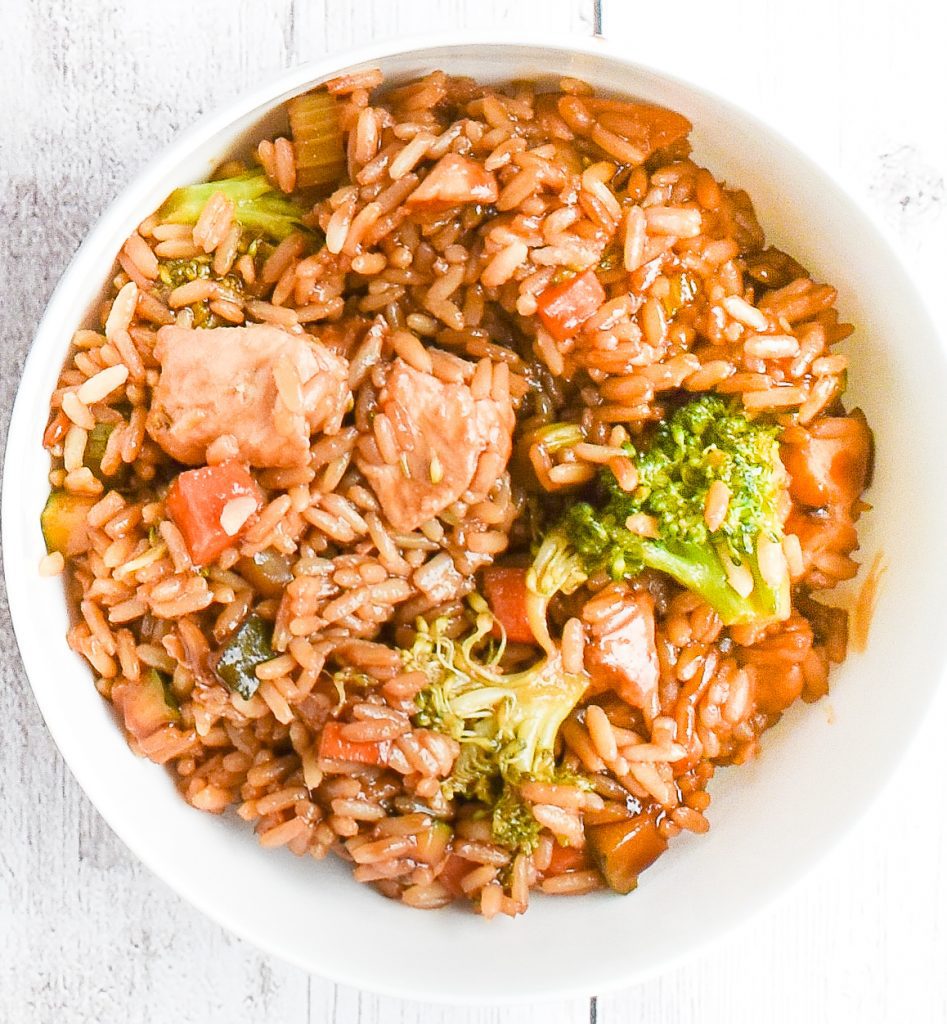 Although this recipe has not been tested, a single serving should be low-FODMAP based on the ingredients
Serves: 8 for the casserole
Sauce yield: About 2 & 3/4 cups  (you will have about 1 cup of extra sauce, you should use about 1 and 1/2 cups of the sauce for this recipe)
Prep time: 20 min
Bake time 50 min
Bake 350 F
Equipment: 9 by 13 inch casserole dish
Ingredients
For Sauce:
1 & 1/2 cups low-sodium soy sauce (gluten-free)

select a brand without added onion or garlic

1 & 1/2 cups water, plus additional per taste
1/2 cup brown sugar
1 teaspoon ground ginger
1/4 cup cornstarch mixed with 1/4 cup warm water
For Casserole:
24 ounces (About 6, depending on the size of your chicken breasts) boneless skinless chicken breasts
1 cup broccoli florets (heads)

3/4 cup broccoli heads and whole broccoli are one low-FODMAP serving, avoid the stalks if possible as they contain more FODMAPs

1 cup diced carrots
¼ cup (50 g) chopped celery

10 g is one low-FODMAP serving

1 cup chopped zucchini

1/3 cup is one low-FODMAP serving

3 cups brown or white rice, UNCOOKED
Vegetable shortening or cooking spray, for greasing
Directions
Preheat oven to 350° F
Spray or grease a 9×13-inch casserole dish/pan
Prepare sauce:

Combine soy sauce, water, brown sugar, and ginger in a small saucepan and cover
Bring to a boil over medium heat
Remove lid and cook for one minute once boiling.
Meanwhile, stir together the cornstarch with the 1/4 cup warm water in a separate dish until smooth (creates a slurry to thicken the sauce)
When sauce is boiling, add cornstarch mixture to the saucepan and stir to combine
Cook until the sauce starts to thicken

Taste sauce, if you prefer a lighter flavor, then add additional water.  If you prefer sweeter, then add additional sugar.  Do so 1 tbsp at a time.

Remove sauce from heat and set aside

Place the chicken breasts in the prepared pan
Pour 1 & 1/4 cups of the sauce over top of chicken
Place chicken in oven and bake 35 minutes or until cooked through
While chicken is baking, steam broccoli, zucchini, celery and carrots on stovetop or microwave with a bit of water

We suggest cooking each vegetable separately in the microwave, that will ensure even cooking of that vegetable

They should still be slightly crisp as they will cook more in the oven

Similarly, cook rice according to package on stovetop or in your microwave or rice cooker
When chicken is done, remove from oven and chop chicken meat in the dish
Add the cooked vegetables and rice to the casserole dish with the chicken
Cover with more sauce to taste, about 1/4 cup to 1/2 cup

Depending on your preference, add more or less sauce to the rice mixture

Gently fold everything together in the casserole dish until combined
Return to oven and cook another 15 minutes
Remove from oven and let stand 5 minutes before serving
Drizzle each serving with remaining sauce or serve on the side
Serve immediately, or refrigerate for future use
Remaining sauce may be stored in fridge for up to 1 month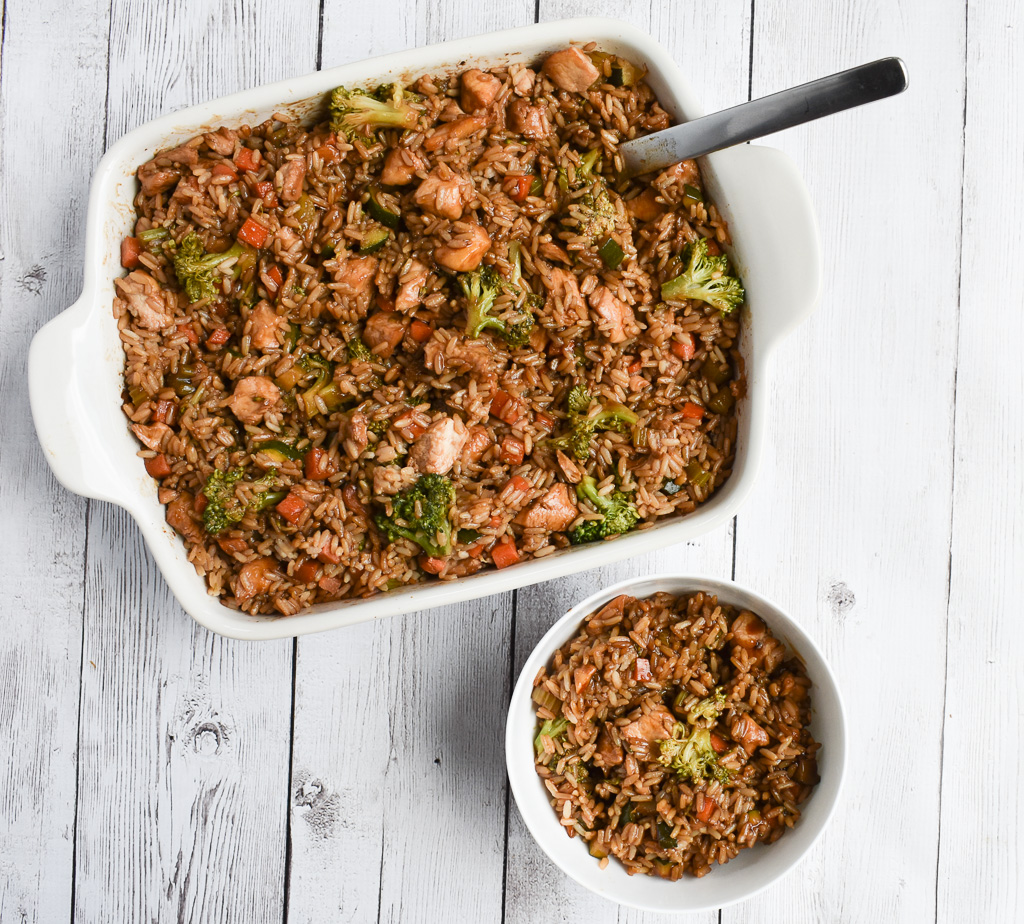 This low-FODMAP Teriyaki Chicken Casserole is a hit with my family!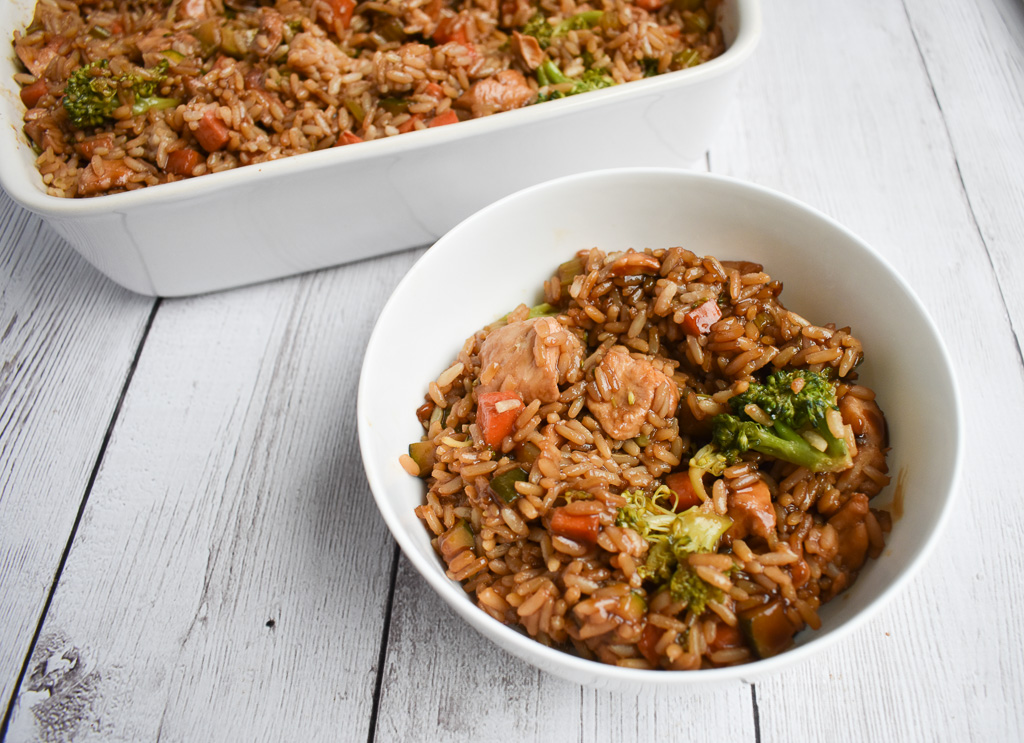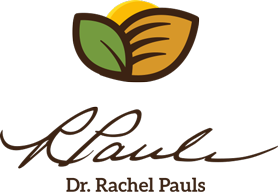 Printer Friendly Version
Comments Rating
( reviews)