Low-FODMAP Sweet Potato Cake with Crumble Topping; Gluten-free, Dairy-free
September 27, 2020
Printer Friendly Version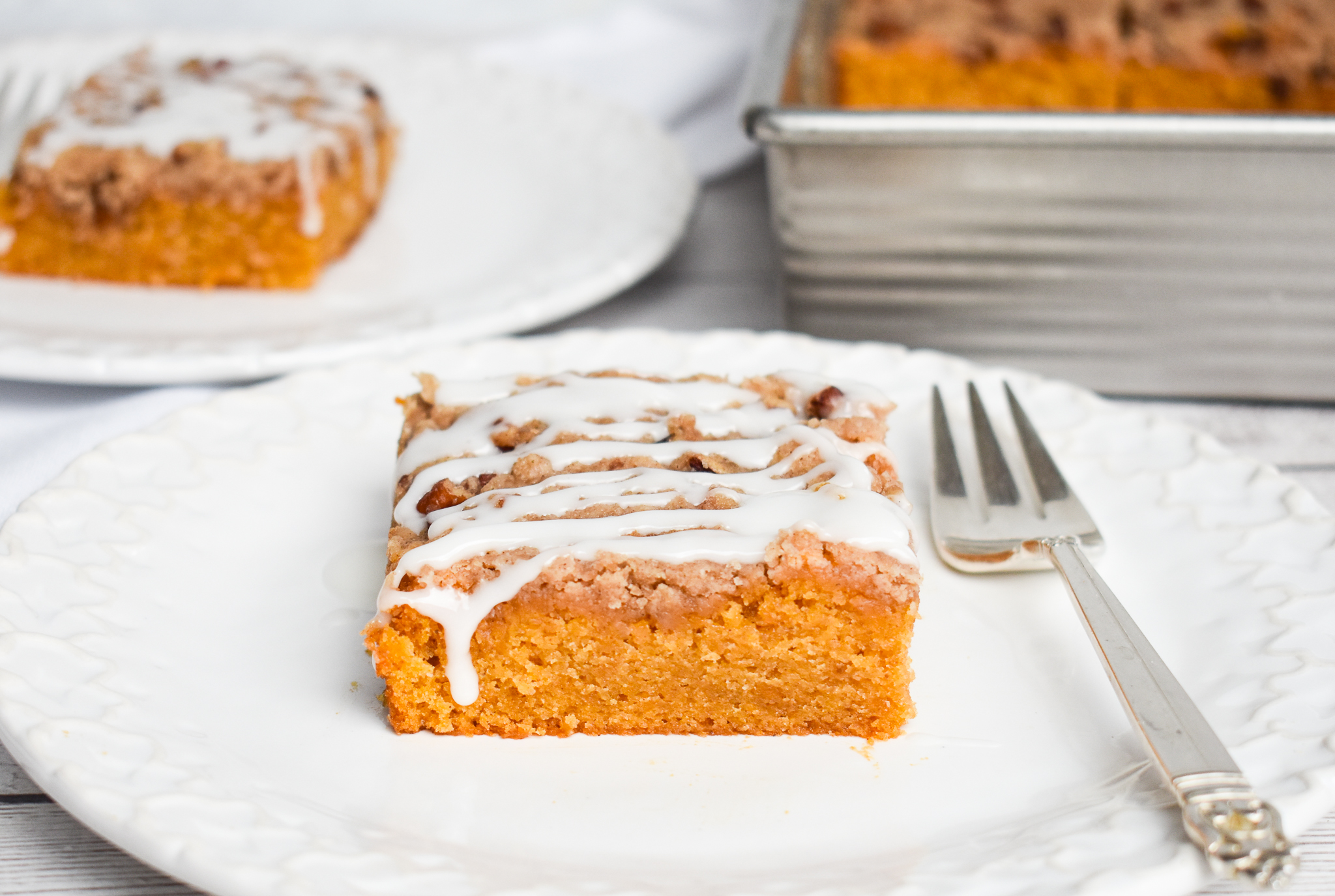 I love to peruse magazines just after the holiday season, to find new inspiration for the upcoming year.  All those yummy recipes for pumpkin, pecan and sweet potato treats are bookmarked for me to come and revisit them when the leaves begin to fall.
Here is one of those recipes I could NOT wait to make.  It combines my beloved low-FODMAP Happy Baking Vanilla Cake Mix with the amazing flavors of pumpkin pie spice and sweet potatoes, and adds my other loves of pecans and crumble topping.  It had to become one of my favorites!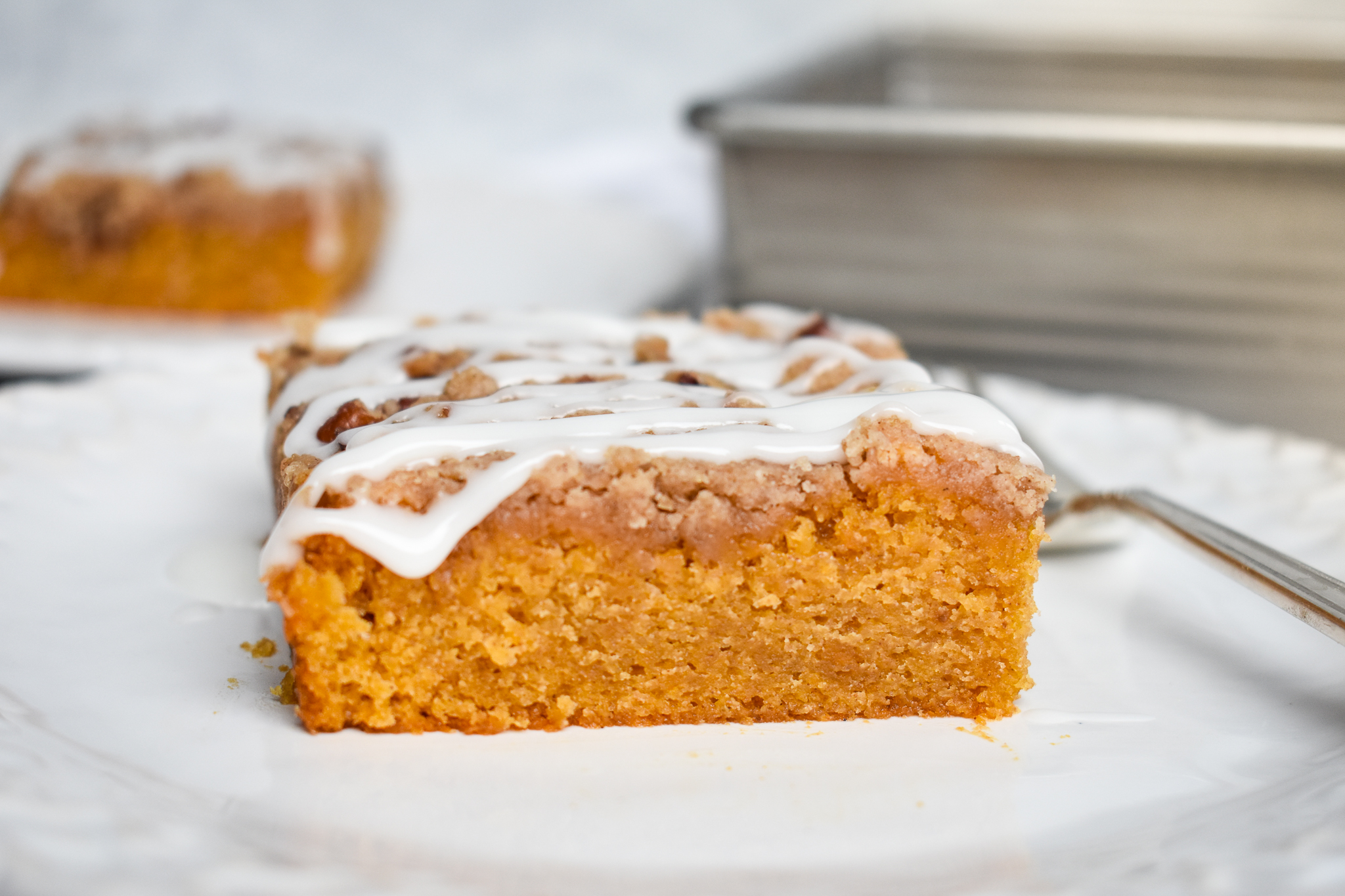 This recipe for low-FODMAP Sweet Potato Sheet Cake is an instant classic.  You will appreciate its simplicity, as well as the exclamations of delight from all of your guests!
You may also love:
Or check out over 350 more low-FODMAP recipes on the blog. IBS-friendly!
Be healthy and happy,
Rachel Pauls, MD
---
Shortcut Low-FODMAP Sweet Potato Sheet Cake with Crumble Topping; Gluten-free, Dairy-free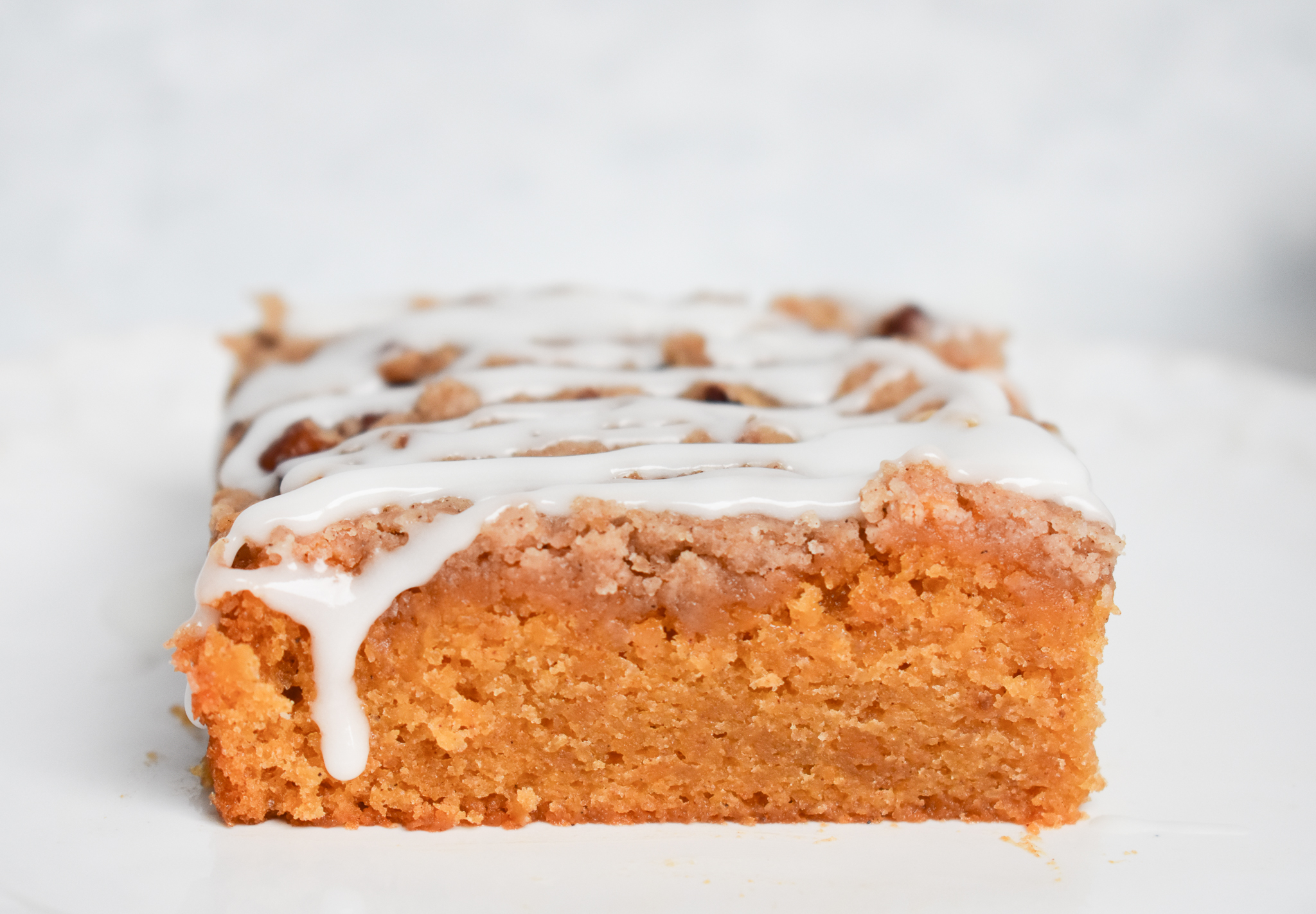 Although this recipe has not been tested, a single serving should be low-FODMAP based on the ingredients.
Serves 24
Prep: 15 min
Bake: 40-45 min + cooling
Total time:1 hour + cooling
Bake 350 F
Equipment: 13 by 9 inch pan (I used aluminum, glass pans may slightly alter the baking time)
Ingredients
For low-FODMAP Sweet Potato Cake: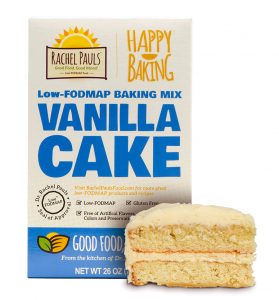 This amount of cake mix is important to the quality of the cake.  Do not substitute a cake mix with a smaller amount

3 large eggs
1/2 cup canola oil
1 & ½ cups (about 350 g) sweet potato puree (see notes below); room temperature and NO butter or seasoning added

1 low-FODMAP serve is 75 g
You can use leftover sweet potatoes (as long as they are pure, without additives)
I like to roast sweet potatoes, then puree the flesh in my food processor (to be consistency of canned pumpkin.I do a bunch at a time for the fall recipes, and freeze in individual bags)

*If you are preparing this ingredient for the recipe and not using leftovers: Bake sweet potato at 400F for about 45-60 minutes until cooked through. Allow to cool enough to handle, then peel and puree in your food processor

This is about 1 & 1/2 medium sweet potatoes (each one is about 300 g prior to peeling)

1/4 cup low-FODMAP milk (such as lactose-free milk or almond milk)
2 teaspoons pumpkin pie spice
Vegetable shortening (for greasing)
For Topping:
1/2 cup (8 tablespoons) cold butter (for dairy-free can substitute chilled coconut oil or vegan spread with low-FODMAP ingredients)
1/2 cup (55 grams) chopped pecans (optional)

20 g is one low-FODMAP serving

1/4 cup packed brown sugar
1 teaspoon ground cinnamon
Reserved 1 & 1/4 cup amount of low-FODMAP cake/sugar mix (see steps below)
Optional: Low-FODMAP Glaze
Directions
For low-FODMAP Cake and topping:
Preheat oven to 350° and place rack in center of oven
Grease your 9 by 13 inch pan with shortening
Open both the sugar and cake mix packets inside the low-FODMAP Happy Baking Vanilla Cake Mix Box and do NOT combine these. Remove 1 cup from the cake mix packet and 1/4 cup from the sugar packet
Place these both in a large bowl to combine with the crumble topping
Prepare the crumble topping:

In the large bowl with the reserved 1 cup low-FODMAP Vanilla Cake Mix and 1/4 cup sugar mixture, add the brown sugar and cinnamon
Cut cold butter or coconut oil/vegan spread into the bowl until crumbly (do not mix completely- you want it to be clumped).  I like to use my hands
Stir in the optional pecans, if using, and set aside for later

Place remaining low-FODMAP Vanilla Cake SUGAR packet in the bowl of electric mixer with your eggs and beat on medium to combine well
Add remaining contents of low-FODMAP Vanilla Cake CAKE packet, canola oil, sweet potato puree, low-FODMAP milk, and pie spice, and blend again at low speed to just combine
Spread batter in prepared pan
Sprinkle the crumble topping over the filling
Bake at 350° for 40 to 45 minutes OR until a wooden pick inserted in center comes out clean

As ovens vary, yours may need more/less time

If desired, top with low-FODMAP Glaze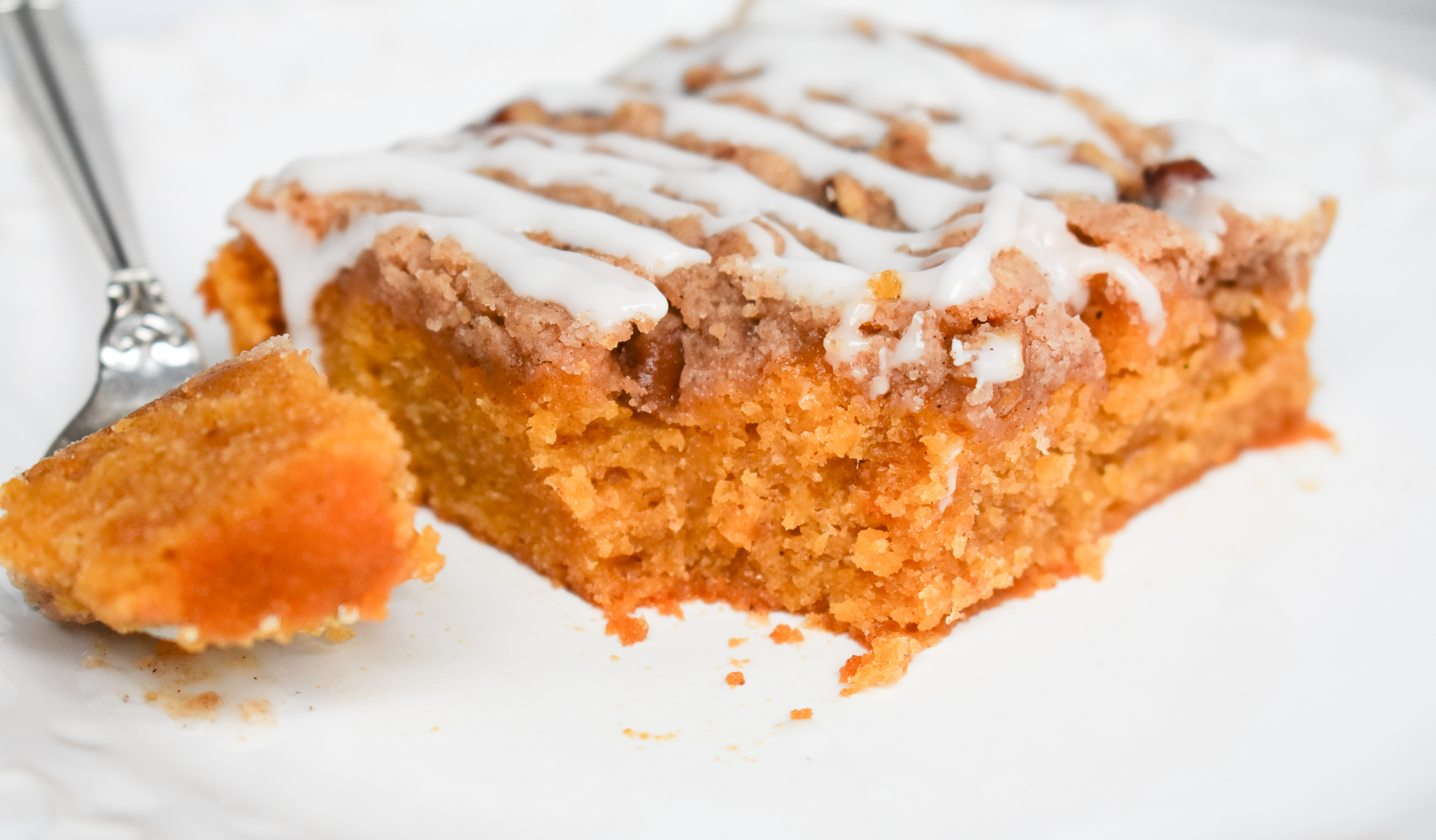 Printer Friendly Version
Comments Rating
( reviews)