Low-FODMAP Starbucks 'Copycat' Marble Pound Cake; Gluten-free, Dairy-free
February 26, 2020
Printer Friendly Version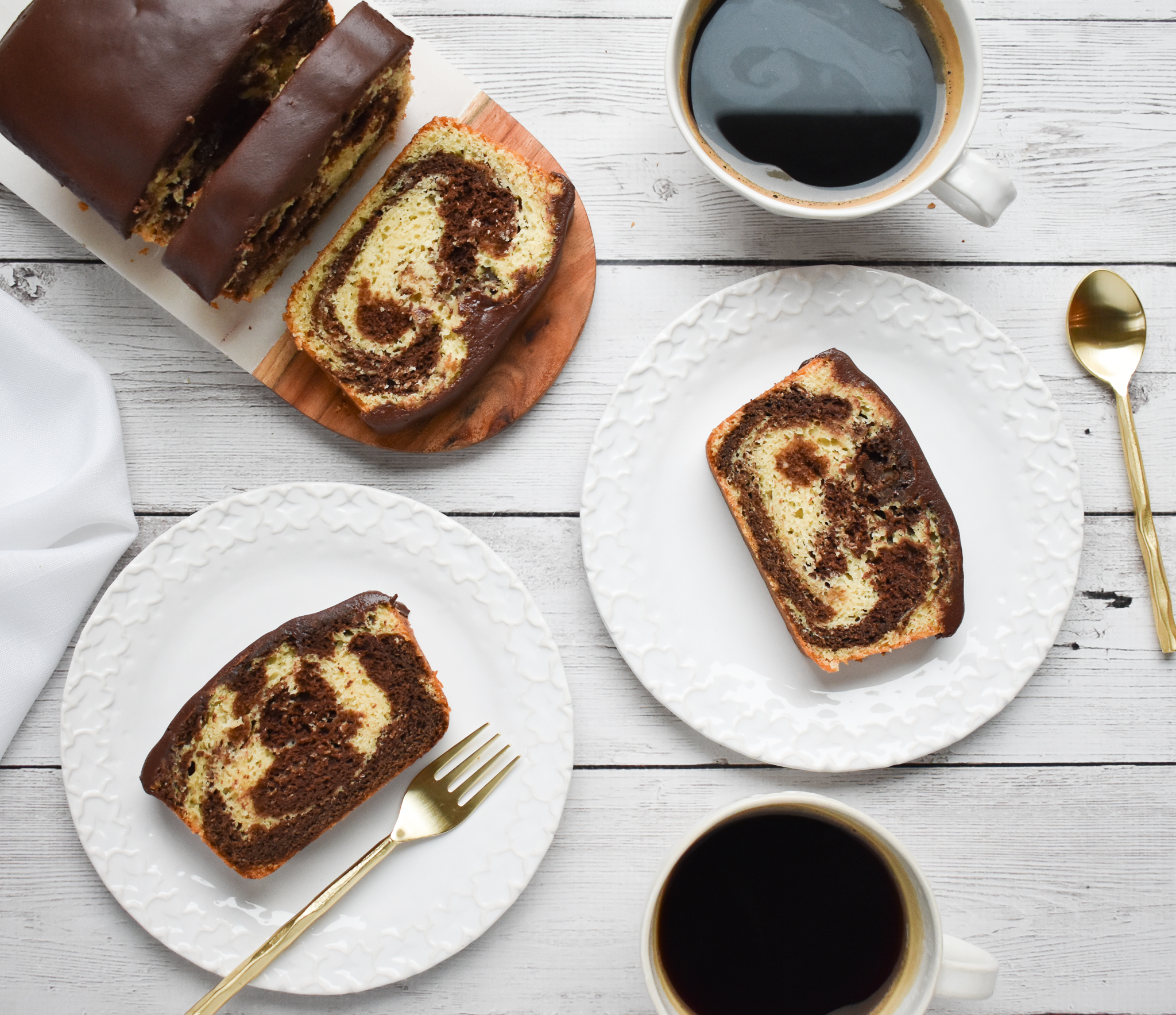 OMG.  This is the low-FODMAP Starbucks Copycat recipe you have been waiting for.  A low-FODMAP Marble Pound Cake that is moist, chocolatey, rich and so delicious.  Easy to make, but so impressive to eat.
I will admit, other gluten-free marble cakes I viewed online had rather unimpressive appearances. Most looked dry or tasteless. You will see that my low-FODMAP Starbuck's Copycat Marble Loaf/Pound Cake recipe yields a moist and delicious texture with distinct flavors of chocolate and vanilla in every bite.  JUST LIKE STARBUCKS (or even better).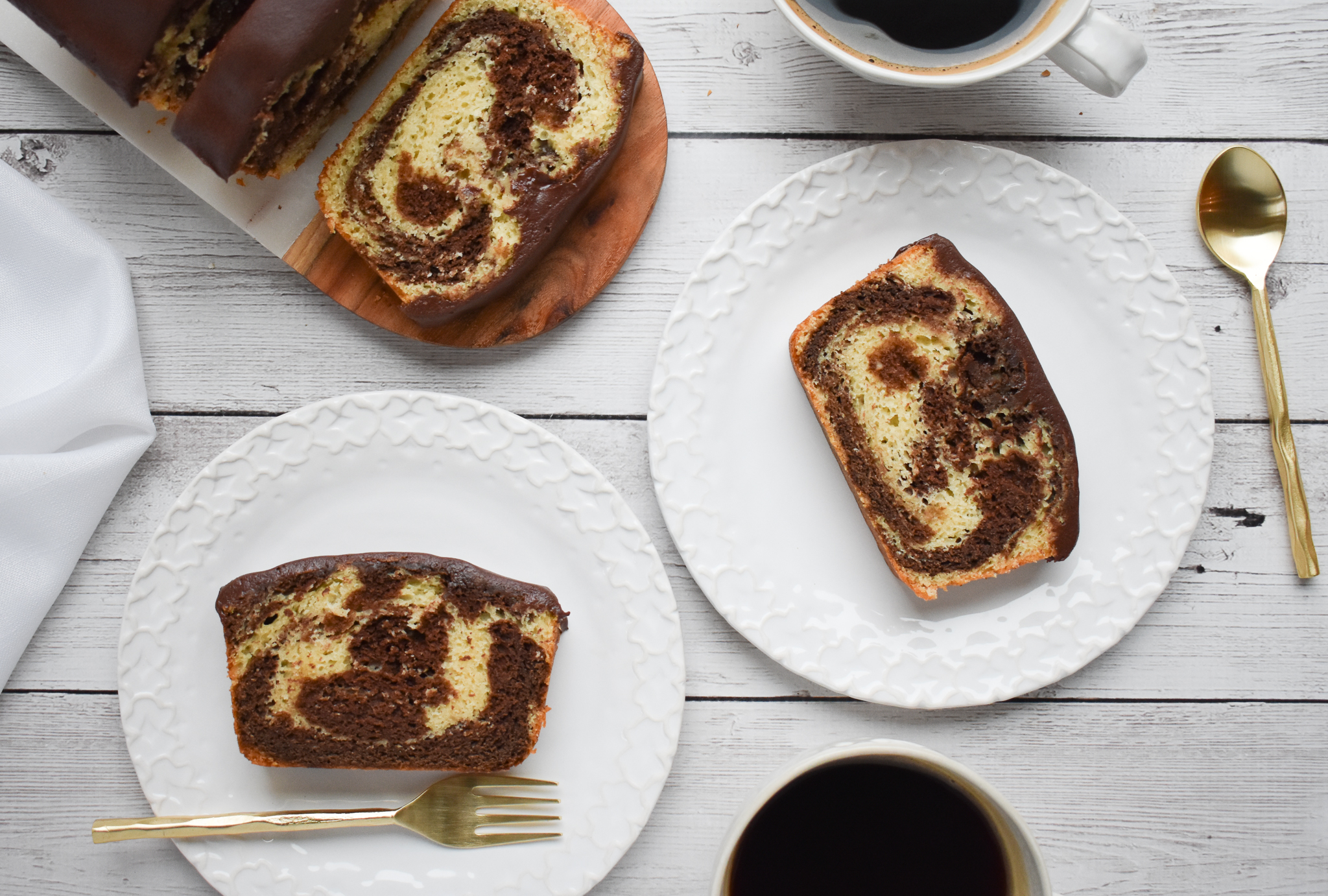 Try this low-FODMAP Marble Pound Cake with a nice cup of low-FODMAP Vanilla Latte, low-FODMAP Pumpkin Spice Latte or with low-FODMAP Vanilla Ice Cream.  It is sheer heaven.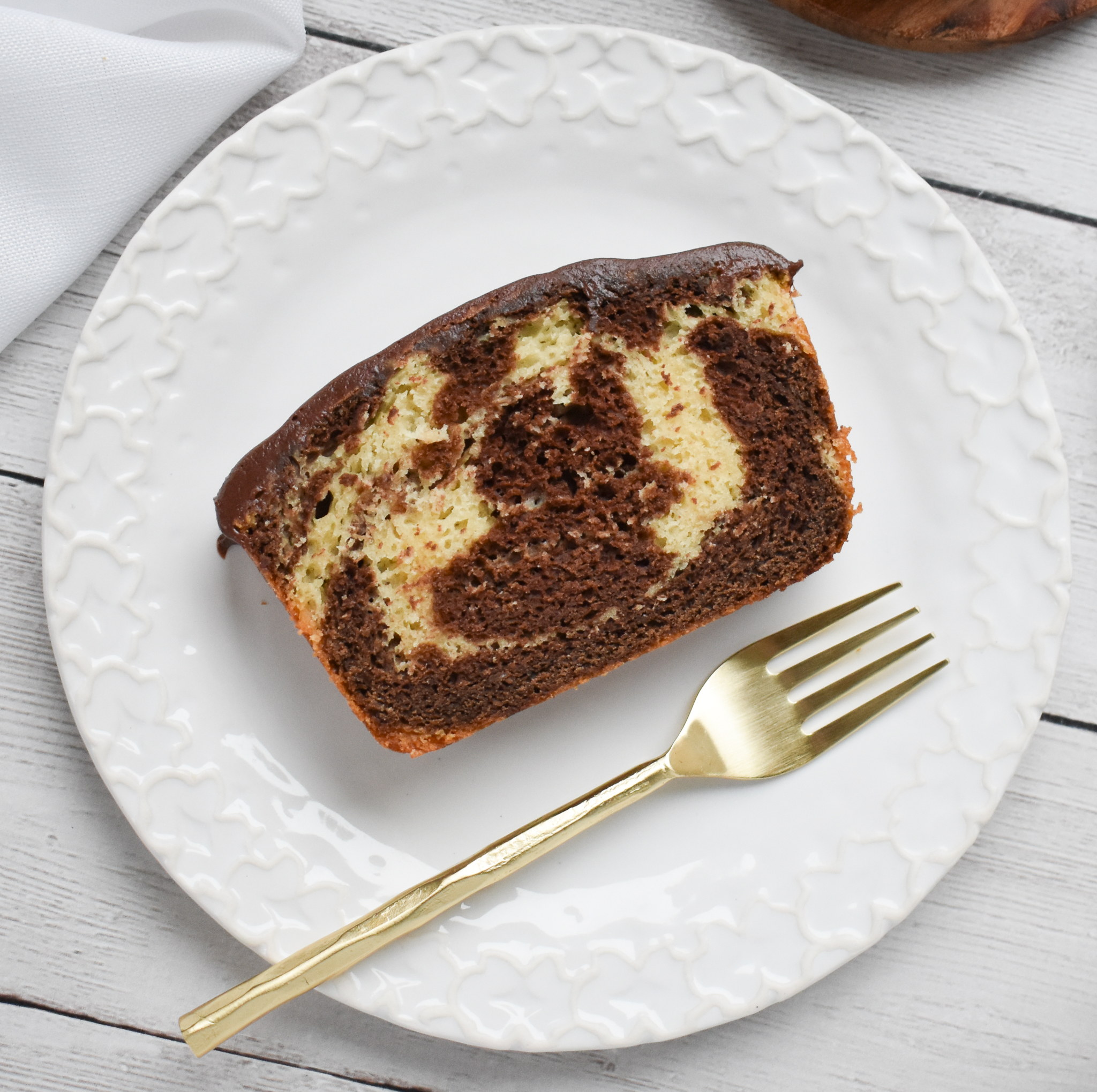 You will also love:
Or you can check out over 350 more low-FODMAP recipes on the blog.  IBS-friendly!
Be healthy and happy,
Rachel Pauls, MD
---
Low-FODMAP Starbucks 'Copycat; Marble Pound Cake; Gluten-free, Dairy-free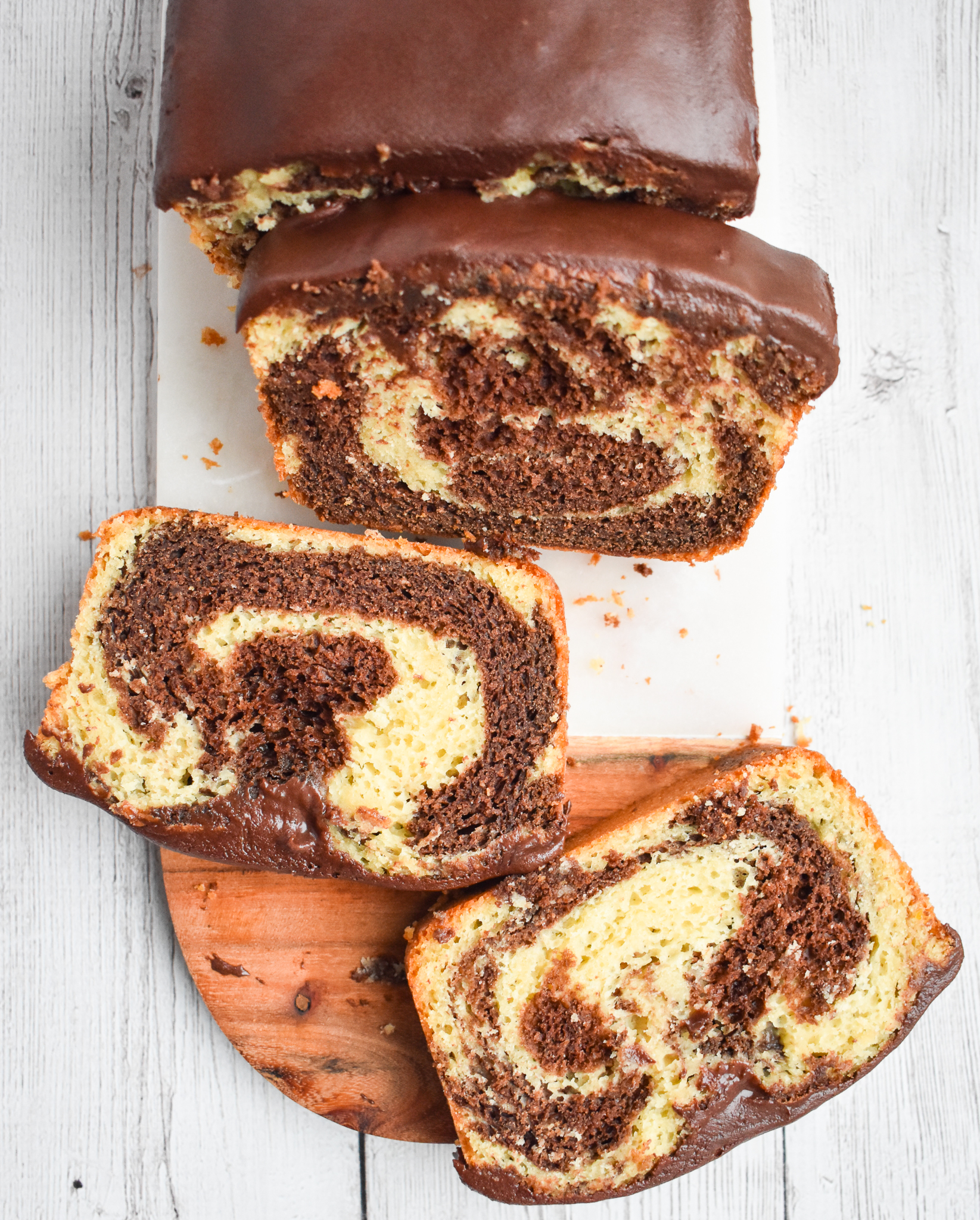 Although this recipe has not been tested, a single serving should be low-FODMAP based on the ingredients
Serves 12
Prep time: 15 min
Bake time: 50-60 min
Total time: About 1 hour 10 min
Bake 350 F
Equipment: Loaf pan, parchment paper
Ingredients
For low-FODMAP Marble Loaf
1 & 1/2 cups all purpose low-FODMAP, gluten-free flour (I use Authentic Foods GF Classical Blend- see my low-FODMAP bake off blog for the reason why!)
2 & 1/2 tsp baking powder
1/2 tsp xanthan gum, if not added to your low-FODMAP flour
1/4 tsp kosher salt
3 large eggs, room temperature if possible
1 cup sugar
3/4 cup low-FODMAP milk (such as canned coconut milk, almond milk or lactose-free milk for non dairy-free version)
1/3 cup canola oil
1 tbsp vanilla extract
3 ounces semisweet chocolate (dairy-free optional)
¼ tsp baking soda
½ tsp pure chocolate extract
Cooking spray or vegetable shortening for greasing (or try my low-FODMAP Magical Cake Pan Release Paste!)
For low-FODMAP Chocolate Ganache:
1/2 cup canned coconut cream (not the same as 'cream of coconut')
4 ounces semisweet chocolate
2 tbsp corn syrup
Directions
Preheat oven to 350 F and place rack in center of oven
Prepare the low-FODMAP marble cake
Grease a loaf pan with cooking spray or shortening and line with parchment paper so the edges are about 1 inch from the top and folded over (to be able to lift out easily)
Melt the 3 ounces semisweet chocolate in a small saucepan, or carefully in microwave. If using microwave do so in 20 second bursts and stir frequently so it doesn't burn. Remove from heat and cool on counter to lukewarm
Whisk low-FODMAP flour, baking powder, xanthan gum and salt together in a large bowl and set aside
Beat eggs in a stand mixer at a medium high speed using flat paddle
Slowly add in the sugar and beat until it is light in color and thickened
Add the low-FODMAP flour mixture, oil, low-FODMAP milk and vanilla and beat until combined

You don't want to add the baking soda or the chocolate extract
Wipe down your large bowl from the flour mixture for storing the vanilla batter

Separate 2/3 the vanilla batter into your wiped down bowl and set aside (about 2 cups)
To the remaining 1/3 of the batter in the mixing bowl add the melted chocolate and chocolate extract as well as baking soda and mix until combined on medium-low speed. Do not over mix. Scrape down bowl as needed
Evenly spread about ½ the vanilla batter into the prepared pan. Alternate with half the chocolate batter and repeat, ending with chocolate batter on top
The chocolate batter will be thicker, you will need to drop it in spoonfuls. Do not worry if it doesn't spread as an even layer
Using a knife, or thin mixing stick carefully swirl the batters in an 'S' formation, but do not completely mix
Place in the center of the oven and bake 50-60 minutes

Do not open the oven for the first 50 minutes
Tester should come out clean in center when done

While baking, prepare the low-FODMAP ganache (see below)
Cool the cake in the pan for 10 minutes
Carefully remove cake from pan and cool completely on a cooling rack
Prepare the low-FODMAP Chocolate Ganache
Place coconut cream and corn syrup in a saucepan and heat until just a slight simmer
Remove from heat and stir in chocolate chips
Stir until chocolate melts until smooth
Pour over cake when slightly warm, or wait until it cools and spread over the cake

If desired, you can also beat the cooled ganache for a whipped version
The crumb melts in your mouth!! Sooo moist.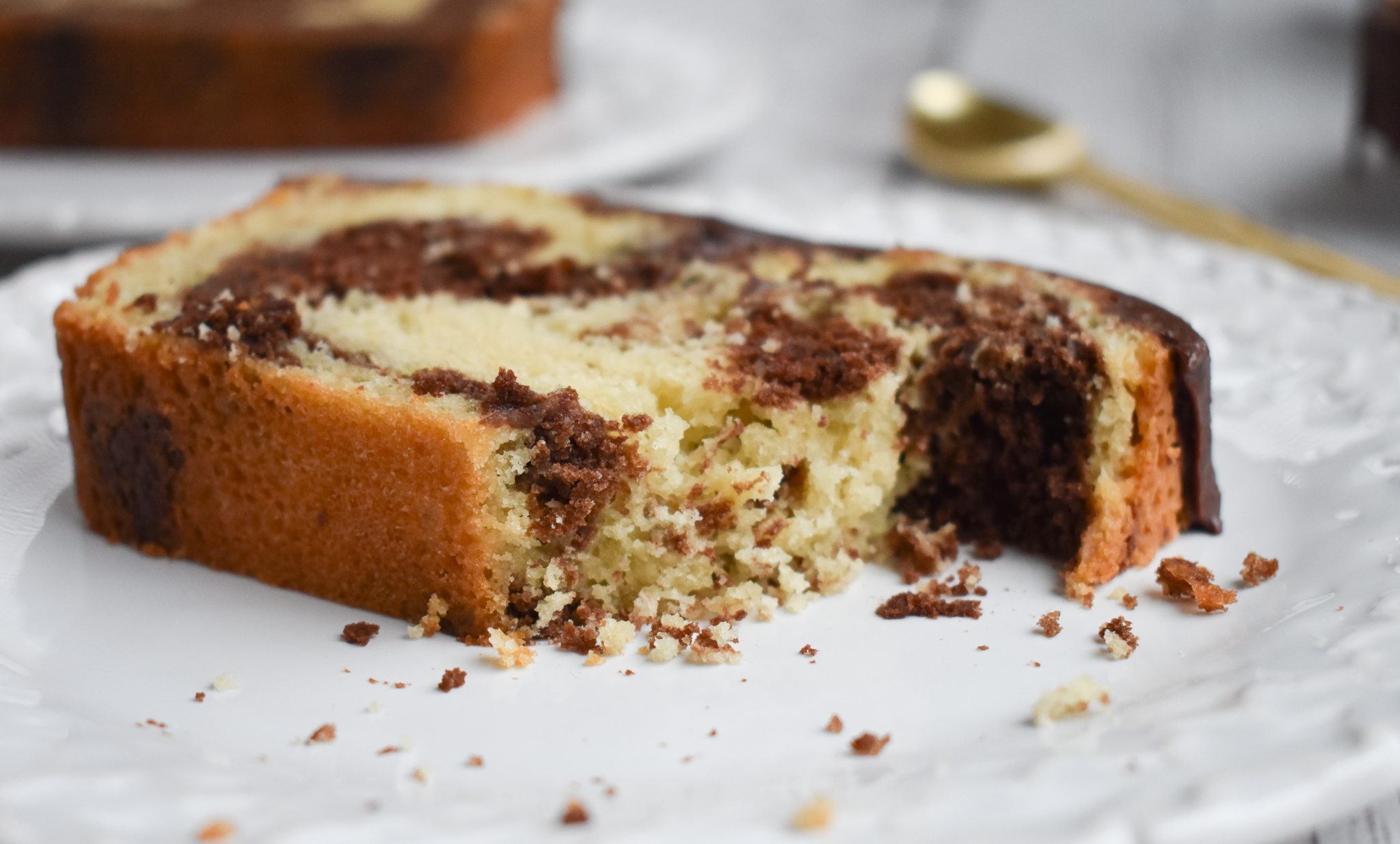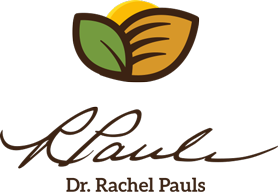 Printer Friendly Version
Comments Rating
( reviews)