Low-FODMAP Spiced Zucchini Cake with Low-FODMAP Brown Sugar Cream Frosting; Gluten-free, Dairy-free
March 27, 2018
Printer Friendly Version
An easy and delicious recipe for low-FODMAP Spiced Cake- one of the best holiday cakes around! Adding zucchini gives this some nutrient power and added moisture and texture. This low-FODMAP Spiced Cake is perfectly paired with my low-FODMAP Brown Sugar Cream Frosting and bakes up beautifully for an anytime treat.  Drizzle with my vegan low-FODMAP Caramel Sauce for even more indulgance!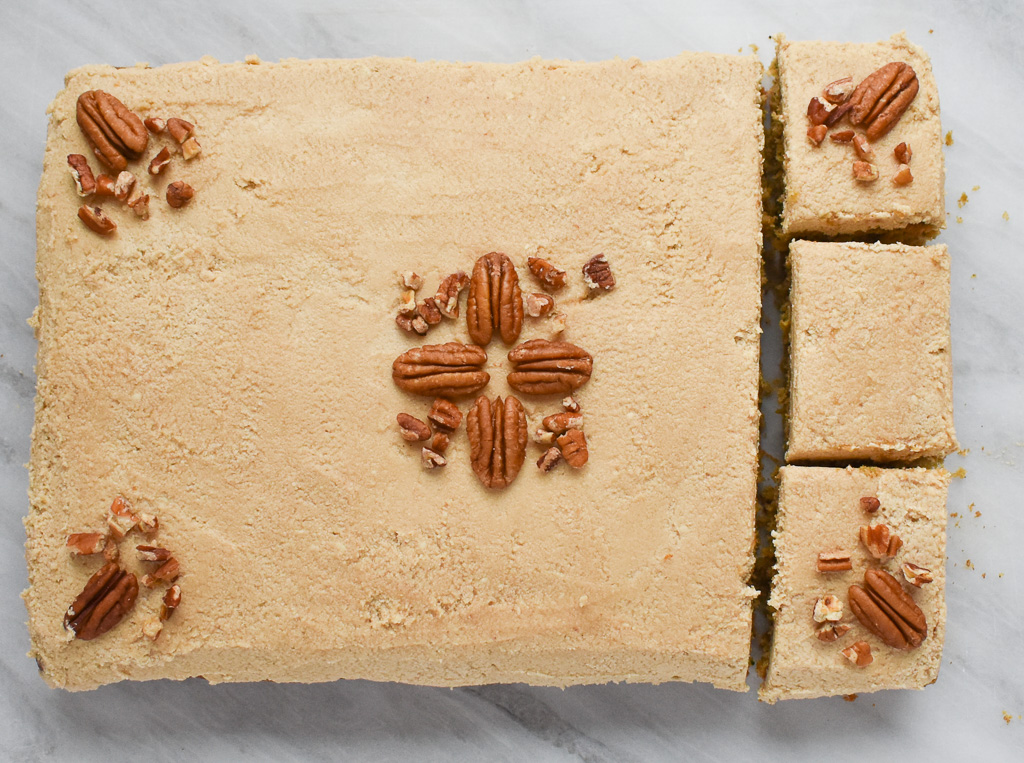 Enjoy this low-FODMAP Spiced Zucchini Cake recipe made into muffins or a loaf for other options. This is a versatile cake that you can also top with low-FODMAP ermine frosting,  low-FODMAP cream cheese frosting or low-FODMAP vanilla buttercream.   Gluten-free and dairy-free!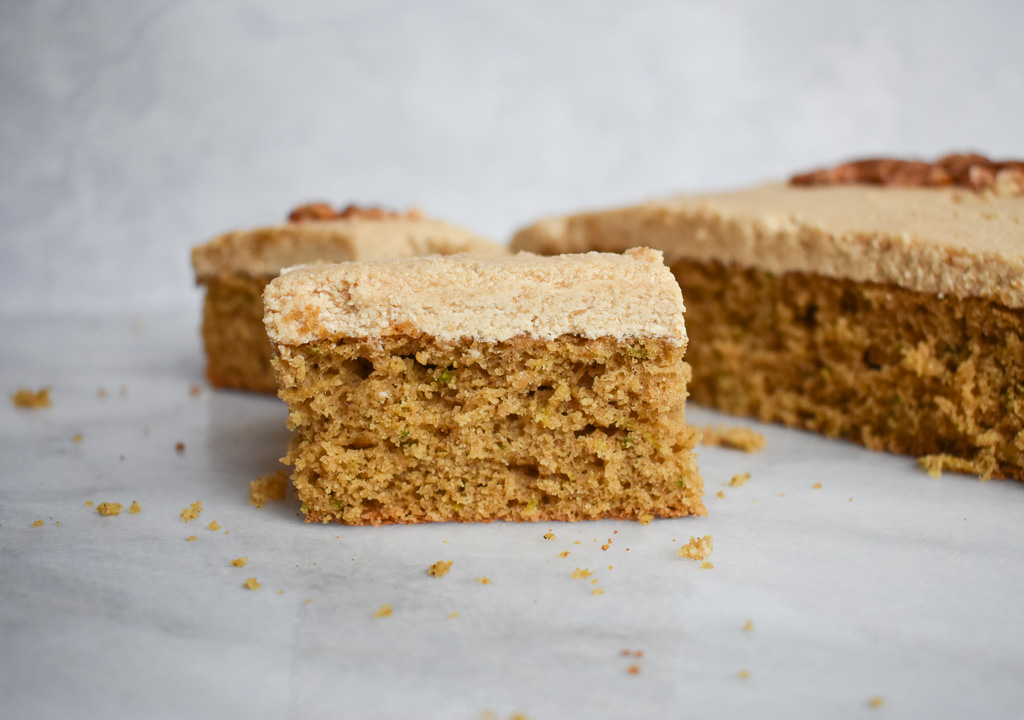 You may also love:
Or peruse over 400 more low-FODMAP recipes on the blog.  IBS-friendly!
Be healthy and happy,
Rachel Pauls, MD
---
Low-FODMAP Spiced Zucchini Cake with Low-FODMAP Brown Sugar Cream Frosting; Gluten-free, Dairy-free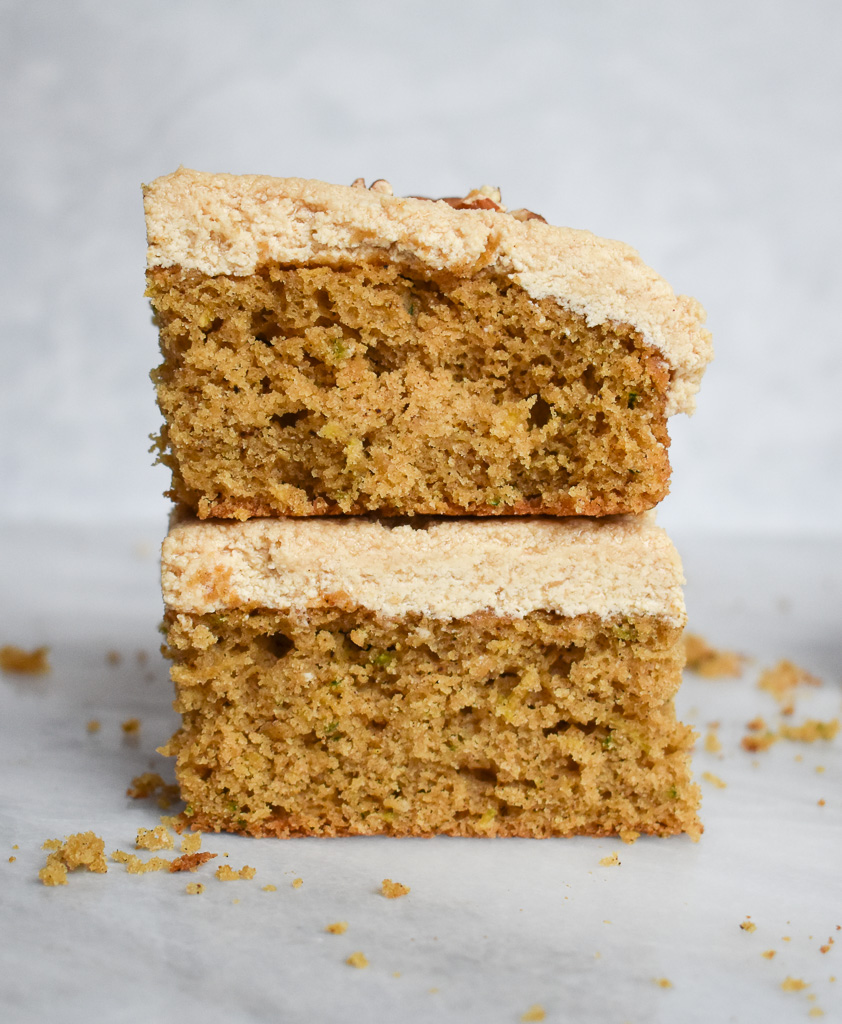 Although this recipe has not been tested, a single serving should be low-FODMAP based on the ingredients
Serves: 16
Prep time: 25 minutes
Bake time: 25-30 minutes
Bake 350 F
Equipment: 9 by 13 inch pan or other desired size (can use muffin pan or loaf pans; adjust bake times for smaller pan)
Ingredients
2 and 1/2 cups gluten-free, low-FODMAP flour (I use Authentic Foods GF Classical Blend, it had the best results in my low-FODMAP bake off contest!)
1 teaspoon xanthan gum (if not added to your flour)
2 teaspoons baking powder
1 teaspoon baking soda
1/2 teaspoon salt
1 teaspoon ground cinnamon
1/2 teaspoon ground ginger
1/2 teaspoon ground nutmeg
1/4 teaspoon ground cloves
1 cup canola oil
1 and 3/4 cups packed dark brown sugar
4 large eggs
2 teaspoons pure vanilla extract
2 cups finely grated zucchini (about 1-2 medium zucchini)
Vegetable shortening for greasing
Garnish: toasted pecans, low-FODMAP sweet nuts or low-FODMAP Caramel Sauce 
1 cup brown sugar
5 tablespoons low-FODMAP gluten-free flour or potato starch
1 cup low-FODMAP milk (such as almond for vegan version, or lactose-free)
1 cup dairy-free margarine (for vegan version) or lactose-free butter (I have tried both, and they are both great)
1-2 teaspoons vanilla or caramel extracts (can also do 1 teaspoon of each)
Directions:
Prepare low-FODMAP Zucchini Spice Cake
Preheat the oven to 350°F and grease a 9×13 inch pan (or your choice of pan if making smaller bundt or other cakes)

I also like to line the pan with greased aluminum foil to lift out easily

Whisk the low-FODMAP flour, xanthan gum, baking powder, baking soda, salt, cinnamon, and other spices together in a large bowl
In a separate large bowl whisk the oil, brown sugar, eggs, and vanilla extract together
Pour the wet ingredients into the dry ingredients and whisk until combined
Fold in the grated zucchini
Spread batter into the prepared pan
Bake for 25-30 minutes

Baking times vary, so watch for doneness, a tester should come out clean

Remove the cake from the oven and set aside to cool
If individual cakes were prepared, after 10 minutes invert them gently and cool completely on the wire rack
Prepare the low-FODMAP Brown Sugar Frosting
Mix together flour, sugar and milk in small pan

Note: I have tried this recipe with adding the sugar to the butter mixture instead of the cooked milk.  I found the sugar did not dissolve completely.  I prefer this version for a lighter, smoother texture

Cook on stove, medium low heat, stirring constantly
When thick, remove from heat and ensure it doesn't burn (should coat back of wooden spoon)
Let mixture cool to room temp, cover with saran connecting to the surface to reduce the skin forming on top
Meanwhile, cream butter or margarine in mixer well, using flat paddle, until fluffy about 5-7 min
When milk mixture is cool, slowly add it to the creamed butter mixture until right consistency
Add vanilla or caramel extracts and beat again
Frost cake immediately
Finishing the low-FODMAP Zucchini Spice Cake
Spread frosting over cooled (room temperature) zucchini cake
Refrigerate for 30 minutes before serving
Cover leftover cake tightly and store in the refrigerator for 5 days
These are so moist and delicious..try it with the low-FODMAP Caramel Sauce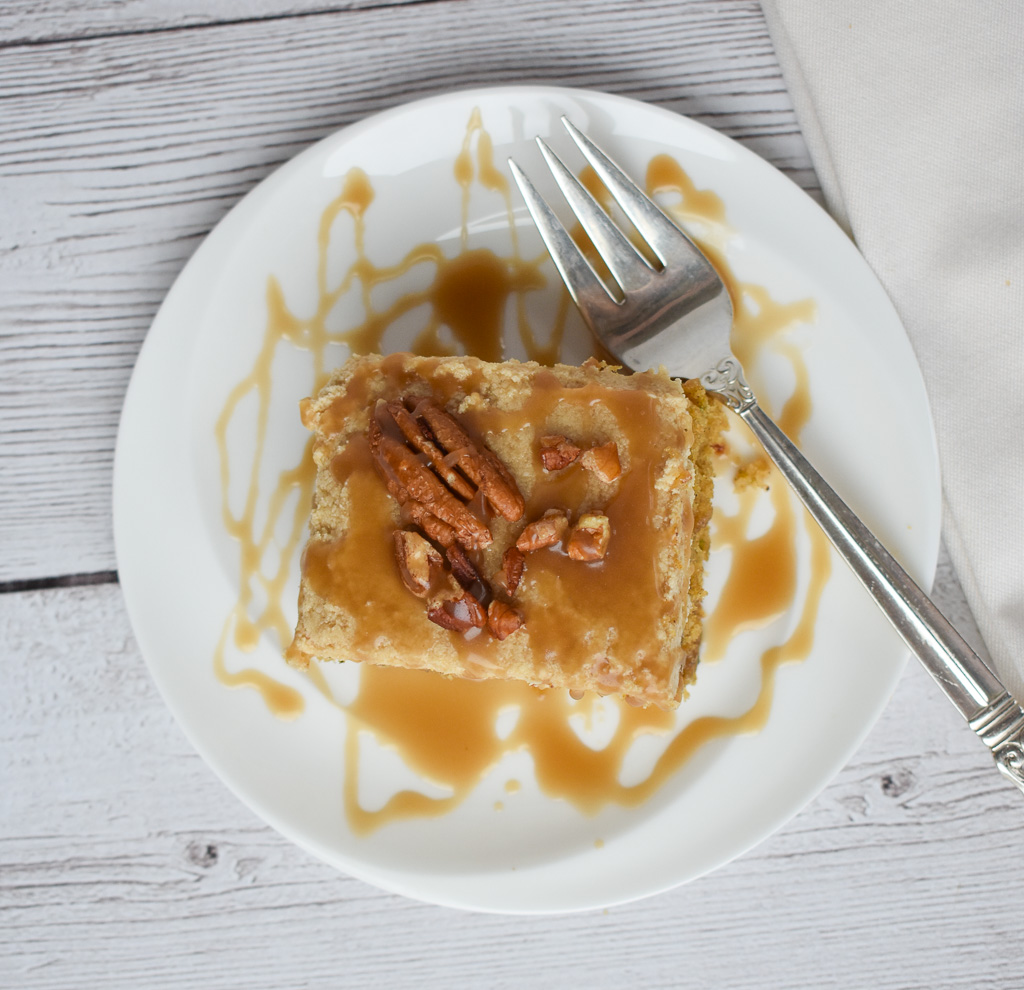 The low-FODMAP Brown Sugar Cream Frosting is light and melts in your mouth, with a subtle caramel flavor!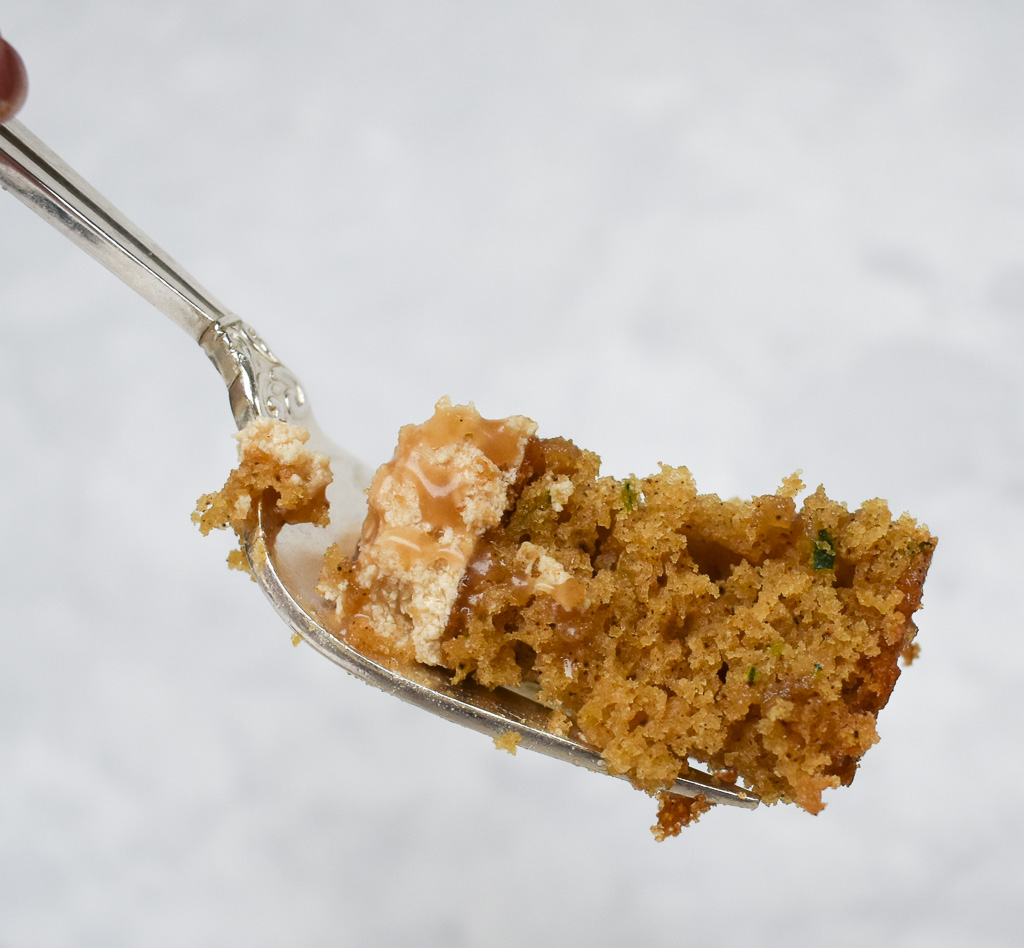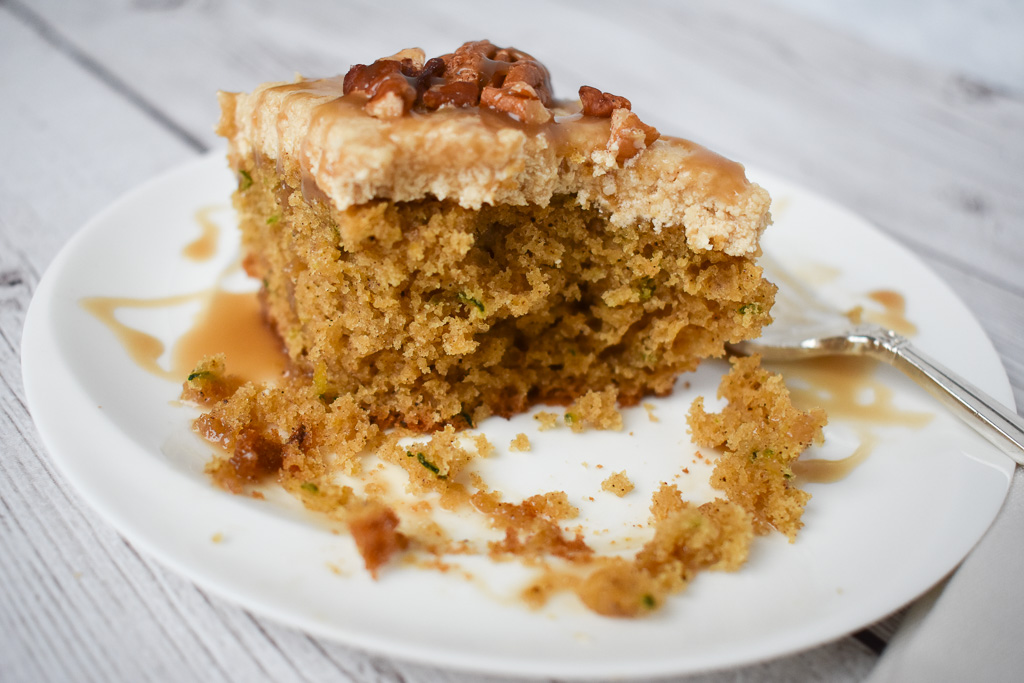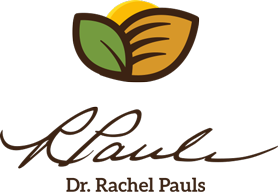 Printer Friendly Version
Comments Rating
( reviews)