Low-FODMAP Soft and Puffy Peanut Butter Cookies (with Chocolate Chips!); Gluten-free
October 21, 2022
Printer Friendly Version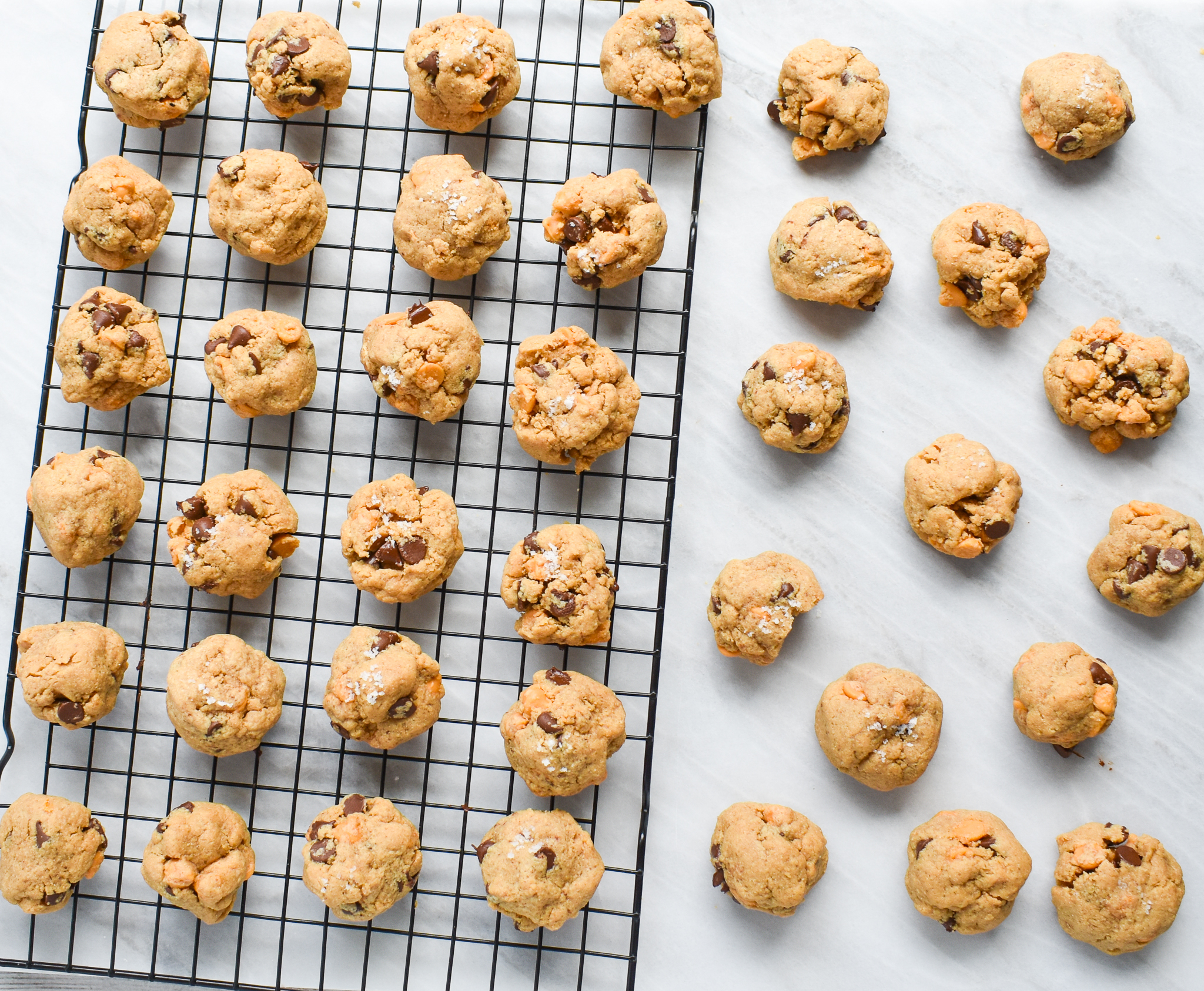 I'm so excited to have you try my low-FODMAP Soft and Puffy Peanut Butter Cookie recipe.
These little babies are rich, peanutty, and melt-in-your-mouth delicious.
Absolutely bursting with chocolate and butterscotch chips!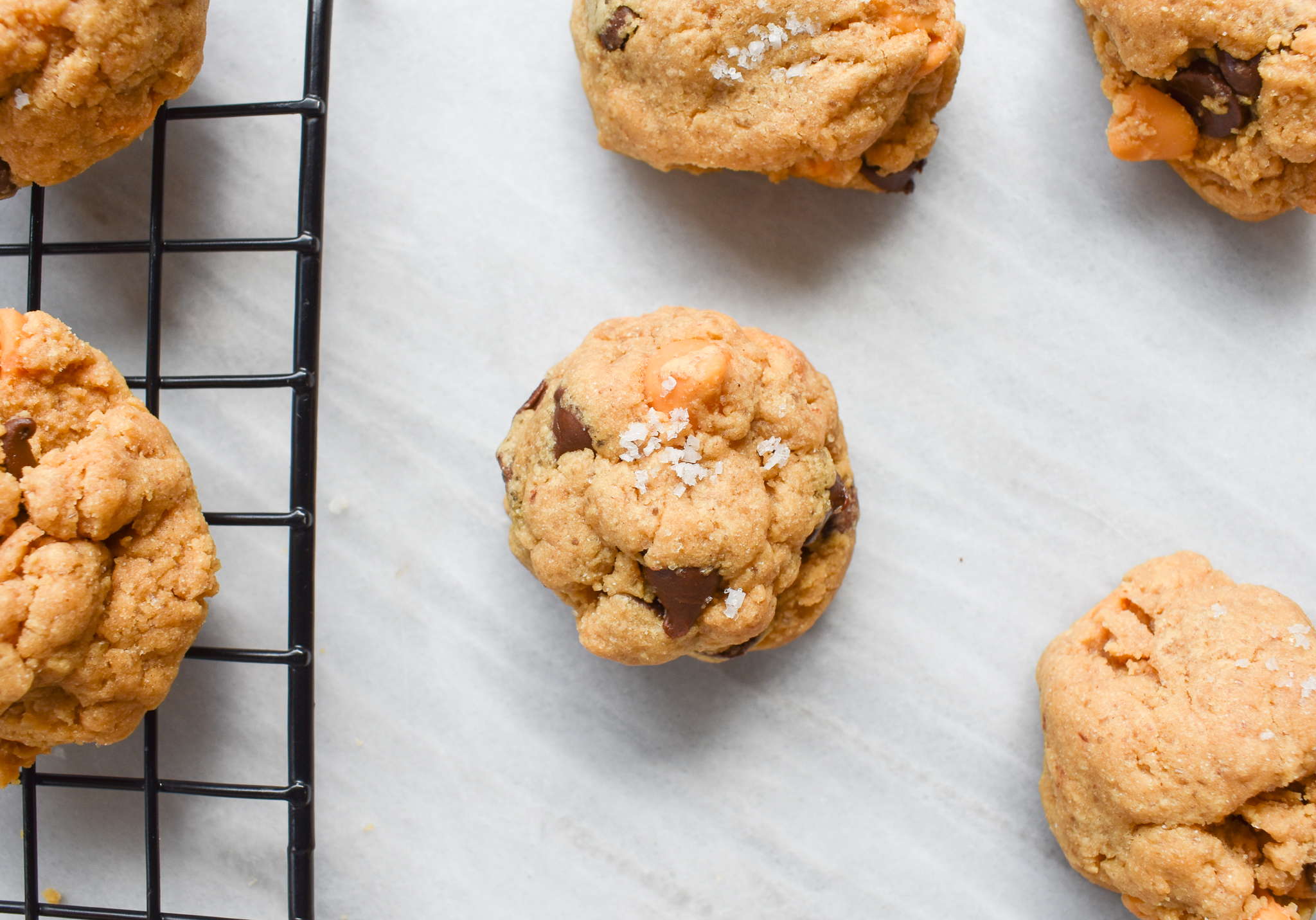 I remember having this kind of peanut butter cookie at bake sales growing up, with one exception…back then we would never have sprinkled them with flaked sea salt (It's a great addition, trust me).
Peanuts are one of my absolute favorite flavors. Every day I eat a Peanut Maple Pleasure Happy Bar for breakfast, a bag of peanuts mid-morning, and a Peanut Chocolate Euphoria Happy Bar at around 3 pm to keep me going.
A bit weird, but I'm a creature of habit, and my tummy is happy with it.  Peanuts are one of the foods that are low enough in FODMAPs that I can eat as much as I desire 🙂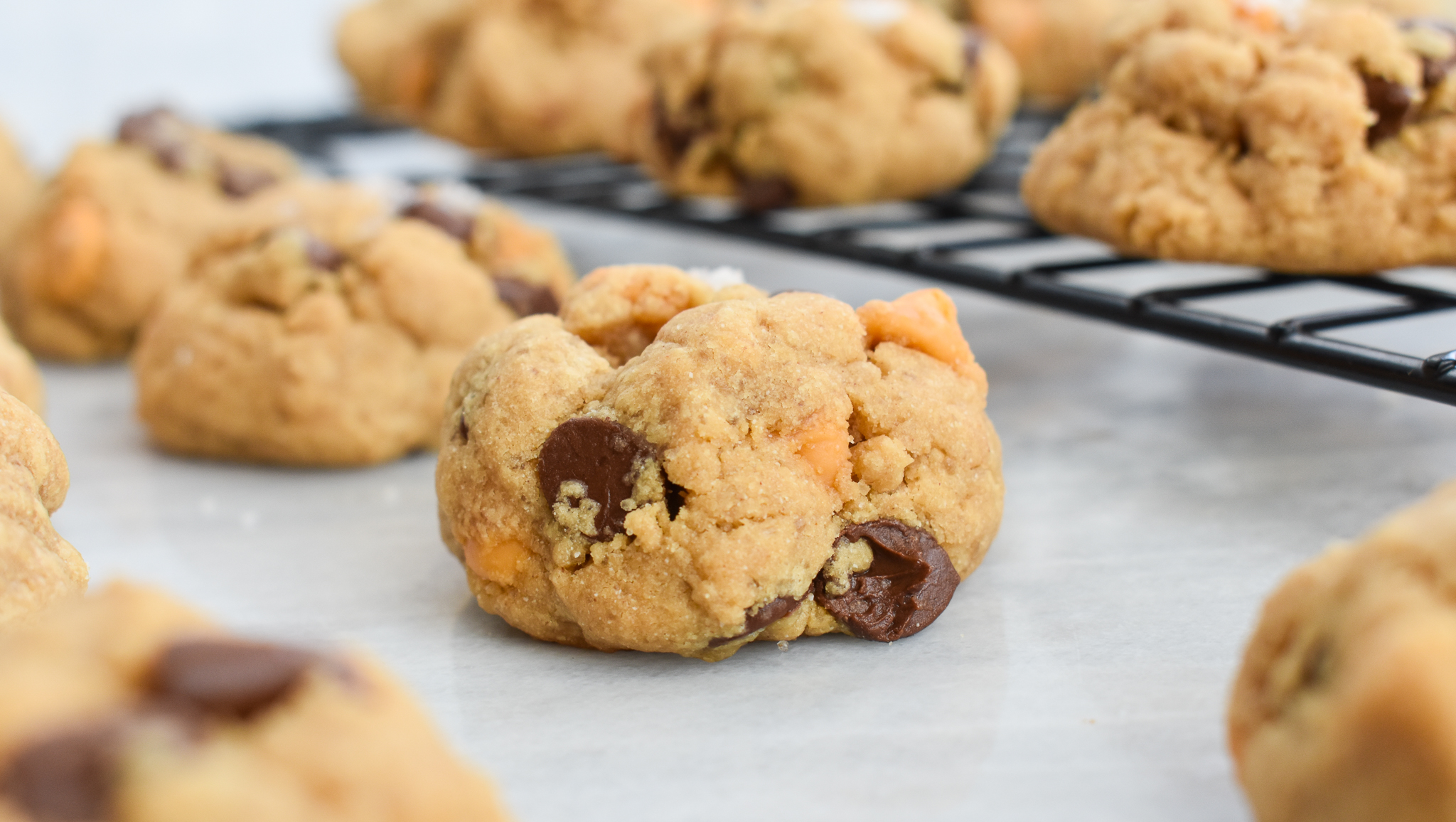 Enjoy these low-FODMAP Peanut Butter cookies with chocolate chips, chocolate chunks or try white chocolate and chopped peanuts if you like!  They are amazingly versatile.
You may also love my:
Or check out over 450 more low-FODMAP recipes on the blog. IBS-friendly!
Be healthy and happy,
Rachel Pauls, MD
P.S.  Check out my new COOKBOOK for over 100 low-FODMAP recipes, low-FODMAP Meal Plan, FODMAP Tips and everything you need!!  It's the BEST!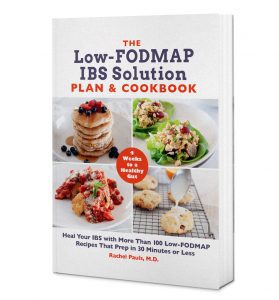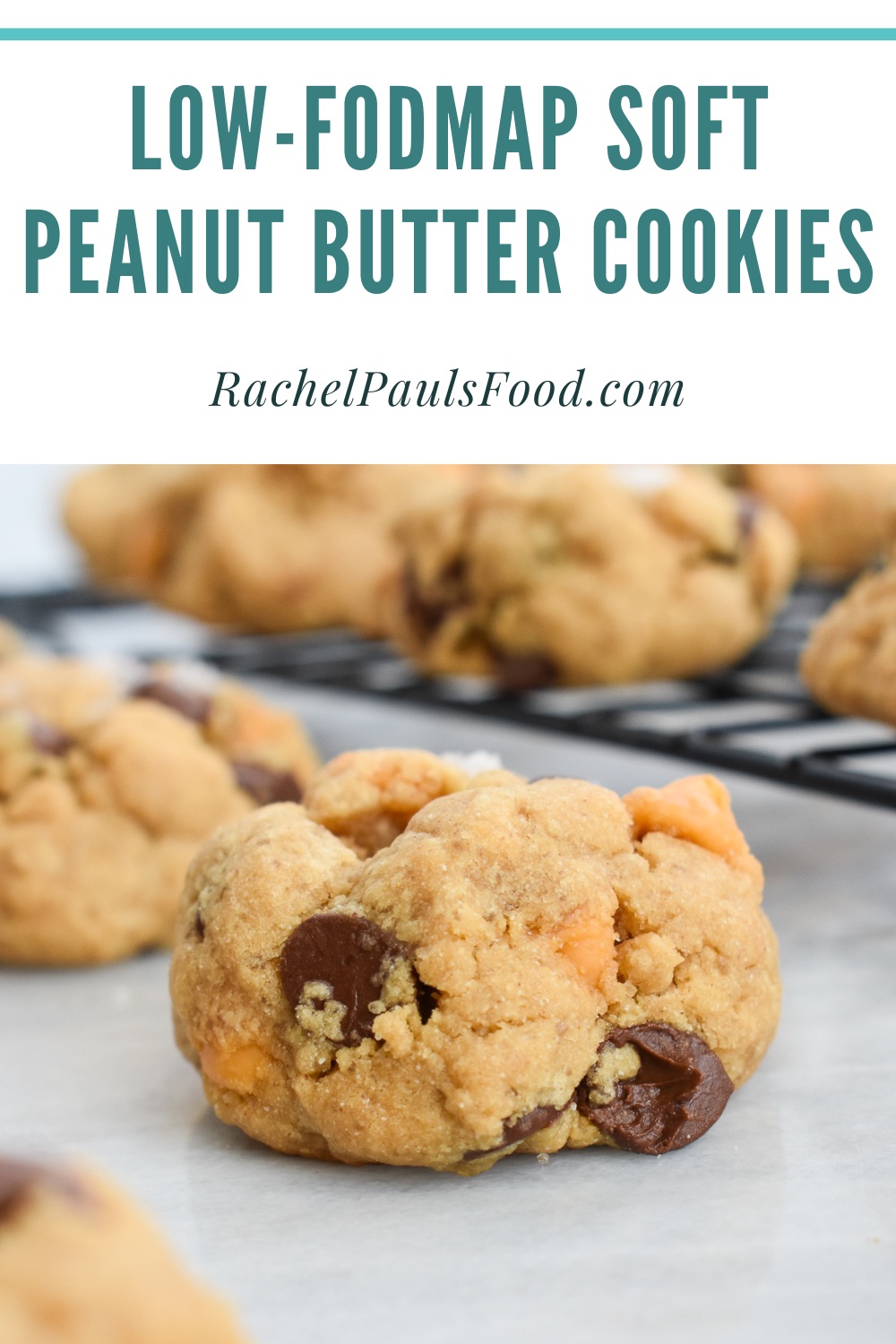 Although this recipe has not been lab tested, a single serving should be low-FODMAP based on the ingredients *using available FODMAP data at time of posting (*see note below about butterscotch chips)
Yield: 45 cookies; serving size 1-2 cookies
Prep time: 30 min plus chilling (1 hour or overnight)
Bake time: 10 min
Total time: 40 min plus chilling (1 hour or overnight)
Bake: 375 F
Ingredients
1 and 3/4 cups low-FODMAP, gluten-free all-purpose flour
1/4 cup sweet rice flour

This is not the same as regular rice flour, it is made with glutinous or sticky rice.  It changes the texture of the cookie to be slightly chewier

1/2 teaspoon xanthan gum, if not added to your flour choice
1/2 teaspoon baking powder
1 teaspoon baking soda
1/2 teaspoon kosher salt
3/4 cup packed brown sugar
1/2 cup granulated sugar
1 cup natural creamy peanut butter 'no-stir' variety

Do not use the brands that are difficult to stir, they don't result in the same texture for the dough
I like Skippy Naturals or Jif Naturals

1/2 cup unsalted butter, softened
1 teaspoon pure vanilla extract
2 large eggs, room temperature
2 cups semisweet chocolate chips *see note 👇

Can also use chopped peanuts, white chocolate chips or a combination

30g is one low-FODMAP serving for dark chocolate, 25g for white chocolate
I used 1 cup of semisweet and 1 cup butterscotch chips. Butterscotch chips have similar ingredients to white chocolate chips, but are not FODMAP tested. If you are uncertain about your tolerance, then do not substitute for your recipe

If you prefer your cookies less 'packed' then reduce amount by 1/2 cup

Flaked sea salt, optional, for sprinkling
Directions
In a medium bowl, combine the low-FODMAP, gluten free flour, sweet rice flour, xanthan gum, baking powder, baking soda, and salt. Set aside
Beat the butter in the large bowl of mixer with flat paddle until creamy
Add the brown sugar, granulated sugar, and peanut butter and beat about 2 minutes until fluffy
Add the vanilla extract, then the eggs, then beat until completely combined
Add the dry ingredients and mix on low until combined, scraping the bowl as needed
Stir in the chocolate chips or other stir-ins by hand
Cover and chill the dough for 1 hour or overnight (can be refrigerated up to 3 days)
When ready to bake, preheat the oven to 375°F and line baking sheets with silicone mats or parchment paper
Remove the dough from the fridge as you are actively using it, to ensure it stays chilled
Use a small cookie scoop to create 1 & 1/2 inch balls of dough and roll them lightly between your palms (you don't want to overhandle them too much), then space cookies about 2 inches apart on the baking sheet
Sprinkle with sea salt, if desired
Bake the cookie dough at 375°F for 10 minutes or until done (they will be 'just set' on the bottom)

You will likely need to bake them in batches

Cool on the baking sheets for 5 minutes, then transfer to a wire rack to completely cool
Store at room temperature in a sealed container, or freeze if desired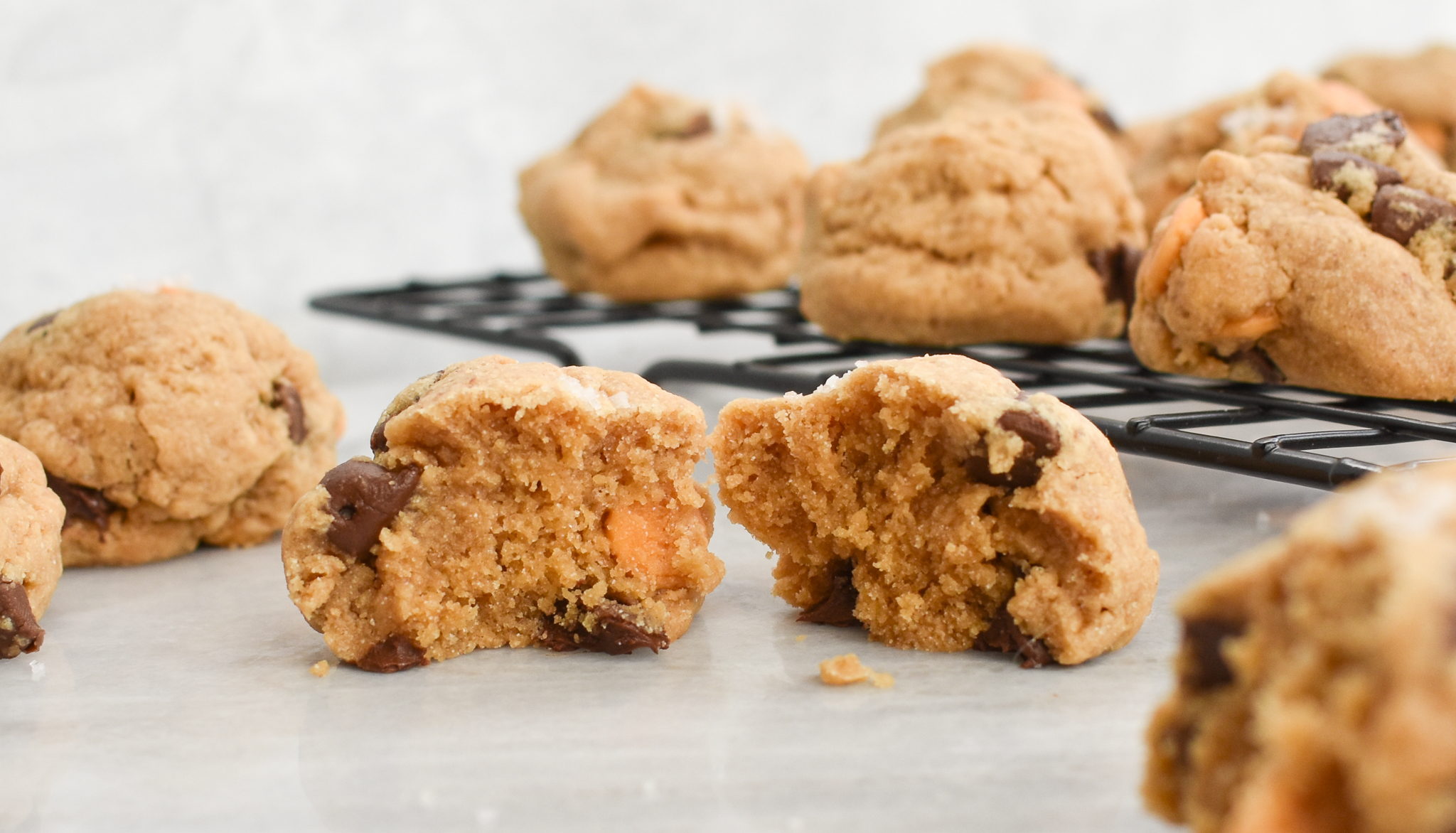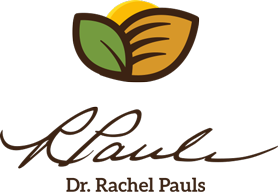 Printer Friendly Version
Comments Rating
( reviews)