Low-FODMAP Slow-Cooker Vegan 'Meatless' Chili with Quinoa; Gluten-free
April 26, 2020
Printer Friendly Version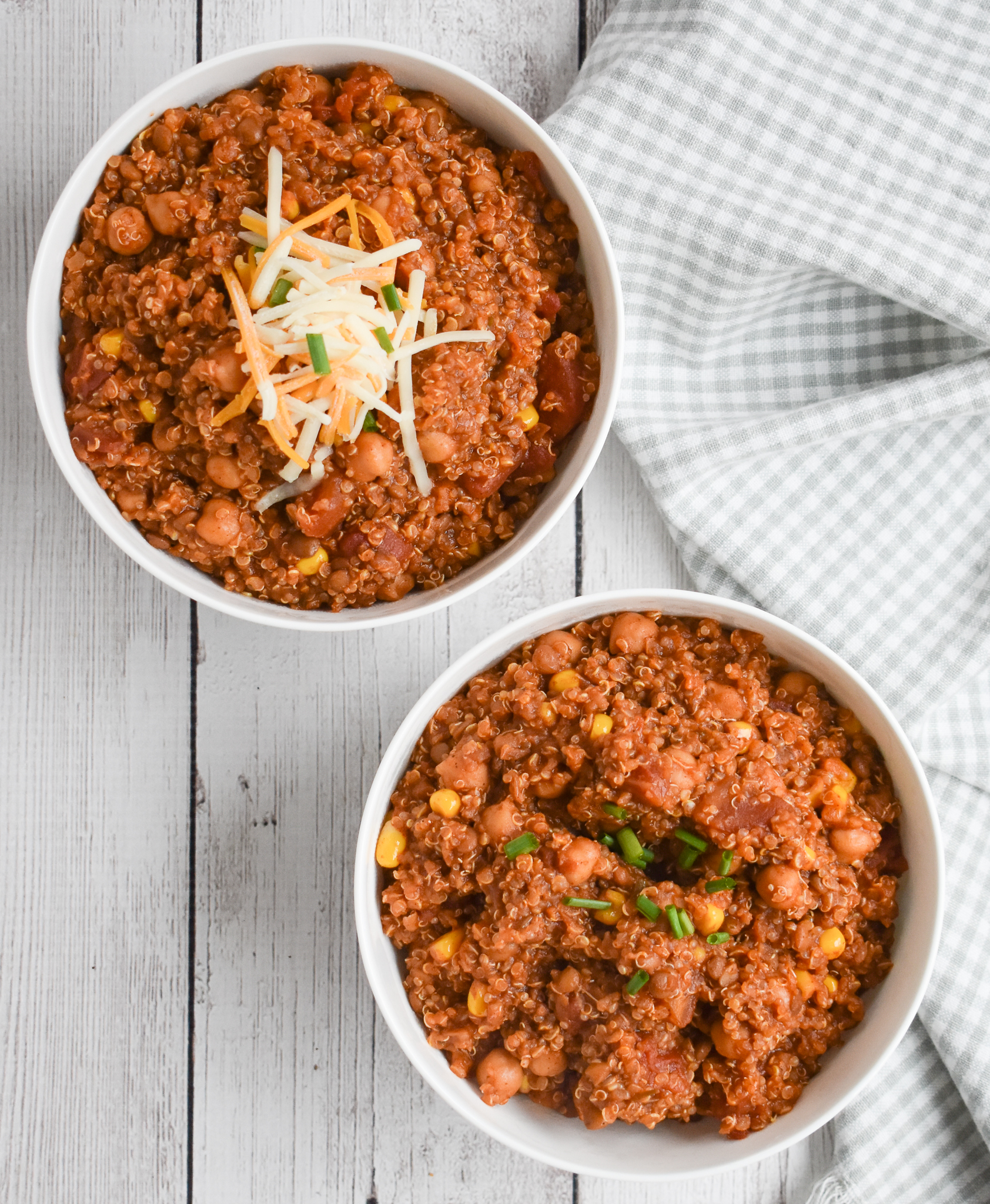 Following a vegan lifestyle while eating low-FODMAP can be a bit challenging (see my low-FODMAP Tips for Vegans Blog), although it has certainly gotten easier over the past few years.  With recent testing showing low levels of FODMAPs in firm tofu, canned lentils, canned chickpeas as well as tempeh, the options have improved dramatically.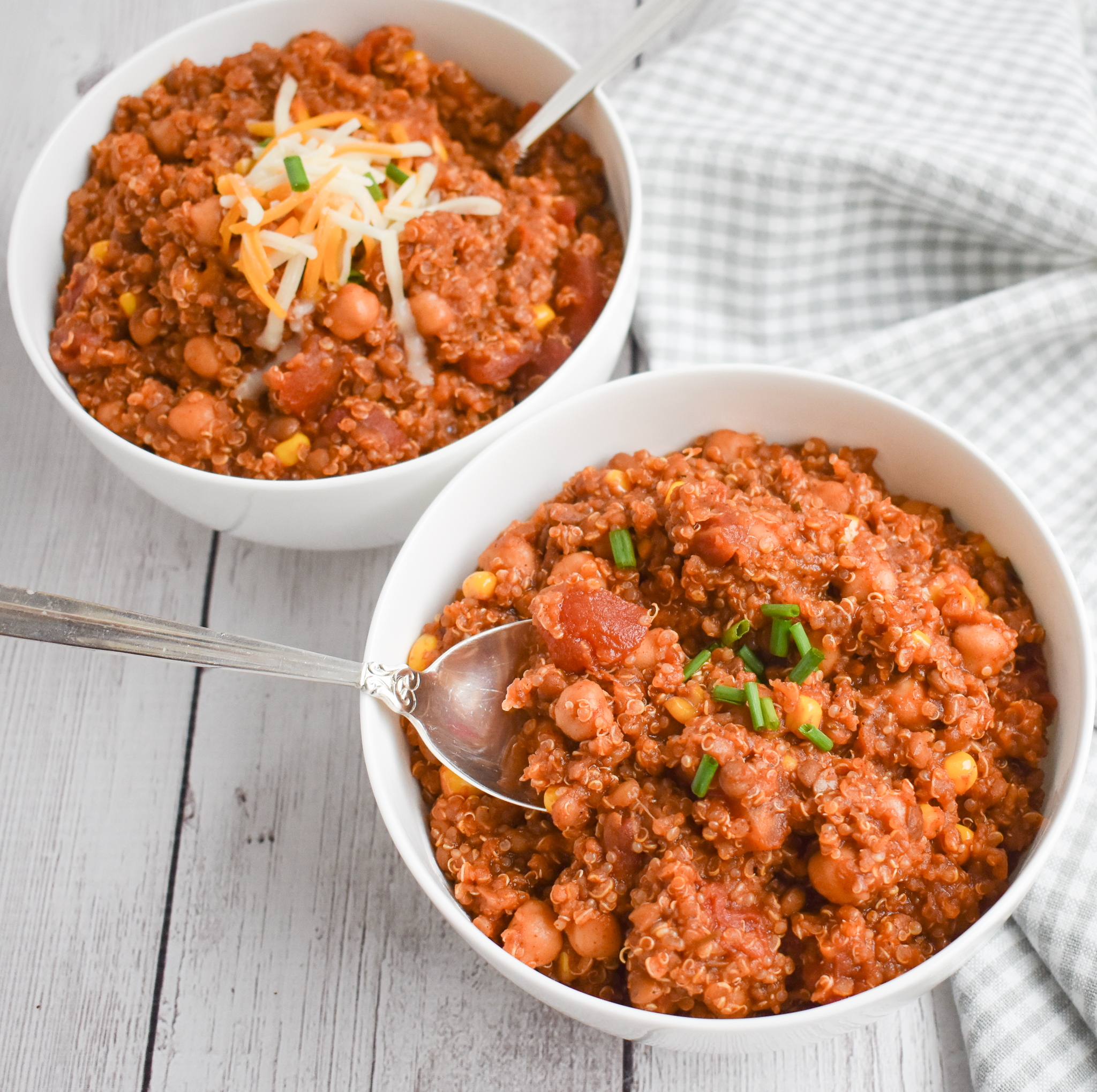 Add in all the wonderful grains and vegetables that are safe to enjoy, and it gets even better.  For example, quinoa is a 'complete' protein source, containing all the amino acids needed for optimal health.
That being said, I don't give as much 'recipe attention' to my low-FODMAP vegan friends.  So I thought I would create a low-FODMAP Vegan Slow-Cooker Chili recipe without meat, that will make everyone at the table drool.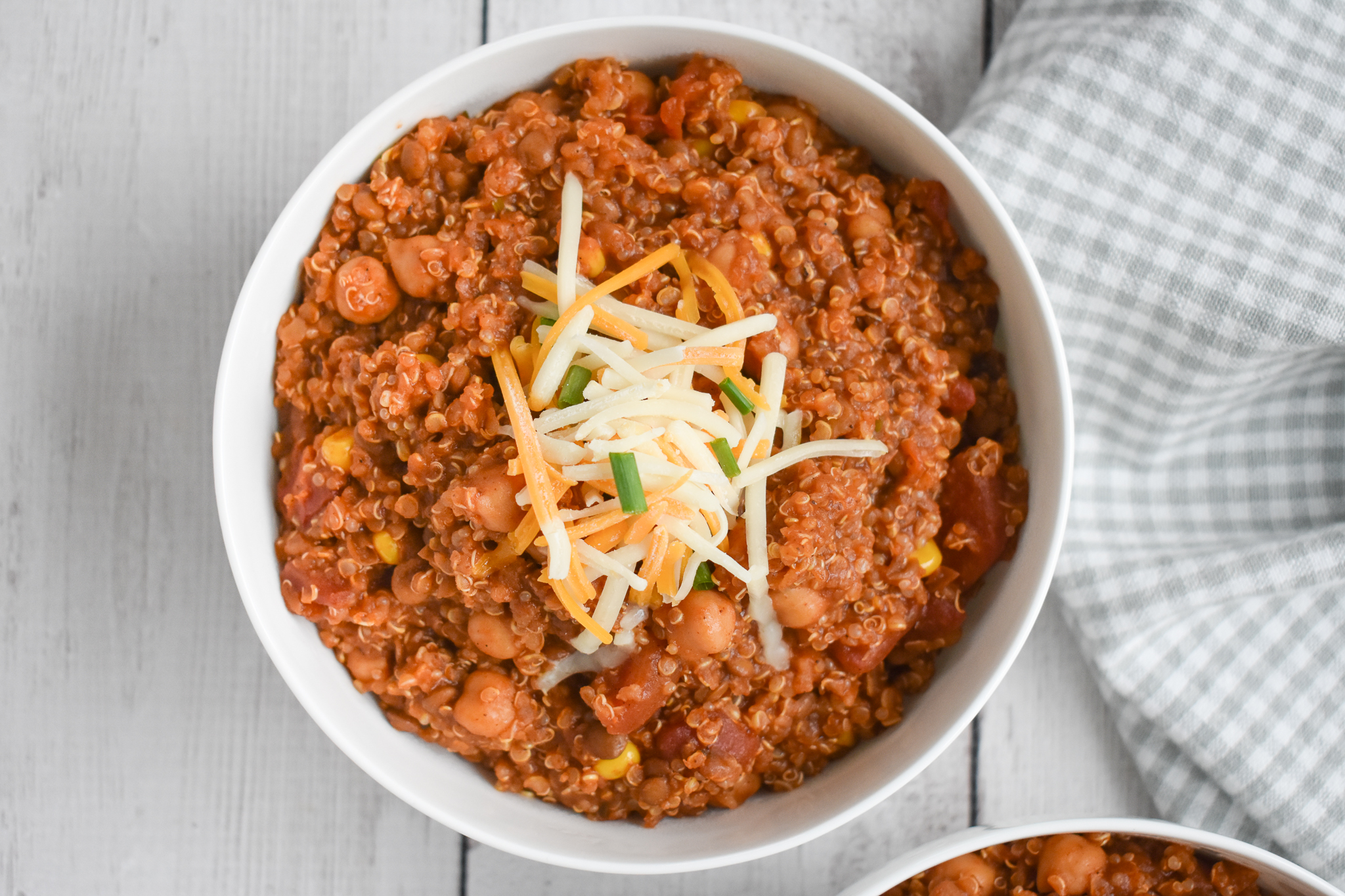 FODMAP fact: Canning chickpeas and lentils results in the FODMAPs being leached into the liquid that you drain away.  As a result, you can enjoy the canned legume without the same IBS issues that would result from boiling them yourself.  However, when it comes to sweet corn, the canned variety is higher in FODMAPs than the cutting it from the cob.  Use fresh corn kernels in this recipe instead of from a can.
A further FODMAP tip regarding lentils- the Monash app is not accurate in the 'cup' measures that it lists for dry and canned lentils (the 'g' weight measures are correct).  Weigh your product in grams to ensure a safe serving.
You may also love my:
Or check out over 450 more low-FODMAP recipes on the blog!  IBS-friendly
Be healthy and happy,
Rachel Pauls, MD
---
Low-FODMAP Slow-Cooker Meatless Chili with Quinoa; Gluten-free, Vegan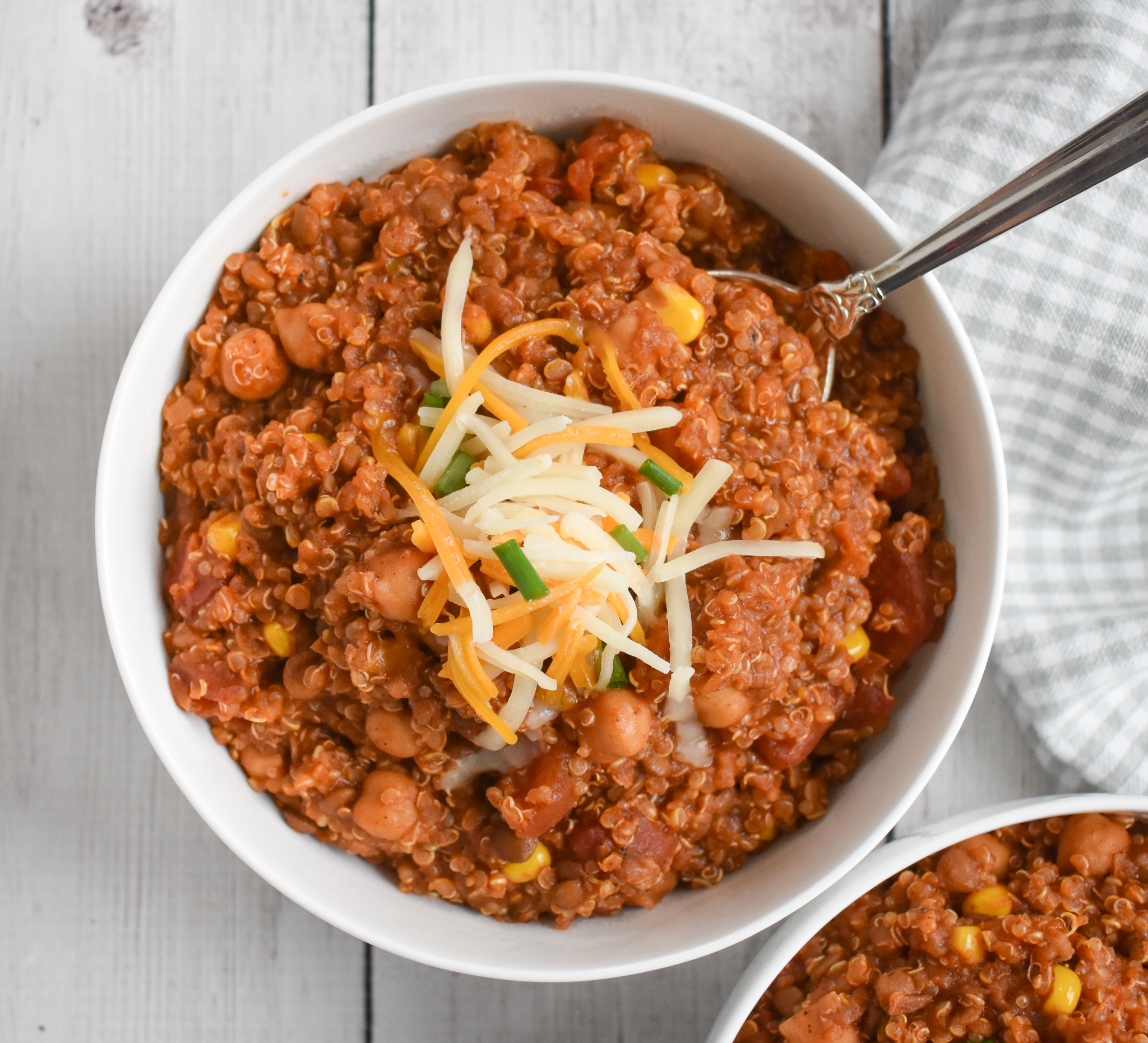 Although this recipe has not been lab tested, a single serving should be low-FODMAP based on the ingredients, based on available FODMAP data at time of posting.  However, due to the portions of chickpeas and lentils, if you do not tolerate GOS well, then adjust accordingly.
Serves: 8-10
Serving size: 1 cup
Prep time: 10 min
Cook time: 2H on high, 4H on low
Total time: 2 hours, 10 minutes
Equipment: 5 or 6 quart slow-cooker
Ingredients
1 & 1/3 cups uncooked quinoa (any type will do, I used white quinoa)

This will yield about 4 cups cooked quinoa
1 cup cooked quinoa is one low-FODMAP serving

2 tablespoons garlic infused olive oil

For tips on shopping for these oils, see my low-FODMAP Recipe swap blog
Infused oils are perfect for added onion and garlic flavors without the FODMAPs!

15 ounce can chickpeas, rinsed and drained (this canned amount will yield about 246 g of chickpeas once drained)

1/4 cup or 42 g is one low-FODMAP serving
Do not substitute fresh chickpeas/garbanzo beans (raw or cooked)

15 ounce can lentils, rinsed and drained (this canned amount will yield about 246 g of lentils once drained)

1/4 cup or 46 g is one low-FODMAP serving
Do not substitute fresh lentils (raw or cooked)

6 tablespoons (1/2 can) tomato paste, no added onion or garlic

2 tbsp is one low-FODMAP serving

14 ounces diced tomatoes canned, no added onion or garlic

3/5 cup (about 4 ounces) is one low-FODMAP serving

2 tablespoons chopped fresh chives

Can also use green scallion tips

½ cup (65 g) fresh, fresh frozen, or canned corn kernels

For sweet corn, one low-FODMAP serving is 38g
For canned, drained and rinsed corn, one low-FODMAP serving is 75g (recently updated in 2021)

4 cups vegetable broth/stock

Try my low-FODMAP Happy Soup for an easy vegan option
Ensure your stock does not contain onion or garlic, 'natural flavors' on ingredient lists often could mean it contains these additives
The chili will take a lot of flavor from your stock choice, make sure you pick one that you enjoy!

2 tablespoons low-FODMAP Happy Spice Taco Seasoning:

Can also substitute 1.5 tablespoons ancho chili powder, 1/2 teaspoon cumin, 1/4 teaspoon oregano, 1/4 teaspoon salt
Check labels to ensure your spices do not have added onion or garlic

1/2 teaspoon coriander
1/2 teaspoon ground black pepper
Salt to taste
Optional garnish: fresh parsley, cilantro, chopped chives
Directions
Place all ingredients in slow-cooker and cook on medium-high for 2 hours or low for 4 hours
Taste, and add extra water or vegetable broth, spices or salt to your preference of flavor and consistency (if you like a little sweetness, then you can add a tbsp of brown sugar)
Garnish with your choice of toppings (non-vegans, try shredded Colby jack cheese)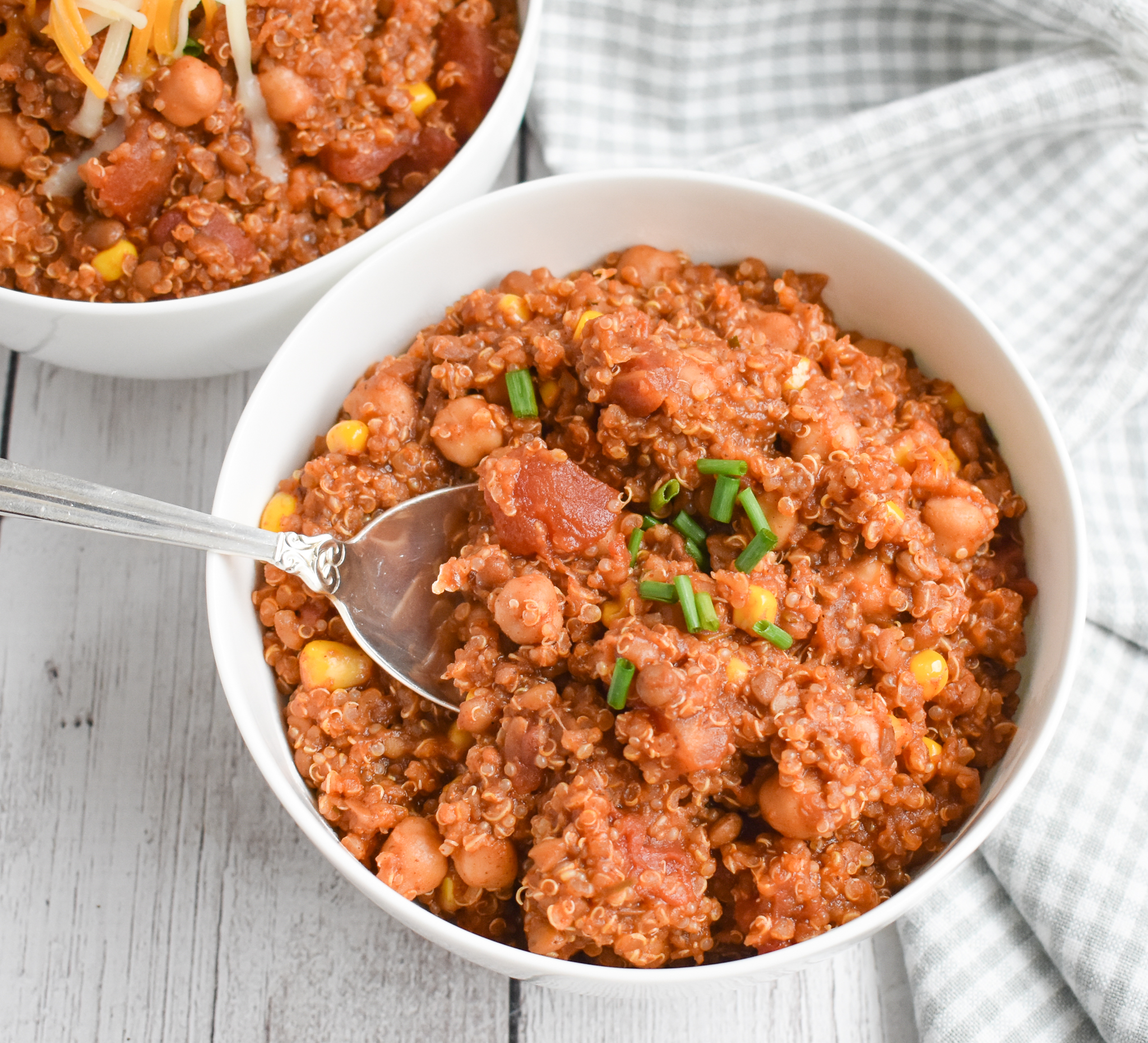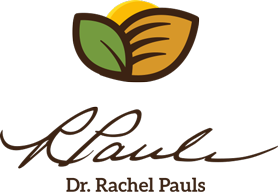 Printer Friendly Version
Comments Rating
( reviews)