Low-FODMAP Slow-Cooker Stuffed Bell Pepper Soup; Gluten-free, Dairy-free
July 26, 2019
Printer Friendly Version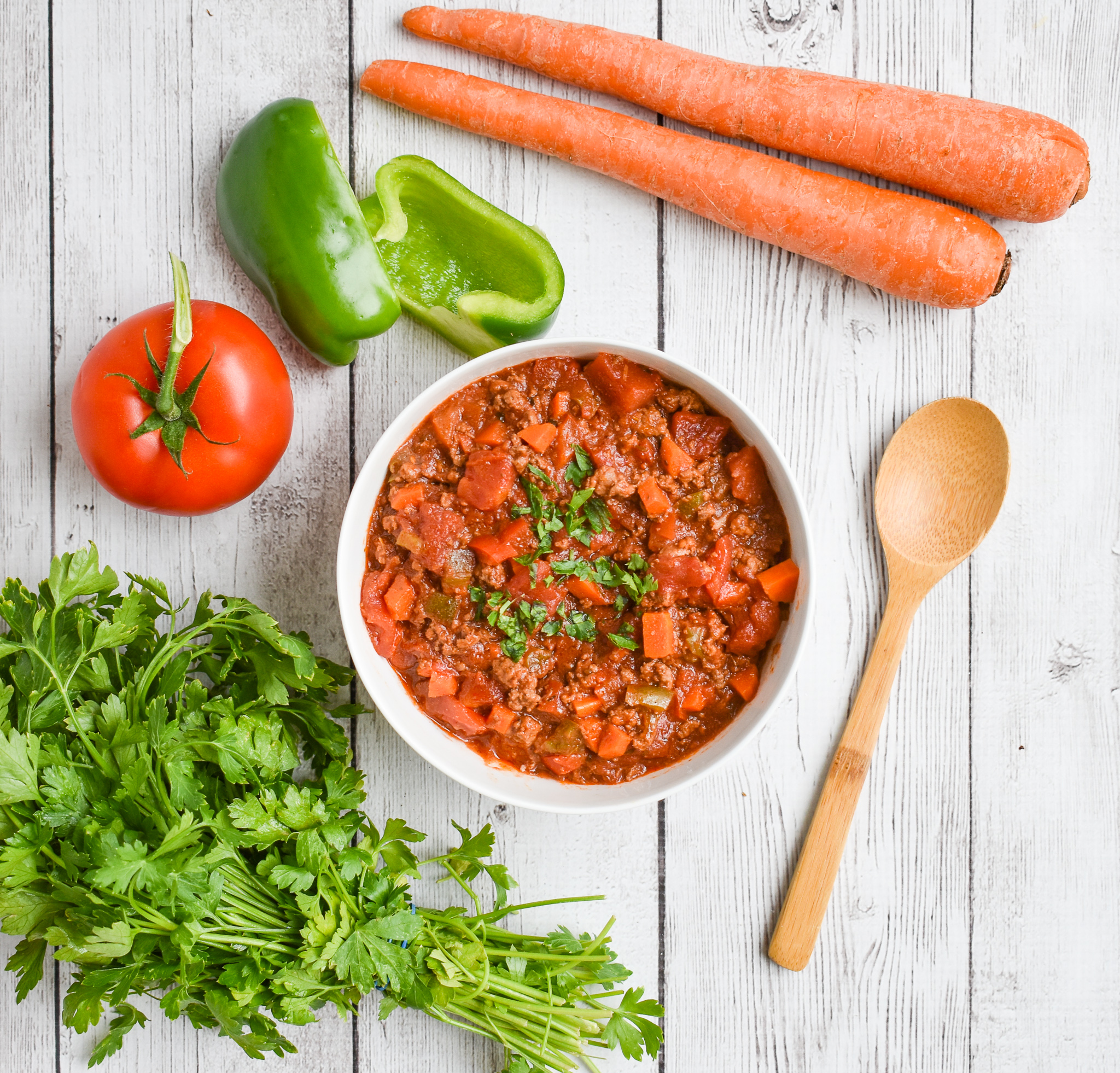 This is one of my new favorites!  A delicious low-FODMAP soup recipe using the slow-cooker.  It makes a hearty and healthy meal the whole family will enjoy.  Low-FODMAP Slow-Cooker Stuffed Bell Pepper Soup is simple to prep and clean up, but has that deep flavor from using a slow-cooker.
I love that this low-FODMAP Stuffed Bell Pepper Soup is filled with ground beef, rice and tons of vegetables, since I can trust that my family is getting all the nutrients they need in one bowl.  It is packed with protein, vitamins and fiber.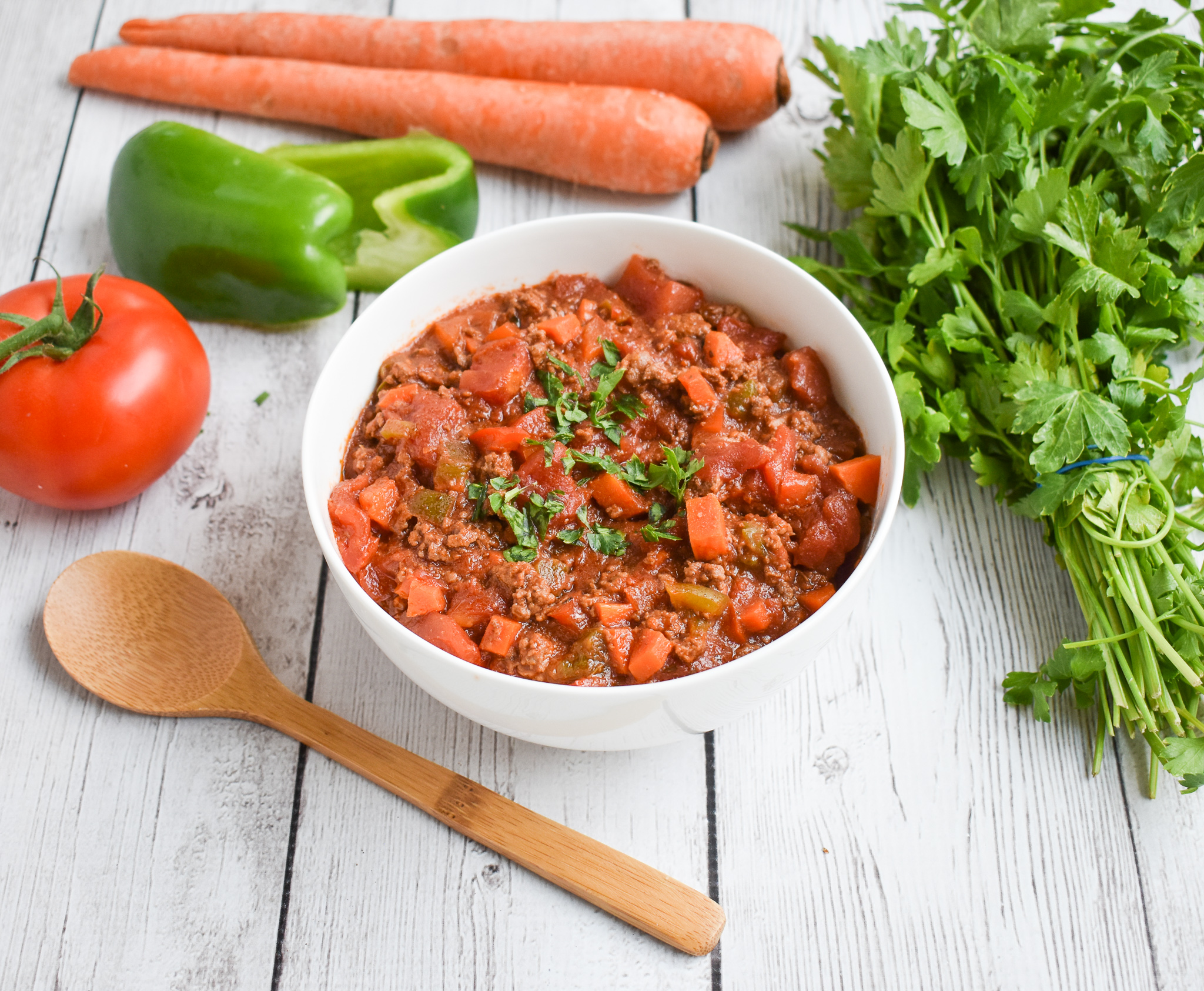 FODMAP fact: Red and Green Peppers vary in FODMAP content.  While you can enjoy 75g of green pepper for one low-FODMAP serving (higher amounts contain too much fructan), in contrast red bell peppers contain more and need a lower serving of 43g  (due to fructose levels)!  You just can't take anything for granted when it comes to FODMAP levels. (*recent Monash update March 2022).  Check out our free low-FODMAP Happy Gut Guide for FODMAP lists and other great information.
Try this low-FODMAP Stuffed Bell Pepper Soup with my low-FODMAP Crackers and low-FODMAP Multigrain Bread.  Or check out over 450 more low-FODMAP recipes on the blog. You may love my low-FODMAP Slow-Cooker Collection. IBS-friendly!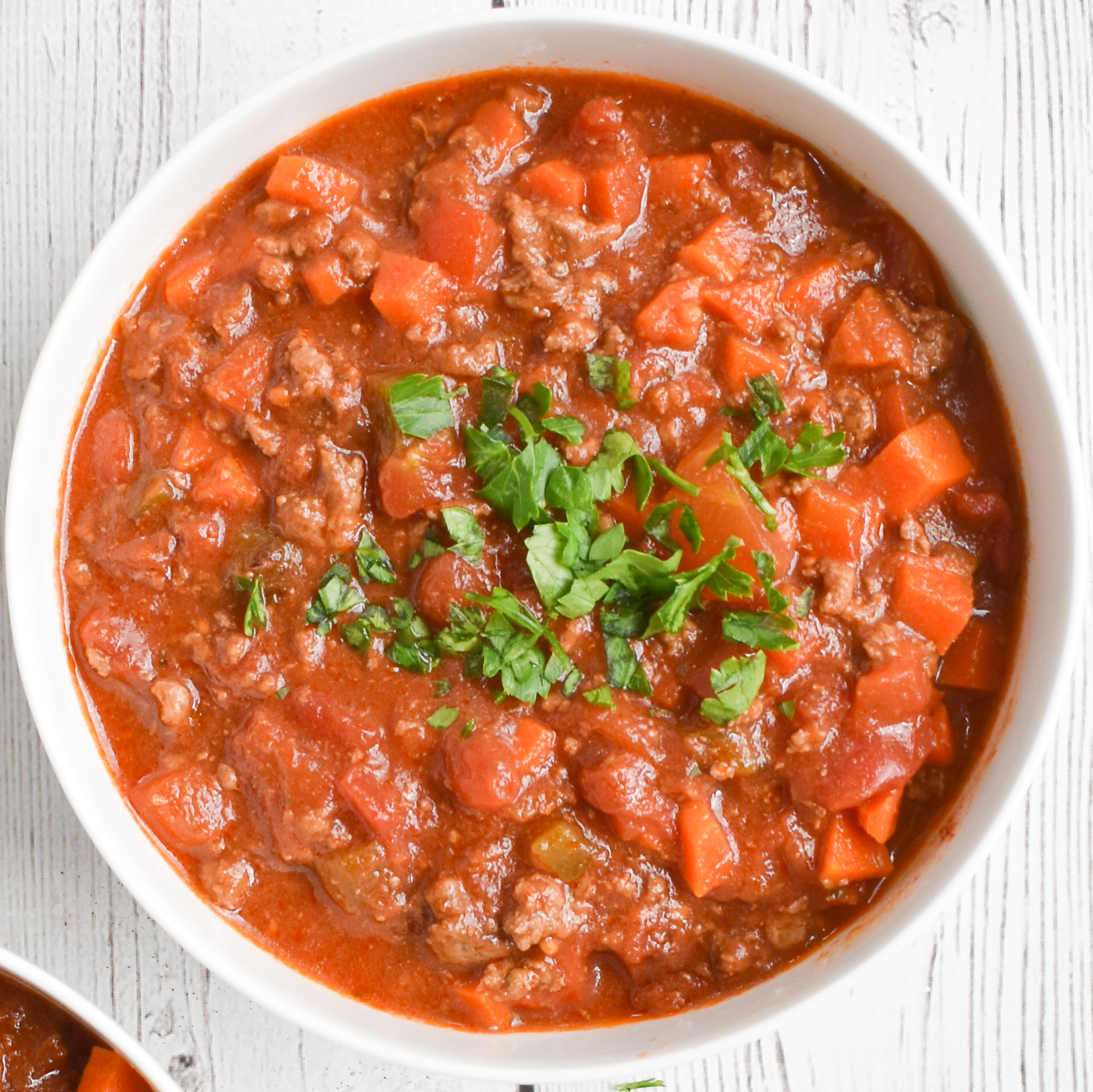 Be healthy and happy,
Rachel Pauls, MD
---
Low-FODMAP Slow Cooker Stuffed Bell Pepper Soup; Gluten-free, Dairy-free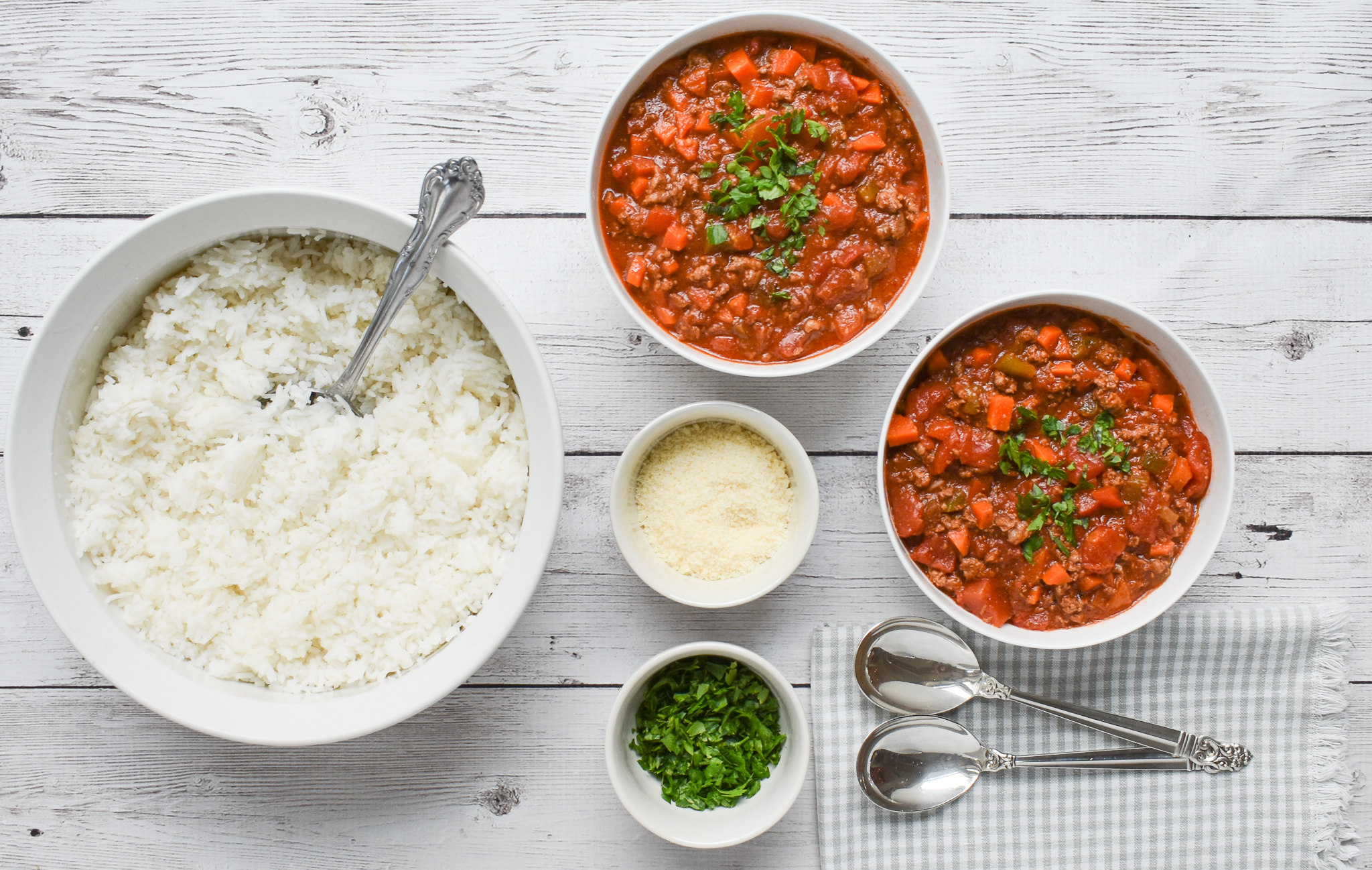 Although this recipe has not been lab tested, a single serving should be low-FODMAP based on the ingredients  *using available FODMAP data at time of posting.  However, if you have trouble tolerating large amounts of tomatoes, you may wish to adjust your serving size.
Serves: 10
Prep time: 15 min
Cook time: 15 min stovetop, 4 hours high or 8 hours low in slow-cooker
Equipment: Slow-cooker, 5 qt or larger
Ingredients
1 pound lean or extra lean ground beef
3/4 teaspoon kosher salt, (additional to taste)
1 & 1/2 cups (225g) chopped green bell pepper (from about 1 large pepper)

**Due to recent Monash updates about bell peppers, we have adjusted the recipe to increase the amount of green bell pepper and reduce red bell pepper.  See notes in header for low-FODMAP serving sizes.

2/3 cup (100g) chopped red bell pepper (about half of 1 large pepper)
2 medium carrots, peeled and chopped
Two 14.5 ounce cans diced tomatoes (no high-FODMAP additives)

4.2 ounces is the maximum low-FODMAP serving for canned tomatoes per Monash, FODMAP Friendly lists a maximum of 4.9 ounces due to fructose

One 15 ounce can pure tomato sauce or pureed tomatoes (no high-FODMAP additives)
2 cups low-FODMAP chicken broth or low-FODMAP vegan broth
2 teaspoons low-FODMAP Happy Spices Italian Seasoning or

1/2 teaspoon dried marjoram
1/2 teaspoon dried basil
1/2 teaspoon dried oregano

1/2 teaspoon freshly ground pepper, or to taste
2 tbsp garlic-infused olive oil (for tips on shopping for these oils, see my low-FODMAP recipe swap blog)
3 to 4 tablespoons fresh Italian flat-leaf parsley, finely minced (plus extra for sprinkling)
5 cups cooked white or brown rice, can also substitute low-FODMAP rice-quinoa medley

I used Basmati rice (my kids favorite)

Parmesan cheese for sprinkling (non dairy-free version)
Optional: Tabasco sauce for extra heat (to taste)
Directions
To a large nonstick skillet or Dutch Oven, add the ground beef, garlic-infused oil and kosher salt, and cook over medium-high heat to brown, crumbling it with a spatula as it cooks and tossing it to ensure even cooking
Cook through, about 5 minutes or as necessary
Drain fat if desired
Add the peppers, and carrots and cook for about 6 to 8 minutes, or until vegetables have softened, stirring intermittently
Transfer the beef mixture into a 5-6 quart slow-cooker
Add the low-FODMAP broth, diced tomatoes, tomato sauce, low-FODMAP Happy Spices Italian Seasoning or other dry spices and pepper, stir to combine, cover, and cook on high for about 4 hours or low for about 8 hours
Stir in the fresh parsley
Taste soup and make any necessary seasoning adjustments, i.e. more salt/pepper, a pinch of sugar, or add a few drops of Tabasco sauce if you tolerate spice and want more heat
Ladle about 1/2 cup rice in each bowl and top with ¾ cup – 1 cup soup

Store rice separately from the soup in an airtight container to avoid it being too mushy over time

Soup freezes well, or refrigerate for 1 week. Tastes great prepared a day in advance.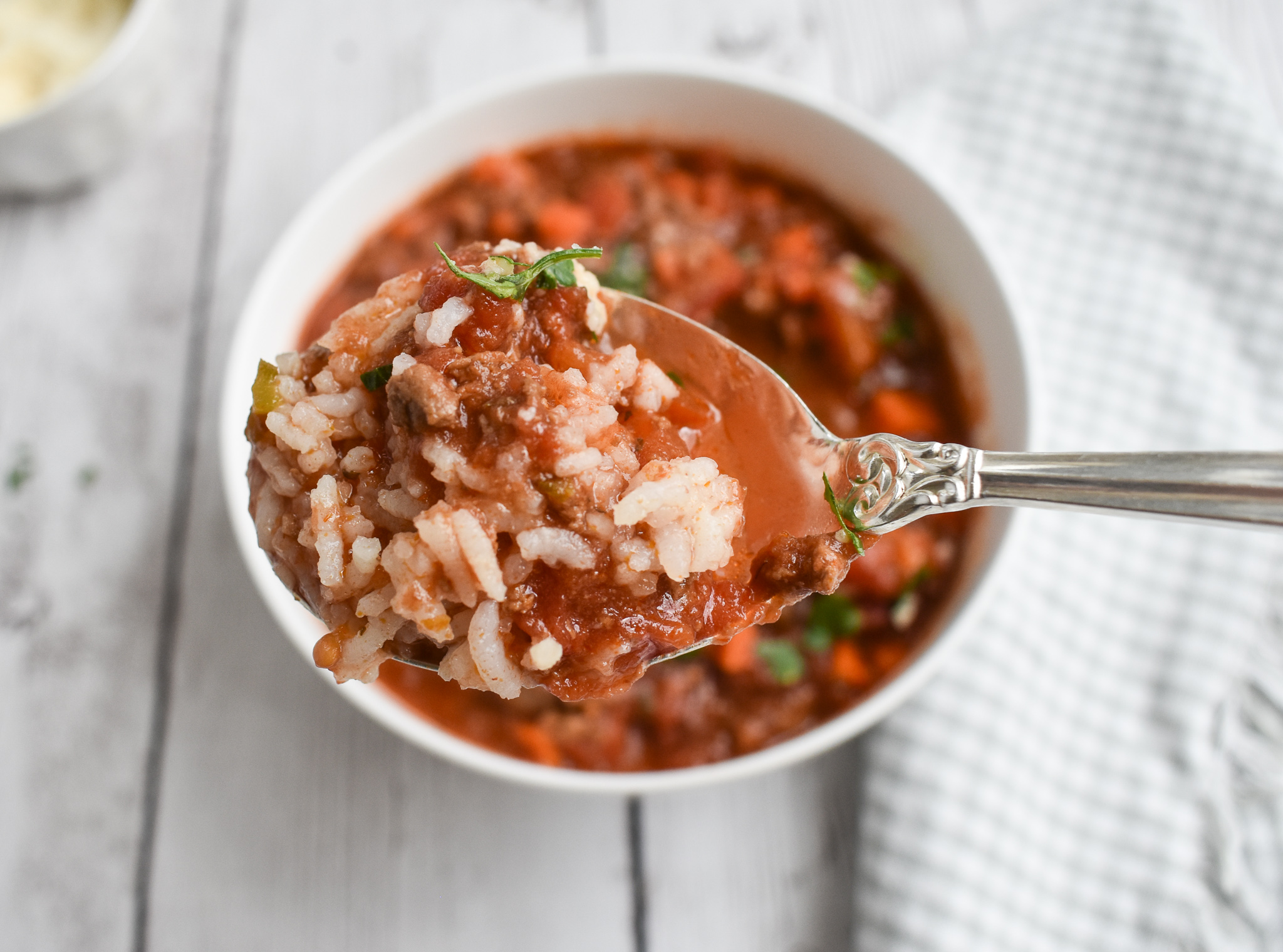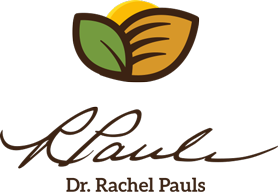 Printer Friendly Version
Comments Rating
( review)