Low-FODMAP Slow-Cooker Chicken Enchilada Quinoa Casserole; Gluten-free
February 27, 2021
Printer Friendly Version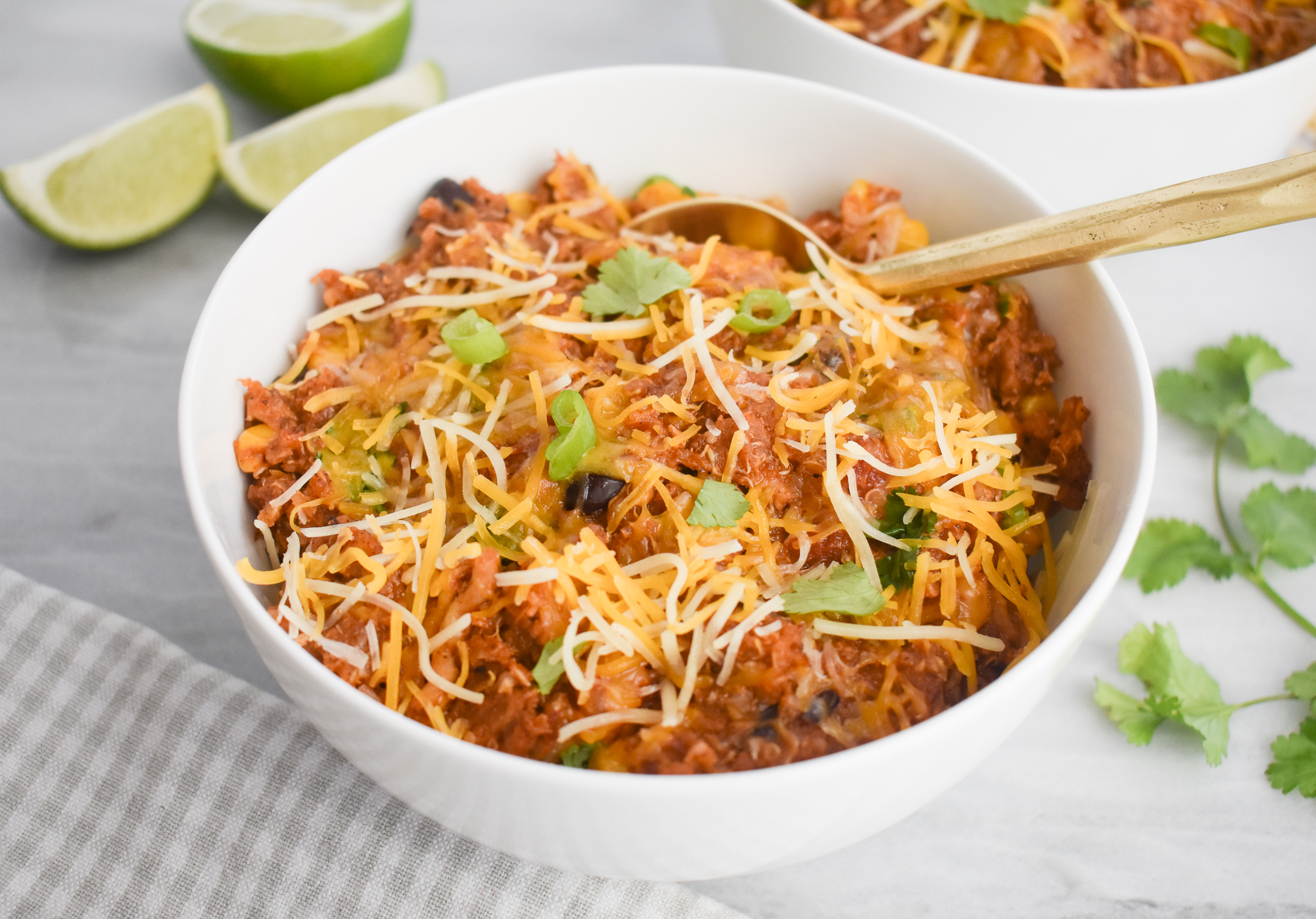 Hello friends! I have another easy low-FODMAP slow-cooker recipe for you! (click here for my low-FODMAP Slow Cooker collection)
Low-FODMAP Slow-Cooker Chicken Enchilada Quinoa Casserole.  What a mouthful (pun intended)!  It is so delicious, nutritious, filling and family friendly you will be making this low-FODMAP Chicken Enchilada Casserole again and again.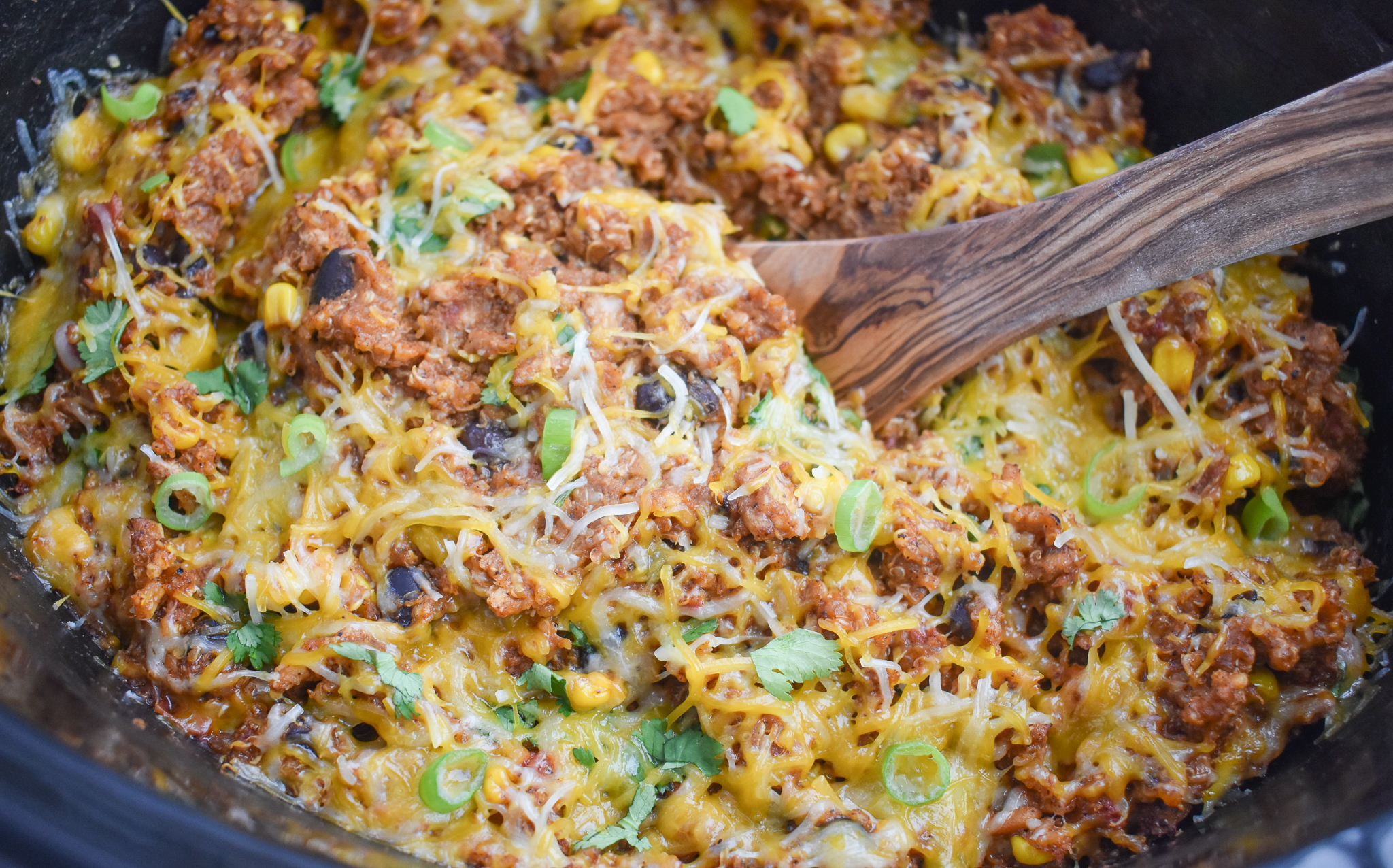 You can certainly prepare an enchilada casserole with corn tortilla chips, but I added quinoa to this low-FODMAP Chicken Enchilada recipe since it is lower in fat, and packed with protein, vitamins, and fiber!
I incorporate my versatile low-FODMAP Happy Spices Taco Seasoning, and the flavors of infused oils (safe for the low-FODMAP diet) to provide all the taste you love.
Just wait till you try this low-FODMAP Slow-cooker Chicken Enchilada Quinoa!  SOOO delicious and gluten-free!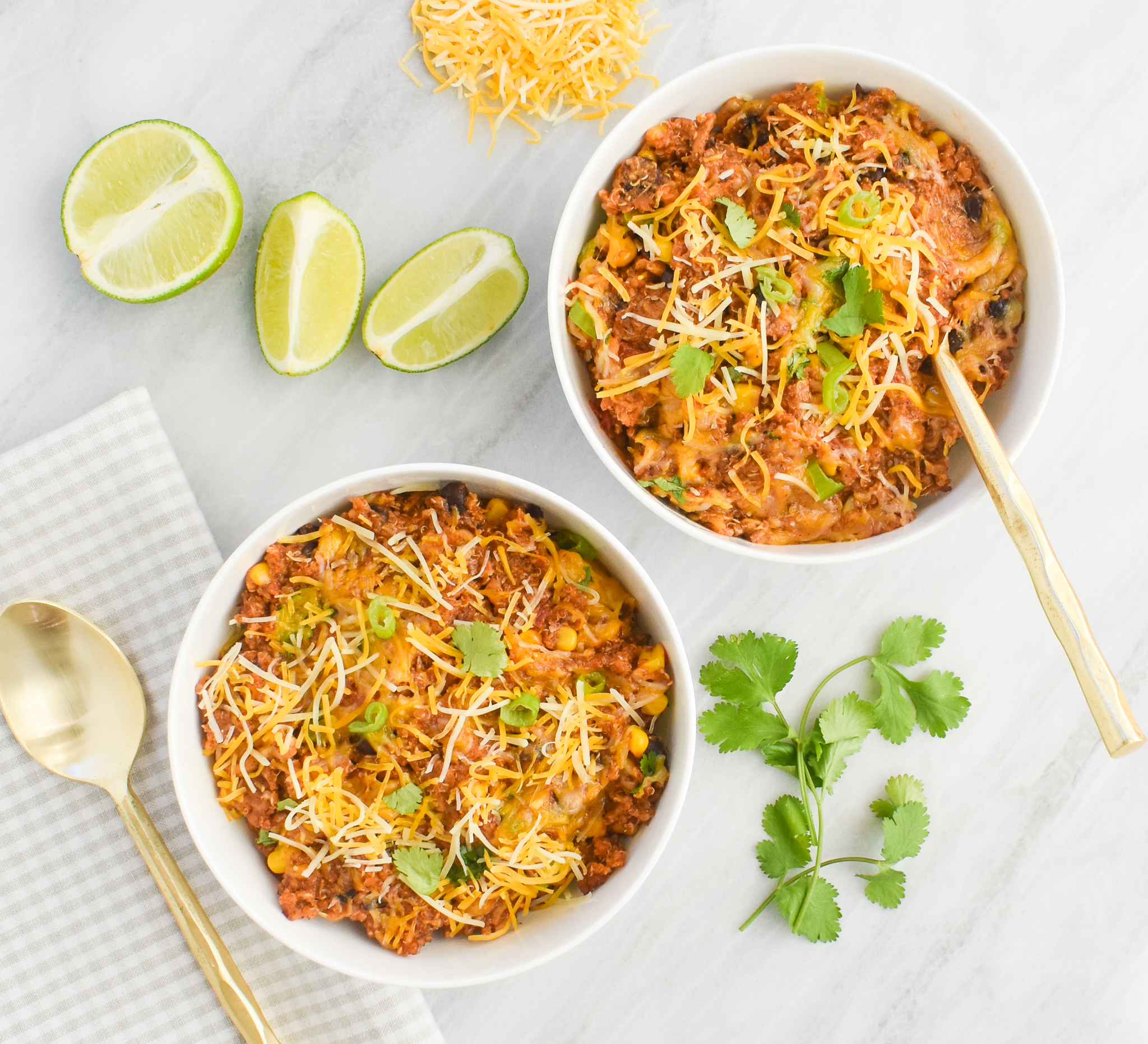 You may also love:
Or check out over 400 more low-FODMAP recipes on the blog.  IBS-friendly!
Be healthy and happy,
Rachel Pauls, MD
P.S.  Check out my new COOKBOOK for over 100 low-FODMAP recipes, low-FODMAP Meal Plan, FODMAP Tips and everything you need!!  It's the BEST!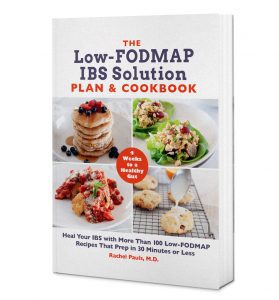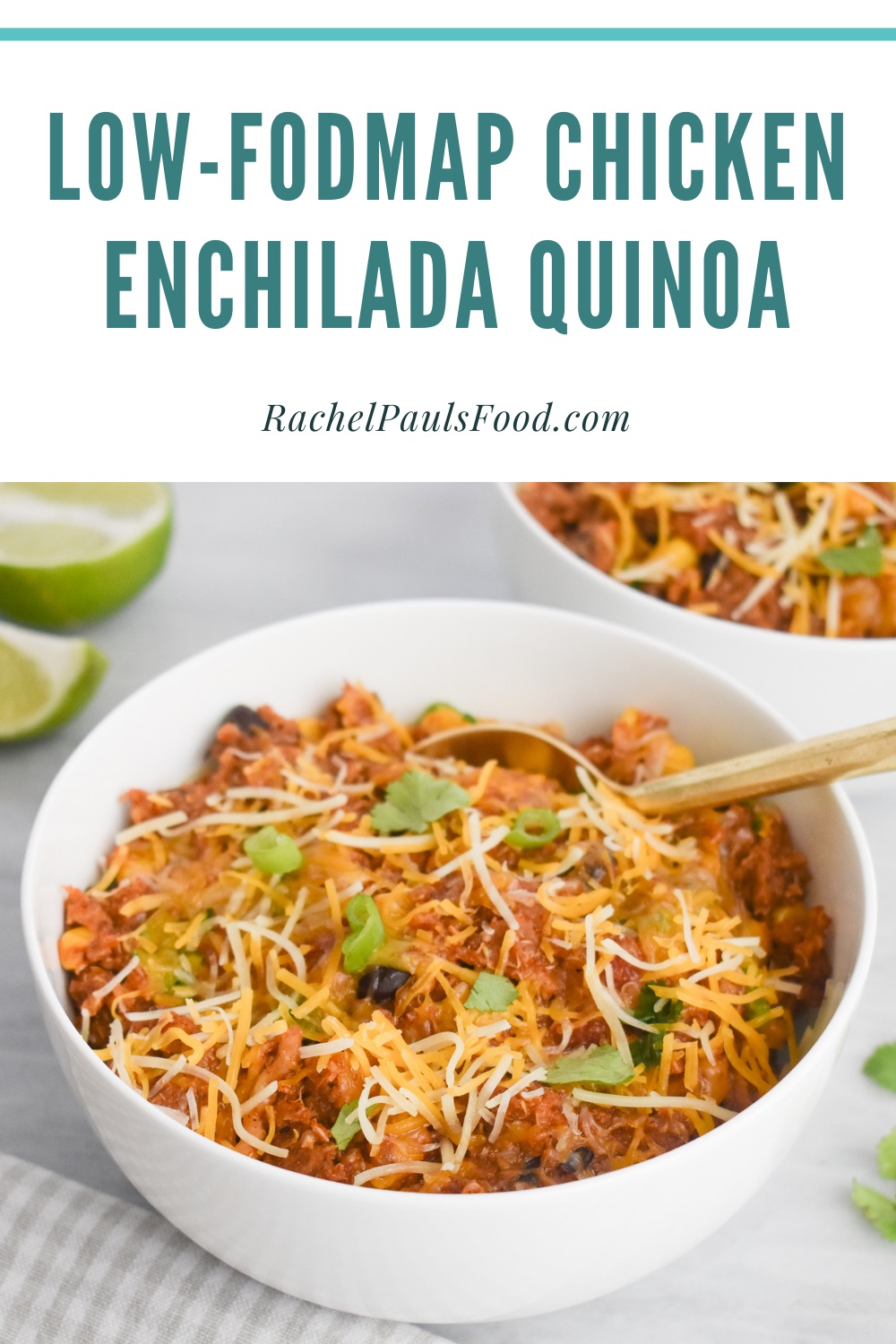 Although this recipe has not been tested, a single serving should be low-FODMAP based on the ingredients
Serves: 8
Prep time: 15 minutes
Cook time: 3 hours on high (slow cookers vary, adjust to yours as necessary)
Total time: 3 hours, 15 min
Equipment: 5 or 6 quart slow-cooker
Ingredients
1 pound (16 ounces) uncooked ground chicken (can also substitute ground turkey or ground beef)
1 & 1/2 cups uncooked quinoa (white, red or black), rinsed

This should make about 5 cups cooked quinoa
One cup is one low-FODMAP serving

1 can (About 15.5 ounce) black beans, drained and rinsed

As long as you use CANNED black beans, and you drain them, a serving of 40 g is low-FODMAP, Higher amounts will have higher levels of GOS

Do not use fresh black beans that you cooked yourself, the FODMAPs would not have been removed during that process

One can will yield about 280 g of beans once drained

1 cup (130 g) fresh or canned corn

38 g is one low-FODMAP serving for fresh corn due to sorbitol levels
75 g is one low-FODMAP serving for canned corn due to fructans

1 can (14.5 ounce) organic fire roasted tomatoes

3/5 of a cup (about 4 ounces is one low-FODMAP serving). Larger serves will have higher levels of excess fructose
I used Muir Glen- make sure your brand does not contain added onion or garlic
The fire roasted tomatoes have a great flavor, but if you can't find these then regular canned tomatoes will also work

8 tablespoons tomato paste (2 tbsp is one low-FODMAP serving) mixed with ½ cup warm water

Ensure your brand does not contain onion or garlic. I used organic.

1 jalapeno pepper, finely chopped (optional, omit if you are sensitive to spicy food)

Trace amounts of FODMAPs are in this food

2 cups low-FODMAP chicken broth, prepared (try low-FODMAP Happy Soup for an easy option!), plus extra as needed for consistency
2 tablespoons onion or scallion infused olive oil
2 tablespoons garlic infused olive oil

Infused oils add flavor but NO FODMAPs! The oil does not allow the FODMAP carbohydrates to be absorbed- see my Top 11 FODMAP tips for the reason why!

2 tablespoons low-FODMAP Happy Spices Taco Seasoning, plus to taste
1 cup (100 g) shredded Cheddar cheese; divided

Trace FODMAPS are found in cheddar cheese
Avoid cheese blends (or check ingredients) as they often contain added onion and garlic
I used a variety of white and sharp cheddars

Juice of 1 lime
2-3 tablespoons fresh cilantro, chopped
2 tablespoons green scallion tips (there are no FODMAPs in the tips of scallions, avoid the bulbs)
Freshly ground salt and pepper to taste
Optional for serving:
Directions
In a large skillet over medium heat, cook the ground chicken until no pink remains
Drain the chicken, then season with salt and pepper and place in the slow cooker
Add in the uncooked quinoa, drained beans, corn, fire roasted canned tomatoes, tomato paste-water mixture, jalapeno pepper (if using), low-FODMAP chicken broth, garlic and onion infused oils, low-FODMAP Taco Seasoning, and a few twists of your salt and pepper grinder
Stir well
Cover the slow cooker and cook on high for 3 hours or until the liquid is all absorbed into the mixture
Remove the lid and stir in lime juice, then taste and adjust seasoning if necessary, add hot sauce or additional salt and pepper if desired
Stir in the half the cheese and sprinkle the other half on top
Replace the lid and let the cheese melt
Top with the chopped green scallions and cilantro prior to serving
Serve with lactose-free sour cream, low-FODMAP salsa, and garnish with lime slices, if desired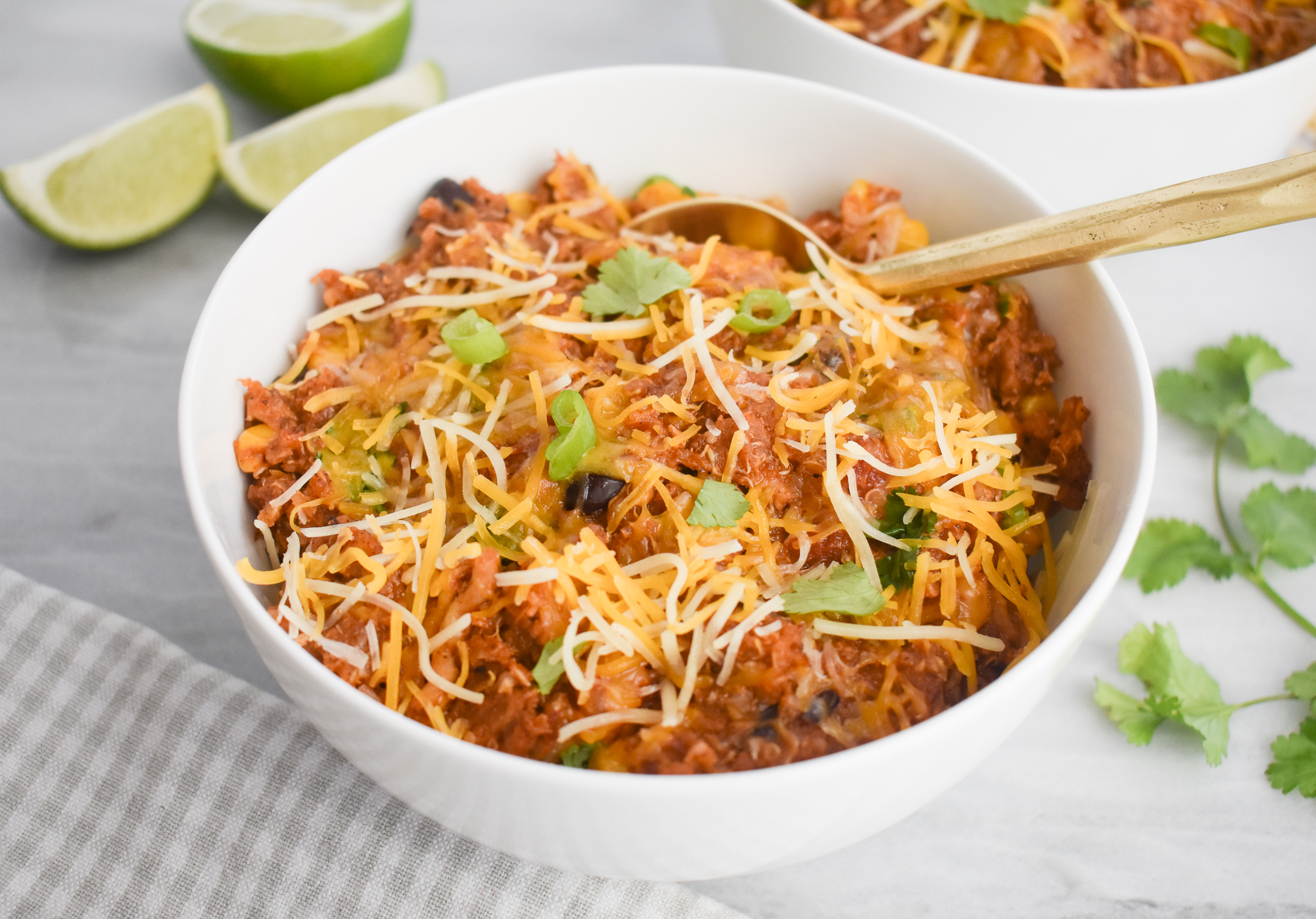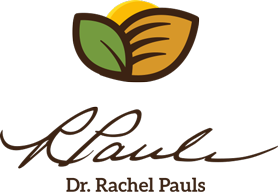 Printer Friendly Version
Comments Rating
( reviews)