Low-FODMAP Slow-Cooker Baked Potato Soup; Gluten-free
April 6, 2019
Printer Friendly Version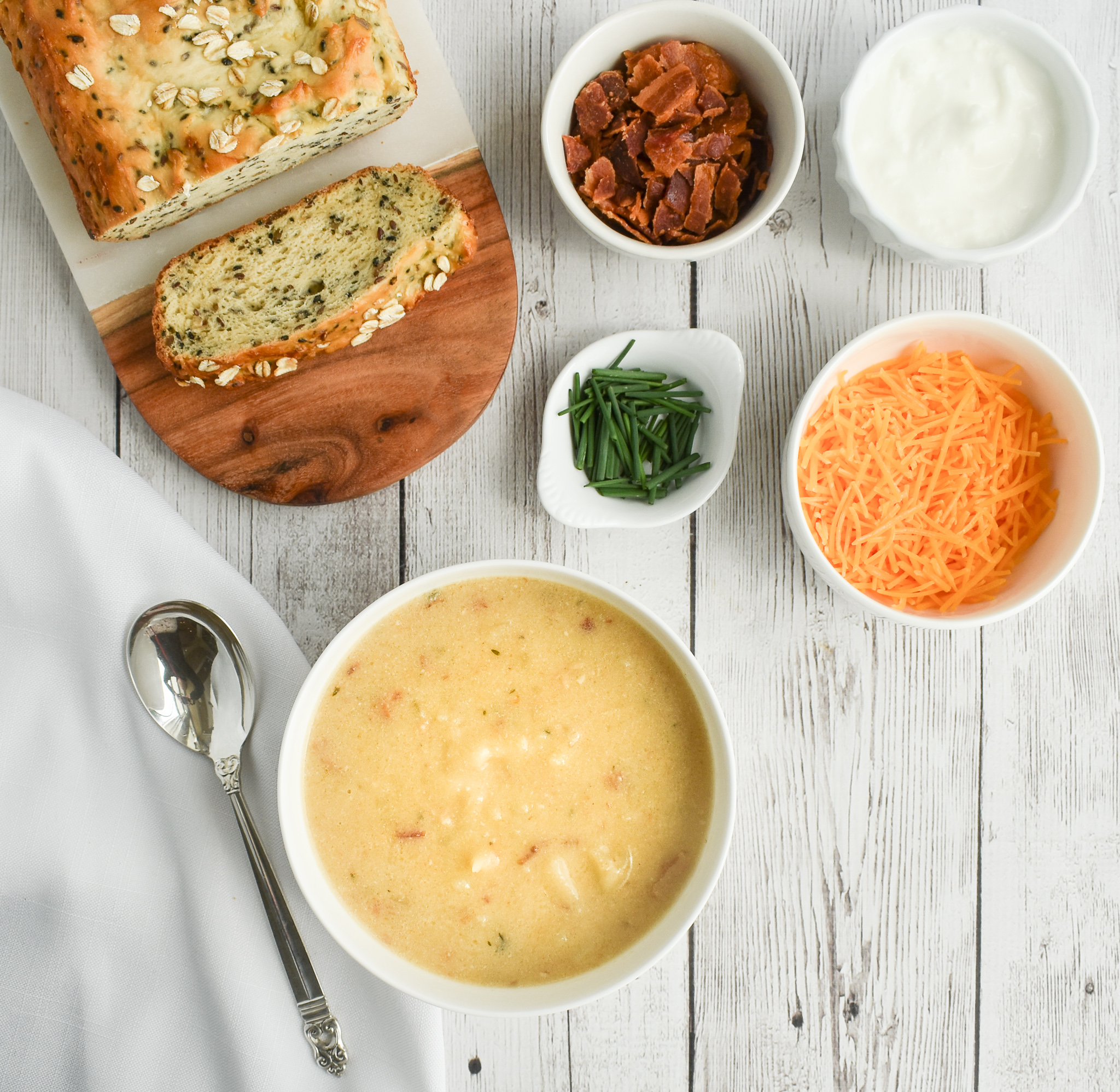 I love using the slow-cooker for low-FODMAP cooking! This low-FODMAP Baked Potato Soup in the slow-cooker means easy cooking and clean up. But it is also one of the best tasting soups you will ever have.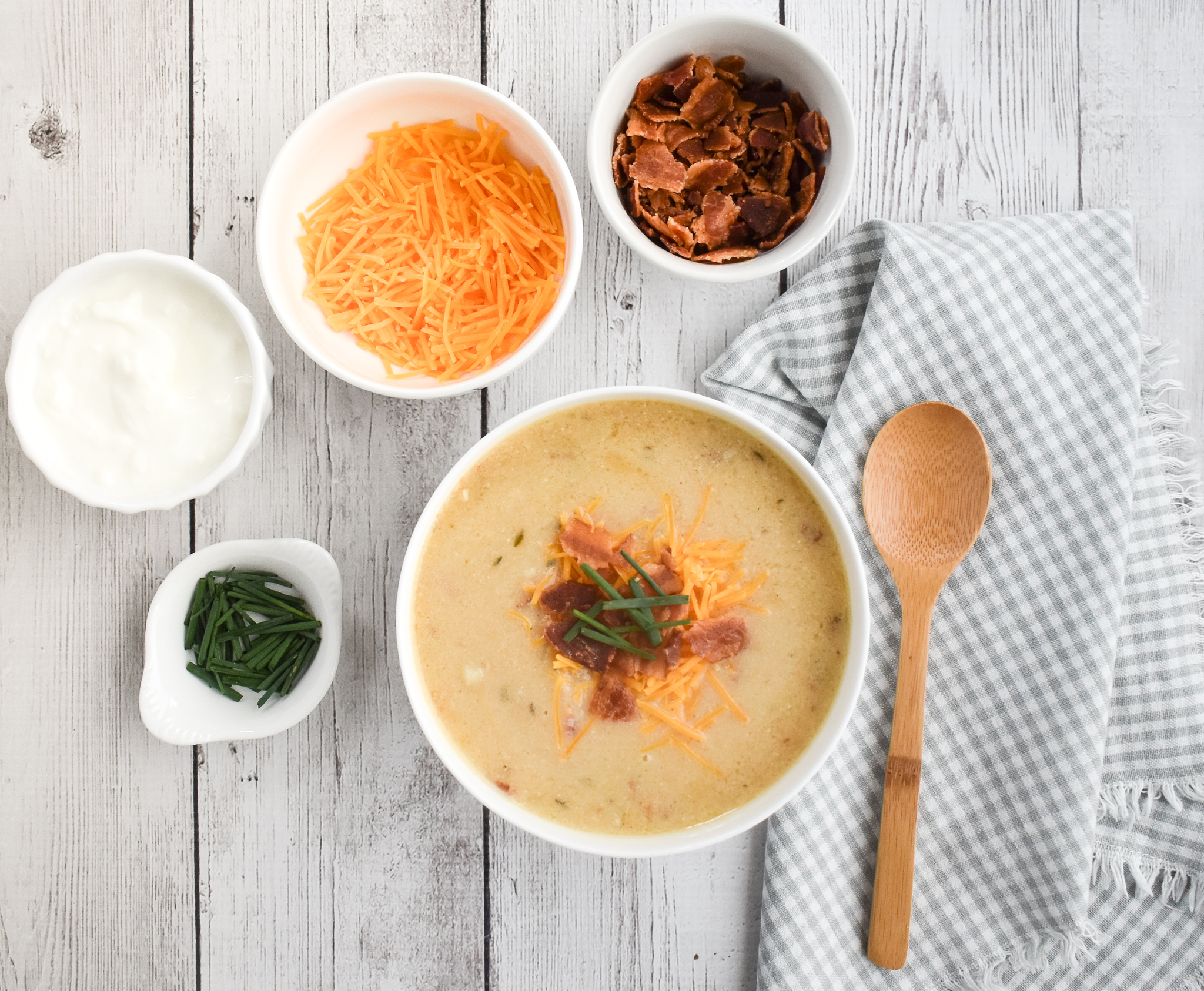 When I took my first spoonful of this low-FODMAP Baked Potato Soup I closed my eyes to savor it better.  It is that good. Rich, creamy, hearty and bursting with flavor.   Not to mention low-FODMAP Baked Potato Soup packs tons of nutritious potato fiber, protein and vitamins in every bite. It goes great with my low-FODMAP Multigrain Bread.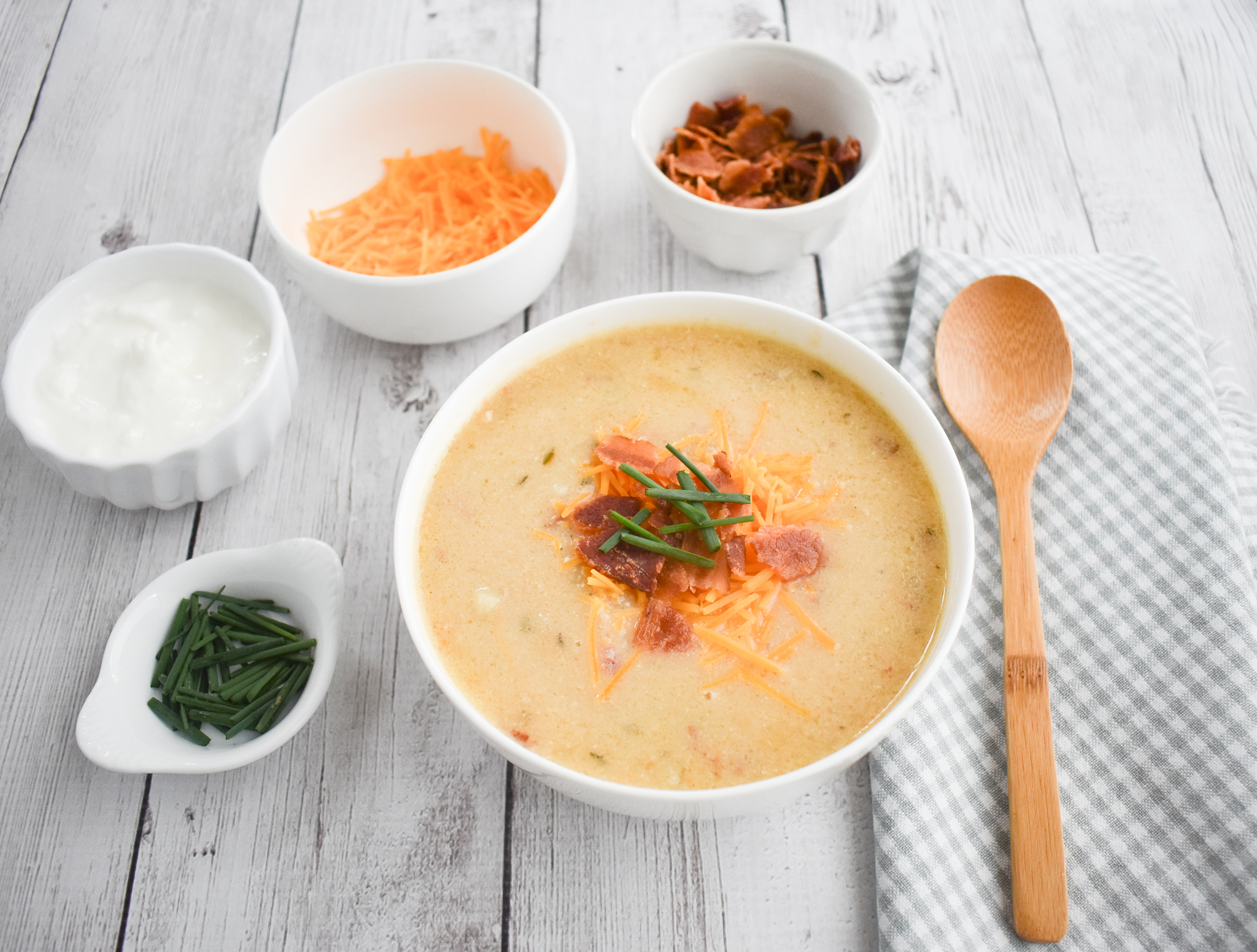 You may also love my low-FODMAP Minestrone Soup, low-FODMAP Stuffed Bell Pepper Soup and my low-FODMAP Chili recipes.  Or check out over 300 more low-FODMAP recipes on the blog, and my low-FODMAP Slow-Cooker recipe collection. IBS-friendly.
Be healthy and happy,
Rachel Pauls, MD
---
Low-FODMAP Slow-Cooker Baked Potato Soup; Gluten-free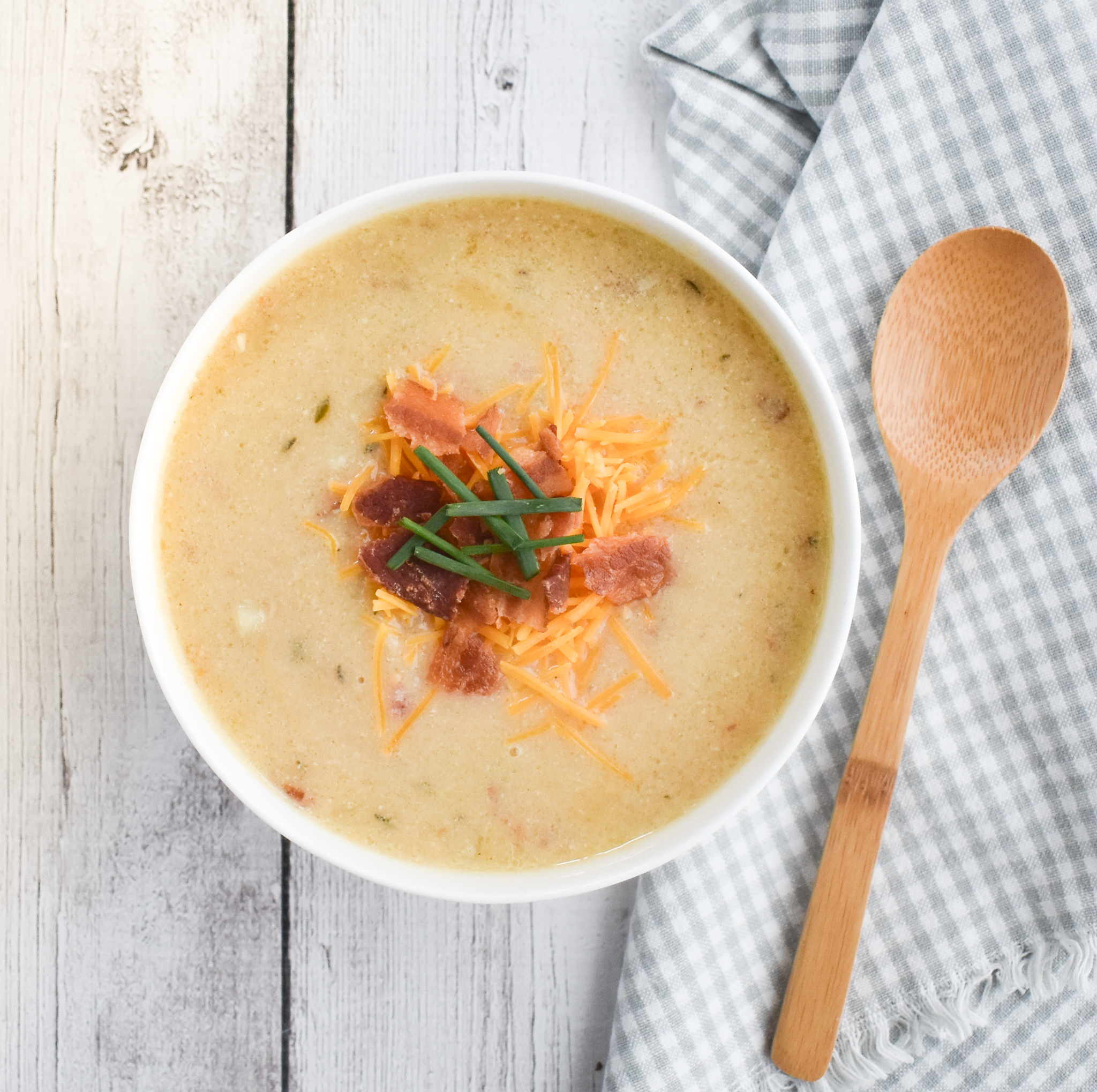 Although this recipe has not been tested, a single serving should be low-FODMAP based on the ingredients
Serves 8-10
Hands on time: 30 mins
Cook time: 4 hours (high), 6-8 hours on low
Total time: 4 hours 30 min
Equipment: 5-6 qt slow-cooker (can also use a large pot and do on stovetop)
Ingredients
6 slices uncooked bacon, diced (check to ensure no high-FODMAP additives)
3-4 cups low-FODMAP chicken broth, divided (3 cups for the stock, then one additional cup depending on your desired consistency)
2 pounds Yukon Gold potatoes, peeled (optional) and diced

This type of potatoes seem to work best for this soup

3 tablespoons bacon grease – see recipe (or butter)
1 tablespoon onion or garlic infused olive-oil (for tips on shopping for infused oils, see my low-FODMAP recipe swap blog)
1/3 cup all-purpose low-FODMAP, gluten-free flour (with or without xanthan gum)
12-ounces full fat coconut milk, canned (can also use lactose-free milk for a lighter version)

1/4 cup (2 ounces) is one low-FODMAP serving

1 cup shredded sharp cheddar cheese
1/2 cup lactose-free sour cream or lactose-free yogurt (full fat)
2 teaspoons Kosher salt, or more to taste (depending on how seasoned your low-FODMAP chicken broth is)
1/2 teaspoon freshly-cracked black pepper
2 sprigs fresh thyme
Toppings: thinly-sliced green chives, extra shredded cheese, extra crisped bacon, lactose-free sour cream
Directions
In a large skillet, fry diced bacon until crispy
Reserve 3 tablespoons of the rendered bacon grease for later
Add bacon, chicken stock, thyme and potatoes to the bowl of a 5-6 quart slow-cooker, and stir to combine.
Cook on low for 6-8 hours, or on high for 3-4 hours, or until the potatoes are completely cooked through
Once the soup has slow cooked, prepare the low-FODMAP roux
Place the reserved 3 tablespoons of rendered bacon fat and the infused oil in a small saucepan on the stove over medium-high heat until it has liquified
Whisk in the low-FODMAP flour until it is completely combined, and then cook for 1 minute, stirring occasionally.
Gradually add in the canned coconut milk while whisking it together with the flour mixture, and continue whisking until the mixture is completely smooth
Let the mixture continue cooking until it simmers and thickens, stirring occasionally
When the roux is thick, pour it into the slow cooker with the potatoes, and stir until combined
Add in the cheddar cheese, lactose-free sour cream or yogurt, salt and pepper, and stir
Cook for about 10-15 minutes longer
If you would like the soup to be even thicker, you can use a potato masher to smash about half or all of the potatoes (while the soup is still in the slow cooker)

You can also opt to puree it with an immersion blender

If you would like the soup to be thinner, add in the extra 1 cup of warmed low-FODMAP chicken broth
Stir to combine, then taste and add more salt and pepper if needed
Serve with optional garnishes, or refrigerate for up to 5 days
It is soooo good.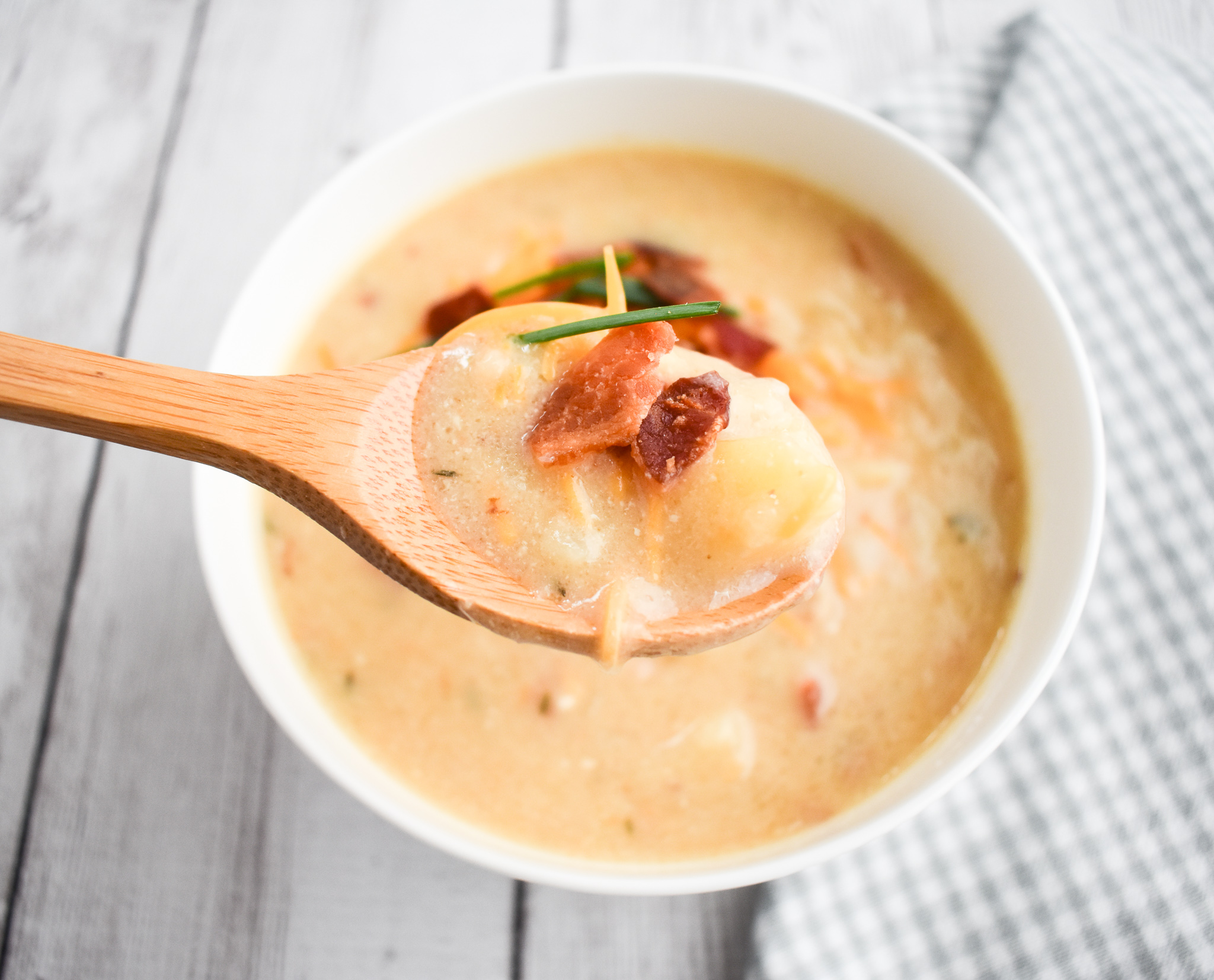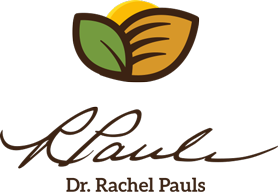 Printer Friendly Version