Low-FODMAP Skillet Pumpkin Pie Crumble-Crisp; Gluten-free
October 7, 2021
Printer Friendly Version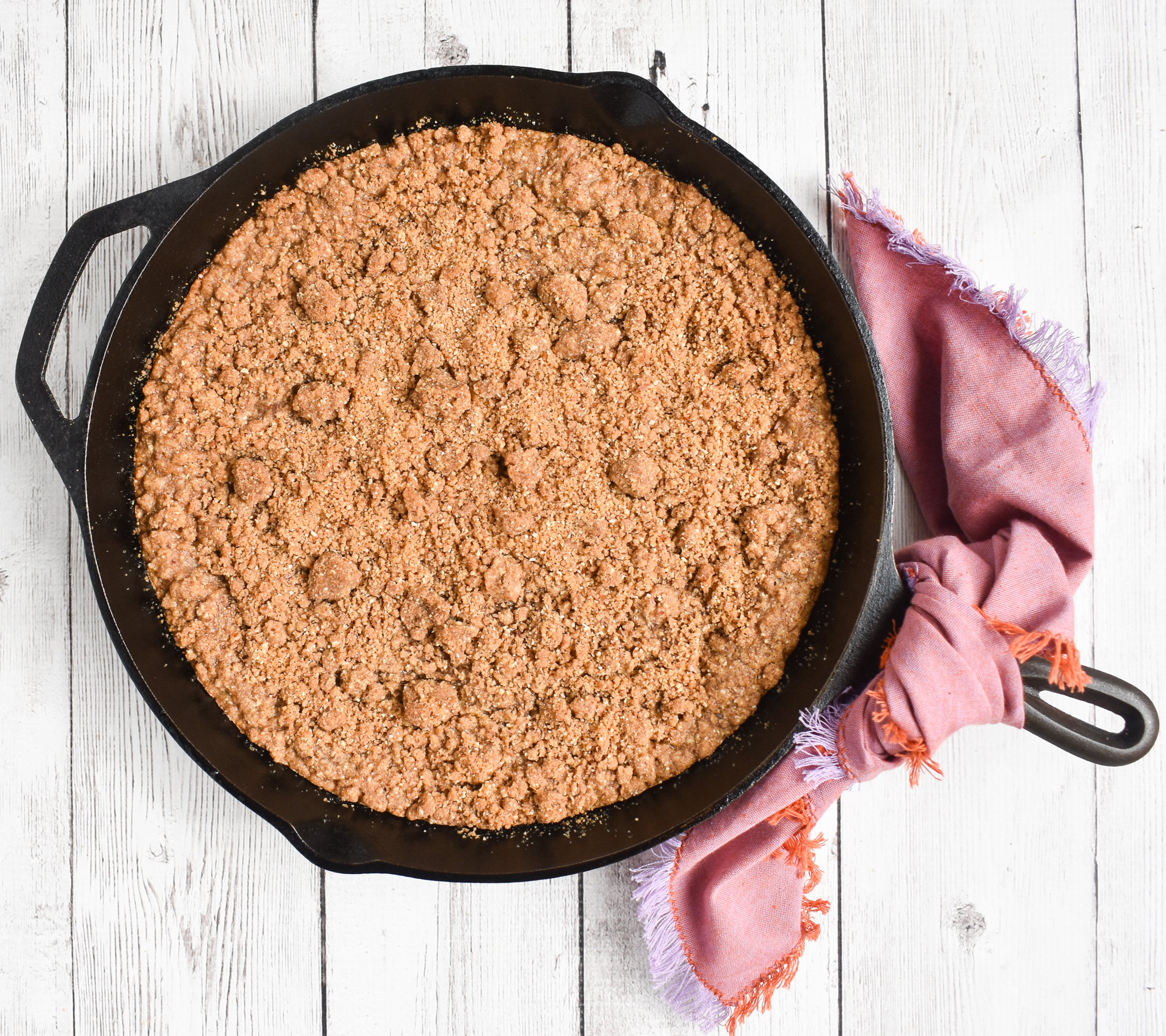 I could NOT WAIT to share this low-FODMAP Thanksgiving recipe!!
My low-FODMAP Skillet Pumpkin Pie Crumble-Crisp recipe will change your life.
I am totally serious.  We are talking about a recipe so easy, you can do it all by hand, in under an hour.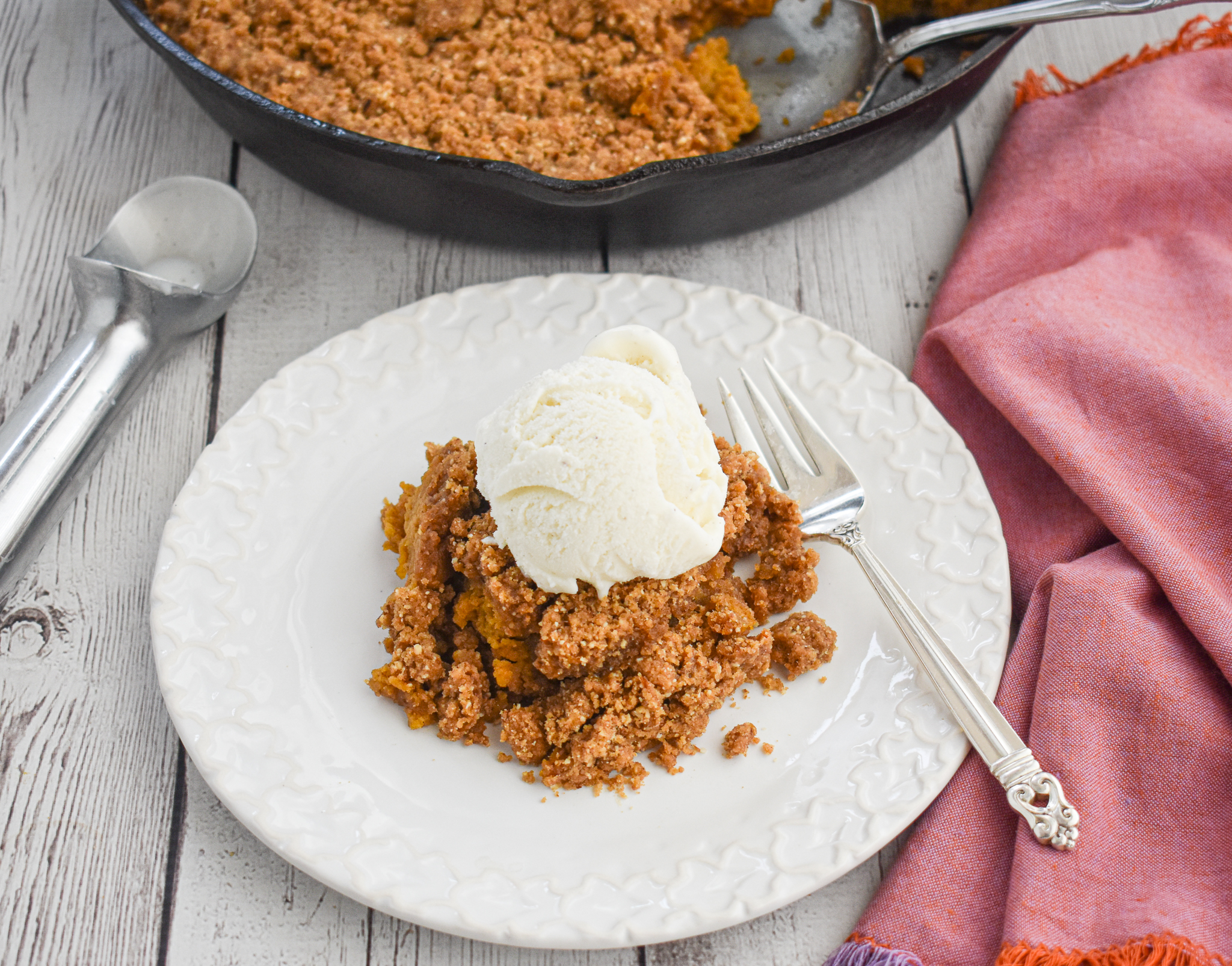 Low-FODMAP Pumpkin Pie Crumble-Crisp tastes just like a pumpkin pie, but without the fussing and rolling of a pie crust.
Instead, you have a delicious crumbly-crispy topping…who doesn't love that?!  Gorgeous and rustic looking in a cast-iron skillet.
You may never make traditional pumpkin pie again… (but if you do, try my Perfect low-FODMAP Pumpkin Pie recipe)
Serve my low-FODMAP Pumpkin Pie Crumble-Crisp with low-FODMAP Vanilla Bean Coconut Whipped Cream, low-FODMAP Cinnamon Spiced French Vanilla Ice Cream, or regular whipped cream and lactose-free ice cream.  HEAVEN.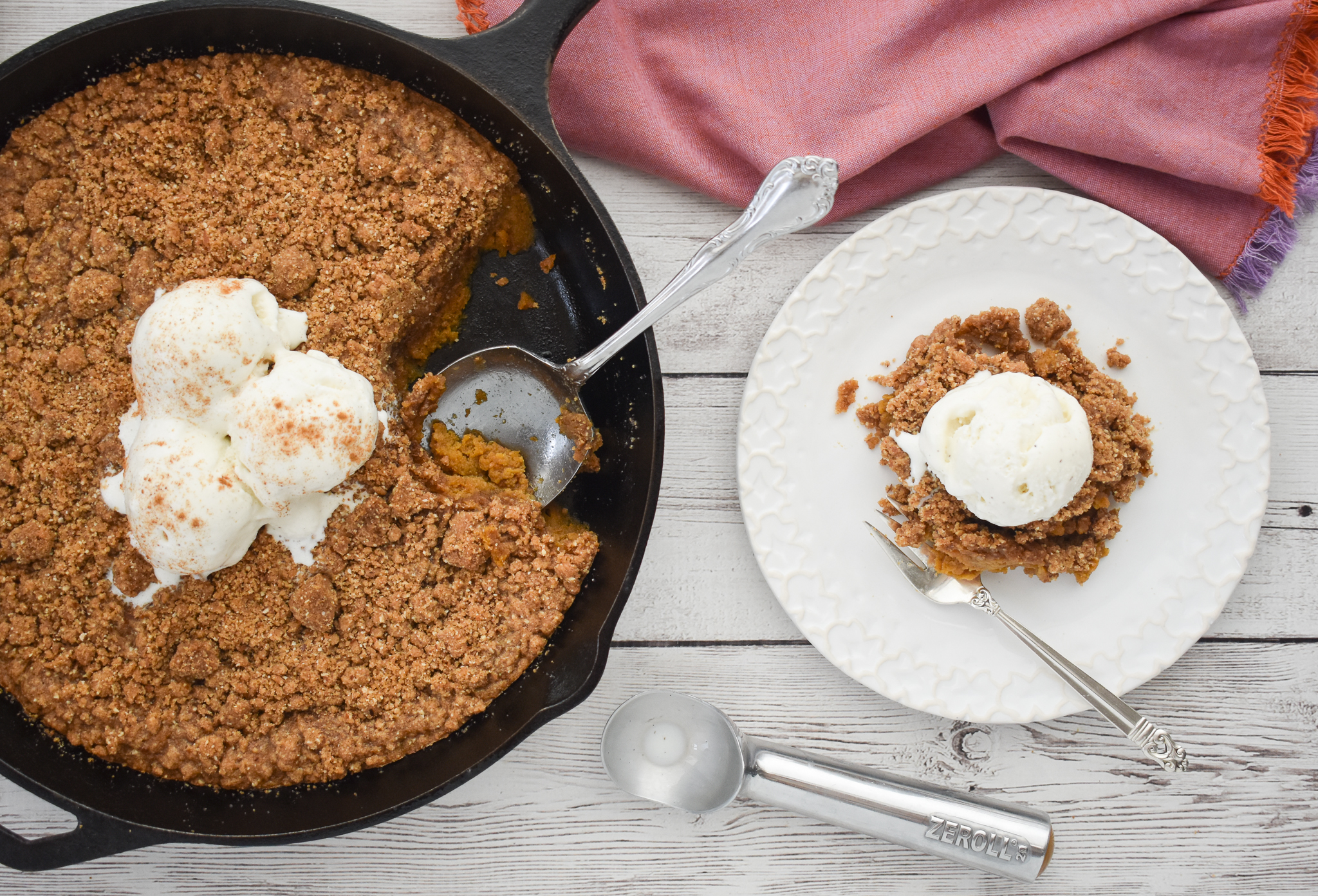 You may also love my:
Or check out over 400 more low-FODMAP recipes on the blog!  IBS-friendly.
Be healthy and happy,
Rachel Pauls, MD
P.S.  Have you seen my COOKBOOK with over 100 low-FODMAP recipes, low-FODMAP Meal Plan, FODMAP Tips and everything you need?!  It's the BEST!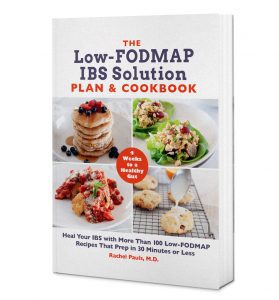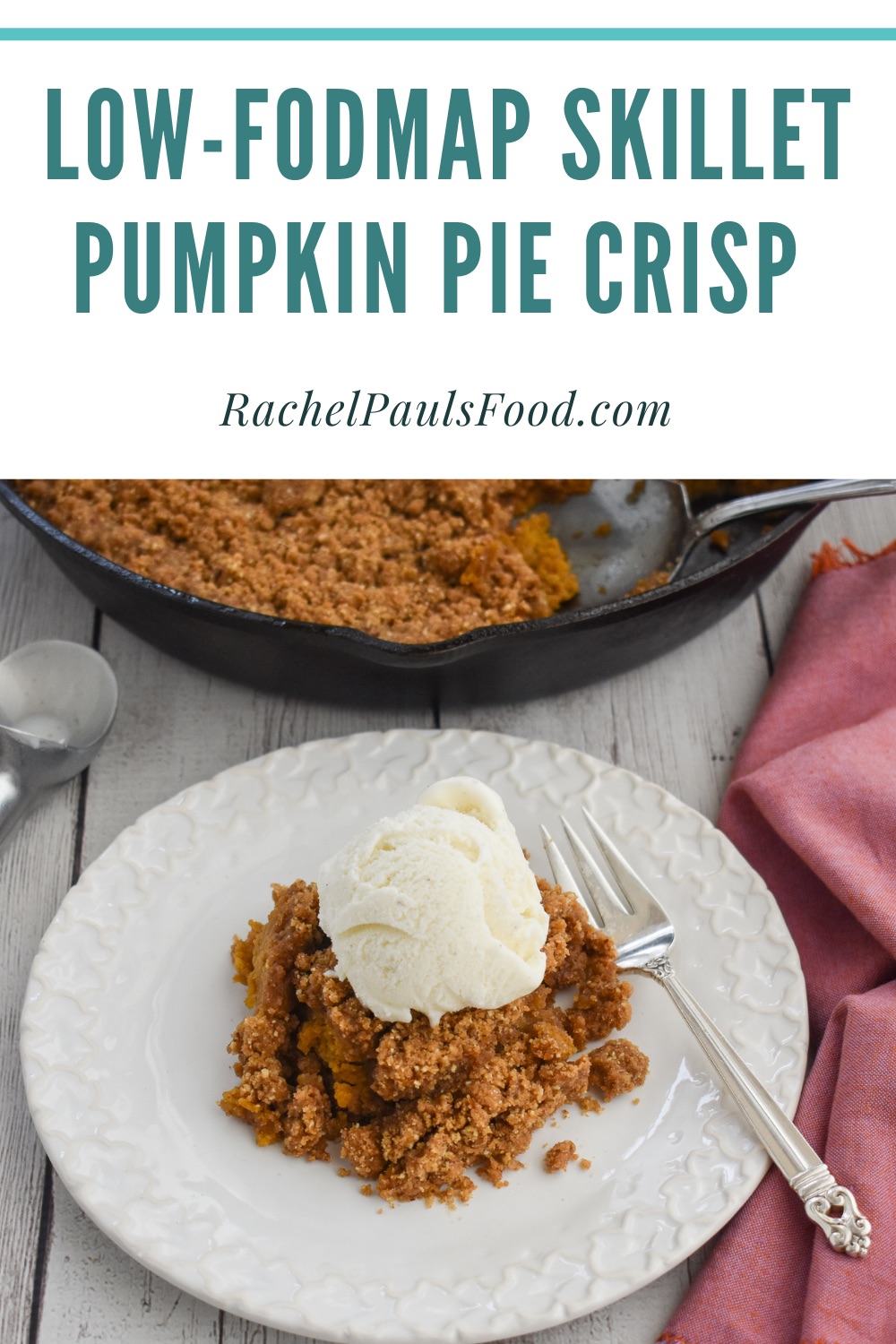 Although this recipe has not been tested, a single serving should be low-FODMAP based on the ingredients (using available FODMAP data at time of posting)
Serves: 10-12
Prep time: 15 minutes
Bake time: 40 minutes
Total time: 55 minutes
Equipment: 10 -11 inch cast iron skillet or pie dish
Bake: 375F
Ingredients
For Low-FODMAP Pumpkin Base:
Cooking spray or shortening for greasing
3 large eggs, room temperature
1 cup granulated sugar
1 (15-oz.) can pumpkin purée or pure pumpkin (these are the same thing, do not buy pumpkin pie filling)

1/3 cup (2.6 ounces) is one low-FODMAP serving

2/3 cup heavy whipping cream

1/4 cup of heavy cream is one low-FODMAP serving due to naturally low lactose levels (this equates to 1/2 cup of the whipped form)
I did not attempt this with canned coconut cream, for a dairy-free option, however let me know if you do! You may need to extend the bake time for this ingredient as it does not set as quickly without the milk proteins

2 teaspoons pumpkin pie spice
1 teaspoon pure vanilla extract
1/2 teaspoon kosher salt
Garnish: additional whipped cream or low-FODMAP vanilla ice cream
Vegetable shortening, or baking spray for greasing
For Low-FODMAP Crumble-Crisp Topping:
1 & 3/4 cups all-purpose, low-FODMAP gluten-free flour
3/4 cup almond meal

1/4 cup is one low-FODMAP serving
If you wish to avoid nuts, then feel free to substitute the same amount of low-FODMAP, GF flour or use old fashioned rolled oats (not 'quick' oats) for a traditional 'crisp' topping

1 & 1/2 cups dark brown sugar, lightly packed (adjust to your taste if you prefer less sweet)
1 teaspoon cinnamon
1/4 teaspoon kosher salt
3/4 cup (12 tablespoons) unsalted butter, chilled and chopped (can also use coconut oil)
Optional: 1/2 cup of pecans or walnuts, chopped
Directions
In a medium bowl, prepare the low-FODMAP crumble-crisp topping

Place the low-FODMAP flour, almond meal, brown sugar, cinnamon and salt in your bowl and stir to combine
Cut in the butter, using your hands to work it together until it is clumpy. Place this in the fridge briefly for later

Preheat oven to 375° F, and grease your skillet with baking spray or shortening
In a large bowl, whisk together eggs and sugar by hand (you can use an electric mixer if you prefer)
When smooth and fully combined, add pumpkin, cream, vanilla, pumpkin pie spice, and 1/2 teaspoon kosher salt
Whisk until smooth, then pour/spread this into your prepared pan
Take the crumble-crisp topping from your fridge, and using your hands, press chunks of this into teaspoon sized balls
Lay the crumble-crisp topping over the pumpkin base
Bake until the filling is set and the top is golden brown, about 35 to 45 minutes. As ovens vary, your oven may need more/less time

There should be no jiggle to the pie when you lightly shake it

Allow to cool slightly, then serve warm, or at room temperature with low-FODMAP whipped cream or ice cream!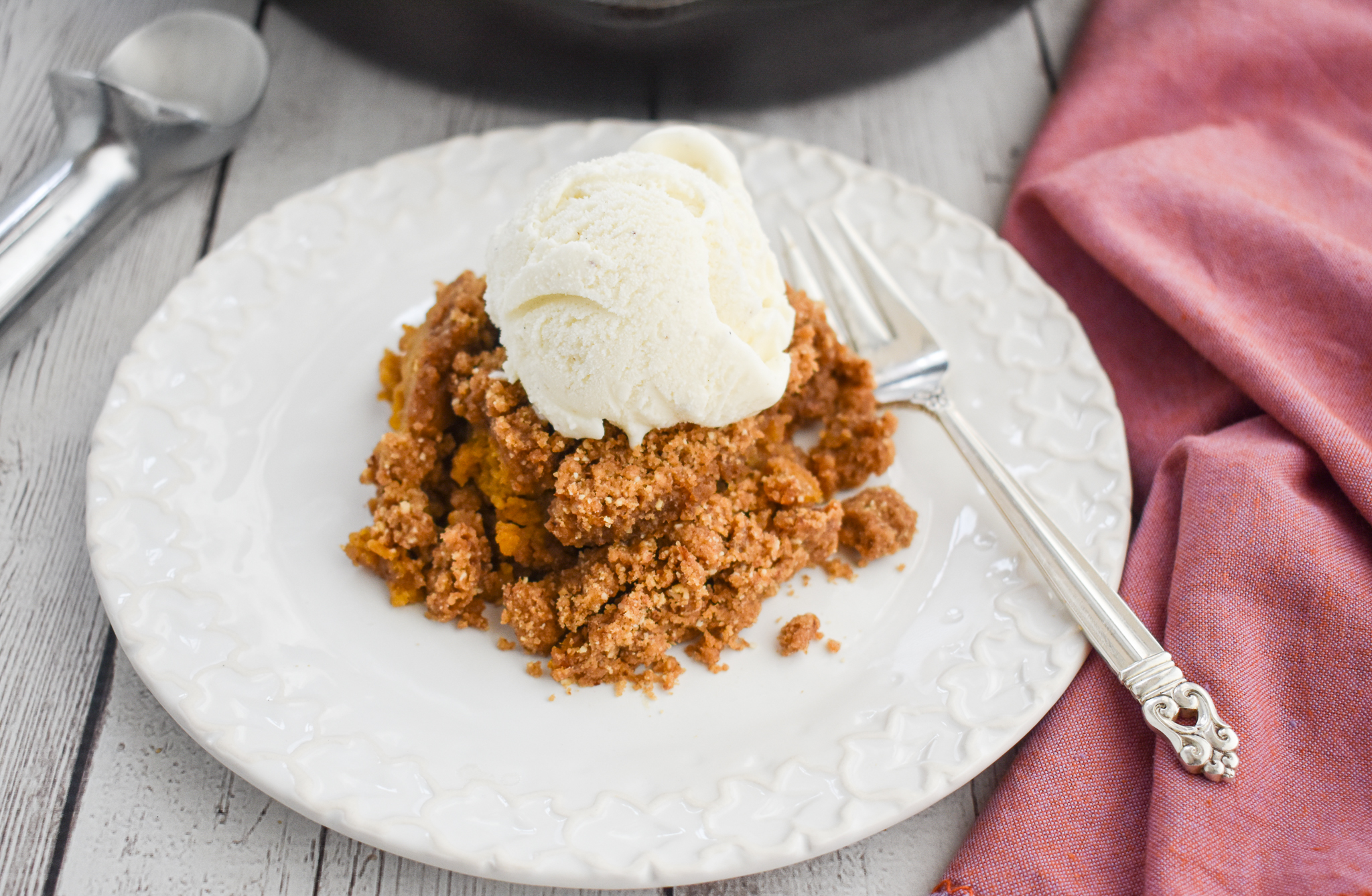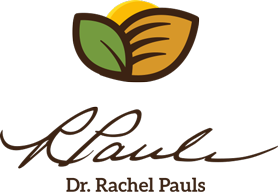 Printer Friendly Version
Comments Rating
( reviews)