Low-FODMAP Skillet Beef Pot Pie with Biscuits; Gluten-free
September 30, 2022
Printer Friendly Version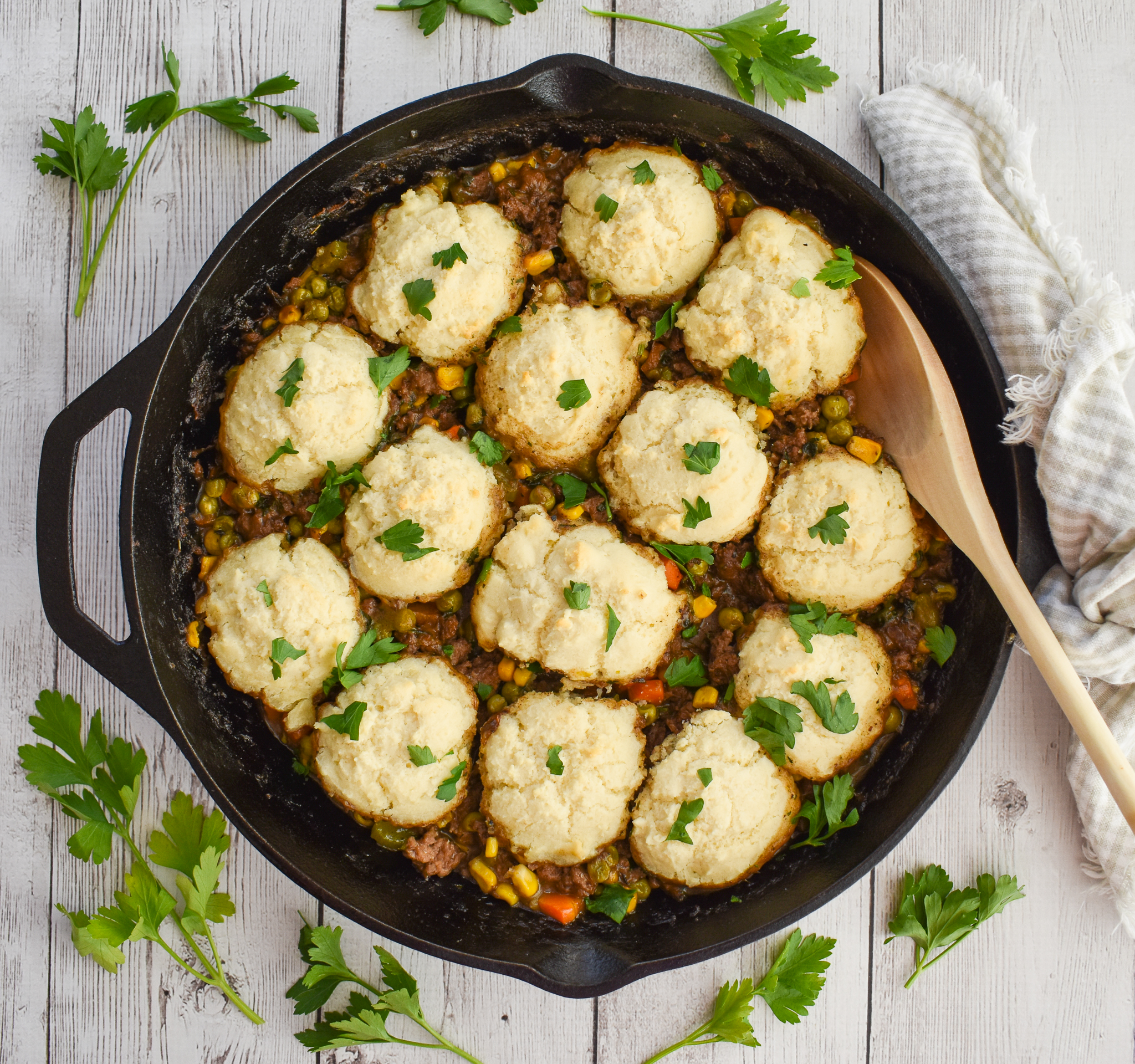 Low-FODMAP.
One Skillet.
Beef Pot Pie.
With Biscuits.
OH MY.
Are you as excited as I was to make this recipe!?  So rich, hearty and full of flavors.  And biscuits on top! The best way to soak up all the low-FODMAP Beef Pot Pie gravy.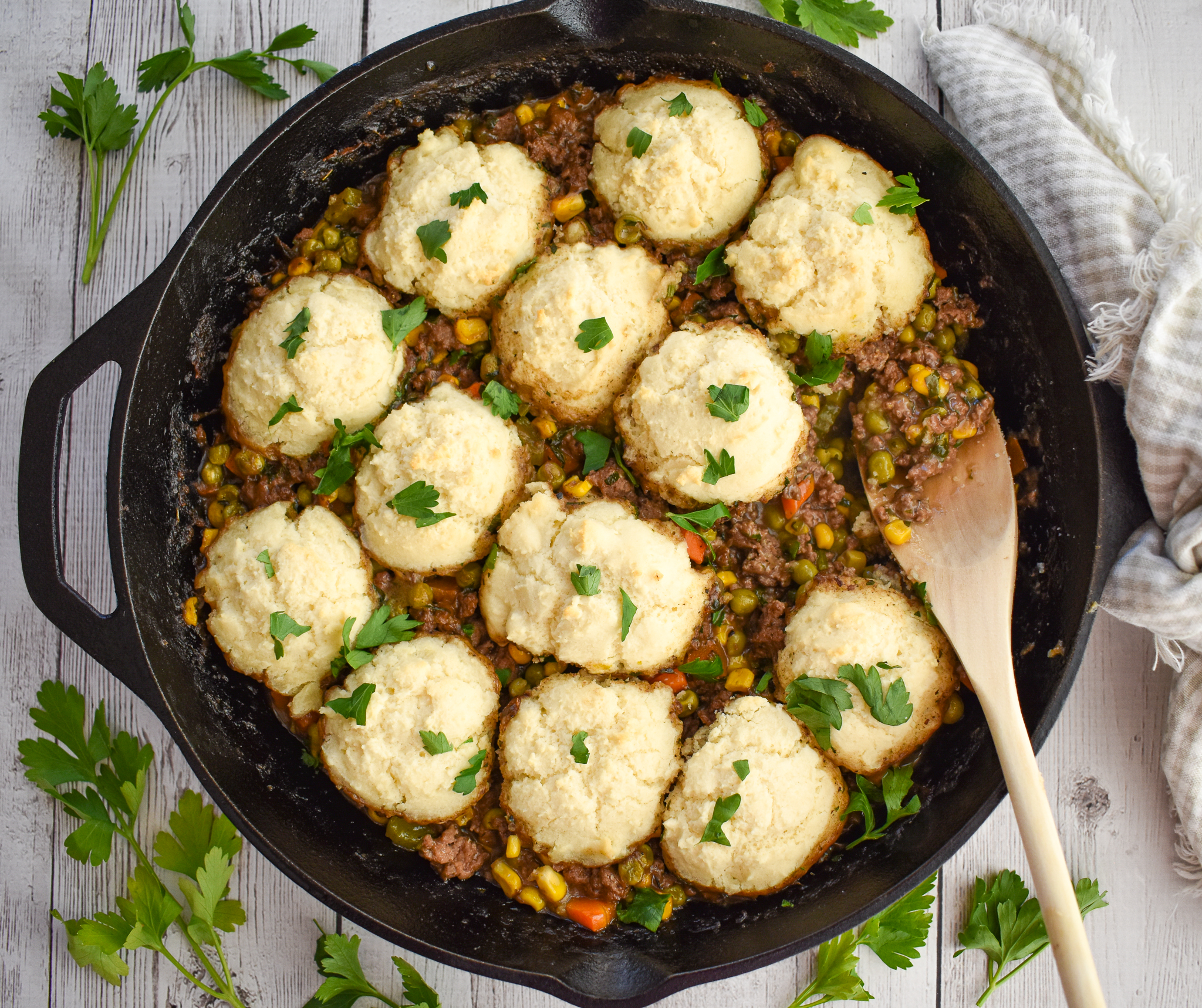 This low-FODMAP Beef Pot Pie with Biscuits in One Skillet is a recipe your family will beg you to make.  Feel free to change up the vegetables -add some bell peppers, parsnip or summer squash for completely different flavors!  You can also try it with ground poultry (chicken, turkey), veal, or pork. Whatever you love the most 🙂
You may also love:
Or check out over 450 more low-FODMAP recipes on the blog. IBS-friendly!
Be healthy and happy,
Rachel Pauls, MD
P.S.  Check out my new COOKBOOK for over 100 low-FODMAP recipes, low-FODMAP Meal Plan, FODMAP Tips and everything you need!!  It's the BEST!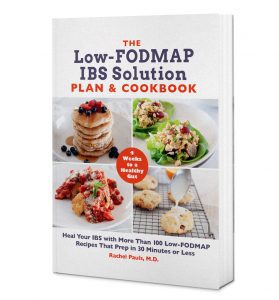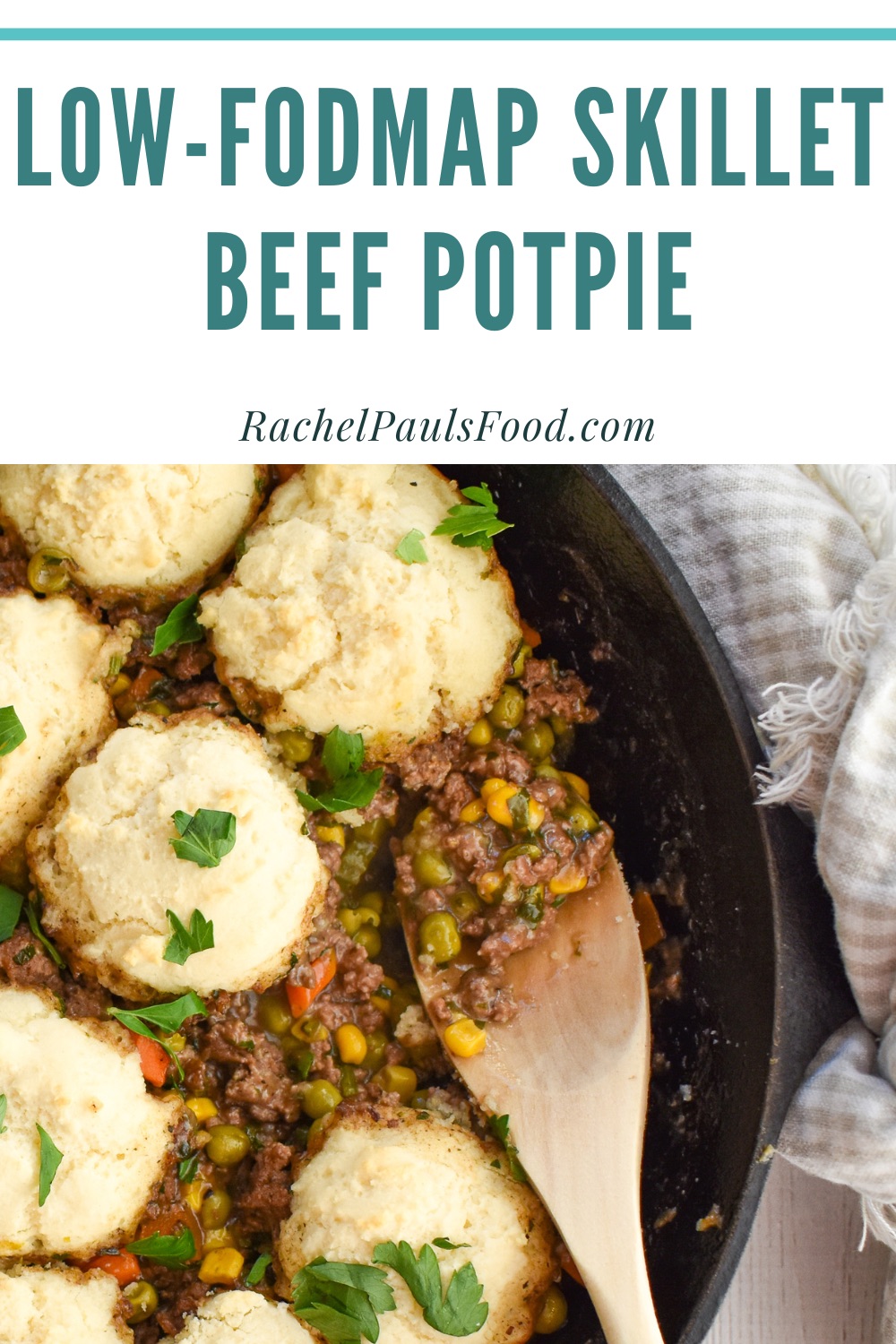 Although this recipe has not been lab tested, a single serving should be low-FODMAP based on the ingredients (*using available FODMAP data at time of posting)
Serves: 6
Prep time: 10M
Cook + Bake time: 50 min
Total time: 1H
Bake: 400 F
Equipment: Large oven safe skillet (I prefer cast iron)
Ingredients
1 tablespoon garlic infused oil
1 tablespoon onion or shallot infused oil

Infused oils contain all the flavor but NOT the FODMAPs. Enjoy these to help enhance the flavor of your recipes!  See my low-FODMAP Top 11 Tips & Tricks for the reason why!

1 pound (16 ounces) lean ground beef
1 tablespoon Dijon mustard
1/2 teaspoon salt
1/2 teaspoon ground black pepper
1/2 cup (70 g) chopped carrot

Carrots do not contain FODMAPs

1/2 stalk (20 g) celery, minced

10 grams is one low-FODMAP serving due to mannitol
You can also leave this out, if you prefer not to buy such a small amount (we have it on hand in the fridge anyway)

1 cup (150 g) canned peas, rinsed and drained

Canned peas (once drained and rinsed) are low-FODMAP in 1/4 cup servings (45 g), as the FODMAPs are leached out in the canning liquid and rinsed away
Higher amounts have higher levels of GOS
Do not substitute frozen or fresh peas as the FODMAP levels will be higher
Rachel's tip: One 15 ounce can of peas drained and rinsed will yield 270 grams of peas. You will use slightly more than 1/2 can for this recipe

1 cup (130 g) canned corn, rinsed and drained

You may also use fresh or frozen corn, but this will be slightly higher in FODMAPs
For fresh corn, 38 g is one low-FODMAP serving due to sorbitol levels.  For canned corn, 75 g is one serving due to fructans

3 tablespoons low-FODMAP, gluten-free, all-purpose flour
3 cups low-FODMAP beef broth
1/4 cup chopped fresh parsley, plus more for garnish
1 tablespoon low-FODMAP Certified Happy Spices Italian Seasoning
1 teaspoon Worcestershire sauce
For low-FODMAP, GF Biscuits:
1 & 1/4 cups Bisquick™ Gluten Free pancake & baking mix

If you can't find this ingredient, another GF biscuit mix should work, just check ingredients. Or see my low-FODMAP recipe swap blog for a copycat recipe

1/2 cup low-FODMAP milk (such as almond milk, or lactose-free)
1 large egg
2 tablespoons melted butter

I have not tried this, but a low-FODMAP vegan butter substitute or olive oil should also work
Directions
Preheat oven to 400 degrees F
Heat 1 tablespoon garlic infused oil in a large ovenproof skillet over medium-high heat
Add ground beef, brown it until cooked completely (about 5-7 minutes)
Drain grease if necessary. Season with salt and pepper, then add the onion infused oil and Dijon mustard
Stir in peas, celery, corn and carrots; cook, stirring frequently, until the vegetables are hot
Sprinkle the mixture with 3 tablespoons low-FODMAP GF flour; cook, stirring, for 1 minute
Add low-FODMAP Beef broth, and cook, stirring occasionally, until the mixture is slightly thickened (about 10 minutes)

The broth will further thicken as it cooks, don't worry

Stir in parsley, low-FODMAP Italian Seasoning, and Worcestershire sauce, then taste and add salt and pepper if desired
In a medium bowl combine the GF Bisquick, low-FODMAP milk, egg and melted butter
Use a small cookie scoop to drop the biscuit batter on the beef mixture (about 12-14 total)
Transfer the pan to the preheated oven
Bake until biscuits are lightly golden and cooked through, about 15 to 20 minutes
Garnish with parsley before serving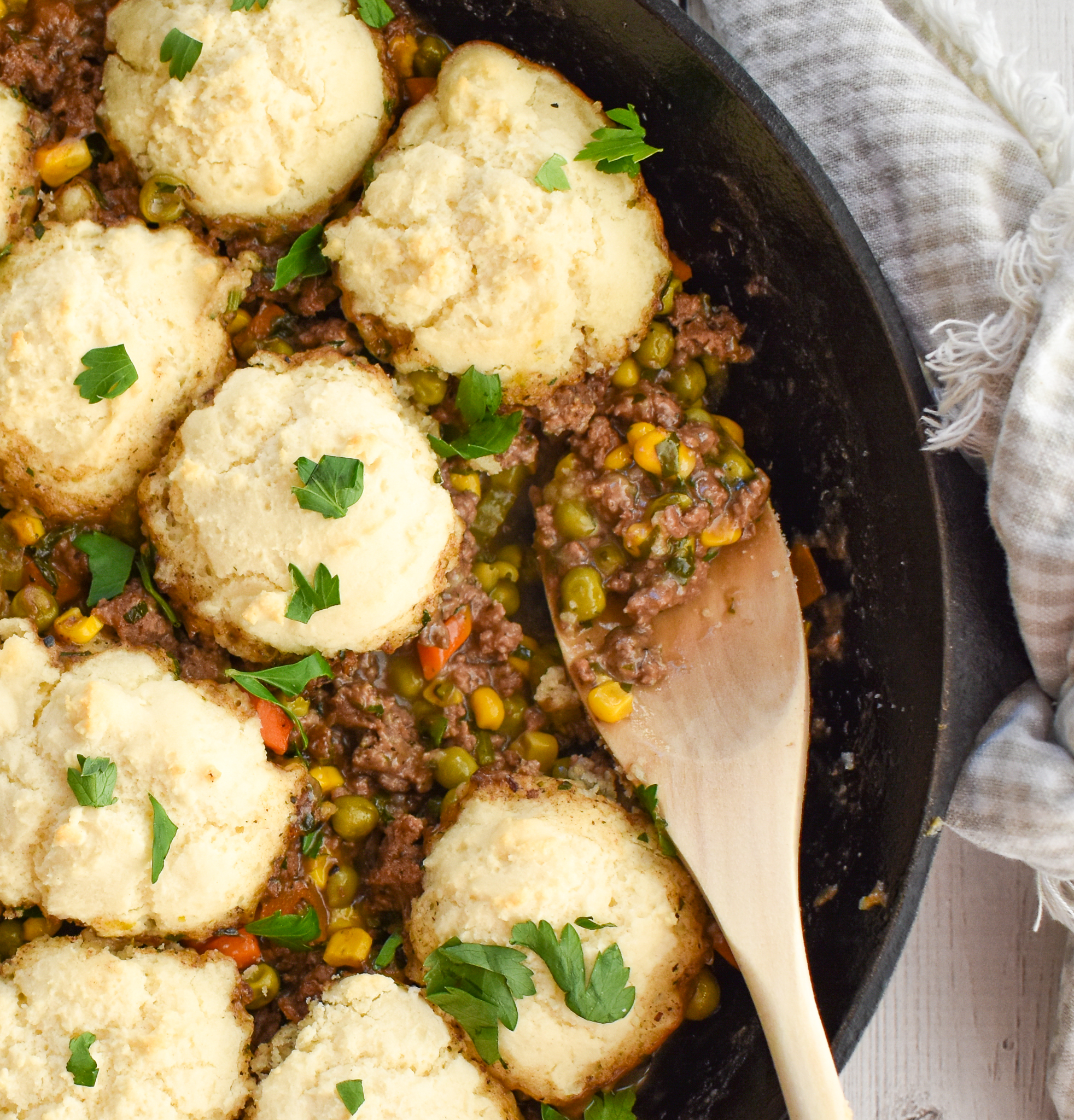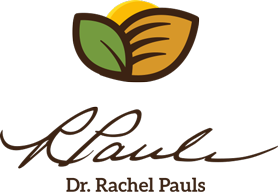 Printer Friendly Version
Comments Rating
( reviews)