Low-FODMAP Sheet Pan Orange Tofu with Broccoli; Gluten-free, Dairy-free, Vegan
November 3, 2023
Printer Friendly Version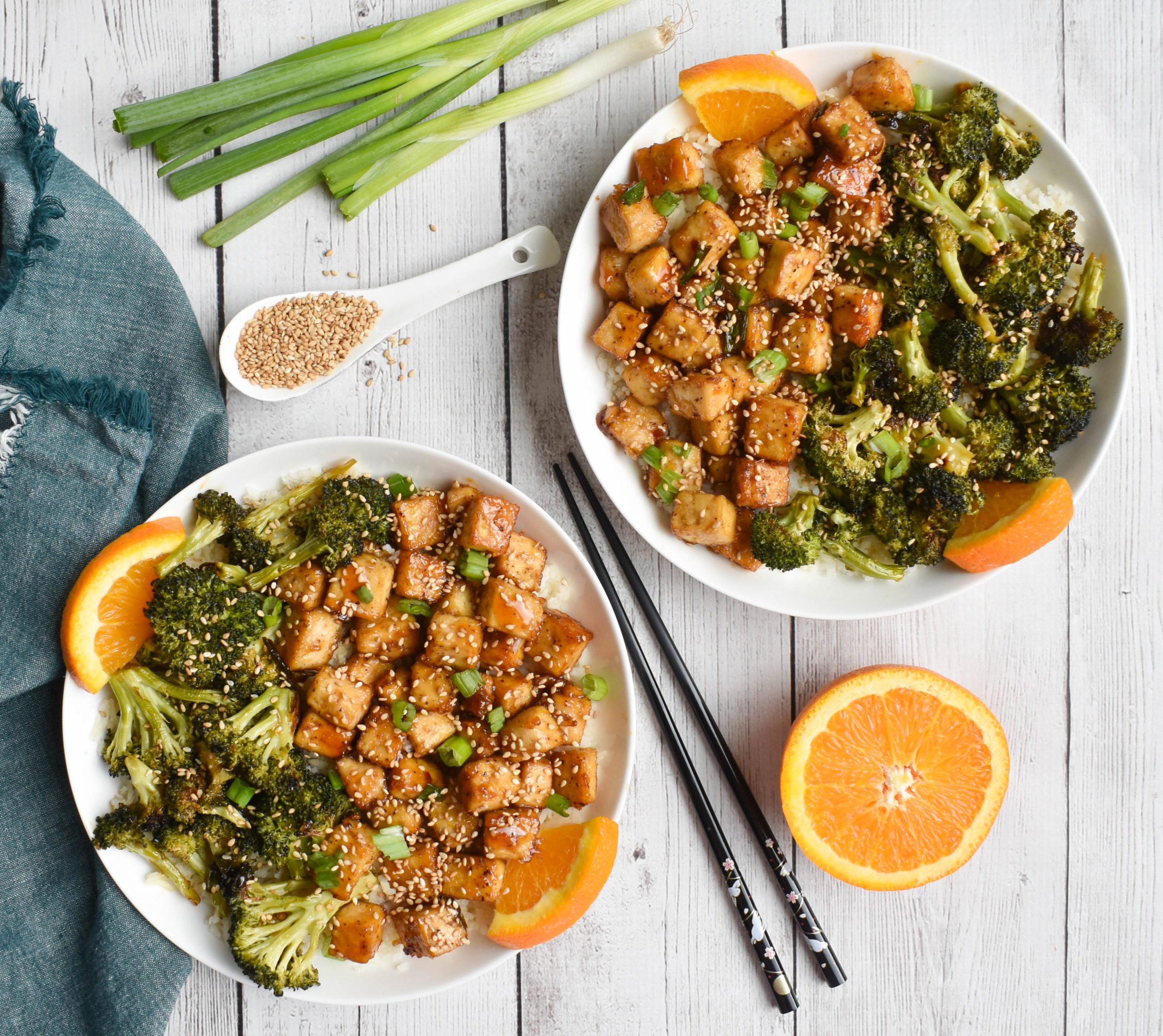 My low-FODMAP Copycat Panda Express Orange Chicken is a huge hit with my readers, so I decided to create a similar recipe for my vegan and plant-based diet followers.
Guess what? My sheet pan low-FODMAP Orange Tofu with Broccoli dinner will blow EVERYONE away, not just vegans.
Crispy cubes of tofu and roasted broccoli, drenched in a fresh and zesty orange sauce…what's not to love? Serve it with rice and soak up all that extra orange sauce.  Super yummy.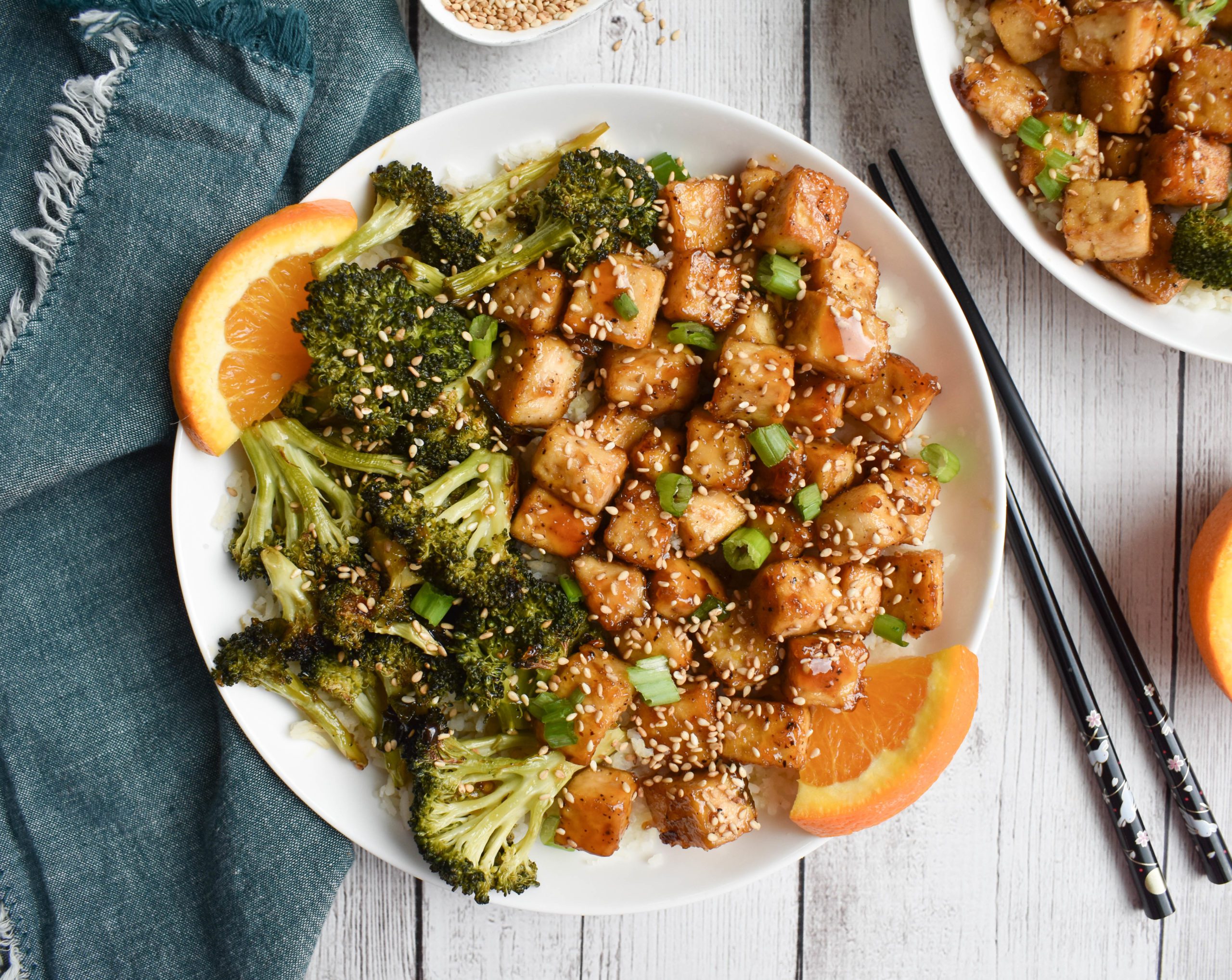 Rachel's notes: Fresh orange juice and zest make all the difference in flavor for this recipe. I don't recommend substituting canned or bottled juice, as it may be higher in FODMAP content.  I kept this recipe to only natural ingredients, but if you like a very potent orange flavor, then add 1/4 teaspoon of orange extract or flavoring to the sauce.
You may also love:
Or check out over 500 more low-FODMAP recipes on the blog.  IBS-friendly!
Be healthy and happy,
Rachel Pauls, MD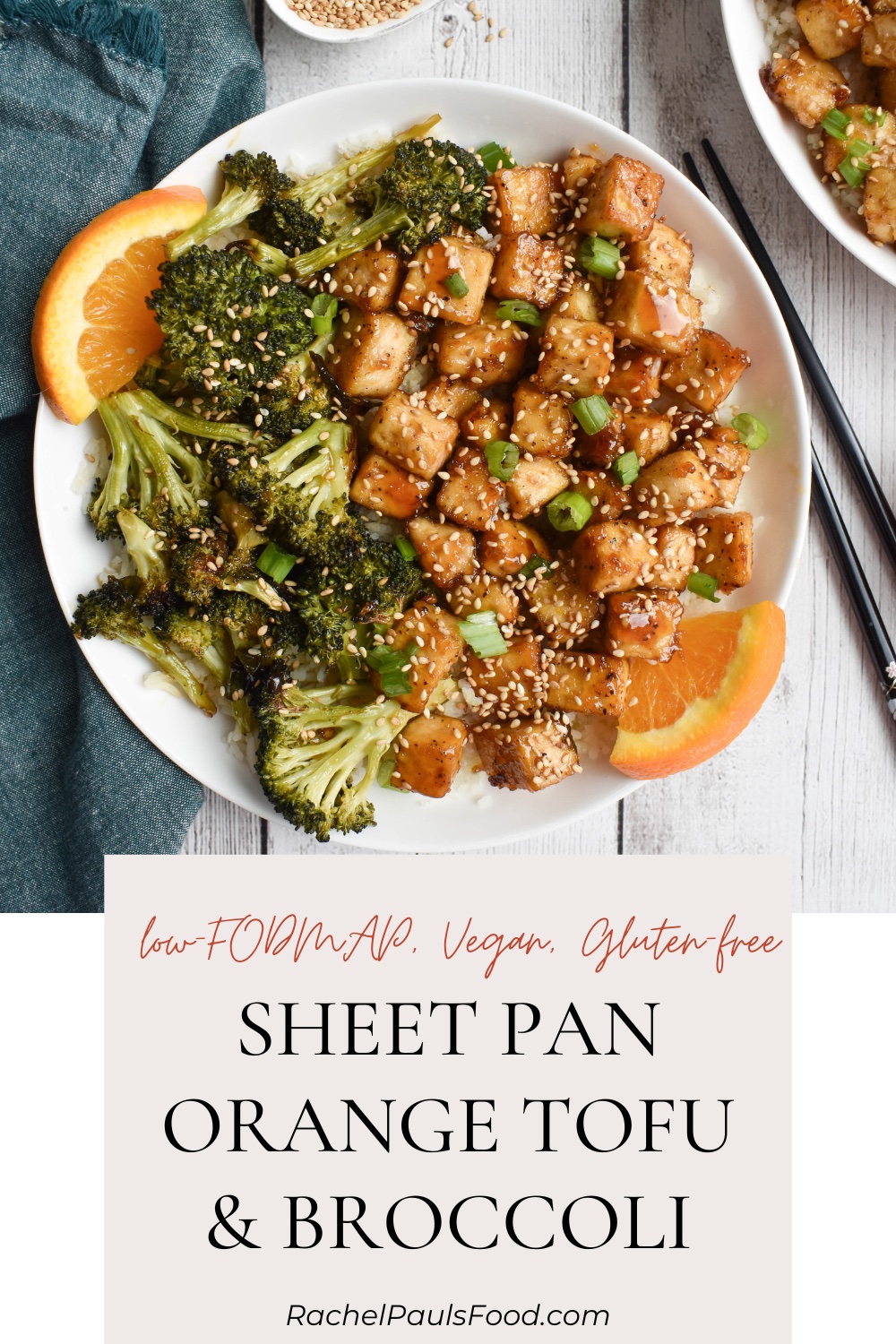 Although this recipe has not been lab tested, a single serving should be low-FODMAP based on the ingredients *using available FODMAP data at time of posting
Serves: 4
Prep time: 20 minutes
Bake + Cook time: 25 minutes
Total time: 45 min
Bake: 450F
For the tofu and broccoli:
One 14 ounce (396g) block of extra firm tofu

Firm tofu has fewer FODMAPs than the silken kind. You can enjoy 170g per LF serving

1 tablespoon soy sauce (vegan and gluten-free, if necessary)
1 tablespoon toasted sesame oil; divided
2 tablespoons cornstarch
1 & 1/2 teaspoons kosher salt; divided
1 tablespoon garlic-infused oil; divided
1 tablespoon onion or shallot-infused oil; divided
3 cups (300 g) broccoli florets

75g is one low-FODMAP serving

3 scallions, green tips only, cut into 1/2-inch slices

The green tip is low in FODMAPs, avoid the bulb

1/2 teaspoon black pepper
For the Orange Sauce:
Zest and juice of 1 orange (1/4 cup), freshly squeezed
3 tablespoons light soy sauce (vegan and gluten-free if necessary)
4 tablespoons light corn syrup
3 tablespoons brown sugar
2 tablespoons rice wine vinegar or apple cider vinegar
1 tablespoon (6 g) freshly grated ginger
1/2 teaspoon crushed red pepper flakes, or to taste (optional)
2 tablespoons cornstarch dissolved in 2 tablespoons water (optional)
For Serving:
Directions:
Preheat the oven to 450F and place a rack in the center of the oven. Line a rimmed baking sheet with aluminum foil or parchment, and spray with baking spray
Rinse your drained tofu, then wrap the block in a clean dishtowel with something heavy over top to absorb the liquid for 10 minutes

If you have more time, allow to drain longer in the fridge

Chop your dry tofu into 1/2 inch to 1-inch cubes (try to make them about the same size)
In a large bowl, whisk together 1 tablespoon soy sauce, 1/2 tablespoon sesame oil, 1/4 teaspoon each of the salt and black pepper
Add the tofu cubes and gently stir to coat
Sprinkle 1 tablespoon of the cornstarch over the tofu and stir gently, then repeat with the remaining cornstarch
Lay the tofu pieces on one side of your baking sheet and drizzle with 1 tablespoon of each of the infused oils
Lay your broccoli and scallion tips on the other side of the sheet and toss with the remaining 1 tablespoon of each infused oil and the remaining 1/2 tablespoon of sesame oil. Sprinkle everything with the remaining salt and pepper
Transfer the sheet to the oven and bake for 15 minutes, then remove from the oven to toss the veggies and flip the tofu pieces. Return to the oven for another 3 to 8 minutes, until the tofu is crisp
While the tofu is baking, prepare the orange sauce:

In a medium skillet or saucepan combine the orange zest, orange juice, soy sauce, corn syrup, brown sugar, rice vinegar, ginger, and red pepper flakes, if using
Set the pan over medium-high heat and bring the sauce to a boil. Boil for 5 to 8 minutes, until the sauce thickens and reduces by about one-third
If desired, stir in the cornstarch slurry; this will make the sauce even thicker
Once the sauce is your desired consistency, remove from the heat and cover to keep warm

When the tofu and broccoli are fully cooked, remove the sheet from the oven and pour 3/4 or all of the sauce over top of everything and toss lightly
Return to oven for about 2-3 minutes or until tofu is coated
Serve immediately over bowls of coconut rice, with remaining sauce on the side, garnished with green scallion tips, and sesame seeds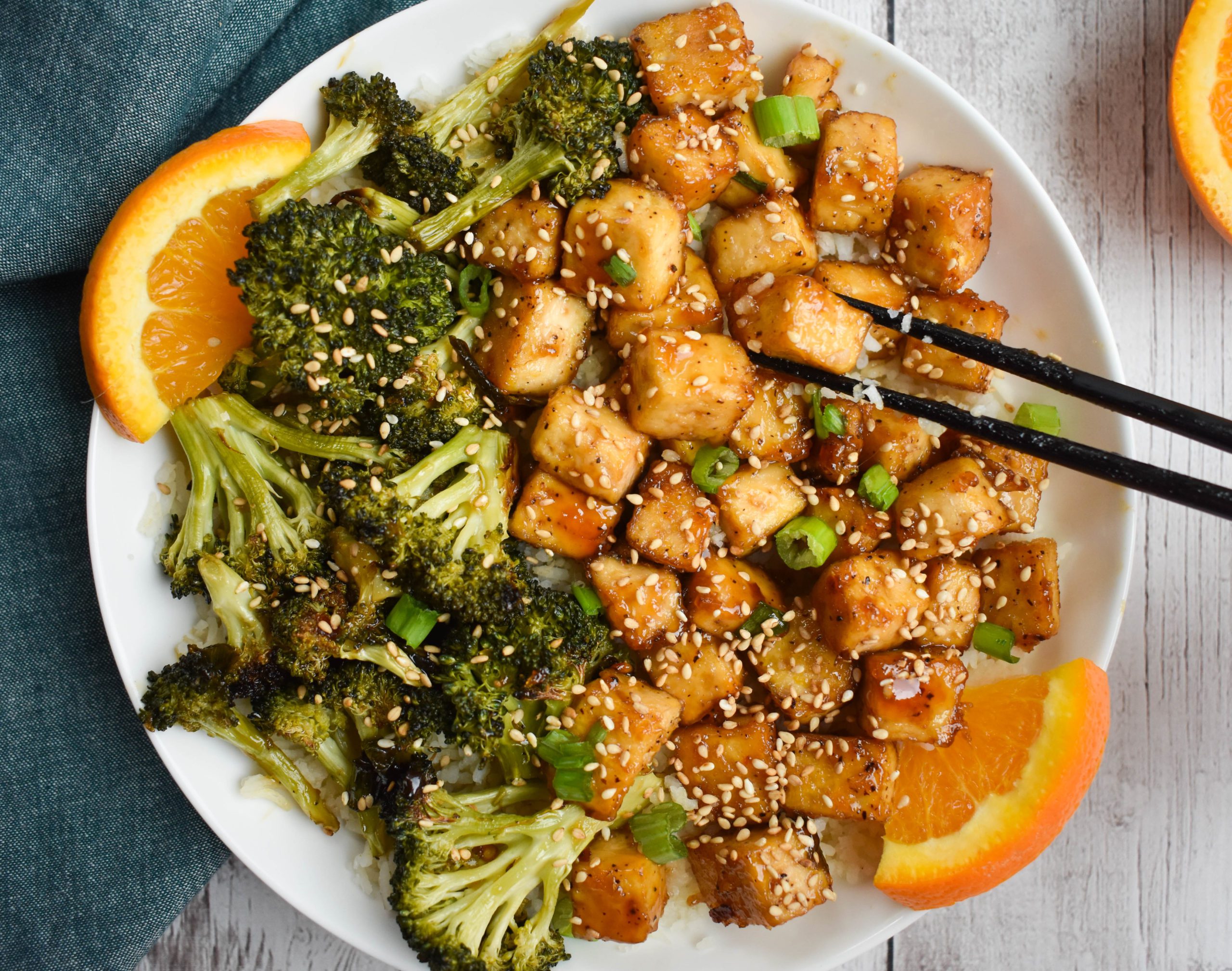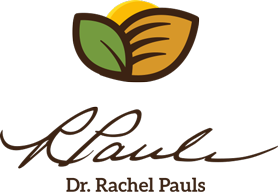 Printer Friendly Version
Comments Rating
( review)