Low-FODMAP Sheet Pan Flank Steak with Kale & Potatoes; Gluten-free, Dairy-free
October 31, 2020
Printer Friendly Version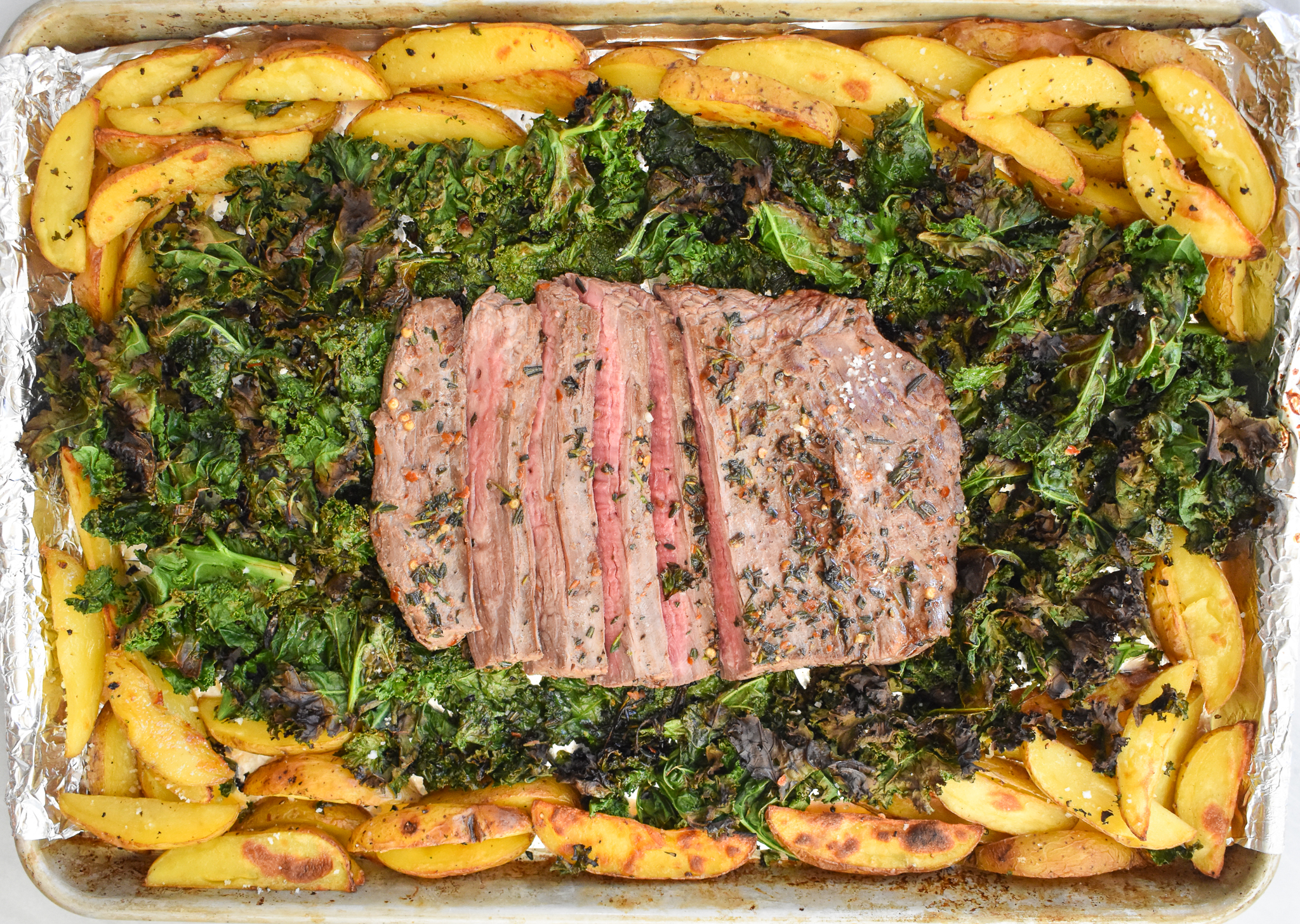 Every low-FODMAP meal should be this easy!  One-pan cooking/baking is the best.  Line your pan with aluminum foil to make the clean-up even sweeter.
This low-FODMAP Sheet Pan Flank Steak dinner provides a delicious marinade that will make this rather inexpensive cut of beef taste succulent and tender.  The potatoes and kale are perfect accents, and you can be assured your whole family has a healthy and hearty meal.
Feel free to omit the red pepper flakes if you don't like too much spice.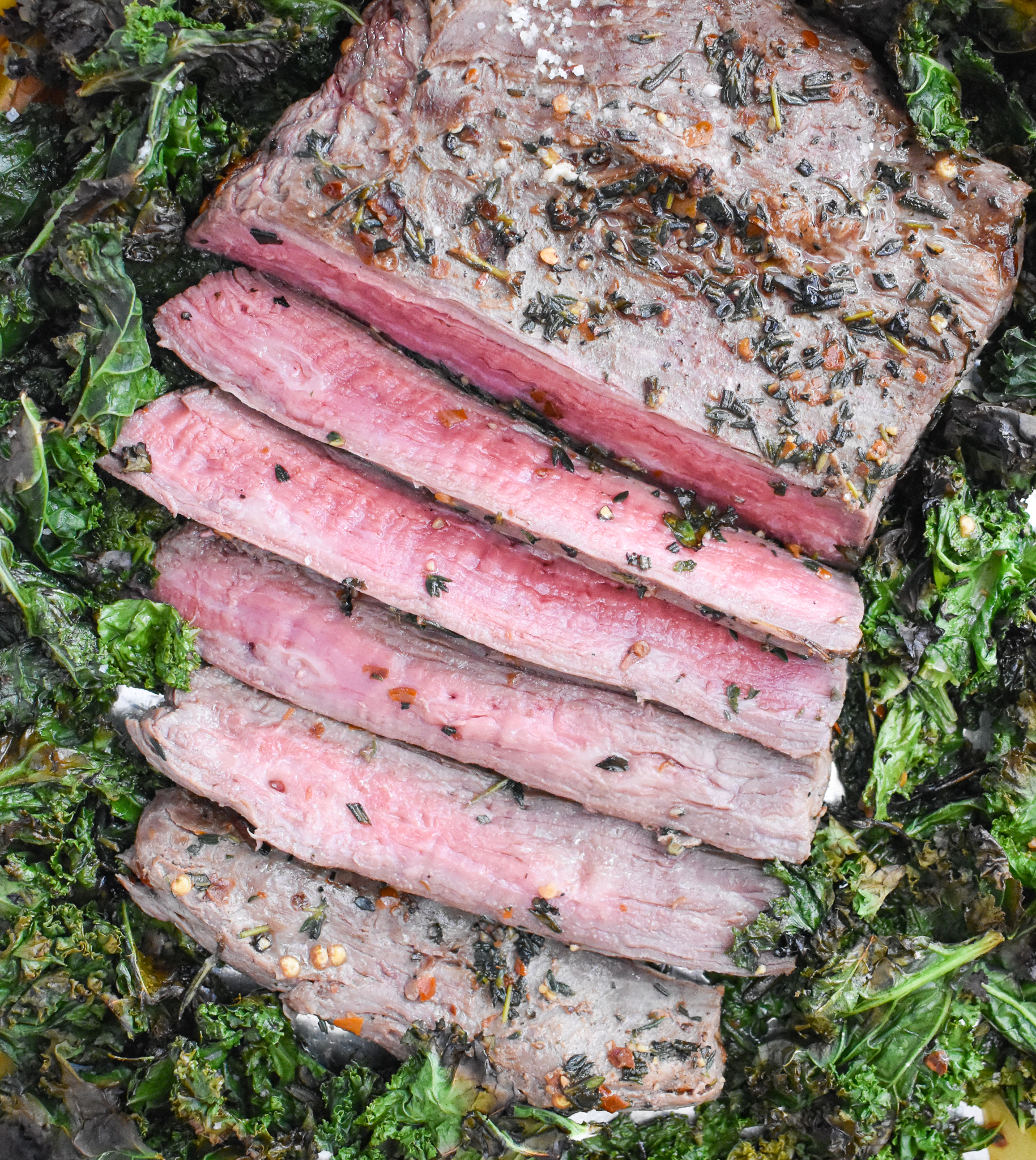 You may also love:
Or check out over 350 more low-FODMAP recipes on the blog.  IBS-friendly!
Be healthy and happy,
Rachel Pauls, MD
---
Low-FODMAP Sheet Pan Flank Steak with Potatoes and Kale; Gluten-free, Dairy-free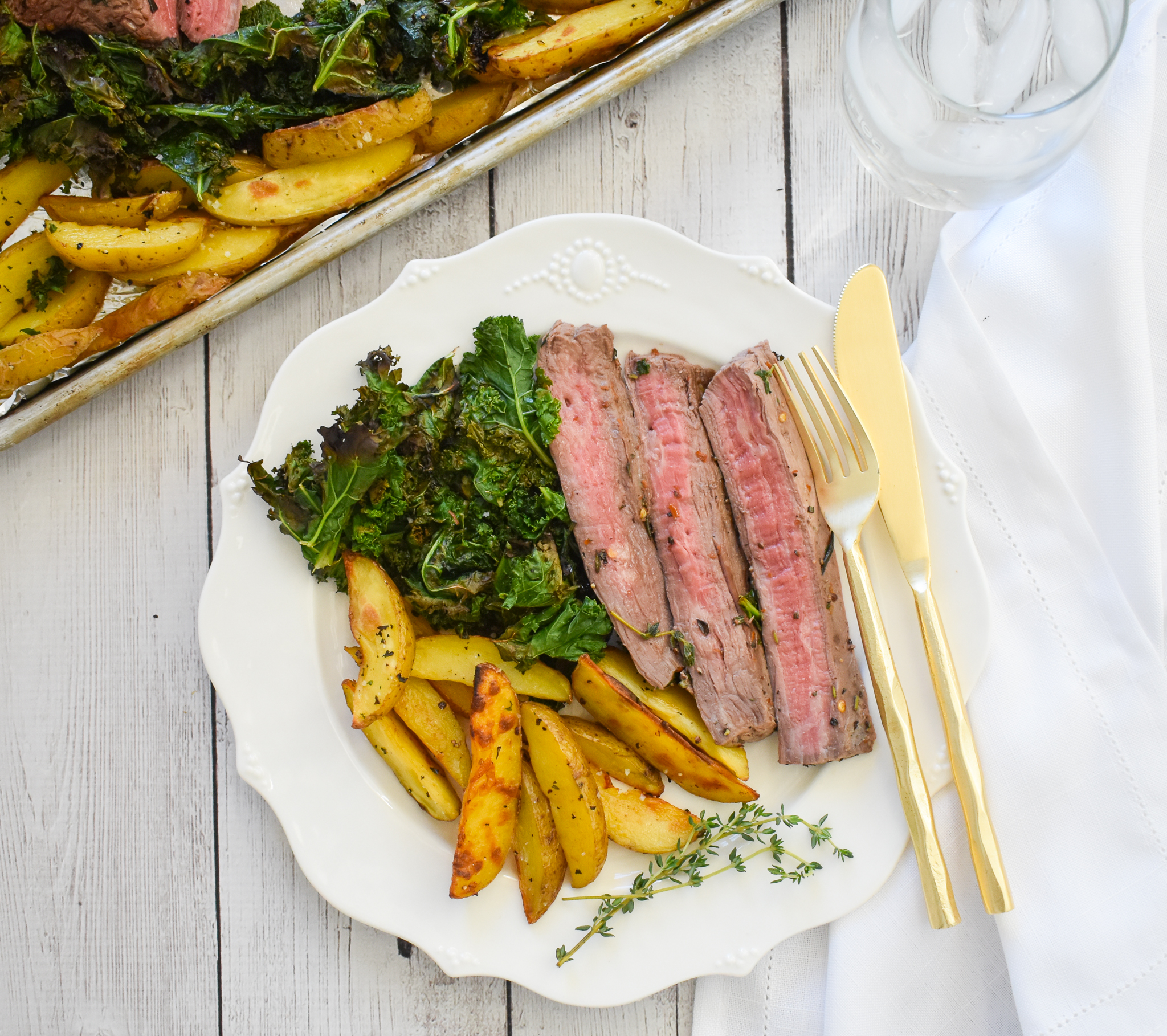 Although this recipe has not been tested, a single serving should be low-FODMAP based on the ingredients
Serves: 4
Prep time: 10 minutes (plus marinating 30 minutes or overnight)
Cook time: 26-30 minutes
Total time: 40 minutes plus marinating (30 minutes or overnight)
Bake: 450 F and broil; divided
Equipment: large rimmed sheet pan, aluminum foil
Modified from: southernliving.com
Ingredients
1 pound flank steak; whole
1 & 1/2 teaspoons chopped fresh rosemary
1 & 1/2 teaspoons chopped fresh thyme
3/4 teaspoon crushed red pepper (f you don't like spicy food then omit or reduce this spice)
1 & 3/4 teaspoons kosher salt; divided, plus to taste
1/2 teaspoon black pepper; plus to taste
2 tablespoons garlic infused olive oil
2 tablespoons onion or shallot infused oil

For tips on shopping for infused oils, see my low-FODMAP recipe swap blog
These are AMAZING ways to add the flavors you love without any FODMAPS. The oil does not absorb the FODMAP carbohydrates so you can enjoy these without tummy problems 🙂
If you don't have infused oil, you can substitute olive oil, but the flavor will be slightly different

1 & 1/2 pounds Yukon Gold potatoes (about 3 large yellow potatoes), cut into wedges

The thicker you cut your potatoes, the longer to bake, however if you prefer them thick, then adjust as desired!
You can substitute Russet potatoes, but for wedge cuts, Yukon Gold yield the best results
This video is helpful to show how easy it is to wedge the potatoes!

1 & 1/2 bunches curly kale (about 10-12 ounces or 300-340g); stemmed and roughly torn

Kale only contains trace amounts of FODMAPs

Baking spray
Optional: lemon or lime wedges
Directions
Place flank steak in a large resealable plastic freezer bag. Place rosemary, thyme, crushed red pepper (optional), 3/4 teaspoon salt, 1/2 teaspoon black pepper, and the garlic infused oil with the steak and swish it around to mix and coat the beef
Seal bag, and chill for 30 minutes to 24 hours (if you can marinate longer it enhances the flavor)
When ready to bake, cover a large rimmed sheet pan with aluminum foil and spray with baking spray
Place top oven rack 6 inches from heat and preheat oven to 450°F (this is usually the second rung, too close and the kale will burn on the broil setting)
Stir together potatoes, 2 tablespoons onion or shallot infused oil, and 1 teaspoon salt
Spread in an even layer on a heavy-duty aluminum foil-lined rimmed baking sheet
Bake potatoes in preheated oven 20 minutes, they should be brown and mostly cooked through. If they appear underdone, then bake longer
Remove from oven, and move potatoes to outer edges of pan
Place kale in center of pan, and top with steak (it will seem like a lot of kale, but it shrinks with cooking)
Increase oven temperature to broil, and broil for 3-5 mins (depending on thickness of your steak), then flip meat and vegetables and broil 3-5 minutes more or to desired degree of doneness

Rare: internal temperature 125 F
Medium rare: internal temperature 135 F
Medium: internal temperature 140 F

Remove from oven, and let stand 5 minutes
Sprinkle with finishing salt and fresh pepper, if desired

I also like to give a squirt of lemon or lime juice over the kale for a little tang

Cut steak across the grain, and drizzle with pan drippings
Serve steak with kale and potatoes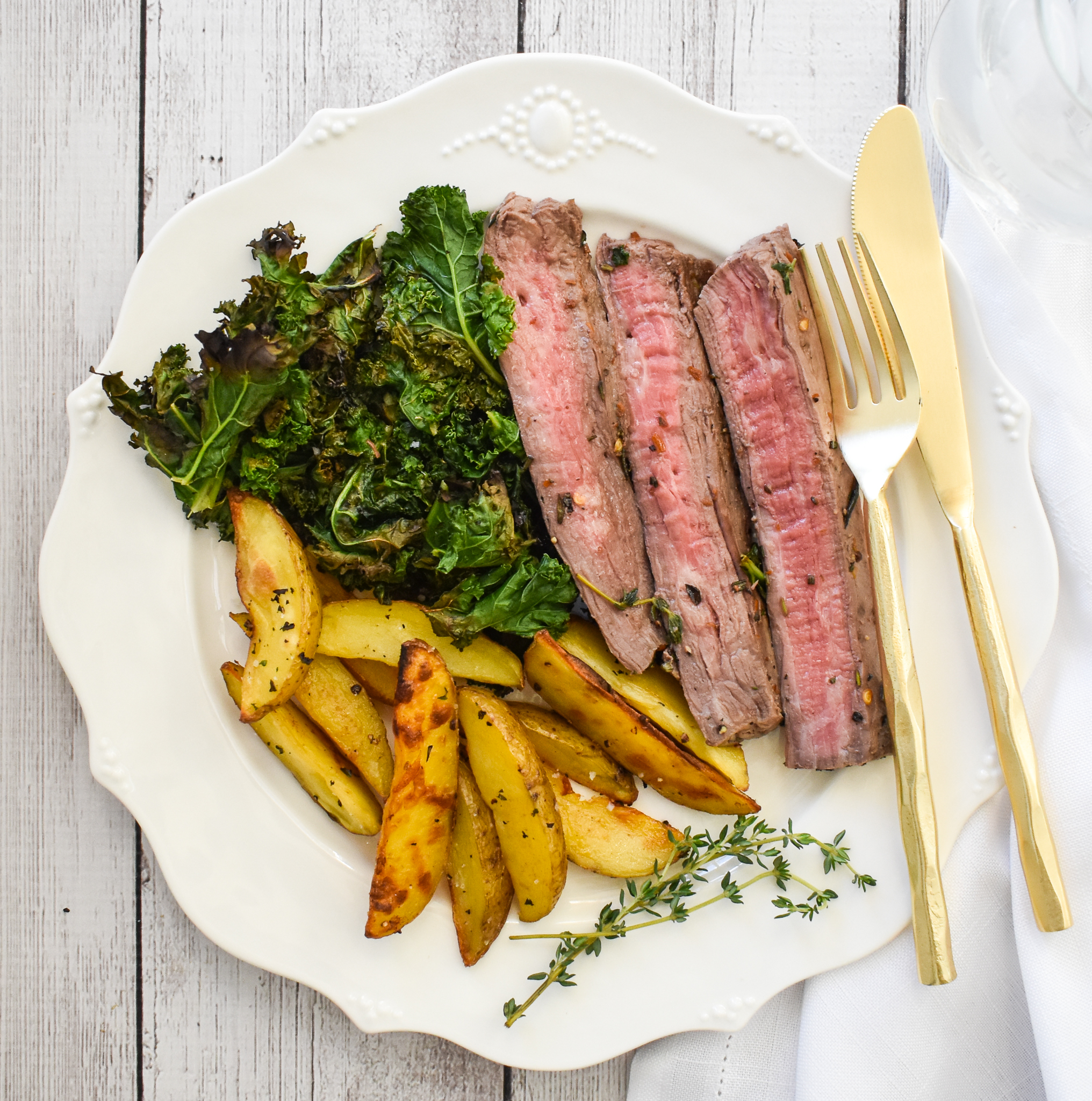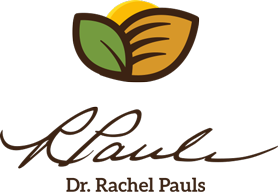 Printer Friendly Version
Comments Rating
( review)