Low-FODMAP Sheet Pan Chicken Fajitas; Gluten-free, Dairy-free
November 12, 2020
Printer Friendly Version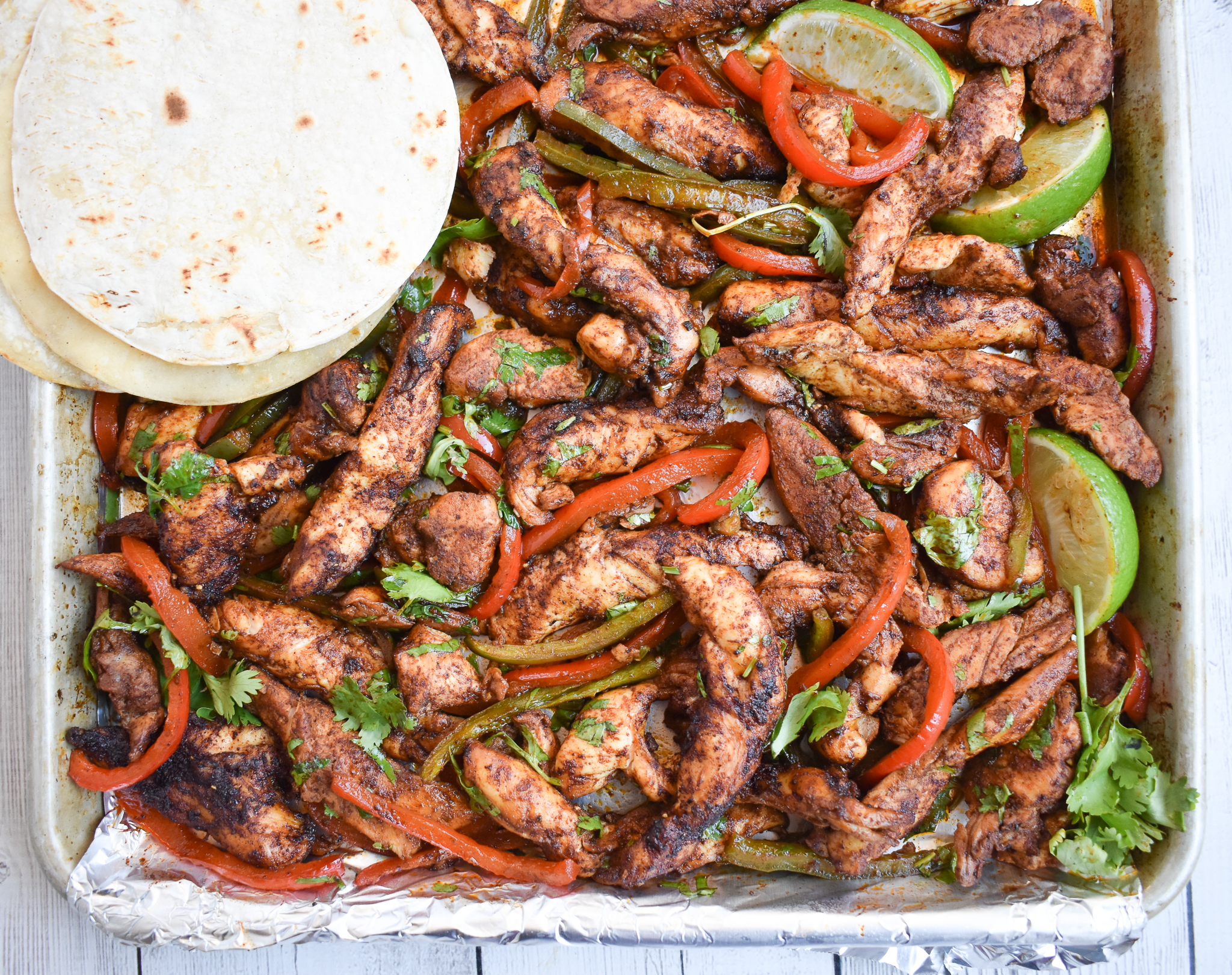 Hey loyal FODMAPPERS, I have another easy low-FODMAP one-pan recipe for you.  Low-FODMAP Sheet Pan Chicken Fajitas.  Check it out…
Low-FODMAP Sheet Pan Chicken Fajitas are the BEST meal for the whole family.  Something about making your own wrapped fajita is super satisfying.  Both my husband and kids are so excited when they see me cooking up this dinner.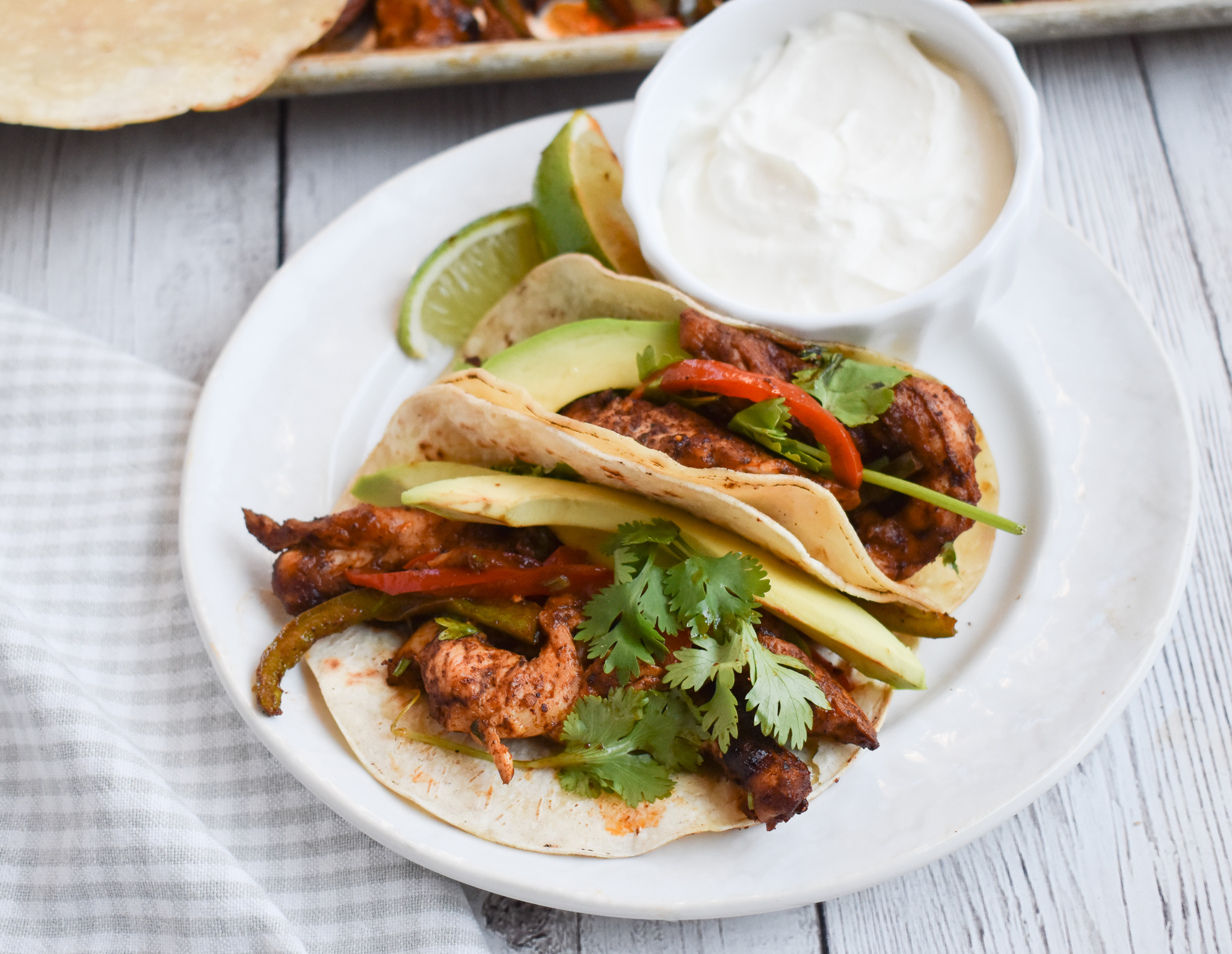 I had always figured that fajitas wouldn't be a good recipe for my blog, since every time I have enjoyed them in the past there was so much onion involved.  But great news…you can make a delicious fajita without onion and garlic.
I incorporate my versatile low-FODMAP Happy Spices Taco Seasoning, and the flavors of infused oils (safe for the low-FODMAP diet) to provide all the taste you love.  Just wait till you try these low-FODMAP Sheet Pan Chicken Fajitias!!
You may also love:
Or check out over 450 more low-FODMAP recipes on the blog.  IBS-friendly!
Be healthy and happy,
Rachel Pauls, MD
---

Although this recipe has not been lab tested, a single serving should be low-FODMAP based on the ingredients *using available FODMAP data at time of posting
Serves: 6
Prep time: 20 minutes
Cook time: 25 minutes
Total time: 45 minutes
Bake: 425 F
Ingredients
2 tablespoons low-FODMAP Happy Spices Taco Seasoning

If you don't have this, you can substitute 2 tsp cumin, 2 tsp oregano and 2 tsp ancho chili powder
Watch out for spice blends that have hidden onion and garlic added

1 teaspoon paprika

If you have smoked paprika, this is even more flavorful

1 & ¼ tsp salt, plus more to taste
1 & ¼ tsp black pepper, plus more to taste
1 & 1/2 pounds boneless, skinless chicken breasts, cut into thin strips

You can also purchase chicken tenders that are pre-cut, just verify they are not infused with vegetable broth or flavorings as these often contain hidden onion and garlic ingredients

1 red bell pepper, cut into strips

43g is one low-FODMAP serving

1 green bell pepper, cut into strips

75g is one low-FODMAP serving
Since different colored peppers are different in FODMAP levels- the moral is don't take anything for granted 🙂

2 tablespoons onion or shallot infused oil (can also substitute regular olive or canola oil)

I love using infused oils- all the flavor and NONE of the FODMAPs.  See my Top 11 low-FODMAP tips for an explanation why!

2 tablespoons garlic infused oil
1/4 cup chopped fresh cilantro leaves
2 tablespoons freshly squeezed lime juice (do not substitute concentrates, they don't taste nearly the same and may be higher in FODMAPs)

This is about 1 medium lime or 2 small limes

6 (8-inch) gluten-free corn tortillas, or gluten-free flour tortillas with low-FODMAP ingredients

I like the white corn tortillas, rather than yellow corn
You can also opt for 12 (4-inch) tortillas

Optional garnish: (note: some items contain dairy)

1 cup shredded cheddar cheese

About 1/3 cup cheese is one low-FODMAP serving

1 medium tomato, chopped

FODMAPs are not detected in common tomatoes

Avocado, sliced

1/8 avocado (30 g) is one serving, (this small amount is still very flavorful to add)

Lactose free sour cream, chopped black olives, additional cilantro, low-FODMAP Sassy Salsa (prepared)

Baking spray
Directions
Preheat oven to 425 degrees F. Line a rimmed baking sheet with aluminum foil and spray with baking spray
In a small bowl, combine low-FODMAP Happy Spices Taco Seasoning, paprika, 1 & 1/4 teaspoons salt and 1 & 1/4 teaspoons pepper
Place chicken and bell peppers in a bowl, and toss with the infused oils and the seasoning mixture
Lay chicken and peppers on the prepared pan in a single layer and bake for 25 minutes, or until the chicken is completely cooked through and the vegetables are slightly crisp (you can turn the pieces halfway through, as needed)
In the last few minutes, warm tortillas on a skillet or microwave, set aside (warming them helps the tortillas fold easier without ripping)
Remove chicken from oven and toss with cilantro and lime juice
Serve chicken with tortillas, and additional optionals: cheese, avocado, chopped tomatoes, cilantro, low-FODMAP salsa, olives, lactose-free sour cream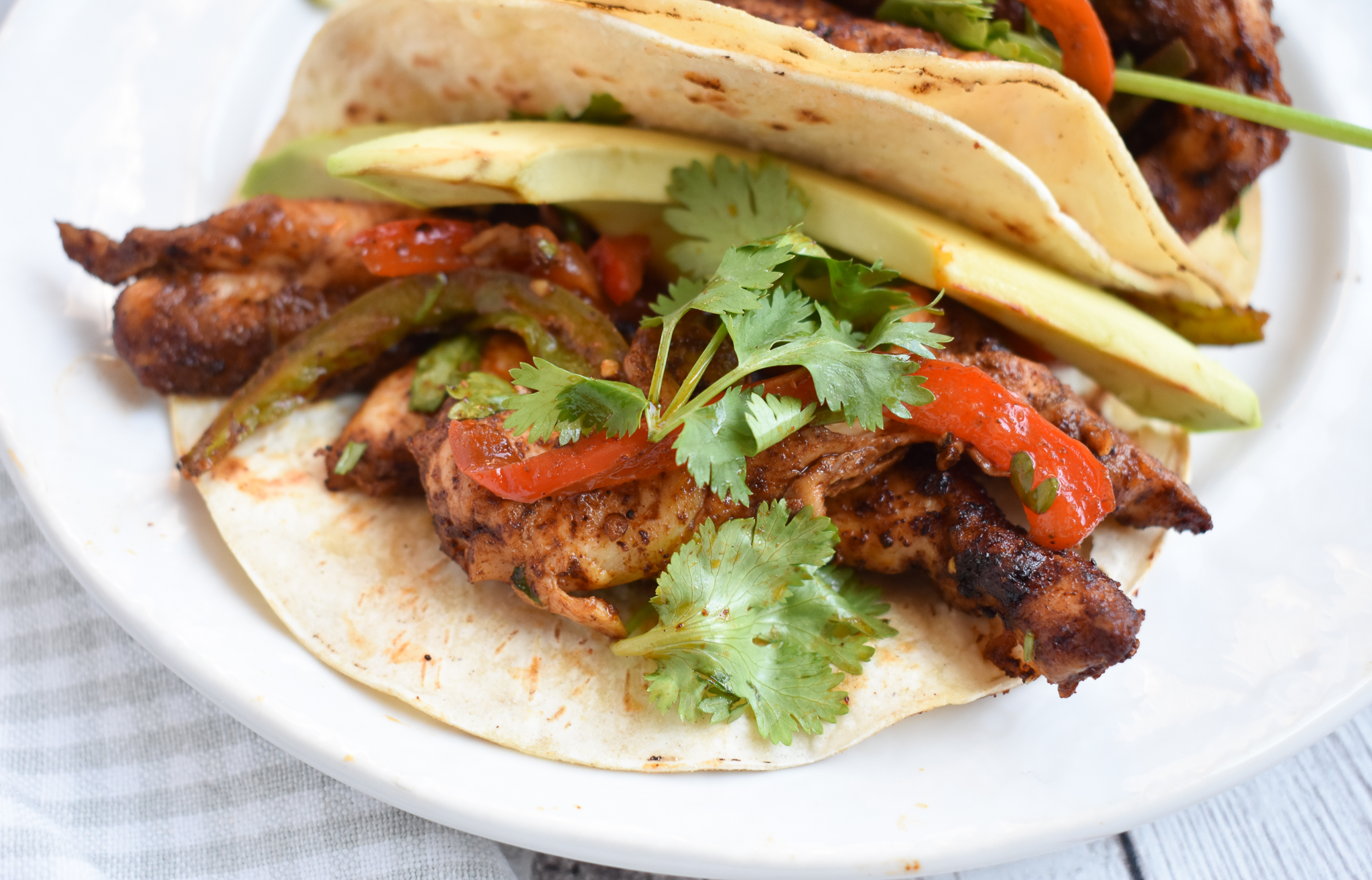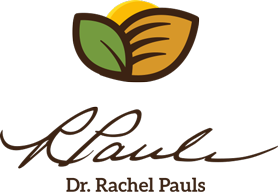 Printer Friendly Version
Comments Rating
( reviews)