Low-FODMAP 30-Minute Sesame Glazed Tofu; Gluten-free, Vegan
March 24, 2022
Printer Friendly Version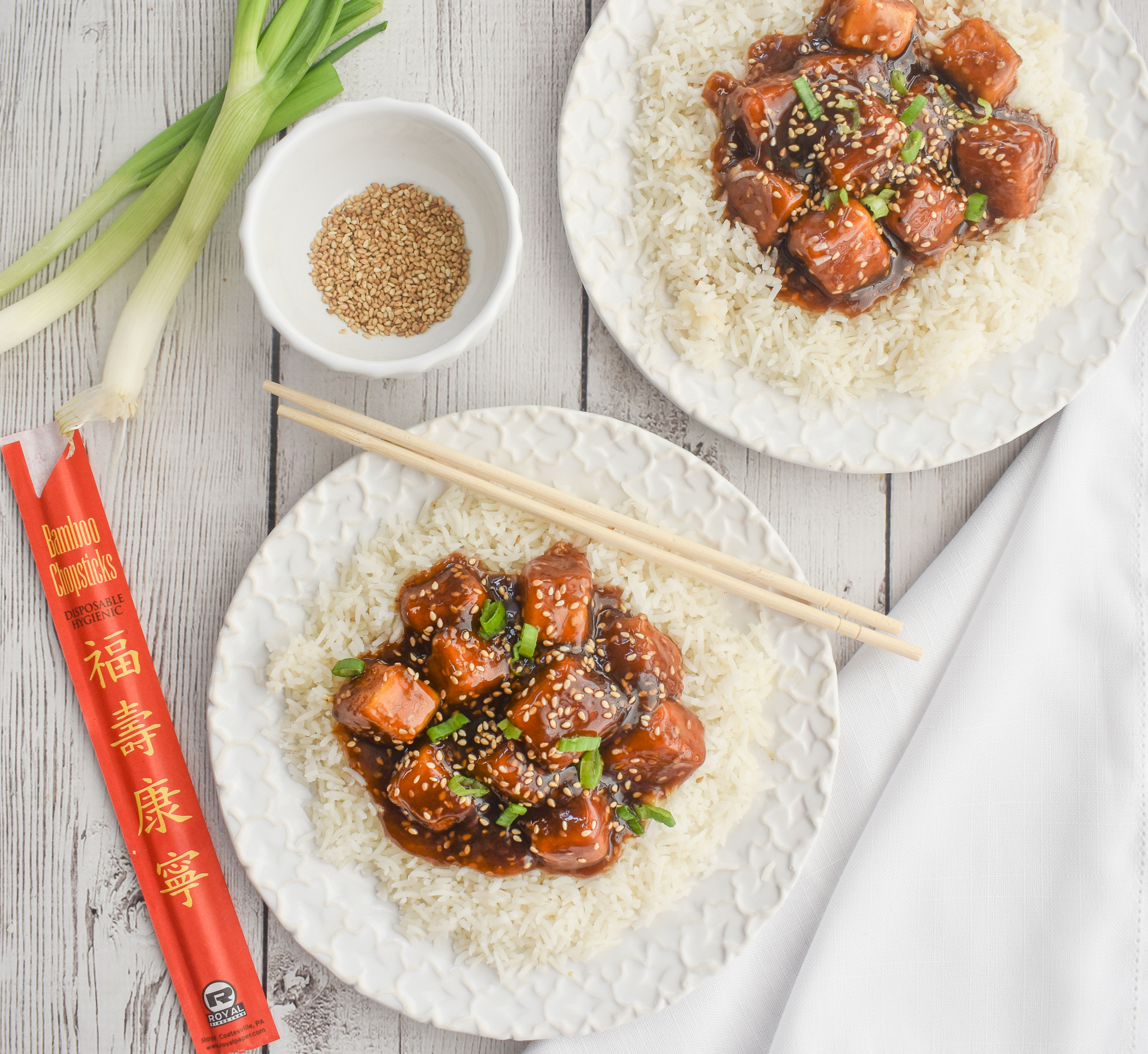 Here is a fabulous recipe for all low-FODMAP vegans, plant-based foodies, and anyone else that loves the flavor of sesame glazed tofu (that's me!).
Since my daughter began a vegetarian lifestyle four years ago, I have been growing my low-FODMAP vegan recipes (see low-FODMAP Vegan Blog).  I love that we can have low-FODMAP portions of firm tofu, canned lentils and chickpeas as well as tempeh (plus amazing grains like quinoa and oats).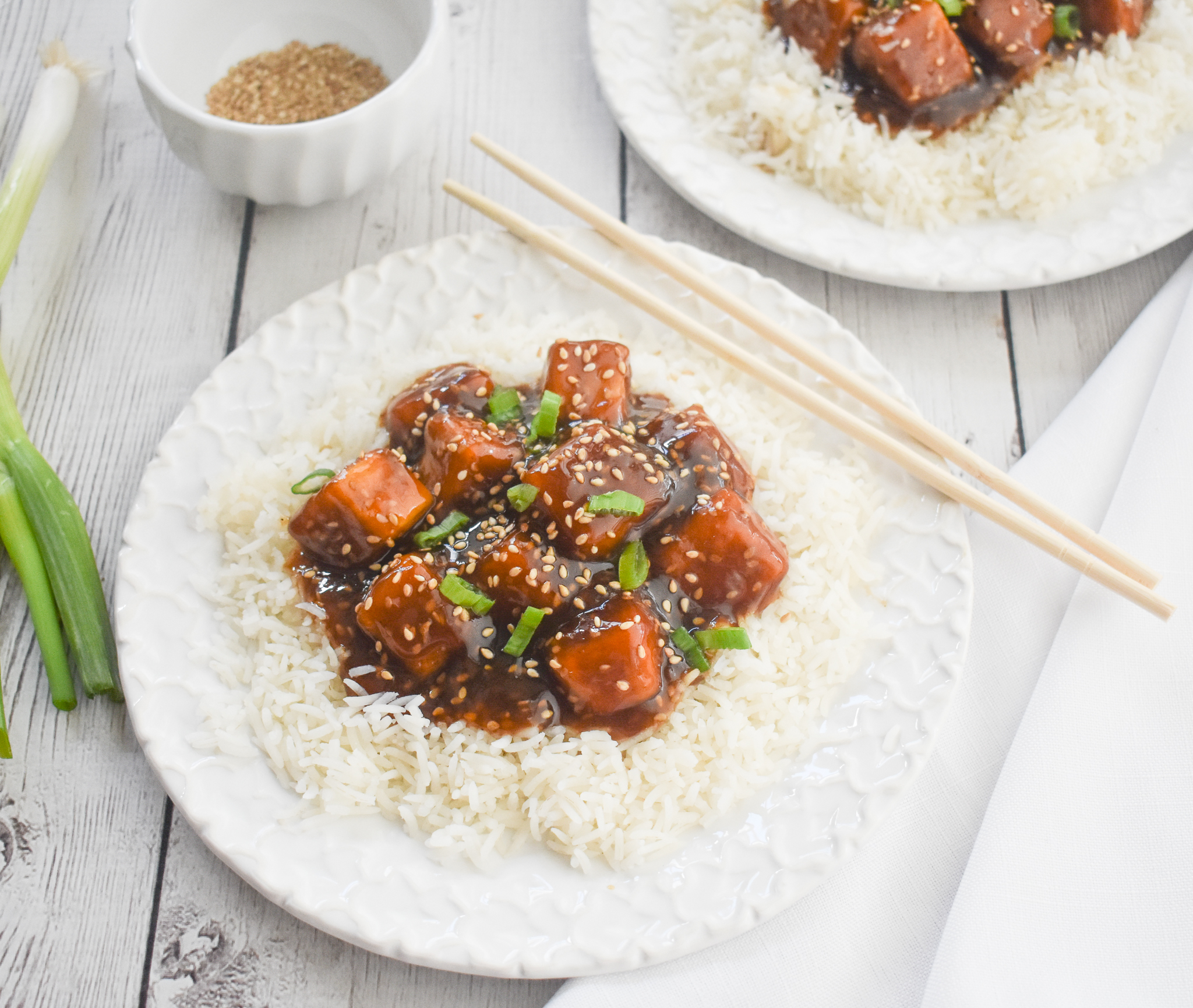 This is a straightforward and super flavorful recipe for low-FODMAP Sesame Glazed Tofu.  Crisp and so delicious, you will enjoy this light supper or lunch any day of the week.  Ready in under 30 minutes!
You may also love my:
Or check out over 450 more low-FODMAP recipes on the blog.  IBS-friendly!
Be healthy and happy,
Rachel Pauls, MD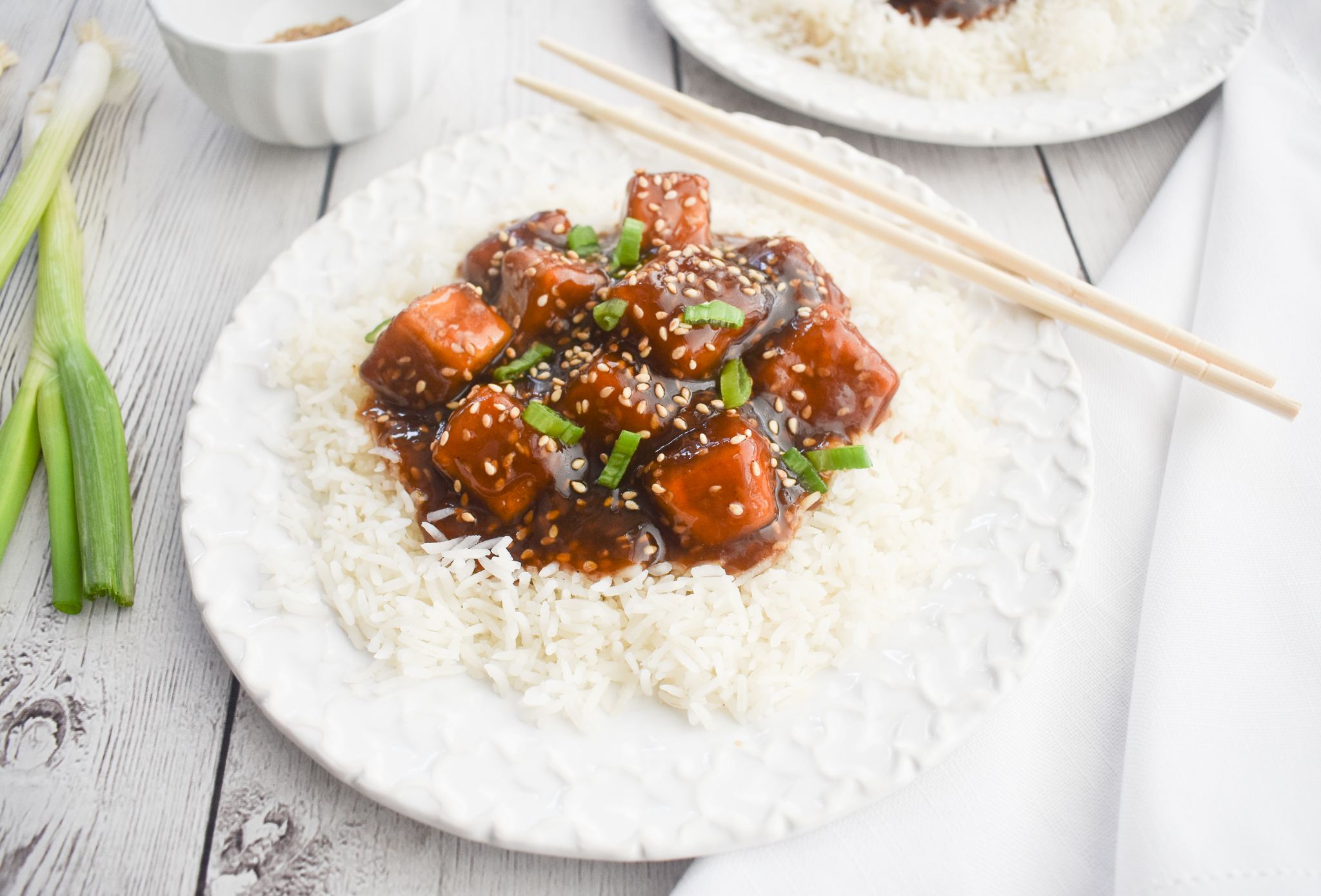 P.S.  Check out my new COOKBOOK for over 100 low-FODMAP recipes, low-FODMAP Meal Plan, FODMAP Tips and everything you need!!  It's the BEST!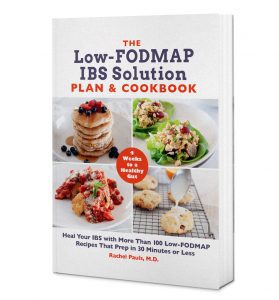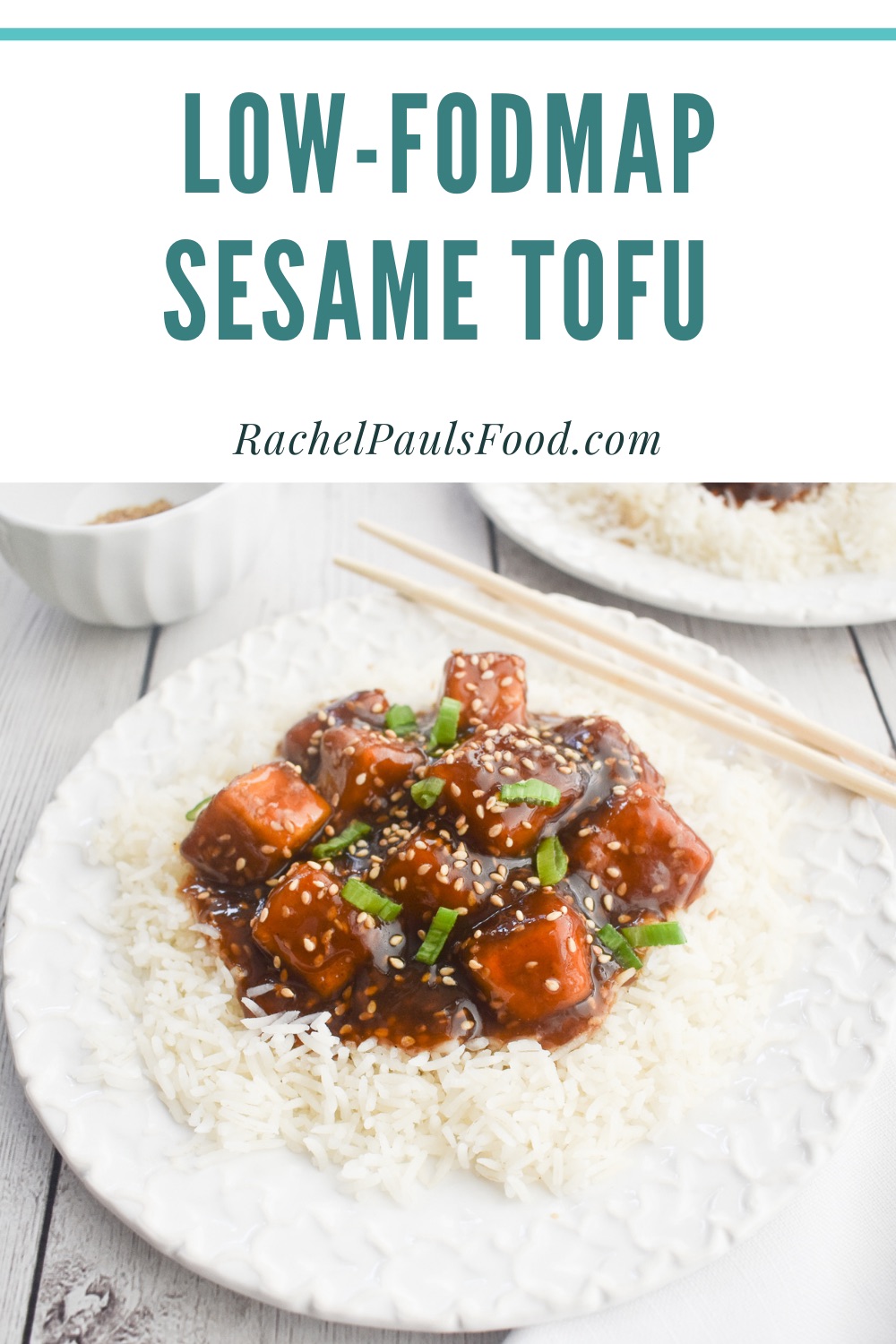 Although this recipe has not been lab tested, a single serving should be low-FODMAP based on the ingredients (using available FODMAP data at time of posting)
Serves: 2
Prep time: 5 min
Cook time: 15 min
Total time: 20 min
Ingredients
7 ounces or 200 g extra firm tofu, drained (this is about 1/2 block)

160 g firm tofu is one low-FODMAP serving

4 tablespoons of cornstarch; divided into 3 tbsp. and 1 tbsp.
1 teaspoon paprika
2 tablespoons garlic infused oil, or canola oil, depending on your preference (for frying)

Infused oils contain the flavor but NOT the FODMAPs of garlic and onion.  See my low-FODMAP Top 11 Tips for the reason!

3 tablespoons soy sauce or gluten-free soy sauce
1/4 cup of water, plus 1 tablespoon; divided
1 & 1/2 tablespoons sesame oil
1 & 1/2 tablespoons rice vinegar (not 'seasoned rice vinegar')
3 & 1/2 tablespoons maple syrup
2 tablespoons toasted sesame seeds, plus extra for garnish
Green scallion tips, chopped

Avoid the bulbs as they are higher in FODMAP content
Directions
Begin by pressing your tofu: wrap it in a towel and leave something heavy on it for about 2-3 minutes
While tofu is pressing, create a slurry with 1 tbsp. of the cornstarch in 1 tbsp. of water, mixed well. Set aside for later
Cut tofu into chunks, bite sized
Mix remaining 3 tbsp. cornstarch and paprika together in a medium bowl, then add in chunks of tofu and toss to coat
Place coated tofu pieces into a non-stick medium sized saucepan over medium heat with your oil

Do not crowd your pieces, work in batches if necessary

Cook for about 5-7 minutes, flipping often until all sides are golden and slightly crisp
While cooking, prepare sauce
In a medium pot, place soy sauce, water, sesame oil, rice vinegar and maple syrup and mix well
Place sauce on the stove and cook over medium low until hot, but not boiling
Add in the slurry and begin to stir the sauce for 3-5 mins until the cornstarch has dissolved and the sauce thickens
Remove from heat, add the tofu to the sauce in the pot, or add the sauce to the pan with the tofu.  Mix in your 2 tbsp. sesame seeds
Toss to coat everything. Serve over white rice and top with extra sesame seeds and scallion tips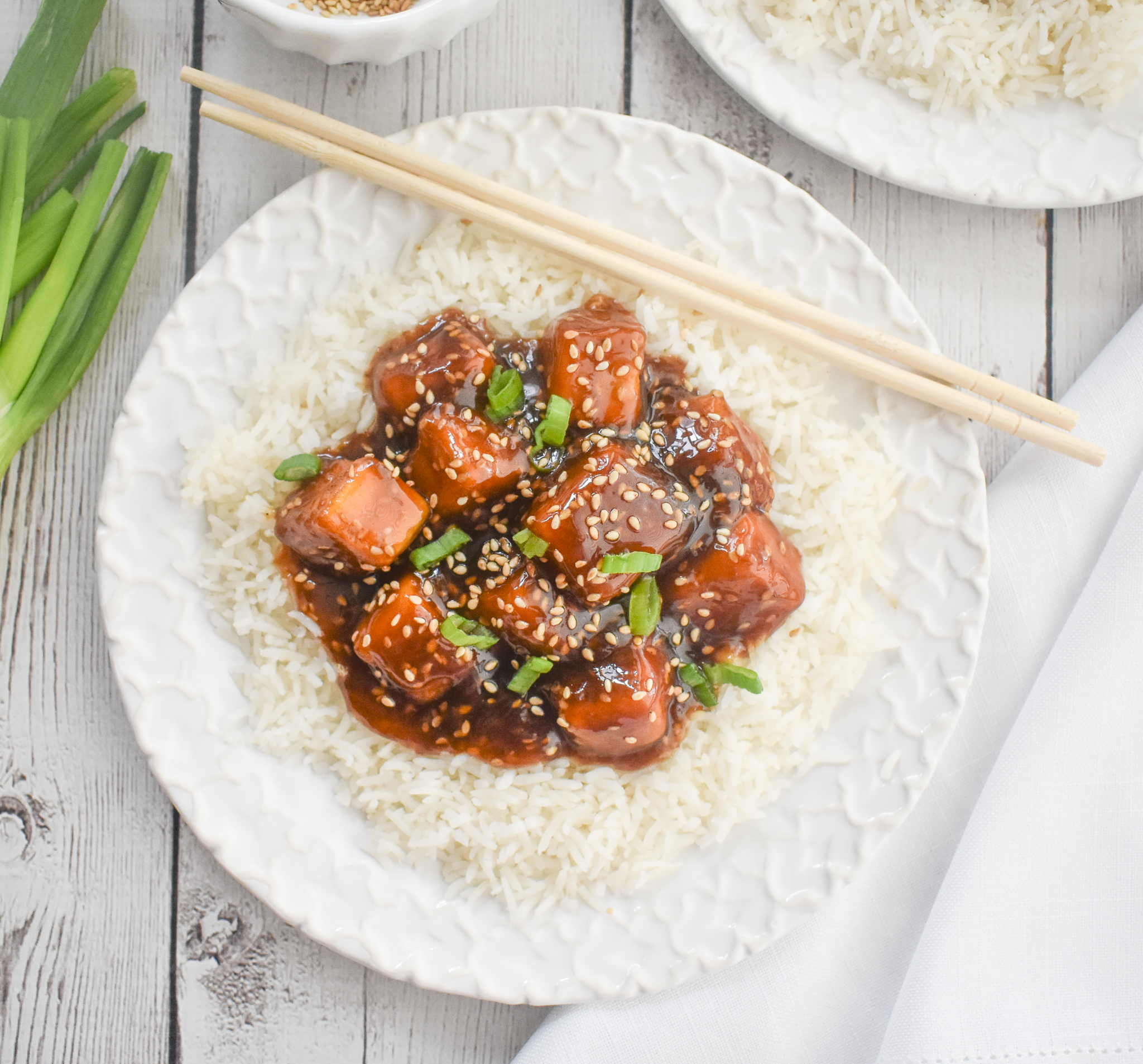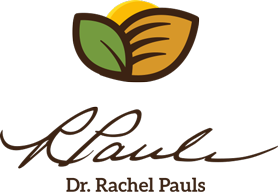 Printer Friendly Version
Comments Rating
( reviews)