Low-FODMAP Pumpkin Spice Baked Oats; Gluten-free, Dairy-free
October 27, 2023
Printer Friendly Version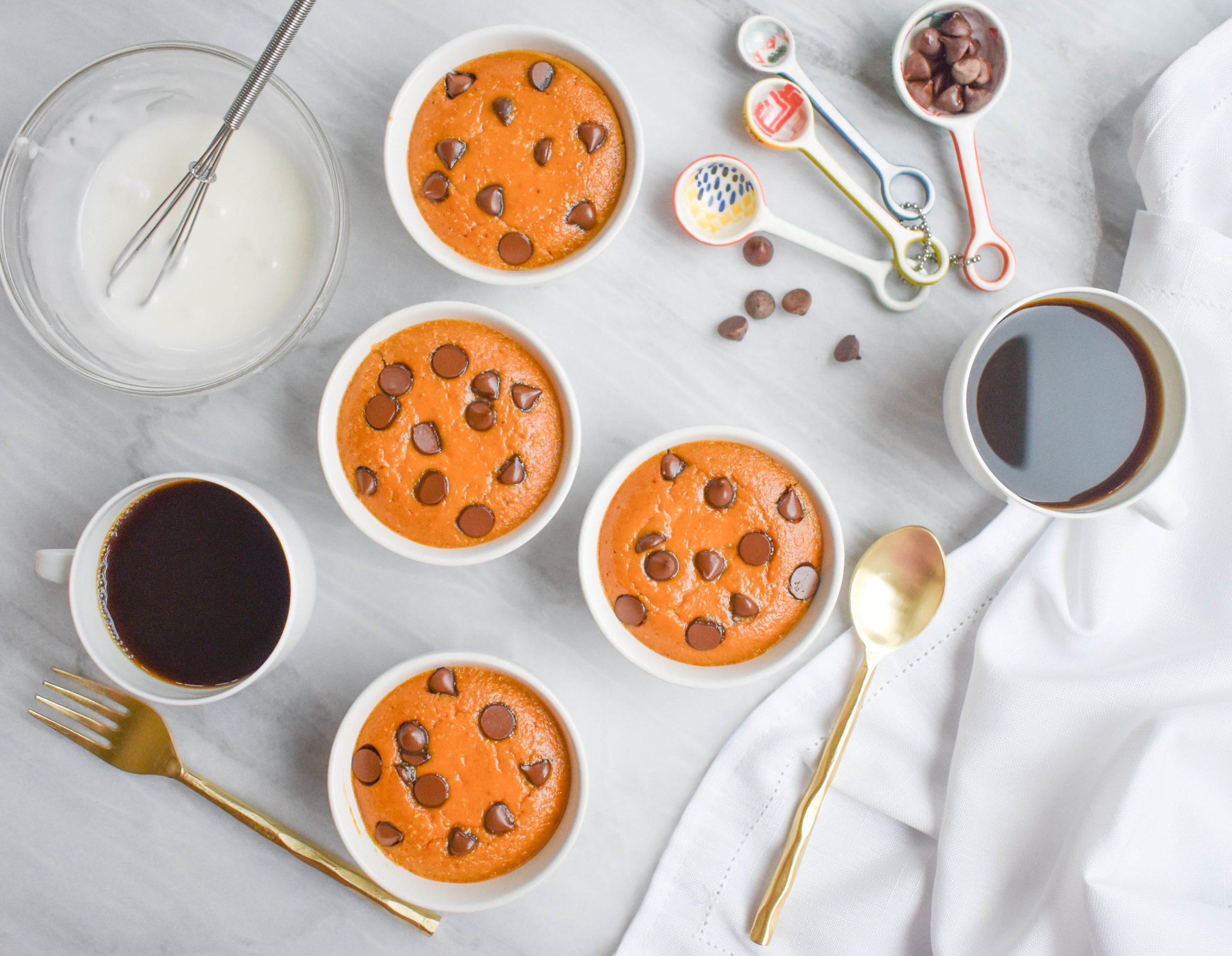 I am a massive fan of pumpkin, pumpkin spice, and anything chocolate.
So, if you suggest taking hearty oats, flavoring them with pumpkin and pumpkin spice, and dazzling it all with chocolate or pecans, you have me drooling already.
The fact that this is healthy is a total BONUS.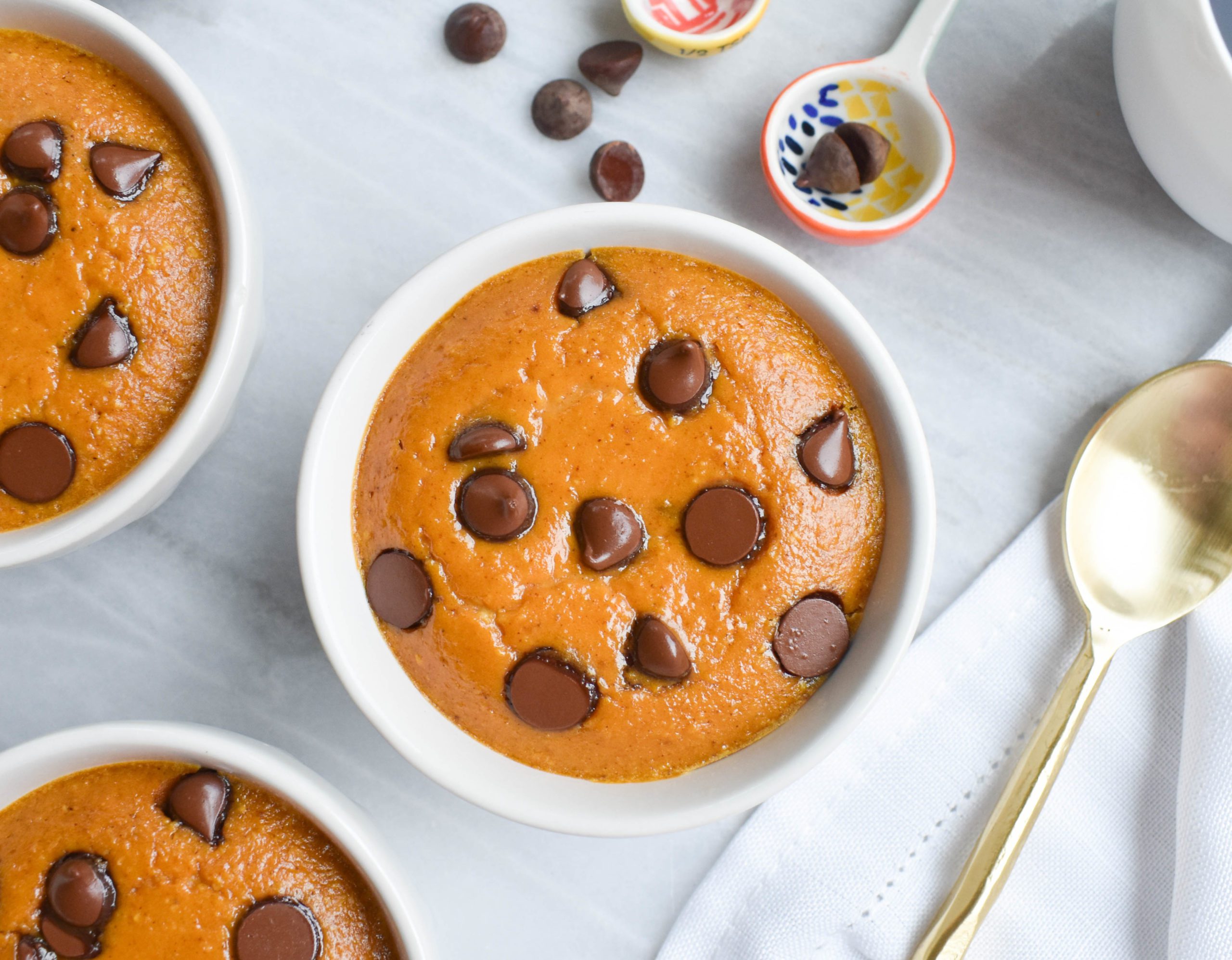 This recipe for my low-FODMAP Pumpkin Spice Blender Baked Oats will be an instant favorite for you as well.
They're not-to-sweet, easy to make, and a fantastic way to enjoy 'cake' for low-FODMAP breakfast!
A little background on 'baked oats':
For those of you that are familiar with TikTok, you may have noted all the recipes that started a trend for 'baked oats'.  Here's my low-FODMAP take on this awesome treat
Baked Oats are a little different from baked oatmeal. The oats are blitzed in a blender, which makes the texture smoother and similar to cake
The process is also a snap to put together since the blender does all the work for you
For more great low-FODMAP Pumpkin inspiration, see my low-FODMAP Best Pumpkin Recipes!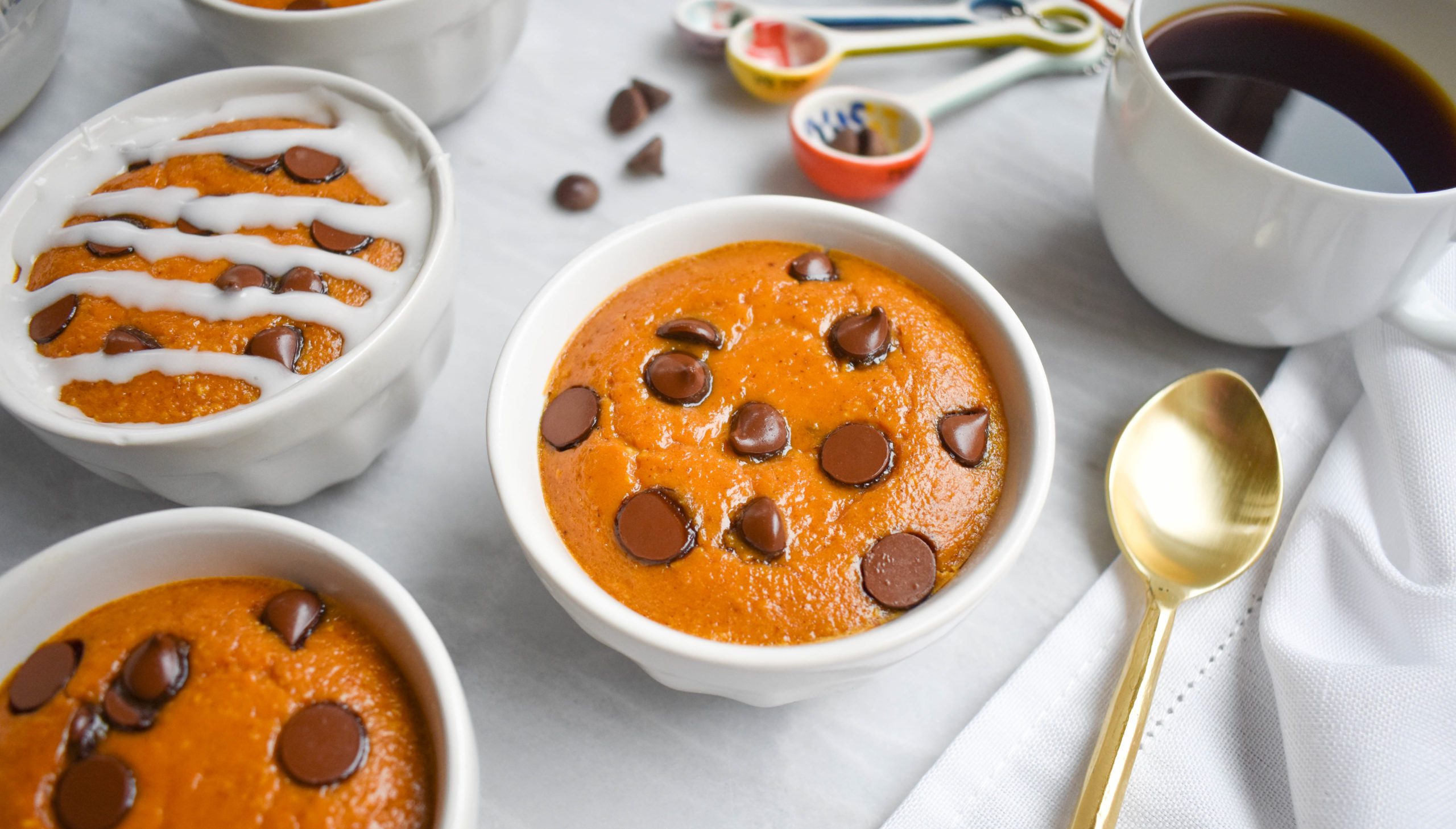 You may also love:
Or check out over 500 more low-FODMAP recipes on the blog. IBS-friendly!
Be healthy and happy,
Rachel Pauls, MD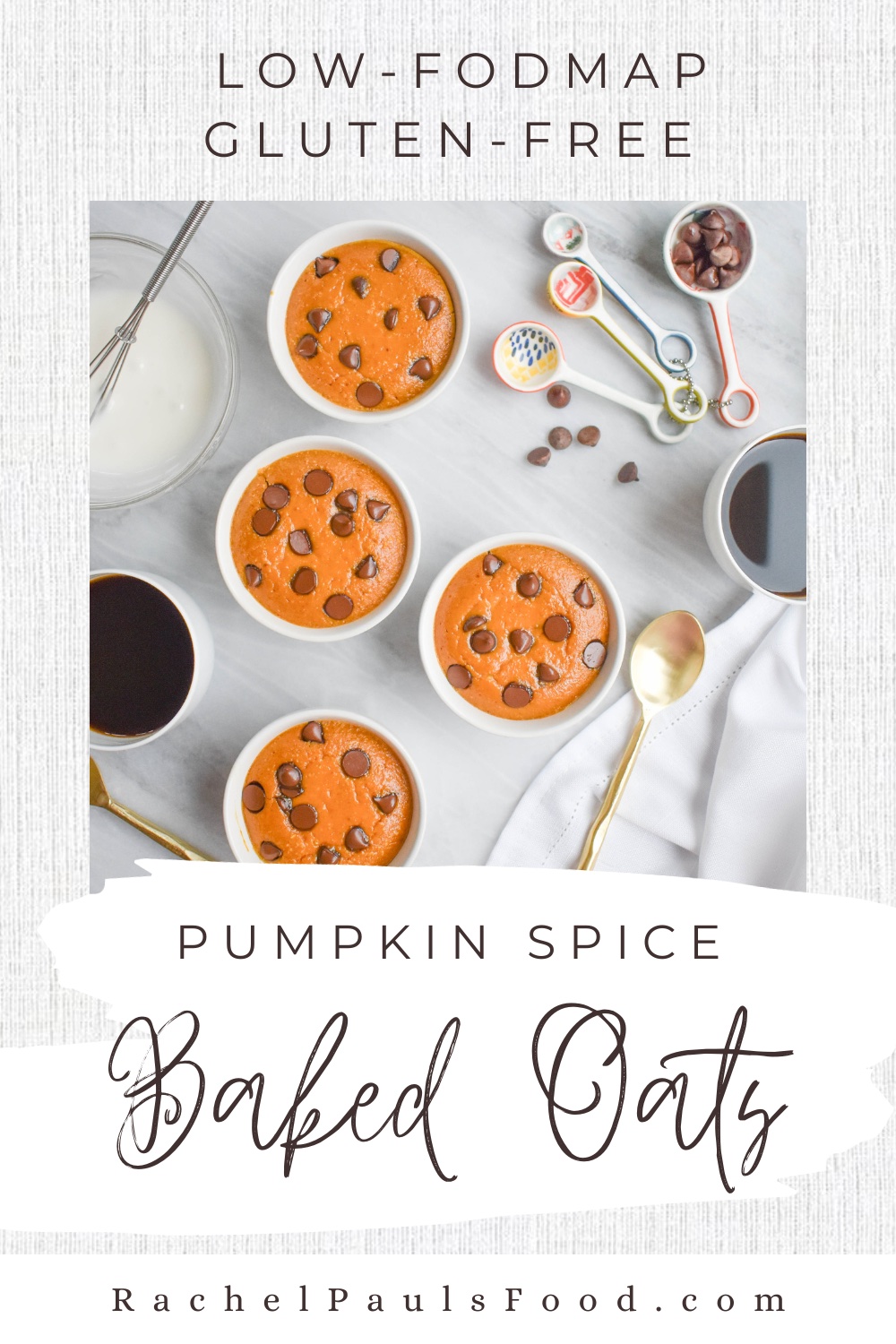 Although this recipe has not been lab tested, a single serving should be low-FODMAP based on the ingredients (using FODMAP data at time of posting)
Serves: 4
Prep time: 10 minutes
Bake time: 25 minutes
Total time: 35 minutes
Bake: 350F
Equipment: Oven-safe ramekins
Ingredients
1 large egg, room temperature
1/4 cup pure maple syrup
1/2 cup canned pure pumpkin
1 tablespoon melted butter, avocado oil or melted coconut oil
3/4 cup low-FODMAP milk (lactose-free 2% or almond milk for dairy-free)
1/2 teaspoon vanilla
1 cup old fashioned rolled oats, gluten-free if necessary
1/2 teaspoon baking powder
1/8 teaspoon salt
3/4 teaspoon pumpkin pie spice
1/4-1/2 cup (50-100 g) chopped toasted pecans or semisweet mini or standard chocolate chips; divided

30g is one low-FODMAP serving for dark chocolate
20g is one low-FODMAP serving for pecans

Baking spray
For glaze (optional):
1 cup confectioner's sugar
1 tablespoon low-FODMAP milk
Dash of vanilla, maple or other desired extract for flavor
Directions
Preheat the oven to 350 degrees F and grease four 4-ounce ramekins with baking spray
Place ramekins on a baking sheet, lined with foil if desired
In a blender, place all ingredients except chocolate chips or pecans
Blitz until completely smooth, scraping sides as needed
Stir in half of the chocolate chips (or other stir-ins) by hand
Pour this mixture into your prepared ramekins and sprinkle with remaining chips
Bake for 25 minutes, or until set in the middle when you press lightly with your finger, and golden on the edges
Remove from the oven and allow to cool on a wire rack
While cooling, prep your (optional) glaze by mixing milk with the confectioner's sugar and drizzle over ramekins, if desired
This is so soft and delicious!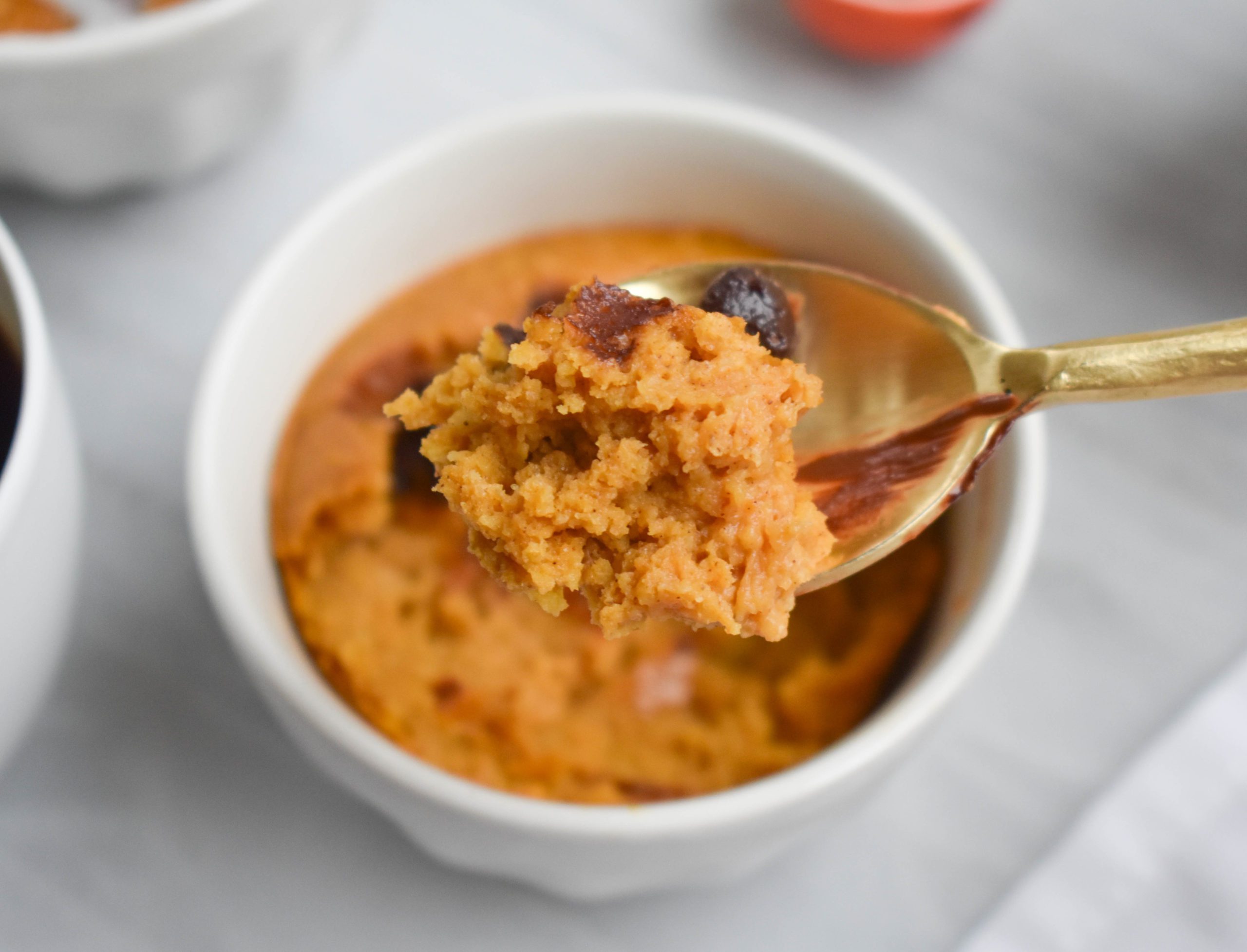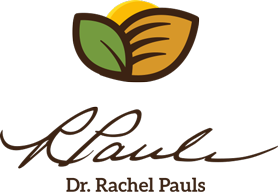 Printer Friendly Version
Comments Rating
( reviews)