Low-FODMAP Pumpkin Crumb Coffee Cake; Gluten-free, Dairy-free
November 4, 2021
Printer Friendly Version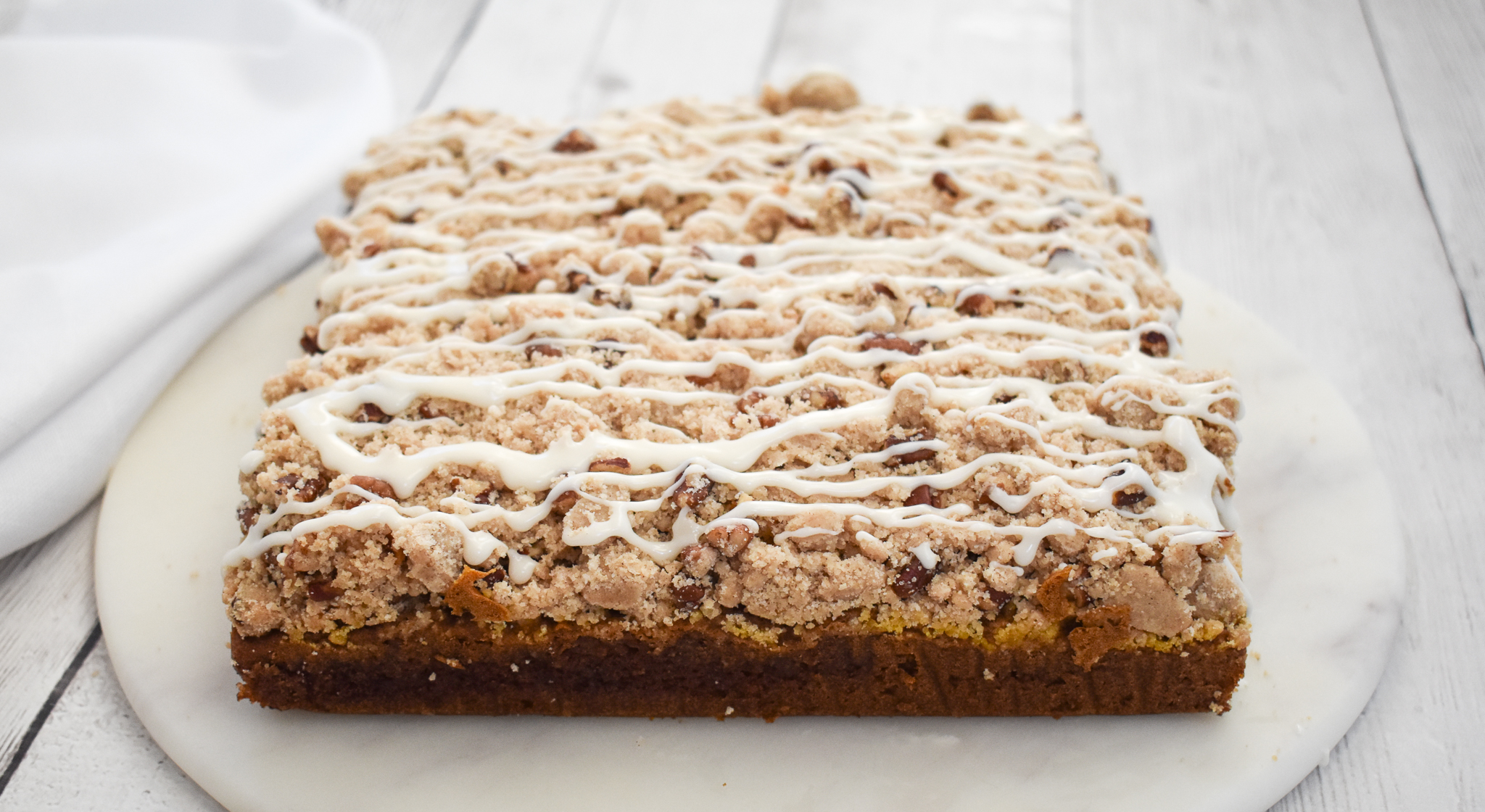 Low-FODMAP Pumpkin Crumb Coffee Cake. A moist pumpkin cake with a cinnamon swirl middle and sweet crumble top.  I was in HEAVEN when I tasted this low-FODMAP recipe!
My loyal readers know that I love Thanksgiving. Relaxing and enjoying close family and friends is so important right now.  But, if I'm honest, Thanksgiving is all about the food! And to me, that means PUMPKIN RECIPES.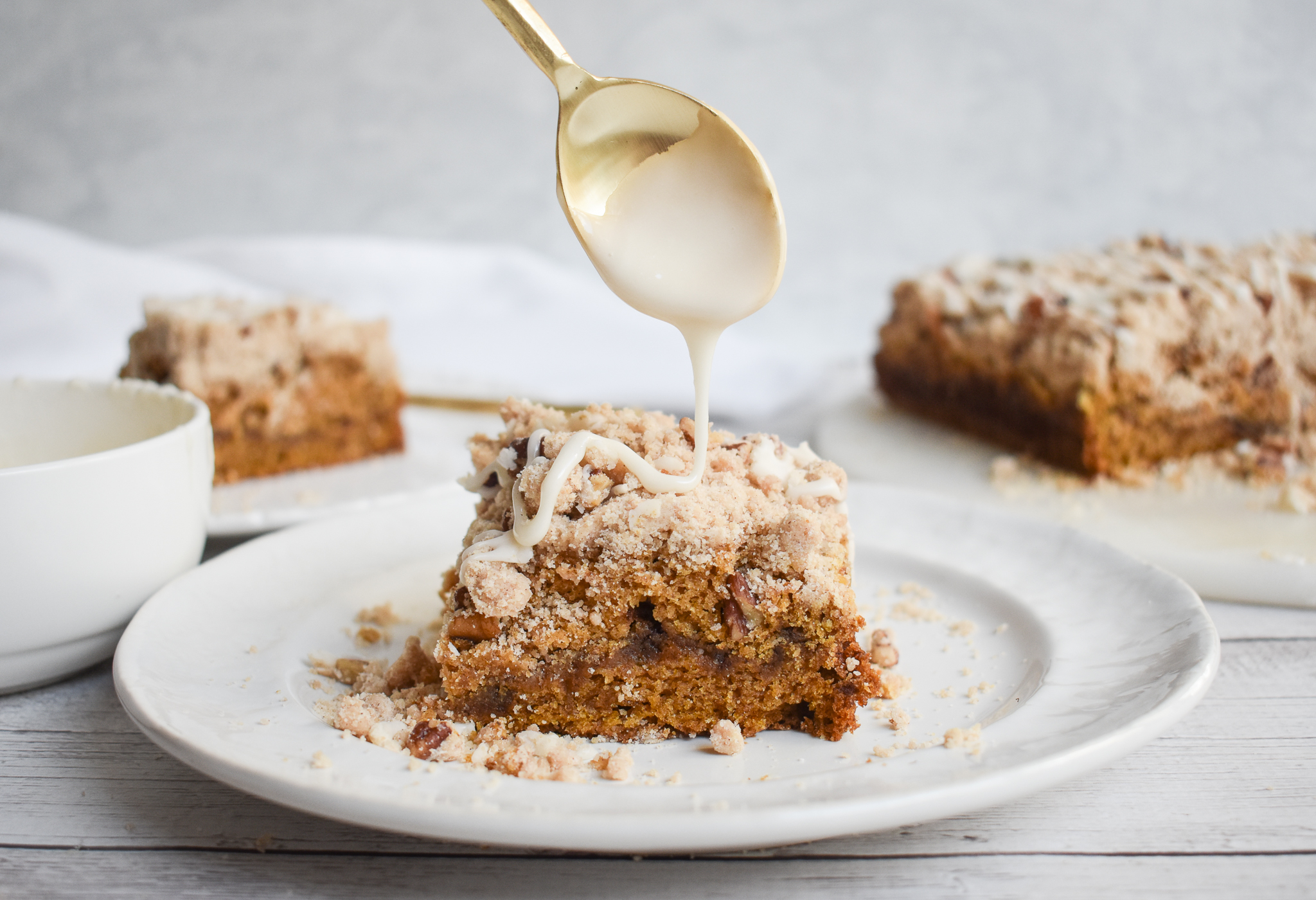 My blog is full of pumpkin inspired low-FODMAP treats!  Low-FODMAP Pumpkin Spice Latte, Pumpkin Pie, Pumpkin Cookies, even a whole blog listing them for you- my Best Low-FODMAP Pumpkin Recipes.
So, here is my newest addition for you all to enjoy!! Low-FODMAP Pumpkin Crumb Coffee Cake.
I decided to make this coffee cake as decadent as possible.  It has a cinnamon swirl.  It has a streusel topping.  It has a glaze.  But, it's the holidays!  We want things a little 'over-the-top", don't we?!
If you prefer, leave out the swirl or the glaze, and it will still be amazing.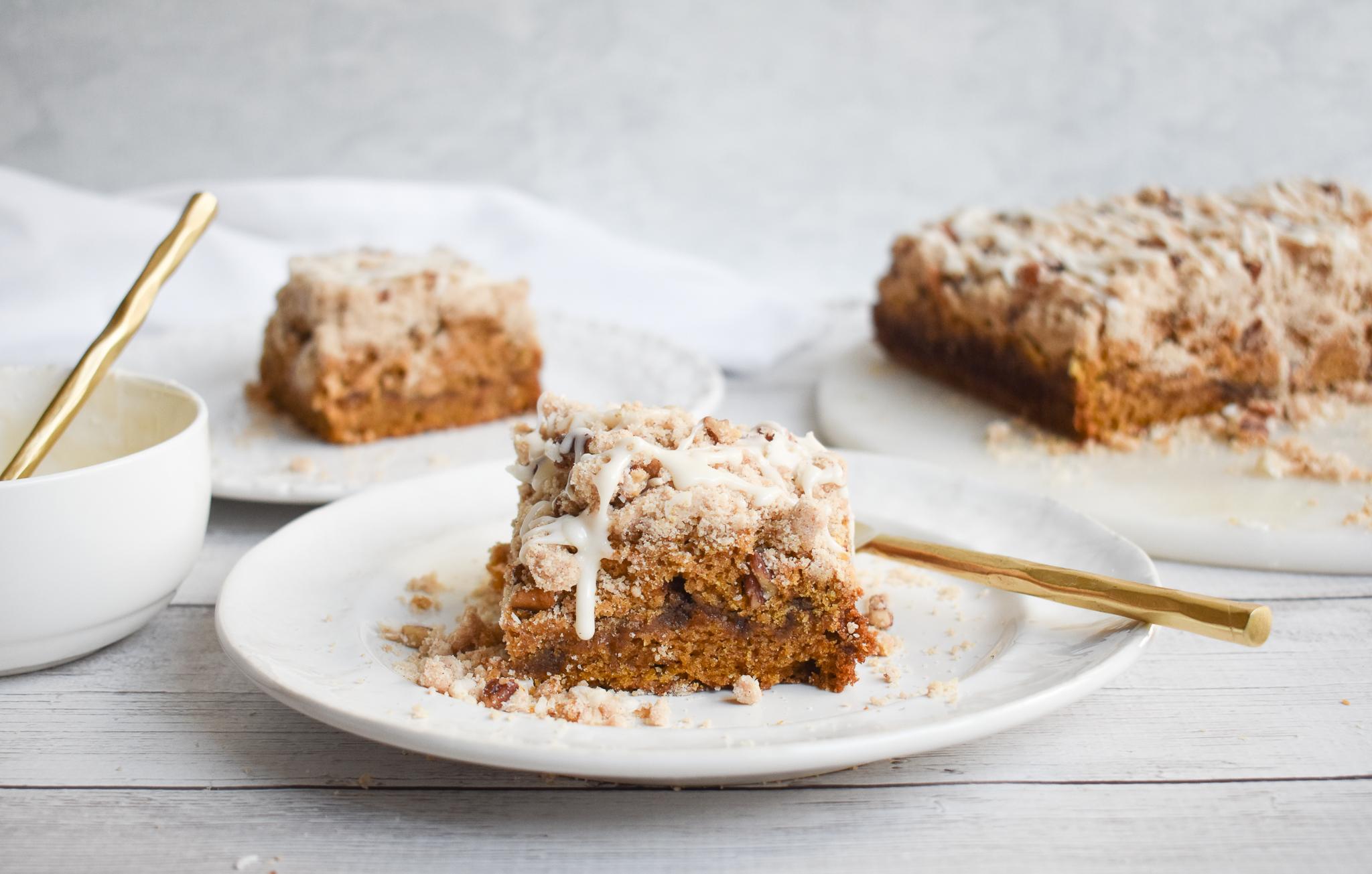 And, all kidding aside, it's pretty straightforward to make.  No mixer, no finicky frosting or decorating.  EVERYONE will love this moist, incredible dessert.
You HAVE  to make this low-FODMAP Pumpkin Coffee Cake.
Right.
Now.
If you are looking for a larger, holiday inspired sheet cake, try my Low-FODMAP Sweet Potato Cake with Crumble Topping (made with my low-FODMAP certified vanilla cake mix)!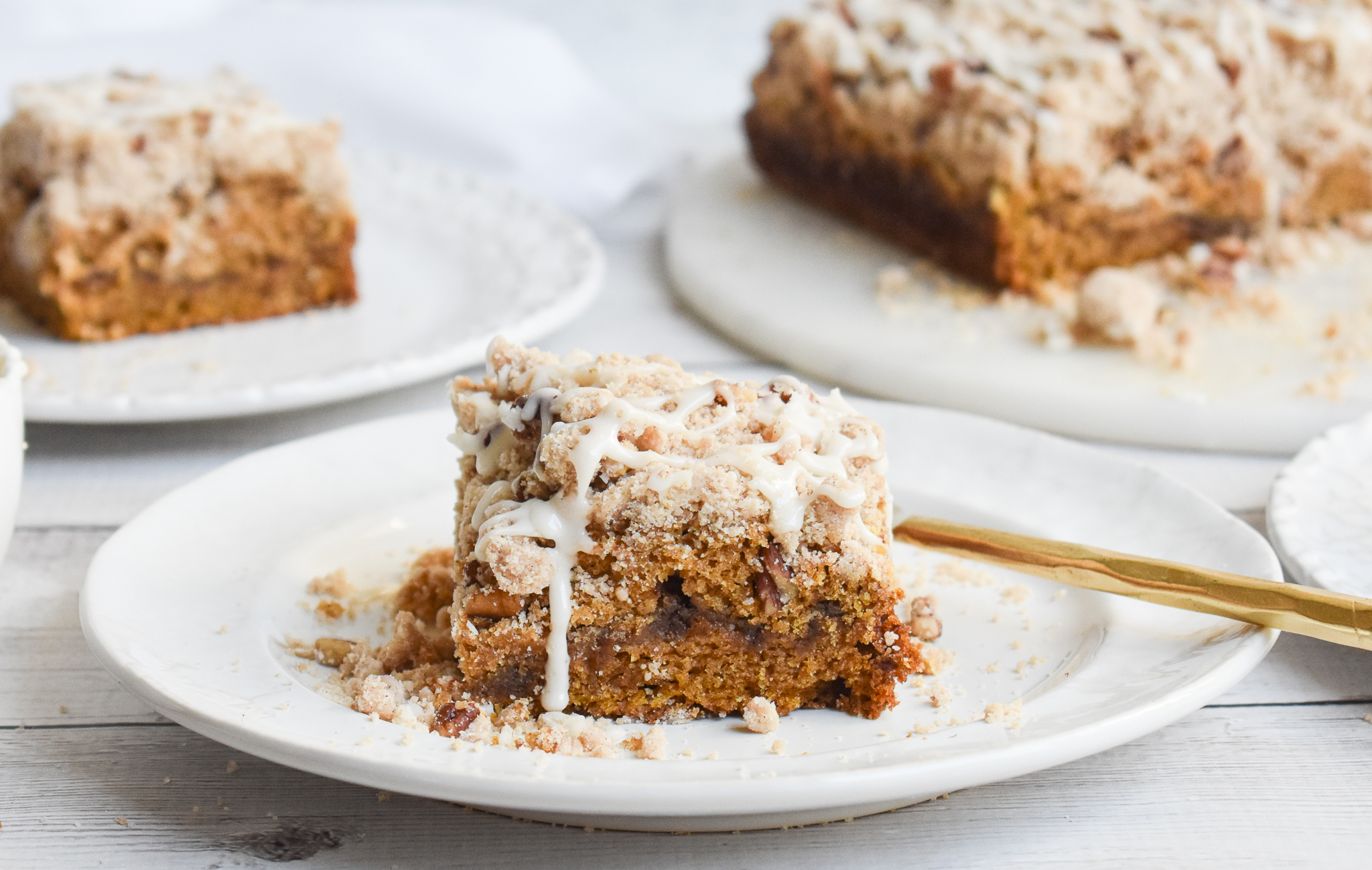 You may also love:
Or check out over 400 more low-FODMAP recipes on the blog!  IBS-friendly.
Be healthy and happy,
Rachel Pauls, MD
P.S.  Check out my new COOKBOOK for over 100 low-FODMAP recipes, low-FODMAP Meal Plan, FODMAP Tips and everything you need!!  It's the BEST!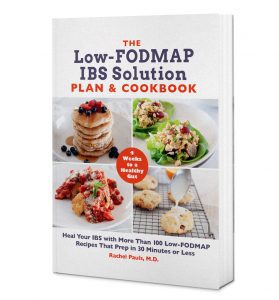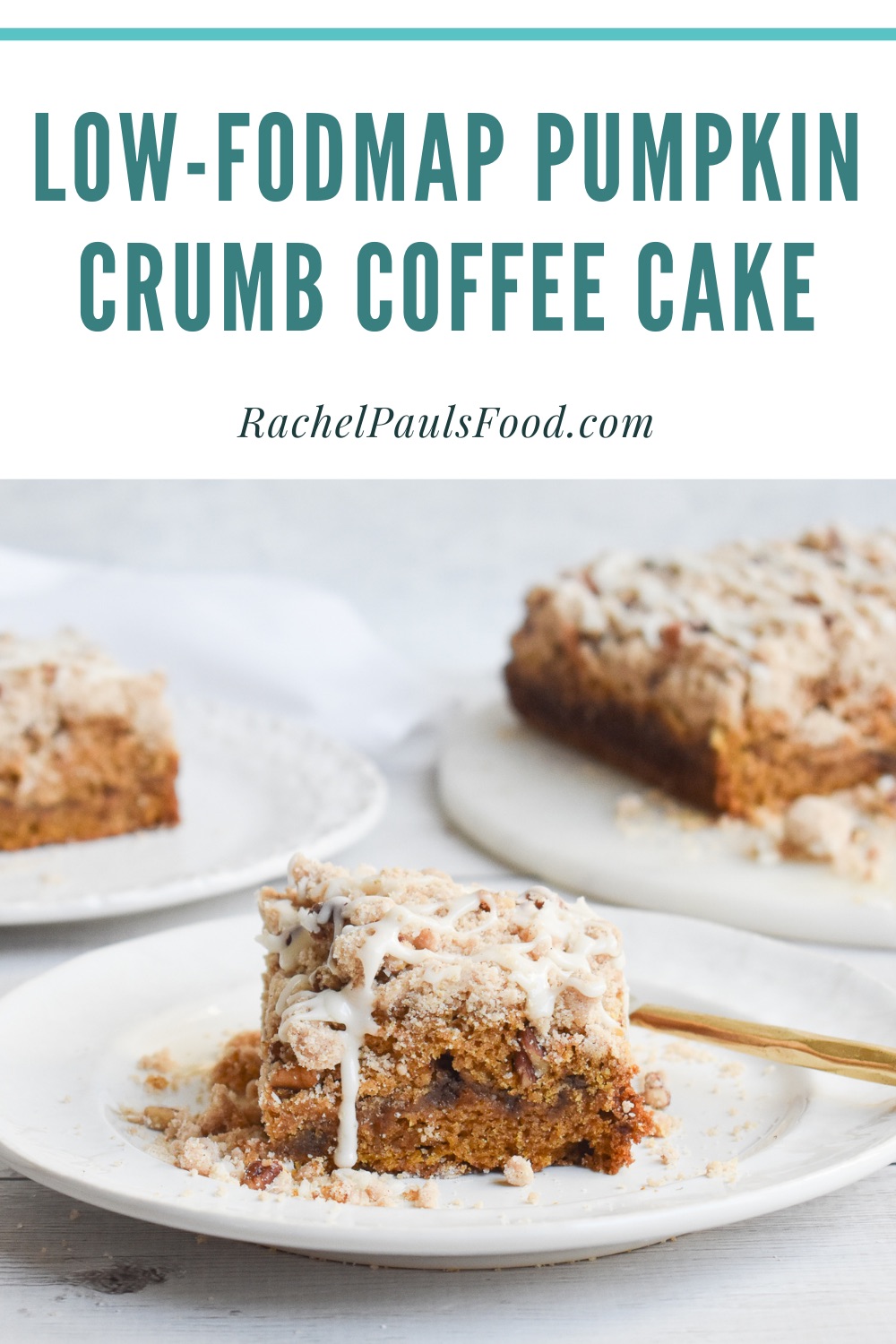 Although this recipe has not been tested, a single serving should be low-FODMAP based on the ingredients (*using available FODMAP data at time of posting)
Serves: 16
Prep time: 15 min plus cooling
Bake time: 45-55 min *ovens vary, yours may need more or less time
Total time: 60-70M
Bake: 350 F
Equipment: 8 by 8 inch aluminum pan
Ingredients
For low-FODMAP Pumpkin Coffee Cake:
2 large eggs, room temperature
1 cup granulated sugar
1 cup (8 ounces; 226g) pumpkin puree (this is the same as canned pure pumpkin)

1/3 cup (75g) is one low-FODMAP serving

1/2 cup canola oil
2 teaspoons vanilla extract
1 cup low-FODMAP, gluten-free all-purpose flour (see my low-FODMAP bake off blog for my fave brand!)
1/4 teaspoon xanthan gum, if not added to your flour choice
1 teaspoon baking powder
1/2 teaspoon baking soda
1/4 teaspoon salt
2 teaspoons pumpkin pie spice
Baking spray
For low-FODMAP Filling:
1/4 cup light brown sugar
1/2 teaspoon cinnamon
For low-FODMAP Crumb topping:
This makes a lot of Crumb Streusel.  Feel free to cut the recipe in half if you prefer a less thick topping!
1 cup low-FODMAP, gluten-free all-purpose flour
1/4 cup granulated sugar
1/4 cup light brown sugar, packed
1/4 teaspoon salt
1/2 teaspoon cinnamon
6 tablespoons unsalted butter, melted (can also substitute low-FODMAP vegan spread, such as Earth Balance, or coconut oil for dairy-free)

If you want the crumb to taste extra decadent, then brown your butter when you melt it!

1/2 cup chopped pecans or walnuts (optional)
For an even more delicious coffee cake, top with my low-FODMAP Glaze!
Directions
Preheat oven to 350 F, place rack in center of oven
Line an 8×8-inch pan with aluminum foil or parchment (optional) and spray with baking spray; set aside
Prepare the filling:

Mix brown sugar and cinnamon in a small bowl

Prepare the crumb topping:

In a medium sized bowl, place the low-FODMAP flour, white and brown sugars and salt, and stir to combine (I like to use a large fork for this)
Add the cinnamon, then drizzle in the melted butter or vegan spread and mix and fluff with your fork
It should be moist and  clumpy
Add the optional pecans or walnuts and mix again lightly
Place in the fridge until you are ready to add it

In a second medium bowl, mix low-FODMAP flour, xanthan gum, baking powder, baking soda, pumpkin pie spice and salt. Stir until just combined
In a large bowl, place your eggs, and sugar, whisk to combine.  Then add your pumpkin, canola oil, and vanilla.  Whisk to combine again (can do by hand or with a mixer)
Slowly add the flour mixture to the pumpkin mixture and mix by hand until well incorporated
Spread half of the batter into your prepared pan, smoothing the top with your spatula (the entire amount of batter should be  about 2 & 1/2 cups; so half the batter would be about 1 & 1/4 cups)
Sprinkle with your prepared filling (cinnamon and brown sugar) in the small bowl, and then layer with the second half of batter
Sprinkle the crumb topping evenly over the cake batter in your pan
Place in preheated oven for about 45-55 minutes or until the center is set and a toothpick inserted in the center comes out clean and it is slightly firm to touch (the crumb topping makes it tough to tell, make sure to insert your tester at the middle of the cake mixture)

Since ovens vary, your oven may need more/less time
Check baking 5 minutes prior to end time

Set cake on a wire rack in the pan to cool before serving.  Serve straight from pan, or lift out with the parchment if desired for slicing
Drizzle with optional low-FODMAP glaze before serving (optional)

Can be stored at room temperature in covered container for up to 5 days, or freezes well
It won't last 😉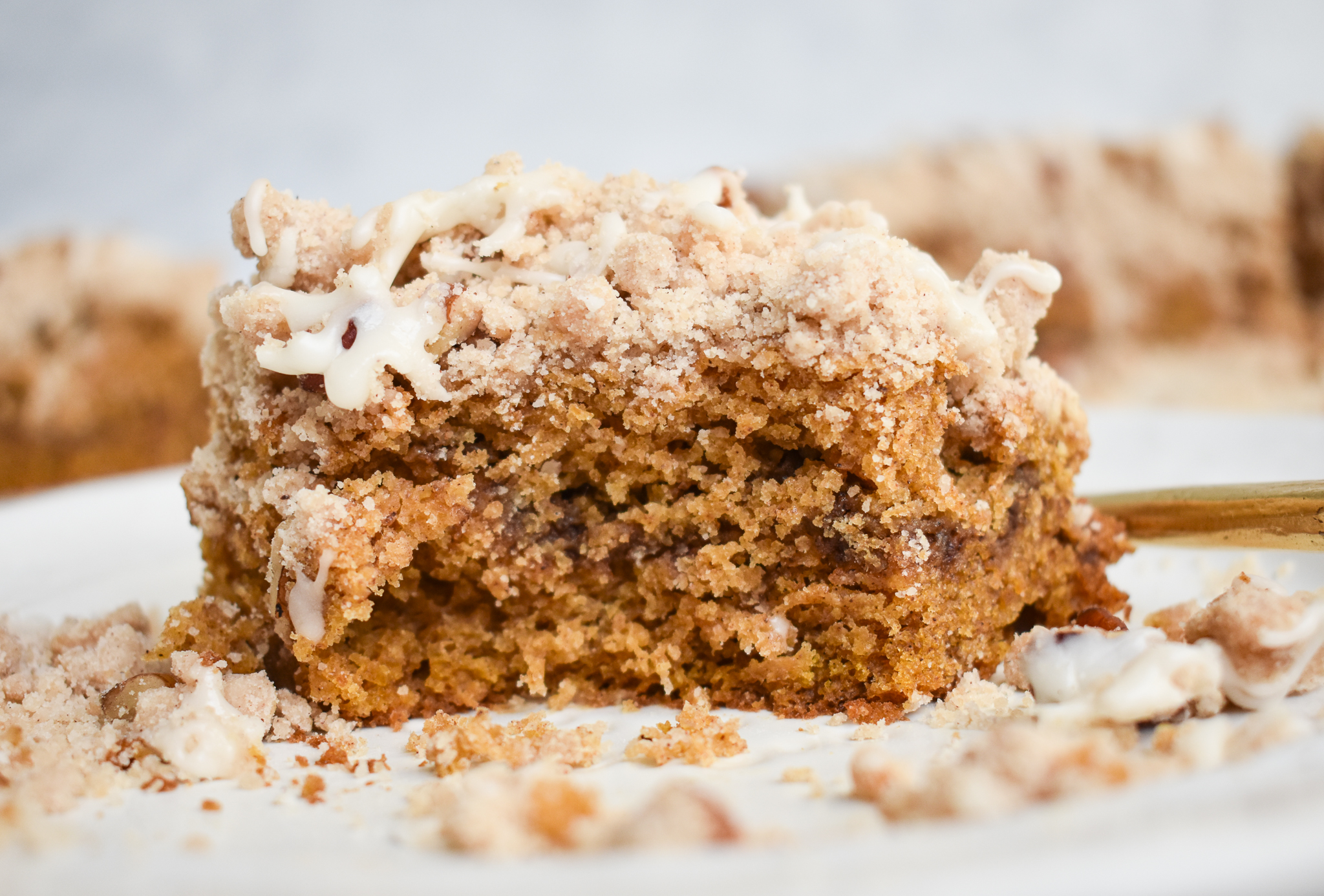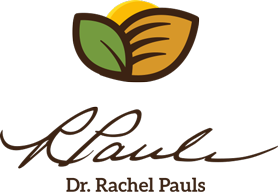 Printer Friendly Version
Comments Rating
( reviews)