Low-FODMAP Orange Chocolate Biscotti Cookies; Gluten-free, Dairy-free
January 16, 2021
Printer Friendly Version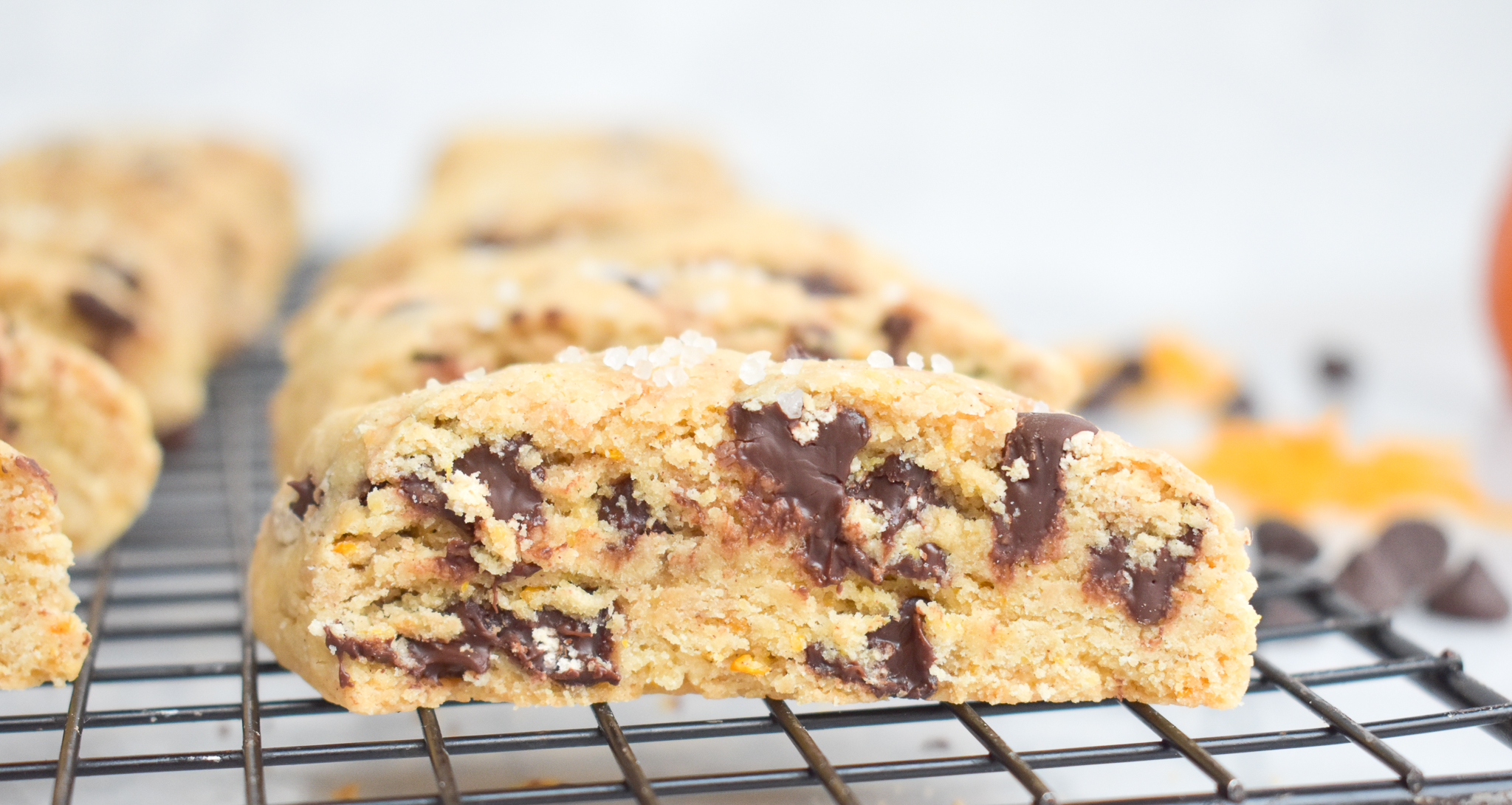 These low-FODMAP Orange Chocolate Biscotti Cookies are crunchy, aromatic, sweet and full of the flavors that you love.
These are so good, you will brew a pot of tea just to eat them.
I used to think that biscotti were difficult to make, but actually these are quite simple.  Gluten-free flour is the perfect choice for a light and crisp low-FODMAP biscotti. Adding orange and chocolate will remind you of my amazing low-FODMAP Orange Chocolate Ecstasy Happy Bar!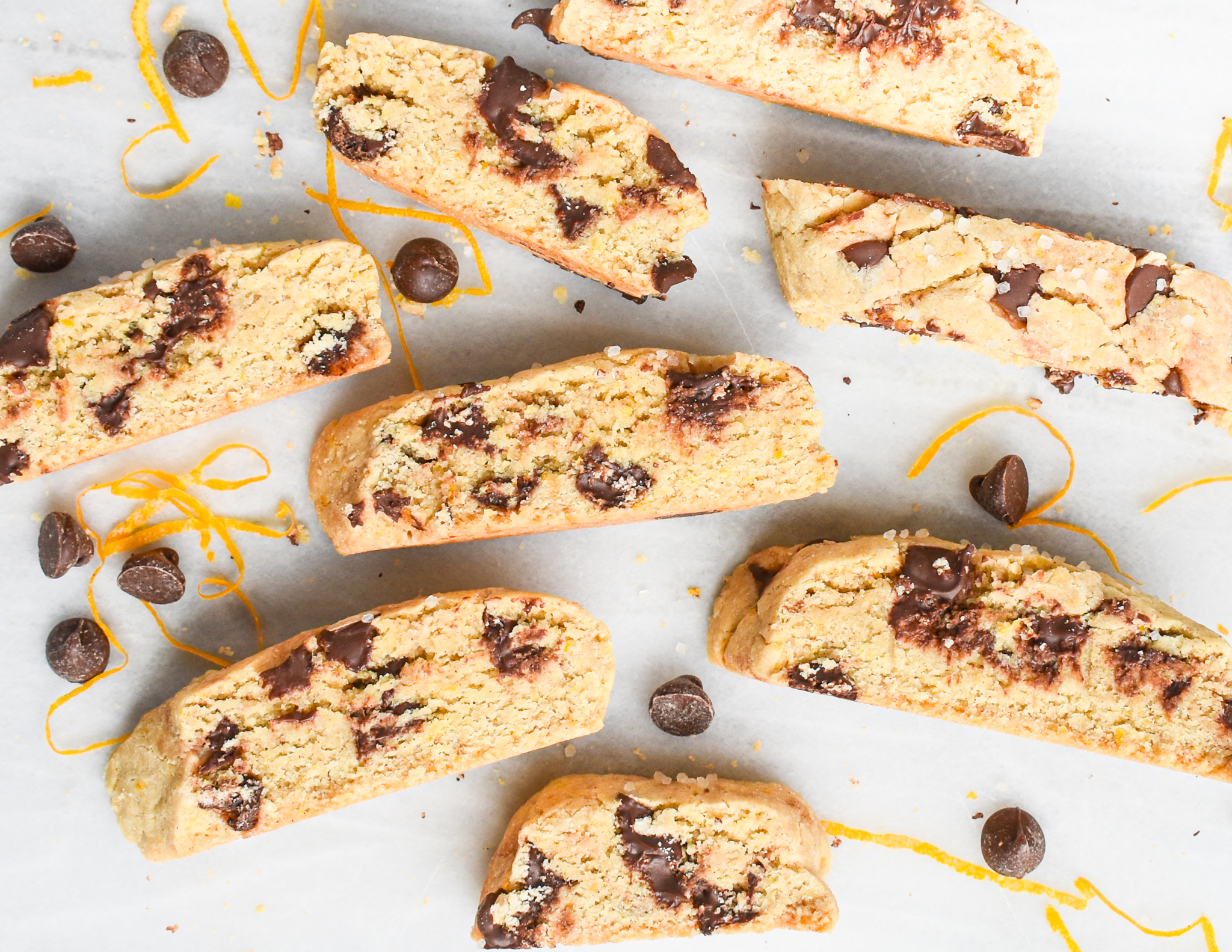 For different flavors, add toasted sliced almonds or walnuts, or sub in cranberries for the chocolate, and make them orange cranberry low-FODMAP biscotti.  Delicious!
Note: I used real orange juice and zest to get the orange flavor in these biscotti, rather than adding extracts.  I think they are perfect, fresh and orangey tasting.  However, if you are desiring very strong orange flavor I suggest adding 1/2-1 teaspoon of orange extract as well 🙂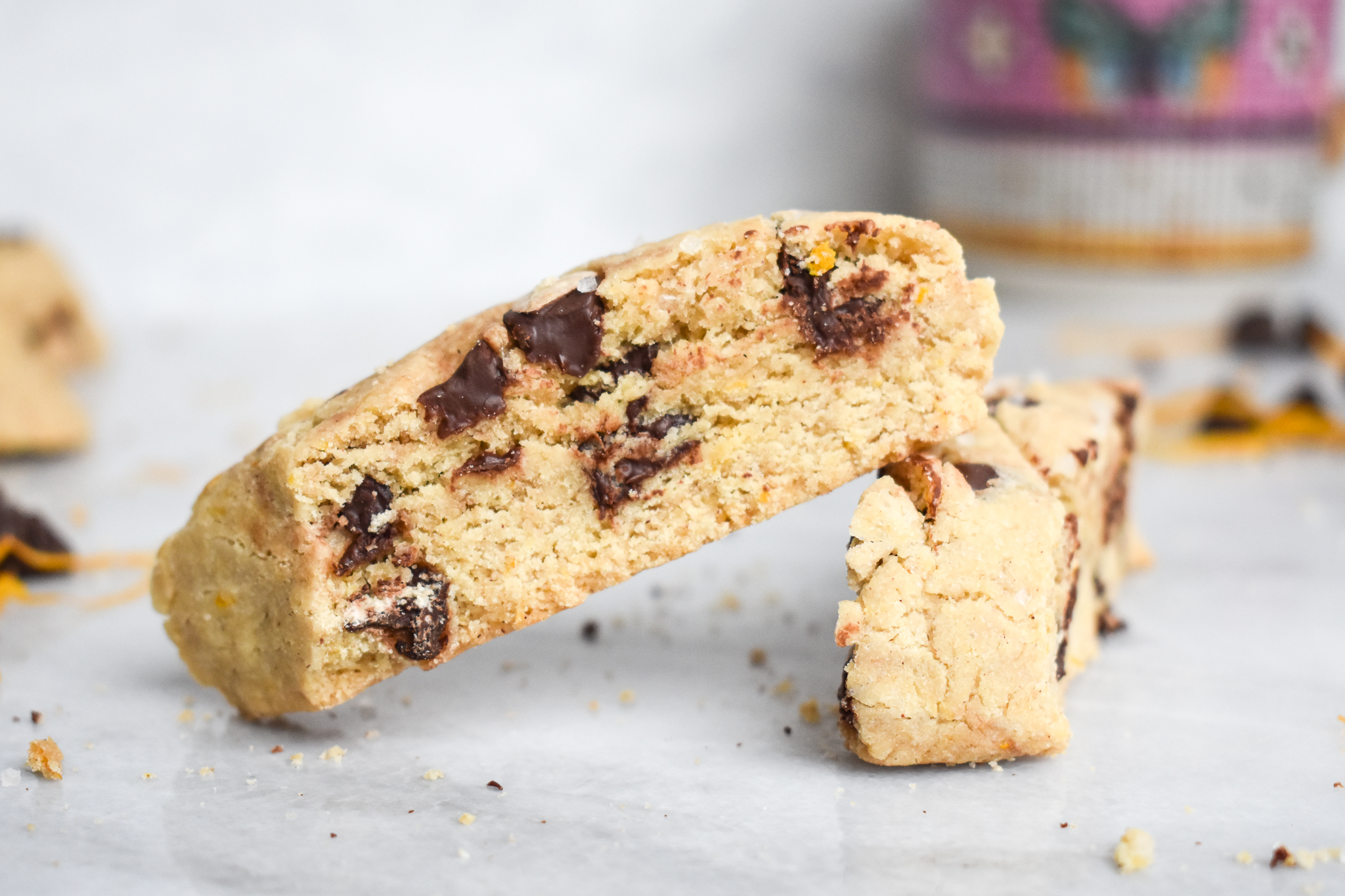 You may also love my:
Or check out over 400 more low-FODMAP recipes on the blog!  IBS-friendly.
Be healthy and happy,
Rachel Pauls, MD
P.S. Check out my new COOKBOOK for over 100 low-FODMAP recipes, low-FODMAP Meal Plan, FODMAP Tips and everything you need!!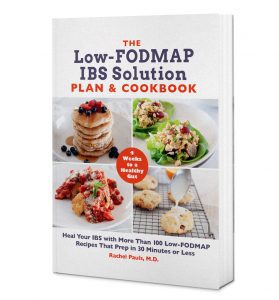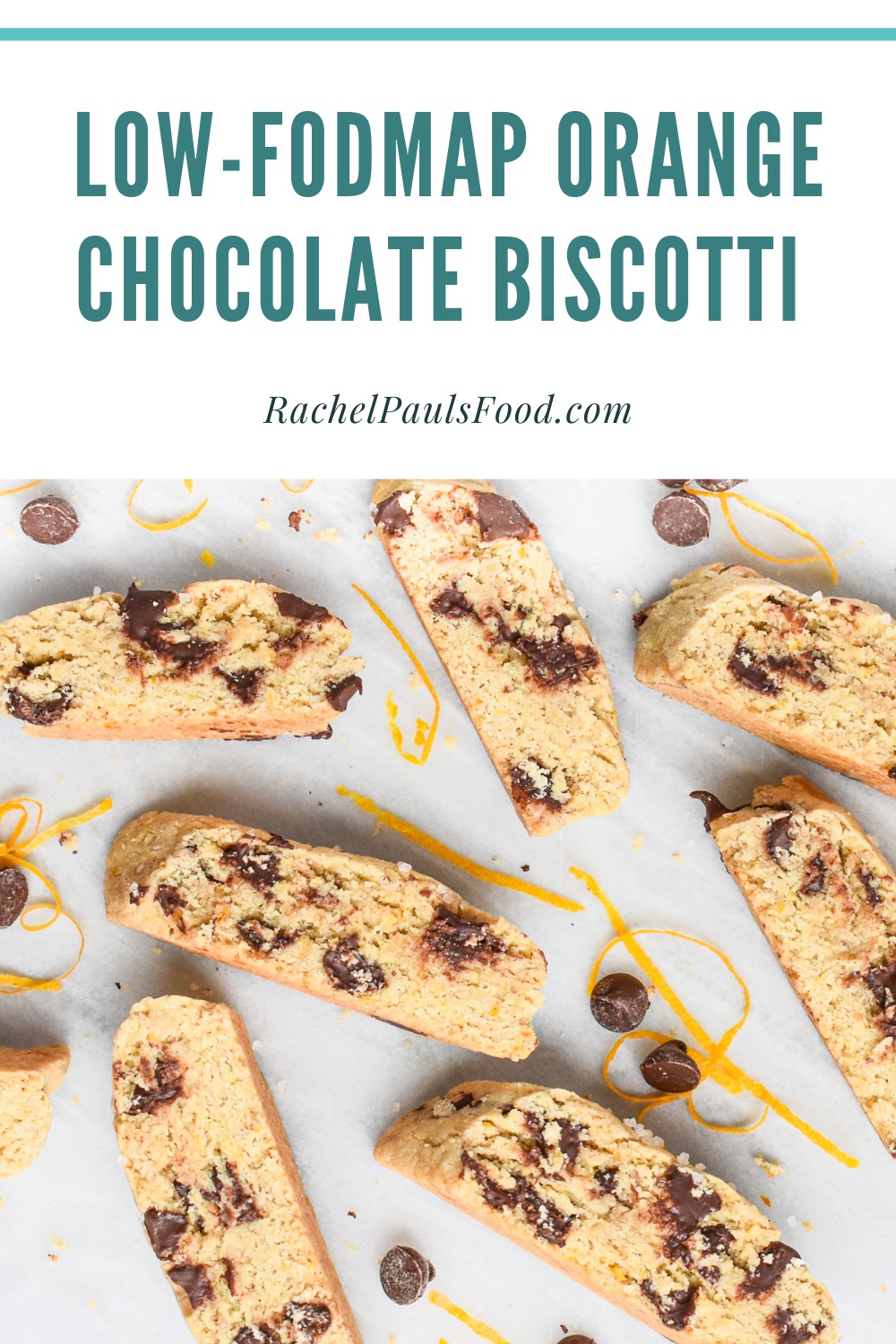 Although this recipe has not been tested, a single serving should be low-FODMAP based on the ingredients
Yield: 30-36 cookies, 2 cookies per serving
Prep time: 20 min plus cooling
Bake time: 55 min (30 min, then 25 min)
Total time: 75 min plus cooling
Bake 325 F
Modified from recipe by Annalise G Roberts, The Food Philosopher.com
Ingredients
2 cups all-purpose, gluten-free low-FODMAP flour blend (I like Authentic Foods GF Classical Blend for all my baking)
3/4 cup granulated sugar
1 teaspoon baking powder
3/4 teaspoon xanthan gum (if your blend does not have this added already)
1 & 1/2 packed tablespoons orange zest (about 1 orange)
2 large eggs, room temperature
1/3 cup canola oil or other neutral oil with high heat point
1 tablespoon fresh squeezed orange juice (zest your orange and then squeeze it, you shouldn't need more than 1/2 orange for this juice)
1 teaspoon pure vanilla extract
1/2 teaspoon salt
1/2 teaspoon ground cinnamon (you can skip this, but I love the flavor of cinnamon)
3/4 cup semisweet chocolate chips, dairy-free if necessary
Coarse sugar, for sprinkling (optional)
Directions
Preheat oven to 325ºF. Lightly grease a large cookie sheet with cooking spray and dust with rice flour or all-purpose GF flour (can also use silicone baking sheets or parchment liners)
Combine low-FODMAP flour, sugar, salt, cinnamon, baking powder, xanthan gum and orange zest in large bowl of electric mixer with flat paddle on low speed
Add eggs, canola oil, orange juice, and vanilla; beat at medium speed until combined (dough will seem crumbly)
Transfer dough to a large piece of plastic wrap, and knead it until smooth, then work the chocolate chips in by hand (dough will get smooth as you work it)
Separate the dough into 3 mounds

I used plastic wrap to measure out 3 equal portions

Shape dough into three logs on your baking board

Each should measure 8-9 inches long x 2 inches wide and 3/4 inch high

If you prefer your biscottis to be longer, then make it 4 inches wide, and opt for only 2 logs

I used the plastic wrap to shape and smooth the logs

Lay logs on prepared cookie sheet about 2 & 1/2 inches apart
Sprinkle with coarse sugar, if using
Place in center of oven and bake 30 minutes, until light golden. Logs will spread and flatten slightly
Remove from oven and let cool 8-10 minutes on the cookie sheet
Using a sharp knife, cut logs on a diagonal into 1/2 – 3/4 inch wide slices (I did this step while the logs were still on the cookie sheet, as moving them seemed tricky)

The chocolate chips may smear slightly, they will still taste delicious 🙂

Spread out the cut slices, standing up, and return to oven
Bake about another 25 minutes, until light golden brown (since ovens vary, yours may need a little more or less time)

If you like your biscotti very dry and crisp, then make sure they turn golden brown before removing

Remove from oven, let cool slightly then transfer to a rack to cool completely
Once completely cool, store in an airtight container for 3 days at room temperature, or in the fridge for 3 weeks.  These also freeze beautifully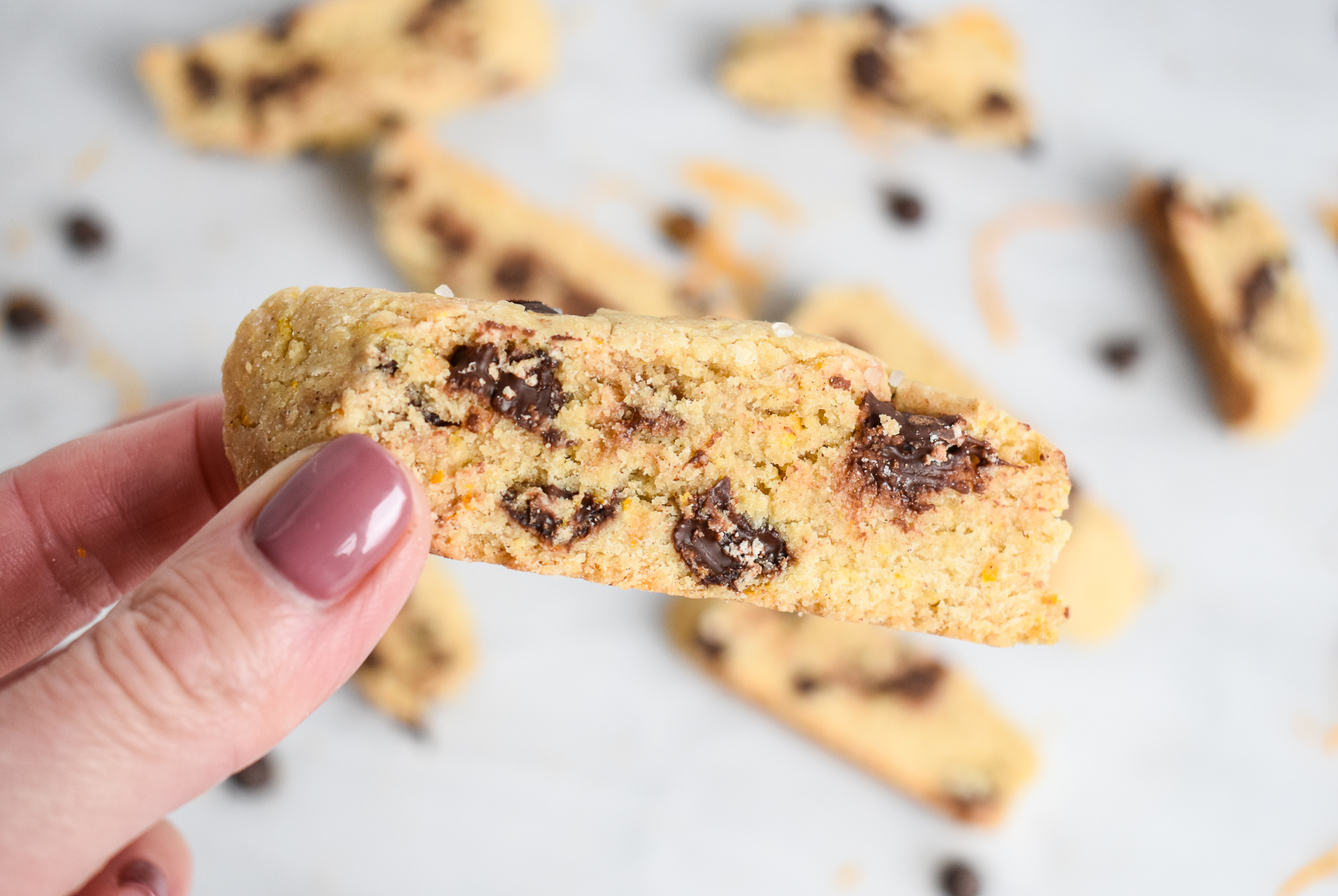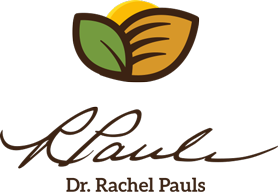 Printer Friendly Version
Comments Rating
( review)