Low-FODMAP Options at Starbucks: Coffee, Bakery and More!
March 24, 2023
Printer Friendly Version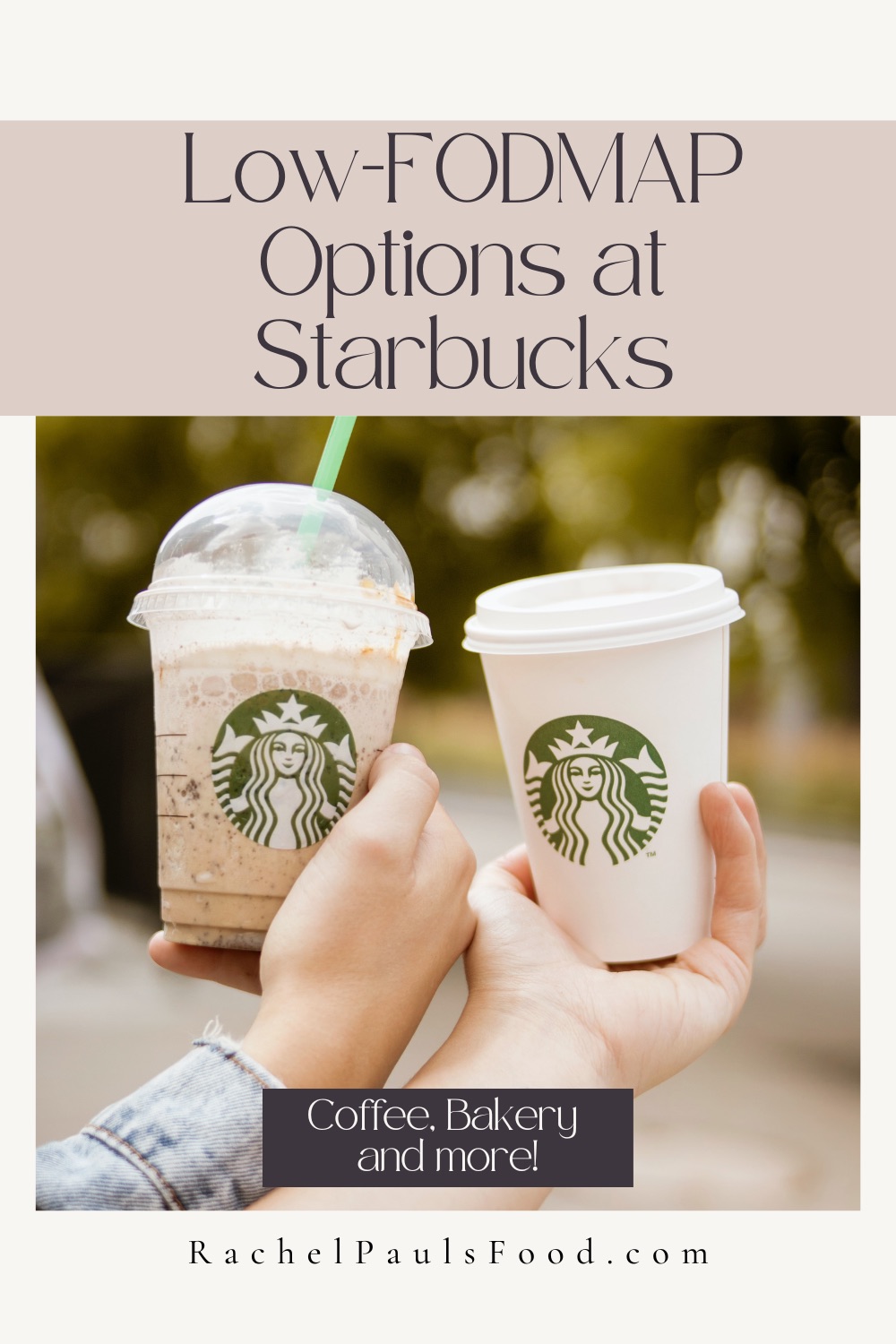 Starbucks is a household name, and an institution.  It has come to represent coffee in the entire world, with more locations than any other fast-food chain.
We LOVE our Starbucks.  We love it for brewed coffee, espresso based drinks, blended smoothies, bakery items, sandwiches, and so much more.  We even shop for it at our favorite grocery stores.
I have wanted to share a list of low-FODMAP options at Starbucks for a while. Finally, here it is!
You can find a current copy of the Starbucks menu in this link (plus nutritional info and ingredient lists of the items). The recommendations in this blog are based on the FODMAP data available at time of posting.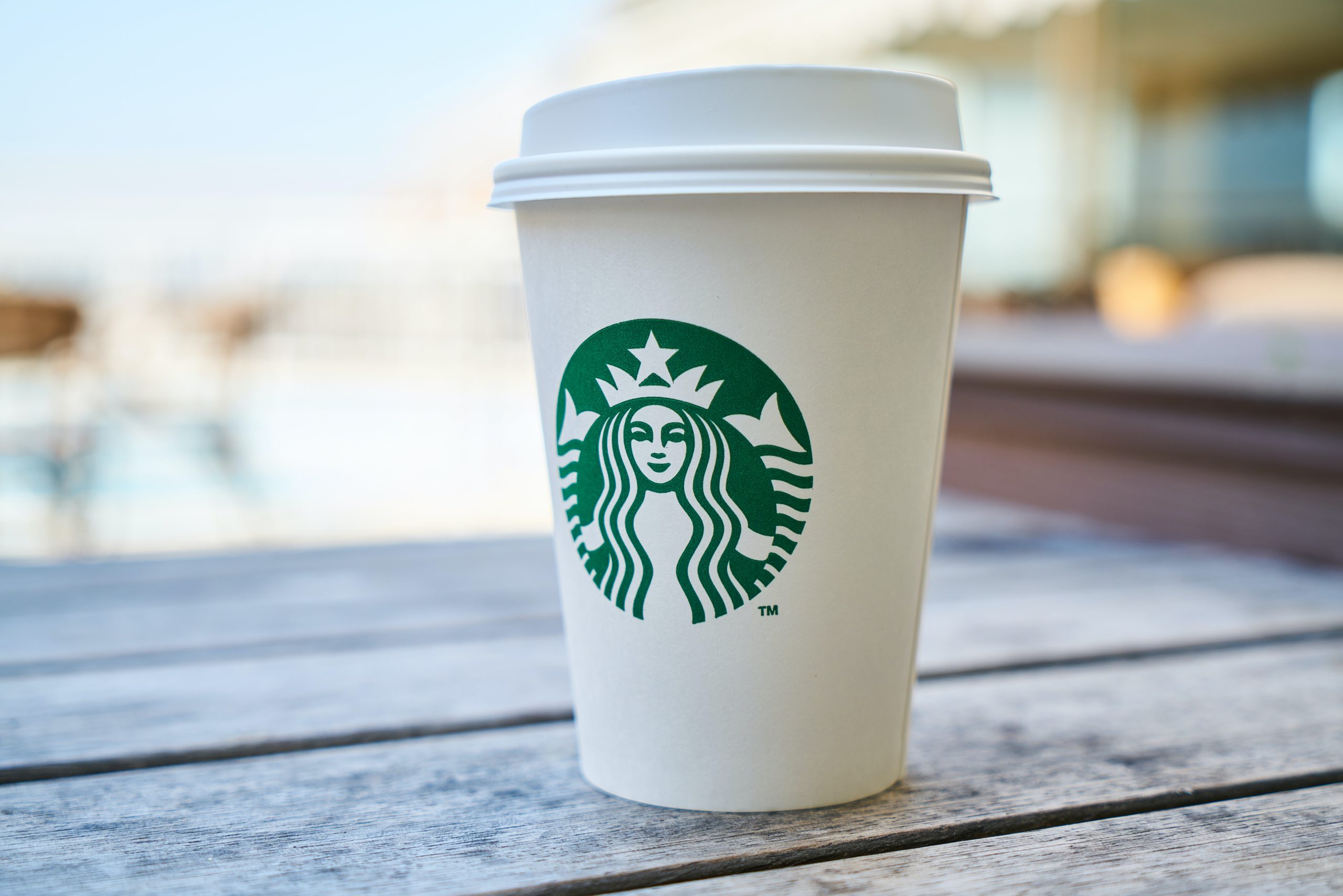 Coffee and IBS
I had to start with a bit about coffee and IBS.
Most coffee is not high in FODMAPs, so it is not considered off-limits when beginning the elimination phase.  However, chicory root based coffees should be avoided for FODMAP reasons.
Nevertheless, coffee does have varying impacts on our stomach and intestines:
Coffee is acidic, and also leads to production of gastric (stomach) acid.  This acid is particularly bothersome if you happen to have GERD, or acid reflux.  Since up to 80% of people with IBS also have some GERD, coffee may be an issue for them to tolerate
Coffee is a gut irritant.  It directly stimulates the intestines through various pathways, and can result in intestinal motility, cramping, the need for a bowel movement, and diarrhea.  This may be of use in patients with IBS-C (constipation), but problematic for people with IBS-D (diarrhea) or IBS-M (mixed)
Coffee may make us 'jittery'.  Through its stimulatory effects, coffee can lead to increased heart rate, tremors, and other similar symptoms.  This could be particularly unnerving if you are suffering from anxiety, and could worsen any gut symptoms that are triggered in part by stress
On the PLUS SIDE, coffee can result in health benefits.  It is full of antioxidants, and may be linked with reducing certain chronic conditions, although research to date has been a bit controversial.
A note about portion sizes:
For many of us on the low-FODMAP diet, we know that we can tolerate a certain amount of a food or drink, but it may not as much as a 'standard portion'.
When it comes to coffee, a 'standard portion' is very variable. In many countries, a demitasse of coffee is the morning routine, while here in America, people often drink 30-ounces or more each day.
From a personal standpoint, only YOU know if you can tolerate 1 cup, 2 cups, or more, of coffee each day.  Proceed with care if adding coffee back to your daily routine.
Be aware that coffee houses such as Starbucks often have more potent blends of coffee than home brew, and caffeine amounts vary in different roasts.
Here is an example of the sizing for Starbucks hot and cold drinks.  They use the 'nicknames' for these volumes on the left side:
Hot Beverage Sizing:
Starbucks espresso style shots

Solo= .75-ounces
Doppio= 1.5-ounces
Triple= 2.25-ounces
Quad= 3-ounces

Starbucks 'short' = 8-ounces
Starbucks 'tall' = 12-ounces
Starbucks 'grande' = 16-ounces
Starbucks 'venti' = 20-ounces
Cold Beverage Sizing:
Starbucks 'tall' = 12-ounces
Starbucks 'grande' = 16-ounces
Starbucks 'venti' = 20-ounces
Starbucks 'trenta' = 30-ounces
A note about FODMAPS, dairy, and gluten:
The low-FODMAP diet is NOT a dairy-free diet, and it is NOT a gluten-free diet.
Certain dairy products are low in FODMAPs, if they are low in lactose.  Lactose is the carbohydrate that is tolerated poorly in IBS.
That means, if you are able to source lactose-free milks at your Starbucks, then you can enjoy those in your blended coffee.  Heavy cream (whipped cream) is lower in lactose than milk, with a low-FODMAP portion size of about 1/4 cup per serving.  Starbucks whipped cream contains the following: cream, mono and diglycerides, carrageenan.   The Starbucks popular 'sweet creams' are also made with their whipped cream and other sugars/flavorings, as well as additional milk.  You may or may not be able to tolerate these. Half-and-half milk has not been tested for FODMAP content at this time.
Non-dairy options available at some Starbucks that are low in FODMAPs include almond milk, rice milk, macadamia milk, hemp milk, and oat milk.  Avoid soy milk in the US (these are typically made from whole soybeans in our country and are not low in FODMAPs).  Also bear in mind that different products and manufacturers vary, therefore you may wish to test the product your coffeehouse provides for your personal tolerance.
Low-FODMAP serving sizes for non-dairy milks:
Oat milk: 6 tablespoons
Almond milk: 1 cup
Hemp milk: 1/2 cup
Rice milk: 3/4 cup
Macadamia milk: 1 cup
The low-FODMAP diet is also not a gluten-free diet, but does limit wheat due to the FODMAP fructan.   If you tolerate small amounts of gluten, then you may be able to eat certain breakfast and lunch options at Starbucks after removing the bun (see below), or sourdough bread that has been fermented overnight.  We cannot answer whether the Starbucks sourdough meets these criteria, you would need to test for your personal tolerance.
A note about other IBS triggers:
While not technically high FODMAP, sugar and fat are IBS triggers for many people.  The mixed drinks at Starbucks are very rich: a Grande Starbucks Caramel Frappuccino contains 380 calories, 54 grams of sugar, and 16 grams of fat (it is unclear if that is with, or without, the whipped cream topping).  Be aware of your personal tolerances when consuming these choices. A  flare-up may be due to a different reason than a FODMAP issue!

Starbucks Beverages and FODMAPs
Coffee Based Drinks:
Starbucks coffee menu is extensive, plus you can customize your beverage almost any way you please.  That leads to a lot of flexibility 🙂
If you are able to enjoy hot coffee based drinks, here are the options that could work for you, using one of the low-FODMAP milk choices listed above (according to their allocated portion sizes):
Americano
Espresso
Cappuccino
Cafe Misto
Flat White
Latte
Espresso Con Panna
Macchiato
And here are the cold coffee based drinks:
Nitro Cold Brew
Iced Americano
Iced Macchiato
Iced Latte
Coffee Frappuccino
Espresso Frappuccino
Adding a Syrup to Flavor or Top your Beverage:
Starbucks has a vast amount of syrups that are used to flavor their drinks, and drizzle over the top of them.  Each one has different ingredients, therefore, if the item you desire is not listed here, then check out their menu link.
I suggest avoiding the pistachio flavored syrups (due to the pistachio FODMAP), as well the majority of the Frappuccino flavored drinks, unless you personalize them differently from a standard order. The bulk of those frothy and sweet beverages have syrups that contain sweetened condensed milk, cream, and/or additional dairy products, and may be higher in lactose.
As an example, the Pumpkin Spice Latte (a favorite for many) contains 'Pumpkin Spice Sauce' with the ingredients: sugar, condensed skim milk, pumpkin puree, and 2% or less of fruit and vegetable juice for color, natural flavors, annatto, salt and potassium sorbate.  You should test for your own tolerance as the amount of condensed skim milk may result in excess lactose; even more so if the beverage is topped with whipped cream. 
Here are ingredients of Starbucks commonly used syrups and sauces, included in several recipes:
Low-FODMAP options you may tolerate:
Vanilla Syrup: sugar, water, natural flavors, potassium sorbate, citric acid

Cinnamon Caramel Flavored Syrup: sugars (invert sugar, brown sugar), water, natural flavor, salt, preservative: potassium sorbate, citric acid, xanthan gum
Creme Frappuccino Syrup: sugar, water, natural flavor, salt, xanthan gum, potassium sorbate, citric acid
Peppermint Syrup: sugar, water, natural flavor, sodium benzoate, citric acid
Caramel Syrup: sugar, water, natural flavor, citric acid, potassium sorbate, salt
Cinnamon Dolce Syrup: sugar, water, natural flavor, citric acid, potassium sorbate, salt

Coffee Frappuccino Syrup: s

ugar, water, natural flavor, salt, xanthan gum, potassium sorbate, citric acid
Mocha Sauce: water, sugar, cocoa processed with alkali, natural flavor
Cinnamon Dolce Topping: sugar, cinnamon, salt, extractives of butter (milk), and other natural flavor
Some to avoid or test for your tolerance:
White Chocolate Mocha Sauce: sugar, condensed skim milk, coconut oil, cocoa butter, natural flavor, salt, potassium sorbate, monoglycerides

Caramel Sauce: sugar, corn syrup, butter (cream, salt), water, heavy cream, nonfat dry milk, natural flavors, salt, mono & diglycerides, soy lecithin, sulfites 

Dark Caramel Sauce: corn syrup, sweetened condensed milk (milk, sugar), water, sugar, natural flavors, butter (cream, salt), salt, sunflower lecithin, potassium sorbate

Pumpkin Spice Sauce: sugar, condensed skim milk, pumpkin puree, 2% or less of fruit and vegetable juice for color, natural flavors, annatto, salt, potassium sorbate
Hot and Iced Teas:
Starbucks has a large selection of teas that they infuse with hot water to your order (hot or cold)
Among the options, I recommend the black (such as Earl Grey and English Breakfast) and green tea options; avoid the honey-infused and fruit flavors (such as peach)
Starbucks Chai is made with a chai tea concentrate.  This product contains honey and should be avoided, or tested for tolerance
Also skip the iced tea flavors that contain lemon, peach, or mango
A word about Matcha Tea:  matcha tea has recently been FODMAP tested, 1 teaspoon of the powder is one low-FODMAP serving.  However, since the amount used in the Starbucks blend is not disclosed, test this for your tolerance
Cold drinks:
Starbucks "Refreshers" are fruit juice inspired beverages, some with milk or cream:  I suggest avoiding all the selections due to the fruit juice concentrates and white grape juice in their formulations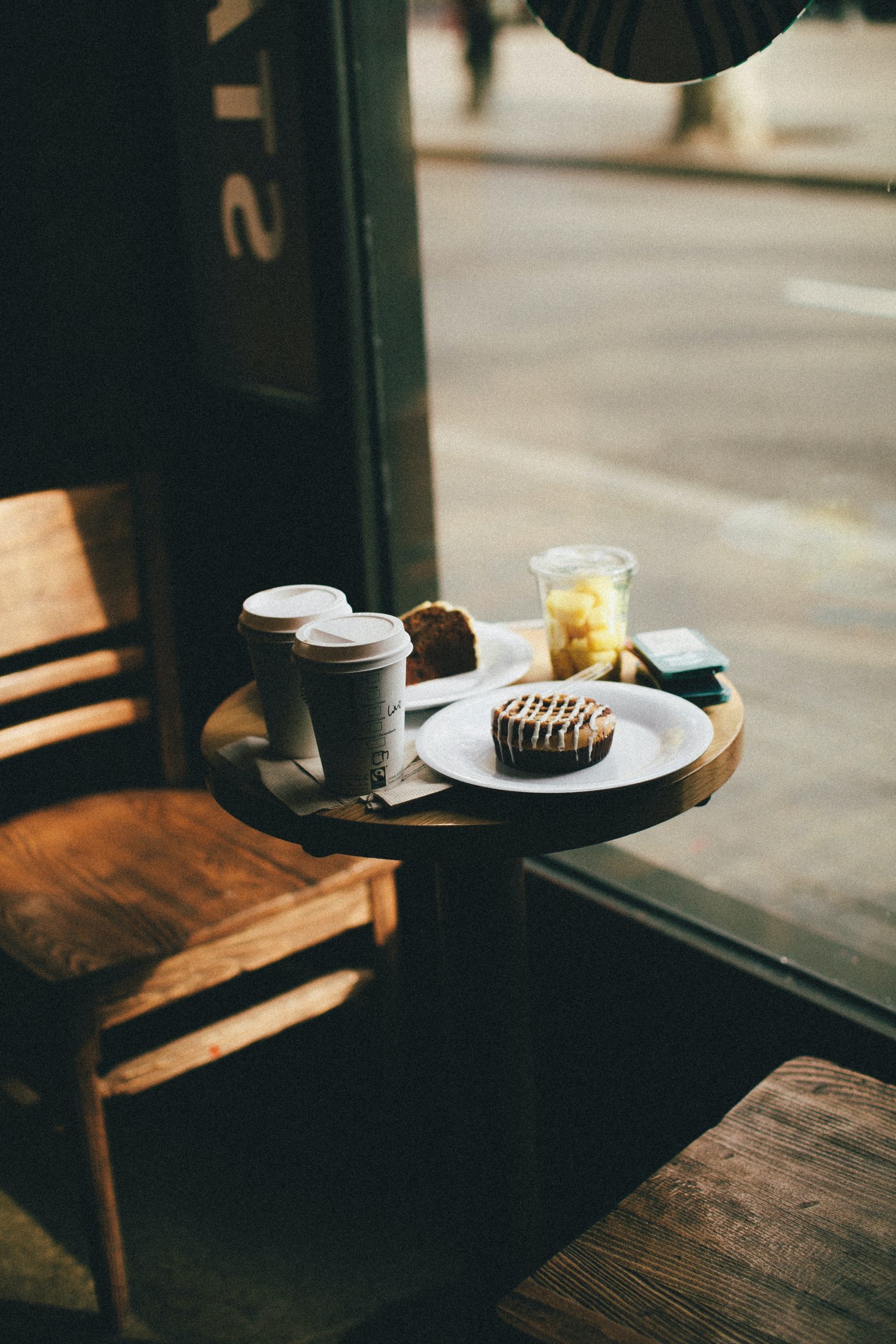 Starbucks Bakery, Food Items and FODMAPs
Unfortunately, the majority of food items at Starbucks are not designed with the low-FODMAP diet in mind.  In the past, they have offered gluten-free baked goods; these are no longer available at most locations.
The following are options you can consider.  Don't forget to check their ingredients online, as menus vary from place to place.
For advice on reading FODMAP food labels, see my blog post here!
NEVER assume something is low in FODMAPs, as many of the products at Starbucks (such as grilled cheese, pesto, spreads) frequently contain garlic.
Items you could test for tolerance include their turkey bacon (contains honey), bacon and gruyere egg bites (contain cottage cheese), and sausage patties (list 'natural flavor' which could contain onion or garlic).
Here are my Starbucks Low-FODMAP Food Selections:
Rolled and Steel Cut Oatmeal
Bacon, Cheddar & Egg Sandwich (remove the croissant)
Bacon, Gouda & Egg Sandwich (remove the bread/bun)
Ham & Swiss Sandwich (remove the bread/bun)
'Protein boxes'- pick and choose based on the ingredients they feature, many will have dried fruits, apples, and crackers that will not be low-FODMAP.  The salami in the protein box also contains garlic
Starbucks Low-FODMAP Sweet Treat Selections:
From a sweeter standpoint, only the Marshmallow Dream Bar meets FODMAP criteria
Most Starbucks also have packaged popcorn, chips, chocolate covered peanut butter cups, and espresso beans

Check labels as appropriate

Also consider a fruit cup with low-FODMAP choices (strawberries, blueberries, pineapple, cantaloupe, honeydew, grapes)
Starbucks Energy Bar Selections:
Although they look and sound appealing, the energy bars available at Starbucks are not low in FODMAPs, or tested for FODMAP content.  I would avoid those options
My usual plan is to carry one of my low-FODMAP certified Happy Bars with me when I am on the go, or traveling.  They are available 6 delicious flavors, so I have tons of variety!  Try one, and you will see why I say they are the BEST low-FODMAP Energy Bars you can buy 🙂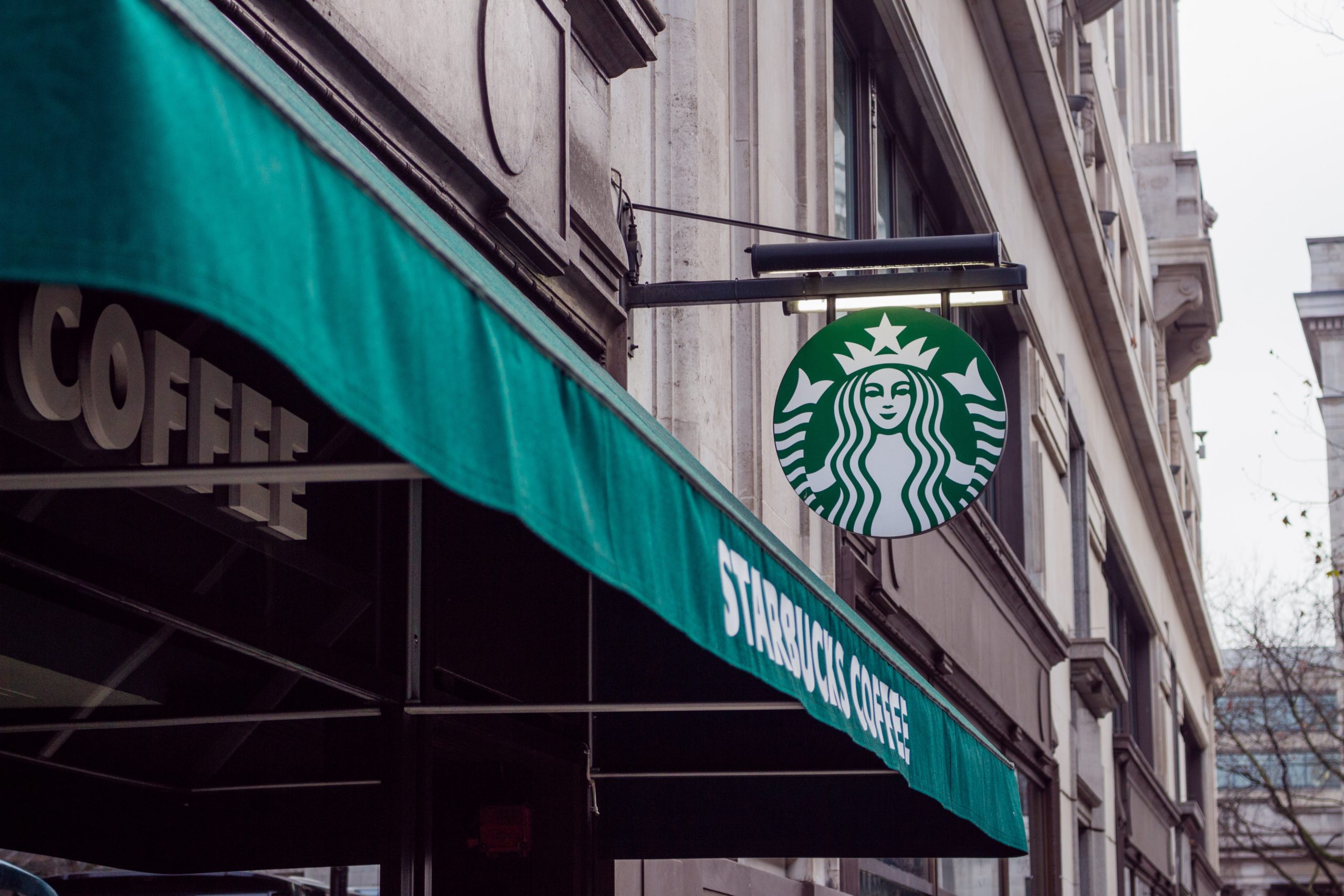 The Bottom Line: Starbucks Low-FODMAP Options
Starbucks is one of the best places to get a coffee, catch a vibe, and chill with friends.  If you're following the low-FODMAP diet, you have several options for a coffee or tea based drink.  Dress it up with vanilla syrup or whipped cream, for something extra special.
Notwithstanding, fewer options abound for eating a meal.  If that is your aim then I suggest coming prepared with a low-FODMAP bun or bagel (I love Canyon Bakehouse) in your bag or purse, and shuffle that egg & cheese from their bread onto your low-FODMAP bun.
Either way, enjoy the time to relax and grab a cup.
For more about the low-FODMAP diet see these:
For other low-FODMAP Starbucks inspired recipes, check out my blog posts (I love Starbucks too):
Or over 500 more low-FODMAP recipes on the blog. IBS-friendly!
Be healthy and happy,
Rachel Pauls, MD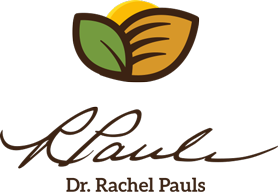 Printer Friendly Version
Comments Rating
( reviews)