Low-FODMAP Oat-free Seeded Granola; Gluten-free, Vegan
February 15, 2020
Printer Friendly Version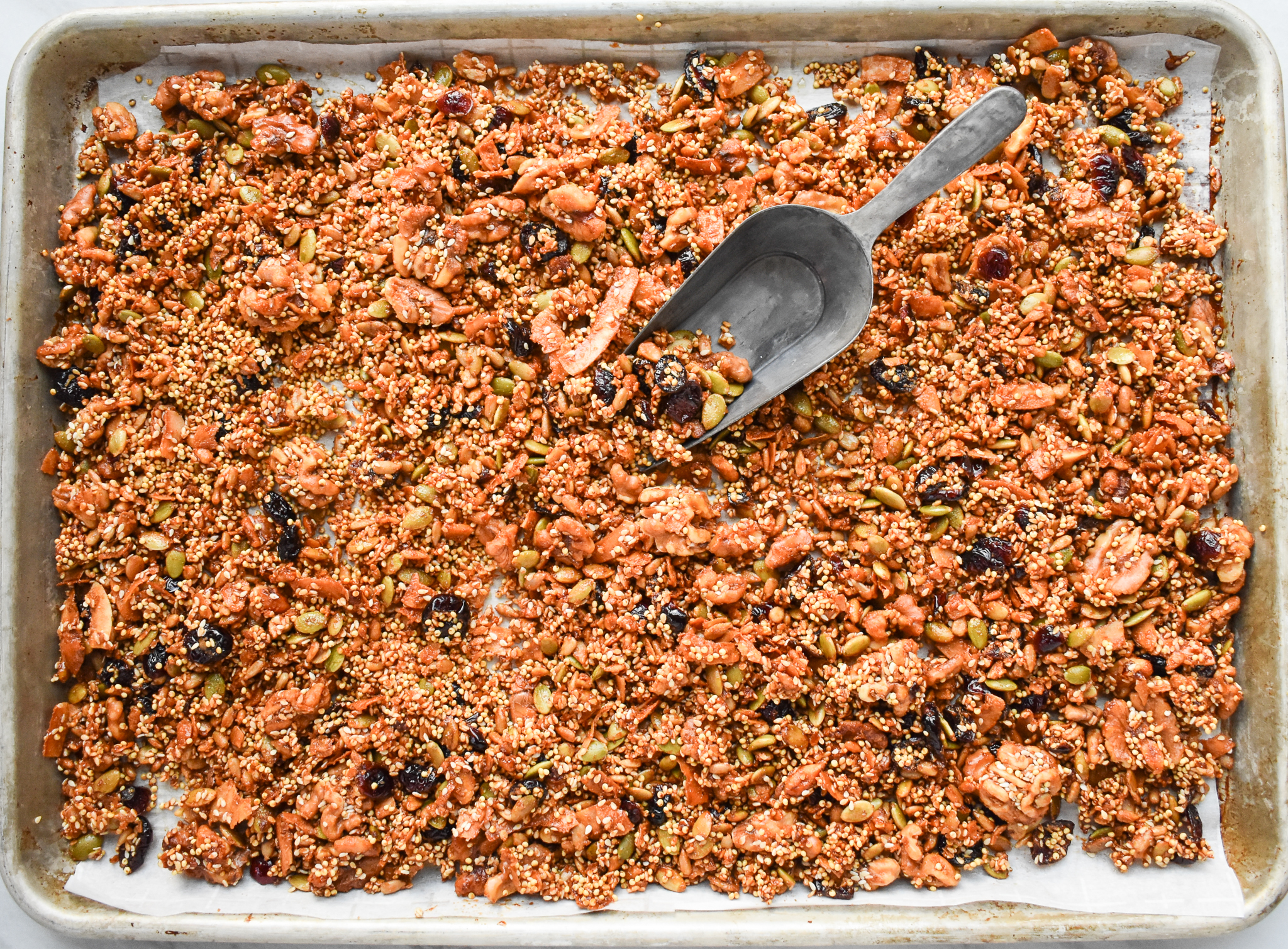 The other day a recipe popped up on my google page for a oat-free granola that was touted as the 'best ever'.
Naturally, I was intrigued. I love granola, and am particularly interested when someone lays claim to having the 'best' granola.
(Particularly since I know that my "Intensively Addictive Low-FODMAP Granola" is the best I have ever had, hands down)
So, I continued reading.  The recipe described a base made from toasted millet, along with sesame, sunflower and pumpkin seeds.
Millet is an ancient grain/seed, that is being used more and more in gluten-free cooking.  I liked the idea of incorporating this healthy, protein and fiber rich, nutrient dense ingredient.
Immediately, I worked to create a low-FODMAP version.  The lovely part of this low-FODMAP Oat-free Seeded Granola recipe is that you can easily modify it to your own preference of add-ins.  It is delicious without any tree nuts (try adding chia seeds, hemp hearts or extra pumpkin seeds, and switch the coconut oil for olive oil instead).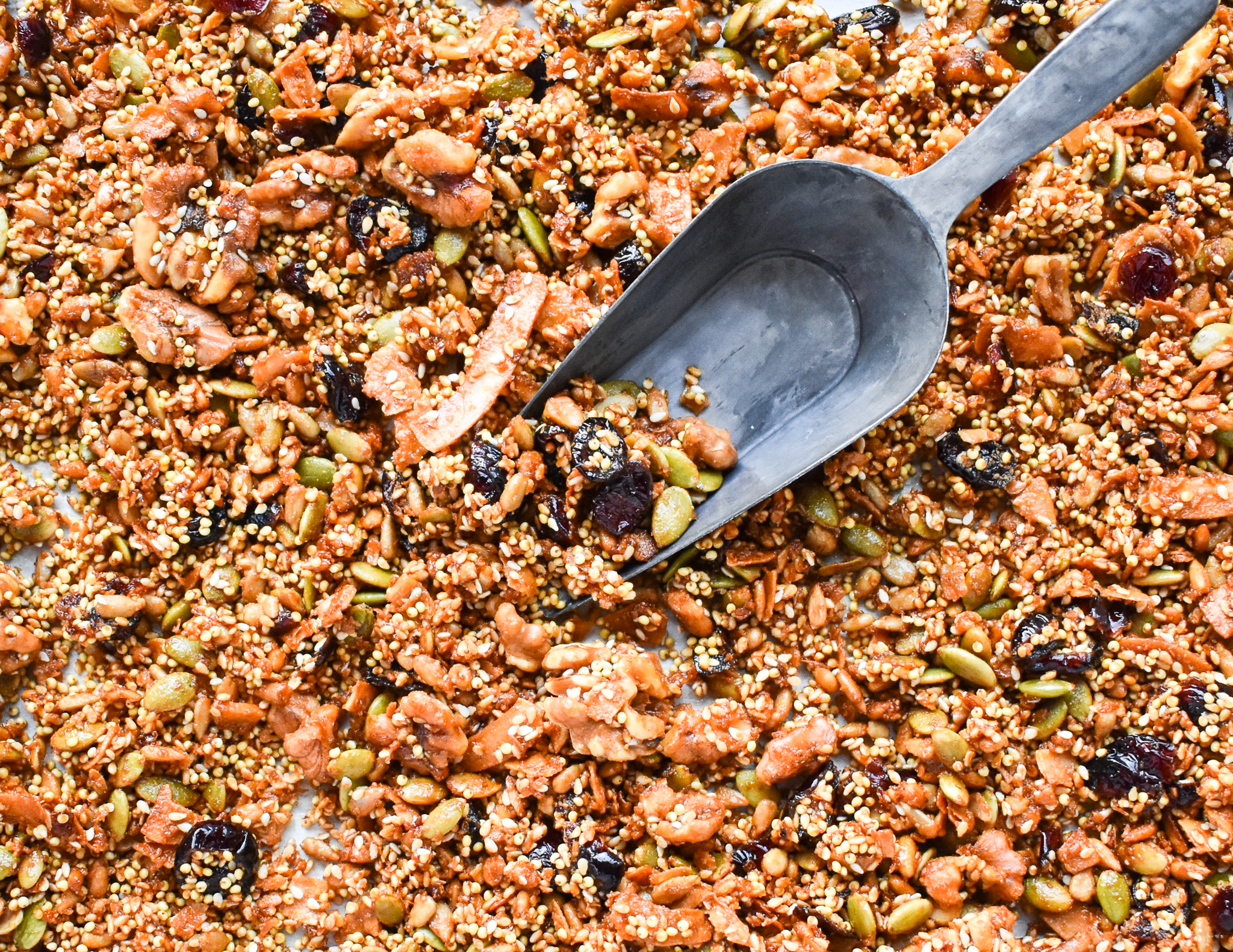 You will agree that this is the BEST oat-free, allergen friendly, seeded granola recipe EVER.
I did slightly modify the style of baking this low-FODMAP Oat-free Seeded Granola.  The original recipe suggests a low heat for the whole bake time, which should result in a soft and chewy texture.  However, I like my seeds really toasted, and increased the bake temperature for the final 20 minutes, making my seeded granola crunchy.  Feel free to make it the way YOU prefer.
You will love this low-FODMAP Seeded Granola over a low-FODMAP yogurt, ice cream, with low-FODMAP milk, or perfectly plain.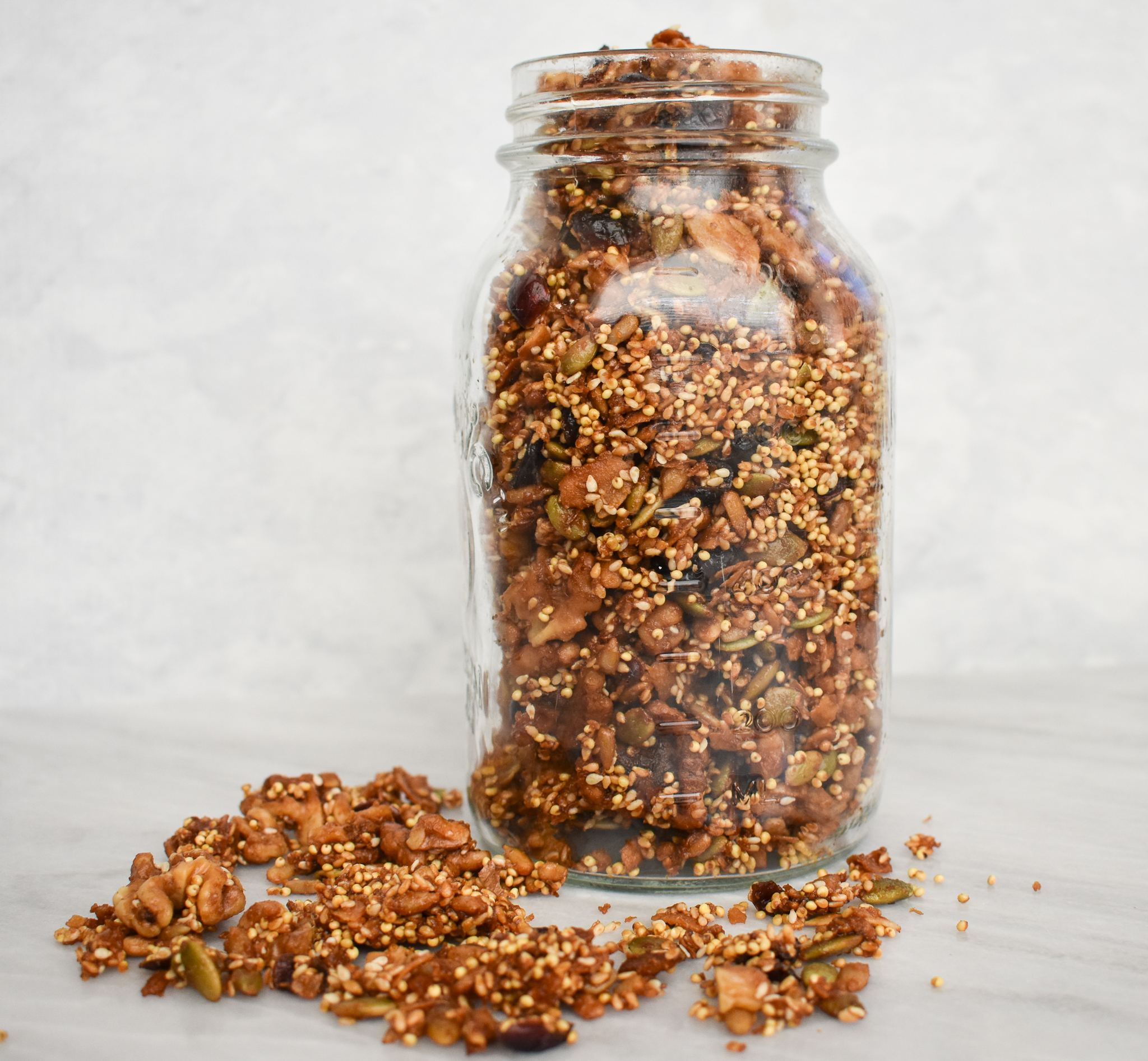 Read about my favorite low-FODMAP Energy Bars here.
You may also love:
Or over 300 more low-FODMAP recipes on the blog!  IBS-friendly.
Be healthy and happy,
Rachel Pauls, MD
---
Low-FODMAP Oat-free Seeded Granola; Gluten-free, Vegan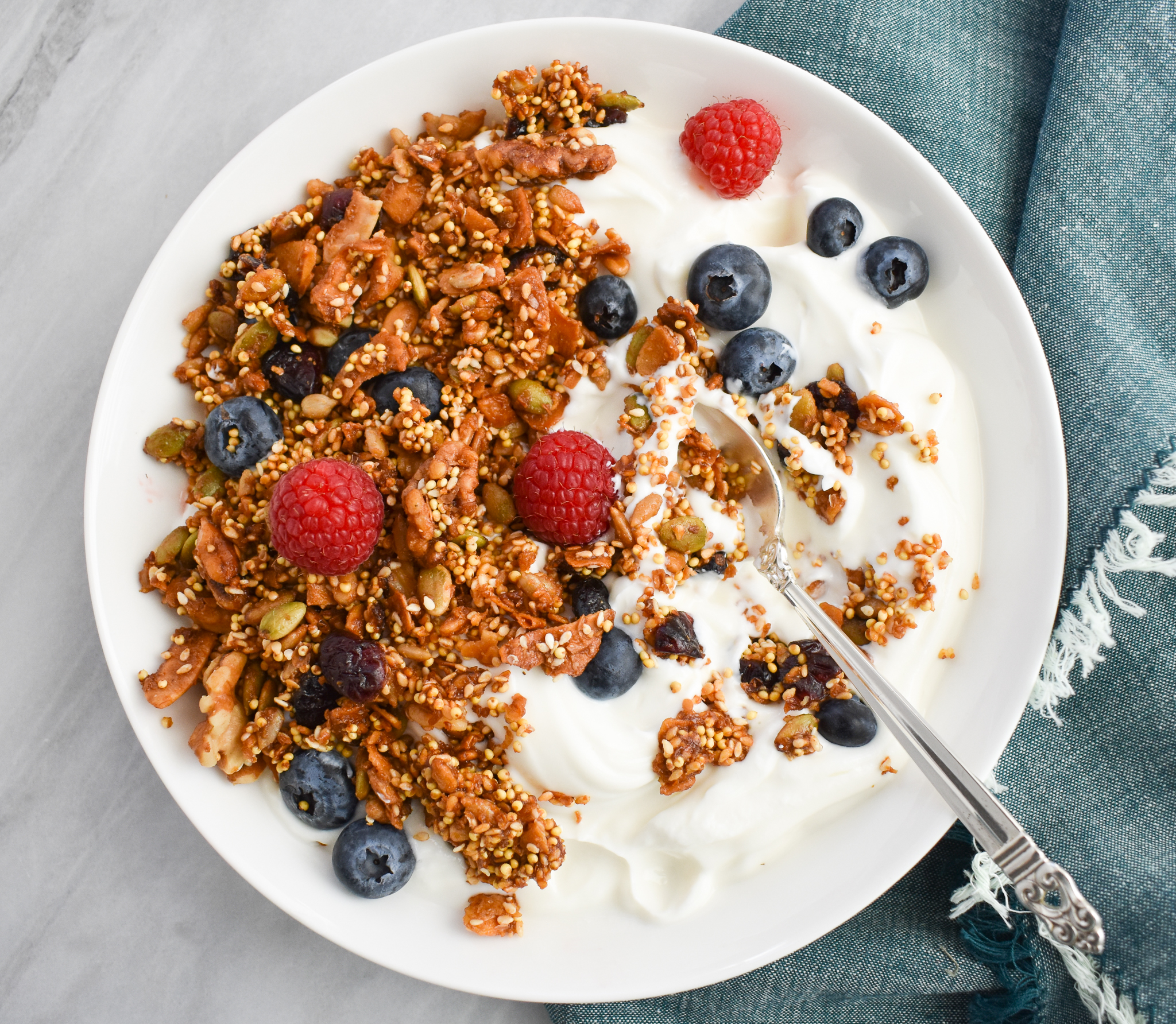 Although this recipe has not been tested, a single serving should be low-FODMAP based on the ingredients
Yield: About 6.5 cups, 26 serves of ¼ cup each
Prep time: 15 min
Bake time: 40 min
Total time: 55 min
Bake: 275 F, then 350 F
Ingredients
1 tablespoon olive oil or avocado oil
3/4 cup hulled millet kernels, raw (1 cup cooked millet is one low-FODMAP serving, so about 1/4 cup raw millet is one low-FODMAP serving)
1 cup (90 g) raw walnuts, coarsely chopped (30 g is one low-FODMAP serving)
1/2 cup (65 g) raw, unsalted pumpkin seeds (23 g is one low-FODMAP serving)
1/2 cup (65 g) raw, unsalted sunflower seeds (6 g is one low-FODMAP serving)
1/4 cup flaxseed meal (1 tbsp is one low-FODMAP serving)
1/2 cup (70 g) sesame seeds (11 g is one low-FODMAP serving)
½ cup (55 g) dried cranberries or raisins (15 g is one low-FODMAP serving for cranberries and 13 g for raisins)
½ cup (30 g) unsweetened coconut chips (64 g is one low-FODMAP serving)
½ teaspoon salt
1 teaspoon vanilla
5 tablespoons coconut oil, melted
1/2 cup plus 2 tablespoons maple syrup, divided
Note: I was able to find all the ingredients for this low-FODMAP granola recipe in the bulk section of Fresh Thyme
Directions
Pre-heat oven to 275°F and line a rimmed baking sheet with parchment paper or silicone baking sheets, place rack in center of oven
In large frying pan heat the olive or avocado oil over medium heat until shimmering (I used a cast iron skillet)
Add the hulled millet and cook, stirring frequently, until golden brown, about 3 to 4 minutes (it will have a slightly toasty smell)
Remove from the heat and let cool for 5 minutes then transfer to a large bowl
While cooling, melt your coconut oil in the microwave (about 30 seconds)
To the millet in the large bowl add the walnuts, pumpkin seeds, sunflower seeds, flaxseed meal, sesame seeds, cranberries, coconut chips, melted coconut oil, salt, vanilla and 1/2 cup of the maple syrup
Stir well, then spread the mixture evenly onto the prepared baking sheet
Bake for 20 minutes, then remove from oven to stir and drizzle the remaining 2 tbsp maple syrup over the mixture
Increase heat to 350 F and bake for 20 minutes more, then remove from oven

If you prefer a chewier texture, then keep the temperature at 275F and bake the same amount of time

Place baking sheet on a wire rack to cool the granola completely
Store in an airtight container for up to 2 weeks
Printer Friendly Version
Comments Rating
( reviews)