Low-FODMAP No-Bake Chocolate Cheesecake Jars; Gluten-free
May 8, 2021
Printer Friendly Version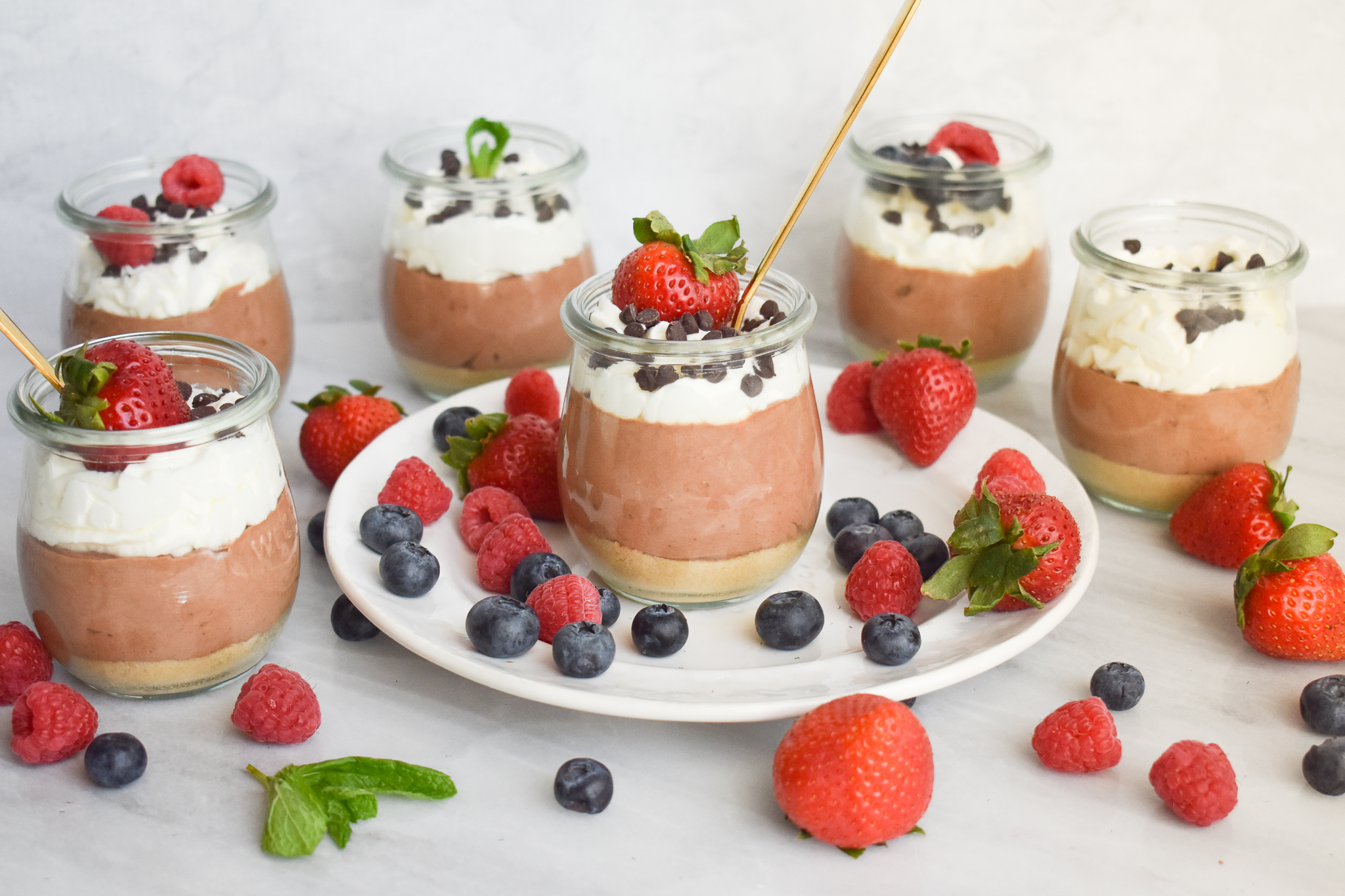 Low-FODMAP No-Bake Chocolate Cheesecake Jars are an amazing summertime treat…
They are:
Adorable,
Easy,
Delicious,
and
CHOCOLATE.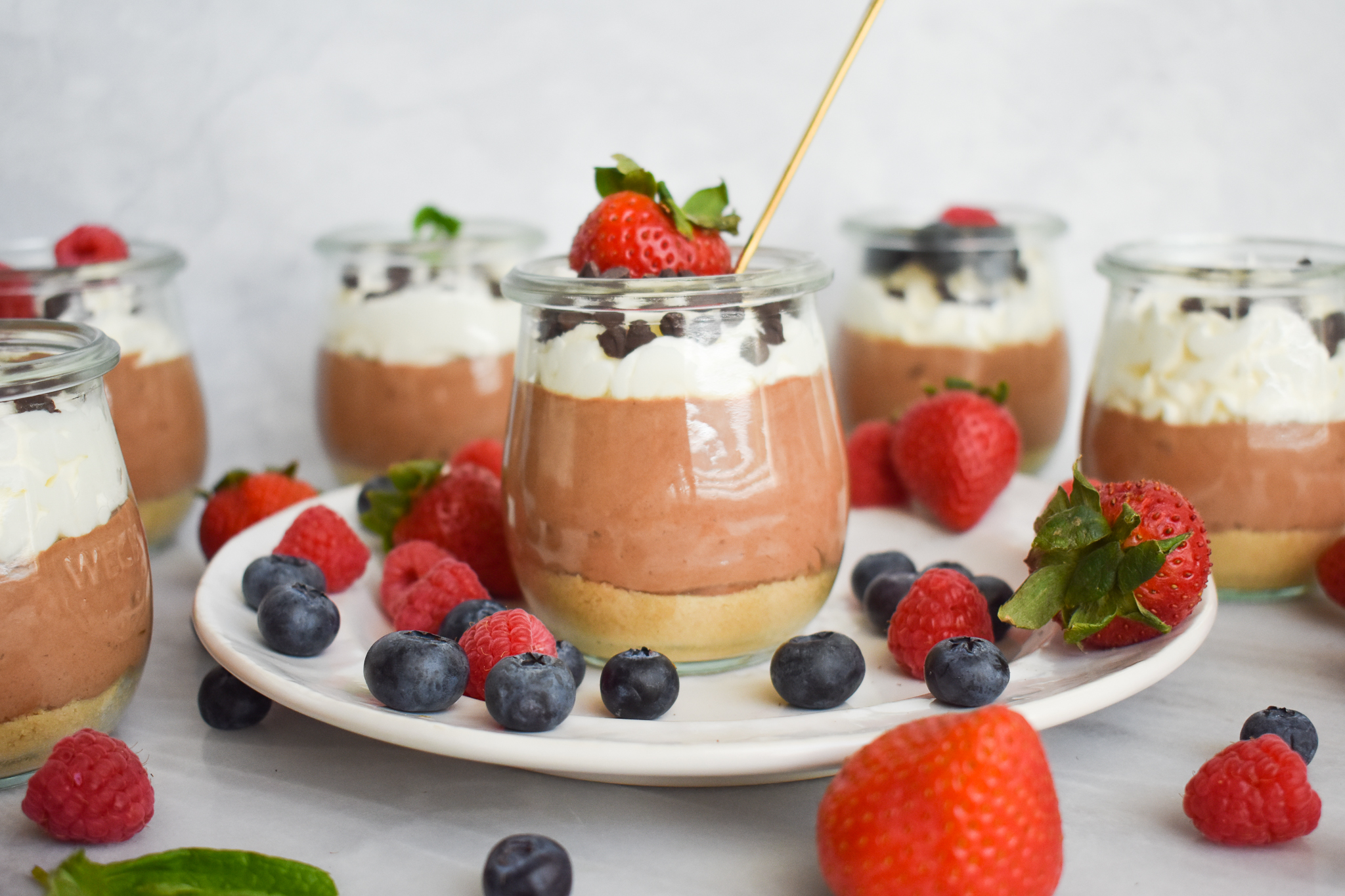 Who doesn't love that?
No-Bake recipes are ideal for hot days when you don't want to turn on your oven, and I have tons of options on my blog to choose from! Try my low-FODMAP No Bake Oats and Chocolate Cookies, low-FODMAP No Bake Energy Bites, low-FODMAP Avalanche Cookies and low-FODMAP No Bake Peanut Butter 2 Cereal Bars.
These low-FODMAP Chocolate Cheesecake Jars  come together in under 30 minutes and are so rich and creamy, they taste just like a baked version.  I like to crumble low-FODMAP cookies for a cookie-crust base (can use chocolate or vanilla), and add a bit of low-FODMAP Whipped Cream and low-FODMAP berries.  So good 🙂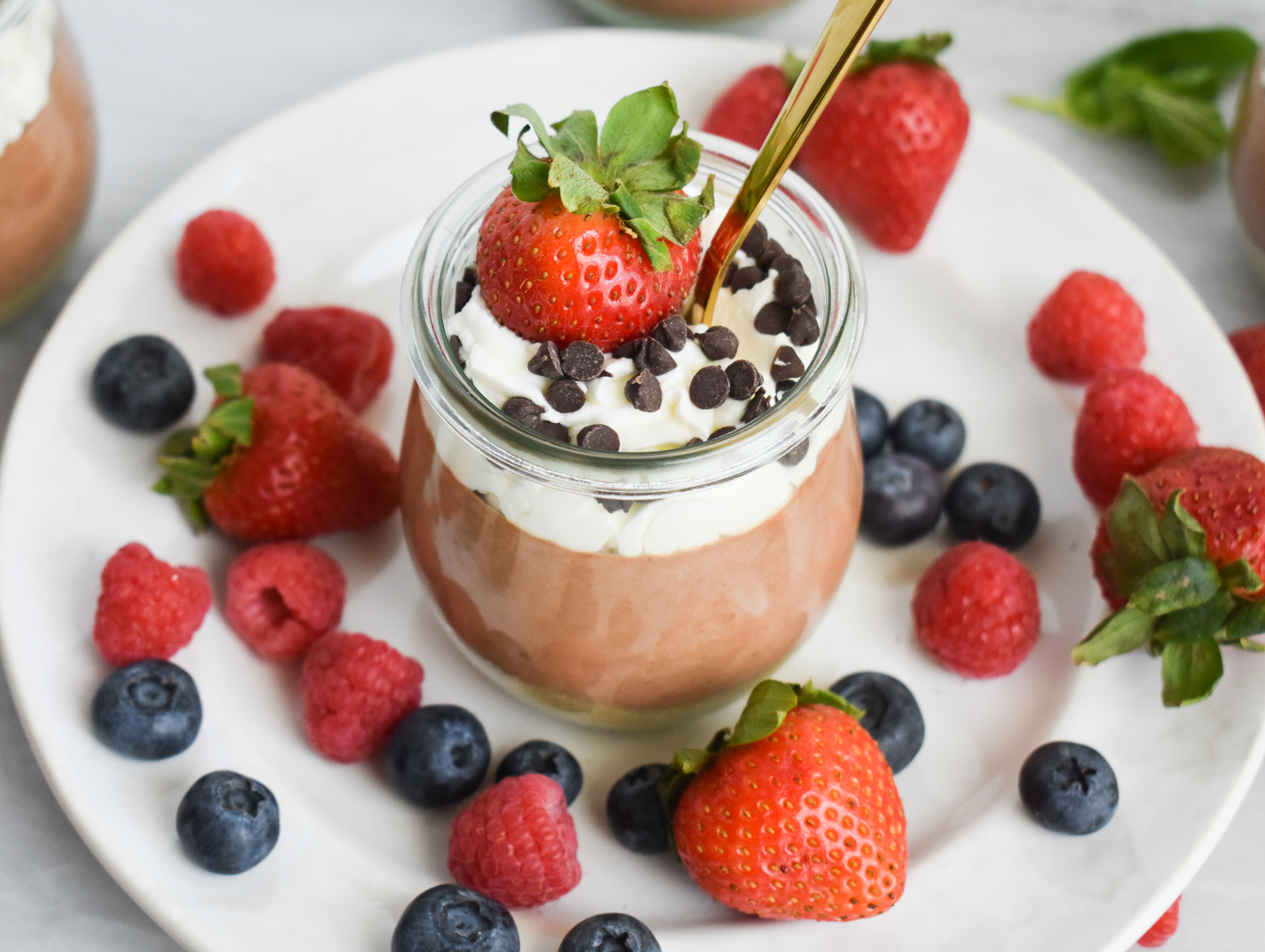 You may also love:
Check out over 400 more low-FODMAP recipes on the blog.  IBS-friendly!
Be healthy and happy,
Rachel Pauls, MD
P.S.  Check out my new COOKBOOK for over 100 low-FODMAP recipes, low-FODMAP Meal Plan, FODMAP Tips and everything you need!!  It's the BEST!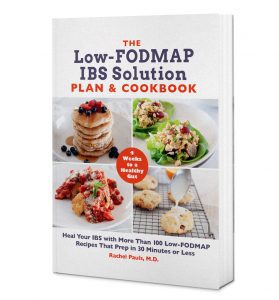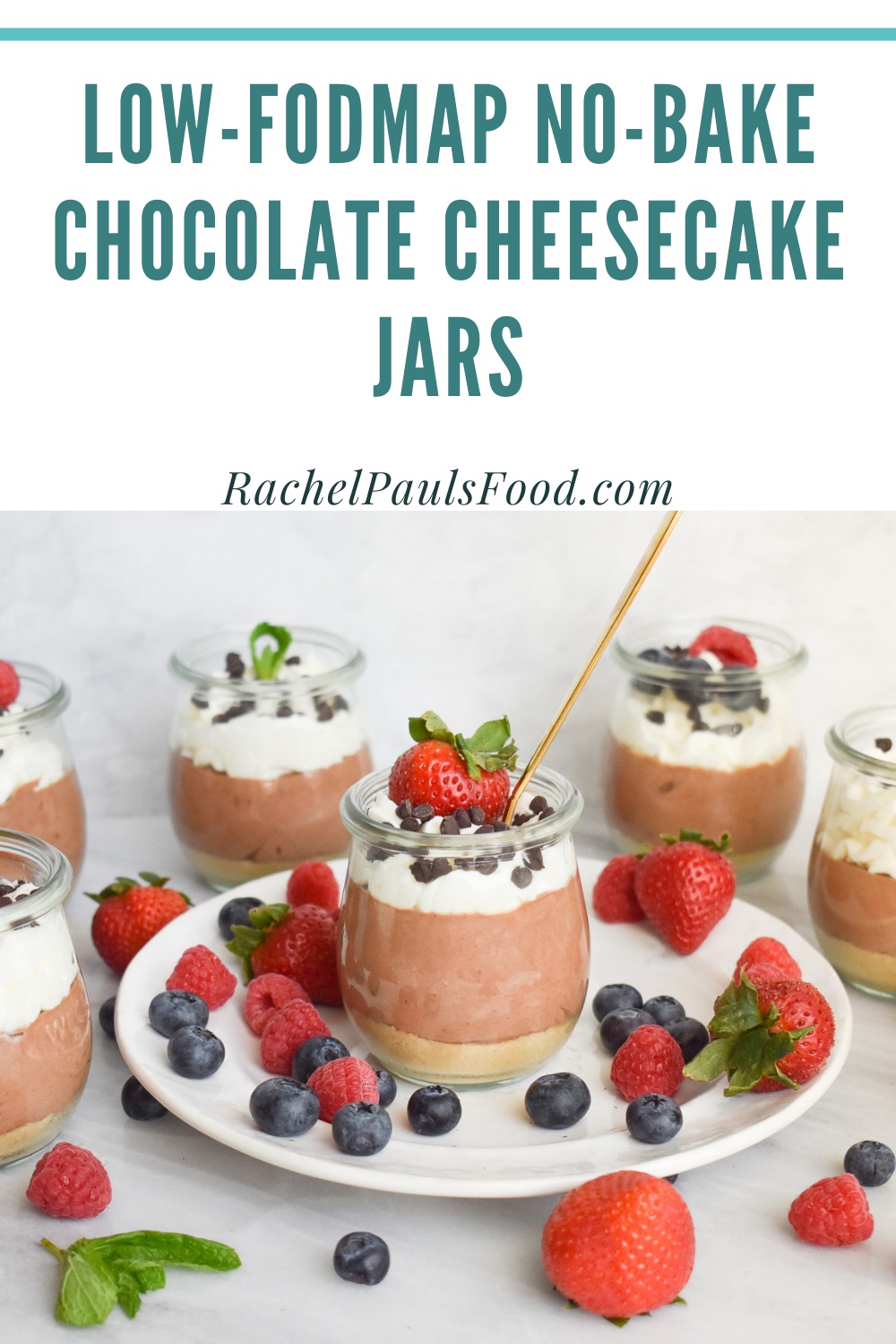 Although this recipe has not been lab tested, a single serving should be low-FODMAP based on the ingredients USING AVAILABLE FODMAP DATA AT TIME OF POSTING
Servings: 6-8 (depending on size of your jars)
Note: This is a very rich dessert, similar to a mousse.  If you are sensitive to high fat foods then adjust your portion to the amount you tolerate.
Prep Time: 30 minutes plus cooling and chilling
Total time: 30 minutes plus cooling and chilling
Equipment: Electric mixer, 3 mixing bowls, mason jars or tulip jars for serving
Ingredients
6 ounces (150 g) semisweet or dark chocolate, chopped, plus extra for garnish

You can also use chocolate chips, but select a high quality chocolate (I used Ghirardelli)
30 g is one low-FODMAP serving

8 ounces lactose-free cream cheese, room temperature

I like to strain my lactose-free cream cheese overnight in the refrigerator to remove some of the liquid using cheesecloth, but that is not essential

Straining will not impact the lactose-free qualities (I confirmed this via email communication with Green Valley Creamery)

1/2 cup confectioner's sugar, plus to taste

I suggest you sift this first to remove lumps

1 teaspoon vanilla extract
1/2 teaspoon espresso or instant coffee powder (optional, do not substitute drip coffee granules)

This enhances the chocolate flavor

1 cup (16 tablespoons) heavy whipping cream; divided, plus additional for serving if desired

1/4 cup of the liquid is one low-FODMAP serving (this yields about 1/2 cup of prepared whipped cream)
Can also substitute chilled canned coconut cream (see my low-FODMAP Grocery Shopping Blog for tips on this ingredient, it is not the same as 'cream of coconut')

8 ounces low-FODMAP, gluten-free vanilla/chocolate 'sandwich', or shortbread cookies, finely crushed or processed to a fine crumb in your processor

I used 'Glutino' Gluten free Vanilla Cream Sandwich Cookies

These contain: Confectioner's Sugar, Tapioca Starch, Palm Oil, Cane Sugar, White Rice Flour, Tapioca Syrup, Cassava Flour, Egg Whites, Potato Flour, Natural Flavor, Soy Lecithin, Salt, Xanthan Gum, Baking Soda, Colored with Beta Carotene

Check your brand to ensure it has low-FODMAP ingredients

1-3 tablespoons of melted butter or coconut oil (optional)

Creates a richer cookie crust
Adjust based on the type of cookies you select (I used 2 tbsp of melted coconut oil)

Garnish: low-FODMAP berries (strawberries, blueberries, raspberries), fresh mint and low-FODMAP Vanilla Bean Whipped Cream or more real whipping cream, per your tolerance
Directions
Crush or process your low-FODMAP cookies, and mix in the melted butter or coconut oil if desired
Divide evenly among your small jars and press down
Refrigerate until use
Place a large mixing bowl in the freezer to chill for making your heavy whipping cream
While this is chilling, place your chocolate and 2 tablespoons of the heavy cream in a double boiler or large microwave safe bowl

For microwaving, use 15-30 second intervals, stirring between

After melting, set chocolate aside to cool to room temperature in a large mixing bowl
When chocolate is cool, in a medium sized bowl beat your room temperature lactose-free cream cheese, confectioner's sugar and vanilla using an electric mixer
Add the cream cheese mixture to the melted chocolate slowly, beating in between additions, then the espresso powder if using
Set this aside for now
Remove your chilled bowl from the freezer and place your chilled whipping cream in the bowl
Beat cream using your electric mixer until medium peaks form
Fold the whipped cream into the chocolate cream cheese mixture gently until completely smooth
Scoop the chocolate cheesecake into a large piping bag and pipe over your cookie bases

You can also just scoop it with a spoon

Top with fresh mint, chopped chocolate, fresh low-FODMAP berries and low-FODMAP Vanilla Bean Coconut Whipped Cream if desired
Repeat until the jars are full, I like to chill mine for about an hour, but you can also serve immediately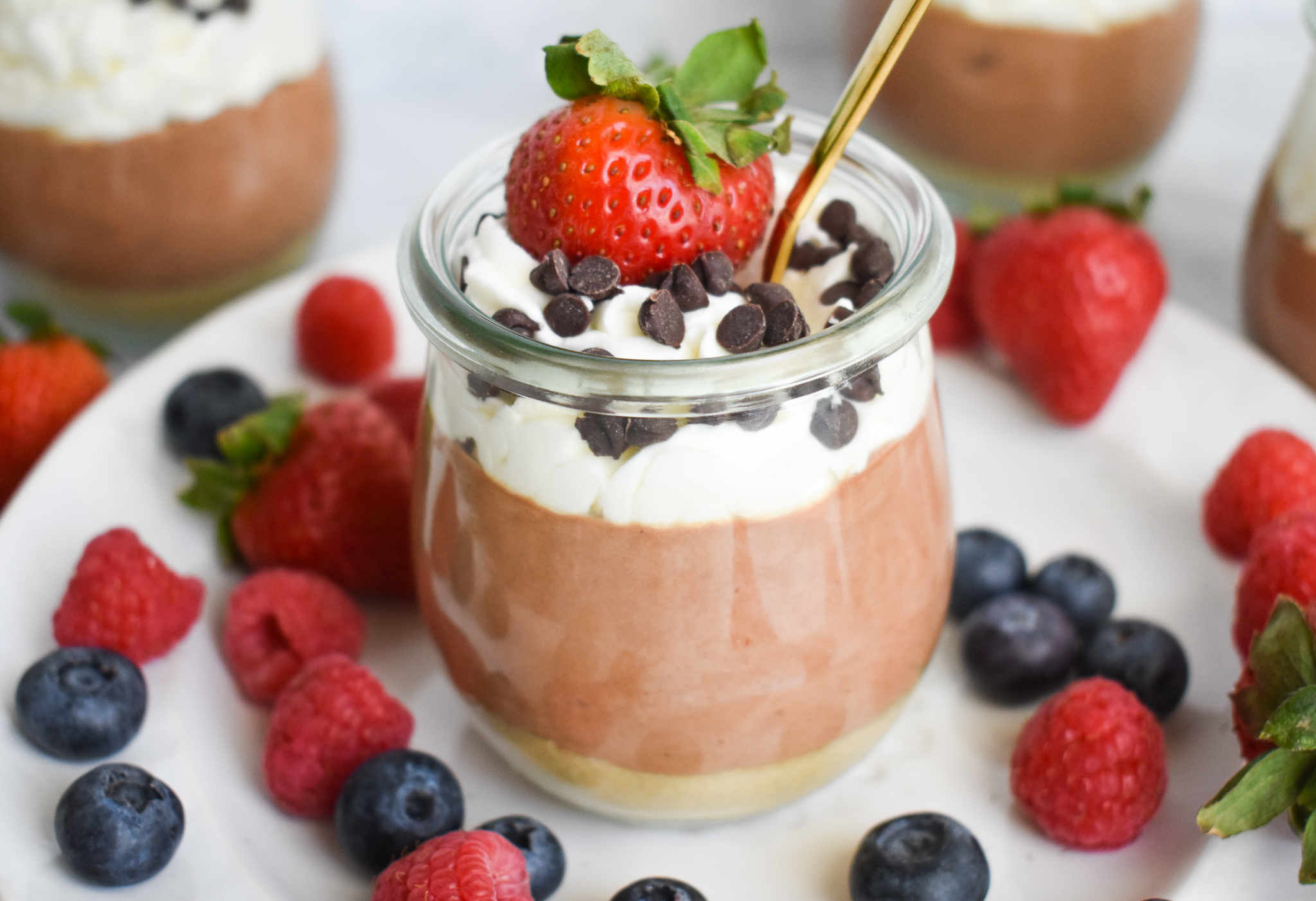 Printer Friendly Version
Comments Rating
( reviews)