Low-FODMAP Minestrone Vegetable Soup Recipe; Gluten-free, Vegan
May 12, 2018
Printer Friendly Version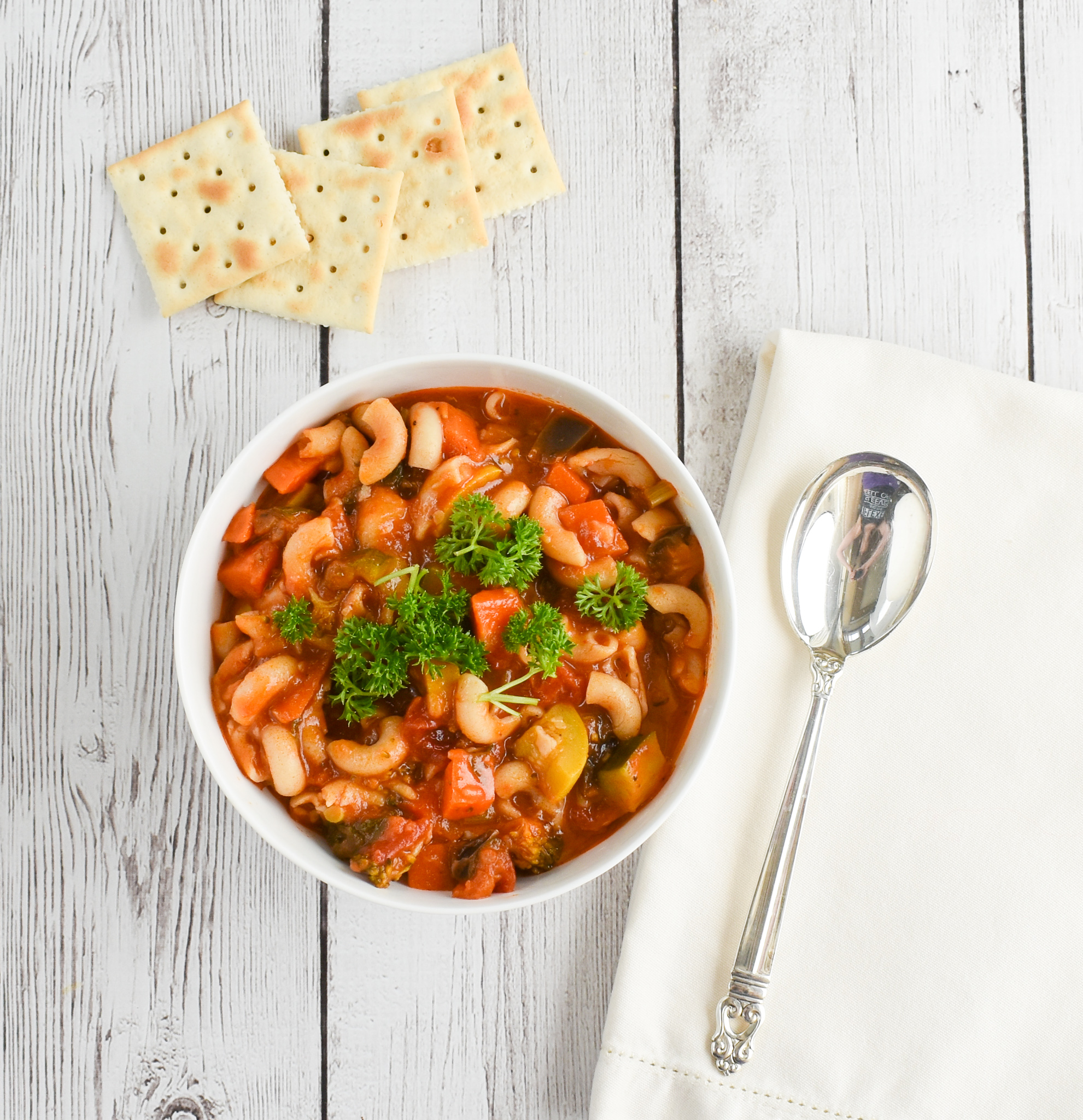 Minestrone soup is a classic family favorite! This low-FODMAP Minestrone Vegetable Soup recipe is both gluten-free and vegan.  Plus it is relatively easy.  You can make it in batches and freeze for later in individual freezer bags or containers.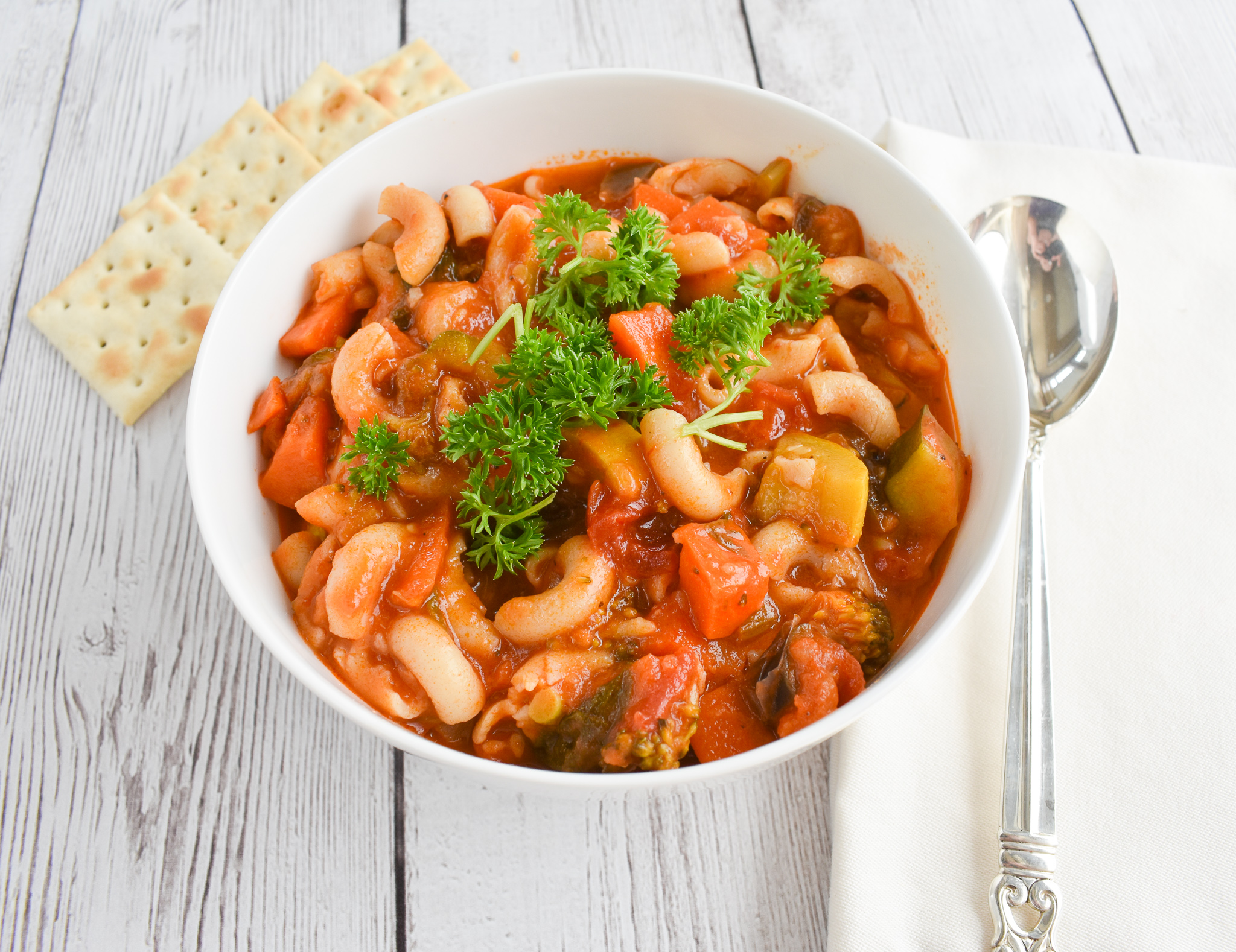 I have always loved soup- so filling, and healthy as well as low-calorie.  But low-FODMAP recipes have been hard to come by…this low-FODMAP Minestrone Vegetable Soup recipe will be the perfect addition to your recipe book.
For the soup prep, try our low-FODMAP Happy Soup Vegetable Soup Base.  Super easy!
For more soup recipes- look at low-FODMAP Chicken and Wild Rice, low-FODMAP Chicken Noodle and low-FODMAP Carrot and Curry Soups…
Or check out my blog for many more recipe ideas… we have over 300 low-FODMAP recipes!
Be healthy and happy,
Rachel Pauls, MD
---
Low-FODMAP Minestrone Vegetable Soup; Gluten-free, Vegan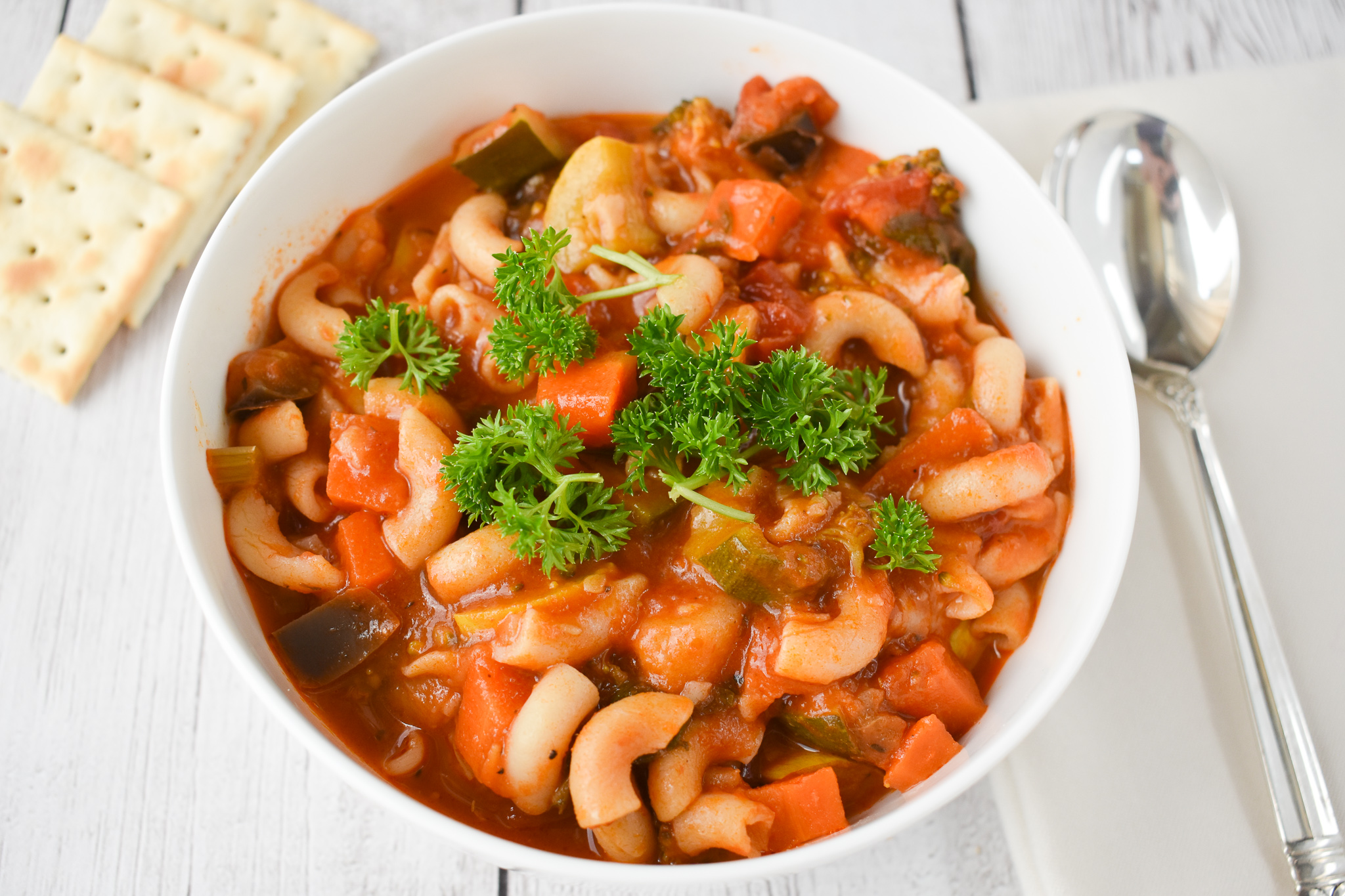 Although this recipe has not been tested, a single serving should be low-FODMAP based on the ingredients.  However, due to multiple servings of vegetables, please adjust to your personal tolerance.
Serves: 8-10
Prep Time: 20 minutes
Cook Time: 45 minutes
Total Time: 1 hour 5 minutes
Ingredients
2 tablespoons onion-infused oil
2 tablespoons garlic-infused oil
2 medium carrots, chopped into small squares
½ cup (8 tablespoons) tomato paste

2 tablespoons is one low-FODMAP serving (this is 4 servings)

Total of 2 cups additional chopped vegetables

½ cup each of your choice:

potatoes, yellow squash, zucchini, eggplant, pumpkin, broccoli heads

½ teaspoon dried oregano
½ teaspoon dried thyme
salt and pepper to taste
16 ounces canned diced tomatoes, with their liquid (ensure no high-FODMAP additives)

About 4 ounces in one low-FODMAP serving

4 cups (32 ounces) low-FODMAP vegetable broth (try my low-FODMAP Happy Vegetable Base Soup) or low-FODMAP chicken broth for non-vegan version

Be cautious with store bought stocks/broth.  'Natural flavors' in ingredient lists often contain onion and garlic.  I make my own broths to ensure they are low-FODMAP, lower in sodium and so much better tasting

2 cups water
1 cup gluten-free, low-FODMAP macaroni or other small low-FODMAP pasta noodles

I used Ronzoni brand GF macaroni: contains white rice flour, brown rice flour, corn flour, quinoa flour, mono and diglycerides

½ cup canned lentils, drained and rinsed (optional)

Note: canned lentils are low in FODMAPs due to the canning juices removing some of the high-FODMAP carbohydrates.  Do not substitute regular lentils
1/4 cup (46 g) is one low-FODMAP serving

3/4 cup baby spinach, chopped kale or chopped collard greens

this is approximately 1/2 low-FODMAP serving for spinach and collard greens, 1 serving for kale

2 teaspoons freshly squeezed lemon juice
Optional garnish:

2-3 tablespoons freshly grated Parmesan cheese (for non-vegan version)
Fresh chopped parsley
Directions
Warm 3 tablespoons of the oil in a large Dutch oven or stockpot over medium heat
Once the oil is hot, add the carrots and tomato paste
Cook, stirring often, until the carrots have softened, about 7 to 10 minutes
Add the 2 cups of your choice of vegetables, as well as oregano and thyme
Cook until fragrant while stirring frequently, about 2 minutes
Pour in the canned diced tomatoes and their juices, broth and water
Season generously with freshly ground black pepper and salt to taste
Raise heat to medium-high and bring the mixture to a boil, then partially cover the pot with the lid
Reduce heat as necessary to maintain a gentle simmer
Cook for 15 minutes, then remove the lid and add the pasta, lentils and greens
Continue simmering, uncovered, for 20 minutes or until the pasta is cooked al-dente and the greens are tender

Since gluten-free pasta tends to get mushy, make sure not to overcook the noodles

Remove the pot from the heat, then stir in the lemon juice and remaining tablespoon of olive oil
Taste and season with more salt and pepper
Garnish bowls of soup with grated Parmesan, if desired (non-vegan)
Serve with gluten-free crackers (I like Glutino) or if not concerned about gluten then recent research has shown that USA-sold saltine crackers are low-FODMAP
This low-FODMAP Minestrone Soup is healthy and oh-so-good!  My whole family devoured it 🙂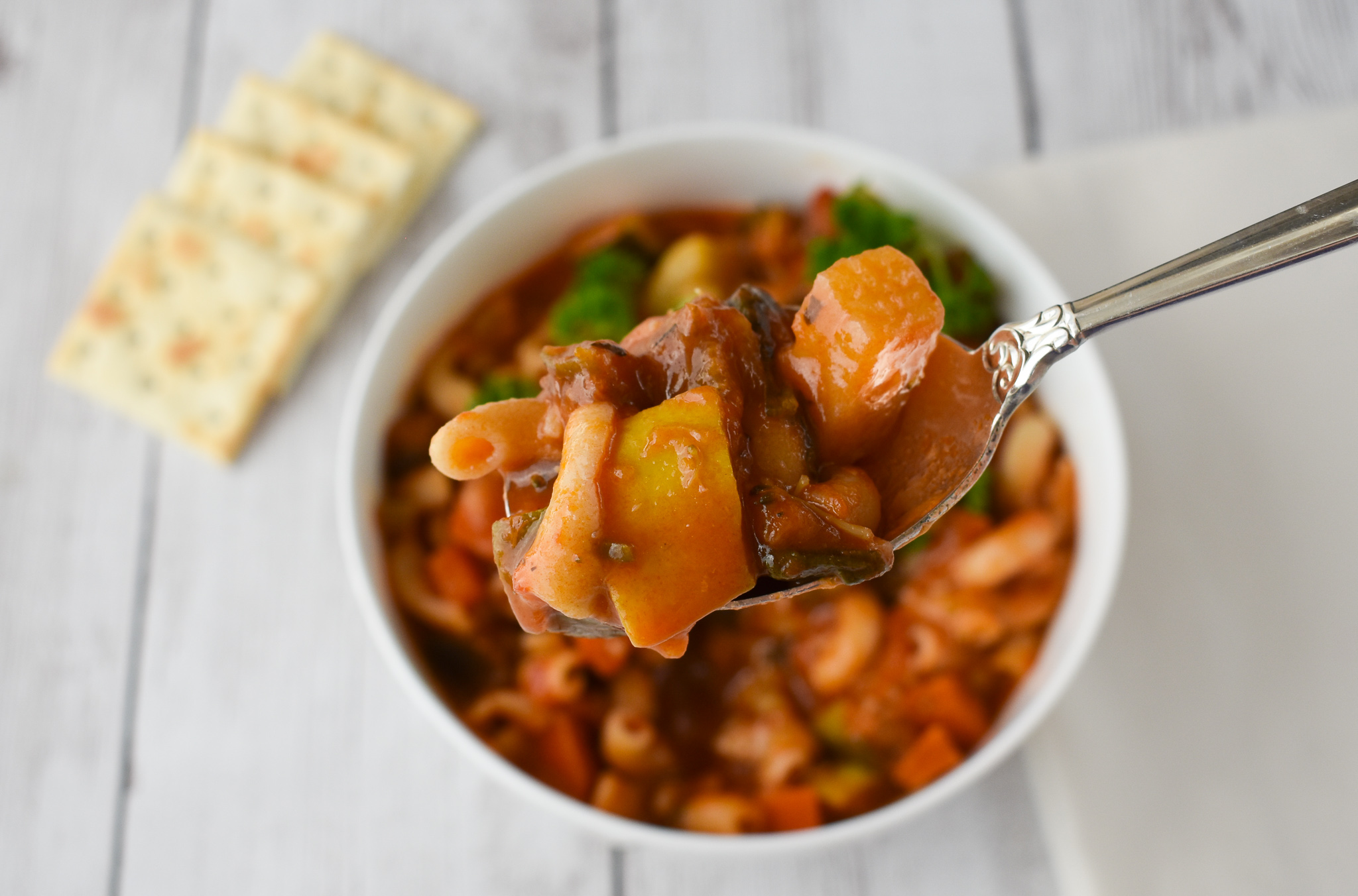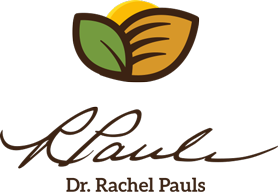 Printer Friendly Version
Comments Rating
( reviews)