Low-FODMAP Marmalade Glazed Grilled Pork Loin; Gluten-free, Dairy-free
August 15, 2020
Printer Friendly Version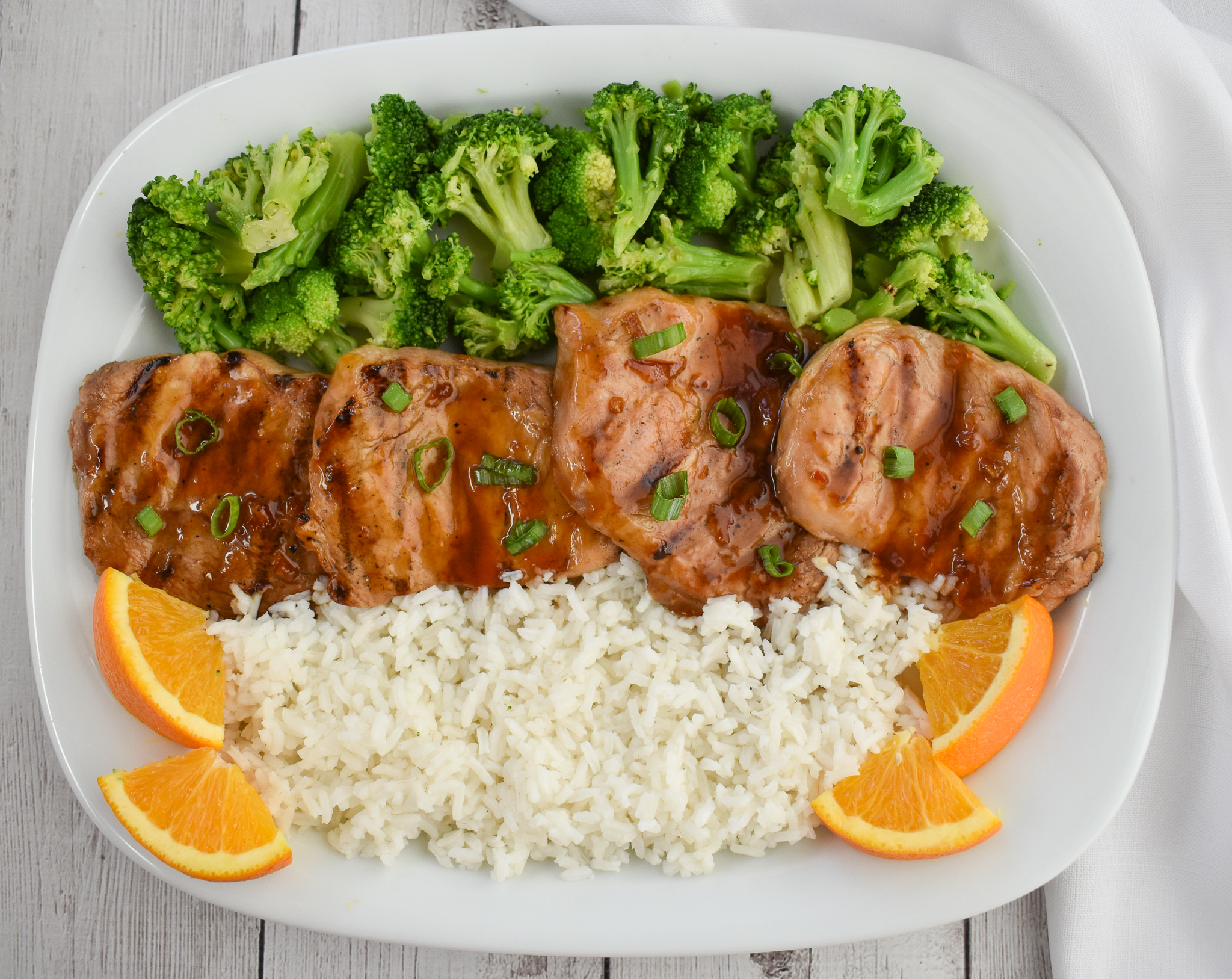 My family doesn't eat pork often, but I recently began experimenting with pork tenderloin recipes.  I had noted several recipes for peach marinated pork, and was inspired to share a similar meal that is safe for the low-FODMAP diet.
My low-FODMAP Marmalade Glazed Pork Tenderloin recipe is exactly that! What a great choice for summer.  The tenderloins are rich, succulent, and the perfect cut of meat for a low-FODMAP dinner, while the marmalade sauce is both sweet and savory. I love to spoon extra sauce over my side of low-FODMAP rice, or low-FODMAP pasta (try it with gluten-free penne).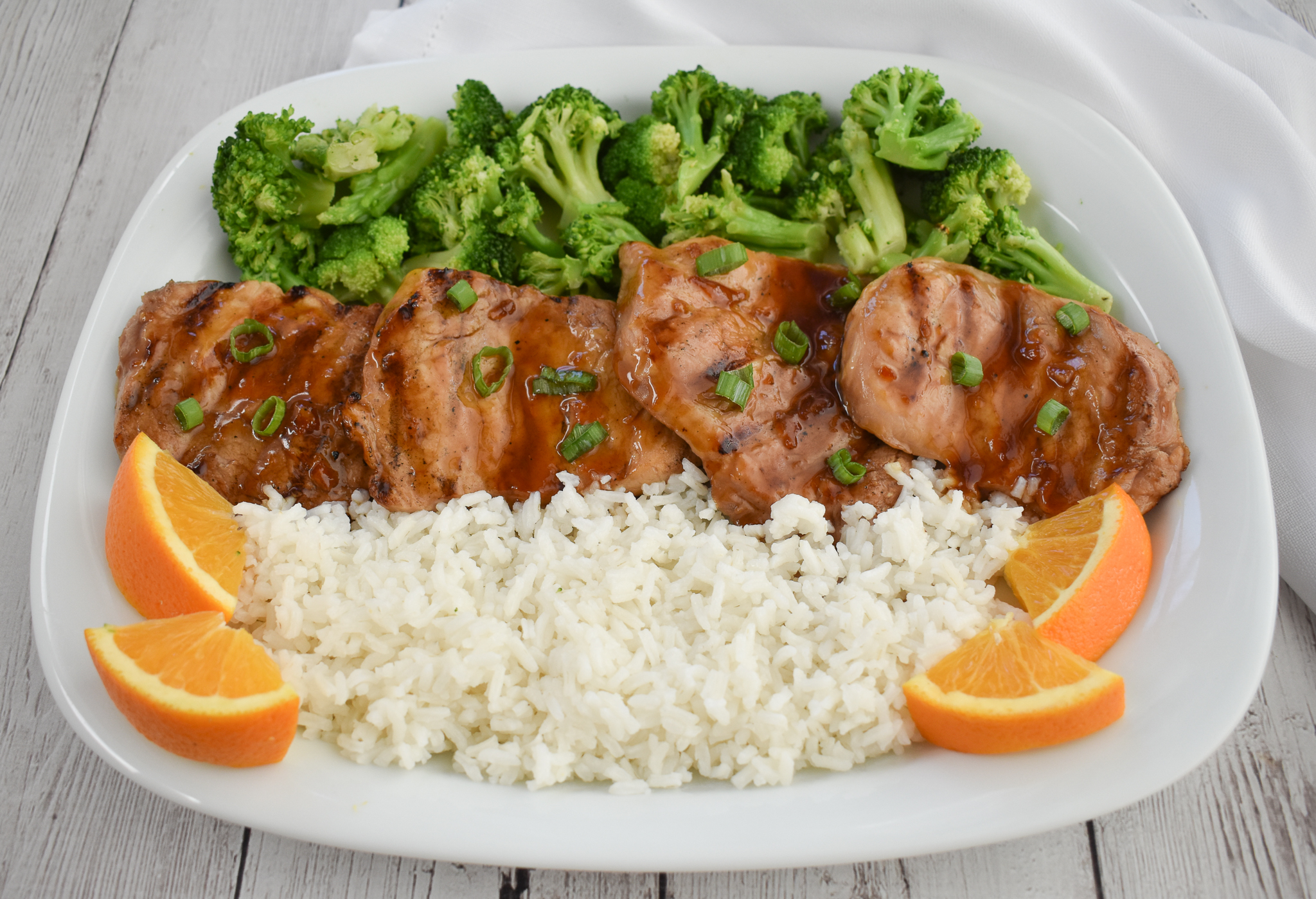 You will want to serve these low-FODMAP Marmalade Glazed Pork Tenderloins at your next barbecue or family gathering.  (Never tell them this low-FODMAP recipe is made with simple ingredients and preps in less than 30 minutes)!
You may also love my: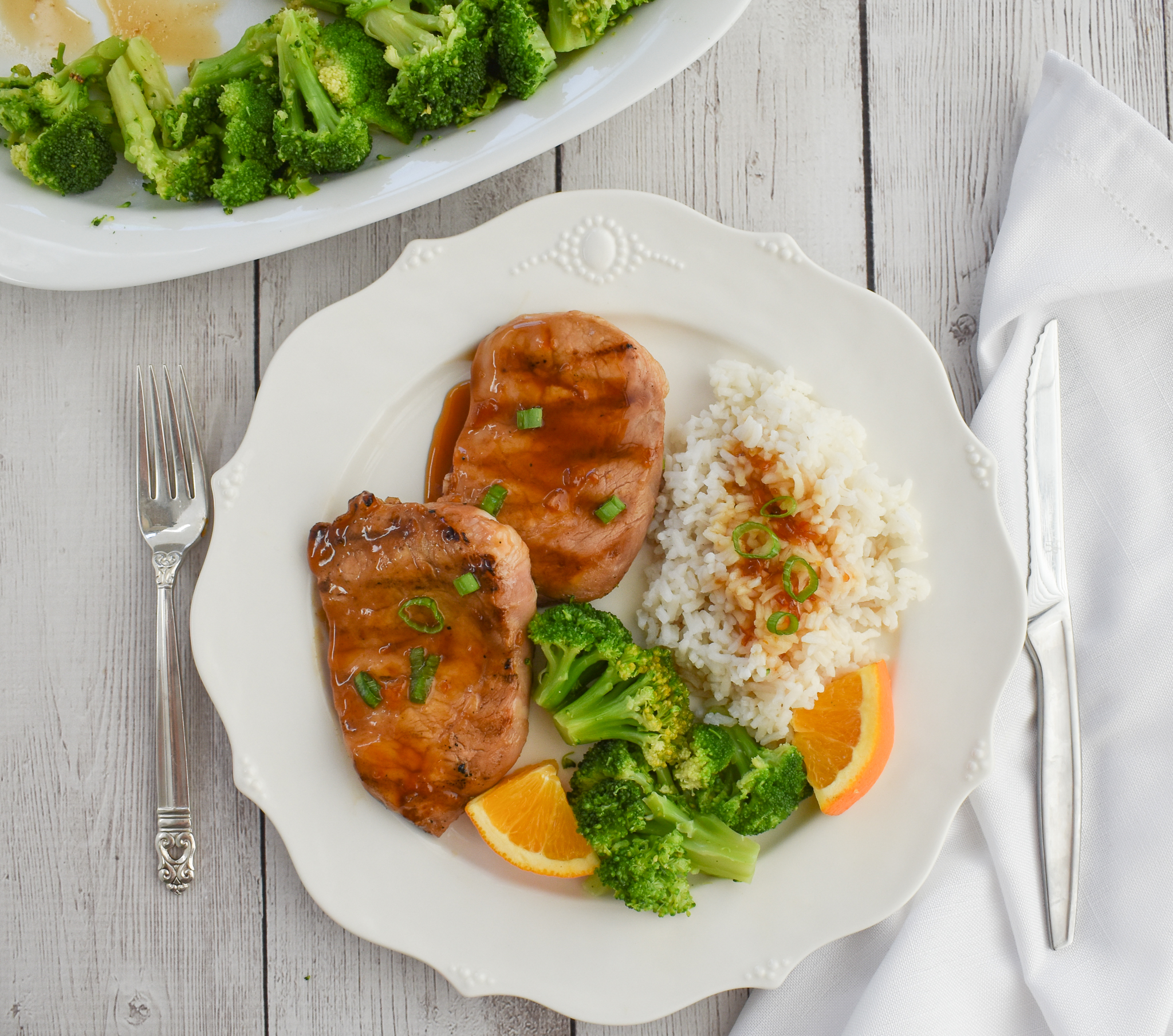 Or check out over 350 more low-FODMAP recipes on the blog.  IBS-friendly!
Be healthy and happy,
Rachel Pauls, MD
---
Low-FODMAP Marmalade Glazed Grilled Pork Loin; Gluten-free, Dairy-free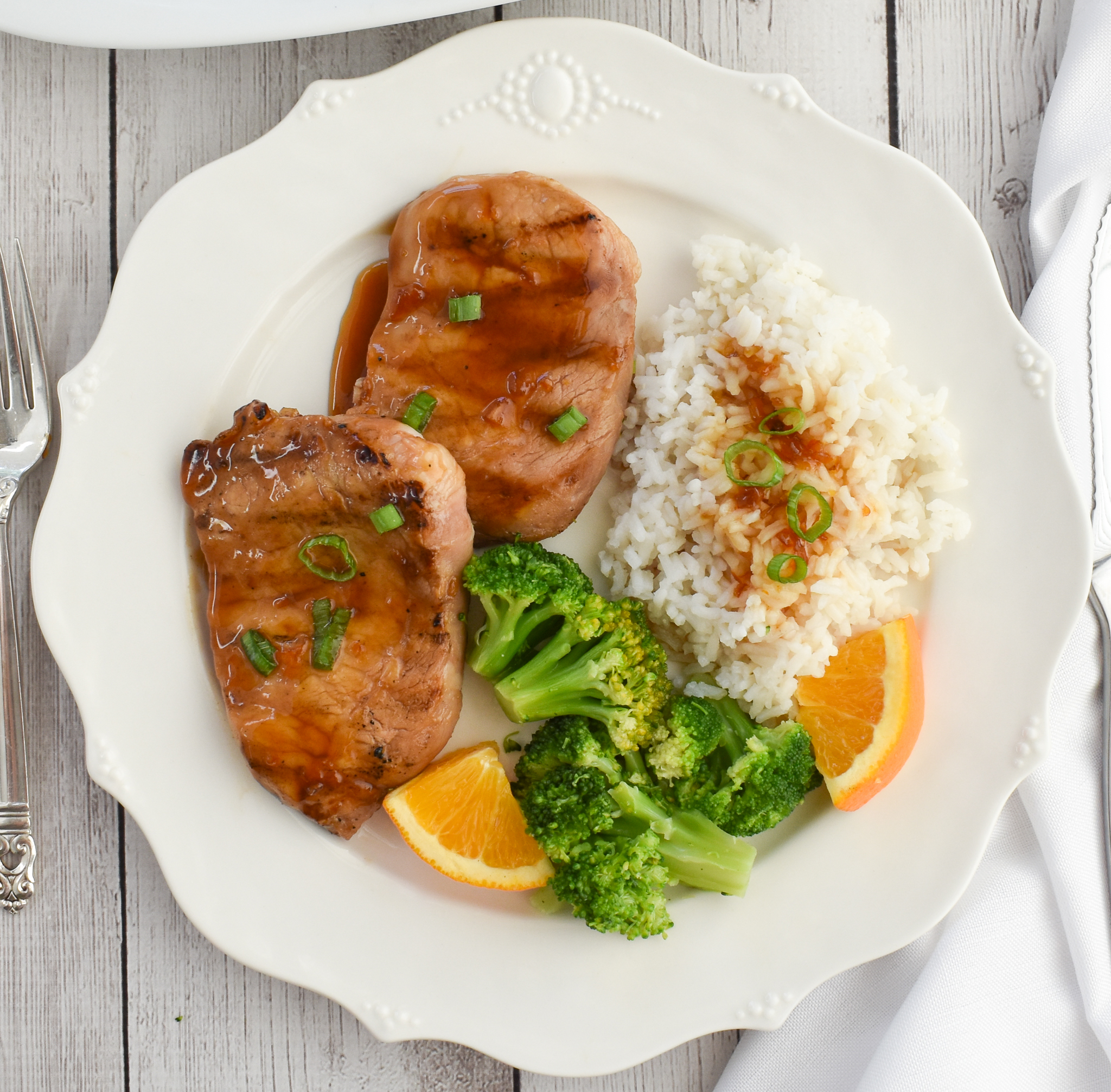 Although this recipe has not been tested, a single serving should be low-FODMAP based on the ingredients
Serves 4
Prep time: 5 min plus 1 hour for marinating
Cook time: 15 min (stovetop and grill)
Total time: 20 min plus 1 hour for marinating
Grill on high heat
Ingredients
1/3 cup soy sauce (or gluten-free tamari)

I like low-sodium
2 tablespoons is one low-FODMAP serving

1/3 cup orange marmalade

2 tablespoons is one low-FODMAP serving, avoid brands with high fructose corn syrup
I used 'Smucker's Natural'

1/3 cup light corn syrup or maple syrup
1 tablespoon & 1 teaspoon apple cider vinegar

Apple cider vinegar is low in FODMAPs, don't be alarmed at the mention of 'apple' in the name!

1/8 tsp crushed red pepper flakes (gives a little kick, skip this if you don't tolerate spicy)
1 lb (16 ounces) boneless pork tenderloin, sliced into 4 pieces
1 tbsp cornstarch (optional, for a thicker sauce)
1 tbsp green scallion tips (for garnish)
Olive oil (for grilling)
Directions
In a small saucepan, stir together soy sauce, marmalade, corn syrup, apple cider vinegar, and red pepper flakes, then bring to a simmer over medium heat (about 3-5 minutes)
Remove from stovetop. Pour out half the marinade (roughly 1/2 cup) and place it with pork loins in a resealable bag or in a covered bowl
Place loins in the marinade in the refrigerator for 1 hour, flipping halfway through
To the remaining marinade in the saucepan, add cornstarch (if using) and stir over medium low heat until thickened. Cover and set aside for later

If you prefer not to use the cornstarch then you can serve the sauce as is, or allow it to cook down over the heat

A few minutes before removing your pork from the marinade, preheat half your grill for high heat and the other half for low (or use the top rack for low heat)
Remove the tenderloins from the marinade and brush with olive oil

Discard the marinade the loins were in

Place pork loins on the hot side of the grill
Sear for 1-2 minutes then flip and sear other side
Once seared, move the tenderloins to the cooler side of the grill and cook until the internal temperature of the thickest tenderloin reaches 145°F

You may wish to test and remove thinner cuts sooner as they will cook at slightly different rates depending on thickness of the pork loin

Remove from heat and cover with foil to rest for 3 minutes
Serve with remaining glaze, garnished with scallion tips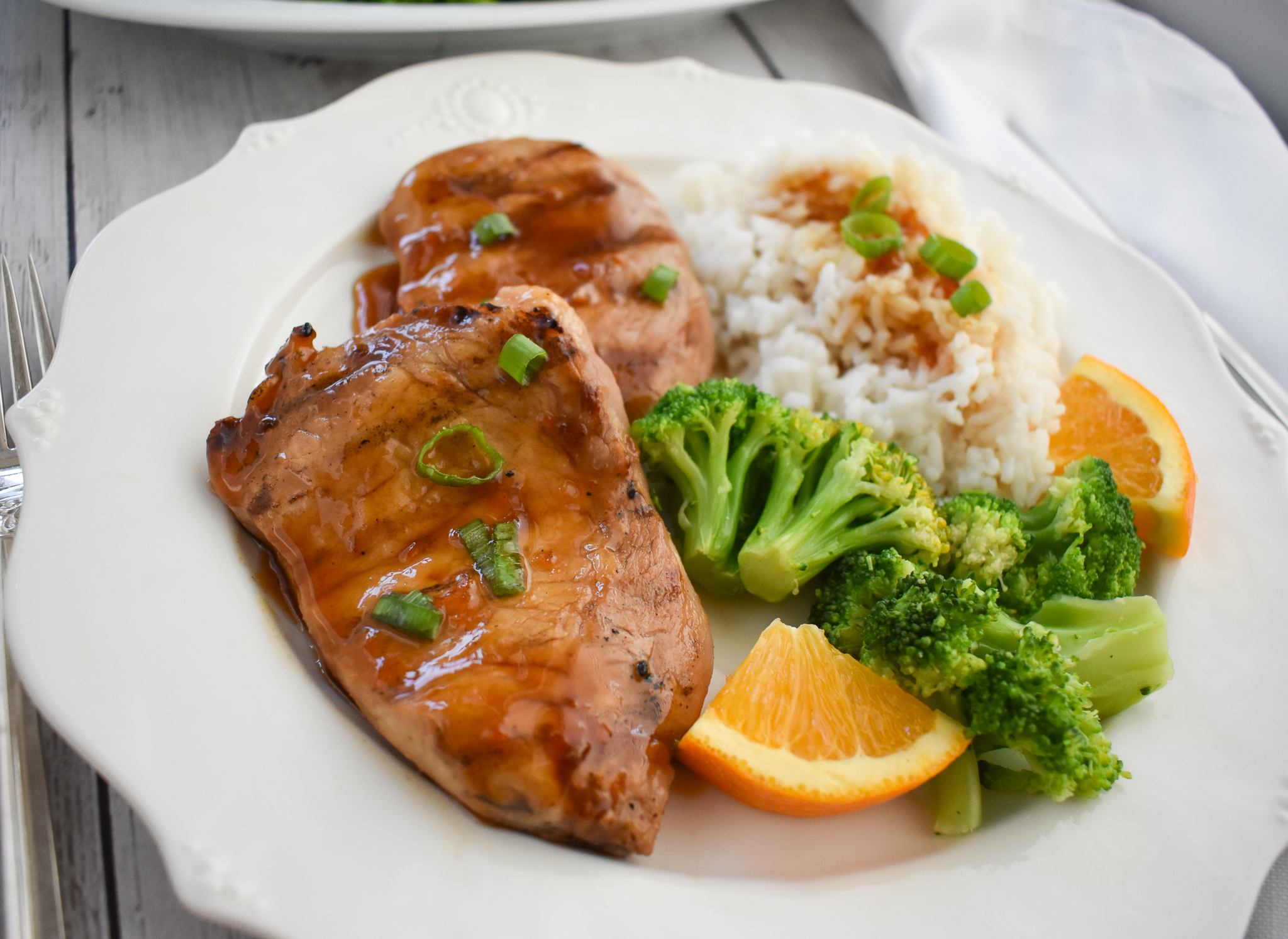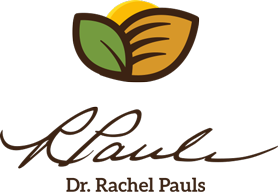 Printer Friendly Version
Comments Rating
( review)