Low-FODMAP Maple Cinnamon French Toast Casserole; Gluten-free
November 19, 2021
Printer Friendly Version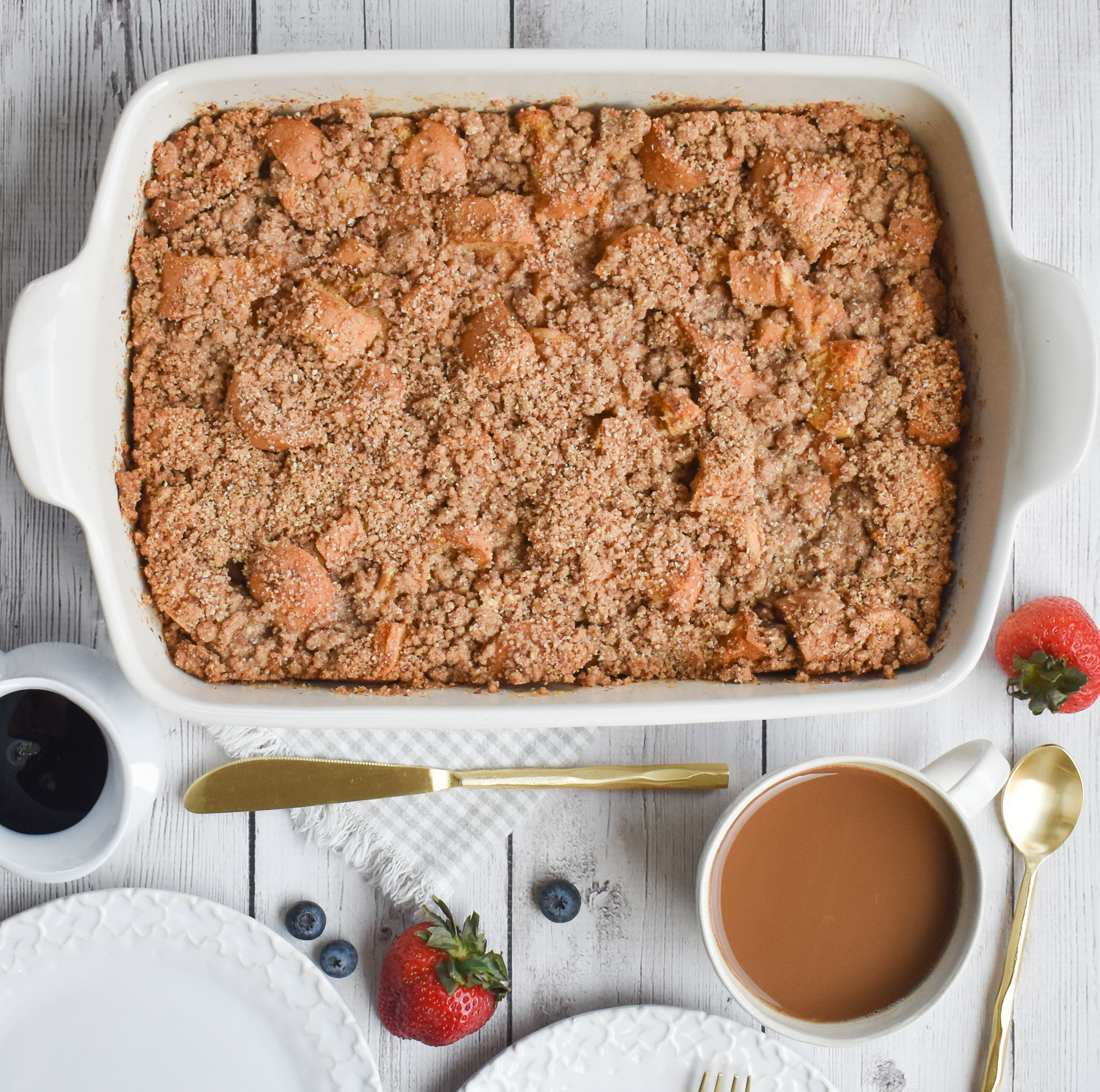 Low-FODMAP Maple Cinnamon French Toast Casserole.    Prep it the night before, and enjoy the flavor of a home baked breakfast treat, despite sleeping in.  It's the best!
I am obsessed with this simple take on French toast that incorporates the crunchy crumble of a streusel topping. It is so delicious, you will want it for dessert too.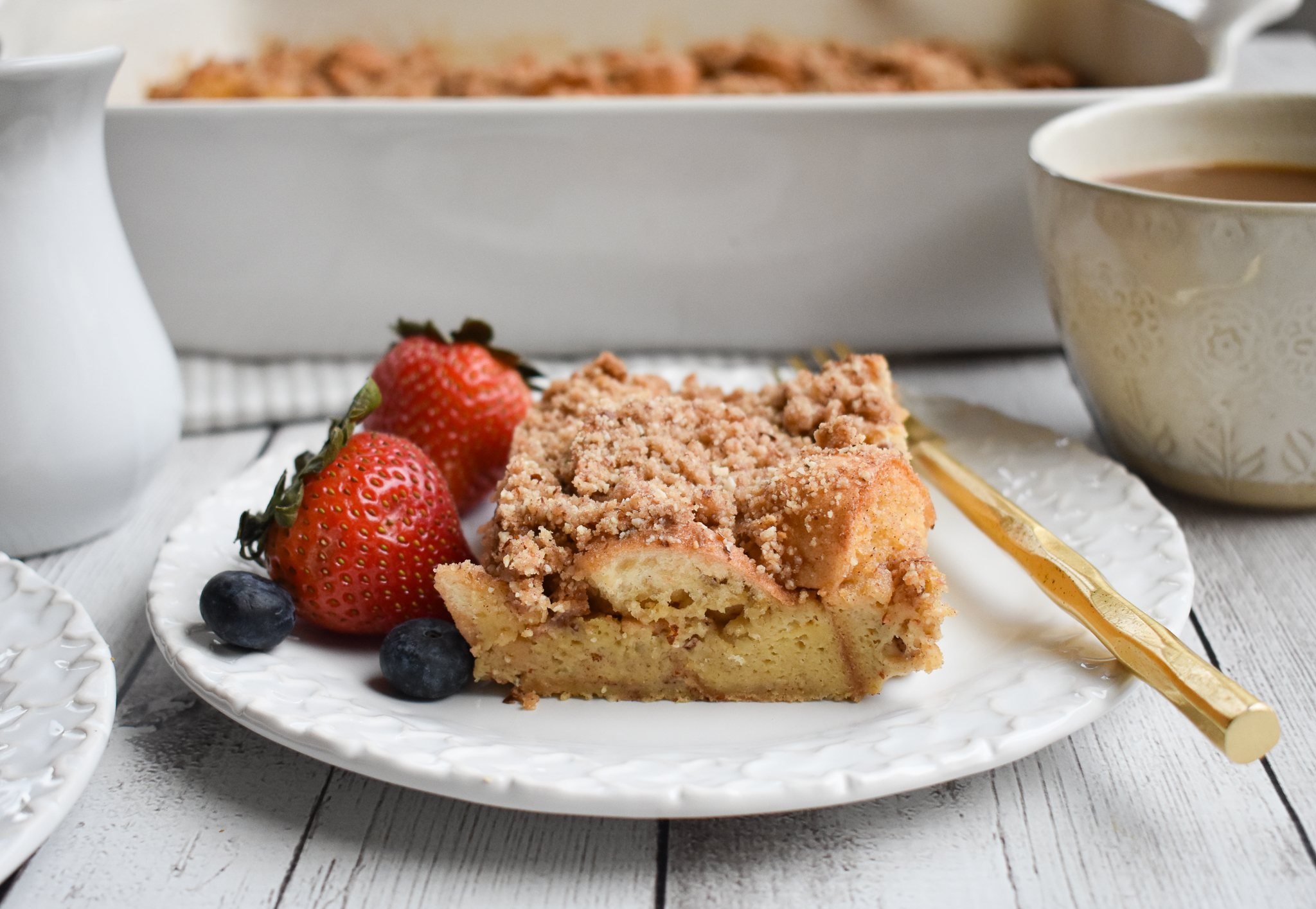 Low-FODMAP French Toast Casserole bakes in under an hour, and will be the perfect breakfast for weekdays or weekends, or ESPECIALLY a holiday morning, Valentine's Day or Mother's Day!!
Drizzle yours with low-FODMAP maple syrup, top with low-FODMAP fruit or spread with peanut butter and strawberry jam.  The streusel topping is the best part 🙂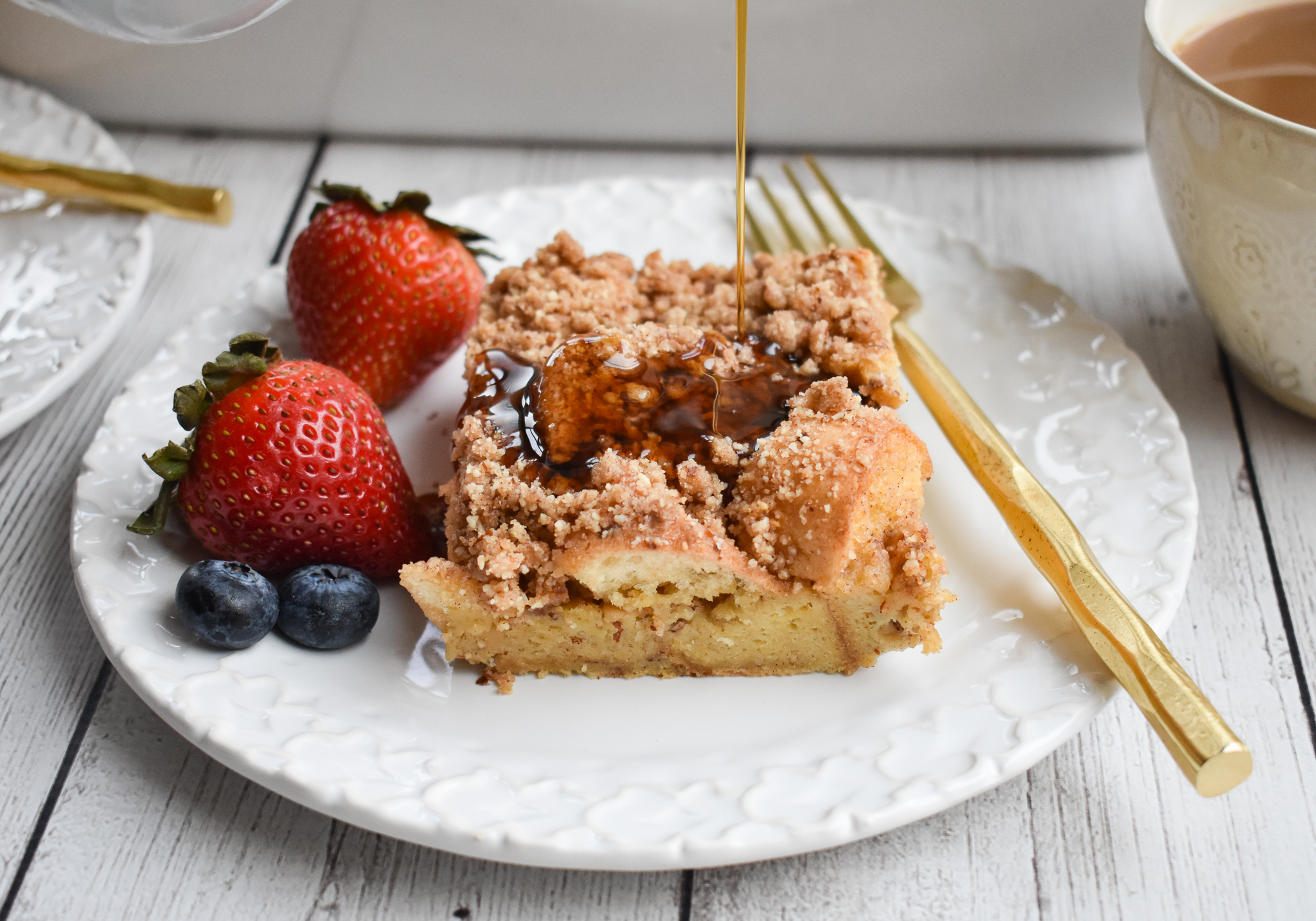 Dr. Rachel's Note: Your selection of LF bread is the key to this low-FODMAP French Toast Casserole.  Many gluten-free breads could get mushy, and would not be the best choice for this recipe.  Select a LF, GF bread that is dense, or hardy, such as a bun, baguette or homemade. If you tolerate gluten, then a sourdough baguette is often low in FODMAPs due to the fermentation process.  Test for your tolerance to your product, or ask your baker if the white sourdough fermented overnight.  Depending on your bread selection, the low-FODMAP French Toast Casserole could rest between an hour to overnight prior to baking. Enjoy!
You will also want to try my:
Or check out over 400 more low-FODMAP recipes on the blog.  IBS-friendly!
Be healthy and happy,
Rachel Pauls, MD
P.S.  Check out my new COOKBOOK for over 100 low-FODMAP recipes, low-FODMAP Meal Plan, FODMAP Tips and everything you need!!  It's the BEST!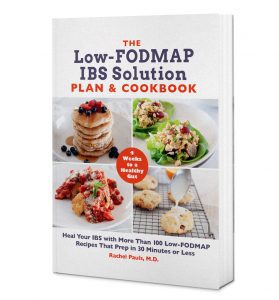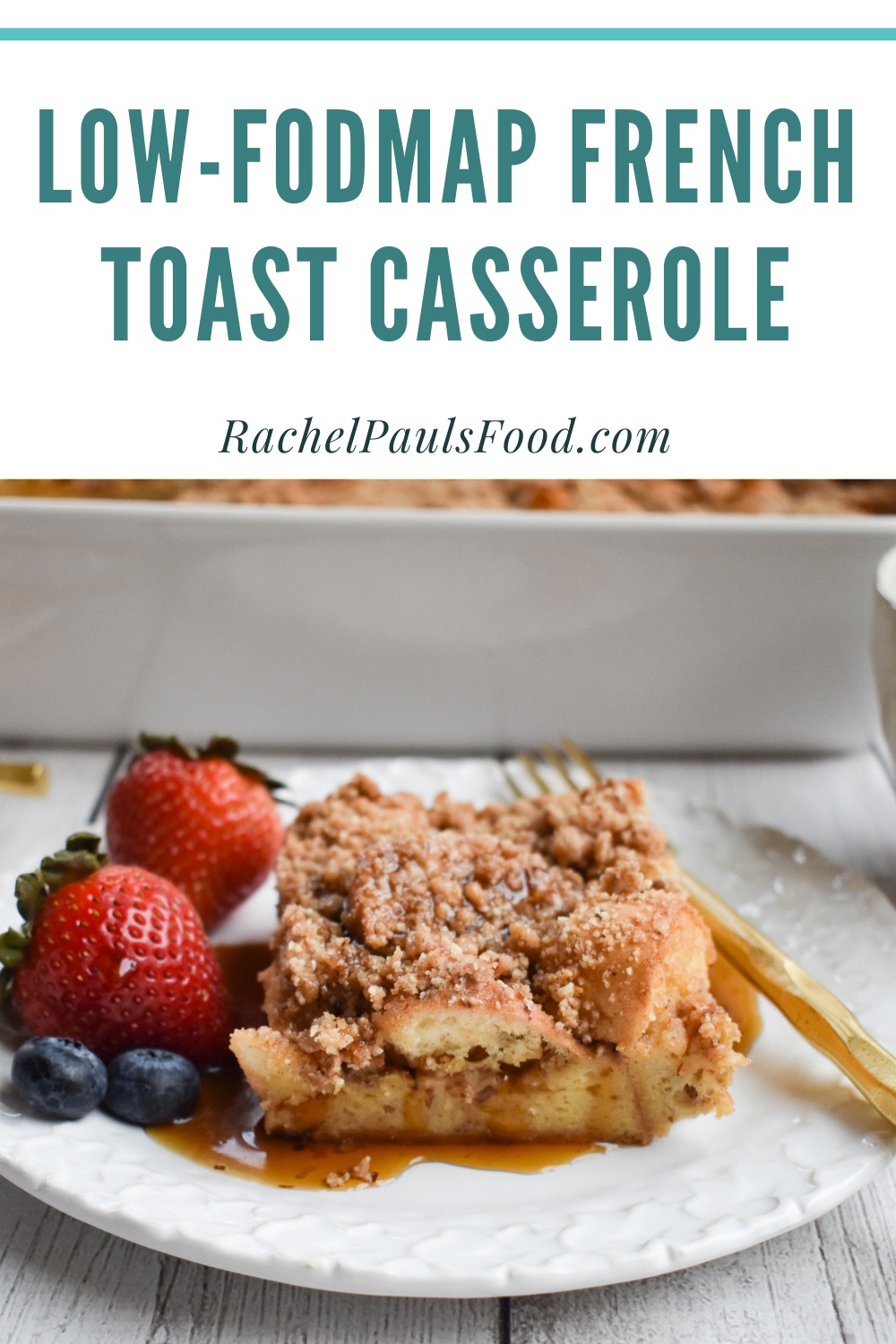 Although this recipe has not been lab-tested, a single serving should be low-FODMAP based on the ingredients (*based on available FODMAP data at time of posting)
Serves: 12
Prep time: 15 minutes *plus chilling 1 hour or overnight (see notes below)
Bake time: 45 min to 1 hour
Total time: 1 hour, 15 minutes *plus chilling
Bake: 350F
Equipment: 9 by 13 inch casserole dish
Ingredients
For low-FODMAP French Toast:
17-18 ounces, 500 grams or 1.125 pounds of low-FODMAP bread

If you tolerate gluten, select white wheat sourdough if proofed 12 hours
If you require gluten-free, I suggest a low-FODMAP gluten-free bread of a denser texture

Try my low-FODMAP Maple Egg Bread or gluten-free baguettes, dense sandwich buns or brioches with low-FODMAP ingredients
For this recipe, I used Schär's Gluten-free, low-FODMAP Ciabatta Buns

These were available on the aisle at Kroger, which I liked.  I don't love the flavor and texture of the bread plain, but it is perfect in this casserole!

8 large eggs
1/2 cup packed light brown sugar
1 cup low-FODMAP milk, room temperature

I prefer lactose-free whole milk, but you can substitute dairy-free, low-FODMAP selections
We like our top a little crusty, but if you want your French toast a little softer, then add 1/4 cup of milk

6 tablespoons melted unsalted butter (can substitute coconut oil or vegan spread with low-FODMAP ingredients for dairy-free version)

This should be warm, not hot

1 tablespoon vanilla extract
1-2 teaspoons maple extract (titrate to your products potency)
1 teaspoon ground cinnamon
1/8 teaspoon salt
Baking spray, vegetable shortening or additional butter for greasing
For low-FODMAP Streusel Topping:
1/2 cup low-FODMAP, gluten-free all-purpose flour (I use Authentic Foods GF Classical Blend, does not contain added gums)
1/2 cup almond meal (ground almonds)

For a nut-free version, use old fashioned rolled oats instead

1/2 cup packed light brown sugar
1/2 teaspoon ground cinnamon
6 tablespoons unsalted butter or coconut oil, chilled and cubed
For Serving:
Pure maple syrup, low-FODMAP fruit, or your preferred toppings!
Directions
Grease your 9 x 13-inch casserole dish with spray, shortening or butter
Cut or tear your choice of low-FODMAP bread into 1-inch cubes and place the cubed bread into the prepared pan.  Set aside
In a large bowl, whisk the eggs until well beaten by hand or using a mixer, then add brown sugar and combine well.  Mix in the low-FODMAP milk, then the melted butter followed by vanilla, maple extract, cinnamon, and salt.  Blend or whisk until well combined
Pour the egg mixture evenly over the bread in the casserole dish
Stir pieces slightly to coat the pieces in the liquid but do not overly mix together
Cover casserole with plastic wrap and refrigerate for 1 hour to overnight (up to 12 hours)

If using a soft GF bread, I suggest 1 hour to minimize sogginess of the bread (you can also opt to bake it right away)
I let it rest 4 hours with my bread selection
If using a gluten-containing sourdough, or my low-FODMAP Maple Egg Bread, you can leave this casserole overnight!

At that time, or prior to baking, prepare the low-FODMAP Streusel topping:

In a large bowl or plastic container, stir together the low-FODMAP flour, almond meal or oats, brown sugar, and cinnamon
Use a pastry blender, a fork, or your hands,  cut the butter or coconut oil into the dry ingredients until small clumps are formed
Cover your bowl and place the streusel in the fridge until you're ready to bake the low-FODMAP French Toast Casserole

When you're ready to bake, preheat the oven to 350F and place rack in center of oven
Remove plastic wrap from the casserole dish and evenly sprinkle the low-FODMAP streusel over top
Bake for 45-60 minutes or until the top of the casserole is golden brown and the french toast is firm to touch

Ovens vary, so yours may need more or less time

Serve warm with more butter and pure maple syrup, as well as low-FODMAP fruit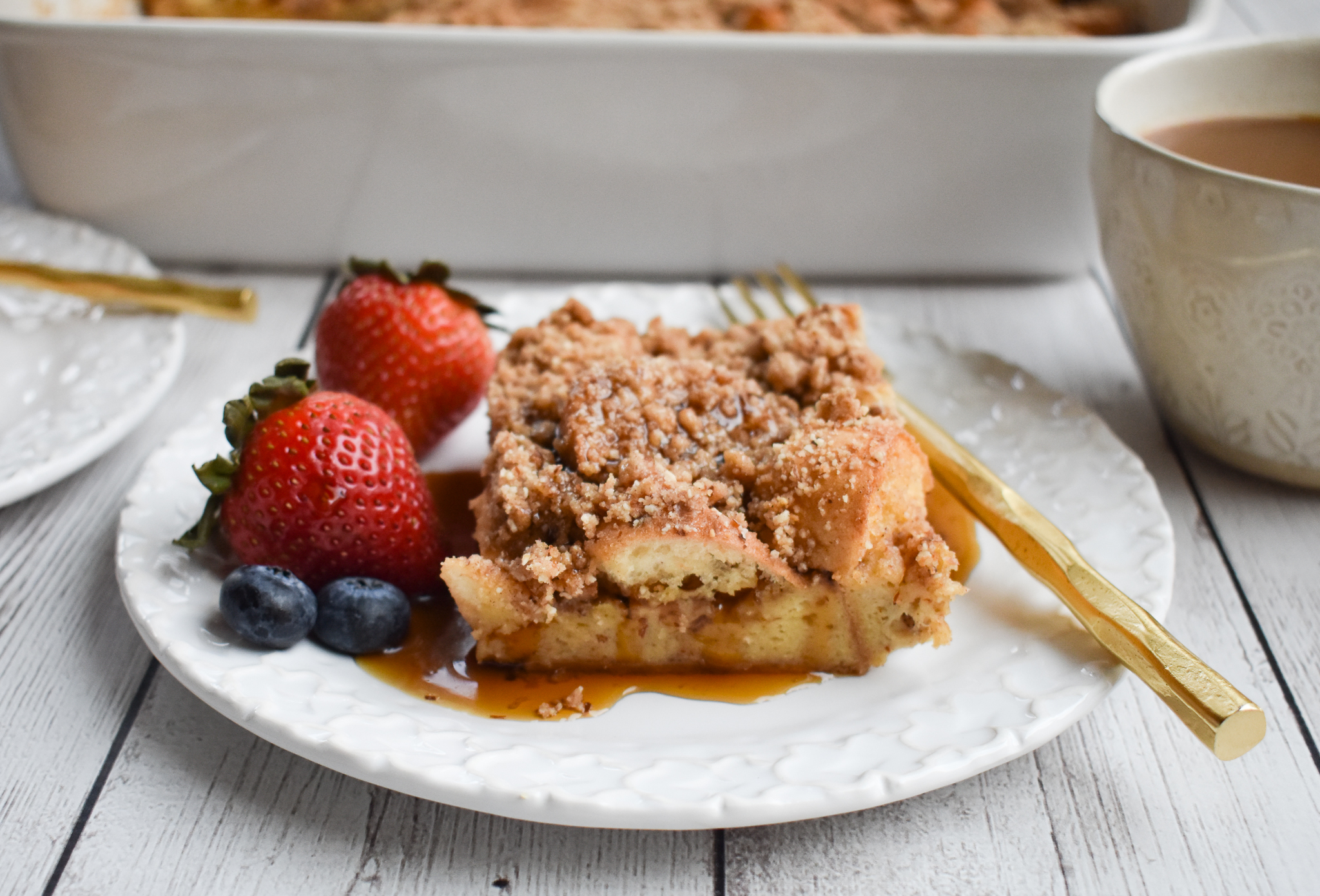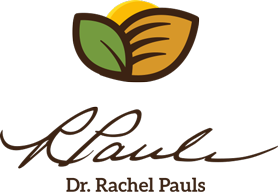 Printer Friendly Version
Comments Rating
( review)