The Best Low-FODMAP Key Lime Pie with Low-FODMAP Oat-Nut Crust; Gluten-free, Dairy-free
December 16, 2017
Printer Friendly Version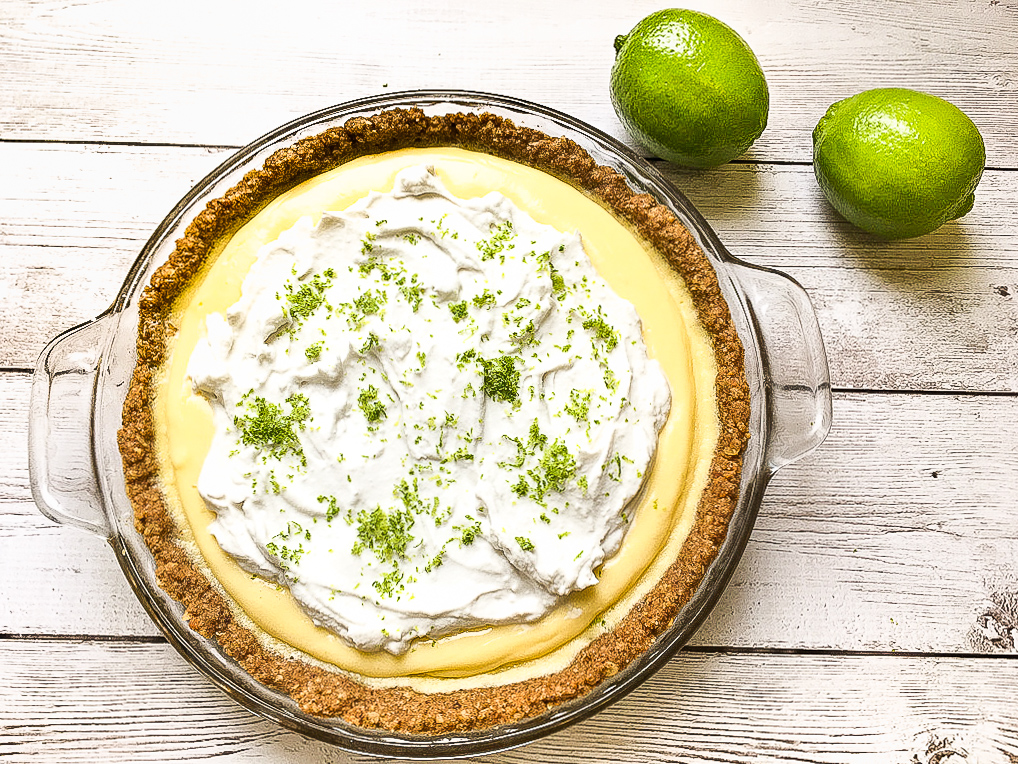 Oh my.  Low-FODMAP Key Lime Pie.  I may die.
So, true confession.  Key lime pie is my all-time favorite dessert.  I love sour/sweet combinations.
But I'm not settling for just any key lime pie.  For starters, it should not be too 'green', as a legit key-lime pie is a yellowish color. Important to be tart, but not too lime-y or gelatin-y.  The crust should be sturdy but soft, sweet and the right thickness to complement the pie perfectly.  I love nuts mixed into the crust (think pecans or toasted walnuts).  When the crust breaks up into a sweet crumble that mixes with the smooth lime custard I'm in heaven.  And a whipped cream topping to balance the sour.  My mouth is watering!
I was determined to replicate that combination into a low-FODMAP (key) lime pie.  I also was dedicated to making it dairy-free and gluten-free.
Full disclosure, it was not easy.  Usually I research my recipes and quickly masterpiece a low-FODMAP recipe rendition of my favorites.  This time, it was not the case!  I had problems with the crust being too sparse, then too oily.  The custard was too runny, or didn't taste right.   I almost gave up, and then it worked perfectly!!
Now you will also have certain success to make it too. So creamy, tangy, dreamy, crumbly, nutty, rich and low-FODMAP delightful.   I think this low-FODMAP recipe with the lime and lemon juices in combination tastes exactly like a low-FODMAP key lime pie.  But if you have access to key limes, feel free to substitute!
This low-FODMAP lime pie with low-FODMAP oat and nut crust is what low-FODMAP dessert should be.  Dare I say It's the best key lime pie recipe ever? At least, my tummy thinks so!  (For another variation try my low-FODMAP Pretzel Crust in your low-FODMAP Key Lime Pie).
You may also love my low-FODMAP Vanilla Pie and low-FODMAP Lemon Poppyseed Cake.  Or check out over 400 more low-FODMAP recipes on the blog.  All IBS-friendly!
Be healthy and happy,
Rachel Pauls, MD
---
The Best Low-FODMAP Key Lime Pie with Low-FODMAP Oat-Nut Crust; Gluten-free, Dairy-free
Although this recipe has not been tested, a single serving should be low-FODMAP based on the ingredients (Note regarding lemons and limes: available FODMAP testing has shown lime and lemon to be low-FODMAP with no maximum serving size.  Test this recipe for your personal tolerance)
Serves 10
Prep time: 15 min
Bake time: 40 min
Bake 350 F 
Ingredients
1 (13.5 oz.) can coconut cream; or cream from top of 2 cans of coconut milk

This is NOT 'cream of coconut'; you want unsweetened coconut cream or full fat coconut milk
See my low-FODMAP Grocery Shopping Blog for tips and my preferred brands!
Make sure to use ONLY the thick creamy layer and drain away the rest.  Chilling the can helps if your brand does not separate as well

4 large egg yolks
6 tablespoons fresh lime juice (about 2 medium limes)
3 tablespoons fresh lemon juice (about 1 small lemon)
2 teaspoons lime zest, divided (one for the filling and one for garnish)
1 cup confectioners sugar (titrate to taste)
1 teaspoon guar gum to thicken
9 inch unbaked pie crust- recommend low-FODMAP oat/nut pie crust; gluten-free, vegan or my traditional low-FODMAP pie crust
Directions
Preheat oven to 350 F and place rack in center of oven
Beat egg yolks in bowl of stand mixer until pale (about 2 minutes)
Add sugar and beat to combine on medium
Slowly add the lime and lemon juice spoonful by spoonful to temper egg yolks
Once all added, add the coconut cream and mix on medium until combined
Add the lime zest
Then sprinkle the guar gum slowly around the mixture and fold in well by hand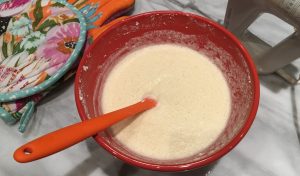 Place the prepared low-FODMAP pie crust on a rimmed baking sheet, pour the mixture into the crust, and carefully transfer the baking sheet to the oven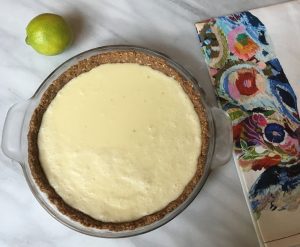 Bake until the center jiggles very slightly, like a soft-setting custard, about 40 minutes (since ovens vary, you may want to check the doneness about 5 minutes early)
Remove from the oven and cool for 1 hour on a cooling rack
The custard will be a deeper yellow color
Loosely cover the pan with plastic wrap (be careful not to let the plastic wrap touch the top of the pie) and refrigerate for at least 6 hours or overnight (be patient, it truly needs a lot of time to set)
Top with low-FODMAP coconut whipped cream and garnish with lime zest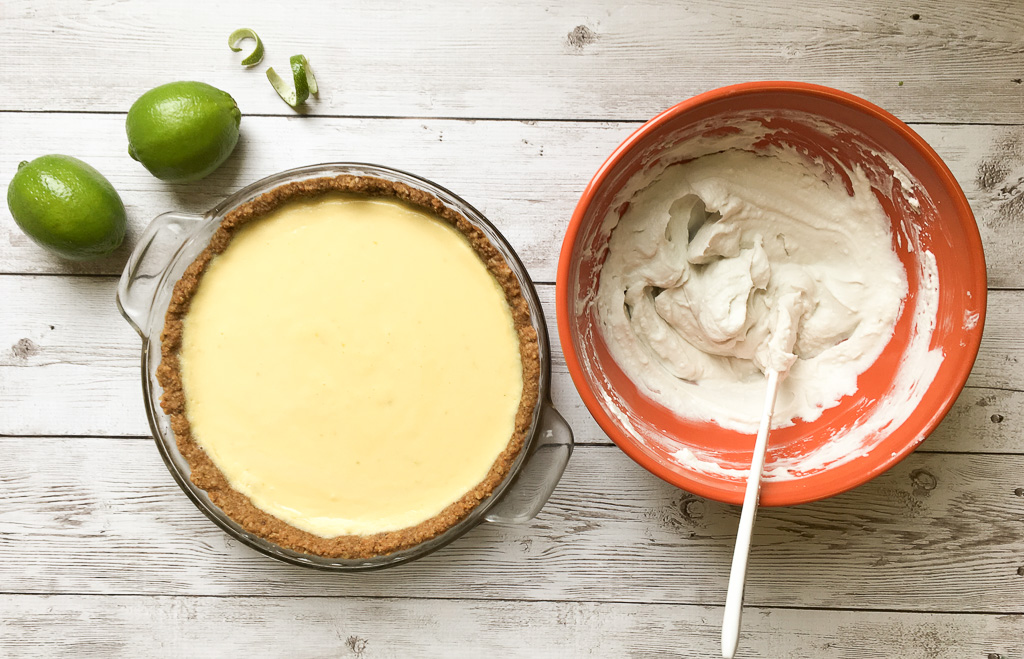 Can also skip the whipped cream as the low-FODMAP Lime Pie is creamy and rich on its own…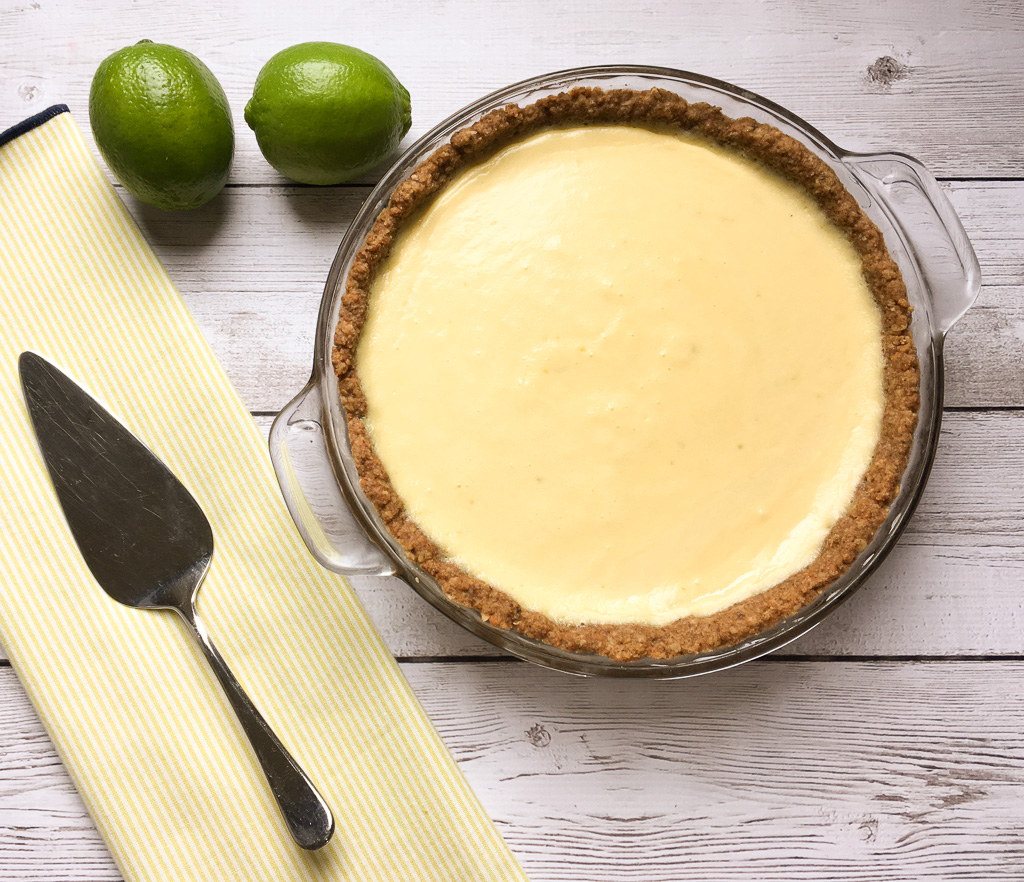 Tart, sweet and so delicious.  You won't be able to resist this low-FODMAP Key Lime Pie recipe!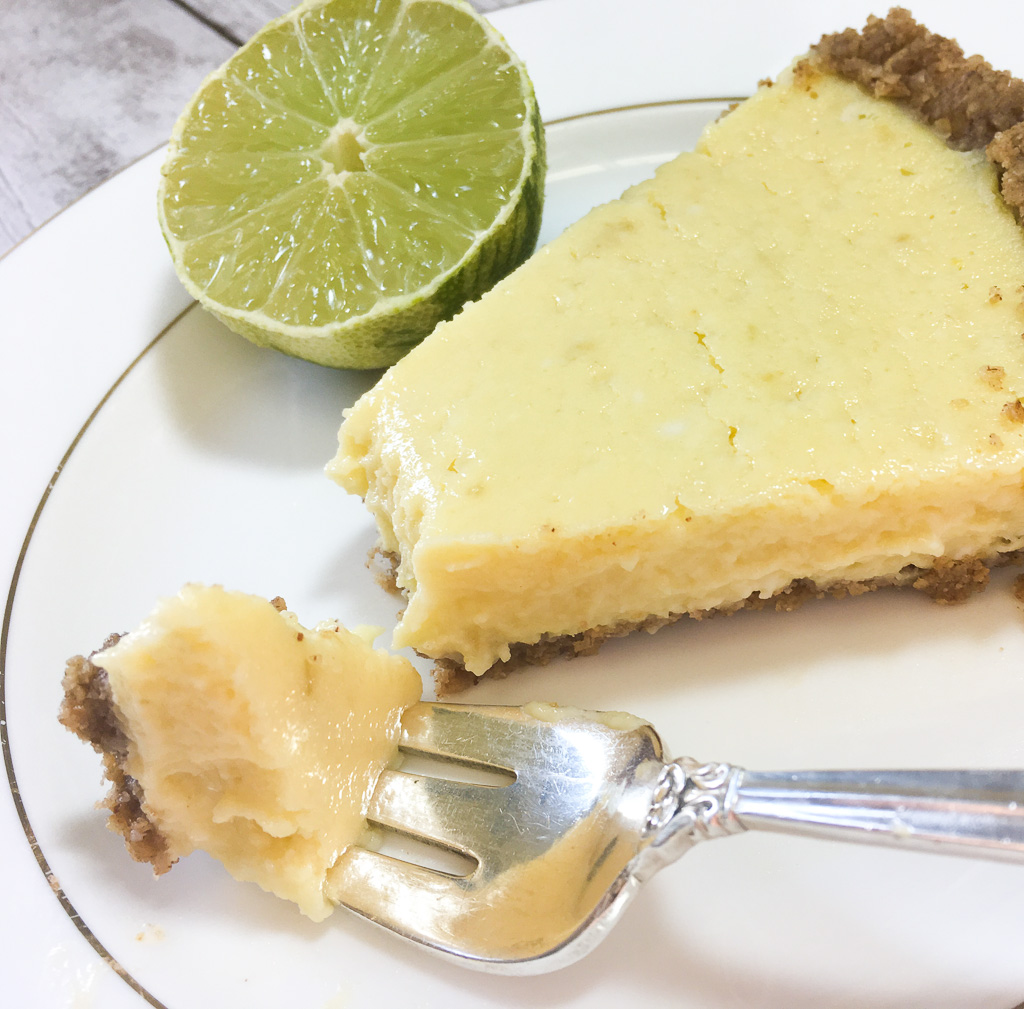 Printer Friendly Version
Comments Rating
( review)