Low-FODMAP 30-Minute Lemon Butter Chicken with Pasta; Gluten-free
April 21, 2020
Printer Friendly Version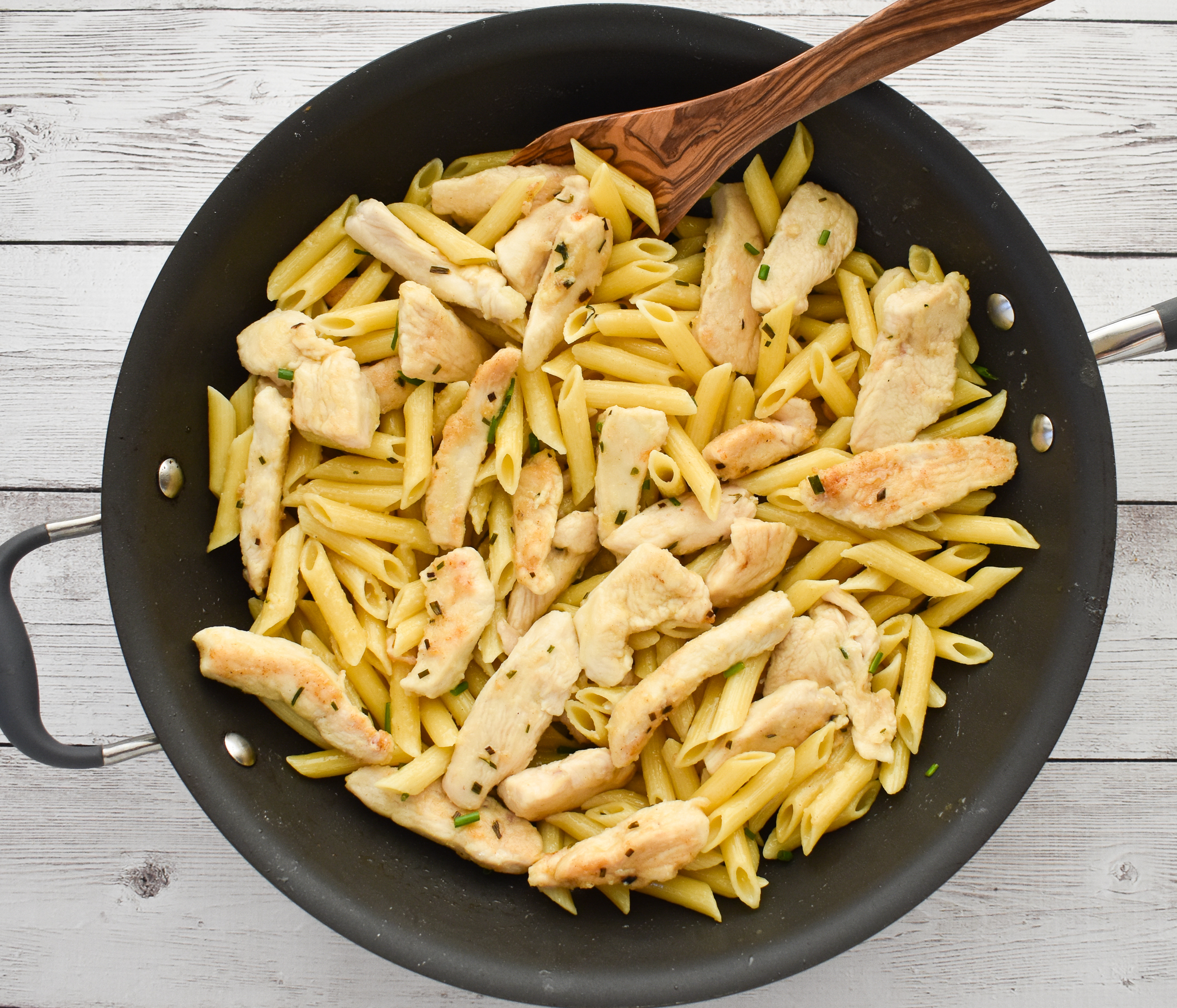 Chicken breasts in a lemony, butter sauce over pasta.  Who doesn't want to enjoy that for dinner tonight?
You DEFINITELY will, especially when you see how simple and quick this low-FODMAP recipe is.  Ready in about 30 minutes!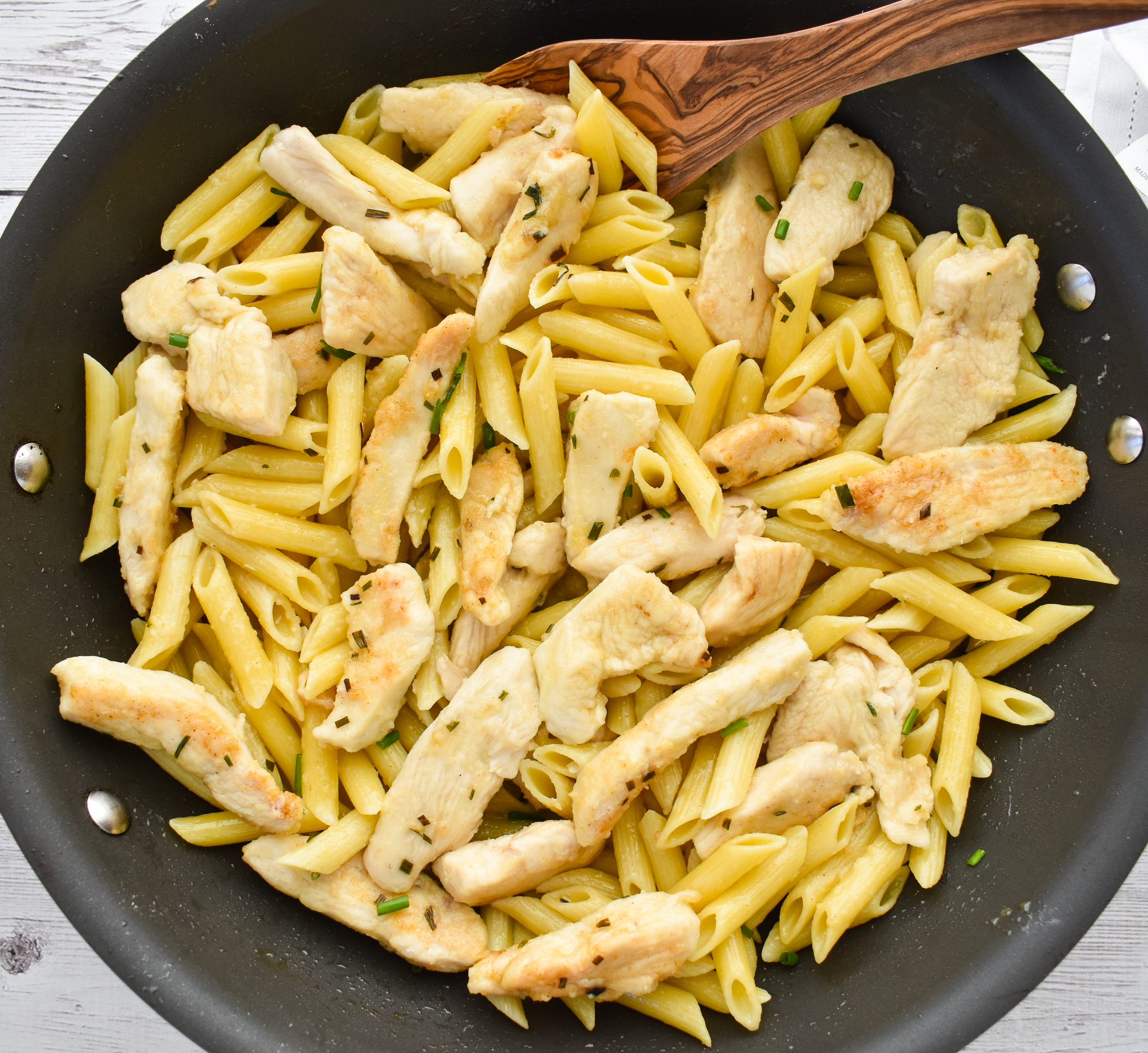 This low-FODMAP Lemon Butter Chicken is moist and flavorful, and easily modified for additional herbs, or a different noodle selection; I love low-FODMAP, gluten-free penne, rotini, farfalle and egg noodles or linguini.  We have so many choices now!  My low-FODMAP Grocery Shopping Blog has some of my preferred brands.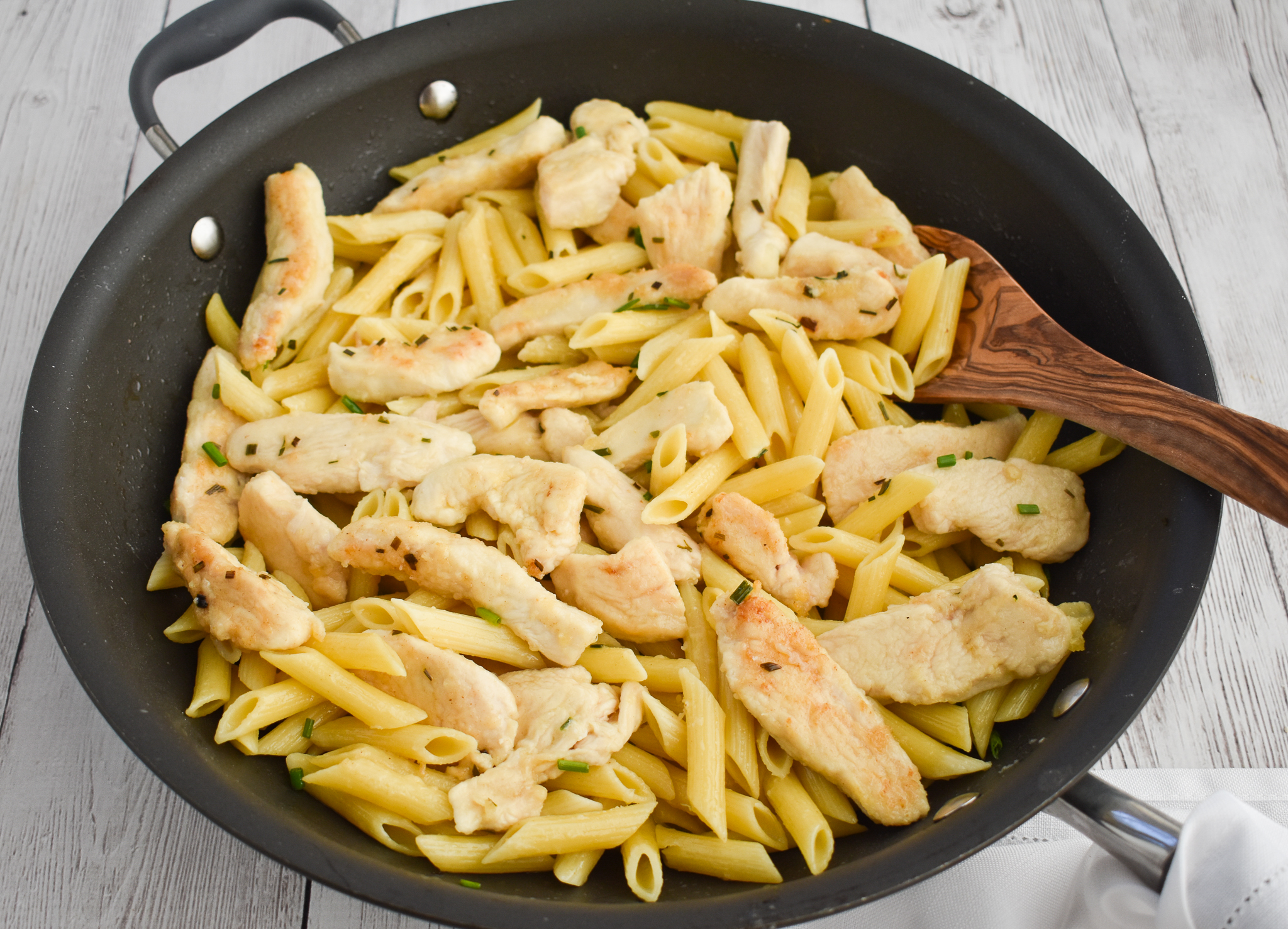 You may also love:
And my low-FODMAP Best Chicken Recipes Collection.  Or over 350 more low-FODMAP recipes right here on the blog!  IBS-friendly.
Be healthy and happy,
Rachel Pauls, MD
---
Low-FODMAP Lemon Butter Chicken over Pasta; Gluten-free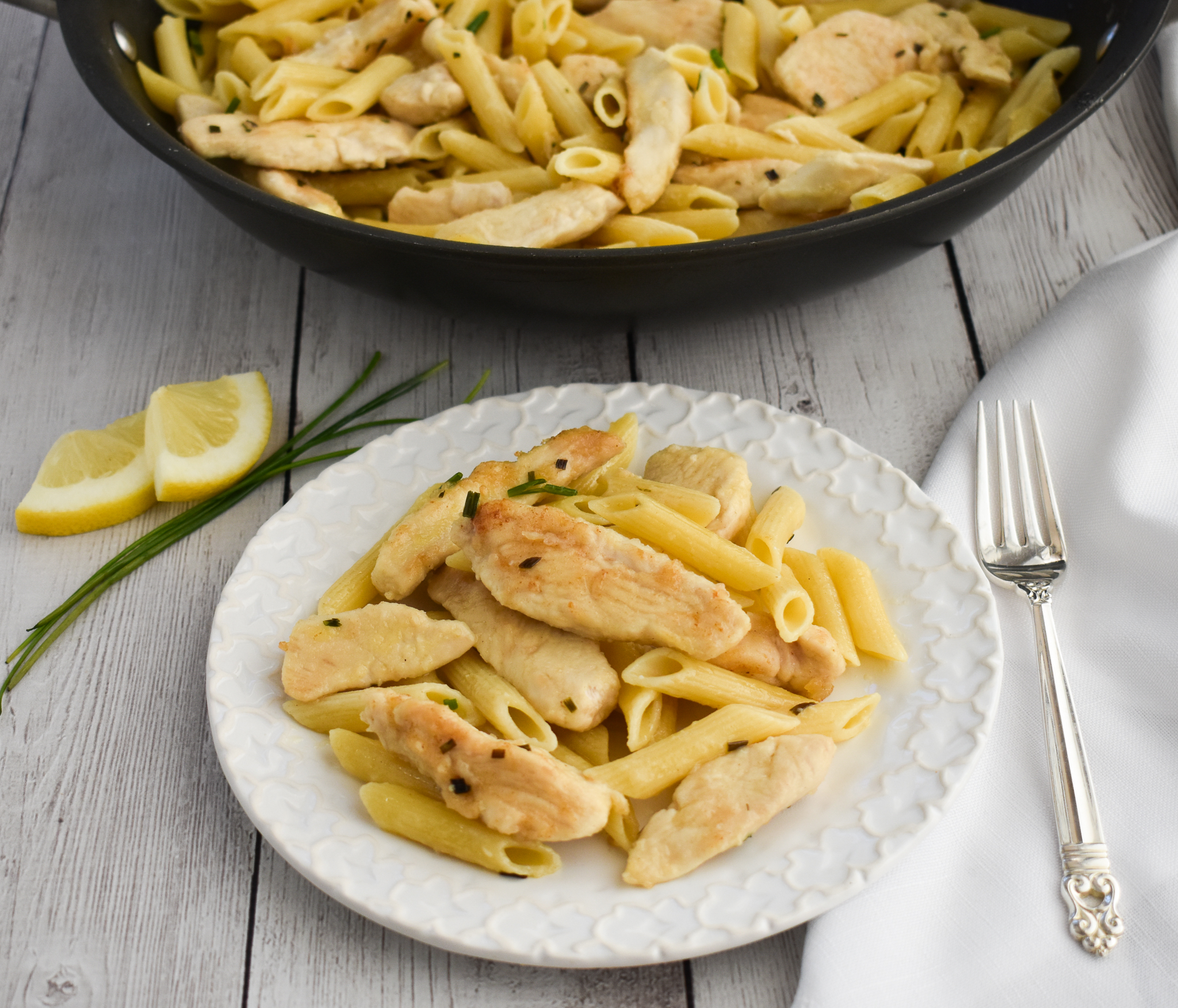 Although this recipe has not been tested, a single serving should be low-FODMAP based on the ingredients
Serves 4
Prep time: 5 min
Cook Time: 25 min
Total time: 30 min
Ingredients
Four 4 ounce  uncooked boneless skinless chicken breasts (16 ounces chicken breast)

Can also use pre-cut chicken breast strips or tenderloins, if they have no added onion or garlic seasoning

1/3 cup low-FODMAP, gluten-free all-purpose flour
4 tablespoons butter; divided
2 tbsp chopped chives or green scallion tips
1 tablespoon shallot or onion infused oil

Check out my low-FODMAP recipe swap blog for places to buy infused oils
Infused oils provide all the flavor of your favorite herbs without any of the FODMAPS!

1 cup low-FODMAP chicken broth/stock
3 tablespoons fresh lemon juice (about 1 medium lemon)

Do not substitute lemon concentrates, the flavor is not the same and these products are not confirmed as low-FODMAP

8 ounces low-FODMAP, gluten-free Penne or Farfalle Pasta
Salt and pepper to taste
Parmesan cheese, fresh chives, parsley or rosemary for garnish (optional)
Directions
Slice raw chicken crosswise into narrow strips; the thinner your chicken, the faster it will cook

Using a mallet to pound the chicken into uniform thickness can also be helpful

Place low-FODMAP flour in a shallow dish or plate and dredge chicken pieces in it to coat
Heat a large pan over low heat and add the 2 tablespoons butter

I used a large nonstick skillet
You do not want the butter to burn

When butter is melted, add the chives, and allow them to infuse the butter for 1-2 minutes
Next, increase heat as necessary to medium or medium low (depending on your stovetop), and add the chicken strips to brown on both sides, until cooked through (about 3-5 minutes)

You may need to do this in 1-2 batches

While cooking chicken, in a separate saucepan, boil water and cook pasta until al-dente style (slightly firm)

This should take about 7- 10 minutes depending on your choice of noodle shape
When done, drain pasta, then toss with infused oil and set aside for later

Once chicken is cooked, place in covered dish to keep warm
Add low-FODMAP chicken broth to the pan and allow to simmer over medium-high heat
Add lemon juice, and boil until mixture is reduced to about 1/3 cup (about 4 to 5 minutes)
Remove from heat and add remaining 2 tablespoons butter
Return chicken to pan and heat through
Taste sauce, and add salt and pepper as desired

Depending on your chicken broth, it may need more or less salt

Put the low-FODMAP, gluten-free prepared pasta in the pan and stir with the chicken to coat the pasta with sauce
Garnish with fresh chives, parsley, parmesan cheese or other fresh herbs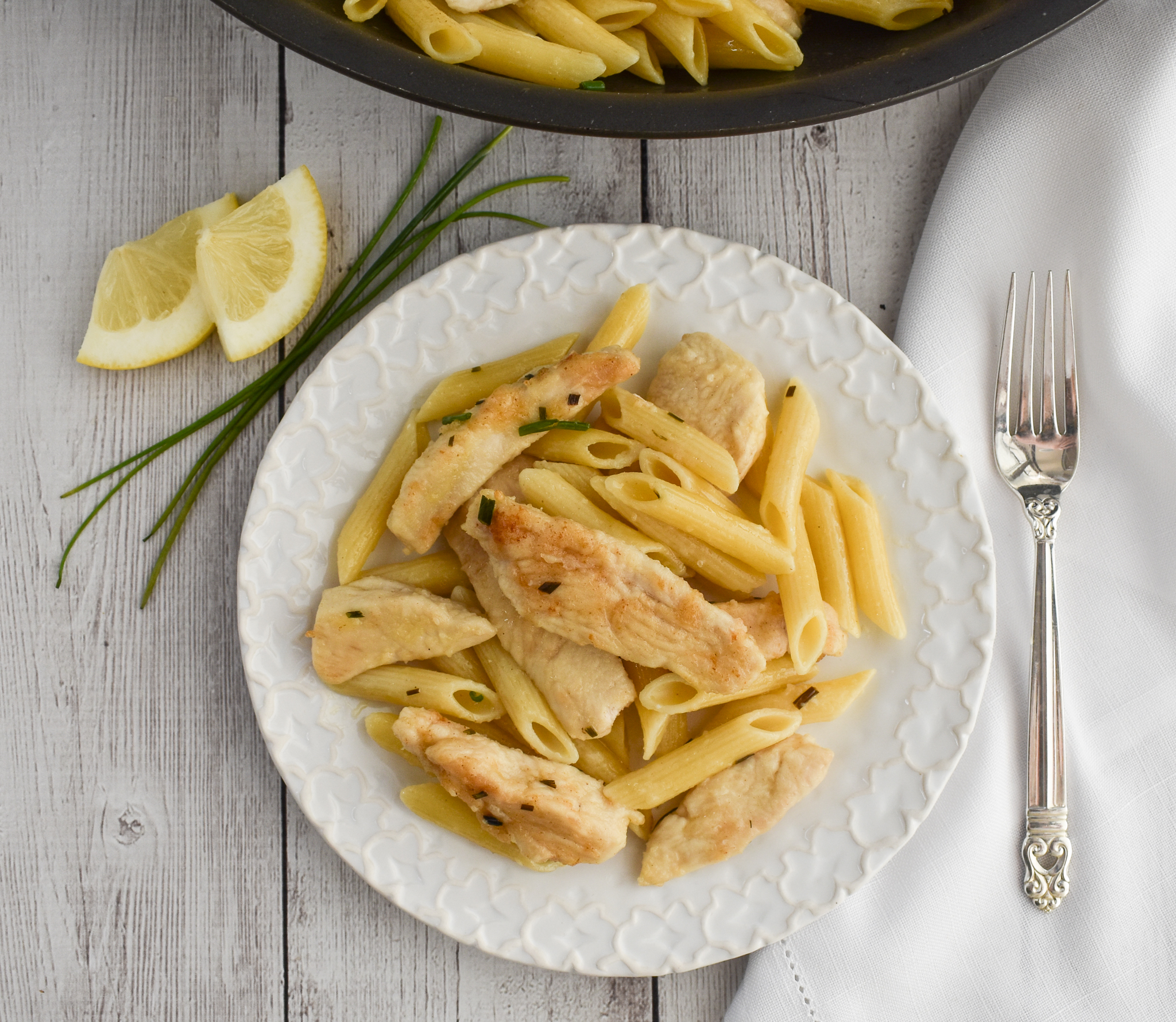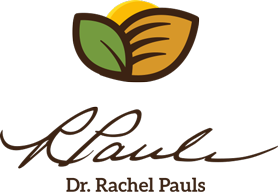 Printer Friendly Version
Comments Rating
( reviews)