Low-FODMAP Lemon Blueberry Buttermilk Bundt Cake with Low-FODMAP Lemon Cream Cheese Frosting
January 26, 2020
Printer Friendly Version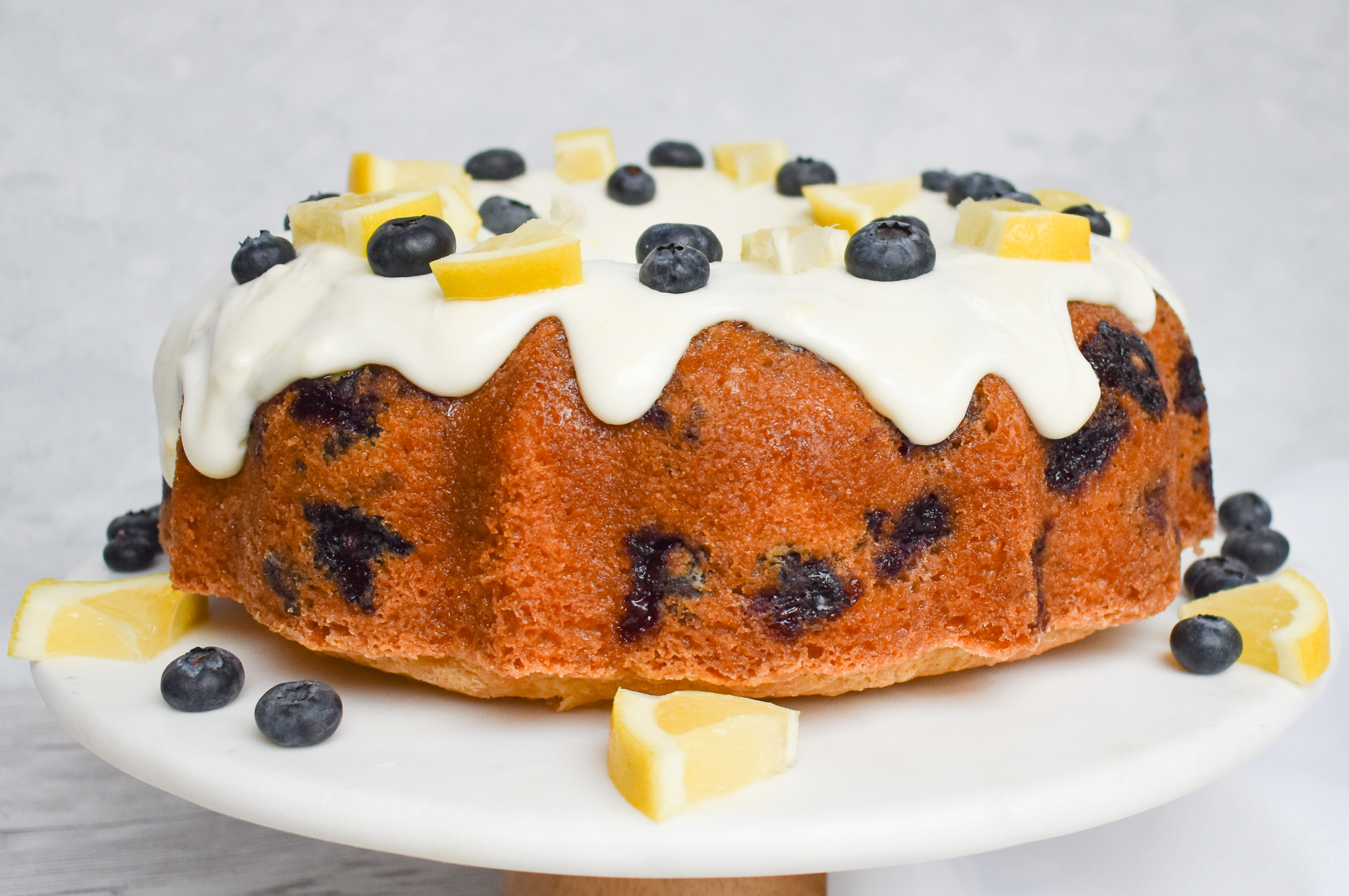 Brace yourselves FODMAPPERS.  This low-FODMAP Lemon Blueberry Buttermilk Bundt Cake BLEW ME AWAY.
It is so beautiful, so moist and so flavorful, I couldn't stop smiling when I was eating it.  This may now be my most favorite low-FODMAP cake ever.  And I have a lot of recipes (check out my low-FODMAP Best Cakes Collection to see the others!).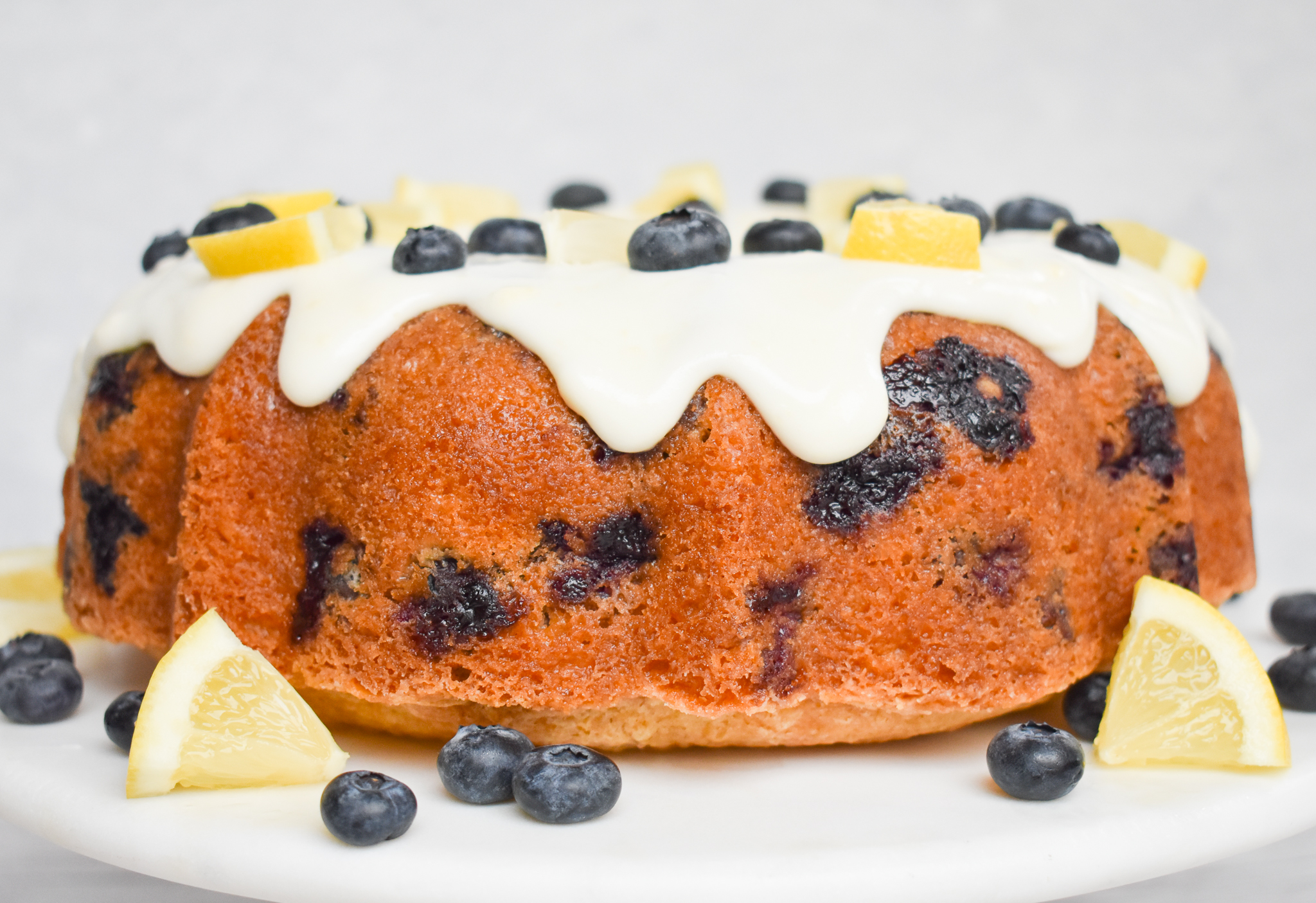 Lemons and blueberry are the perfect combination, and my homemade 'buttermilk' in the batter makes the cake soft and delicious.  Plus, who can resist a Bundt Cake? I sure can't!
This low-FODMAP Lemon Blueberry Bundt Cake is wonderful any time of the year.  It is sheer delight.
I selected to top my low-FODMAP Lemon Blueberry Bundt with a low-FODMAP Lemon Cream Cheese Frosting, but you can also opt for my low-FODMAP Lemon glaze or low-FODMAP Vanilla Buttercream (both dairy-free).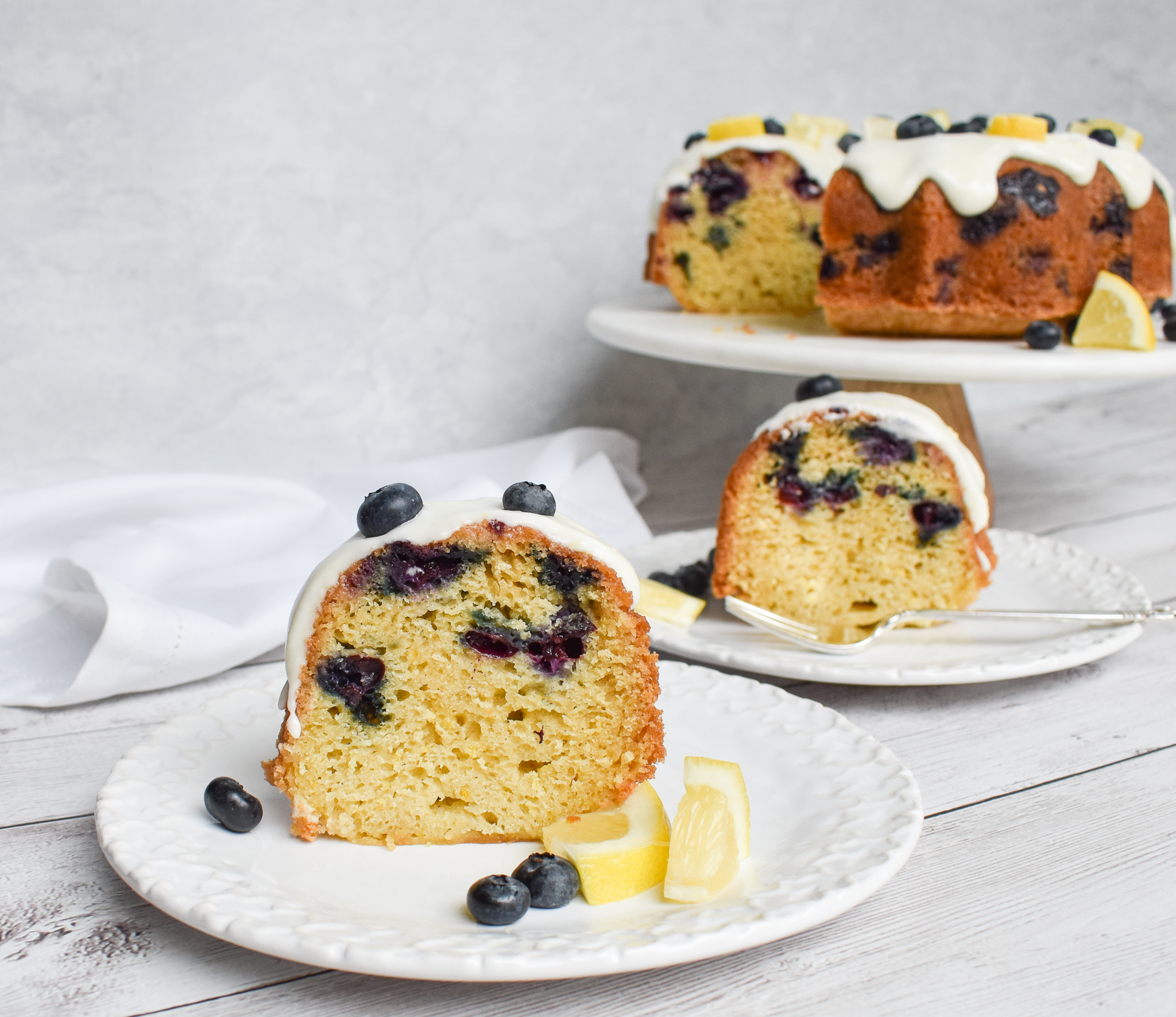 The low-FODMAP lemon syrup that you drizzle over the cake makes it super lemony and incredibly moist (I borrowed that trick from Ina Garten aka 'The Barefoot Contessa").  And, the Bundt style pan enables the cake to cook slowly and evenly, resulting in a light, fresh texture.
You won't believe this low-FODMAP Lemon Blueberry Bundt Cake is low-FODMAP and gluten-free.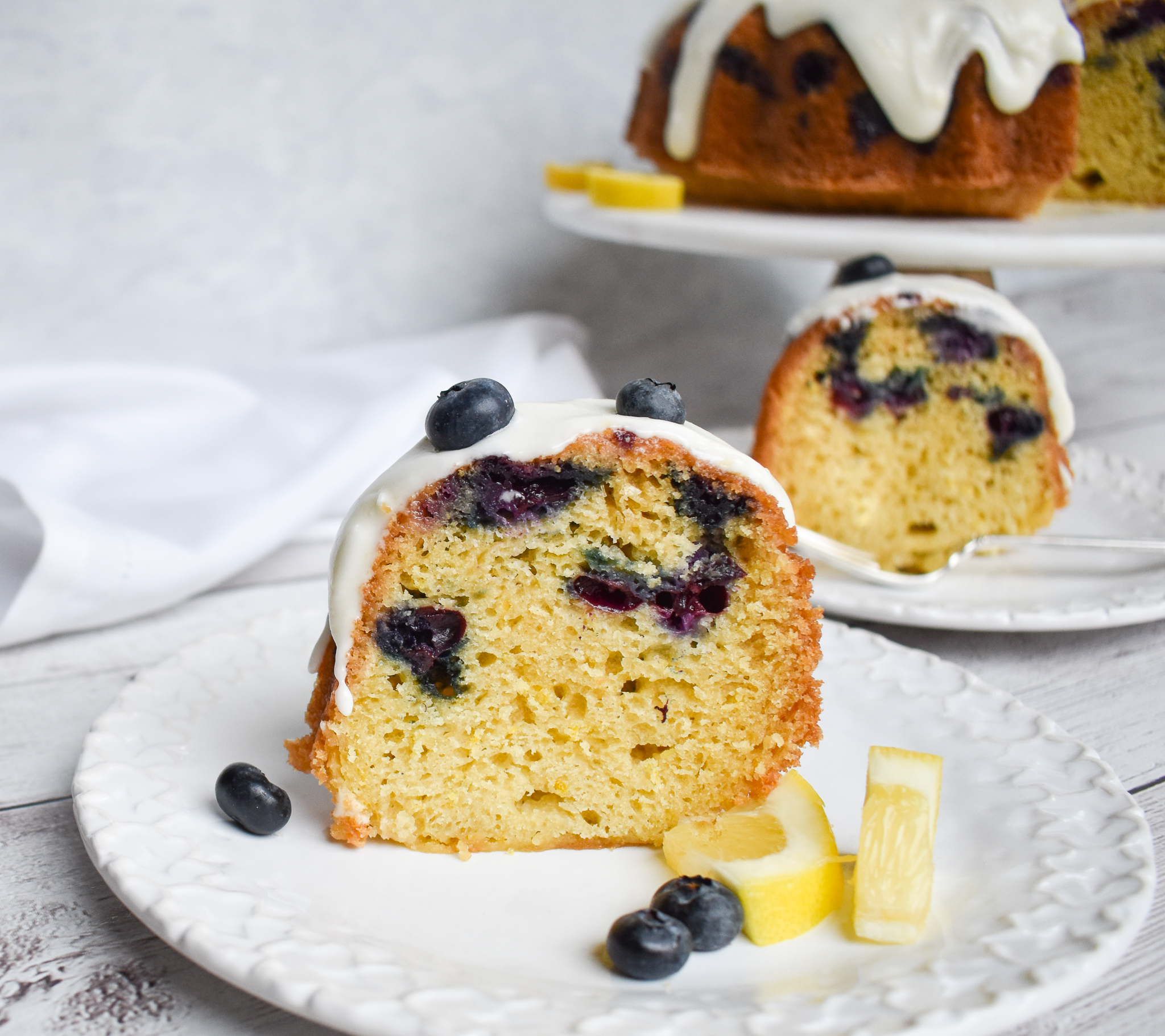 You may also love:
Or check out over 300 more low-FODMAP recipes on the blog.  IBS-friendly!
Be healthy and happy,
Rachel Pauls, MD
---
Low-FODMAP Lemon Blueberry Buttermilk Bundt Cake with Low-FODMAP Lemon Cream Cheese Frosting; Gluten-free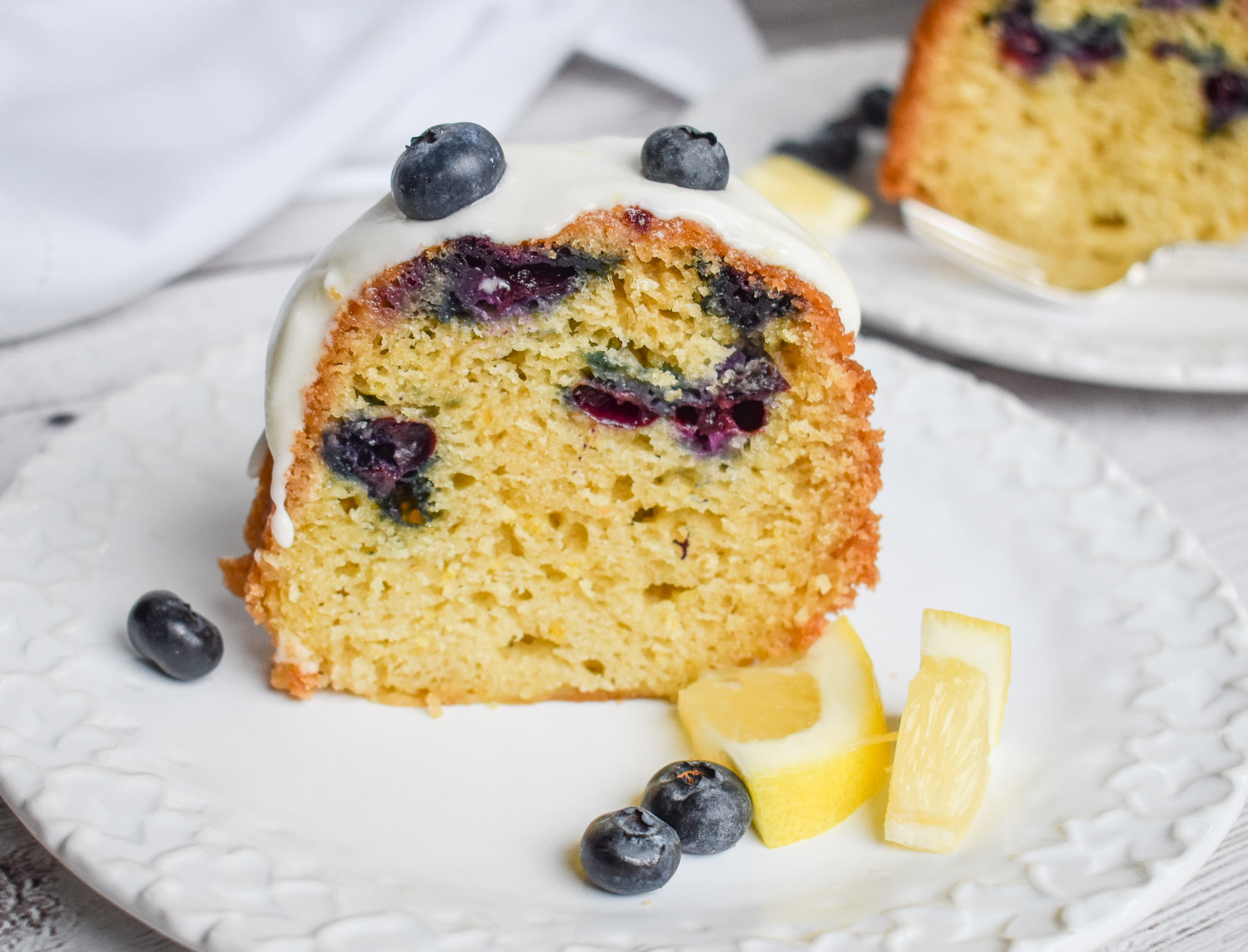 Although this recipe has not been tested, a single serving should be low-FODMAP based on the ingredients
Servings: 16
Prep Time 30 minutes
Bake time 50-55 minutes
Total time 90 min
Bake: 350 F
Equipment: 12 cup Bundt style pan
Ingredients
For the low-FODMAP Cake and Lemon syrup
2 & 1/2 cups low-FODMAP, gluten free all-purpose flour, plus more for dusting pan
1 tsp xanthan gum, if not added to your flour choice
1 tbsp baking powder
1 tsp baking soda
1/2 tsp salt
2 & 1/4 cups granulated sugar (divided into ½ cup and 1 & ¾ cup)
2 tbsp fresh lemon zest
½ cup plus 2 tbsp (30ml) fresh lemon juice (about 2 medium lemons); divided into 2 tbsp and 1/2 cup

You will need about 3-4 lemons for this whole recipe, including frosting below

3/4 cup plus 2 tbsp canola oil
4 large eggs, at room temperature
1 tsp lemon extract
1 tsp vanilla extract
1 cup low-FODMAP milk (such as almond milk for dairy-free or lactose free milk) mixed with 1 tsp white vinegar or lemon juice (creates low-FODMAP 'buttermilk') at room temperature
2 cups (320 g) fresh blueberries, rinsed and drained

If you opt for frozen blueberries, rinse well in cold water until runs clear so they don't bleed and dry on a towel before use
¼ cup (40 g) is one low-FODMAP serving

Fresh blueberries, lemon slices and low-FODMAP lemon sugar for garnish (optional)
Vegetable shortening or low-FODMAP Magical Cake Pan Release for greasing pan
For Low-FODMAP Lemon Cream Cheese Frosting
This makes about 1 & 1/2 cups of frosting, which is perfect for this cake, but if you want to make it for a larger recipe then you should double or triple it. Or try my low-FODMAP Fluffy Cream Cheese Frosting recipe instead!
2/3 cup lactose-free cream cheese, softened
1 tbsp unsalted butter, softened (can also substitute vegan spread)
2 cups powdered confectioner's sugar
1 & 1/2 – 2 Tbsp (30ml) fresh lemon juice (about 1/2 lemon)
Directions
For low-FODMAP Lemon Blueberry Bundt Cake:
Preheat oven to 350 degrees. Position rack in center of oven
Grease your 12 cup Bundt pan well and evenly dust with low-FODMAP flour and shake out excess, set aside (or use my low-FODMAP Magical Cake Pan Release Paste to coat)
In a mixing bowl whisk together low-FODMAP flour, xanthan gum, baking powder, baking soda and salt for 20 seconds, set aside
Toss blueberries with 1 tbsp of the flour mixture and set aside

This helps the blueberries sink less in the batter (they will still sink slightly,  that is OK)

In the bowl of an electric stand mixer set with the flat paddle attachment, mix together eggs until light yellow
Add 1 & ¾ cup sugar a little at a time until it appears pale yellow and thick
Add flour mixture, oil, low-FODMAP 'buttermilk', 2 tbsp lemon juice, 2 tbsp lemon zest, lemon extract and vanilla extract and mix at low speed until just combined.  Do not overmix
Add blueberries and fold mixture with a spatula to evenly distribute blueberries
Scoop and pour mixture into prepared Bundt pan, spread evenly
Bake in preheated oven about 50 – 55 minutes, or until a skewer inserted into center comes out clean
In the last 5 minutes prepare low-FODMAP Lemon Syrup

Place the remaining 1/2 cup of granulated sugar and the remaining 1/2 cup of lemon juice in a small saucepan and cook over high heat until the sugar dissolves. Set aside

When cake is baked fully, remove from oven, and cool in pan about 8 minutes
Next, gently run a knife around the edges to ensure cake is loosened and invert cake onto a wire rack over a baking sheet

If you have trouble, check out this useful video on getting your cake out of the pan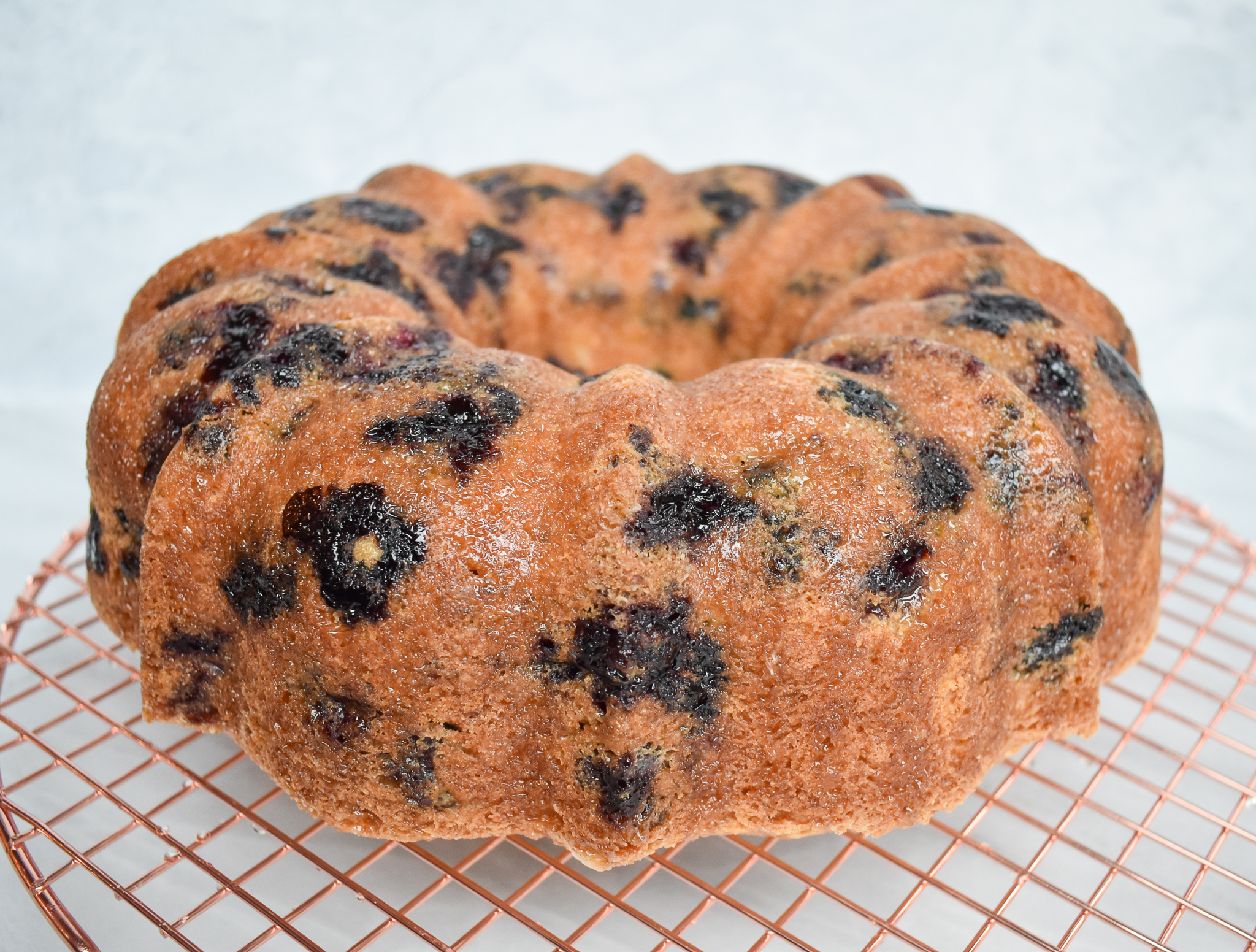 Spoon the warm lemon syrup slowly over the cake, allowing it to be absorbed into the cake (the baking sheet will catch the drips for easier clean up)
Let cool completely (at least 30 minutes)
While cake is fully cooling, you can prepare the lemon cream cheese glaze
For low-FODMAP Lemon Cream Cheese Frosting:
In a mixing bowl using an electric hand mixer (or stand mixer), mix lactose-free cream cheese and butter or vegan spread until smooth
Add in powdered sugar slowly, followed by lemon juice a teaspoon at a time until light and fluffy and desired consistency is reached
Once low-FODMAP Lemon Blueberry Buttermilk Bundt Cake is cool, spread or pipe lemon cream cheese glaze over cake and decorate with blueberries, lemon zest and low-FODMAP Lemon sugar
This may be the moistest low-FODMAP cake I have ever had!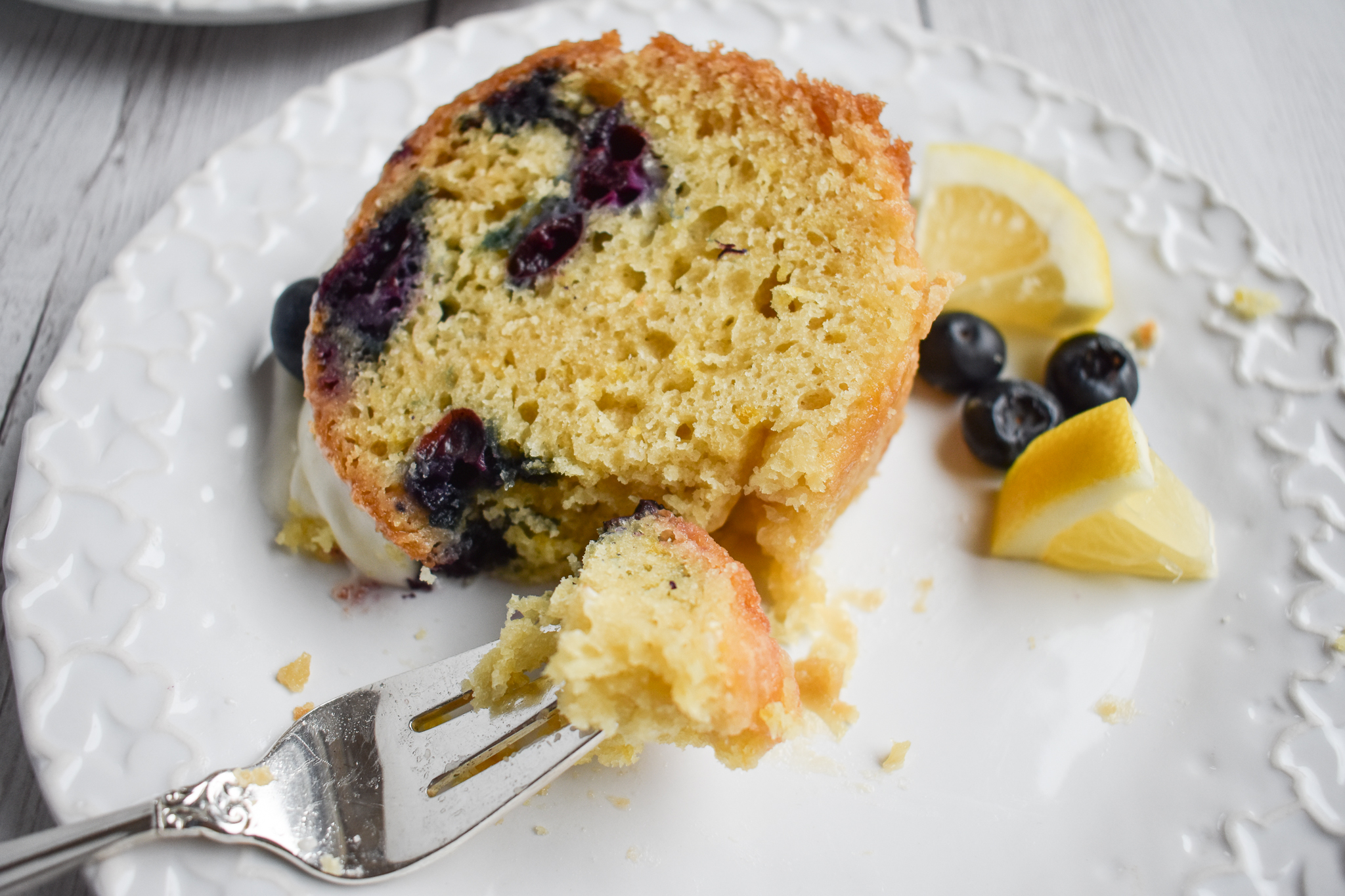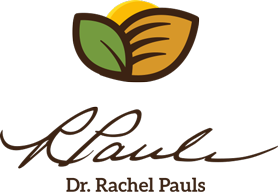 Printer Friendly Version
Comments Rating
( reviews)