Low-FODMAP Homemade 'Twix' Cookie Bars; Gluten-free
February 3, 2023
Printer Friendly Version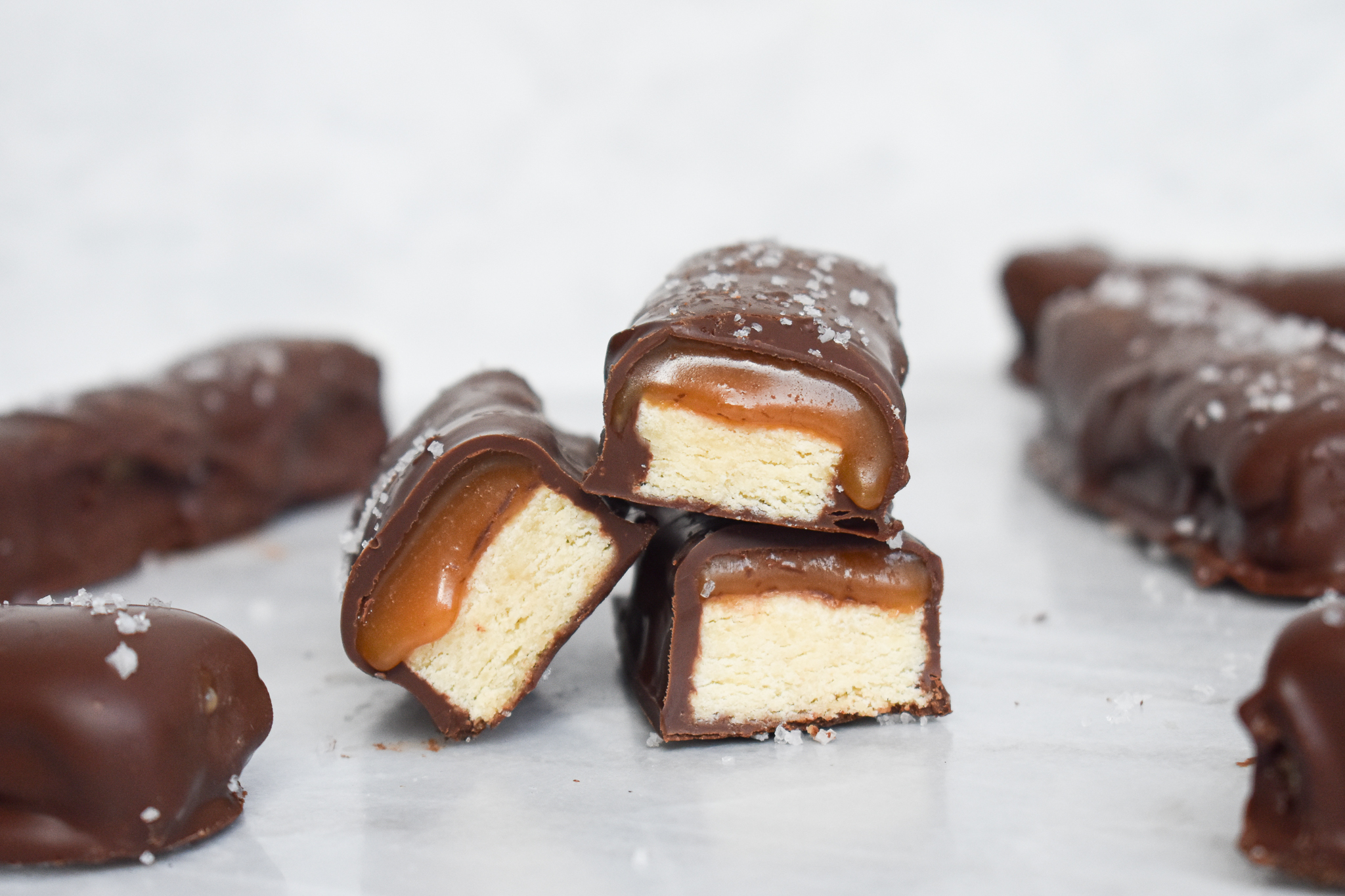 Twix Bars.  Low FODMAP.  Homemade.  Gluten-free. These words just make me smile.
Imagine sweet caramel, rich chocolate, and a crunchy cookie.  The candy you love in the golden wrappers.  But BETTER.  No additives.  Simple ingredients.  Dark chocolate makes such an improvement!
I will admit, I was a bit intimidated to try this recipe.  I have made caramel before, but I can't say I am overly confident at my abilities.
But, I figured, how hard can it be?  I have made toffee for my low-FODMAP Salted Caramel Toffee Bark, and caramel for my low-FODMAP Salted Caramel Peanut Candy Bars.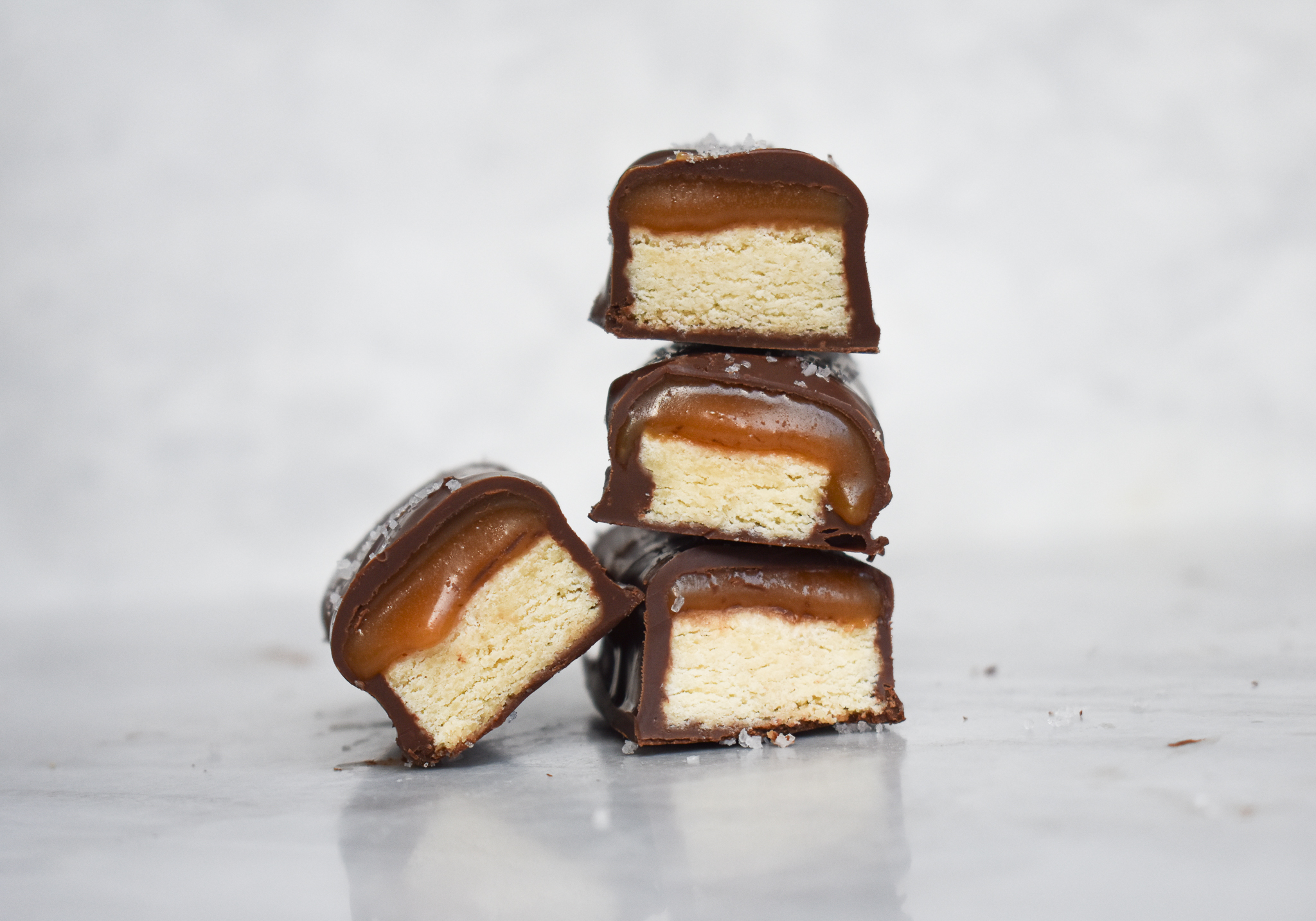 See for yourself, you can do it too!  Just watch your sugar to ensure it doesn't burn and you will be letting these babies melt in your mouth before you know it 🙂
You may also love my:
Or check out over 475 more low-FODMAP recipes on the blog!  IBS-friendly.
Be healthy and happy,
Rachel Pauls, MD
P.S. You should see my COOKBOOK for over 100 low-FODMAP recipes, low-FODMAP Meal Plan, FODMAP Tips and everything you need!!  It's the BEST!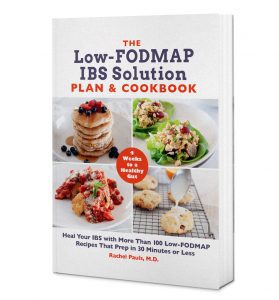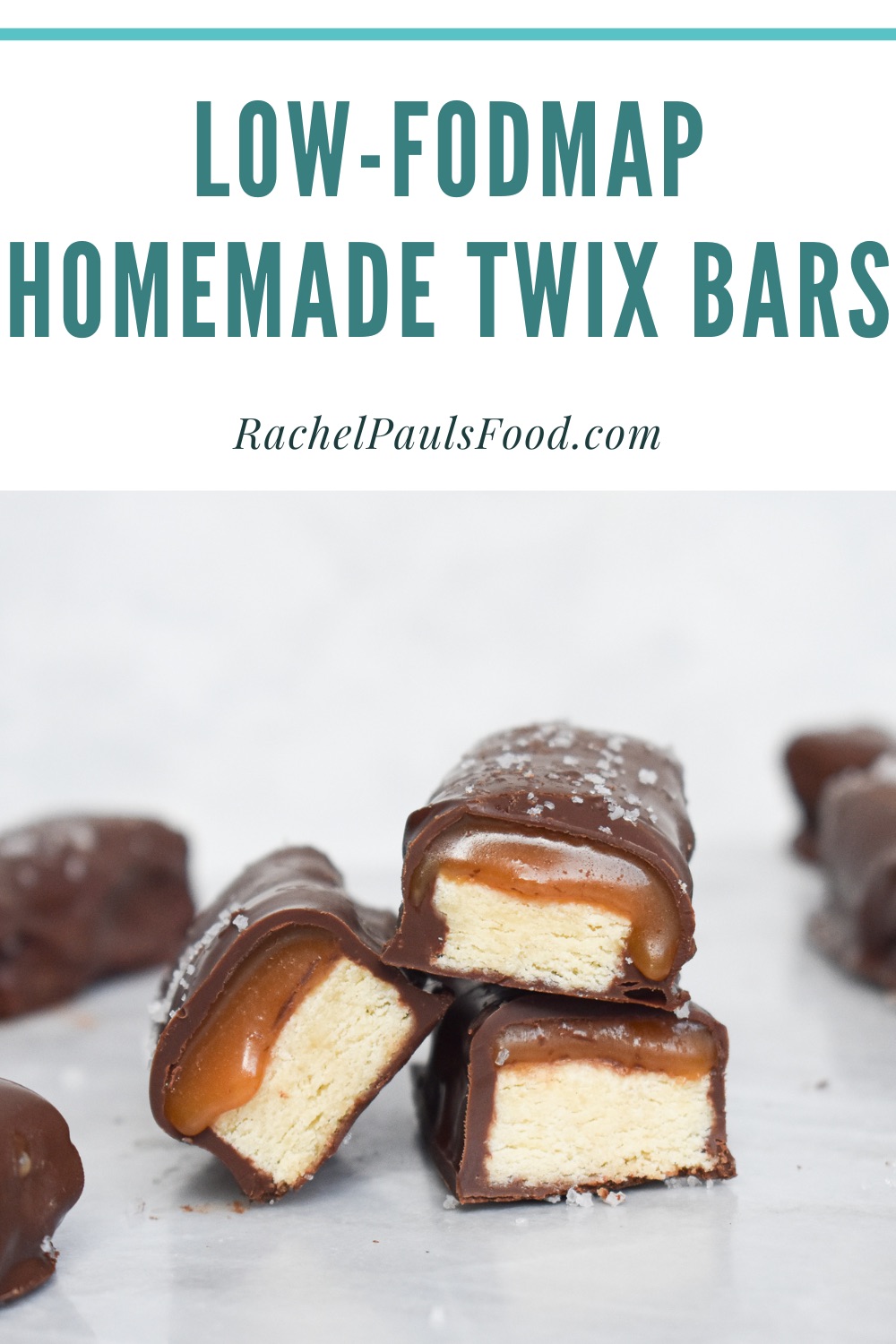 Although this recipe has not been lab tested, a single serving should be low-FODMAP based on the ingredients *using available FODMAP data at time of testing
Yield: 16 bars, 1/2-1 per serving
Prep time: 40 min
Bake time: 20 min
Chill time: 3 hours or longer
Total time: 1H plus chilling 3H or longer
Bake: 350F
Equipment: Food processor, 8X8 square baking pan, saucepan
For the shortbread cookie bottom layer:
1/2 cup unsalted butter, room temperature
1/2 cup granulated sugar
1 large egg yolk, room temperature
1 & 1/4 cups low-FODMAP, GF all-purpose flour (I used Authentic Foods GF Classical Blend- my favorite GF flour for baking!)
1 teaspoon xanthan gum, if not added to your GF flour choice
1/4 teaspoon salt
For the soft caramel layer:
1 cup granulated sugar
6 tablespoons unsalted butter, room temperature
6 tablespoons heavy whipping cream (close to room temperature is best)

1/4 cup is one low-FODMAP serving

1/2 teaspoon salt
1 teaspoon vanilla extract
For the chocolate coating:
12.5 ounces (354g) semi-sweet chocolate, chopped or use good quality chocolate chips

30g is one low-FODMAP serving

1 tablespoon coconut oil
Additional sea salt, for sprinkling (highly recommend!)
Directions
Preheat the oven to 350°F and line an 8 x 8 inch pan with parchment, with a 1 inch overhang to remove bars from pan easily once baked.  Place rack in the center of your oven
In a food processor with your steel blade, pulse your butter and sugar together
Add your egg yolk, then your LF flour, xanthan gum and salt and pulse until smooth and forming a ball. Scrape sides as necessary
Press your dough into your prepared pan and place in oven for about 20 minutes until golden

Try to make this layer as level as possible since that will allow the caramel layer to distribute at an even thickness

Remove to a wire rack and allow to cool while you prepare the middle caramel layer
In a heavy saucepan, heat the sugar on medium low heat until its completely melted. You want to stir frequently to ensure even heating.  Be patient, and watch closely so it doesn't burn.  This may take up to 15 minutes depending on the heat of your stovetop

I found this blog really helpful to show the process

Once melted, remove from heat and immediately stir in the butter. The mixture will bubble, that is normal
Slowly add the heavy cream, salt, and vanilla and stir well.  It may be difficult to stir in, take your time
Taste the caramel, and add salt if desired then allow mixture to cool for 3-5 minutes, but not harden
Once the caramel has cooled slightly, gently pour it over the baked bottom layer, spreading it with an offset spatula and tilting the pan to distribute it evenly
Cover the pan and place in the refrigerator to chill for about 3 hours or overnight
Once the bars are set, gently remove them from the pan using your parchment handles and place on a cutting board
Cut the bars into 16-32 rectangles, or other desired shapes
Place in the freezer to firm well for dipping in the chocolate and set up a baking sheet with parchment paper for your dipped bars
Place your chocolate in a double boiler with the coconut oil, or melt in the microwave in 20-30 second bursts, stirring between
Once smooth, gently dip each one into the chocolate carefully, then lay on the baking sheet.  You can turn the bars with a fork to coat all sides
Sprinkle with sea salt, if desired
Place in the fridge to set, then enjoy.  Store leftovers in the refrigerator in a sealed container
Breaking them apart to eat is so satisfying! YUM.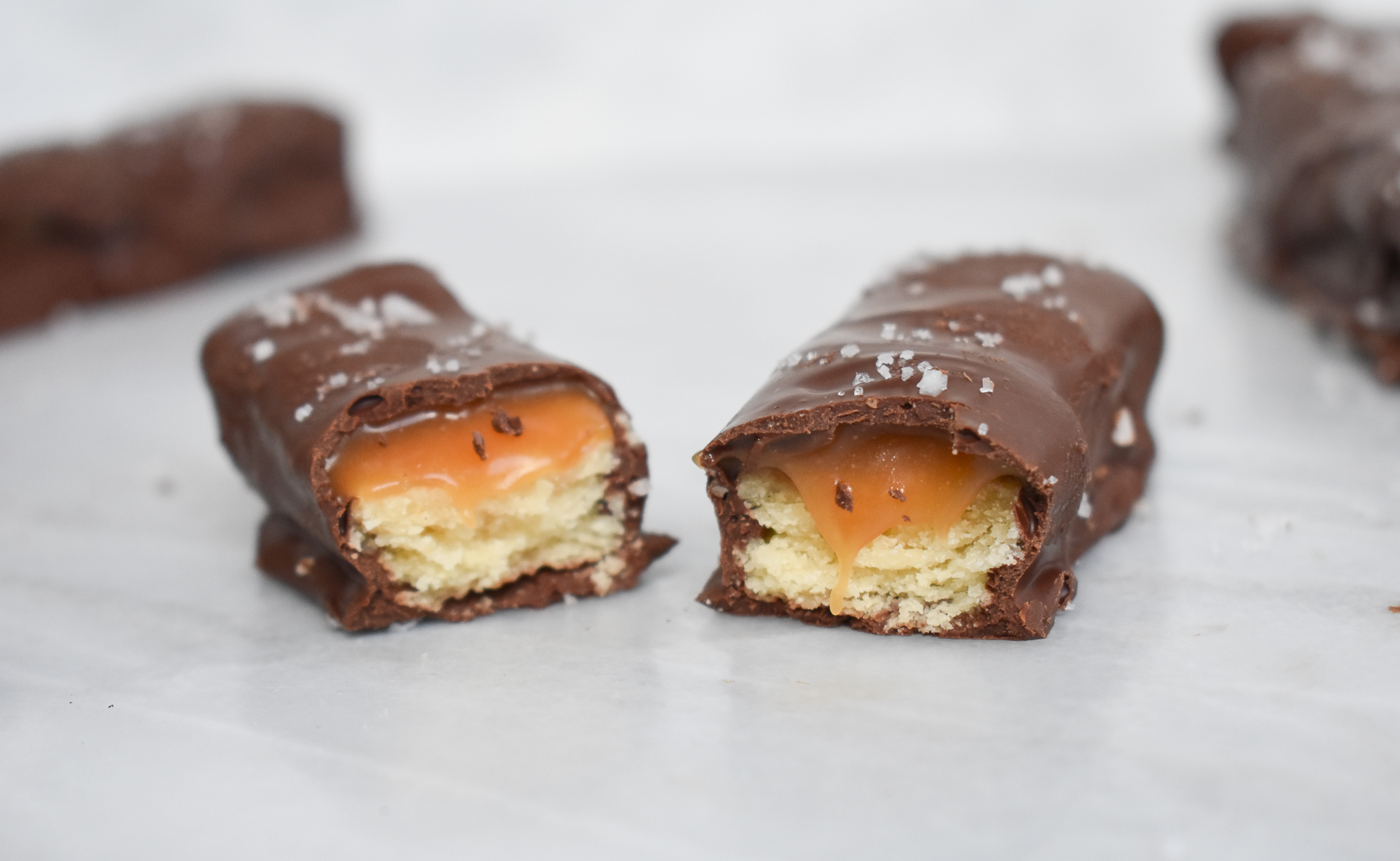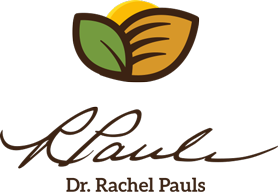 Printer Friendly Version
Comments Rating
( reviews)