Low-FODMAP Greek Pastitsio Recipe; Gluten-free
November 17, 2022
Printer Friendly Version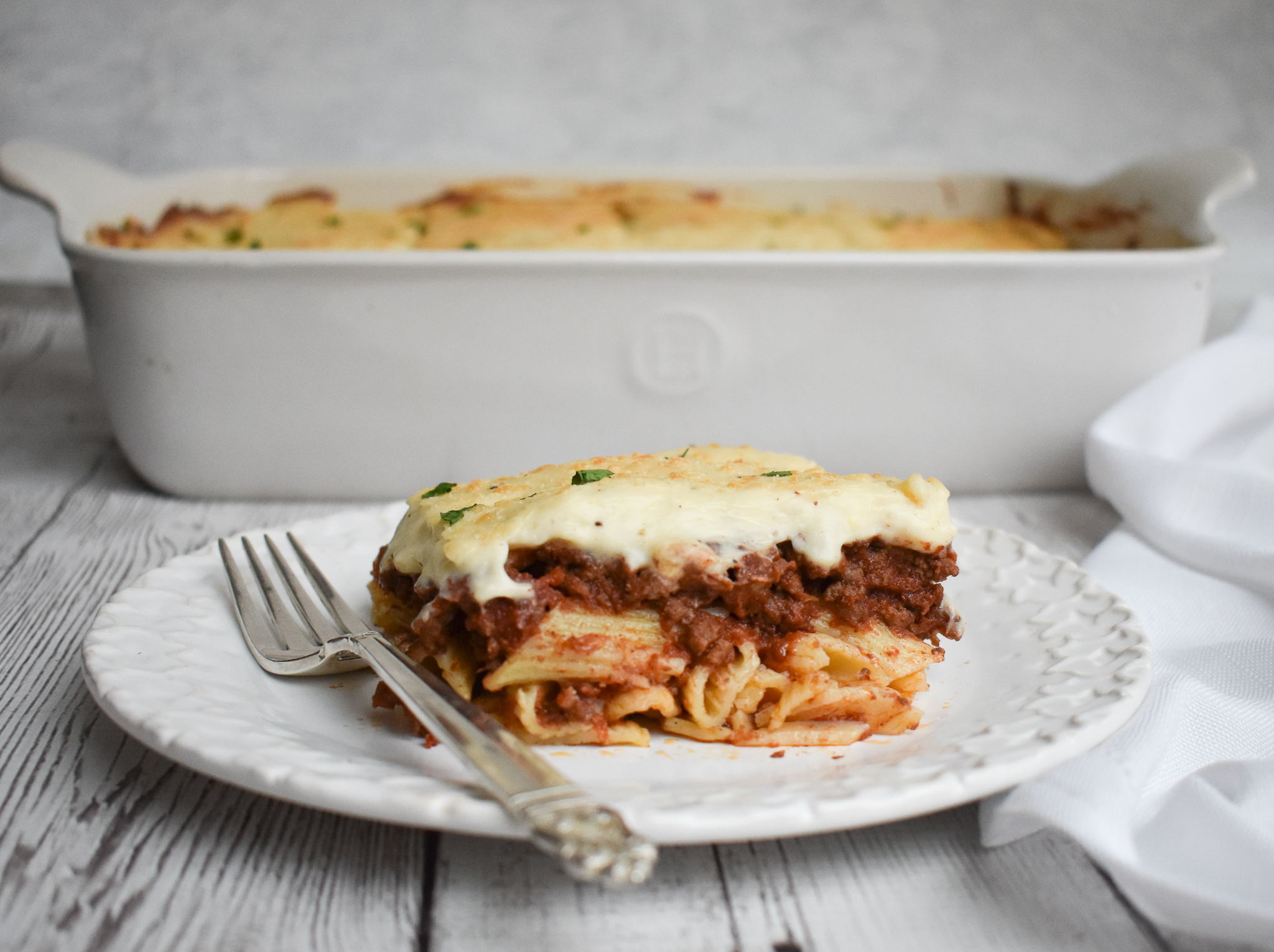 Low-FODMAP Greek Pastitsio.  I call this a 'greek lasagna'.
Think about:
Chewy penne pasta
Rich, meaty sauce
Creamy béchamel topping
Many of you may be familiar with Greek Moussaka, and this is a bit of a similar idea.  However, Moussaka uses eggplant and potatoes instead of the pasta.  I find pasta a bit simpler to prepare, and I can't deny it, I love the flavor.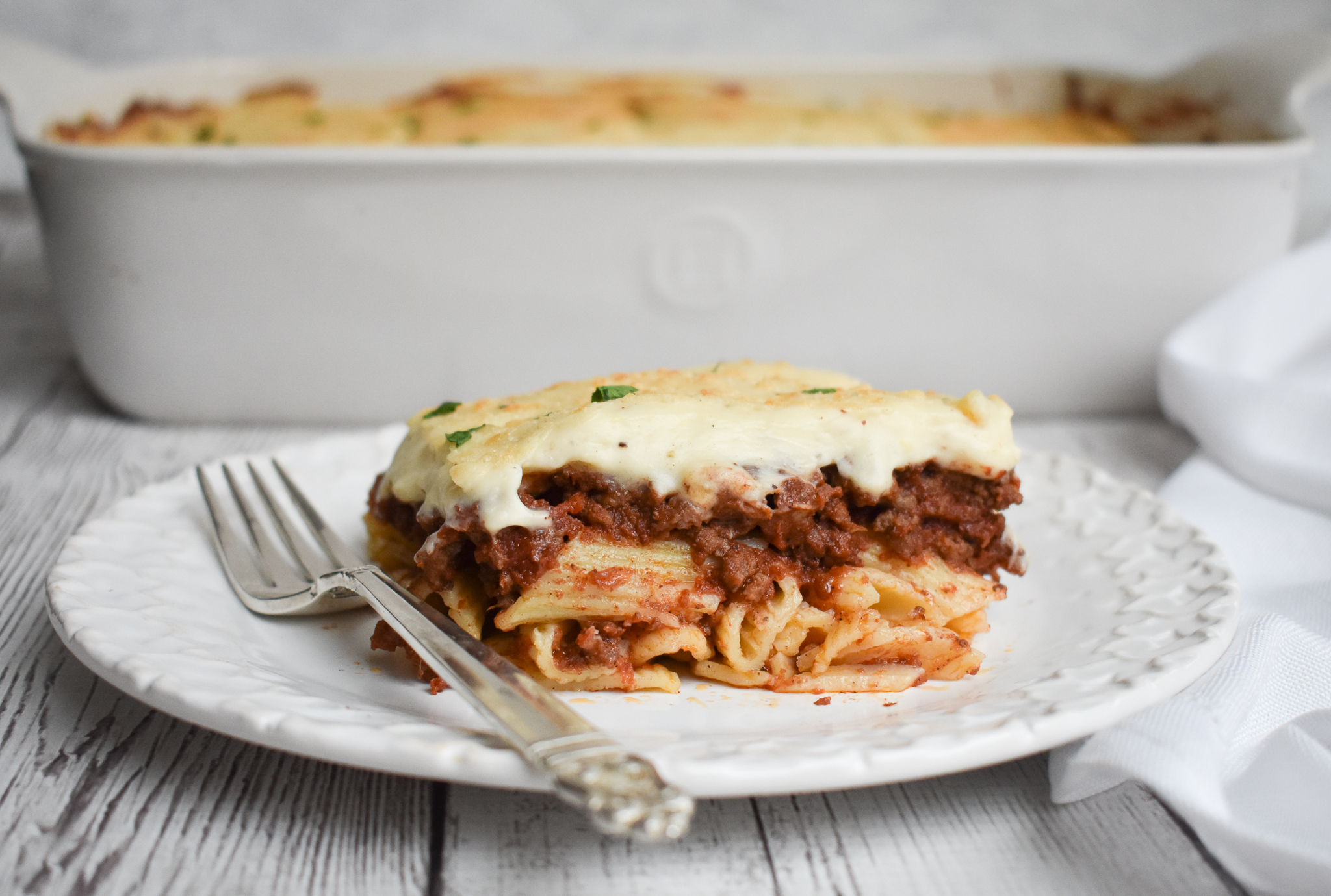 If you prefer to use a commercially available low-FODMAP Marinara sauce for the meat layer, feel free to make this low-FODMAP Pastitsio a little easier!
You may also love:
Or check out over 450 more low-FODMAP recipes on the blog. IBS-friendly!
Be healthy and happy,
Rachel Pauls, MD
P.S.  Check out my new COOKBOOK for over 100 low-FODMAP recipes, low-FODMAP Meal Plan, FODMAP Tips and everything you need!!  It's the BEST!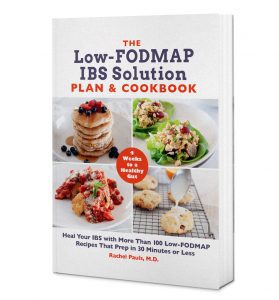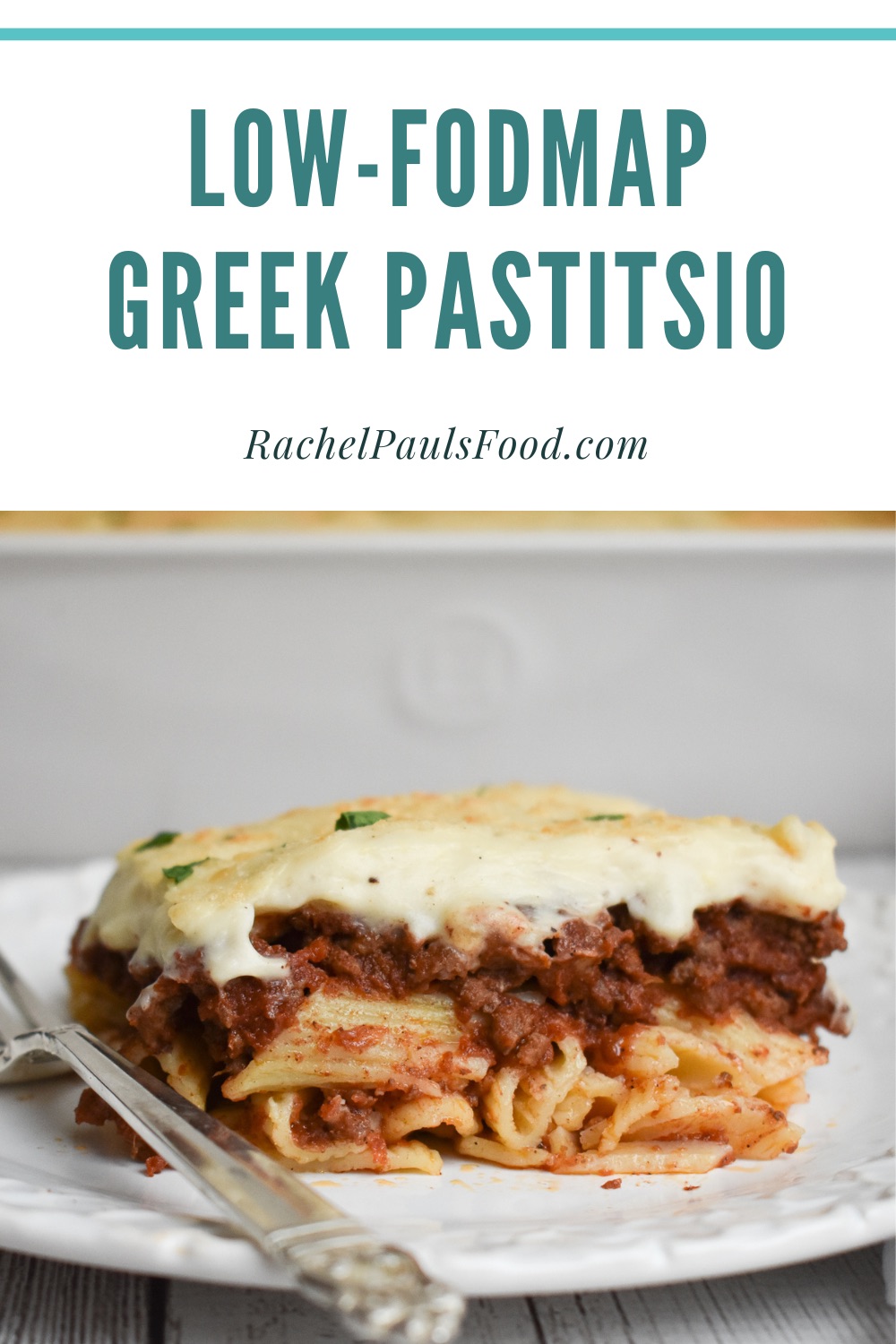 Although this recipe has not lab been tested, a single serving should be low-FODMAP based on the ingredients (*using available FODMAP data at time of posting)
Serves: 10-12
Prep time: 5 min
Cook & Bake time: 1 hour 25 min
Total time: 1 hour 30 min
Bake: 350 F
Equipment: 9 x 13 inch oven safe casserole dish, 2 large saucepans
Ingredients
For Pasta Layer:
3 & 1/4 cups (340 g) uncooked low-FODMAP, gluten-free Penne or Ziti pasta
1 teaspoon salt
1 tablespoon onion or shallot infused oil

Infused oils are the BEST way to add flavor to your recipes without FODMAPs. See my low-FODMAP Top 11 Tips for the details why!

3 tablespoons grated Parmesan (if you prefer a dairy-free version, then omit this)
For Meat Layer:
1 tablespoon olive oil
2 lbs (32 ounces) ground beef; I used 80% lean
1 teaspoon salt, plus to taste
2 tablespoons garlic infused oil
2 tablespoons tomato paste
1/2 cup dry red wine
3/4 teaspoon of low-FODMAP certified Happy Soup Beef Base, not diluted in water
28 oz canned crushed tomatoes

Select a brand without onion or garlic (I used Muir Glen)
4 ounces of canned tomatoes is one low-FODMAP serving

2 dried bay leaves
3/4 teaspoons ground allspice
1/2 teaspoon ground cinnamon
1/4 teaspoon nutmeg
1/8 teaspoon granulated sugar
For low-FODMAP Béchamel Layer:
1/3 cup & 2 tablespoons extra virgin olive oil
2/3 cup all-purpose low-FODMAP, gluten-free flour
1/2 teaspoon salt, plus to taste
1/2 teaspoon pepper, plus to taste
1/4 teaspoon nutmeg
4 cups warmed low-FODMAP milk (about 100F)

This can be lactose-free whole or 2% milk, or your choice of other milk (almond milk for dairy-free)
I prefer whole milk for additional creaminess

2 large eggs, room temperature
1/4 cup grated or shredded Parmesan
Directions
Preheat oven to 350 degrees F
In a large saucepan, cook the pasta to al-dente according to package instructions

Since GF pasta tends to get mushy, do not overcook

Drain and transfer pasta to your casserole dish. Toss with the infused oil, salt and sprinkle with the Parmesan
In a large pan or skillet, heat olive oil over medium-high heat until shimmering
Add lean beef, season with salt
Cook until meat is fully browned, tossing regularly and breaking up the meat with your wooden spoon (about 8 to 10 minutes)
Carefully drain any excess liquid and return pan to heat
Add garlic infused oil and tomato paste stirring into meat
Mix in the low-FODMAP Happy Soup Beef Base, red wine, canned tomatoes, bay leaves, spices and sugar
Increase heat as needed to boil the sauce for 5 minutes, stirring occasionally
Lower heat and simmer sauce for about 10 minutes, then taste and add salt or sugar as needed
Turn down heat and remove bay leaves once the sauce has simmered for about 10 minutes
While sauce is simmering, in a saucepan (you can use the one from the pasta if you like), prepare the béchamel
Heat olive oil over medium-high heat until shimmering
Stir in low-FODMAP, GF flour, salt and pepper
Cook for 3-4 minutes, while stirring occasionally
Using a whisk, gradually add the warmed milk, whisking continuously to prevent lumps
Continue cooking, stirring occasionally, over medium heat for 5 to 7 minutes, until thickens
Crack your eggs into a separate small bowl and whisk
Carefully spoon about 2 tablespoons total of the hot sauce into the whisked eggs- 1 teaspoon at a time- to temper eggs (you don't want to cook the eggs). Then add egg mixture into the hot bechamel mixture
Continue to stir over the low/medium heat and allow mixture to come to a gentle boil for about 2 minutes longer unless it is already thick
Stir in nutmeg, taste, add salt and pepper as needed
Remove from heat and allow to cool for about 2-3 minutes, it should thicken slightly if not thick already
Add your layers over the pasta in the casserole.  First, cover the meat sauce over the pasta layer and smooth, then pour the béchamel over this, sprinkle with 1/4 cup Parmesan
Place in your preheated oven for about 45 min to 1 hour

It should be golden brown on top when done

Remove from heat and let stand for 10 minutes before serving

Since GF pasta gets mushy, this will taste best on the first day. However, it can also be stored in the refrigerator for 3 days or frozen for up to 1 month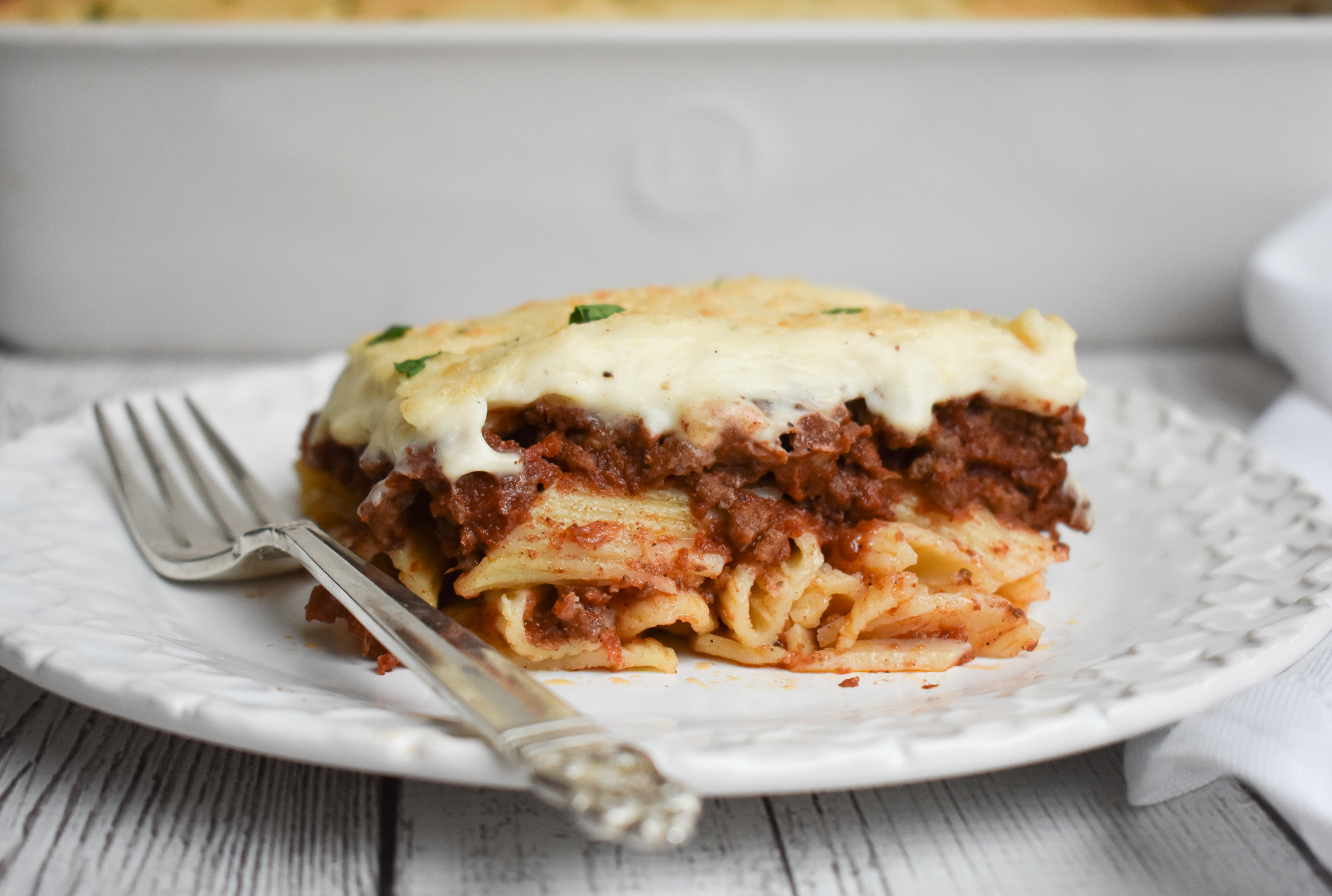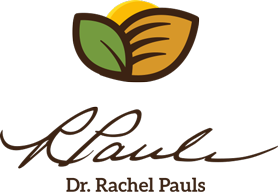 Printer Friendly Version
Comments Rating
( reviews)