Low-FODMAP Glazed Lemon Blueberry Scone Recipe; Gluten-free
January 18, 2020
Printer Friendly Version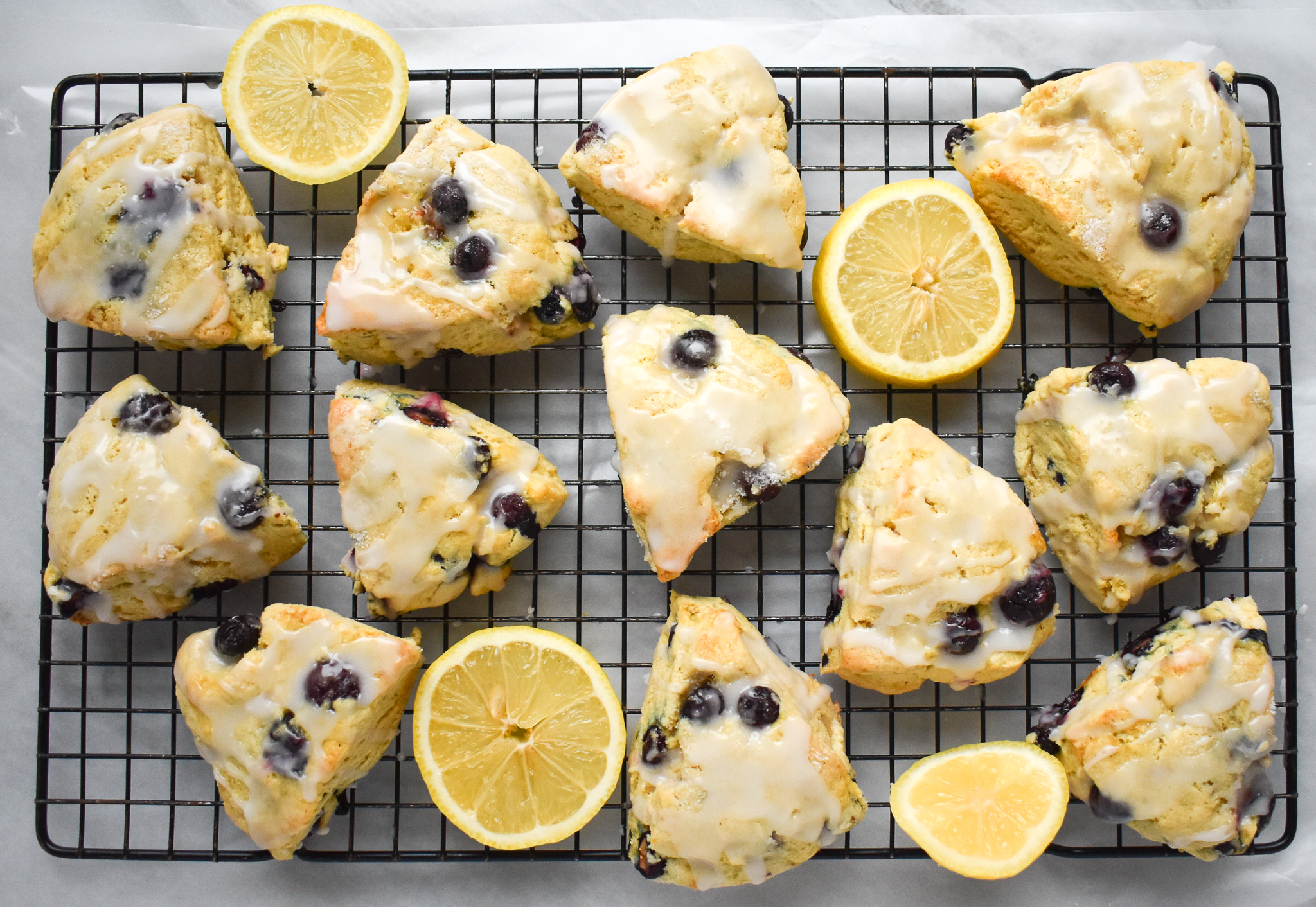 After I created my low-FODMAP Cinnamon Chip Scones, I realized that I needed to try a recipe for low-FODMAP Lemon Blueberry Scones as well.  My whole family and I fell in love with the soft, not overly sweet flavor of my low-FODMAP, gluten-free scones.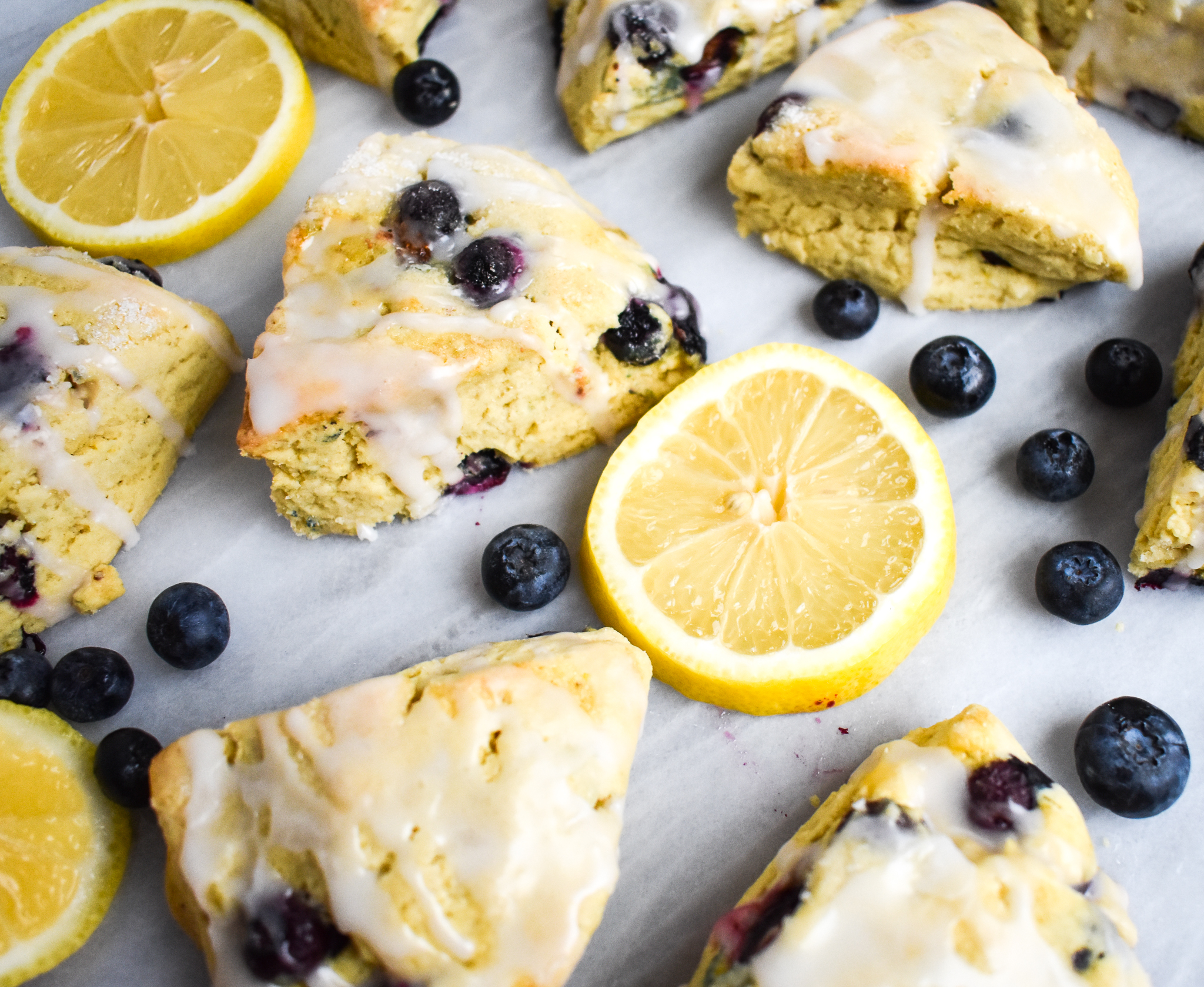 These low-FODMAP Glazed Lemon Blueberry Scones are perfect for breakfast, brunch or anytime snacking.
They are soft, light, tart and COMPLETELY addictive.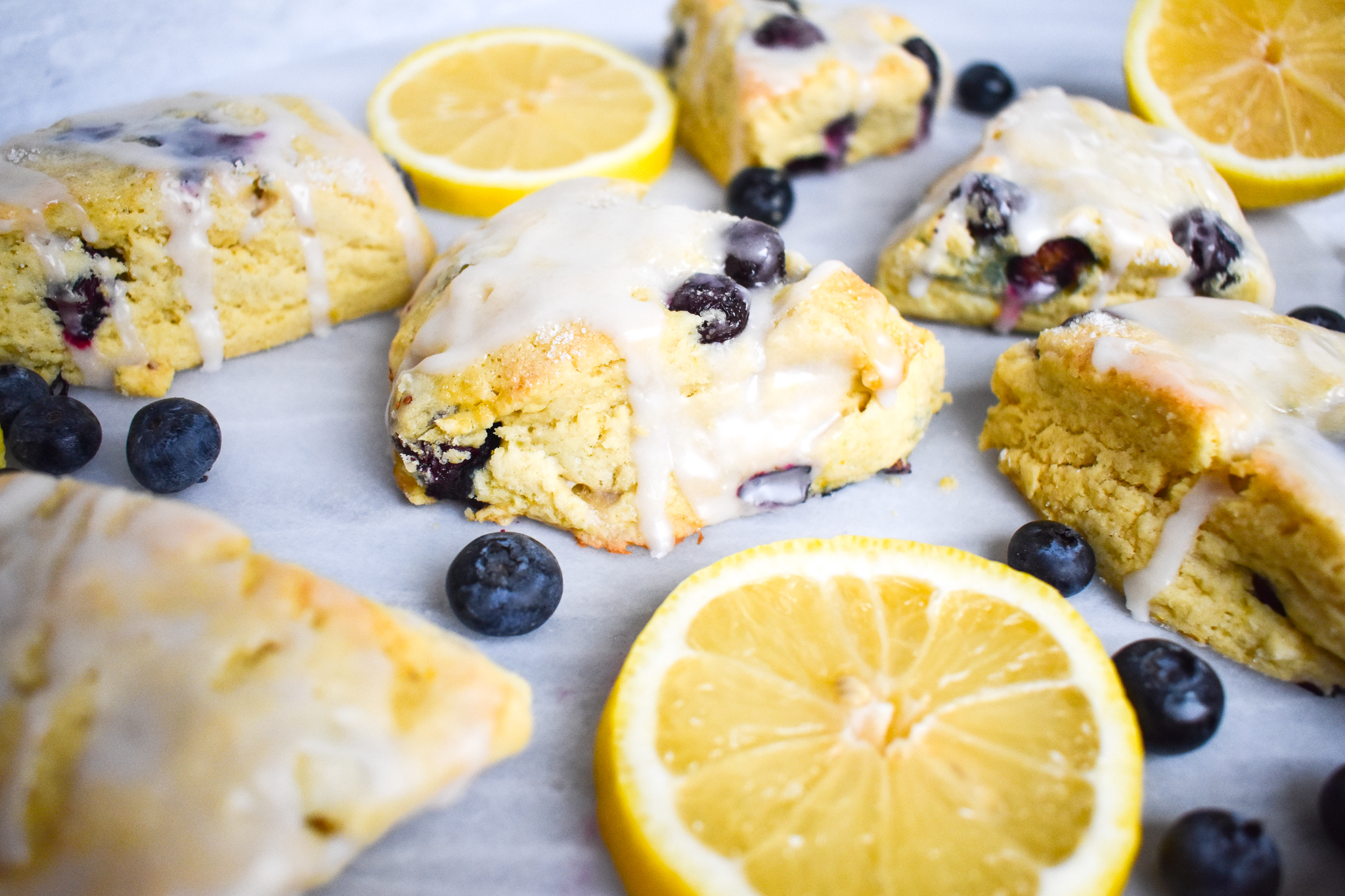 You may also love:
Or check out over 300 more low-FODMAP recipes on the blog. IBS-friendly!
Be healthy and happy,
Rachel Pauls, MD
---
Low-FODMAP Glazed Lemon Blueberry Scone Recipe; Gluten-free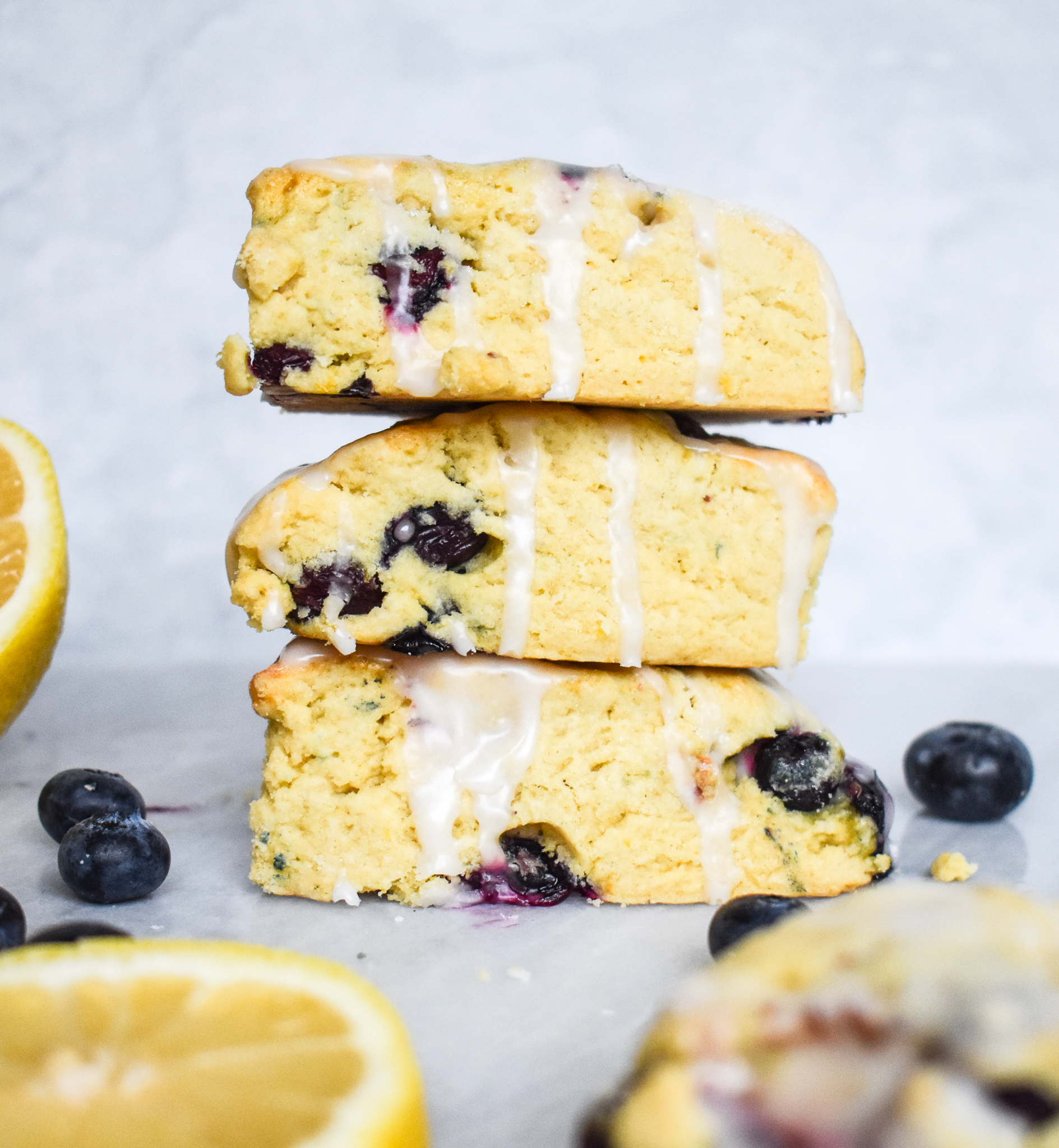 Although this recipe has not been tested, a single serving should be low-FODMAP based on the ingredients.
Serves 12
Prep time: 20 min
Bake time: 22-25 min
Total time: 45 min
Bake 400 F
Modified from: Annalise G Roberts, 'Gluten-free Baking Classics', 2nd ed (one of the best gluten-free baking books out there)
Ingredients
2 cups Authentic Foods GF Classical Blend, plus additional flour for patting out dough (this is my favorite brand, check out my low-FODMAP bake off blog to see why!)

can also substitute your preferred all purpose low-FODMAP, gluten-free flour

1/4 cup granulated sugar

Note: These scones are not very sweet.  If you prefer a sweeter scone, you can add additional sugar

4 teaspoons double acting baking powder (ex: Clabber Girl brand)
1/2 teaspoon baking soda
3/4 teaspoon xanthan gum (if not added to your low-FODMAP flour choice)
1/2 teaspoon salt
1/2 cup cold unsalted butter, cut into small pieces or grated

If you choose a vegan spread alternative, be sure to chill it well
I used butter

1 heaping cup (180 g) fresh or frozen blueberries

1 low-FODMAP serving is 40 g
If using frozen, do not defrost

1 tbsp lemon zest (1 medium lemon)
2 large eggs
1 & 1/2 teaspoons pure vanilla extract
3/4 cup coconut cream (canned, drained of liquid) at room temperature

This is not the same as 'cream of coconut'; see my low-FODMAP grocery shopping blog for some brands I like and tips on using this product
If you tolerate regular heavy cream, then OK to substitute that instead

Granulated sugar, to sprinkle on top
Low-FODMAP Lemon Glaze

1 cup confectioner's sugar
3 tbsp fresh squeezed lemon juice (use the same lemon you zested)
Directions
Preheat oven to 400ºF; position rack in center of oven
Line heavy baking sheet with parchment paper or silicone baking liners
Combine low-FODMAP flour, sugar, baking powder, baking soda, xanthan gum, and salt in large bowl of electric mixer
With mixer on low, cut butter into flour mixture until it resembles a coarse meal
Set aside this mixture for later incorporation
Beat 1 egg in the same (or another) large bowl of electric mixer until very light and foamy
Add vanilla extract, lemon zest and flour mixture and start the mixer on low speed, then pour the coconut cream on top of the flour
Mix at medium-low speed for about 30 seconds until the dough just comes together
Stir in the blueberries by hand gently, trying not to break or squash them
Use lightly floured hands to gently pat out dough into two 6-inch thick rounds on a floured surface, about ½ inch thick (dough will be sticky and you may need to lightly coat it with some excess flour)
Use a sharp knife or pizza cutter to cut each circle in half and then cut each half into 3 pie shaped wedges
Put scones 2 inches apart on prepared baking sheet
In a small bowl, beat the second egg
Brush scones with beaten egg
Sprinkle scones liberally with granulated sugar
Lay scones on the prepared baking sheet 2 inches apart and place in center of oven
Bake 22-25 minutes or until golden and cooked through using a tester (since ovens vary, your oven may need more or less time)
Cool 10 minutes on a rack
While cooling, combine the lemon glaze ingredients in bowl and stir to combine well
Pour low-FODMAP lemon glaze over scones

I like to leave them on the cooling rack and put wax paper under to catch the drips

Serve immediately, or store in refrigerator until use (to re-heat place in preheated 350F oven for 10 minutes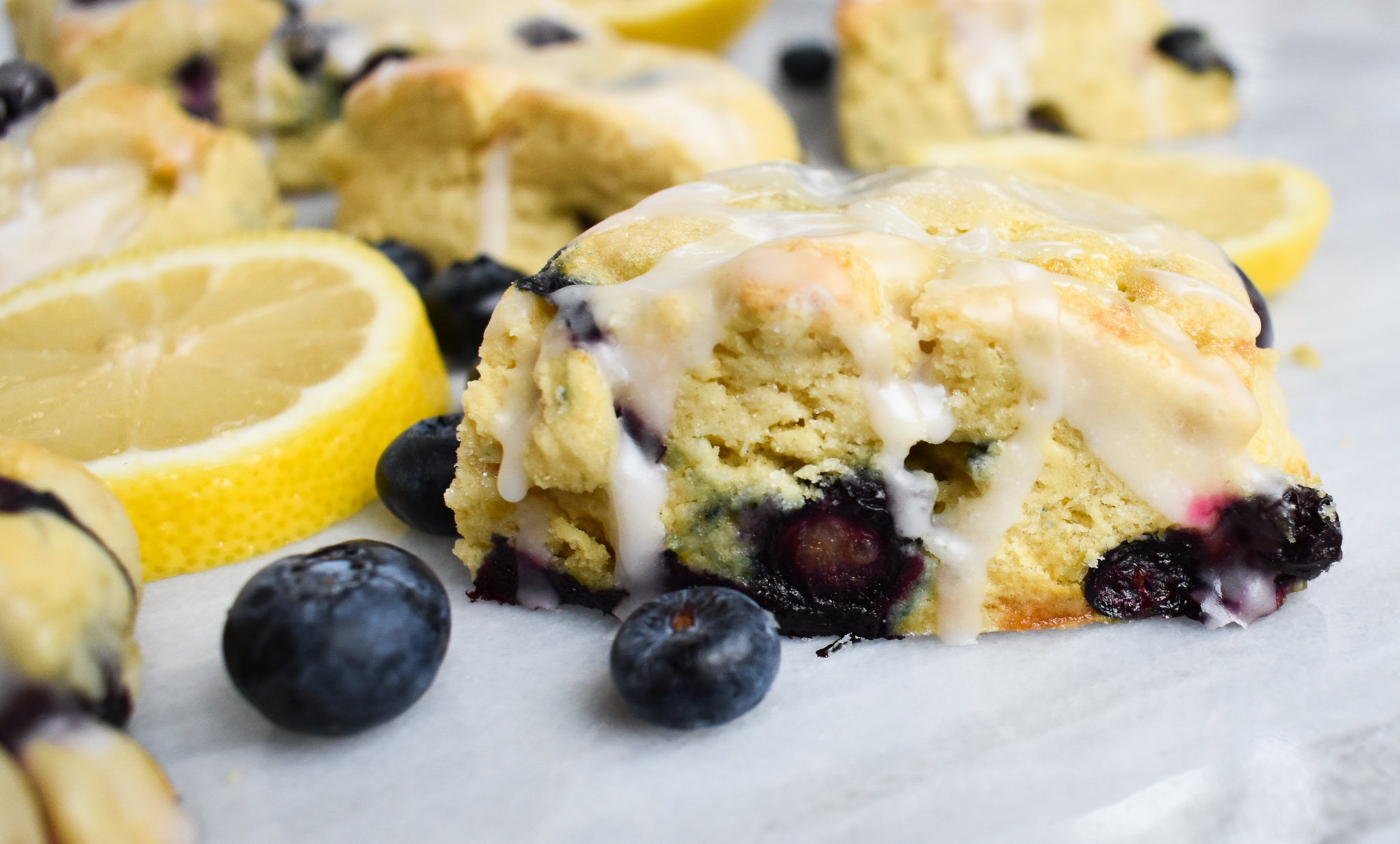 Flaky, light and absolutely amazing!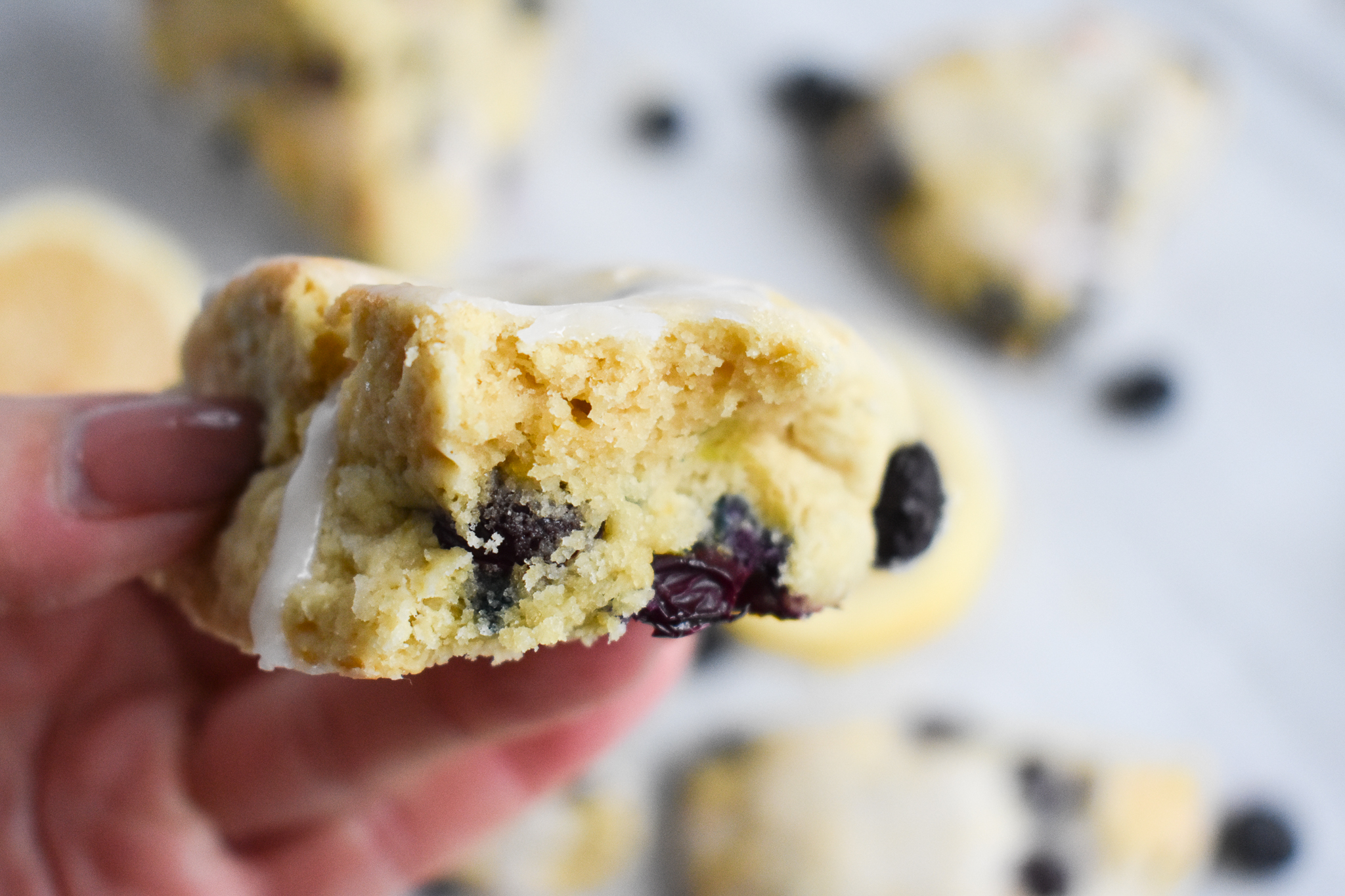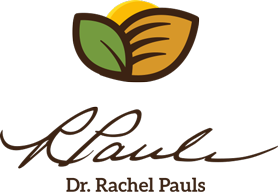 Printer Friendly Version
Comments Rating
( reviews)