Low-FODMAP Florentine (Italian Lace) Cookies; Gluten-free
September 22, 2023
Printer Friendly Version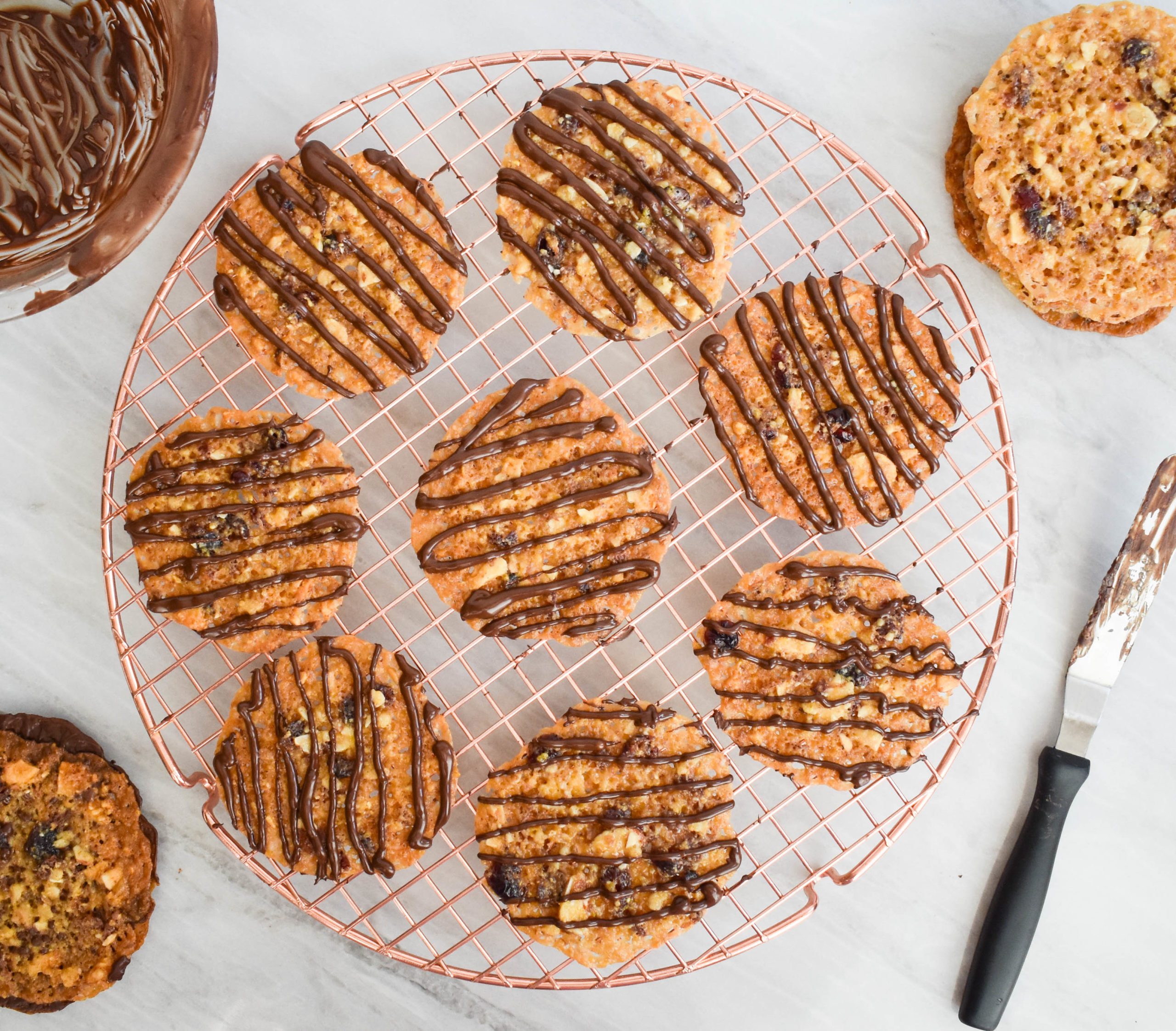 If you aren't familiar with these beautiful cookies, Italian Florentines are a lacy and delicate biscuit, packed with nuts and dried fruits, then often topped with chocolate.
My low-FODMAP Chocolate Florentine cookies are a holiday treat that you will crave all-year long 😊
I grew up enjoying florentines on many special occasions.  My mother used a recipe that incorporated almond slivers, dried cherries, and heavy cream. She would use a muffin tin to bake them, so they were less lacy, but chewy and delicious.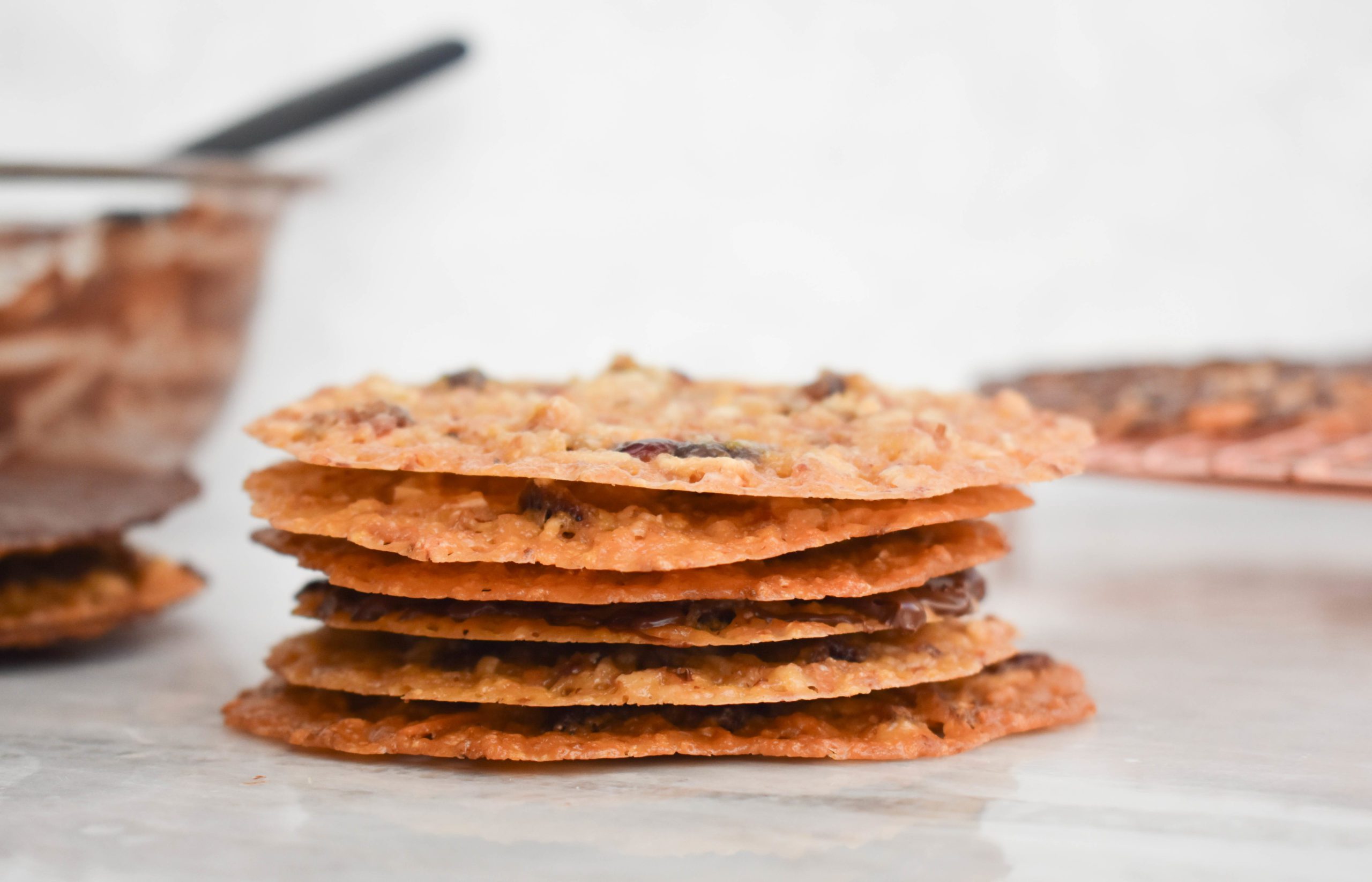 My low-FODMAP version is a bit more traditional.  I selected dried cranberries, since I love their color and taste, but stayed away from cherries, and other high-FODMAP ingredients.  We are using a combination of almonds and walnuts for that crunchy texture, and cornflake crumbs to add body. Orange zest provides extra holiday flavor.
I always style my Florentines with a chocolate coating, but have three choices for you in that regard:
Some bakers create a 'sandwich' with the chocolate between;
Other recipes advise drizzling the chocolate in lines with a piping bag (my mom's favorite);
Finally, if you have ever watched 'The British Baking Show', there was an episode with florentines as the technical challenge! Their version included spreading the backs of each cookie with a layer of chocolate, and then using a fork to create a zigzag pattern in the chocolate before hardening.
Don't be intimidated by how fancy these low-FODMAP Chocolate Florentines look.  They are actually rather simple to make.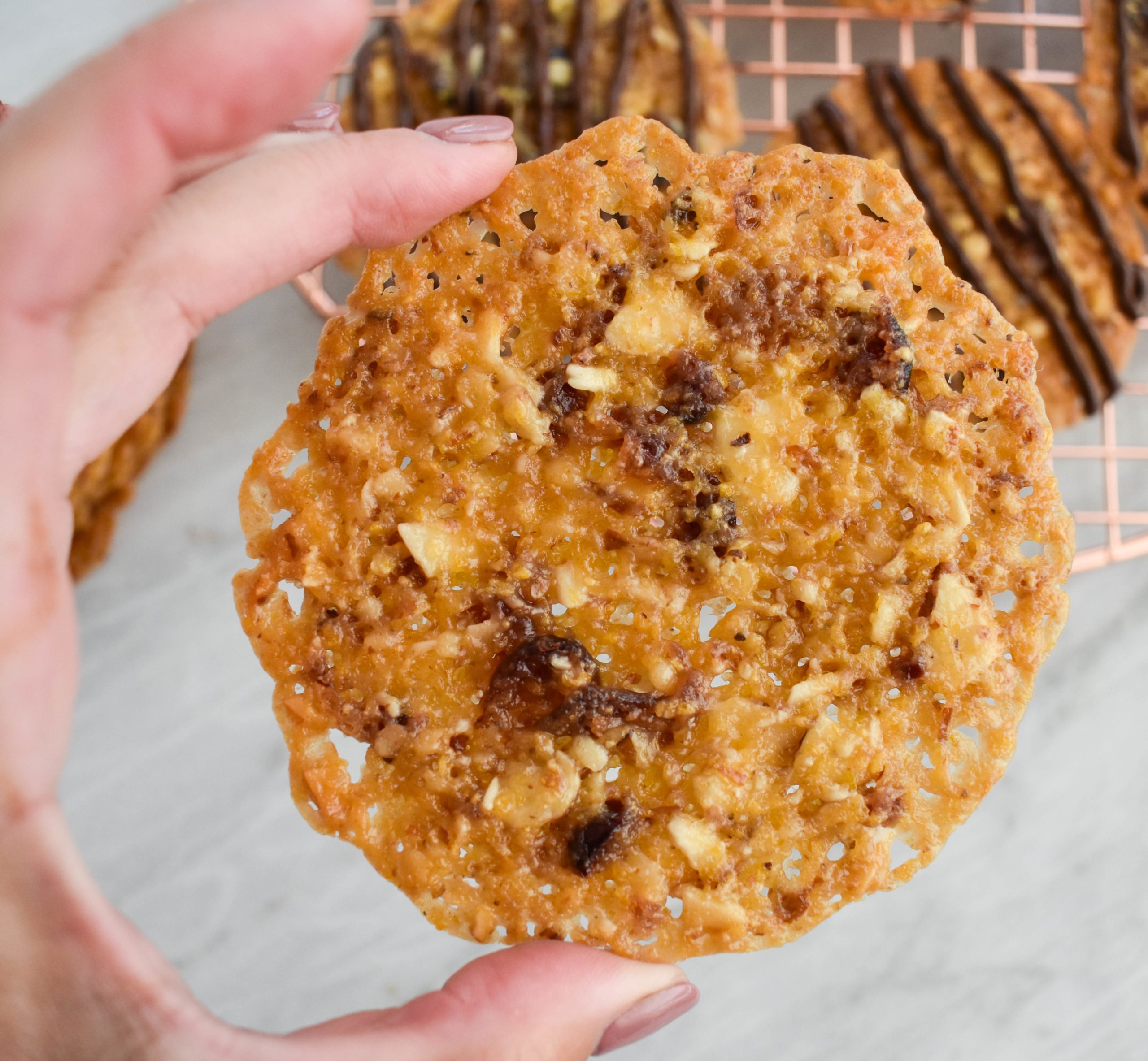 You may also love my:
Or check out over 500 more low-FODMAP recipes on the blog!  IBS-friendly.
Be healthy and happy,
Rachel Pauls, MD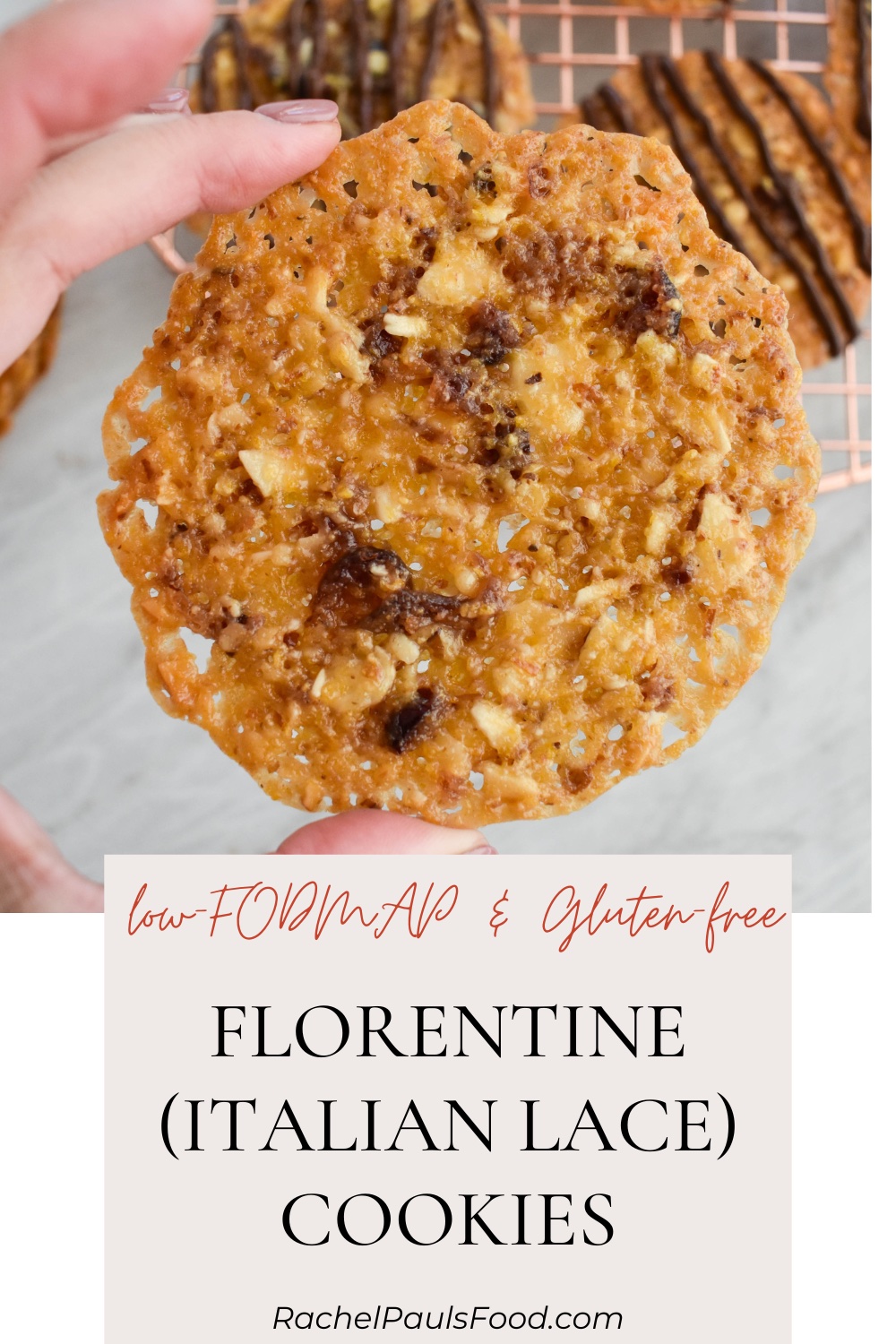 Although this recipe has not been lab tested, a single serving should be low-FODMAP based on the ingredients (using available FODMAP data at time of testing)
Yield: 18-24 cookies, depending on size; 1-2 per serving
Prep time: 10 min
Bake time: 27-30 min (3 separate bake times for the 3 sheets)
Total time: 40 min
Bake 350 F
Equipment: 2-3 large baking trays, silicone baking mat or parchment paper, large saucepan, food processor
Ingredients
1/4 cup (1/2 stick) unsalted butter
1/4 cup light brown sugar, packed
1/4 cup light corn syrup
1 teaspoon vanilla extract
1/3 cup, plus 2 tablespoons all-purpose low-FODMAP, gluten-free flour
A pinch of salt
1 tablespoon finely grated orange zest
40g (1/3 cup) dried cranberries, finely chopped

15 g is one low-FODMAP serving

30g (1/4 cup) flaked almonds, finely chopped

12 g is one low-FODMAP serving

25 g (1/4 cup) walnuts, finely chopped

30 g is one low-FODMAP serving

1/4 cup (40g) cornflake crumbs

Note, Kellogg's Corn Flakes are low-FODMAP, but not gluten-free
For a gluten-free version, use a brand of gluten-free cornflakes with low-FODMAP ingredients and crush in your processor. Select an option without added fruit juices (Nestle Corn Flakes is an example)

200g (7 oz) semisweet or bittersweet chocolate, broken into pieces

30g is one low-FODMAP serving
Directions
Preheat your oven to 350 F and place your rack in the center of oven
Line 1-2 baking trays with a silicone mat or parchment paper (you will need to bake in batches)
Process your nuts and cornflakes (if necessary) in a food processor until crumb-like
Place the butter, brown sugar, corn syrup and vanilla in a medium saucepan and melt gently over a low heat.  Bring to a boil, (about 3-4 minutes) then remove from heat
Stir in the low-FODMAP flour, salt, orange zest, cranberries, almonds, walnuts, and cornflake crumbs and mix well to form a wet dough.  It will be warm and soft, but it should not be runny
Take 1-2 teaspoons of the dough (depending on desired size of cookies) and place it on the lined baking sheet. Roughly keep in a ball shape using your fingers.  Repeat for about 6 cookies per sheet (they will spread a lot)

For larger cookies, use a larger spoon

Bake each tray individually for 9-12 mins until golden (watch closely)

They are done when golden and set on the edges, but still soft and gooey in the center

Allow to cool slightly/harden a little on the tray for 1-2 minutes.  As soon as they will stay together, transfer to a wire rack to cool completely using a flat spatula (I like a fish spatula for this)
While baking cookies, melt the dark chocolate in a small bowl in 10 second intervals in the microwave, or use a double boiler

You should intermittently stir the chocolate to ensure even warming, or it can burn

Decorate the cookies with the chocolate using one of the three ways:

If making a chocolate sandwich:

Place 1-2 teaspoons of melted chocolate on the back of a cooled florentine cookie and smooth out to cover the whole side using a slanted knife. Then cover with a second cookie, back side toward the middle

If making the zigzag chocolate on the back:

Place a teaspoon sized blob of melted chocolate on the back of each cooled florentine cookie and smooth out to cover the whole side using a slanted knife. Just before the chocolate starts to set, scrape fork tines through the chocolate in a zigzag pattern. Gently place on a baking sheet with the chocolate side up to cool completely

If drizzling chocolate lines:

Place the melted chocolate in a piping bag or plastic bag with one corner cut, then drizzle in lines over each cookie and allow to cool

Store in an airtight container at room temperature (can also refrigerate if desired)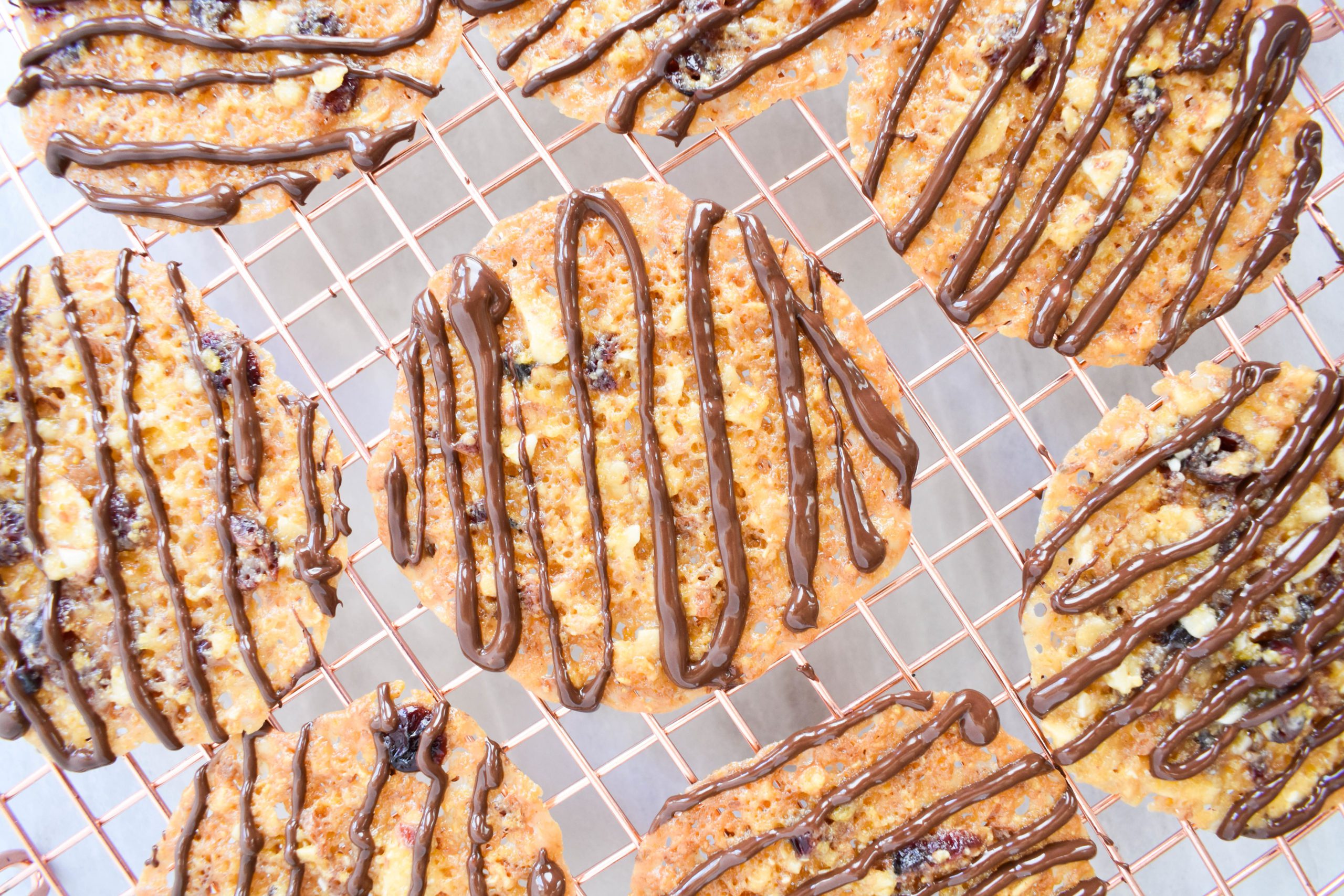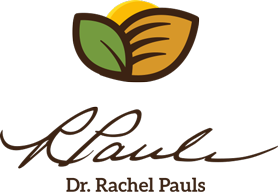 Printer Friendly Version
Comments Rating
( reviews)