Low-FODMAP Curry Chicken Salad; Gluten-free
June 30, 2022
Printer Friendly Version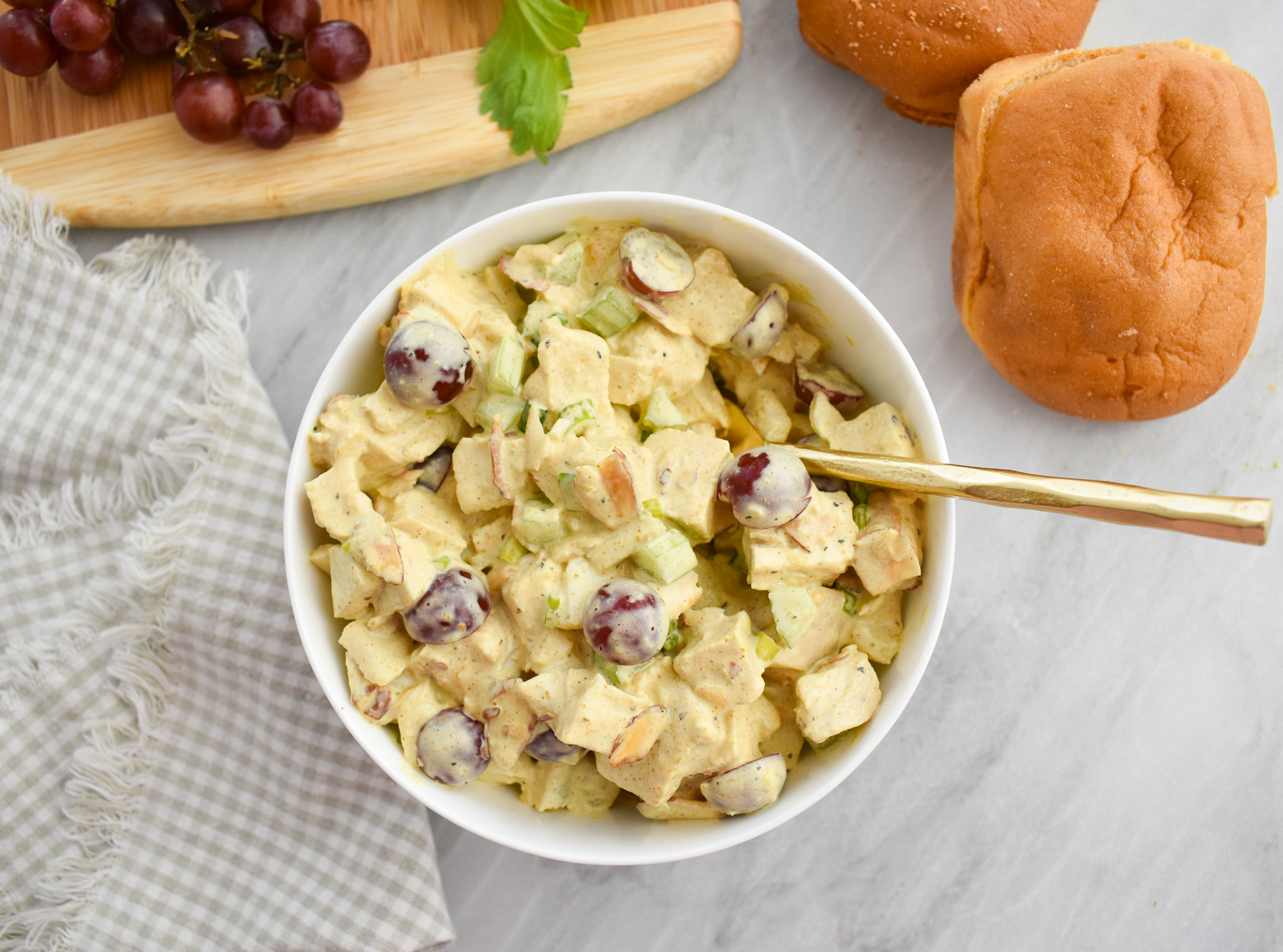 Curry Chicken Salad is one of the surprising food combinations that I have enjoyed since childhood.  My father used to order this in a sandwich when we went for lunches at nice restaurants, and I always got a taste.  Sometimes it would be dotted with grapes or raisins, sometimes cashews or peanuts.  Sometimes, just lots of celery.
It was always YUMMY.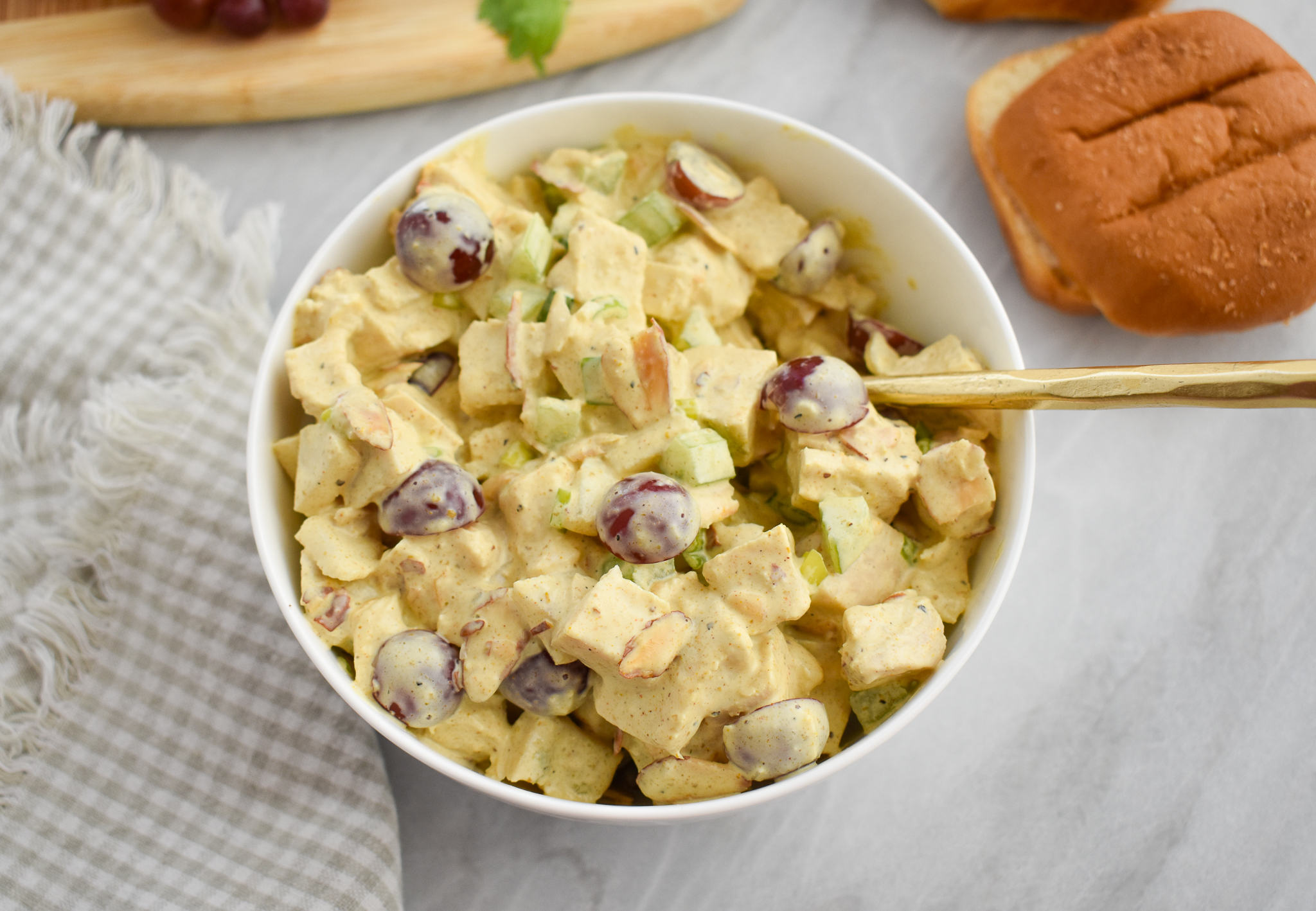 Recreating a low-FODMAP Chicken Curry Salad was super fun.  So many different ways to add texture to this lovely mix.  I decided that my favorite combination is water chestnuts, celery, grapes and almonds.  But dress yours up to your preference.  Just check to ensure you use a low-FODMAP serving size for items such as raisins.
I like to eat my low-FODMAP Curry Chicken Salad over low-FODMAP bread, low-FODMAP crackers, in a salad, or as a lettuce wrap.  It goes great topped with some grated Parmesan, fresh pepper, and/or smoked paprika too.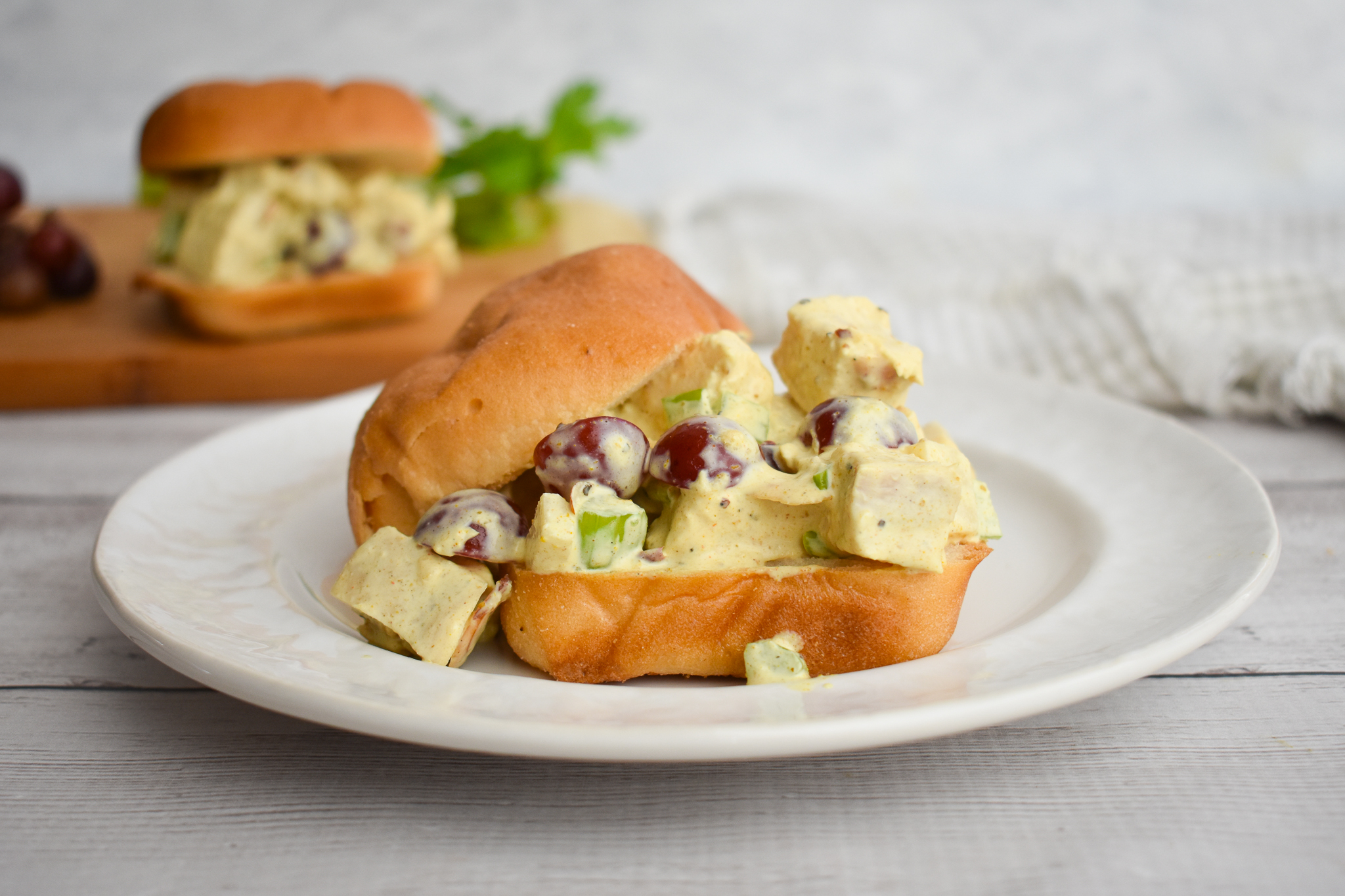 For other lunch inspiration, see my low-FODMAP Best Lunch Recipes.
You may also love:
Or check out over 450 more low-FODMAP recipes on the blog.  IBS-friendly!
Be healthy and happy,
Rachel Pauls, MD
P.S.  Check out my new COOKBOOK for over 100 low-FODMAP recipes, low-FODMAP Meal Plan, FODMAP Tips and everything you need!!  It's the BEST!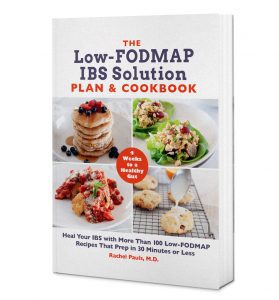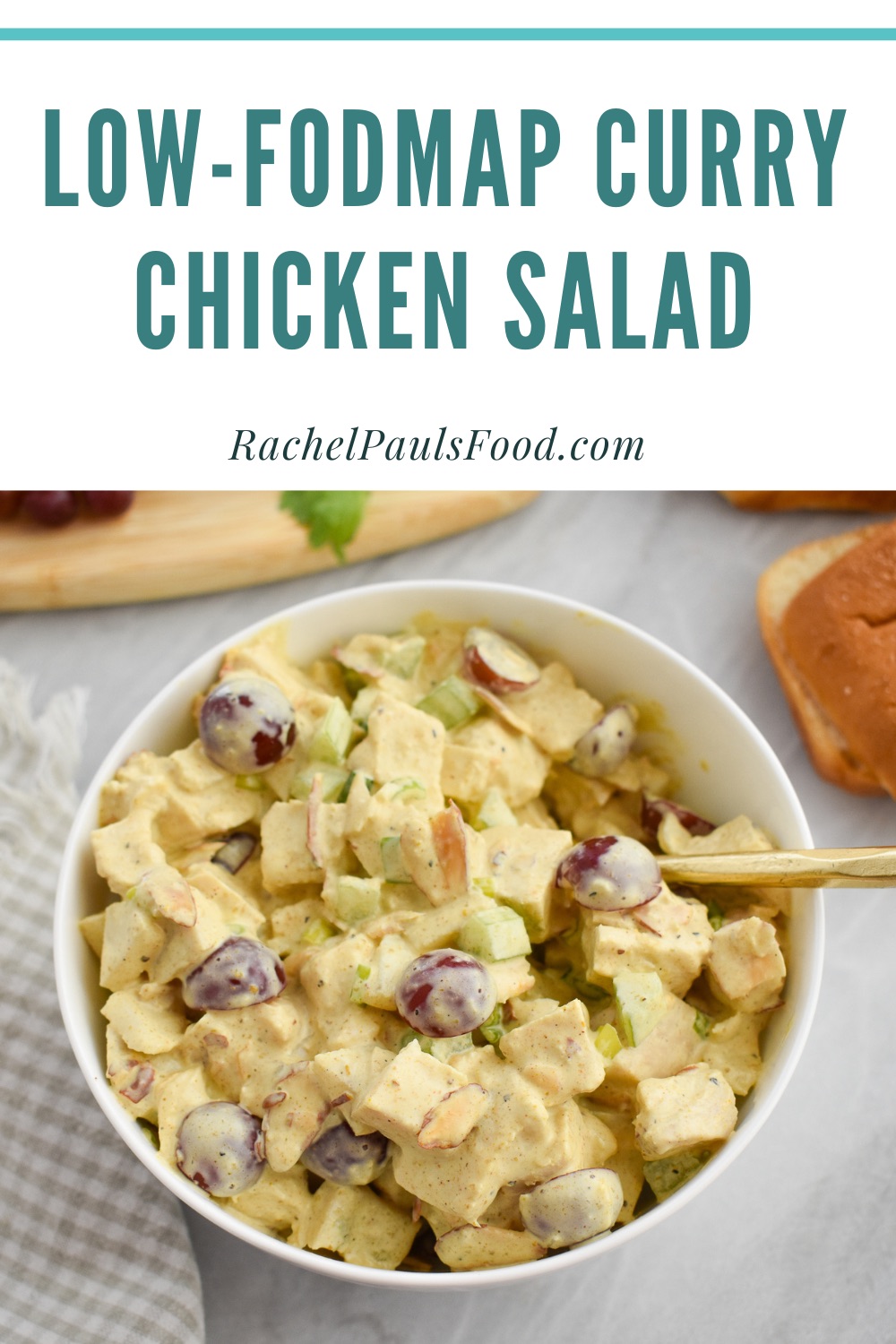 Although this recipe has not been tested, a single serving should be low-FODMAP based on the ingredients (*using available FODMAP data at time of posting)
Serves: 4-6
Prep time: 10 min
Total time: 10 min
Ingredients
3 cups (about 14 ounces) shredded or cubed, fully cooked chicken breasts or thighs

Use leftover cooked chicken, or bake chicken breasts seasoned with salt, pepper, and a rub of oil in the oven at 350F for about 15-20 minutes (depending on their thickness) until internal temperature is 165F. Allow to cool, then chop or shred
This is about 3 large chicken breasts or thighs

1/4 cup plus 2 tablespoons mayonnaise with low-FODMAP ingredients
1/4 cup plus 2 tablespoons lactose-free sour cream
1 tablespoon yellow curry powder, plus to taste

Select a brand without added onion or garlic

1 teaspoon apple cider vinegar

2 tablespoons is low-FODMAP

1/2 teaspoon ground pepper
1/2 teaspoon sea salt
1/8 teaspoon paprika
1 tablespoon maple syrup

2 tablespoons is one low-FODMAP serving

40g (about 1 stalk) chopped celery

One low-FODMAP serve is 10g, higher amounts will contain too much mannitol

3 scallions, green tips only

Avoid the bulbs, these are higher in FODMAPs, green tips do not contain FODMAPs

3/4 cup (100g) seedless red or green grapes, cut in half

28g is one low-FODMAP serving due to fructose

1/2 cup (75g) water chestnuts, chopped

1/2 cup is one low-FODMAP serve; a high FODMAP serving is about 3 cups

1/4 cup (25g) toasted almond slivers, salted peanuts, or toasted hazelnuts

12g is one low-FODMAP serving due to GOS
Directions
In a small bowl or cup, stir together mayo, lactose-free sour cream, apple cider vinegar, curry powder, pepper, salt and paprika
Add maple syrup, taste and adjust seasonings as desired
In a large bowl, combine chicken, scallions, celery and water chestnuts
Cover with the dressing, then stir in grapes and toasted nuts
Serve on low-FODMAP bread as a sandwich, in lettuce cups or over a bed of greens
May be stored in refrigerator for 3-4 days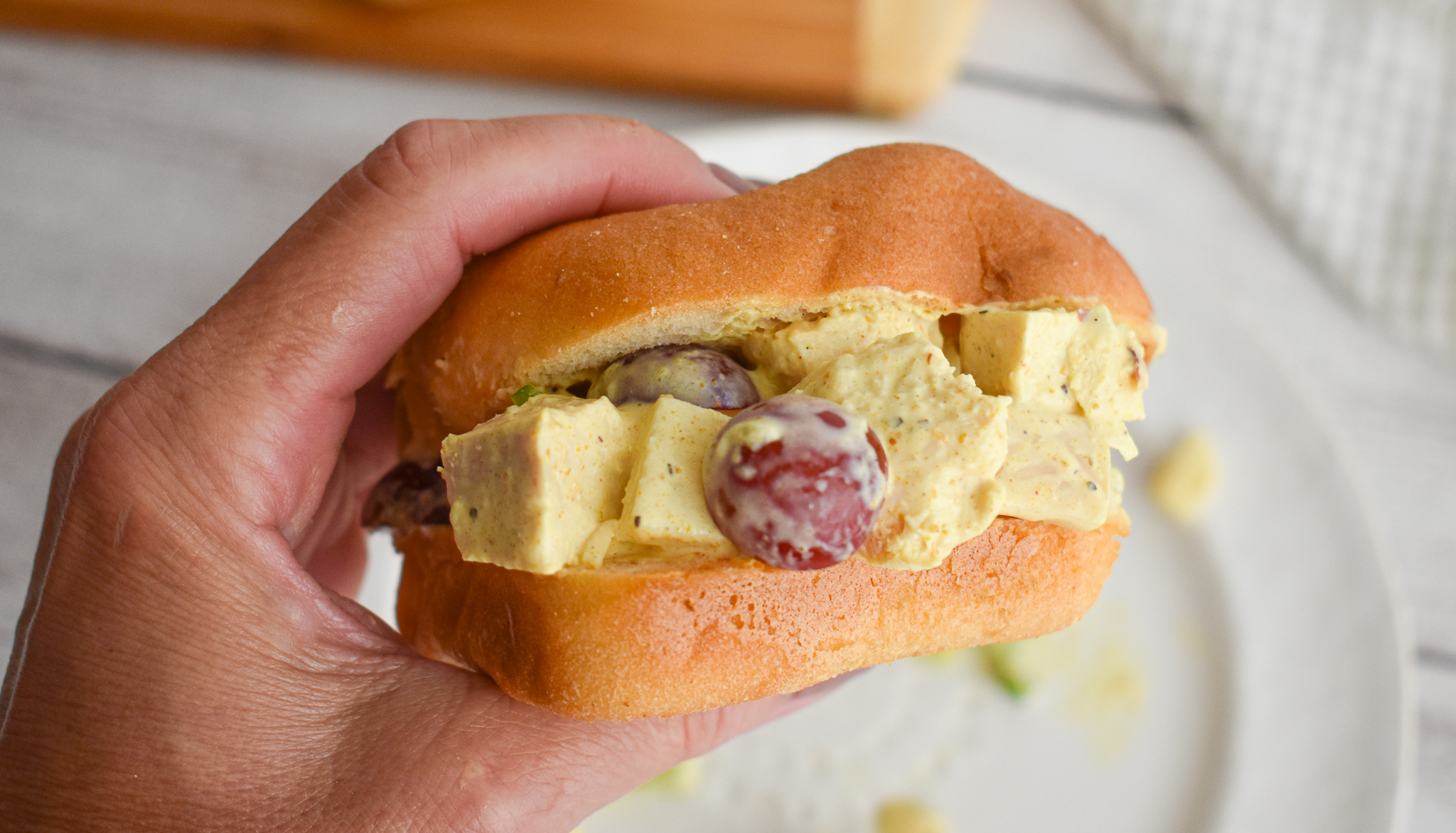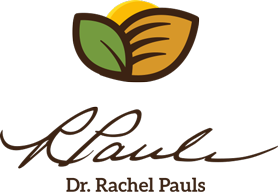 Printer Friendly Version
Comments Rating
( reviews)